Thailand is a beautiful country. It is known as the land of smiles, and it is little wonder why! If it not for the welcoming smiles you receive from the Thais at every turn, then its the endless grin on your face when you are there. I love Thailand. My family and I have spent many months there over the years. So I have put together a couple of options for the ultimate Thailand Itinerary – 10 days.
Visiting Thailand for 10 Days
Before Leaving Home
Before you go to Thailand, you may need a Visa, or Travel Vaccinations first.
Money In Thailand
The money in Thailand is the Thai Baht. ATMs are readily available however they charge 220 THB per transaction. Changing money is possible, but then you may not get the best rate. Cash is king here, and the money comes in denominations of notes: 1000, 500, 100, 50, 20 and coins: 10, 5, 2, 1, half and quarter.
Thailand is cheap. You can feed yourself for a couple of dollars at street stalls and a beer will set you back $3 from a convenience store. Accommodation ranges greatly, but it is possible to sleep a family of 6 comfortably for $50 AUD per night.
Thailand Itinerary 10 Days – Beaches and Islands
This Thailand itinerary will see you enjoying beach life in the south of Thailand with a holiday heavy on relaxing on white sand beaches, daytripping to stunning blue water bays, and great nightlife.
In 10 days, it is best not to travel too much, so you get to enjoy the country's best assets and return from your holiday feeling rejuvenated.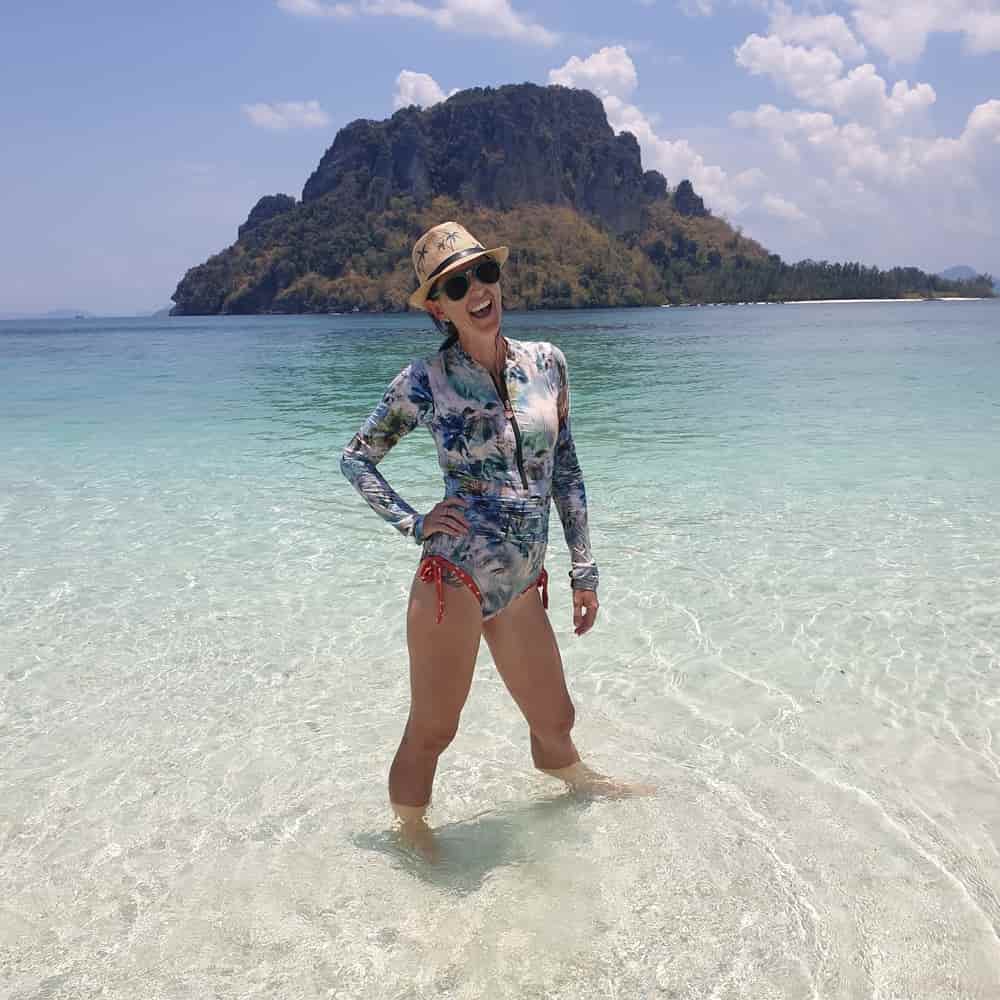 Day 1 Arrive into Phuket International Airport
The Airport is located 32 km to the north of Phuket City and the Rassada Pier which has regular ferries to your ultimate destinations.
Flights arrive from all over the world into this well-established and efficient airport. Check prices from wherever you are with Skyscanner:
Phuket is a fun city filled with great activities, beautiful beaches, super fun nightlife and all-inclusive beachfront resorts.
Find out more about the endless activities there are to do in Phuket here
You could easily spend your whole Thailand Itinerary 10 days here! But I recommend only flying in and out of Phuket, spending a night on either end if you need to depending on your flight times. So then you can quickly get to the really good part of Thailand and start to enjoy yourself.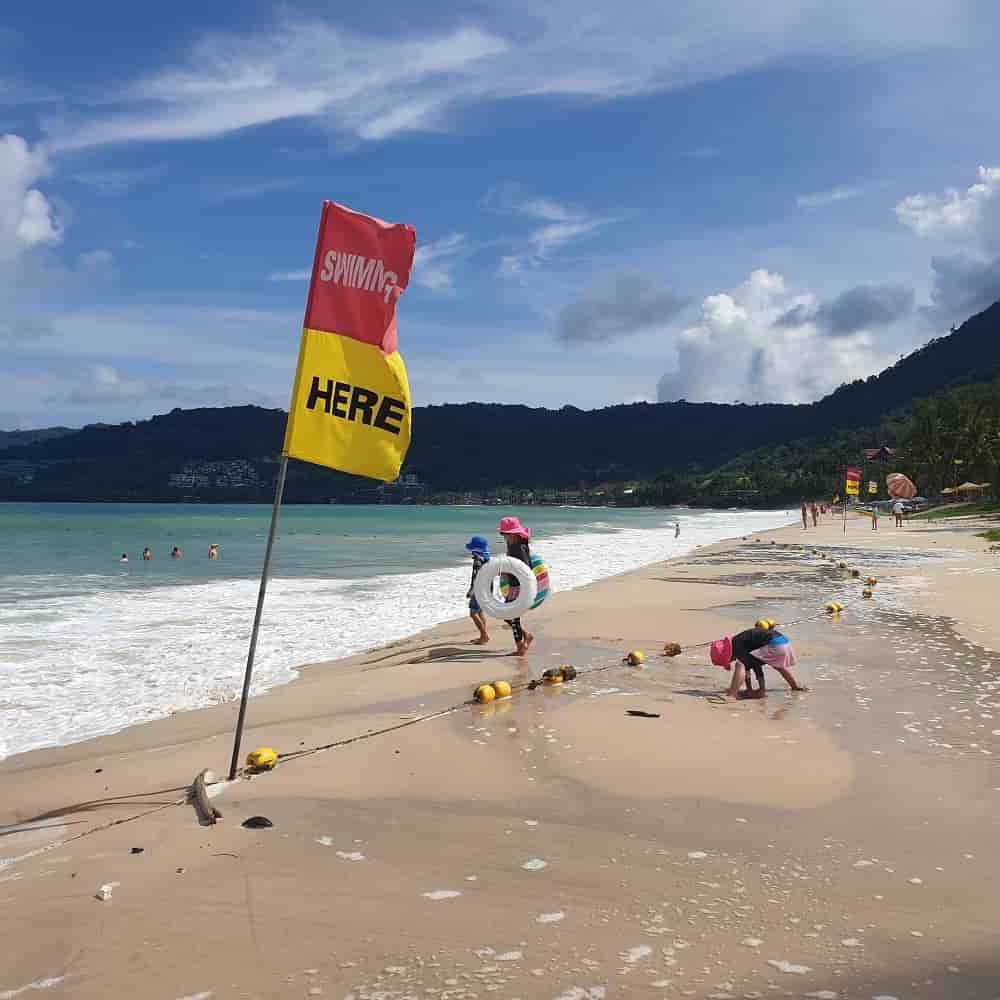 Where to Stay on Phuket
Find your hotel in Phuket below. Note that the airport is on the north-west corner of Phuket Island, the most popular beaches are found on the west coast, while the pier is over on the eastern shore.
Day 2 of a Thailand Itinerary 10 Days – Koh Phi Phi
You can either organise a taxi through your Phuket hotel, or book a car on 12GoAsia to collect you from your door and whisk you away to the pier which is located on the eastern side of Phuket Island.
Ferries to Ton Sai Pier on Koh Phi Phi depart Phuket daily at 8.30 am, 11.00 am, 12.19 pm, 1.30 pm, and 2.00 pm during the high season.
Note that during the off-peak season, fewer ferries will run. The best time to visit Phi Phi is from December to February.
Read this to find out more about the seasons in Thailand and the Best Time to Visit, month by month.
There are slow boats (which take 2 hours) and speedboats available (1hour travel time). Ticket prices range from 450 THB per adult up to 1000 THB depending on the class of ship. We took the cheapest one, and it was quite comfortable, with plenty of airconditioned cabin space, outside deck space, toilets and refreshments available onboard.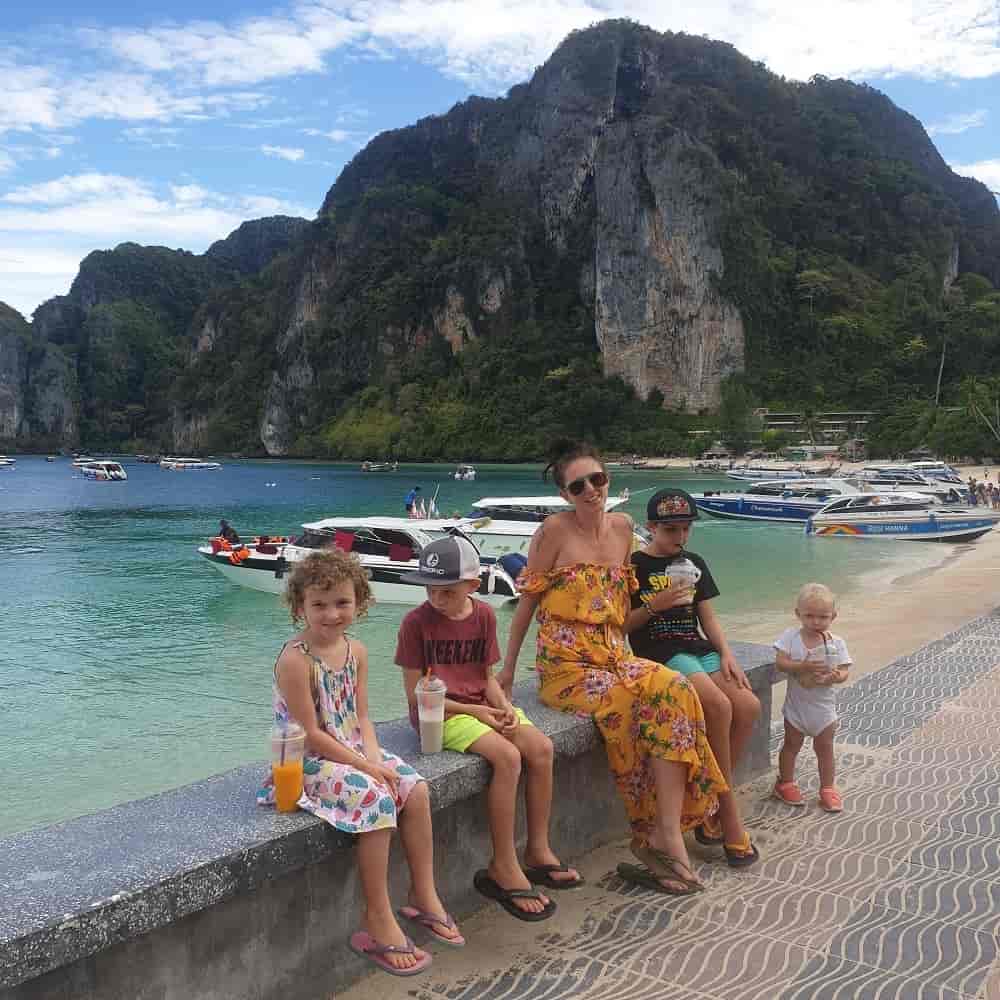 Arriving onto Koh Phi Phi is just beautiful. The huge limestone escarpments to your left frame the stunning blue waters of this special place. You have to pay a 20 THB on the pier as you exit the boat, which causes some confusion and congestion for sure. But once you are there, look for your pre-booked hotel sign and find a guy with a trolley to carry your luggage.
Spend a couple of days here soaking up the sun. Enjoy the famous nightlife on Loh Dalum Bay and browse the excellent cheap restaurants along ChaoKhao Road.
We have detailed the whole Koh Phi Phi experience for you in this post.
Things to Do on Koh Phi Phi
Hire a Longtail boat and driver for a half or full day tour around the surrounding lagoons and islets for spectacular private beaches and snorkelling. Visit swimming monkeys, viking caves and movie set beaches. Expect to pay between 1500 and 3000 THB per boat.
Hire a Kayak or SUP for around 700 THB and explore the tranquil hidden bays and deserted beaches of the north of the island yourself
SCUBA diving – Get your certification here for $450 USD and dive the remarkable King Cruiser Wreck on Mosquito Island
Go snorkelling at Hat Yao
Hike up to the Phi Phi Viewpoint for stunning views
Where to Stay on Koh Phi Phi
Check hotel prices for Phi Phi here:
Day 4 of Thailand Itinerary 10 Days – Koh Lanta
Get a ferry transfer all the way across to the peaceful Koh Lanta. With its endless Long Beach, and stunning beachfront resorts, Lanta is a perfect place for romantic sunset walks and swimming in crystal clear waters.
We used GetYourGuide to book this transfer for only 450 THB. On arrival into Saladan Pier, you have to pay a 10 THB fee. A taxi from here to your accommodation on Long Beach will cost around 300 THB.
You can compare ferry ticket prices on 12GoAsia to make sure you are getting the best deal.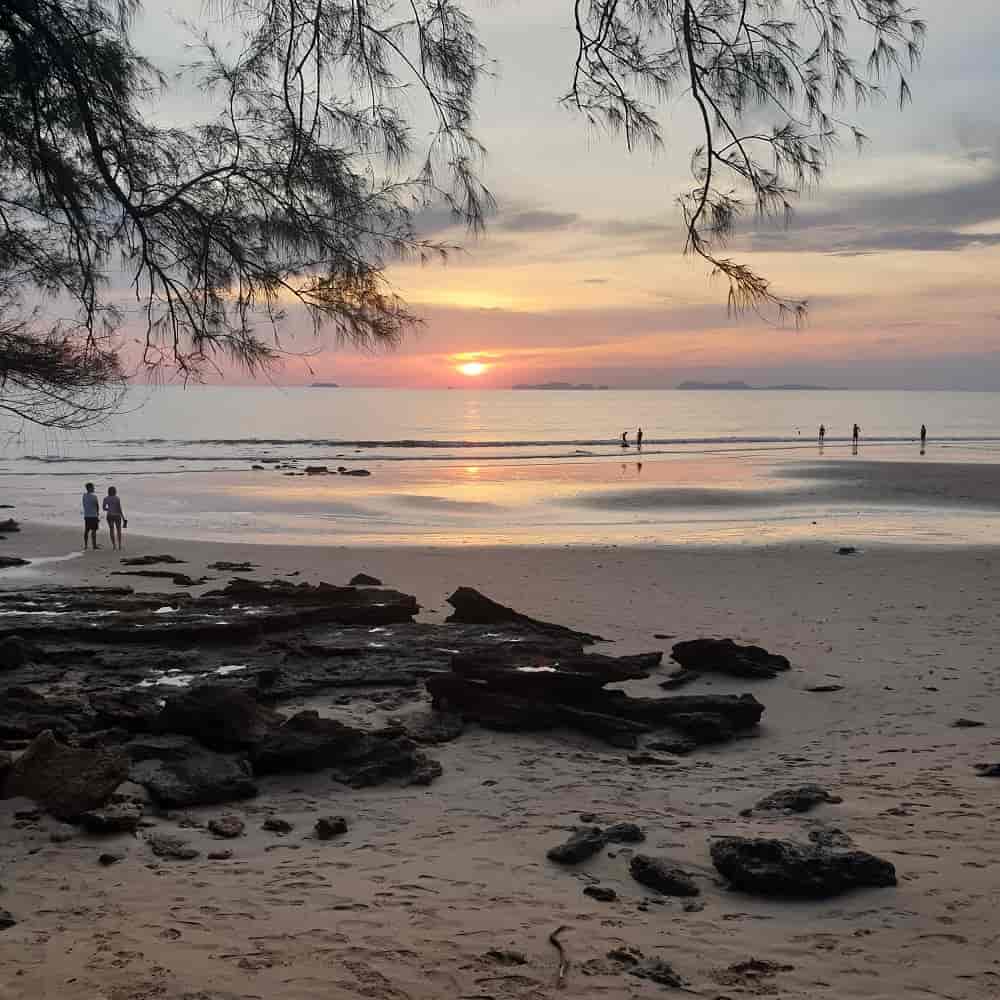 There is a great selection of beaches on Koh Lanta but for only a couple of nights, I recommend Long Beach. This has beautiful white sand, and lovely swimming conditions. Long Beach is close to Saladan Pier where you will arrive from Koh Phi Phi.
For a rundown on all the beaches on Koh Lanta, read this to discover the best one for you.
Things to do on Koh Lanta:
Chill by the beach
Rent a motorbike and explore the island
Visit Old Town
Watch the sunset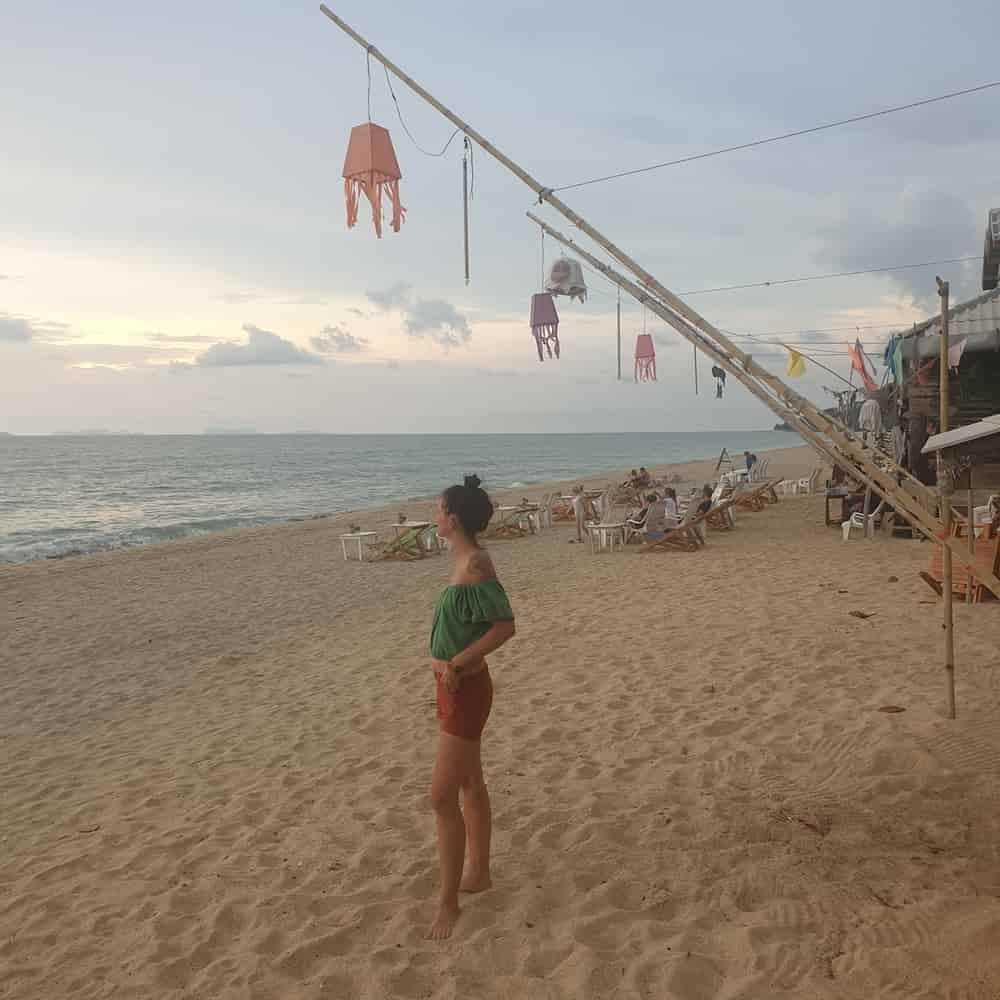 Where to Stay on Koh Lanta
Compare prices for Koh Lanta hotels below. We prefer to stay at Long Beach and there are so many great choices beachfront!
Day 6 of a Thailand Itinerary 10 Days – Ao Nang
As your 10 days winds down, you had better visit an exciting and vibrant place next. Head to Ao Nang via ferry transfer.
Things to do in Ao Nang
Have a read of our detailed post about things to do in Ao Nang here.
We recommend:
After spending a fun-filled few days at Ao Nang, you can either catch a bus, or taxi the 3 hours back to Phuket and your flight home.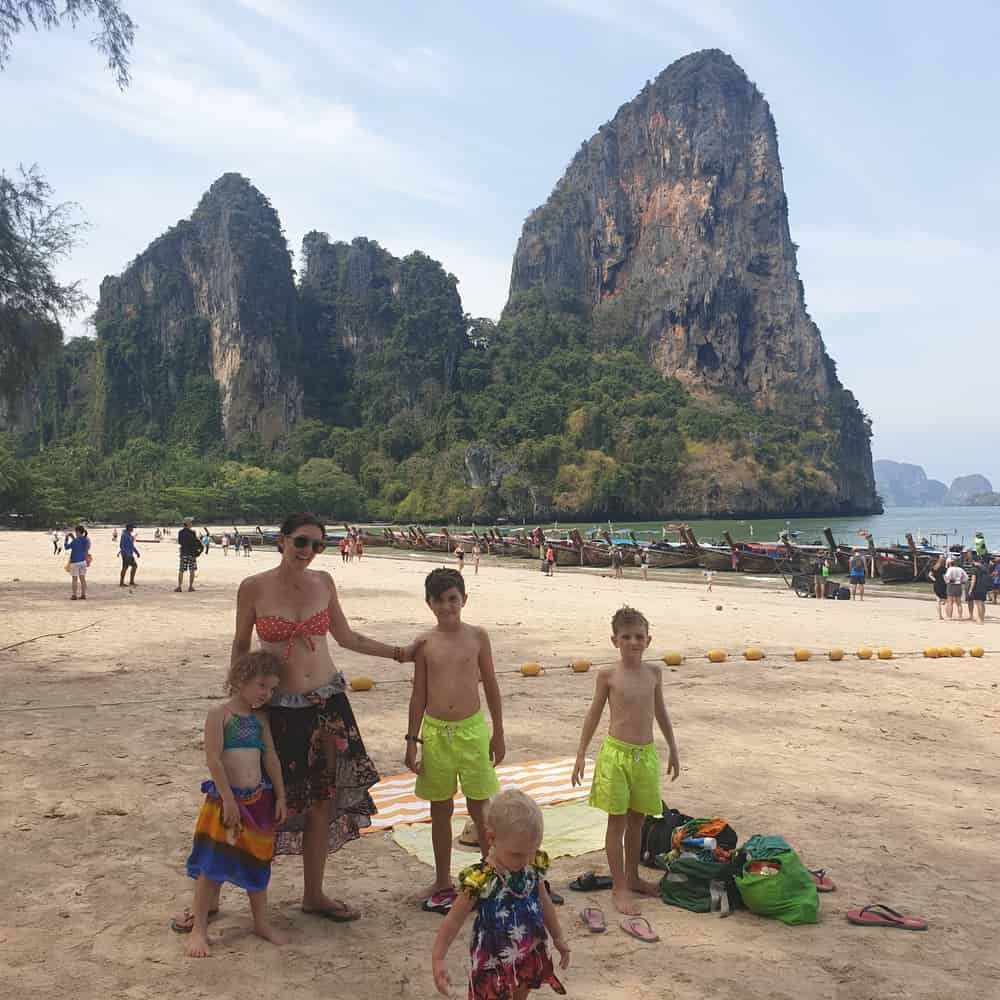 Where to Stay in Ao Nang
Find out where to stay in Ao Nang:
Thailand Itinerary 10 Days – Bangkok and the North
Thailand is bigger than you think. So don't try to see the whole country in 10 days. I recommend cutting it in half and either seeing the south and the stunning islands and beaches or heading up north for elephants, temples and city living.
Day 1 of Thailand Itinerary 10 Days – Bangkok
There are 2 International Airports in Bangkok. You will either arrive into Don Mueang International Airport which is common for budget airlines and Air Asia flights, or Suvaranbhani International Airport.
Search flights into Bangkok from wherever you are in the world here:
I always book an airport transfer with my favourite trusted company to take my family from the airport directly to our hotel in Bangkok.
If you are travelling to Bangkok with a family, read this detailed account doing Bangkok with Kids.
Bangkok is a massive and entertaining city. In 4 or 5 days, you can see and do a lot.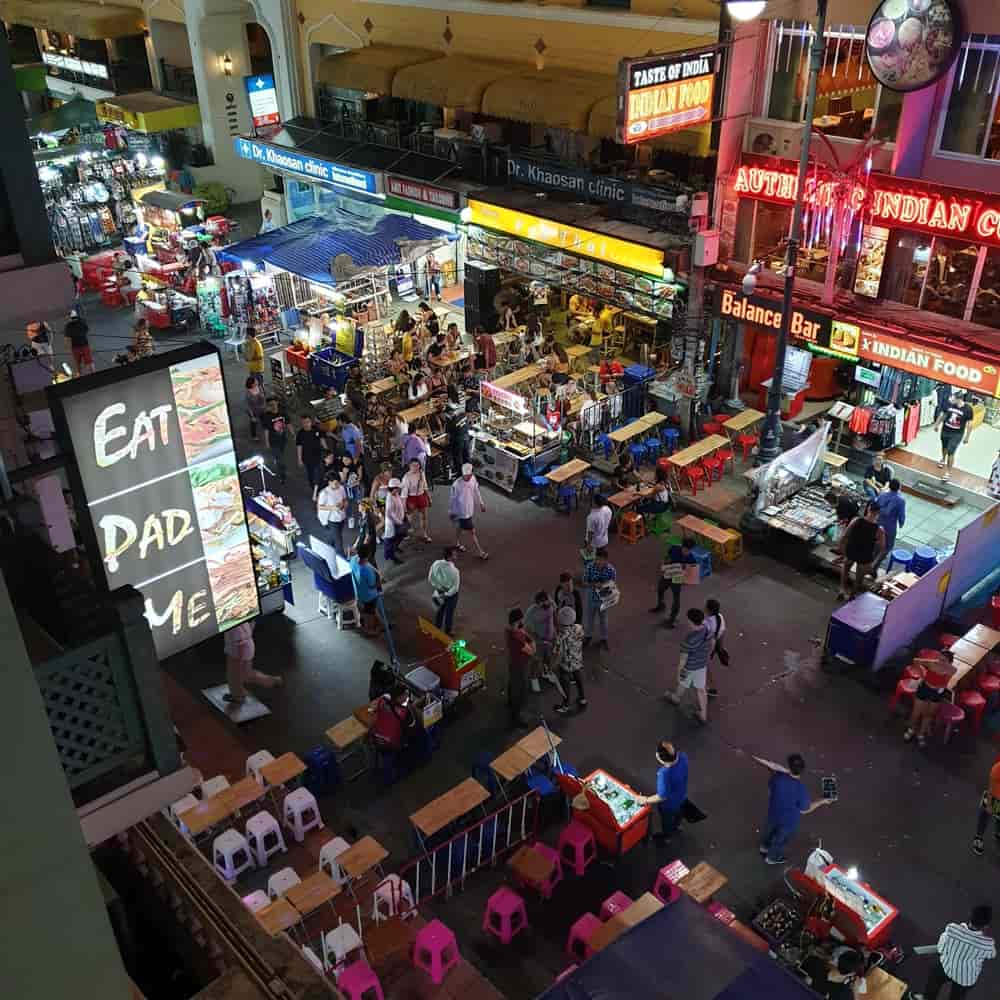 Getting the Grab app is recommended for getting taxis around the city. This is like Asian Uber and gets you the best taxi fares. All you need is a phone number to activate your account. If you are in Australia, activating International Roaming with Telstra is simple and you can pay $10 per day to use your phone overseas. Otherwise, we recommend getting a Thai sim card for your stay so you can use your phone cheaply while in the country.
Arrange a Thai sim on entry into Thailand International Airports.
Things to do In Bangkok
In Bangkok don't miss:
The incredible nightlife on Khaosan Road
Massive mega mall of MBK, shopping for electronics at Pantip Plaza or going upmarket at Siam Square
Little Zoo Cafe
Dusit Zoo
Jim Thompson's House
The Grand Palace
River Cruising and Floating Markets
Kidzania (This is an absolute must do if you have kids)
Children's Discovery Museum
Where to Stay in Bangkok
With a family, we prefer to stay in either Khaosan Road and Banglamphu area, or Sukhumvit/Siam Square. We can recommend some great family-friendly accommodation choices in these areas. It is especially difficult to find hotels which will fit our family of 6, so we are well practised at finding them for you!
We stayed at the D&D Inn right on Khaosan Road in a family room.  Just avoid the 'street wing' as these tend to get noisy at night.
Other great options for families near Khaosan Road are:
Further over in Sukhumvit area, Benviar Tonson Residence, Marriott Executive Apartments, and Centre Point Chidlom all offer a 3-bedroom apartment for around $500 AUD per night, which would be awesome for a short stay.
Day 5 of Thailand Itinerary 10 Days – Chiang Mai
You are going to be busy for a few days in Bangkok. The street food, nightlife and shopping will leave you breathless! So what better way to recover from this than to head off to the mountainous green Chiang Mai district.
Chiang Mai is located 675 km to the north of Bangkok, but it is worlds away. There are a few different options for getting there of course. We preferred to fly as a cheap flight with Air Asia only cost $20 USD and took 1 hour.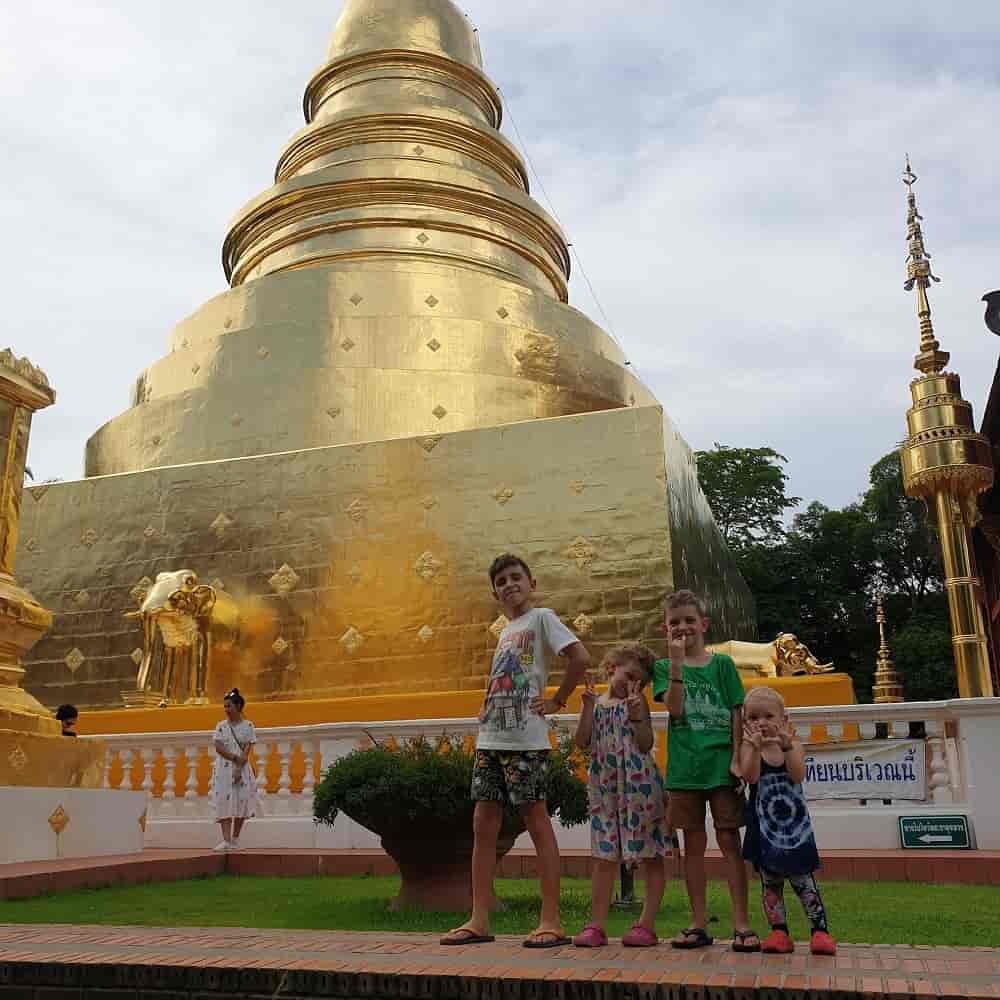 Another popular way to travel this route is via sleeper train or overnight bus. The 13-hour journey on a 2nd class sleeper train costs around 1200 THB. While you can find an express bus for as little as 690 THB. Check and compare prices on 12GoAsia.
With only a limited time to enjoy your Thailand adventure, we recommend flying to Chiang Mai. I like to use Skyscanner to compare and book flights.
Chiang Mai consists of an Old Walled City surrounded by a moat. It is a beautiful and atmospheric place overlooked by a large mountain range.
For a detailed article all about Chiang Mai, read this.
Things to Do in Chiang Mai
Try a Khao Soi – The famous northern dish of curried chicken noodle soup topped with crispy fried noodles
Visit an Elephant Sanctuary – We did all the research and found Chiang Mai's Best Elephant Sanctuary Here.
Take a day tour up to see the most spectacular temples in Thailand – The White Temple, and Blue Temple in Chiang Rai
Get a Sak Yant Tattoo – a sacred Buddhist magic tattoo performed by a monk
Visit the nightly Anusarn Markets, Saturday Walking Street, or Sunday Night Tha Pae Market for your souvenir shopping
Chiang Mai Zoo
Pai
Doi Inthanon National Park
Where to Stay in Chiang Mai
Compare prices of Chiang Mai Hotels below. We prefer to stay in the Old Town for the best value, and most fun! The hotels around Tha Pae Gate are within reachable distance to many city attractions.
After spending some time exploring the Golden Triangle and this gem of Thailand's north, you will be ready to fly back to Bangkok and head home. Weary, and with a suitcase full of batik, but safe in the knowledge that you will come back to this wonderful country again someday.
Thailand Itinerary 10 Days
With 10 days in Thailand, you can see so much. There are endless options for exploring this awesome country. Why not check out our other 2-week itinerary which adds more beaches and a national park too?
Like this article? Go and follow Gadsventure on Facebook or Instagram to show us some support and keep up to date with our travels in Southeast Asia with 4 young children. We are currently sitting high in the mountains of Sapa, Vietnam!