Are you thinking of a vacation to Thailand at the moment? Do you need things to do in Krabi besides the beautiful Islands?
Read This: Things to do in Ao Nang, Krabi
If so here is an exciting activity for you to experience with your kids or just yourself!
Read on to find out if this Krabi zipline adventure in Thailand is for you!
What is a Zipline?

A transportation system or piece of recreation equipment consisting of a cable stretched between points of different elevations, a pulley, and a harness or bar for attaching a rider, who moves by gravity.

Your Dictionary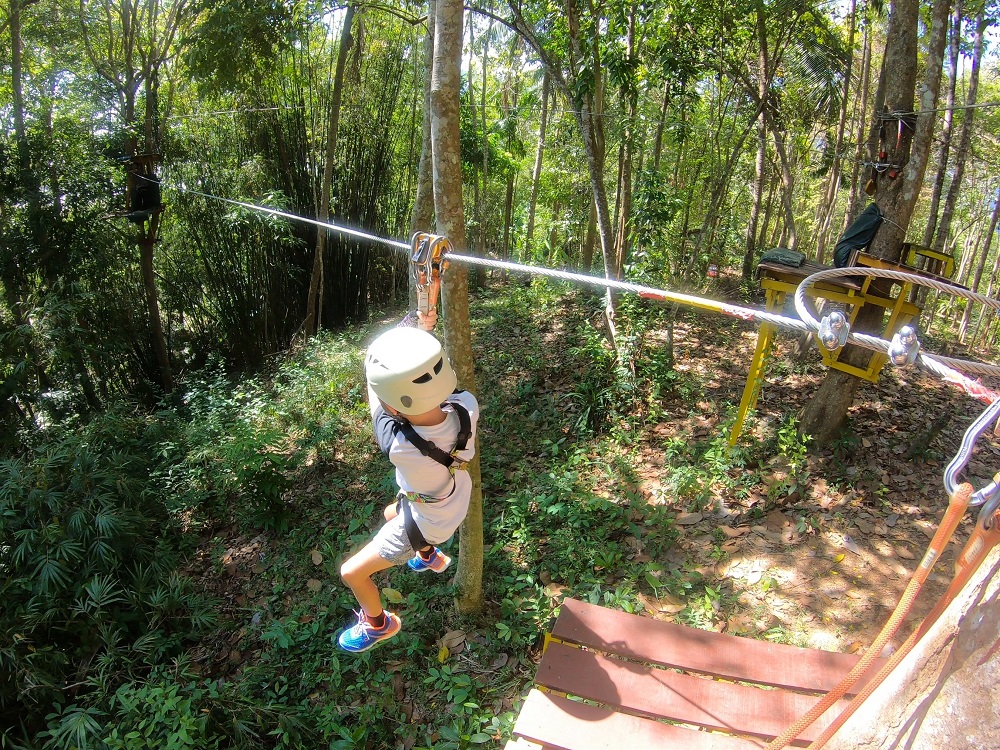 Where is the Ao Nang Zipline Adventure?
Aonang Fiore Adventure zipline park is located at the heart of Aonang, just off the main road to Aonang foreshore.
Here is the address to the park if you have your own transport;
764 Moo 2 Aonang, Muang, Krabi 81180
If you haven't got your own transport no problem. Aonang Fiore can arrange a hotel transfer from your hotel to the park for 200TBH per person. Areas included are Aonang beach, Klong Muang and Krabi town)
Read This: Best Beaches in Khao Lak
How Much Does it Cost?
The Adventure Zipline park has 3 different programs you can choose from depending on your skill and age.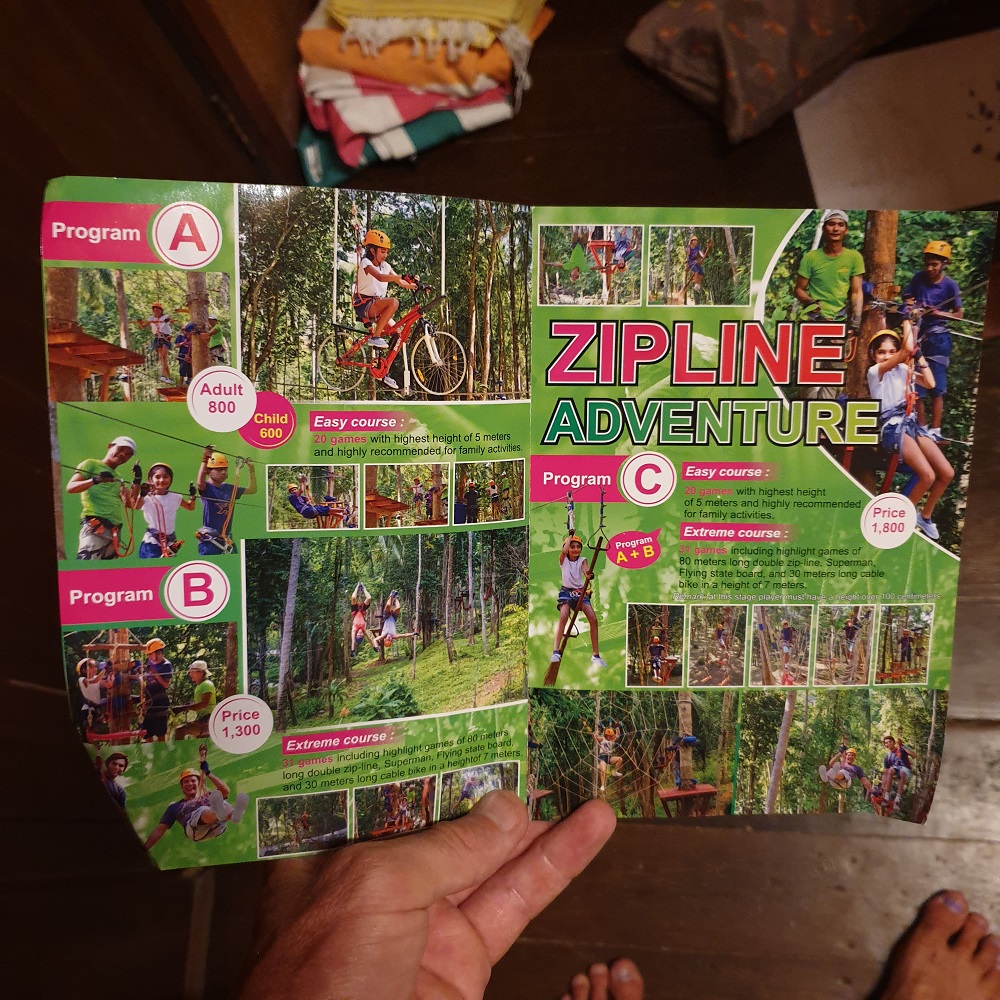 Program A – (Easy Course)
Includes 20 games at a height of no higher than 5 meters. Participants must be taller than 1 meter.
Cost
800 TBH per Adult
600 TBH per child
Program B – (Extreme Course)
Includes 31 games at a height of 7 meters. You have to be at least 1.5 meters tall to participate.
The safety ropes are further apart so this is the reason for the height restrictions.
The extreme course also includes an exciting 80-meter double zipline so you and a friend can fly through the air together.
Cost
Thinking of a trip to Thailand? You may need vaccinations and visas.
Program C – (Easy Course & Extreme Course combined)
This option includes both programs A and B so you can experience fun with the kids and test out your skills at some thrilling heights.
Cost
What to Bring & Wear
It is advised to wear loose clothing, for example, a shirt and shorts. Also, make sure you bring enclosed footwear to participate.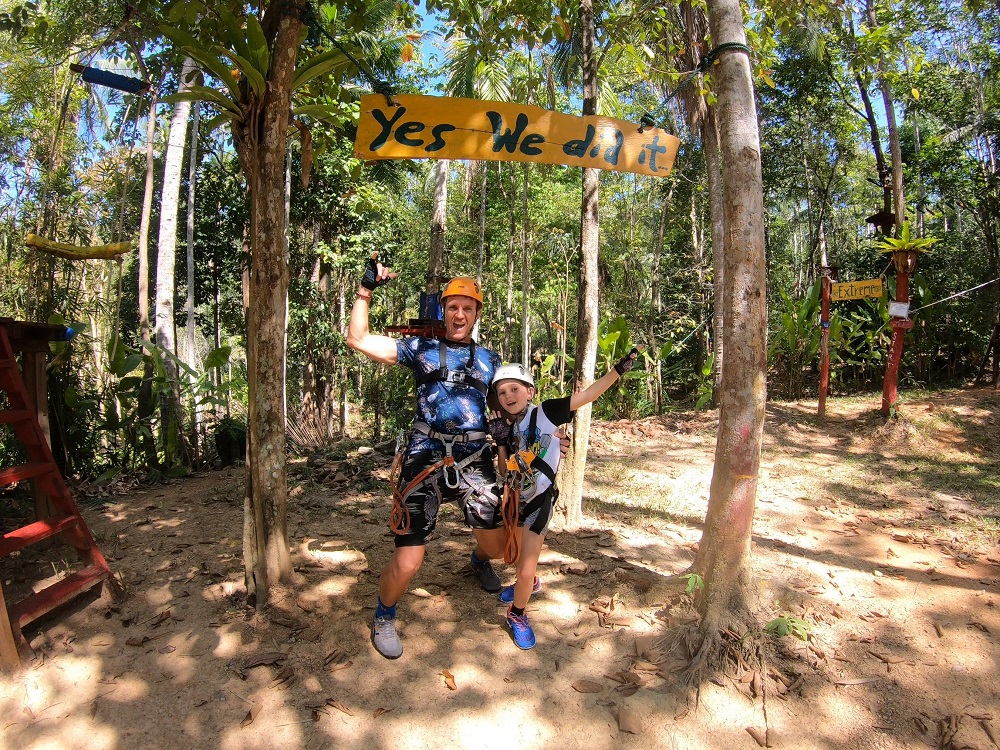 Sunscreen is also advisable and apply some mosquito repellant before arriving as there are a few bities getting around in the jungle (they do provide spray).
If you want to take pictures a GoPro is the best! If you only have your camera, your guide will take pictures for you while holding onto the camera.
Security & Storage for My Gear
Ao Nang Fiore Zipline park has you covered. When you arrive they will show you a locker where you can put your valuables and keep the key.
Safety & Instructors
Upon arriving at the zipline park you will sign onto a registration sheet and be fitted straight away with your safety gear:
Safety Harness
Saftey hooks
Zipline pulley
Gloves
Safety helmet
Shortly after being fitted with your gear you will be taken to the start of the course where your instructor will hold a safety induction (briefing) of how to use the safety clips, zip line pulley and any other safety instructions needed.
The guide's English was very good, easy to understand and covered every detail. The company was really into safety and you had a guide with you the whole way.
Insurance is included in the price of your ticket.
The Course (Program A – Easy Program 20 games)
This post covers Program A because I have a 7-year-old who is only short and the easy course would suit his abilities.
The Easier course is well suited to families with younger kids from 5 – 12 mainly due to their height and skills.
You begin the course with a series of training games to get you used to the ropes, safety clips, zipline pulley and height. Once you get through the 3 training games which teach you how to use the lines you move on to the 20 exciting main games.
This is where the real fun begins, you start working your way through exciting challenges such as tight ropes, scissor planks, lilly pad hopping, witches broom, swings, skateboard, bicycle and heaps of really fun ziplining activities.
Once complete you will get to get out of our safety gear and have your free water and fruit. This is just what you need after a ropes course!
The easy course took about 45 minutes to complete once you were through the inductions.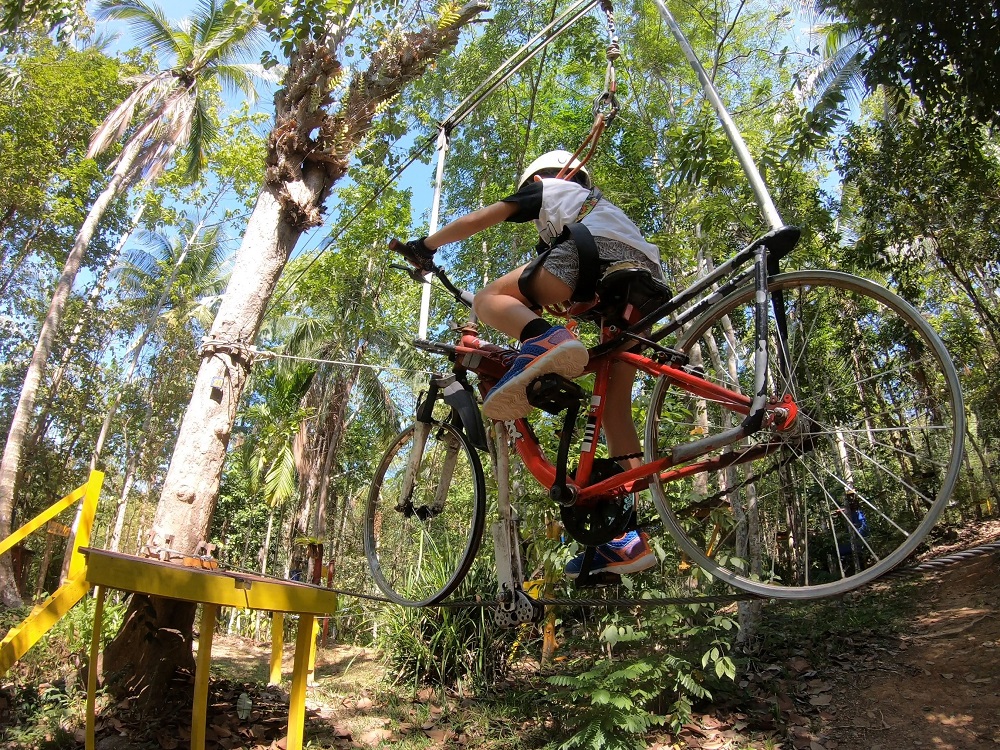 If You Like Course A Why Not Try the Next Level, Try the Extreme Course!
I did the program A with my 7-year-old and had a lot of fun, he loved it and would have loved to have gone on it again!
I also thought it was really awesome and was contemplating hitting the extreme but ran out of time, but it looked totally worth it.
At an extra 1300 TBH, it is totally worth going the extra adrenaline and attacking the extreme course.
Do I Recommend the Ao Nang Zipline Adventure?
Definetly! My 7 year old gave it a 10 out of 10 and said,
The Zipline adventure has changed my life!

Dash Gadsby 7 Year Old


I recommend the Easy program for anyone aged 5 – 12 years of age which you can book on GetYourGuide and save heaps of money compared with paying when you just get there.
If you are over 12 and taller than 1.5 meters I would totally recommend the Extreme program for the maximum fun and adventure. You can't book the extreme program with GetYourGuide so you will have to pay this when you arrive or after completing the Easy program with your kids.
Want to Save Money on Adventures?
If you want to Save Money on activities in Asia I recommend GetYourGuide, so far we have saved hundreds of dollars on activities such as:
Zipline Adventure Ao Nang, Thailand
You just get the best deals online without the hassle of haggling for a good price on the street. Read reviews and book your hotel pick up with ease.
Also, you can pay for your activities with your credit card, avoiding using valuable cash and saving on ATM fees.
It is really a no brainer for booking tours/transfers and activities with GetYourGuide in Asia on your next adventure.
Let us know if you have done any adventures with GetYourGuide in the comments below and how they went! Thanks.