Thailand is one of the most popular tourist destinations on the planet. It is so easy to see why! With pristine beaches, cosmopolitan cities and perfect exotic culture, Thailand is no stranger to tourism either. There are some visa requirements for Thailand, depending on your country of origin.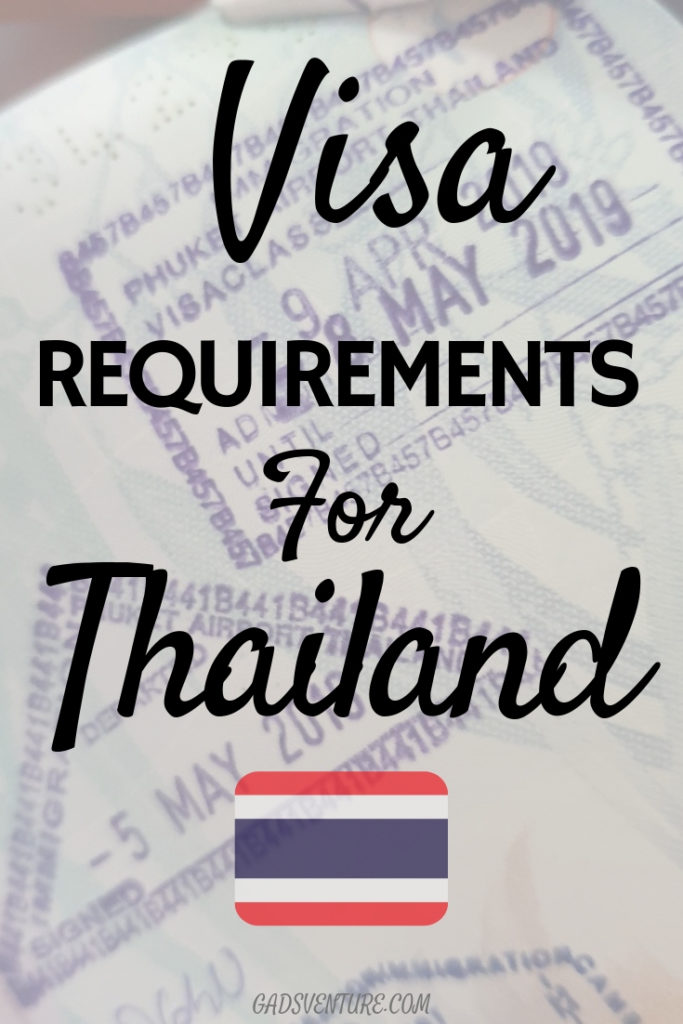 Read This Now: Best Beaches in Khao Lak
We love Thailand for its absolute ease of travel. Thanks to it being on the tourist trail for a very long time, every process is streamlined. Travelling through Thailand is an absolute breeze. It is cheap, and cheerful, and wonderful! The visa requirements for Thailand are pretty straight forward too. See below to discover if your country is part of the visa exemption program!

Arriving in Thailand
Arrival in Thailand is usually through one of the 7 international airports. They are:
Suvarnabhumi Airport (Bangkok)
Don Mueang International Airport (Bangkok)
Phuket International Airport
Chiangmai International Airport (Chaing Mai)
Hat Yai International Airport (Hat Yai)
Chiangrai International Airport (Chaing Rai)
Samui International Airport (Koh Samui)
If you cross into Thailand overland, through a land border with Malaysia, Myanmar, Laos, or Cambodia the same visa rules apply. When crossing overland, you are less likely to be asked for proof of onward travel within 30 days.
Visa Requirements for Thailand
British, American, and Australian passport holders can enter Thailand visa-free by either land or air, and stay for up to 30 days.
Do you need vaccinations for Thailand? The answers are right here.
What Documents Do I Need to Enter Thailand?
To enter Thailand on the visa waiver, you have to have a valid passport with at least 6 months validity. Visa requirements for Thailand dictate that it is also advisable to have proof of your onward or return travel ticket. Although in our experience, this is rarely requested.
The official word is that you may be asked to prove that you have 10,000THB per person to fund your stay. But in our experience, we have never been asked for this.
Which Countries are Eligible for Free Entry into Thailand?
The visa exemption program allows entry into Thailand for strictly tourism purposes only. Check out the Thai Embassy for the latest up to date info. There are 55 countries currently eligible for free entry into Thailand under the visa exemption:
Argentina
Australia
Austria
Bahrain
Belgium
Brazil
Brunei
Canada
Chile
Czech Republic
Denmark
Estonia
Finland
France
Germany
Greece
Hong Kong
Hungary
Iceland
Indonesia
Ireland
Israel
Italy
Japan
Korea
Kuwait
Laos
Liechtenstein
Luxembourg
Macau
Malaysia
Monaco
Mongolia
Netherlands
New Zealand
Norway
Oman
Peru
Philippines
Poland
Portugal
Qatar
Russia
Singapore
Slovak Republic
Slovenia
South Africa
Spain
Sweden
Switzerland
Turkey
United Arab Emirates
The United Kingdom
United States
Vietnam
Residents of Korea, Brazil, Peru, Argentina and Chile will get 90 days in both airport and land border.
Can I Stay Longer in Thailand on a Tourist Visa?
This 30-day stay is extendable if you apply for an extension before the period expires. An extension with the Thai Consulate costs 1900THB per 30-day extension. Extensions will be granted up to 6 times per calendar year.
More commonly, tourists who wish to stay longer tend to do a 'visa run' which means crossing the border for a few hours, and coming back into Thailand with another free 30 days. However, you are only allowed to renew your visa in this fashion 2 times per calendar year, thanks to recent changes to the immigration rules.
Read this: Things to do in Ao Nang
Overstaying your Visa in Thailand
Overstaying your visa is a very serious crime in Thailand and not one to be taken lightly. Fines are issued at a rate of 500Baht per day, and there is no leniency whatsoever. Don't think you can plead ignorance as no leniency will be given. If you get stopped by immigration and you have overstayed your visa, you will be put into jail, no questions asked. The only way to get out of Thai prison is to pay the hefty fine or get yourself a flight out of there pronto.
Either way, this is not a situation you would ever want to get yourself into, so please do not overstay your Thai visa. Understand your visa requirements for Thailand and don't get into trouble.
Visa Requirements for Thailand – Other Types of Thai Visas
Tourist Visa
Perhaps you wish to stay longer in Thailand without worrying about extensions when you are there. Or if your country is not on the list of 55 above, there is a 60 day Thai Tourist Visa which you can apply for with your local Thai Consulate before arrival into Thailand. This visa is then further extendable for up to another 30 days via a visa border run.
Non- Immigrant Visa
This is a single entry visa valid up to 90 days. It is extendable by doing visa runs for 30 days each time. You need to apply for this visa before arriving in Thailand. Obtaining work permits and opening bank accounts is possible with this type of visa.
Visa Requirements for Thailand – It's Easy
For more information please contact the Thai Consulate in your home country.
Have you been to Thailand? What was your experience with arriving into the country?