Ao Nang is the epitome of a beachside paradise. With the most beautiful islands reachable just offshore and a cosmopolitan backpacker / family friendly beach vibe, this area is a fantastic place to visit on your Thai holiday. This list will show you the best things to do in Ao Nang, and includes where to stay, when to go and how to book your escape right now!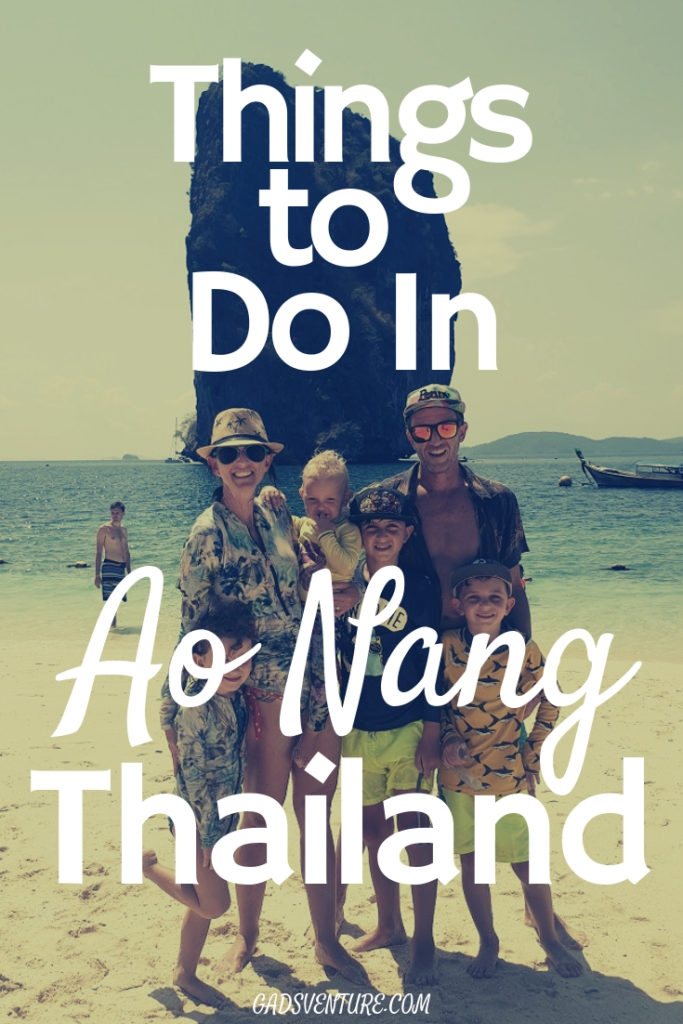 When to visit Ao Nang Thailand
Peak Period
In the south of Thailand, it is either hot, warm or rainy. It never gets cold. So leave your winter woollies out of your suitcase for this trip. The peak holiday period is from November to February when it is at its least hot, and nice and dry.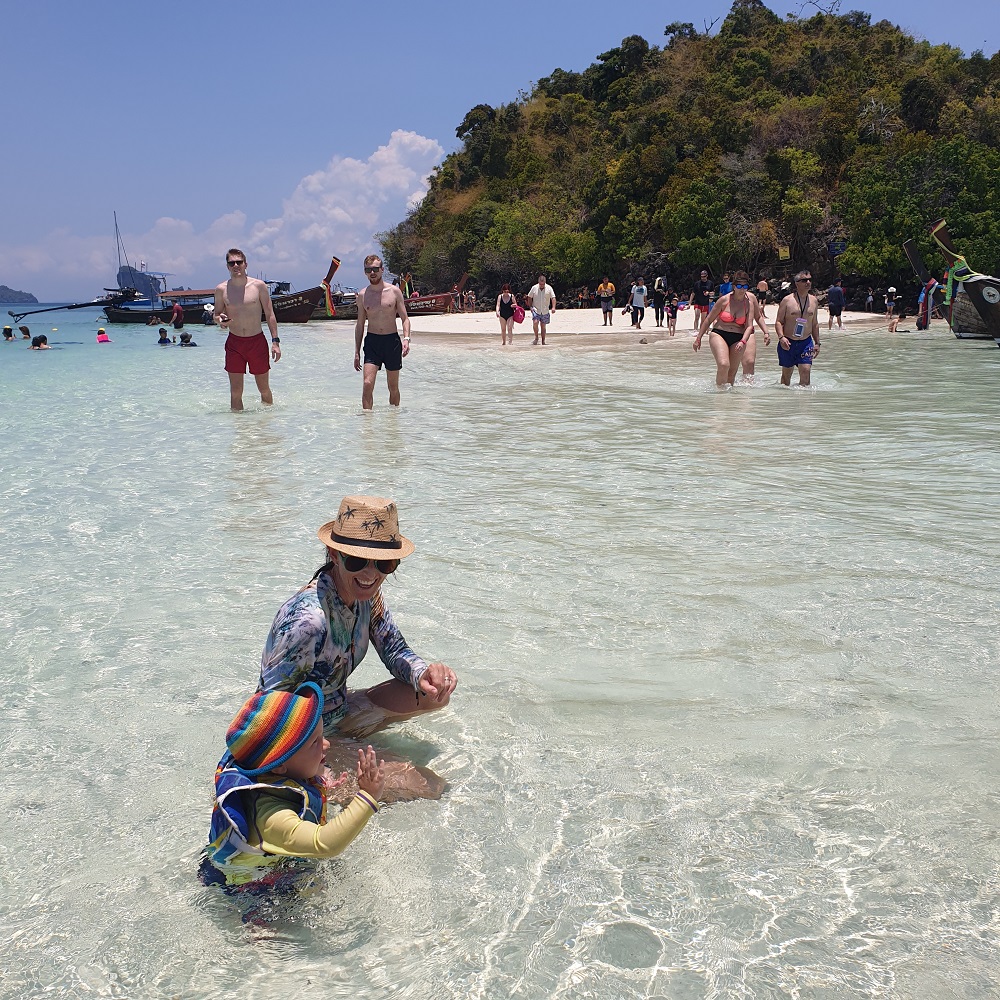 Low Season
The temperatures increase from February to around May, and then the monsoon weather pattern kicks in. This means heavy storms and showers at the end of the day, but usually with a calm and sunny morning first. Visiting during the quiet season will mean some of the ferry routes and boat trips do not run as often. Some hotels and restaurants close down altogether, and some simply have cheaper rates.
Shoulder Season
We chose to visit Krabi in April when it was nice and hot, and the rainy season had not yet begun.
Need a good travel towel? Try these top brands:
Things to do in Ao Nang and Surrounds
Ao Nang is a beautiful beachside resort town situated 15km south of Krabi. To access here, you can either fly into Krabi Airport, a taxi ride will cost about 150Baht, or flying into Phuket you will catch the ferry across the bay.
Ao Nang itself has plenty to keep you occupied and there are many tours departing daily. Krabi town is also nearby. The beach here has a big tidal movement so swimming is only really possible at high tide.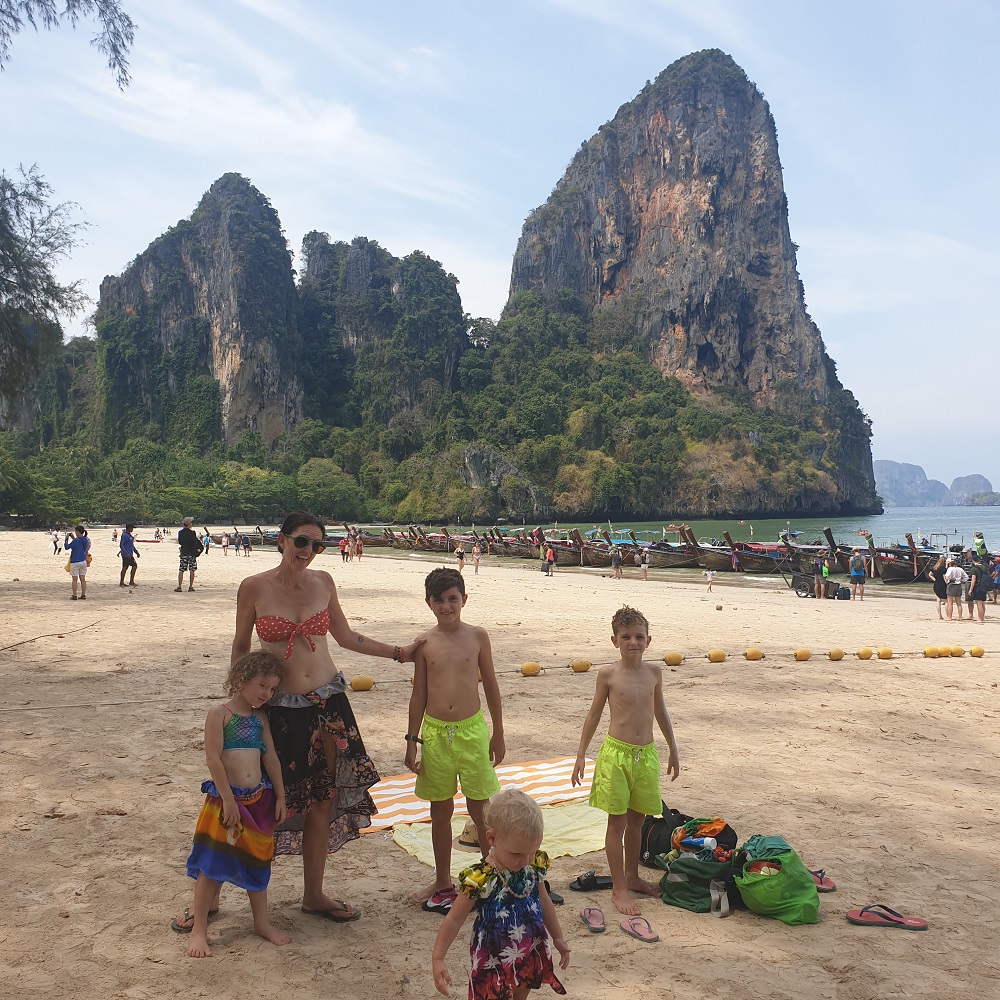 Railay Beach
The easiest thing to do in Ao Nang is to catch a longtail boat over to West Railay Beach. This is a 15-minute boat ride to the east of Ao Nang, but is almost worlds away.
On West Railay, enjoy swimming in pristine waters with views of massive limestone cliffs. Rent a stand-up paddleboard for 100Baht an hour or a kayak for 200Baht per hour. There are shops, bars, and restaurants, expect to pay a little more than Ao Nang prices. A large Singha beer on the beachfront here will set you back 150Baht.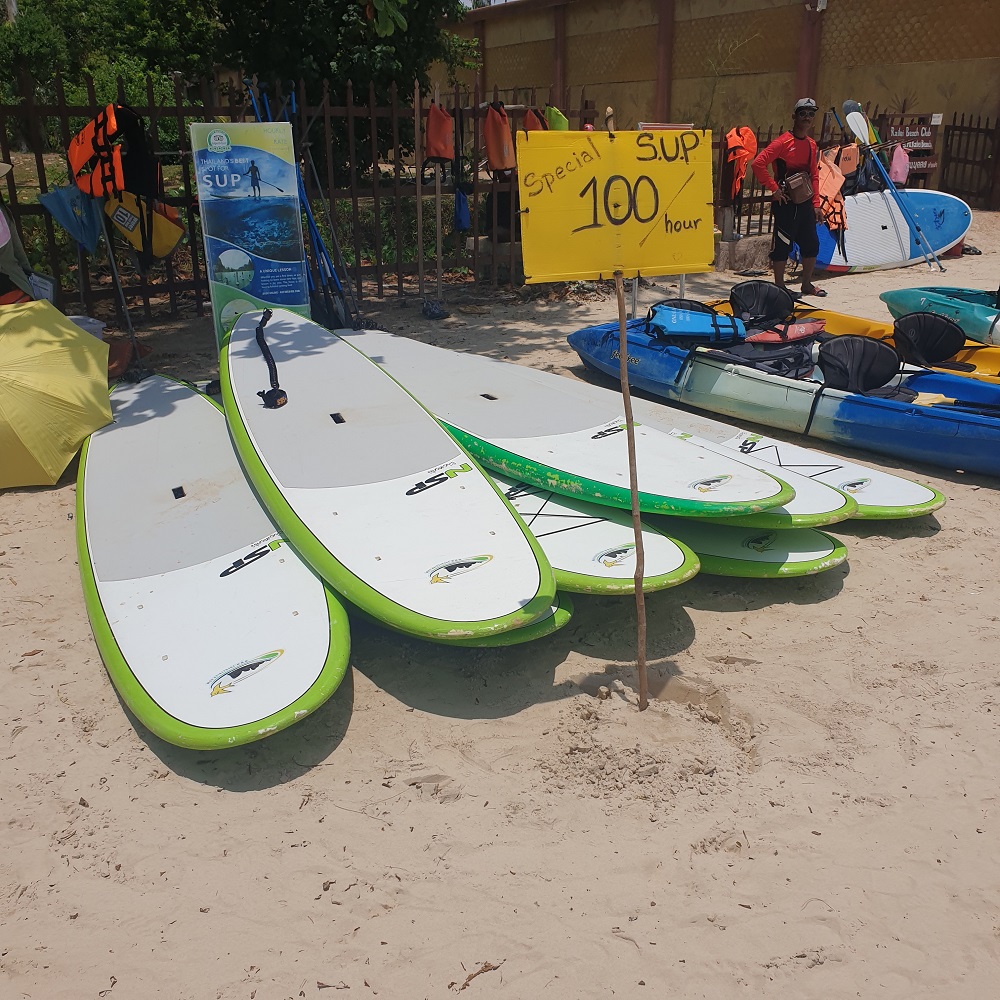 You can wander through the shops and out the other side onto East Railay. Here you will discover a more muddy beach lined with mangroves. Keep following the path around to the south of the bay, and you end up at Phra Nang Cave.
How to Buy Tickets
To buy a long tail boat ticket which will take you to West Railay Beach and back, you need to go to the booth on the corner of the road where the main tourist strip meets the Ao Nang beach. There you will see a hive of activity with the blue-clad longtail boat skippers waiting for fares.
The return price was 200Baht per adult and 100Baht for children over 3.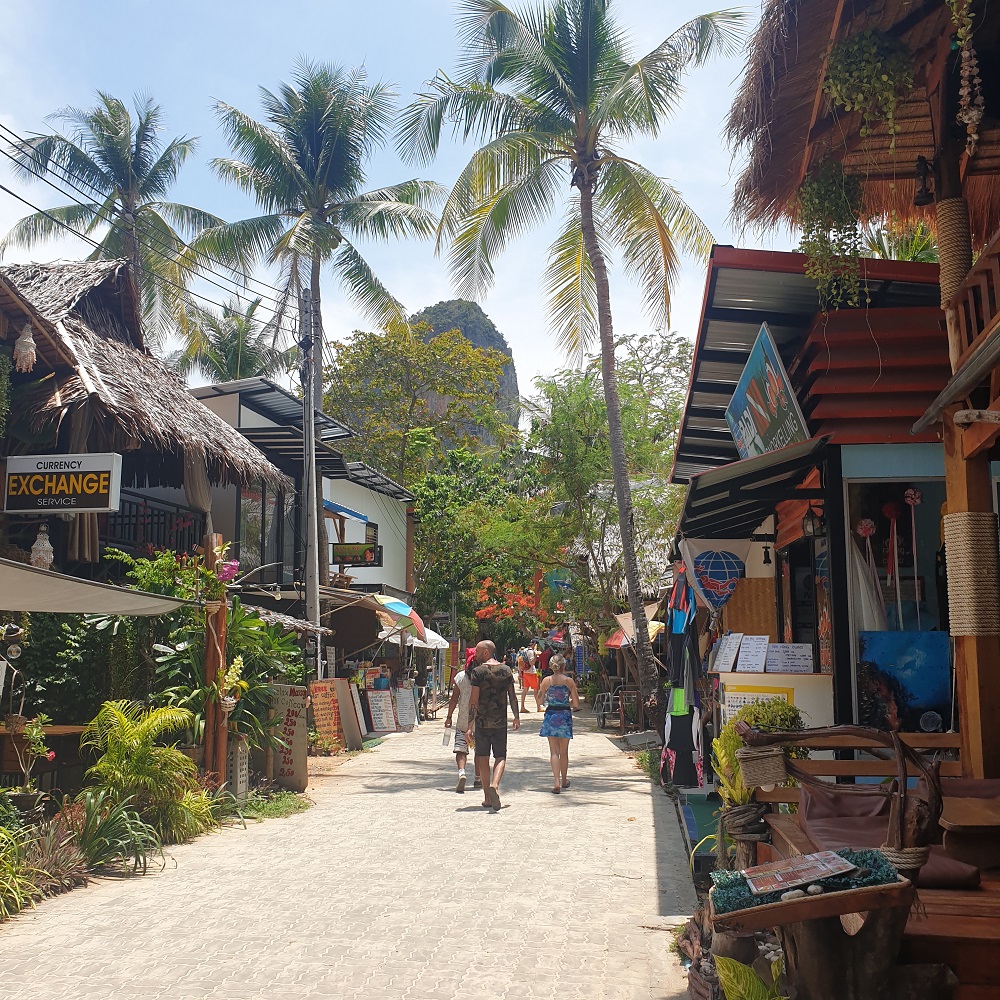 Stay at Railay Beach
When you arrive on a return ticket, you will wish you were staying here. There are some beautiful accommodation options along the front at East Railay. We loved the look of:
On West Railay overlooking the nicest beach check out:
Rayavadee (it is massive and overlooks both beaches)
In between Ao Nang and Railay the Centara Grand Beach Resort and Villas takes up an entire exclusive beach with boat access only in and out.
Read this: International Drivers Permit for Thailand
Phra Nang Cave
Phra Nang Princess Cave is a sacred spot for Buddhists, and has a site for worshippers to leave their fertility symbols. You are not supposed to enter the temple here. It is a nice place to swim in the shade of the overhanging craggy cliff. There are some slippery rocks to climb and nice little viewing points the deeper you go into the rocks.
On the far west end of the beach, you can purchase snacks from little longtail boats, and the prices here are surprisingly not ridiculous. There is a nice swimming area which is marked out, and you are able to swim to the foot of a beautiful tall craggy island here and climb onto a rock for a great photo.
Lagoon Walk
Half way between Railay East and Phra Nang Cave you will find a steep walking track which leads up the side of the mountain to a view point and lagoon. The difficulty level will take a fair amount of fitness, and this is not suitable for small children.
4 Island Boat Tour by Longail Boat or Speedboat
This was an epic all day adventure which started at 8am when we were waiting for our hotel pick up, and we didn't get home until 4pm. Lunch was included and we visited Chicken Island, Tub Island, Ko Mor, and Poda Island. These beautiful islands are just to the south of Ao Nang and are visible from the beach. Chicken Island had some awesome snorkelling, and we even were lucky enough to see some clownfish amongst the anemones. Snorkels and masks were provided.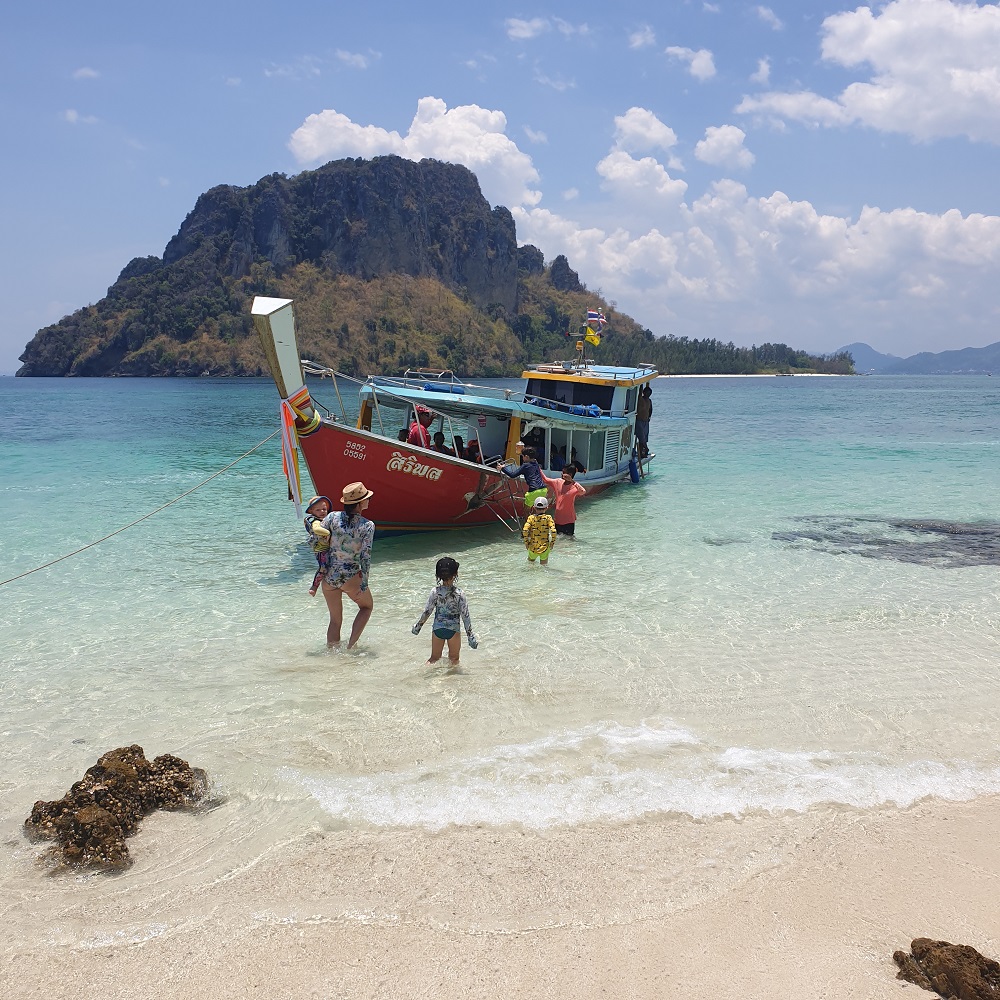 At low tide, the 3 islands of Chicken, Tub and Mor are joined by a pure white sand spit. It was high tide when we visited, so we were only able to wander between Tub and Mor Islands in knee deep water. But it was still beautiful.
For lunch we stopped at Poda Island and enjoyed over an hour relaxing on the white sand with the bluest water ever! For a secret snorkelling spot, check out the marked fenced area on the southern end of the west beach. Swim right out to the edge of the marked area, and you will see what I mean. Just watch it at low tide, it can get pretty shallow.
Bring plenty of sunscreen and snacks with you on the 4 islands tour. You can purchase snacks along the way, but it did seem a long wait until lunch. Cold water was provided.
Note that drones and alcohol are not permitted within the national park.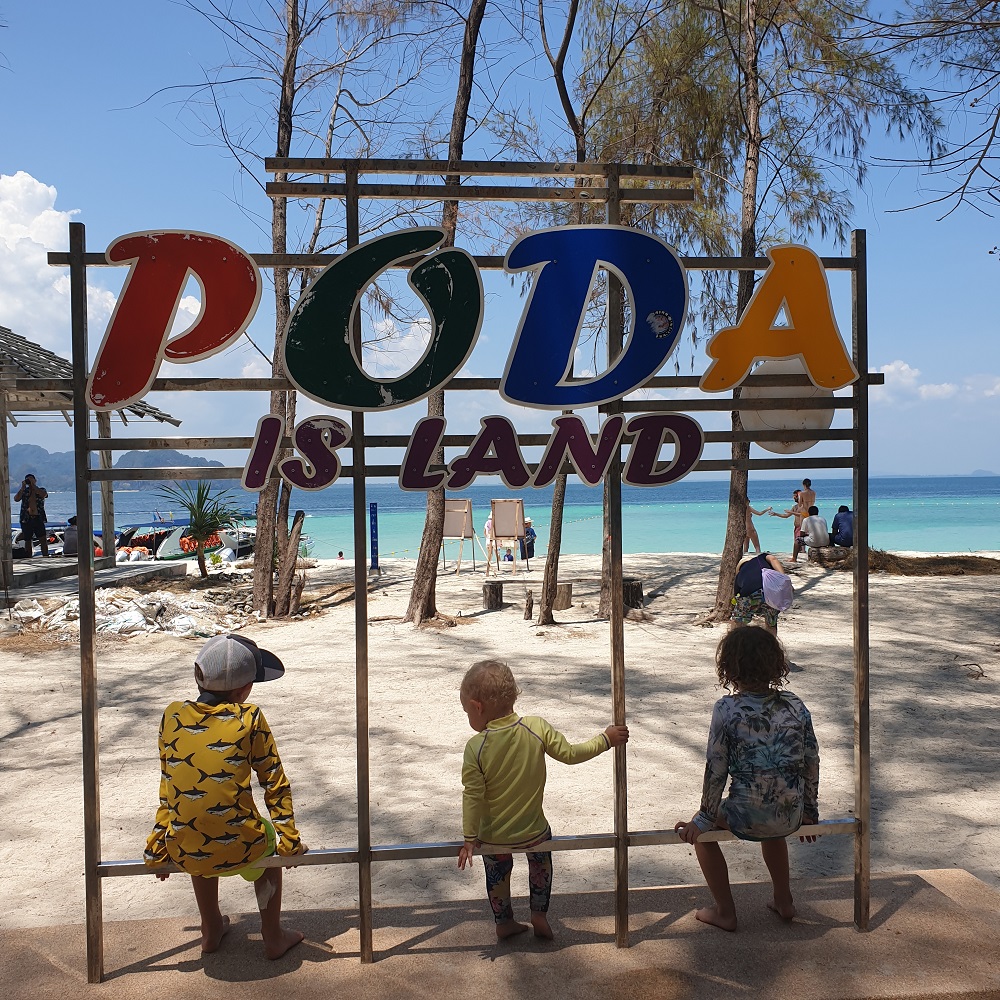 Longtail Boat or Speedboat?
We took a longtail. It was a much more authentic experience, and much cheaper too. The speedboats are faster, so you get to spend a bit more time at the islands, but otherwise the tour is exactly the same.
How to Book 4 Island Tour from Ao Nang Beach
We booked with GetYourGuide tours online. The price we got here ($117 AUD for our entire family of 6) bet every competitor in town. The cheapest we could find was $260. And it was a simple process paying online with a credit card too. Check prices and dates here:
Prices above indicate a speedboat tour on the left, and a longtail boat on the right.
Note that this ticket price does not include your national park pass which you pay in cash on arrival to your boat. This cost 400Baht for adults, and 200Baht for children.
All tickets mentioned here include lifejackets. If you are travelling with small children, it is advisable to bring your own little jackets. They had 2 child sized life jackets on the boat we were on, and they were fine for our bigger kids.
Hong Islands Tour
This is another great day trip from Ao Nang. You have the option of either a speedboat or longtail boat to take you to the east of Ao Nang and around the corner to the Hong Island group. You start with a visit to the very special Hong Lagoon followed by lunch on Hong Island. Then pay a visit to see where they collect the main ingredients for the Thai specialty, bird's nest soup using flimsy ladders to scale the cliffs.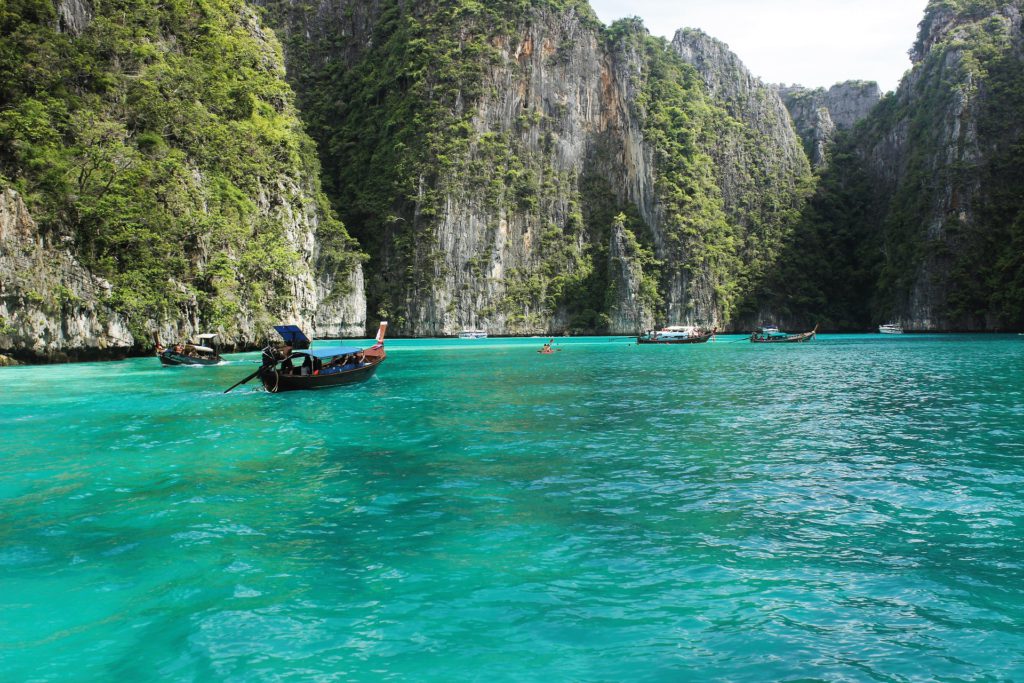 A stunning day in paradise with so many photo opportunities!
Watch out for the fish here. They are so friendly, they can seem a little overexcited and seem to swarm around. Don't panic though, they don't bite.
How to Book Hong Islands Tour
Once again, we shopped around and found the prices on GetYourGuide to be the cheapest option by far. The tour includes lunch, water, snorkel and mask, and hotel pick up. The national park fee is separate and costs an extra 300Baht for adults and 100Baht for kids. It costs extra to take a speedboat over longtail boat.
Phi Phi Islands Tour
Take a speedboat to the gorgeous Phi Phi Islands group and enjoy lunch on Phi Phi Don. You get to visit Lohsamah Bay, Pileh Bay, Monkey Bay, Maya Bay (made famous by 'The Beach' starring Leonardo DiCaprio), Viking Cave, and Bamboo Island.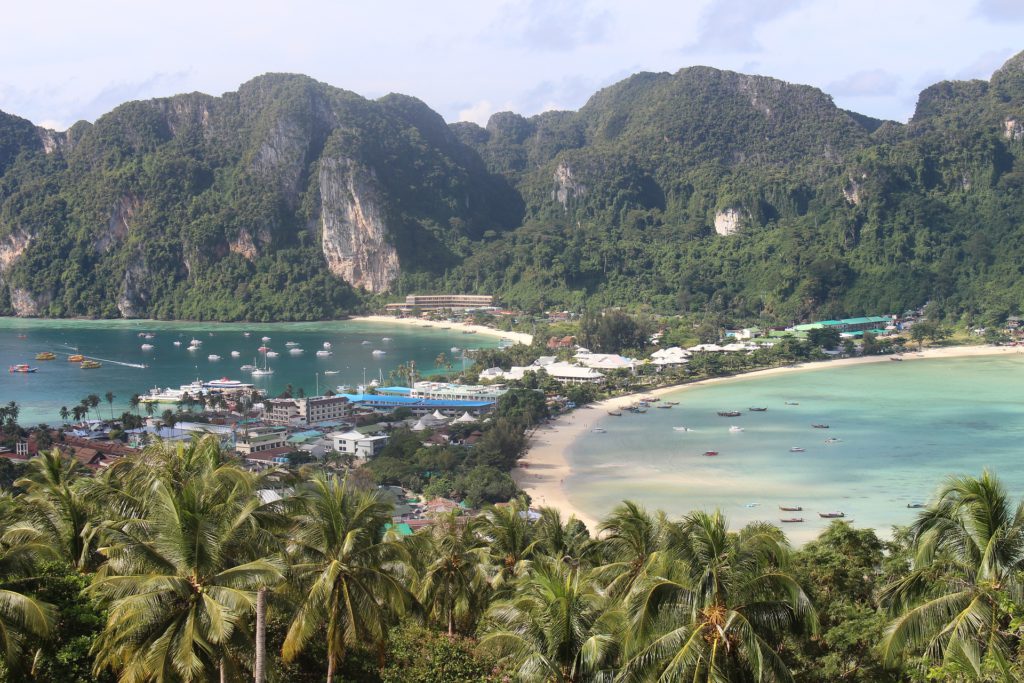 This tour is a fantastic showcase of these stunning islands. You have opportunities to snorkel and gear is provided on the tour. National park entrance fees are not included and cost an extra 400Baht per adult and 200Baht per child.
How to Book Phi Phi Islands Tour
To book this tour with a local agent it would have cost over $550AUD for our family with 2 adults and 3 paying children. However, with GetYourGuide we only paid $325AUD.
These popular tours are likely to sell out so book more than one day in advance! Check prices here:
Emerald Pool, Blue Pool and Tiger Temple
This is another popular tour that is advertised all over Ao Nang. The emerald pool is only 15 km from Ao Nang and is best visited on a private tour. The cheapest price we have found is right here with adults from $60:
Swim in a beautiful emerald green pool, which is about 1.5m deep all the way across. The water is fed by a natural freshwater spring. It is about 800m walk to the pool from the carpark.
After cooling off in the pool, walk another 400m past this to find the blue pool. There is no swimming in this one as it is boiling hot and surrounded by quicksand! But it is stunningly beautiful with its unique shade of sapphire amongst the forest.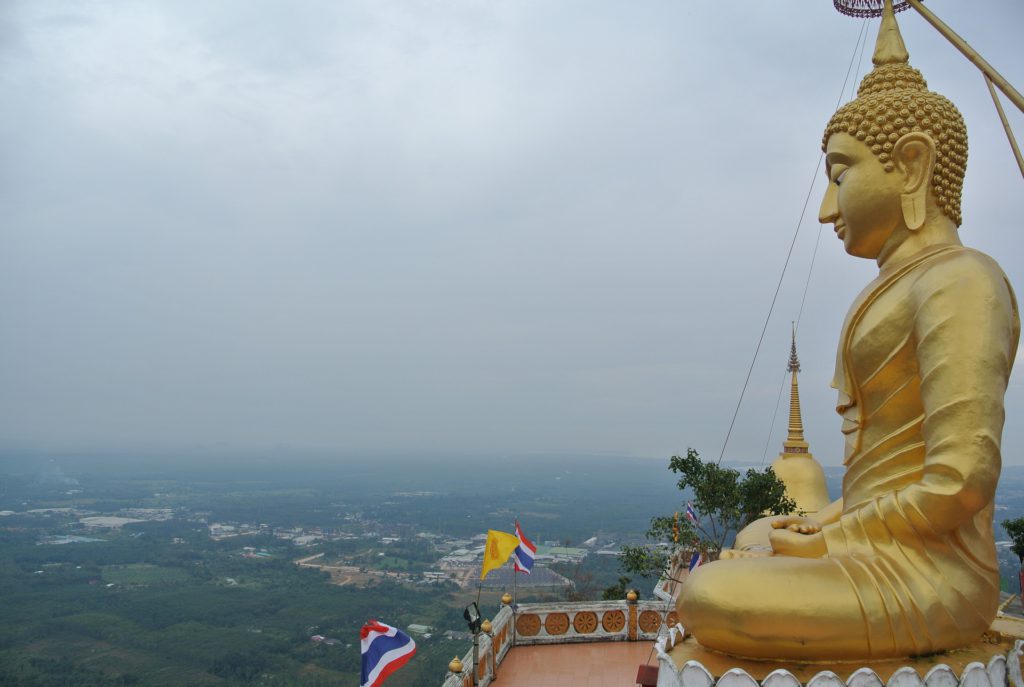 Hike up the stairs to get to the hilltop Tiger Temple. Once the home of Krabi's last tiger, it is now an important Buddhist centre for meditation. The path is easy, and good for medium fitness.
Kayaking
Kayaking tours from Ao Nang involve either seafaring or cave cruising. For a cheaper alternative, hire a kayak from the beach at Railay, for 200Baht per hour, and paddle to the eastern end of the beach. The rocky point here has caves that you can paddle through and explore yourself.
Things to do in Ao Nang for Kids
Shopping
Strolling down the foreshore at Ao Nang Beach offers great souvenir shopping. You can buy anything here! Just bargain hard. There are big blow up water toys and waterpistols, toys, luggage, clothes, swimwear, sarongs, life jackets, reef walkers, pocket knives and more.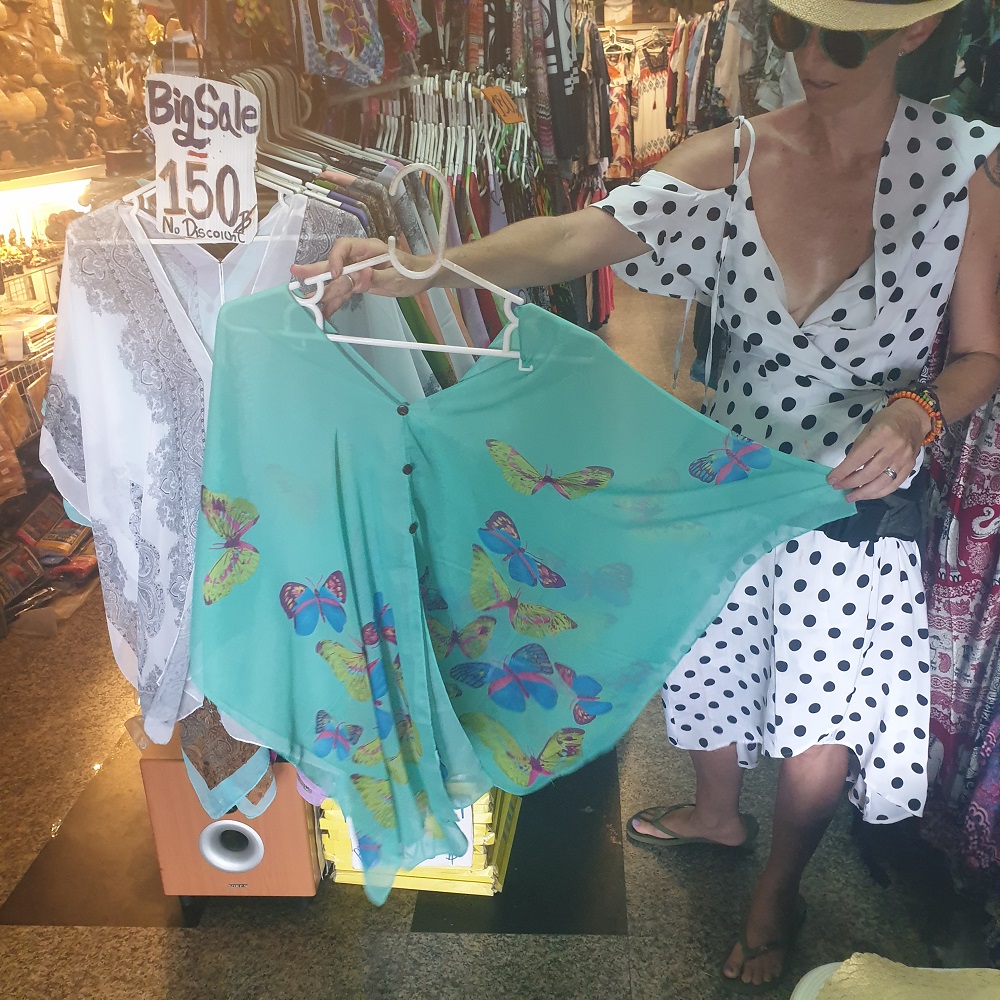 Amongst all of these shops fussy kids will be excited by 2 McDonald's restaurants and fussy parents will love Starbucks and Coffee Club to break up all that shopping. There are pharmacies here too including Boots and Watsons.
Night Markets
The main Ao Nang night markets are a little bit soul-less and underwhelming. If you head to the next door Noppharat Thara Beach instead, the Landmark Night Markets are much more exciting, with cheaper food and genuine artisan stores.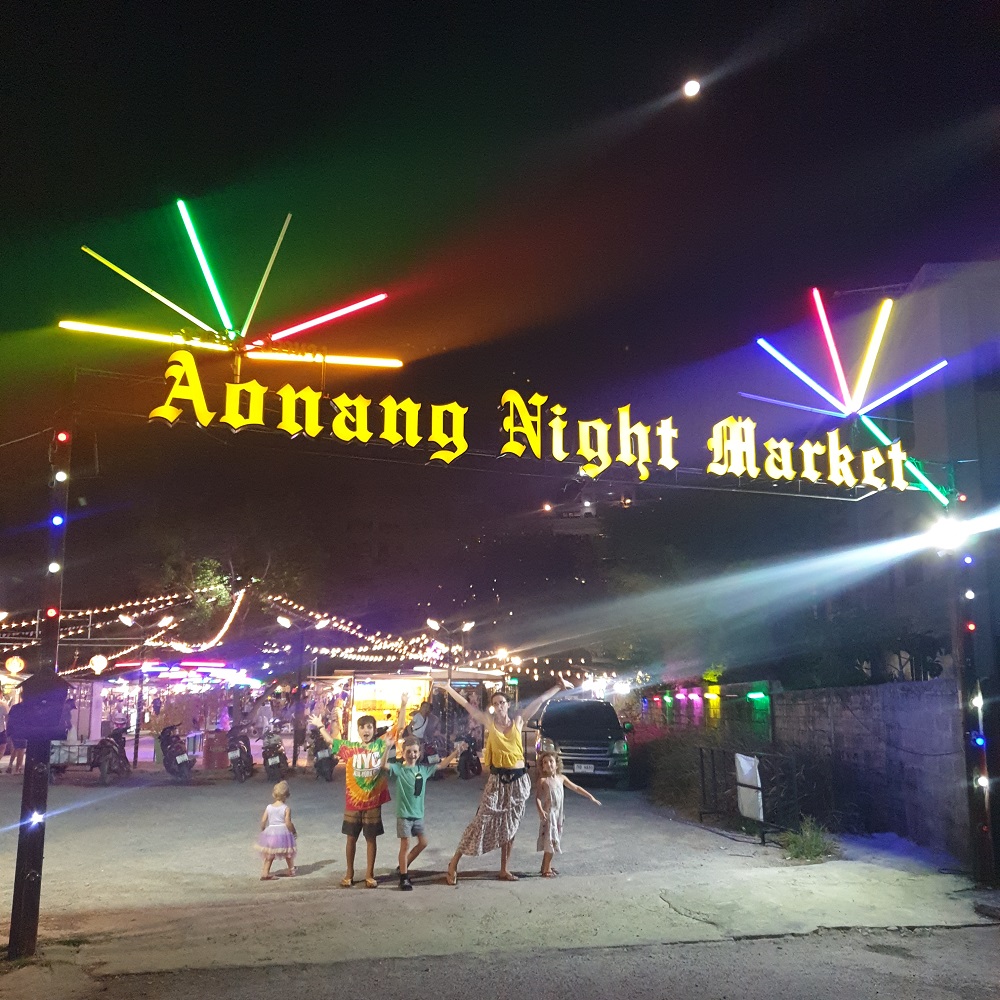 Ziplining
We took young Master 7 on a ziplining adventure with Ao Nang Fiore Zipline. The fun and safety of the beginner's course was just perfect for our little guy, and your kids will love it too. For kids over 120cm, there is a harder course too. Check out our full review of our Zipline Tour here.
The Giant Marlin
This cool statue on the foreshore at Ao Nang represents the rich fishing industry of the area. There are 2 huge marlin fighting against a couple of fisherman. The beach provides a beautiful backdrop for this photo opportunity.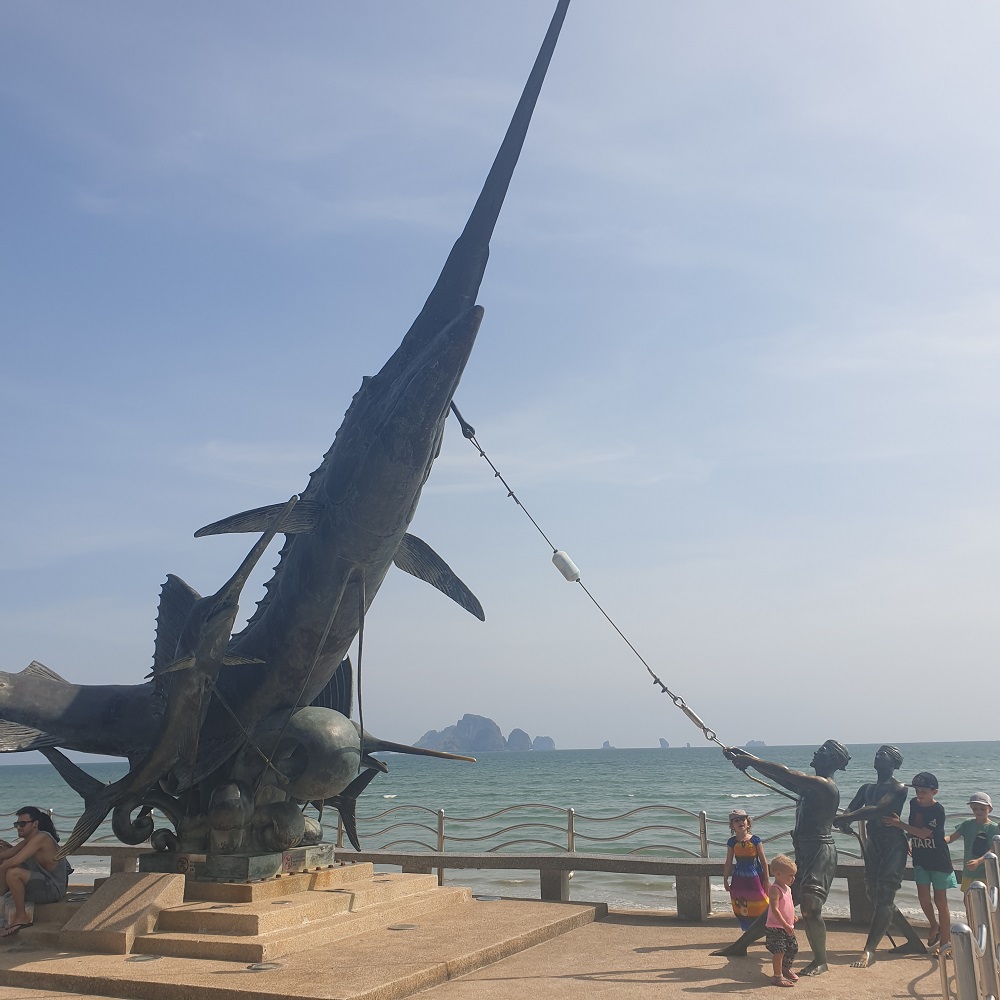 Gastropod Fossil Beach
You see the sign for this fossil beach all over Ao Nang and it is actually really hard to find. Ask a taxi driver to take you to Gastropod Fossil Beach which is located further east of Ao Nang at the end of Ao Nam Mao Road. There is an entry fee of 200Baht per adult and 100Baht per child.
You may be underwhelmed as you arrive on what appears to be slabs of concrete laid over the beach. However, on closer inspection, this natural layer of sediment contains millions of prehistoric snail shells estimated to be 40 million years old. This is one of only 2 sites like this in the world.
Beach Time
Relaxing on the beach with your family especially for the beautiful sunset is a nice way to enjoy Ao Nang. Grab some beverages and snacks from the convenience store and make your way onto the sand.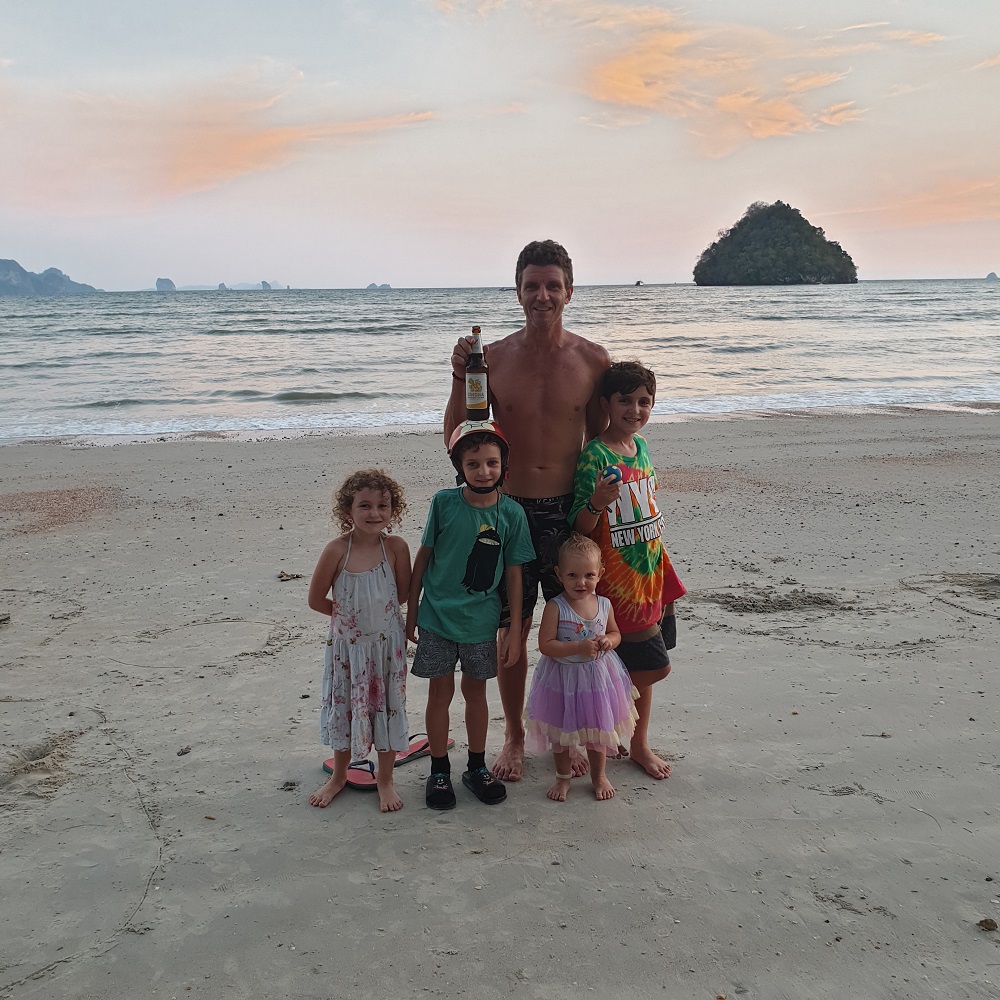 There are so Many Things to do in Ao Nang Krabi!
Spending a week in Ao Nang will have you spoilt for choice. With plenty of activities to choose from, every member of your family will be entertained.
We choose GetYourGuide to check prices and compare them with the local agents selling tours and activities. Majority of the time in Ao Nang, GetYourGuide came out well ahead on price and they were so easy to book through too. I love the convenience of booking online and paying by credit card, without the hassle of trying to negotiate a cheaper rate. The tours are still handled by local tour operators, but GetYourGuide takes care of the rest.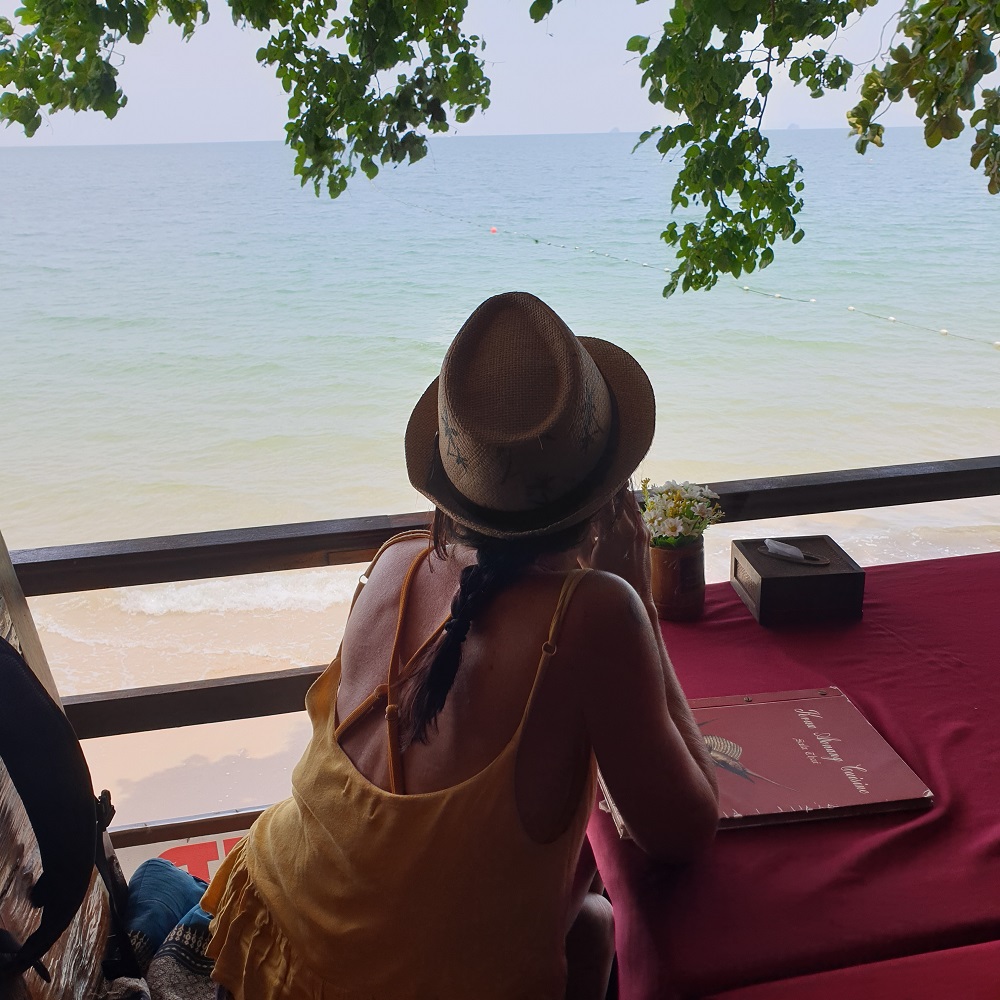 Check out our Bali Travel Guide too!