We were recently given the task of road-testing a fabulous quick dry travel towel. This one is from the awesome Australia brand – Evolve Travel Goods. How lucky are we to be able to test these awesome products for you, real-world, on the beautiful shores of Bali, Indonesia!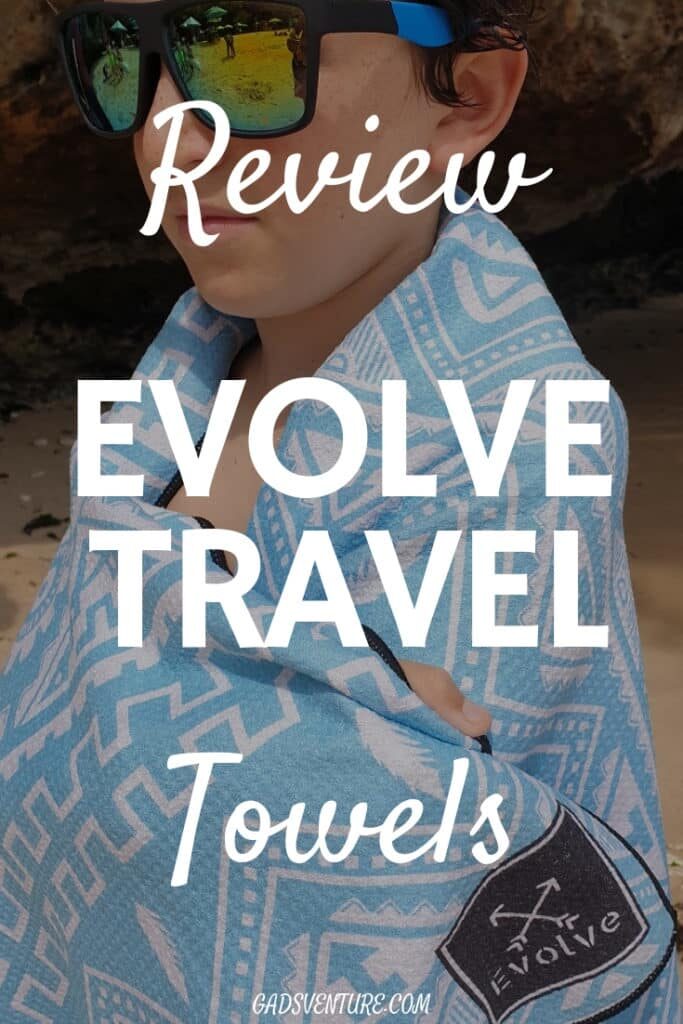 Our kids loved the beautiful colours of these stunning quick dry travel towels, and we thoroughly enjoyed putting them through their paces.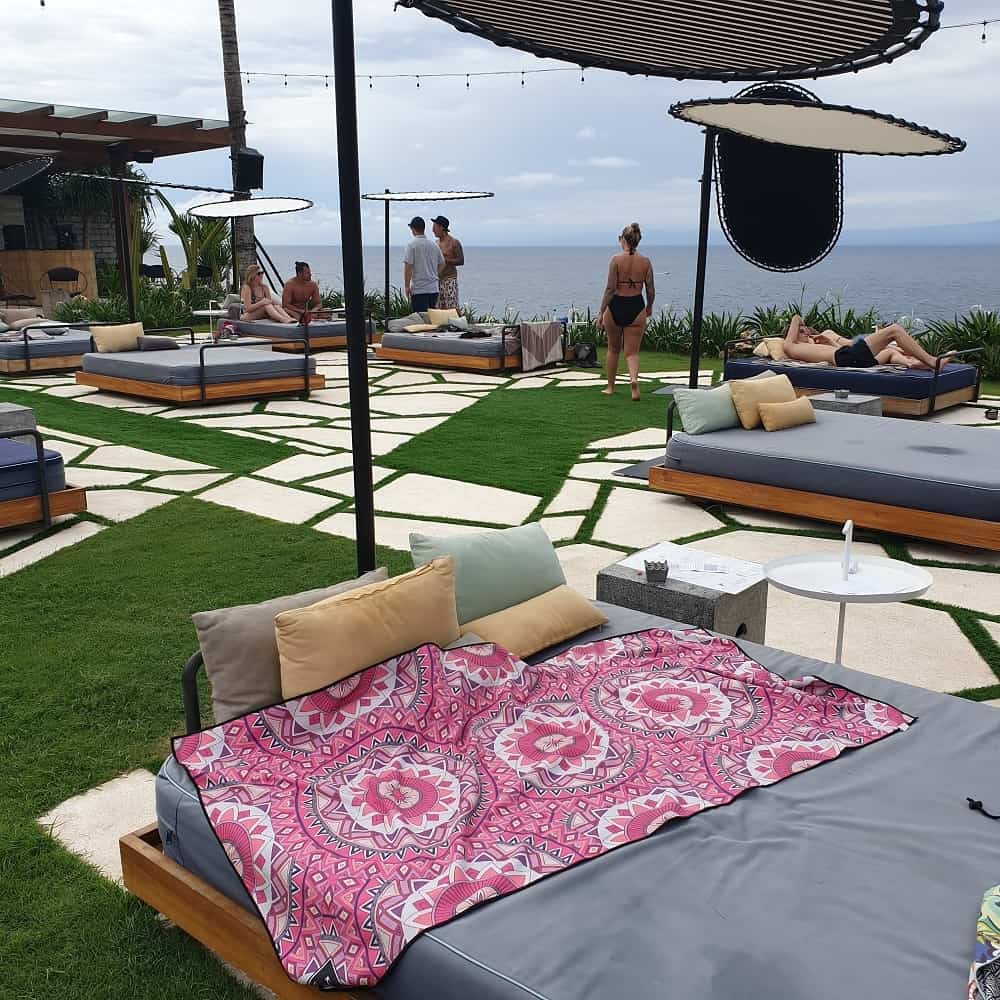 First Impressions
These towels arrived in a matter of a few days after ordering them. This prompt service and the caring nature of the company makes me feel important as a customer. I feel like I want to order from them again, thanks to this attention to detail.
Founded by an Australian High School Science teacher, Evolve has grown from strength to strength but still retains that lovely personal feel of a small company.
The first thing we noticed when we received the package was the beautiful designs on the towels, and I absolutely loved their compactness.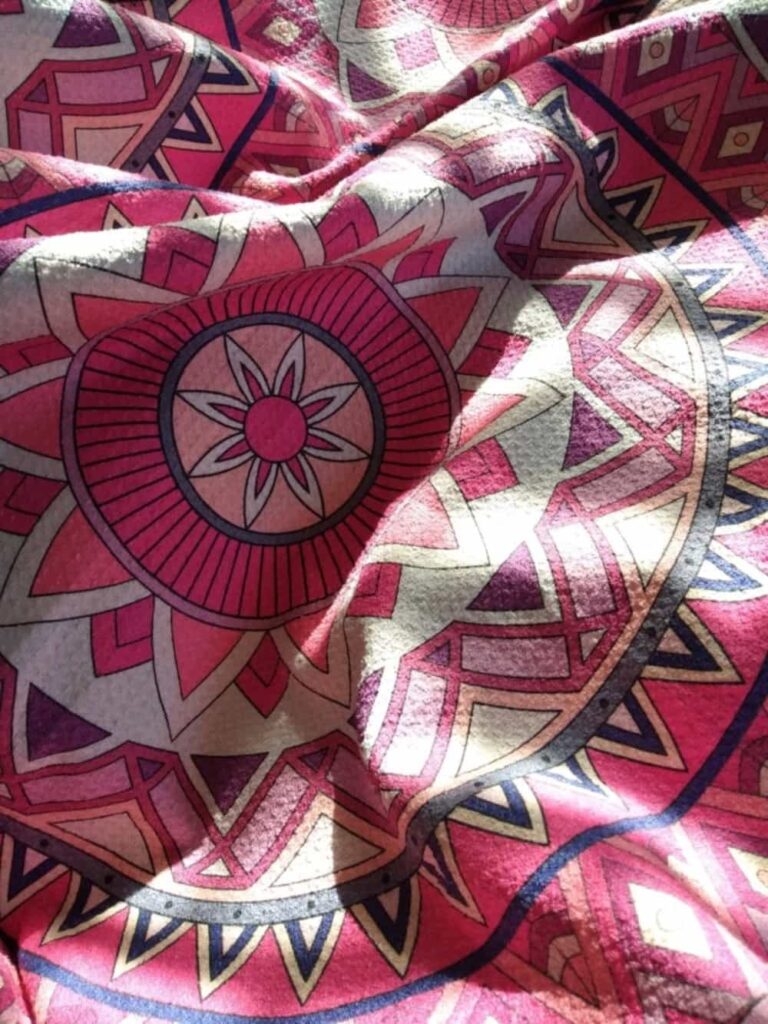 Size and Shape
They come in a little individual bag with a string and closer and all packed away, one of these babies comes in at 500g, and only the size of a small novel.
Pretty amazing that such a great option for quick dry travel towels comes in such a small package. But it definitely delivers a big punch!
Spread out, the towels are a standard 80cm x 155cm (32 x 61 inches). And all rolled up and squeezed into their bag, they only take up 24cm x 10cm x 10cm which will leave you plenty of room in your bag for all the other essentials.
Colours
The designs on the back of the towel are all a standard black and white arrow pattern which is the same on all of their towels. But on the front, it really starts to get exciting! The array of patterns and colours available are just gorgeous! I have the Fiji and the Tenerife and the bold patterns and bright designs really make these towels turn heads. I don't know about you, but I love to stand out on the beach, or poolside!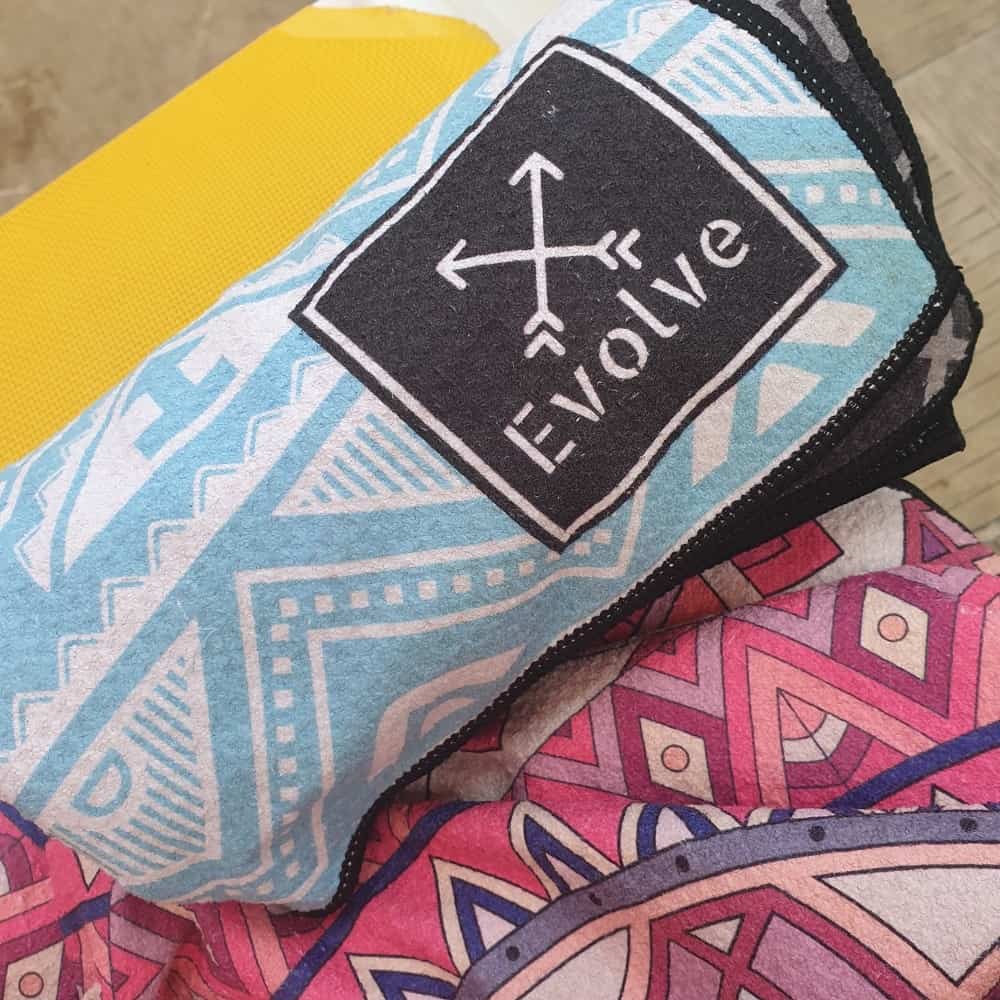 Technology
Evolve Travel Goods do not just make any old towels. In order to make a sophisticated towel that looks good, absorbs water and repels sand is one thing. But these guys have taken it a step further and actually made us a towel that is good for the environment as well! Every towel contains recycled materials from 20 plastic bottles!!!!
Let me just tell you that again. It is what makes these towels incredibly special and unique. Each towel contains no less than 20 plastic bottles. That's bottles that are not ending up on our oceans or landfills. And the more you use your towel, the bigger your part in protecting the environment. With single use plastic bottles the biggest scourge our earth has ever seen, doesn't it make sense the make those bottles into something beautiful that we can reuse over and over again instead?
Check out our posts on some our of favourite Bali Beaches so far:
Producing recycled polyester not only reduces landfill but also uses 90% less water, 70% less energy and releases 75% less carbon than virgin polyester production.
All of this plastic is turned into a fabric called EcoLite Microfibre. The best part is that they still feel butter soft and are super absorbent and quick-drying too. The Evolve revolution has provided us with a sand repelling feature as well, which means with just a simple flick, you leave all the sand at the beach.
Do you know that Evolve Travel Goods also donate 10% of their profits to environmental charities as well? What's not to love?!
Anti-Microbial
The unique blend of fabric technology used here has given rise to a special kind of towel. They are actually anti-microbial which means no more smelly towels!
After using these towels daily for 2 weeks straight, in both oceans and pools while in Bali, they are still smelling fresh which I think is pretty amazing!
Superior Absorbency
The absorbency of these towels is nothing short of amazing. I mean, when you can dry an entire family using only one towel, and it still is not sopping wet, that definitely gets my tick. Often we will only take one or 2 towels with us to the beach or the pool, and the Evolve quick-dry towel definitely has a superior level of absorbency.
Rapid Dry Technology
The black underside of the towel helps to dry Evolve towels so quick harnessing solar power to speed up drying making this quick-dry towel one of the fastest we have ever seen! And the unique woven texture of the towel, see the close-up below, also helps provide maximum evaporation, without compromising softness or comfort.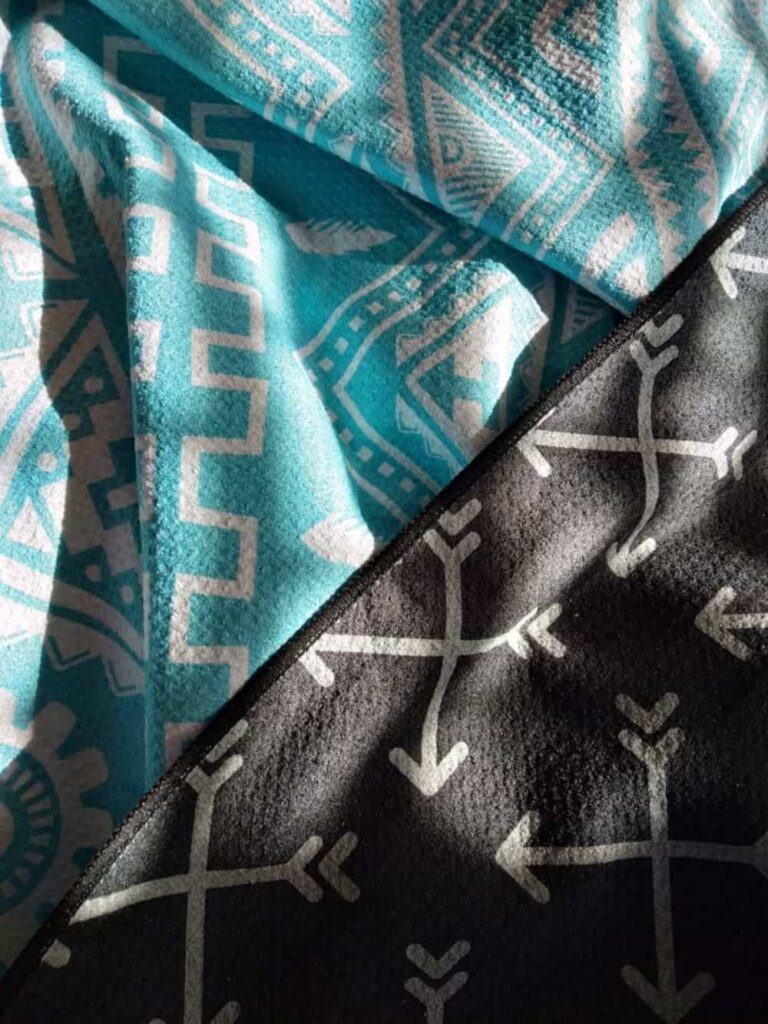 The Price
If you haven't gotten excited about these gorgeous towels already, here is the really cool part. Each towel comes in at only $59 (AUD)! They will offer 15% off your first order just by giving them your email address, and free shipping for orders over $75 too.
The Verdict
For a compact travel towel that absorbs water and dries fast, repels sand and looks good while doing it, Evolve definitely has the goods. They are well priced compared to other similar products on the market too. The fact that they are protecting the environment as well makes them even more appealing.
Go and check out their website here: Evolve Travel Goods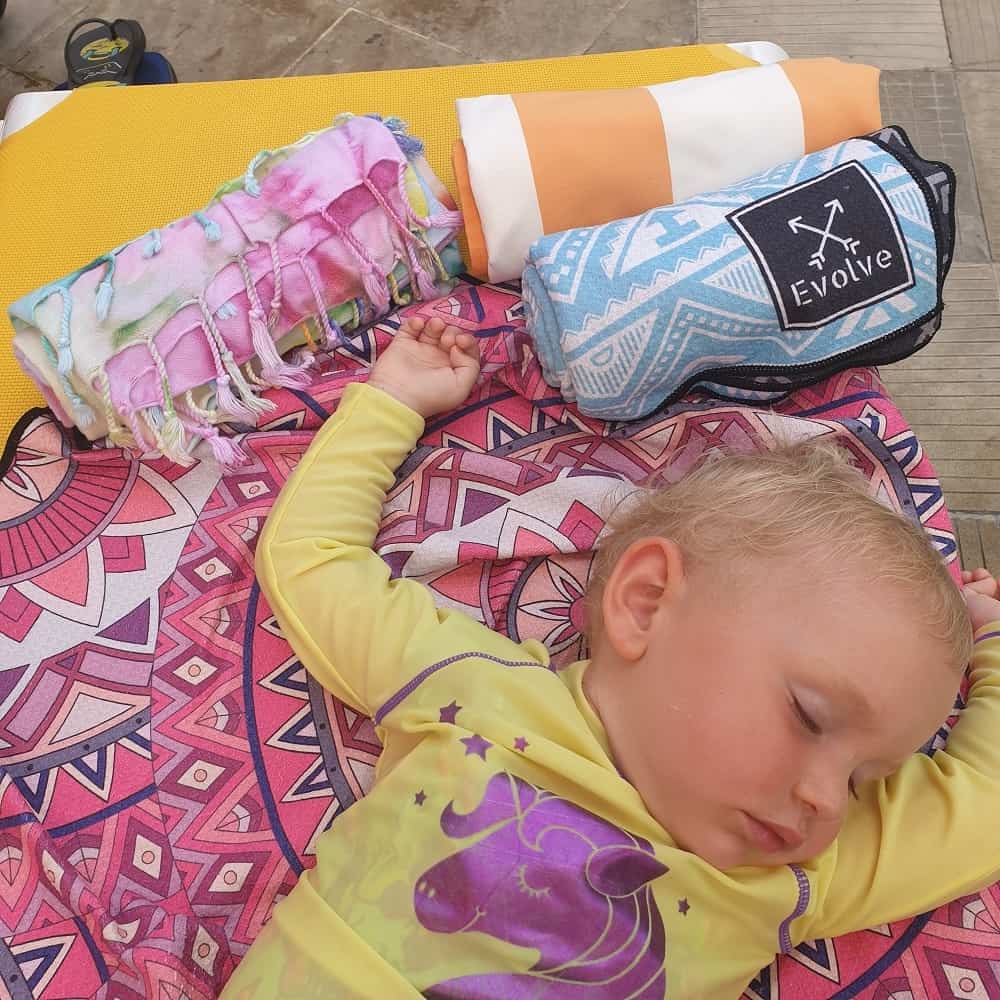 Having a great quick-dry travel towel in your life is super important. For a family of 6, a compact towel is absolutely imperative! This will leave plenty of room for all of the important stuff (like Lego and schoolbooks!) When a travel towel ticks the boxes, I get excited.
Quick dry
Sand repel
Anti-microbial
Absorbent
Environmentally friendly
Compact
Lightweight
Well priced
Attractive
We are going to be comparing these quick–dry travel towels. See how they measure up with some other big players in the world of compact towels.
Coming Soon…
While in Bali we will be testing Evolve Towels against the likes of Dock and Bay, Sandcloud and Tesalate using the criteria above.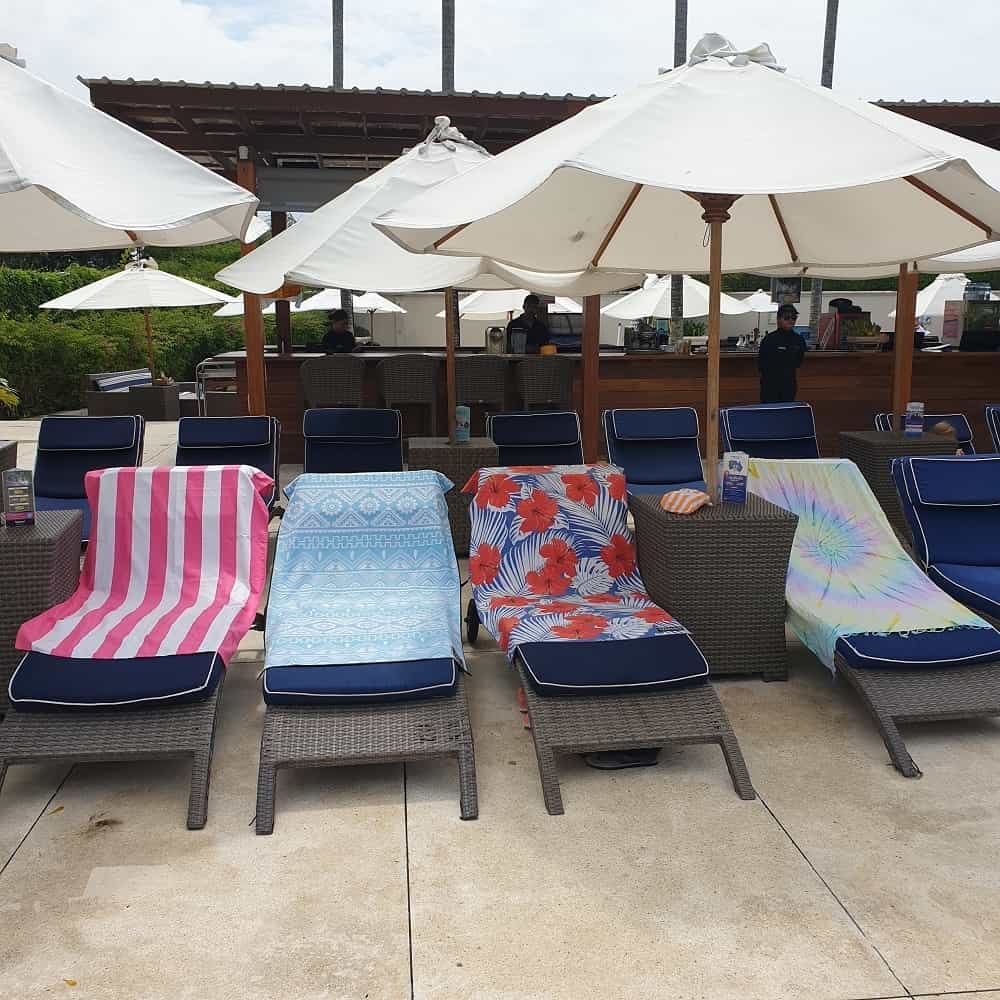 Some of these brands you will have heard of, and you can check out their individual reviews here
If you have a travel product you want reviewed in real life by a family who travels, contact us here.
What's your favourite travel towel and why?
Comment below!