If you have ever looked into visiting Bali, I am sure you will have heard of Uluwatu. The soaring cliffs, awe-inspiring temples, clifftop bars, and pounding surf will leave you feeling full of wonder.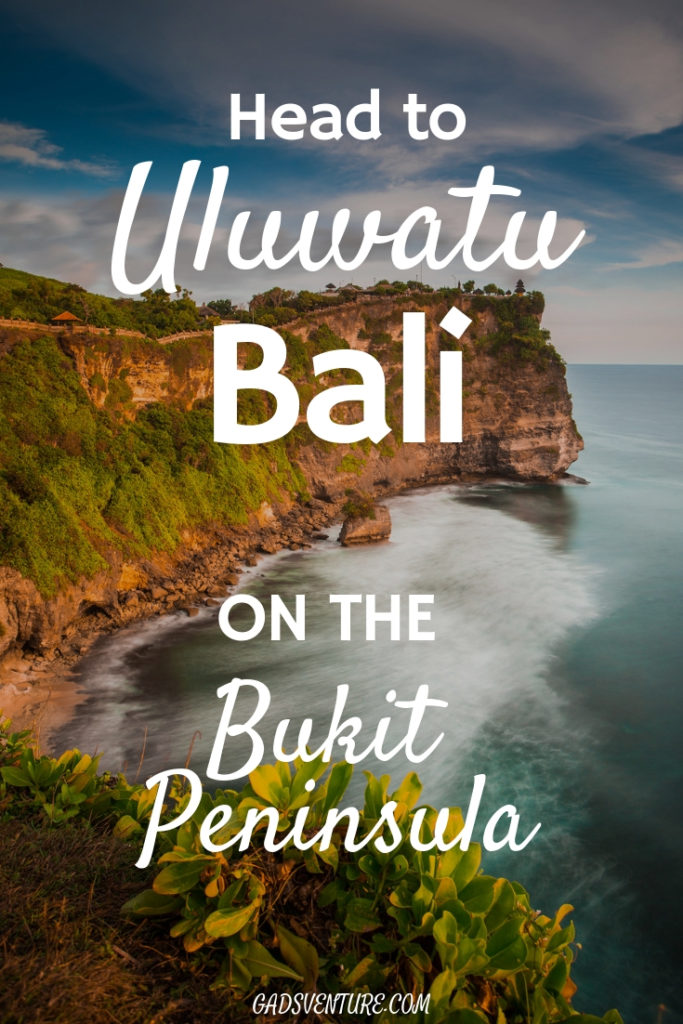 A one-hour day trip from Seminyak, Uluwatu and surrounds is best explored by staying down here on the Bukit Peninsula. This is the little blob of land that hangs off the bottom of Bali and really has one of the best vibes Bali has to offer, especially if you are into surfing.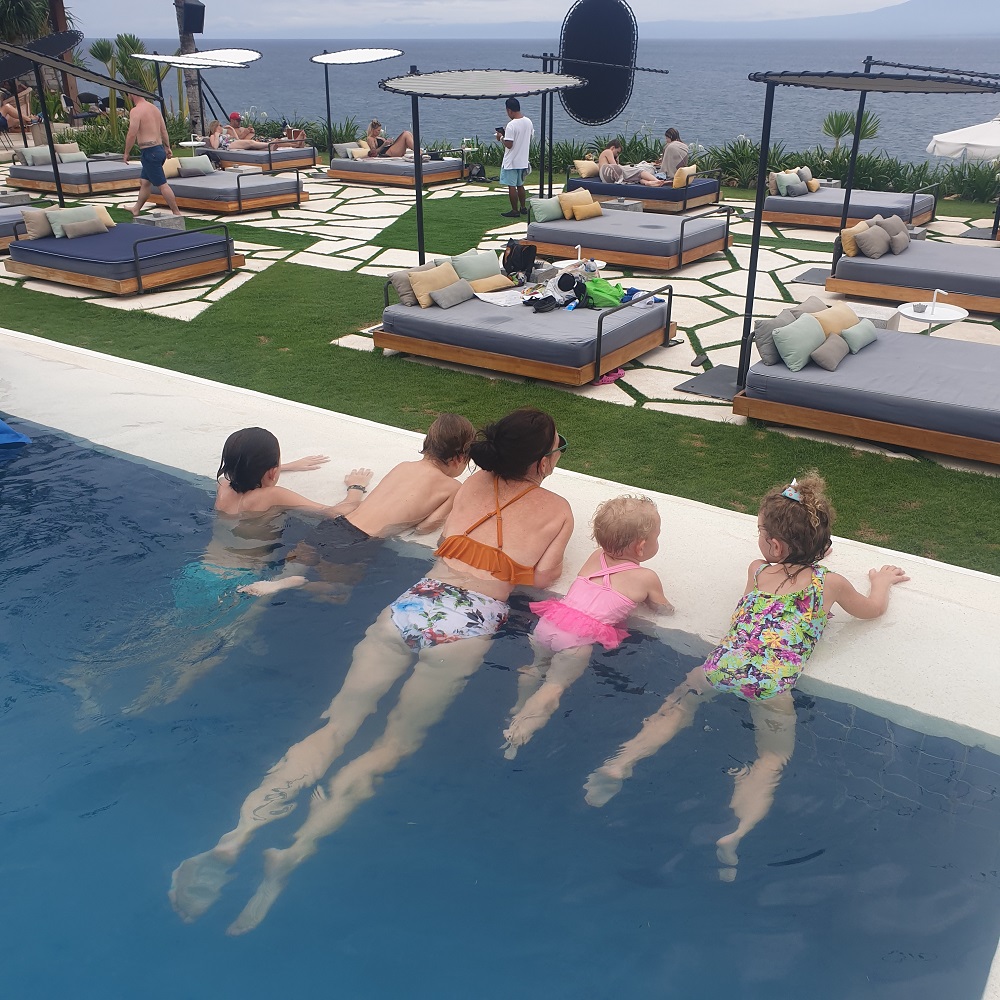 Check out Ulu Cliffhouse for lunch or a sunset BBQ.
The beaches down here are stunning white sand and the sunsets are absolutely to die for!
This area of Bali is less populated and has more of a relaxed vibe to it. The roads are quiet, even more so before around 10am. Day visitors crowd the temple around 5pm for the fire dancers, and tour groups visit the beach at Padang Padang from around 11am. So if you visit Uluwatu and you want it all to yourself, please come early to avoid the crowds.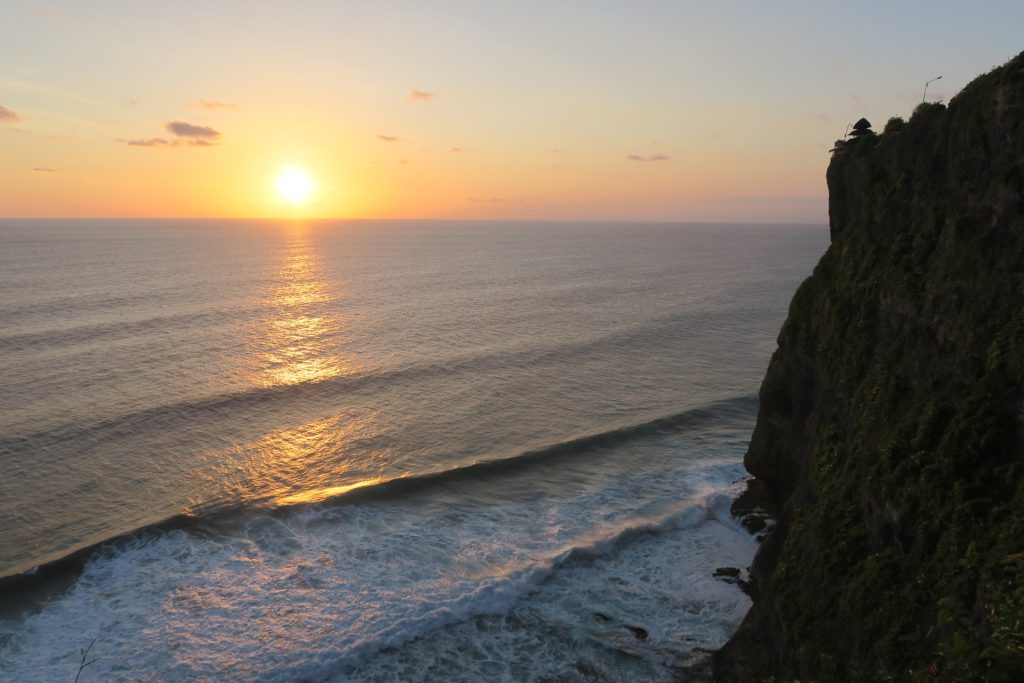 Getting There
You can get a driver to bring you for a tour around the Bukit Peninsula, visiting such gorgeous sights of Uluwatu Cliff and Temple, Padang Padang Beach, Balangan and Bingin Beaches, all within an hours' drive of Seminyak. Hire a driver for the day and see them all. It is harder to flag a taxi down this end and there are drivers, but you will end up paying more. Expect to pay around 250,000IDR each way.
Stay Here
The best way to see this part of Bali and to really soak up all it has to off is to stay at one of the amazing cliff top hotels, or opt for a more low key homestay or villa. They are everywhere. For tips on booking a Bali Villa through Airbnb, read this.
Luxury
Anantara Resort is perfectly positioned at the top of Padang Padang. It is perched right on the zenith of the cliff and has exclusive and commanding views over the Padang Padang surf break and the Indian Ocean beyond. Rooms start at around $300AUD per night but it is well worth it for the incredible position.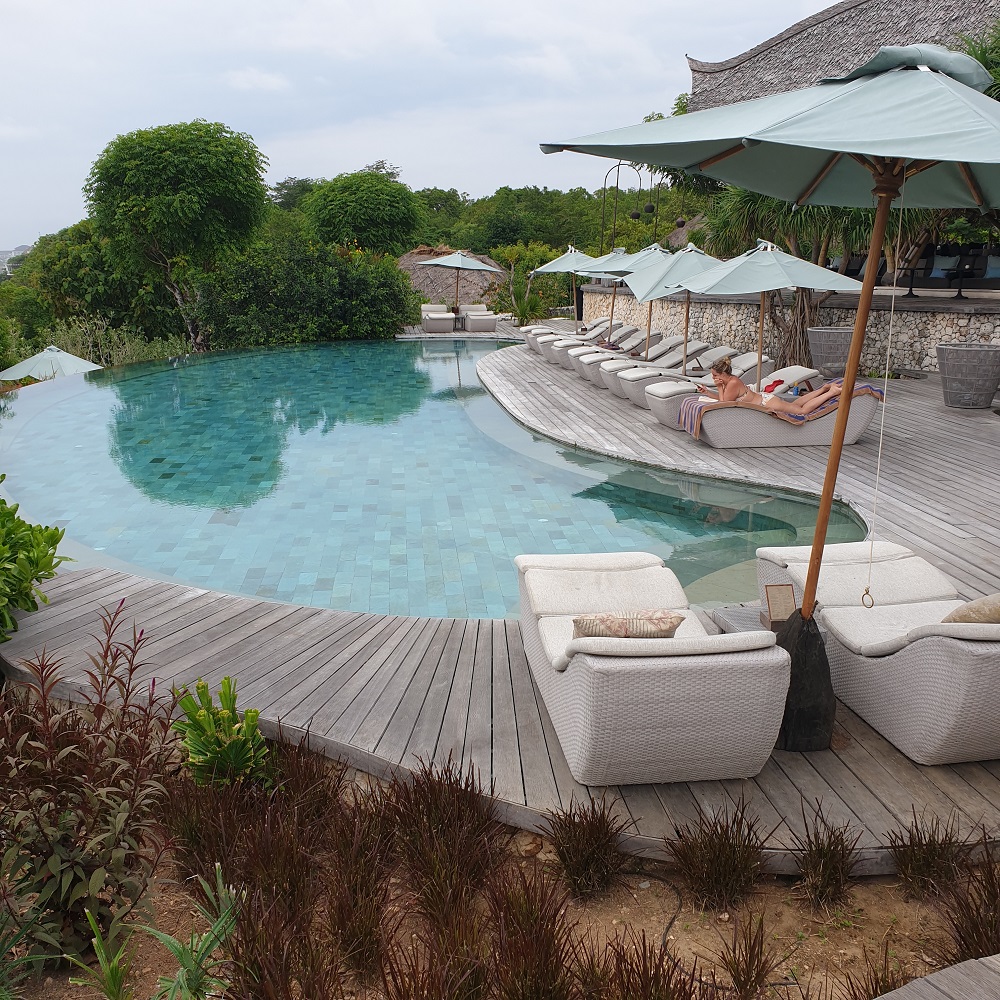 Suarga is another very highly rated Uluwatu resort. We went there for a swim only and were so impressed by the staff, the decor and the views.
My favourite place to stay in Uluwatu would have to be The Edge. Check it out. You probably won't need to look anywhere else. The name describes its location perfectly and it is beautiful 5-star perfection in private pool clifftop villas. You even get your own butler! This would be a dream destination for your honeymoom!
For Families
If you are traveling with a group or with kids, booking a villa on Airbnb is your best bet. Sign up to Airbnb for free using This Link to get a discount off your first stay and browse Uluwatu. 2-bed villas off the beach start at as little as $39 per night! Be aware that villas in Uluwatu area are often a fair way away from the beach so you will need to arrange transport regularly.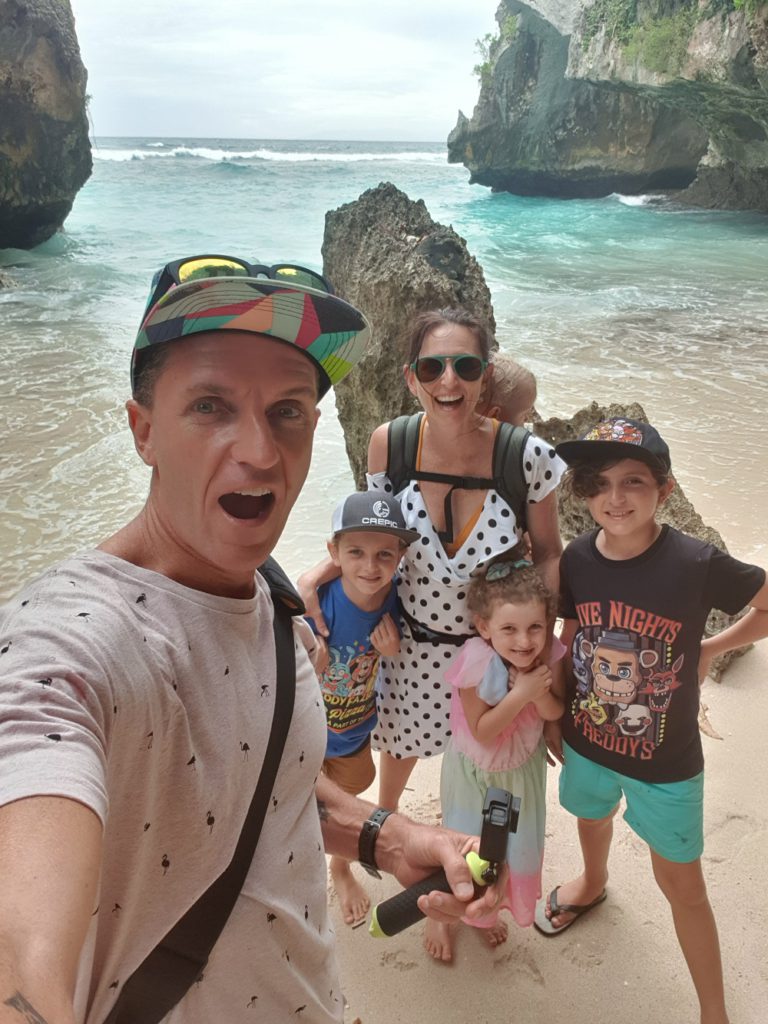 Another option is a homestay, also available on Airbnb. This is a great opportunity for cultural exchange, and a family compound will often have chickens, or other pets which add the experience.
Getting Around
We hired motorbikes for our stay down near Uluwatu, but I understand that this will not be appropriate for everyone. Grab and GoJeks are not allowed everywhere here, and you will see the sign around the place that doesn't allow them past. Otherwise your hotel or villa will organise a car and driver to take you around.
The Beach
Uluwatu Cliff is a small village which flows down a steep cliff face. There are shops, warungs, villas, board repair, anything you need as you wind your way down the hill. The steps are well worn and the kids were fine as the path was not super steep.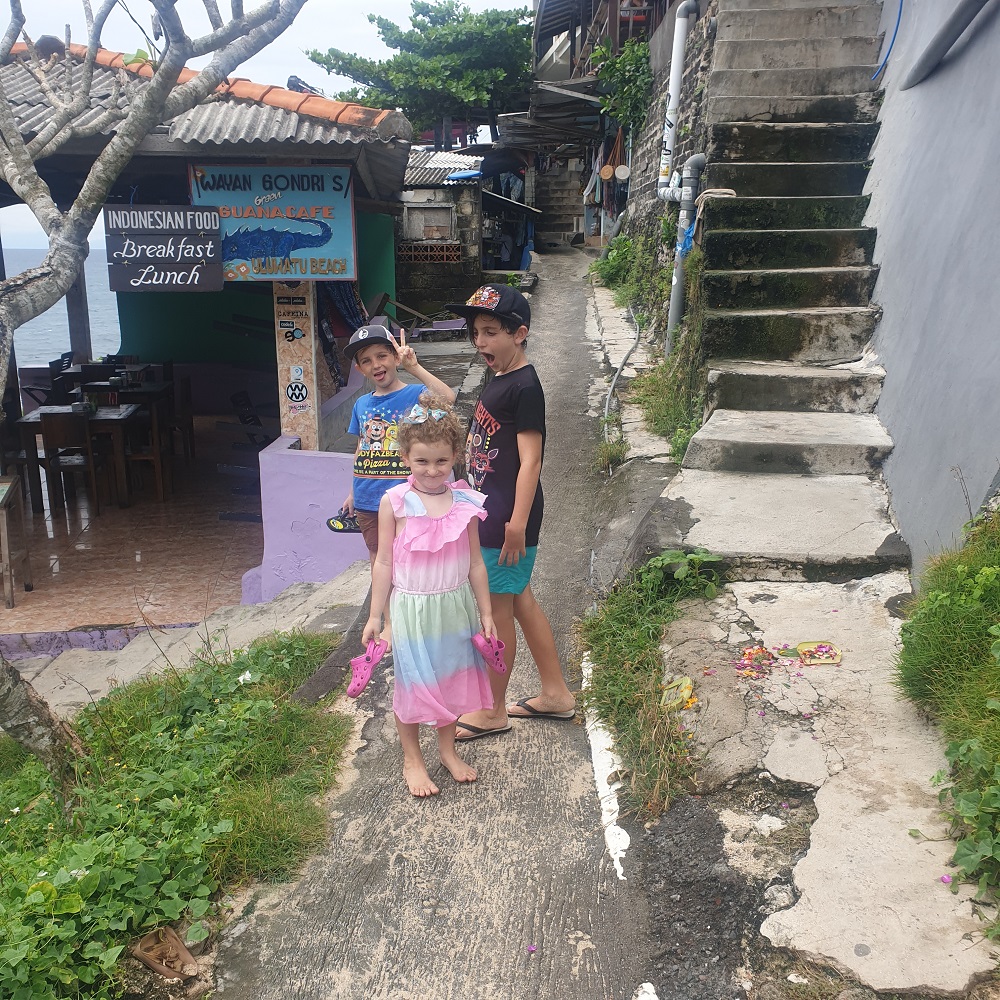 When you get past the huts, there is a steeper staircase down some rocks, and you are onto the sand, inside a cave with the surf pounding through the gap in the rocks. Pay attention to the tides and the size of the swell, as sometimes entering the cave can be risky. On the far side of the cave you will find steps leading up to a very special (but basic) warung with the best spot directly overlooking the famous Uluwatu surf break. There is a pool here, but it was closed when we were there being low season. It costs 250,000IDR for a swim when it is open. Cool place for a swim, but not convinced it's totally worth this much.
The cave is not bad for swimming, but it can be dangerous with rips, so keep your feet firmly planted and know your limitations. Brian took the boys for a swim here, and they had a lot of fun in the waves, but I was a bit nervous watching them.
Surfing
Uluwatu is world-renowned for surfing and it is easy to see why. This powerful left hander is really for experienced surfers only as it pounds over shallow reef. You access the surf break by swimming out through the mouth of the cave.
Uluwatu Temple (Pura Uluwatu)
The temple here at Uluwatu is one of the most beautiful sights in Bali, perching 70 metres above the sea below. The view of the sunset is incredibly magical. Just watch the monkeys during the day time. They are renowned for stealing sunglasses, and cameras.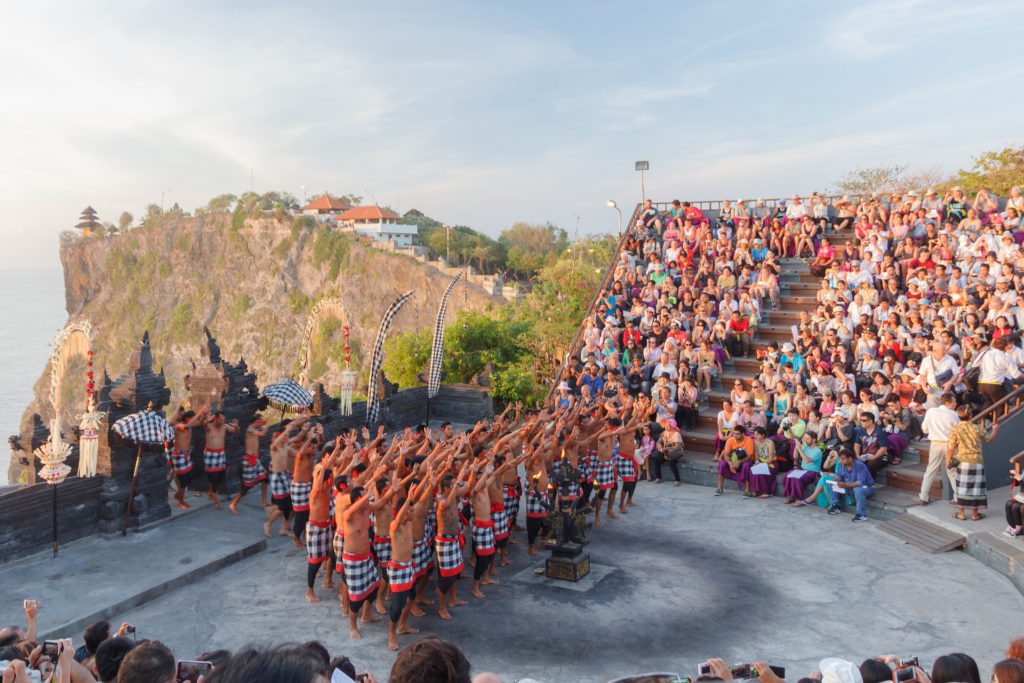 Entry to the Uluwatu temple costs 30,000IDR and you need to cover up with a sarong and sash, but this is included in the entry fee. Pay at the gate, and it is best to have small cash with you. Opening hours for visitors are from 9am to 7pm daily, and there is a Kecak dance performance nightly at 5pm. The sunsets from Uluwatu temple are particularly striking between March to September, when you are more likely to have clear skies.
There is no erosion to the cliff under the temple interestingly, some believe this is because the temple is under divine protection.
The Verdict
Uluwatu is a fantastic place to visit in Bali and makes it onto my list of Bali 'must see' attractions. It is relaxed and peaceful, with an impressive variety of accommodation and the main road is never overly busy so you really feel like you are getting away from it all. Uluwatu would be a great place to base yourself for a few days in order to explore this part of Bali in more detail. Check out the gorgeous nearby beaches of Padang Padang, Balangan and Bingin while you are here.
Have you ever been to Uluwatu? Comment below!