You've booked a flight to Bali for your family holiday, now you don't even know where to start looking for accommodation right?  How do you find kid-friendly accommodation in Bali?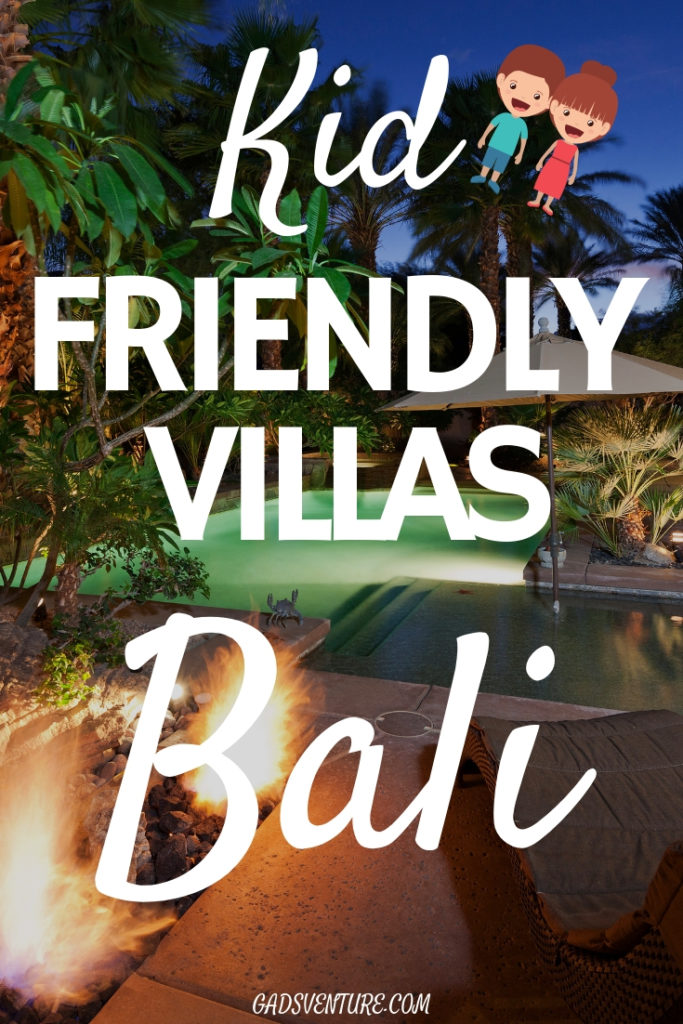 The answer is simple!  It is everywhere, I will show you where to look.  I am right now trying to find the perfect villa in Bali for our next stay.  Instead of procrastinating for much longer, I am about to book one and lock it in.  I will share it with you at the end of the article!
Villas
Easily the most kid friendly accommodation Bali has to offer is its vast array of villas.  These villas come in every shape size and cater to every budget and every type of traveller you can imagine.  You can pay anywhere from $30AUD to $30,000 a night for villas depending on their opulence, location and inclusions but thanks to Bali being Bali, prices are often negotiable too so don't just settle on the original quote.

Why a Villa?
The value for money and the inclusions you get with a villa are amazing.  I urge you to compare prices between a villa for a family of 4 or more with a hotel room in Canggu for example. 
When we travel with a family I find it very helpful to have an entire house at my disposal!  A kitchen, a laundry, a private pool and often a full household of staff that are there to solely look after you!  And all for a cheaper price than a resort. 
Staying at a resort can have its advantages sure, amazing pools and the opportunity to meet lots of like-minded people, there's other kids to play with, cocktail happy hour or all inclusive food and drink packages. 
Find out more before your Bali trip:
Resorts and hotels are often usually in prime beach front locations too and they are so easy to book through your travel agent or sites such as booking.com.  Resorts are popular for package deal holiday specials too.   But for me?  I would rather have it all to myself.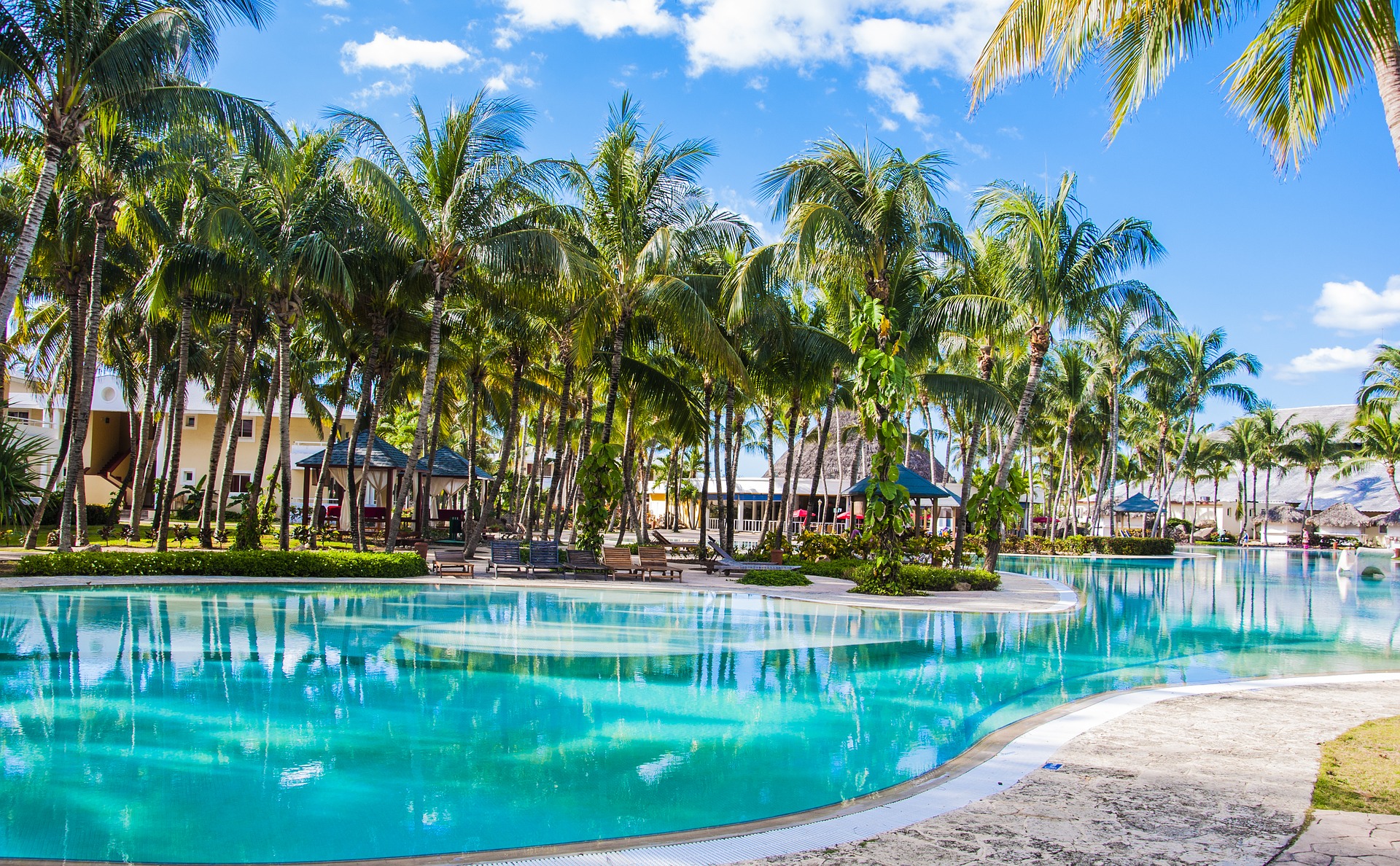 I just find the personal experience you get from a villa stay with your very own concierge who takes care of your every need pretty special indeed.  In a villa you have space to unwind and relax with your own people.  The massage therapists will come to you and you can arrange virtually anything with the assistance of your hosts including personal chefs or a chauffeur for the day.  If you haven't stayed in Airbnb villas before, click on this link and you can join with a genuine $55 coupon off your first stay.  It's free to join.
Where to Stay
The different locales in Bali make it easy to choose your holiday accommodation depending on what sort of things you are into.  Following is a breakdown of some of the most popular areas around Bali.  Use the map function on Airbnb to see where each villa is situated and this allows you to drag the map around with a new search in each location.  Then click on each thumbnail for details.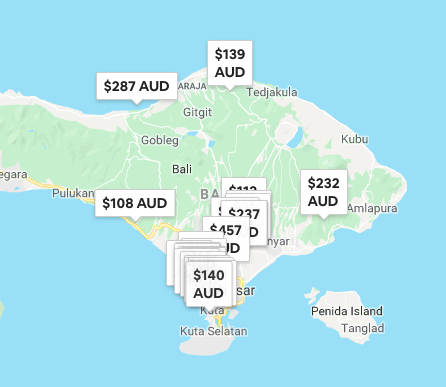 I am using this Bali destination list right now as I consider exactly want we want/need from our month long stay.  If you look at your own trip and consider what boxes you need to tick, then this will be helpful when deciding where to start looking.
The Gadsventure Family in a Nutshell:
We want to be close enough to tourist attractions that a taxi ride will not take much more than 40 mins (pretty easy from most spots in Bali).

The villa needs to be no more than 20 mins from a surf beach, and I don't particularly like the black sand beaches on the popular south coast between Tanah Lot and Kuta, preferring instead the white sand and dramatic rocks of the Bukit Peninsula.

I would like to be able to walk to a warung or restaurant or have a little convenience store close by so that I can get food without having to catch a taxi.

Also I need air-conditioning and a pool and because our kids are young, I would like the bedrooms close to each other, and not opening directly onto a pool without a fence (a temporary pool fence is a negotiable extra, just ask your host!).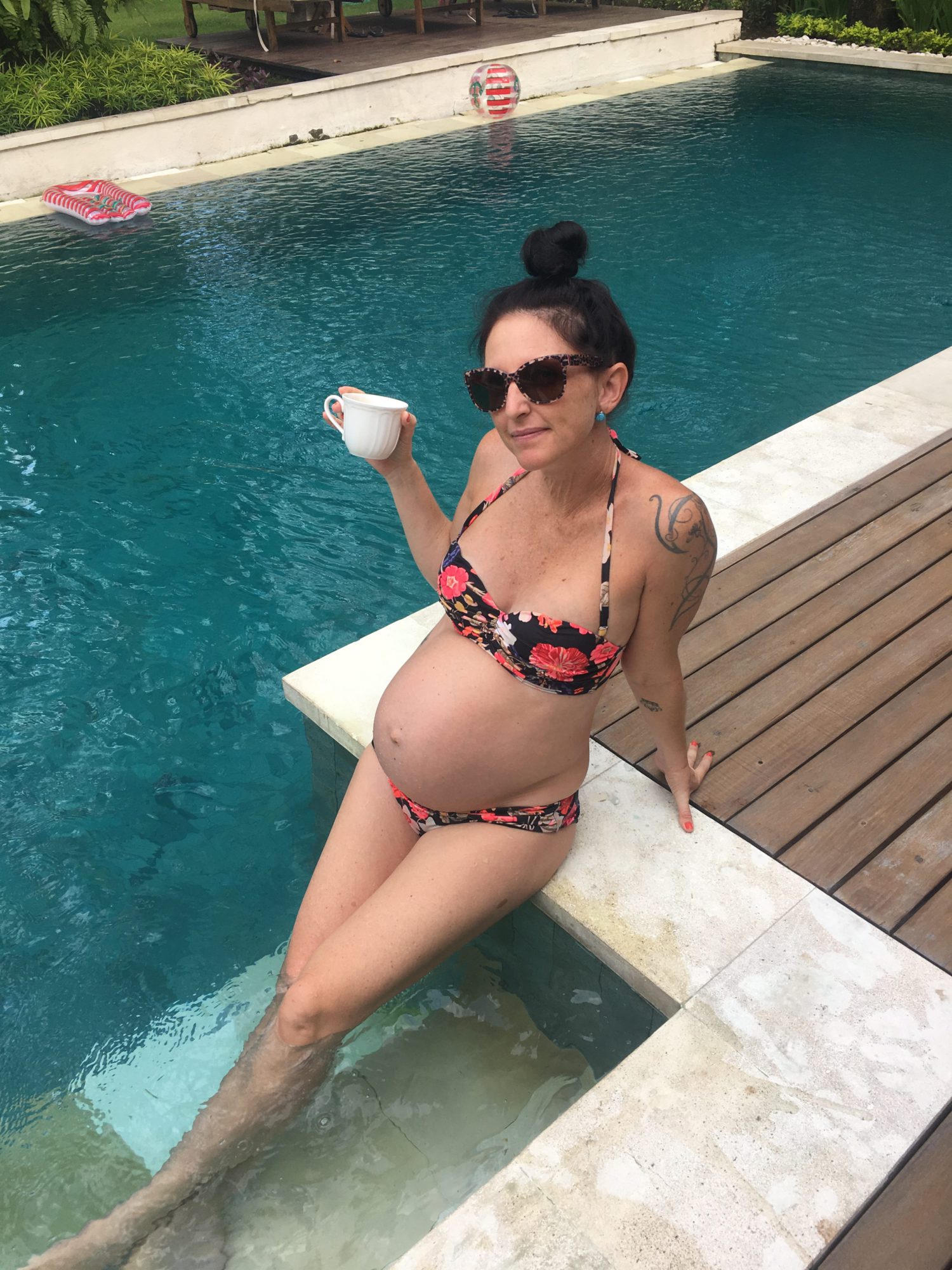 Good reviews are important so make sure you read what people who have stayed before you have to say.  There may be an unexpected rooster that insists on crowing through the night at the streetlight, or it might be a loooong walk to get anywhere, or dead bugs in the corners of the rooms.
- Now take a moment to list your preferences and know what your deal breakers are.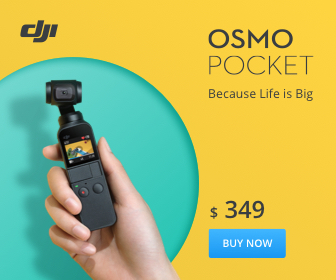 Budget
- What is your nightly budget and how many bedrooms do you need?
Our budget is $50AUD per night for 2-3 bedrooms.  (Remember it is cheaper for a longer term stay.)  In the past we have shared the cost of a villa with family and friends which is such a great option and have rented a 5 bedroom house for around $500 per night for everyone.  We all had less kids then tho.  Lol.   
A week long stay at a villa will gain you a small discount, while a month stay gets you a hefty discount in a lot of villas so make sure you enter your dates so that the discount can be calculated when you are browsing.  The filter bar allows you to preselect dates, guests, home types, price, trip type and more and is very useful to help locate the perfect villa. 

Narrowing your search using the filter also means you don't waste time getting excited about the thumbnail pic only to find that the monthly rental price is $25,000.
Inclusions
Read the fine print and know what you are paying for.  Some villas include a daily breakfast, daily maid service and free laundry, others offer everything at an extra cost.  Know what is included before you arrive and negotiate everything else.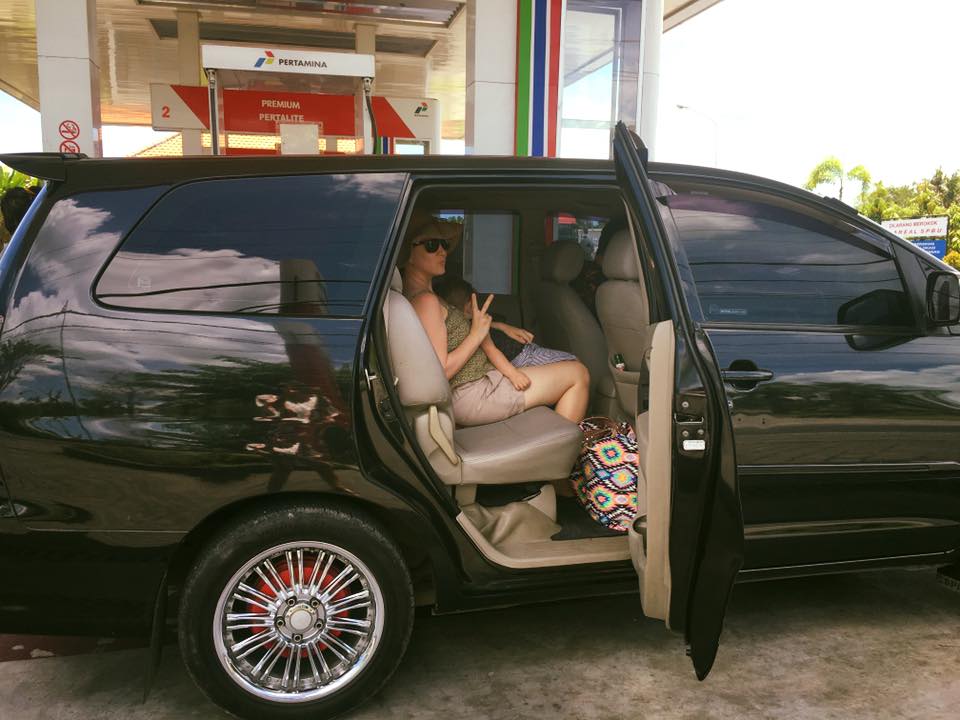 Airport pick up is a very important and helpful service and gives you peace of mind knowing that when you arrive there will be someone there with your name on a sign who knows exactly where they are going.  They pick up your bags, or your kids and guide you through the throng of porters to an air-conditioned van.  Then they drive you directly to your villa without getting lost once and will even stop at the 7/11 or the beer store to stock up on the way. 
(A note about buying beer: It is not cheaper to buy a carton or box of beer.....  The beer bottles are sold individually and 24 bottles in a box costs the same as 24 x bottles individually) 
An airport transfer will usually cost around 150,000 to 250,000 IDR depending on where you are staying and can be arranged with your host via Airbnb messages.  Seriously, it is the best decision and totally worth it for making your arrival completely hassle free.  Make sure you have some IDR cash on you when you leave the airport to give the driver a tip, or to pay for gasoline.
Reviews
Read the reviews!  I cannot stress this enough.  Reviews are what make Airbnb so user friendly and ensure your stay meets your expectations and there are no nasty surprises.  Hosts try hard to get good reviews and will usually go out of their way to make sure your stay is top notch.  Superhost classifications are given to those who excel at providing the best service and these guys often manage more than one property.  If a property looks perfect but has no reviews, then research the crap out of it before booking.
Ask Questions!
Before you hit that 'book now' button, ask your potential host every question you can think of so you are not left wanting when you get there.  Assume nothing and there will be no surprises  I have found the Balinese people in particular to be very accommodating and helpful when it comes to arranging your stay. 
If you have little ones like me and would like the beds rearranged so that you are all sleeping in the one room, it's done.  If you are arriving late and would like the villa stocked with milk, teabags and beer, (the essentials) it will be done for you no worries.  If you are curious about the villa's location, whether there are many mosquitos, or noise or if it is walking distance to the beach, this is where you find out.  This is also where we organise our airport transfer and a longer term motorbike rental.  Introduce yourself and tell the host a little about your family and your trip, be polite and you will always be well received.  
Parts of Bali
Kuta
Busy and bustling with partying backpackers, massages on the beach, surf schools and great markets Kuta is a fun place to visit.  With a family I would opt to stay elsewhere though. 
Advantages: cheap, cheerful, close to the action, surf lessons. 
Disadvantages: not peaceful, drunk travellers, dogs on the beach, dirty, hectic.
Seminyak/Legian
This is the upper class areas which line the beach to the west of Kuta.  A wonderful place with boutique shops and colourful markets, fancy beach bars - Ku de Ta and Finns Beach Club  (follow the link to book your table), and top restaurants this is a bustling and exciting part of the island.  You would not be disappointed with a stay here although you will often pay more for villas. 
Advantages: walk everywhere, hive of activity, action packed and family friendly. 
Disadvantages: more expensive than other places, probably spend more money on shops and restaurants!
Denpasar
Close to the airport, expansive Denpasar has a large range of cheaper villas in more local flavoured areas.  There are bigger malls and western fast food choices, a hospital and a highway and further north the city breaks up into rice paddies towards Ubud district. 
Advantages: a short taxi ride to pretty much anywhere, centrally located. 
Disadvantages: busy and hectic, noisy.
Canggu
This is a popular choice for families and we have stayed here ourselves on a number of occasions thanks to the great value for money villas you can find. 
Canggu is quite a paradise located a 20-30 minute taxi ride from the bustle of Seminyak shopping but richly interspersed with bright green rice fields.  Canggu is also popular with expats and so has some fantastic restaurants and foreign owned cafes and shops.  La Laguna and Dandelions are a couple of firm favourites. 
The beach here is black sand and can be a little bit dirty but the surf is good which is why we like it. 
For all the best surf spots in Bali, Read This Now
Many great villas are walking distance to the beach and just a little bit further to the West are the amazing Tanah Lot and Echo Beach.  And don't forget Canggu Club!!! 
Advantages: quiet, centrally located, popular, great amenities, lots of expats, cheaper than Seminyak, beautiful villas amongst the rice paddies. 
Disadvantages:  If the traffic is bad the trip to Seminyak takes a lot longer, can be a slow ride from the airport, not the nicest beach.
Ubud

 
A peaceful jungle retreat for bohemians and artists, Ubud is often called the heart of Bali.  Temples, monkeys and Instagrammable swings abound in this beautiful nature lover's paradise.  Yoga retreats and vegan cafes are more the order of the day here.  Thanks to the Julia Roberts movie 'Eat, Pray, Love' villas here tend to come with a higher price tag. 

Advantages: Green, lush, peaceful, restorative, close to some cool attractions such as the Monkey Temple. 
Disadvantages: not especially cheap, 45 mins to the beach.
Jimbaran

 
Over the isthmus to the south at the beginning of the funnily shaped Bukit Peninsula, this is where you come to experience the incredible seafood warungs (restaurants) which line the beach every evening.  Devouring a sumptuous freshly caught dinner with your toes in the sand while watching the sunset is what Jimbaran is famous for. 
There are some nice villas around here and in nearby Kuta Selatan which have easy access to beaches using taxis and drivers or motorbike rental but I have found unless you pay a fortune, you will be a decent hike from the beach.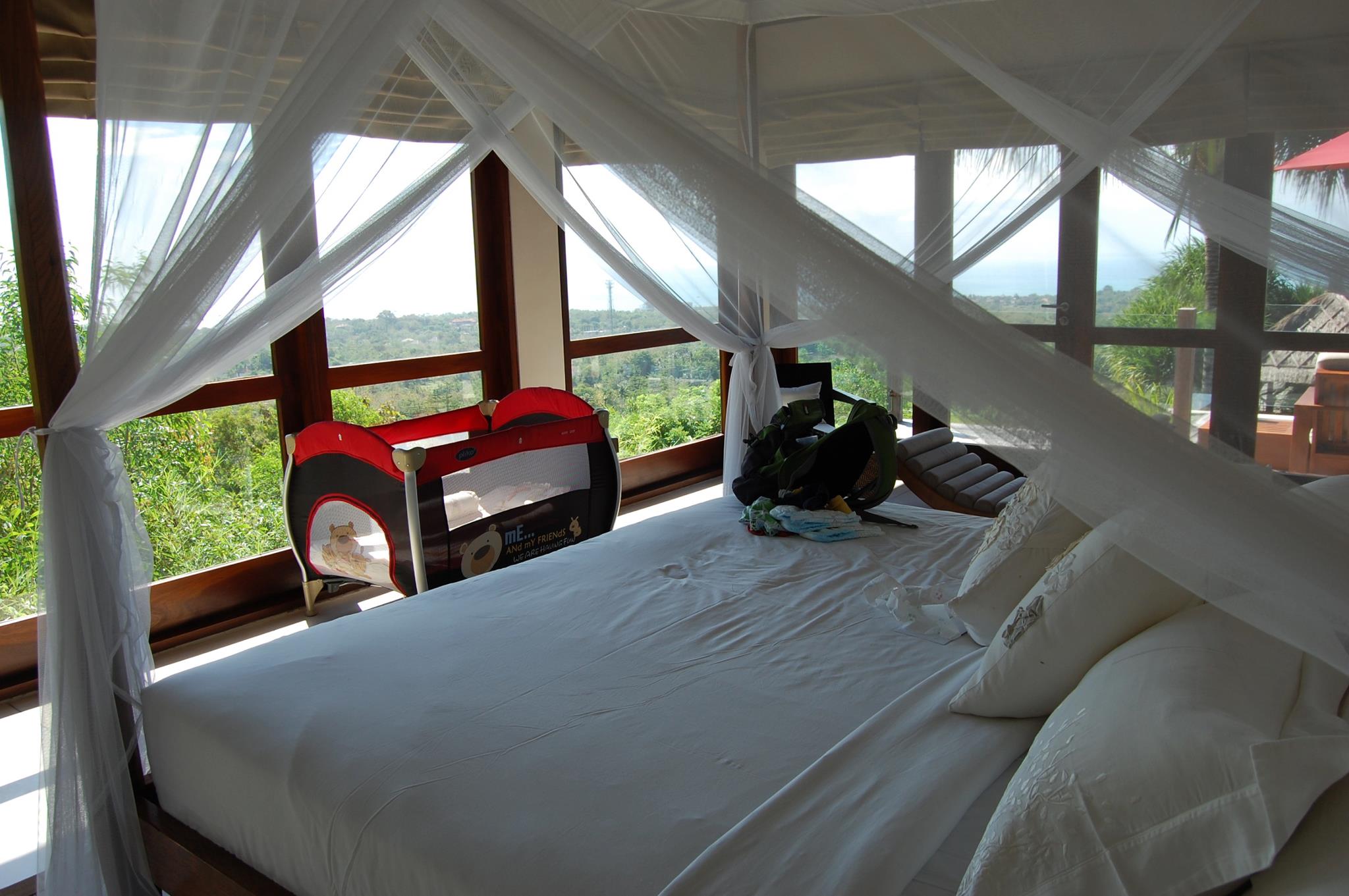 Advantages:  close to the airport, great restaurants. 
Disadvantages:  reasonably priced villas are a distance from the beach, a long way from other touristy spots not on the Peninsula.
Bukit Peninsula
The rest of the Bukit includes such gems as Padang Padang, Dreamlands, Pandawa, Bingin and Balangan Beaches which are so incredibly scenic and different to other parts of Bali. 
Climb down cliffs and through rock tunnels and experience top notch surf spots and classic white sand beaches.  There are villas all over the place and scattered amongst the hills of the Bukit Peninsula. 
The village of Uluwatu and its clifftop temple are absolutely stunning spots and it's worth a day trip down here even if you end up staying elsewhere.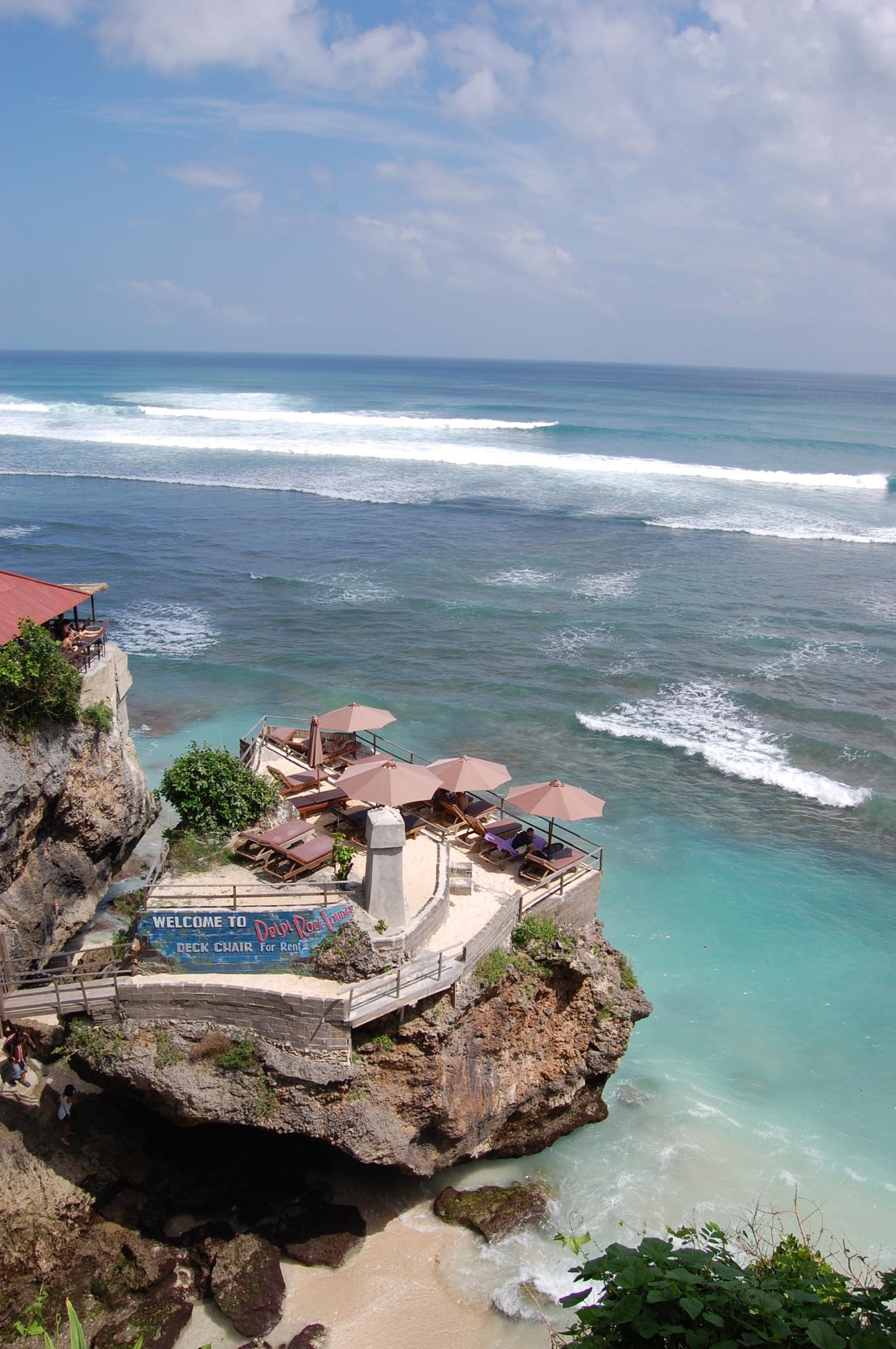 Advantages: great for surfers, beautiful beaches, scenic.
Disadvantages: far from everything else, villas may have great views but you will need your own transport to get around or spend a lot on taxis.
Sanur
Over on the west coast lies Bali's original resort town of Sanur where grand old beach front hotels share space with a smattering of cheap villas and homestays.  The beach is flat and white, the fishing boats are colourful and the entire beach front is lined with a concrete path making in a beautiful place for a stroll or bike ride.  The vibe is very chilled over this side of Bali and Sanur also serves as the ferry departure point for a number of other islands nearby. 
Advantages:  cheap and cheerful, beautiful vibe. 
Disadvantages: no surf.
Islands
The list above is by no means the only places to stay in Bali but they are the most popular and well known.  If you have time, a stay on one of the other islands such as Nusa Lembongan/Nusa Penida, Gili Islands and Lombok would be amazing.  These places have less infrastructure and tourists, but perhaps more authentic Balinese experiences and are accessible via a short flight or speed boat ride.
North Coast
On the North Coast of Bali there are some cute little villages with stunning beachfront or mountainside villas.  Have a look around Singaraja and Lovina for some examples.  This is an area we have yet to explore.  It is a 2 hour drive from Denpasar to the north coast and must be an incredibly scenic drive going past rice terraces and volcanoes.  We plan to do this as a day trip reconnaissance mission during our stay this time, so stay tuned! 

Our Grand Plan for 28 Days
We are staying in Bali for nearly a month and I found it really hard to commit to just one villa which ticked every box so we have instead divided the island up into 5 segments which means 5 different villas: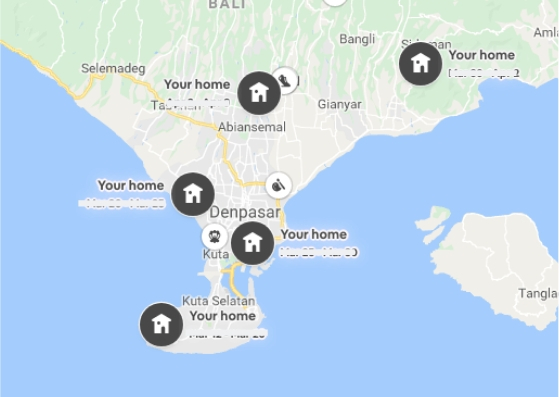 Number one is located on the Bukit close to the white sand beaches and surf and strategically close to the airport too,

Canggu our old favourite with heaps of fun things to do,

Sideman - a total mystery farm stay somewhere in the interior, and
It will be like having 5 different holidays!  We missed out on the monthly discounts but managed to get a couple of weekly discounts of 10 or 15% off.  Remember the Balinese are always open to negotiation too so you can often haggle the price using Airbnb messages to get a better rate.  Our average price per night is $55 and the places range from peaceful homestays to flashier villas with their own private pool.  The first 13 nights will be close to the surf. 
- So that's 28 nights for $1500.  AMAZING!!
Remember to subscribe to our email list to get the latest updates on our trip and find out how these villas turn out!  What exactly do you get for $55 a night?!
Airbnb is the best place to find the best villas and the top kid friendly accommodation Bali has to offer.  I have tried all the others, but kept coming back to them again and again and cannot recommend this website enough.  Airbnb is free to join and if you join up using this link you can get a genuine $55 credit towards your first stay worldwide.
Update:
Read about our villa fail here, and see which one simply didn't exist! Airbnb handled it so well though, and we got all our money back. They even helped us to find a new place!
Have you been to Bali yet? 
Where is your favourite place to stay? 
Comment below!