A visit to Balangan Beach is very special indeed. We rode our motorbikes there from our villa at Padang Padang, but got a little bit lost along the way so what should have been a quick trip, wasn't so quick after all – but what an adventure cruising around through the verdant green of Bali!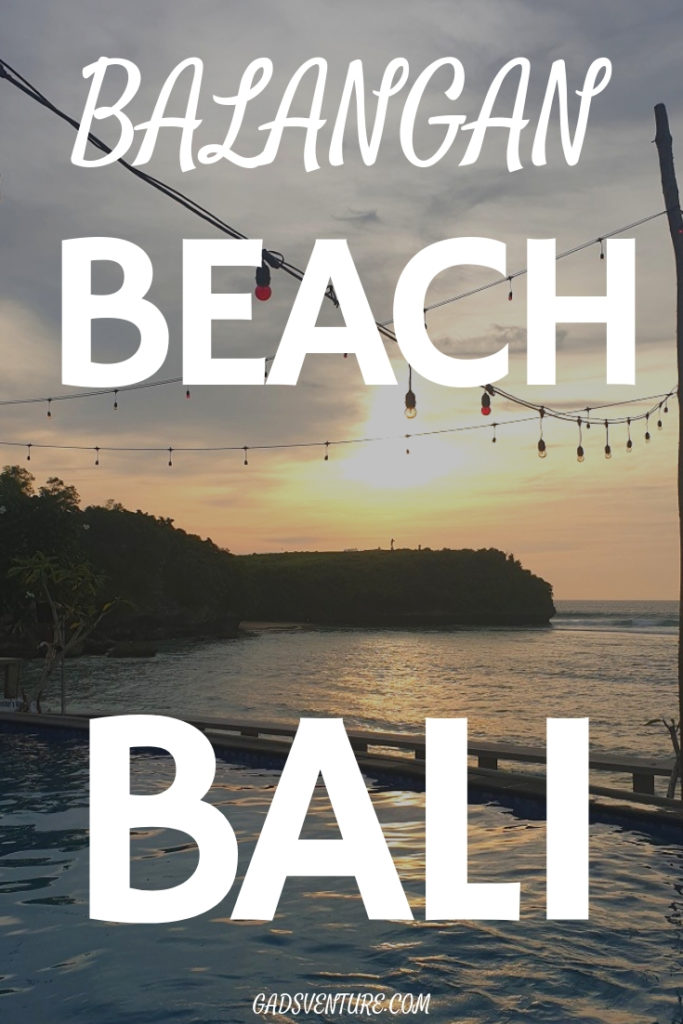 New: Bali Travel Guide!
Getting to Balangan Beach Bali
Taxis, and other private drivers, locals and everybody else seems to know the way. If you are planning on visiting Balangan Beach, please don't rely on your instincts alone. Get someone to take you there.
Just to the north of Dreamland on Bali's Bukit Peninsula you will find the stunning Balangan Beach.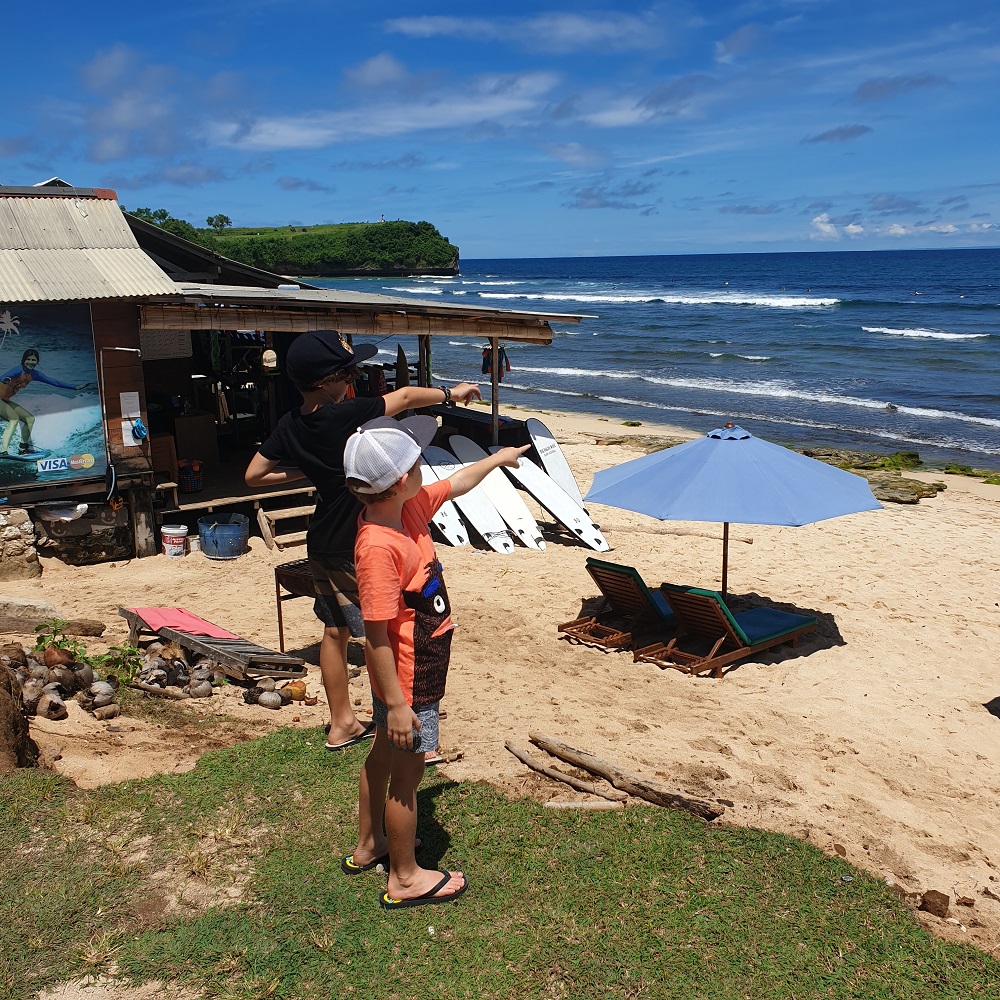 As you park in what seems like a cow paddock and wander past the lantana, and down the pathway, you wonder if you are in the right place. Then a colourful bridge to your left opens up onto the amazing sandy beach and prepare to be overwhelmed!
What is at Balangan Beach Bali?
Along Balangan Beach you will find a plethora of accommodation options, as well as warungs (restuarants) of varying star ratings. Some places have infinity pools and cocktail happy hours with live music, others are very basic, but also very good! You can find a place to stay right on the beach front!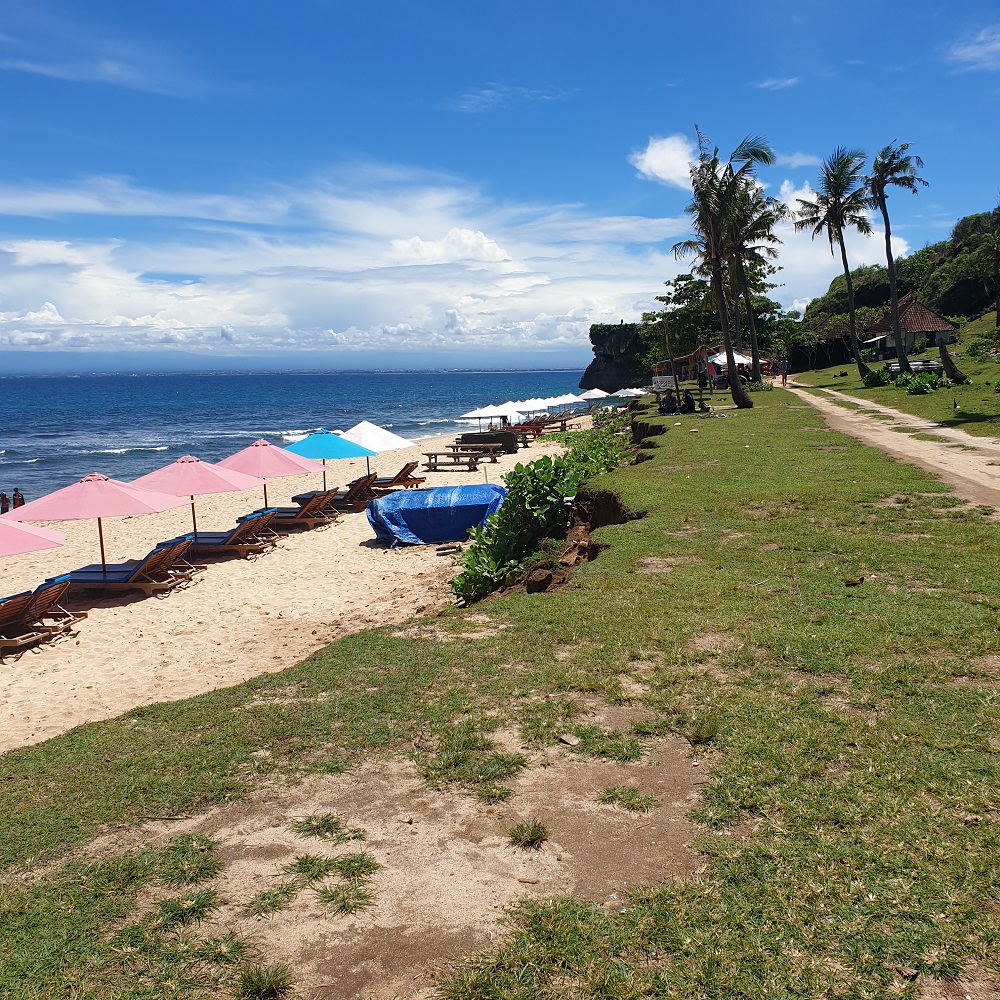 Surfing at Balangan Beach Bali
The break at Balangan Beach is fun, fast and uncrowded. It's a left-hander with a mossy reefy bottom so is really good for intermediate surfers. It closes out on bigger swell, 6ft plus and it's nice because you are not risking your life too much here.
For all the best surf breaks in Bali, Read this Now!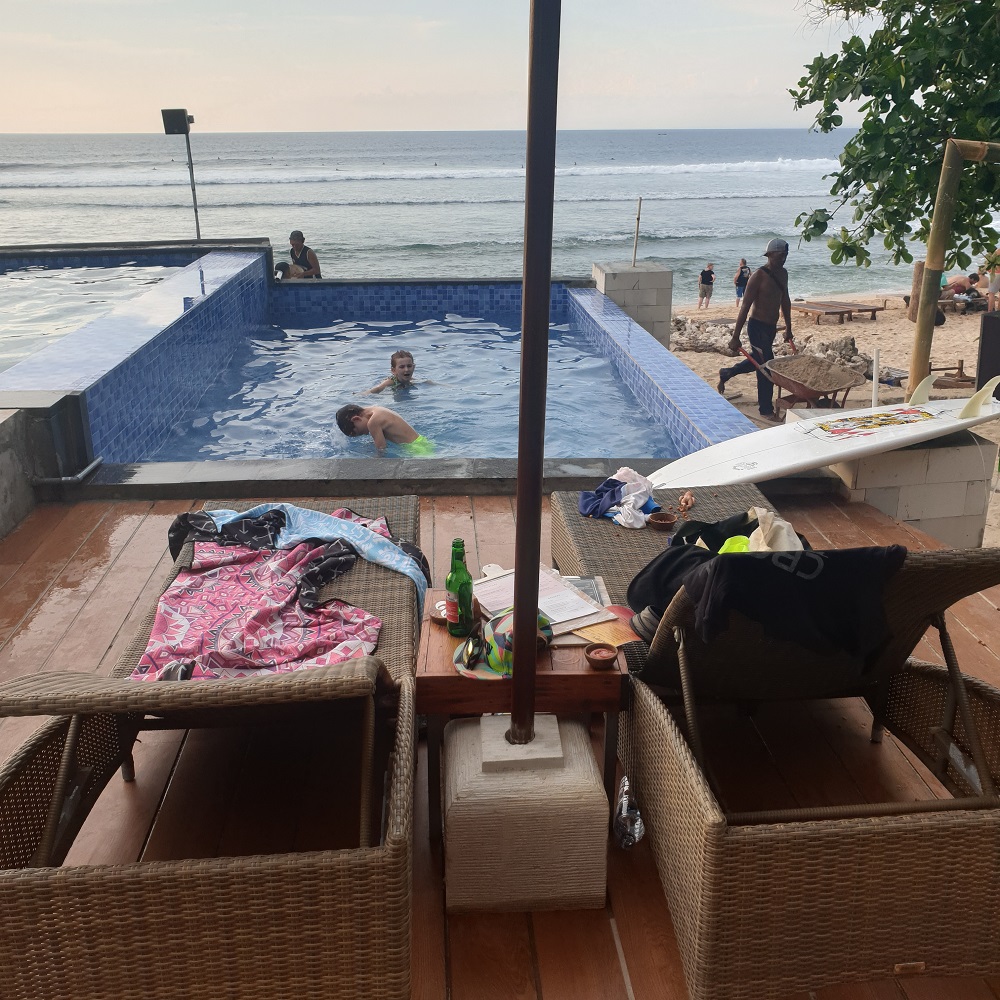 Swimming at Balangan Beach
I didn't want my little ones to swim here. It was rippy and dangerous on the day we visited. Watch out for undercurrents. On calm days it would be slightly safer, but you may be better off swimming in a beachside bar swimming pool instead. We liked Lucky's! A cool bar with live music and an infinity pool overlooking the massive surf. We love watching Dad surf from the comfort of our poolside bean bags!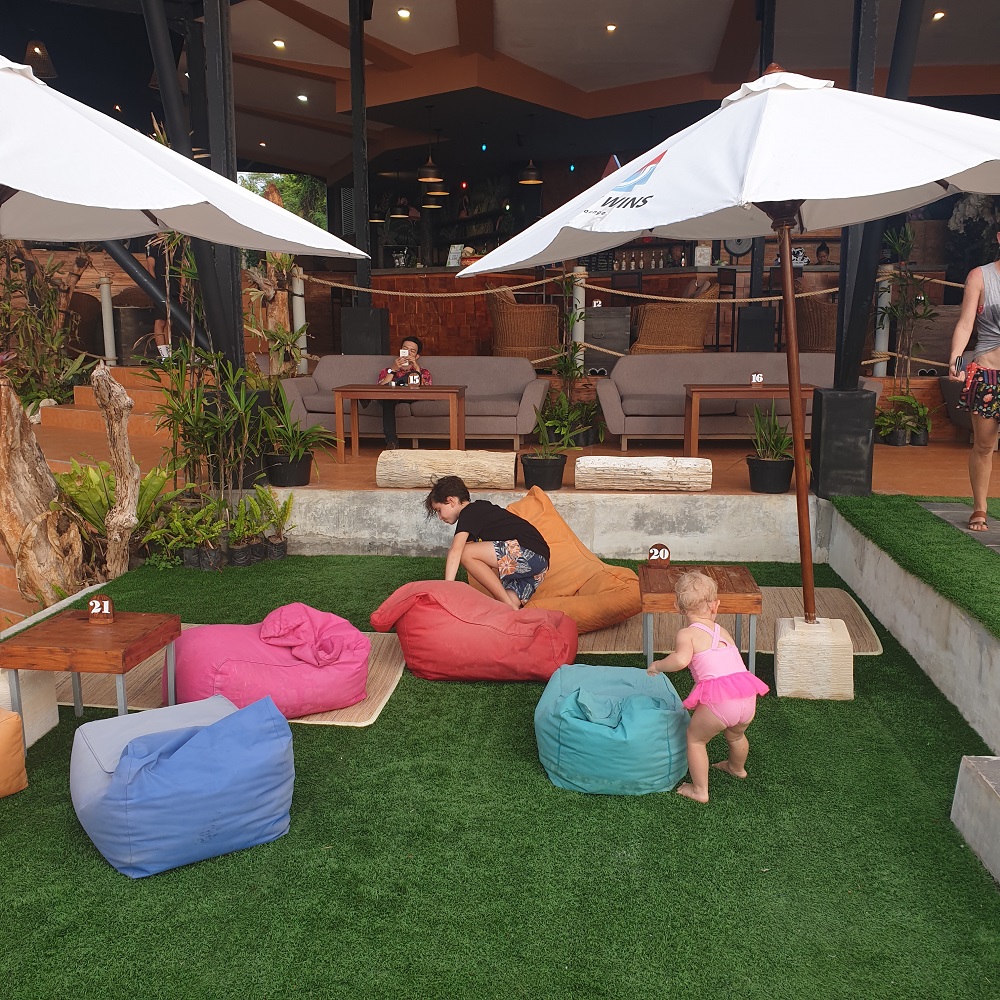 A few days later, we went back to Balangan Beach and had lunch. On this day the surf was much smaller, and safer to swim on the rocky bottom. The boys even had a surf lesson with Dad while Mum and the girls sat at a wooden shack perched at the top of the shore. Mabel had a sleep to the soothing sounds of the ocean and Mum and Daisy bought necklaces and refreshments.
The only annoyance on this day was the huge amount of plastic rubbish thanks to the wind direction.
Plastic Waste at Balangan Beach
The high tide mark was littered with toothpaste containers, chunks of plastic waste, bottle tops. Yuk. It made me feel so helpless as I looked out to sea and could see more plastic floating in on the tops of the waves. It is very distressing.
On the road to Balangan, you pass these huge unfinished and abandoned resorts. It is quite surreal and such a waste of money and effort. Great examples of western excess exploiting the east. The locals hate these places but they can't do anything about it. If they spent the money on cleaning up the plastic, instead of half building fancy resorts, that would be so much better for Bali. The locals say the government does pay for clean up crews on the beach occaisonally. When we clean up a bag of rubbish, we hand it to a warung owner who then chucks it over the back, ready to blow straight back onto the beach again. What do we do????
Where to Stay at Balangan Beach?
This place has such a cool atmosphere. I really wished we could have stayed longer than just a surf and a beer. Thankfully, the plastic on the beach is only bad on certain days. For families follow this link to Airbnb to join for free and get a discount off your first stay. Search around Balangan Beach using the map feature. For more tips on how to book your Bali Villa using Airbnb read this.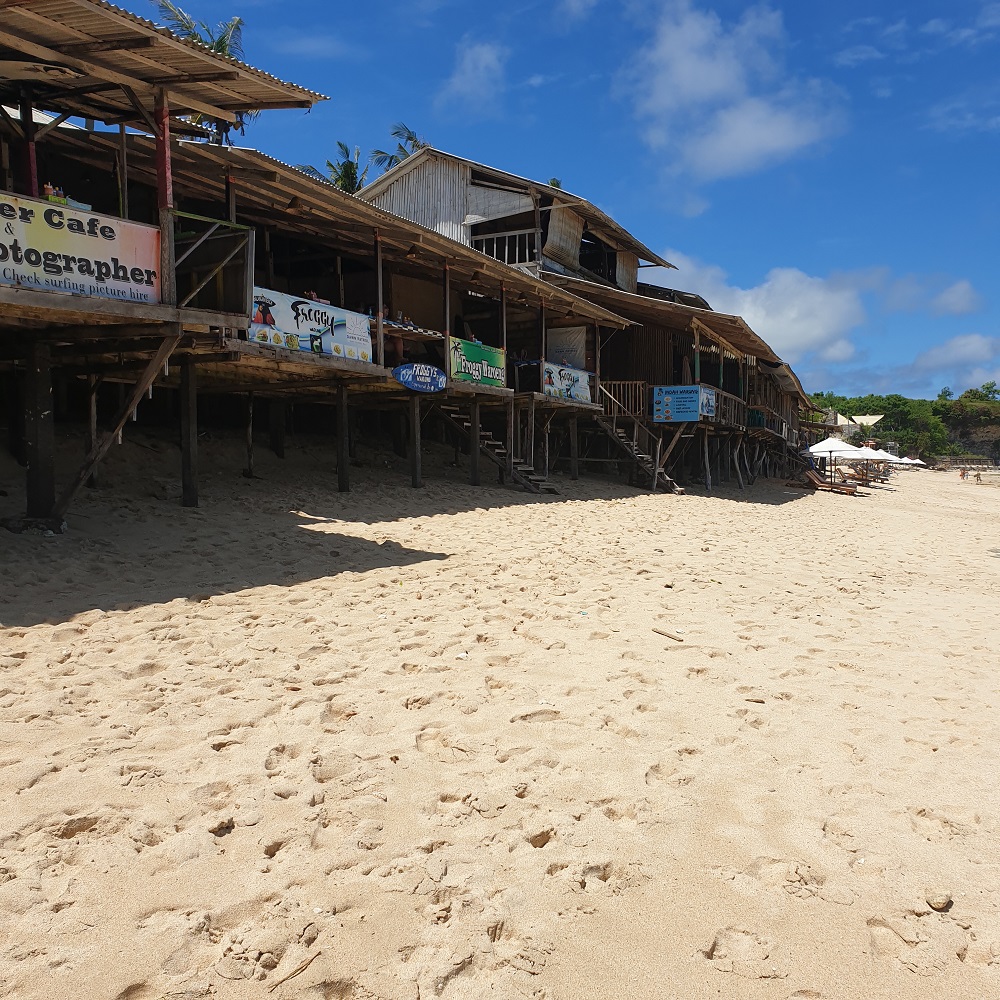 Jimmy Brothers was a super nice and cheap and cheerful spot on 350,000IDR per night in low season. For bookings or enquiries please see here
The Verdict on Balangan Beach
Balangan Beach Bali has certainly earned its place in our list of top beaches of Bali. It is easy to get to, and should definitely feature on your tour of the Bukit Peninsula. We love staying down in this area, and it is very different from other parts of Bali.
For kids and grown-ups alike, the access is fine, and the beach is safe apart from the typical Bali rubbish at the high tide mark, worse on the wrong wind, and the occasional dog. Supervise your kids in the water at all times and watch where you tread.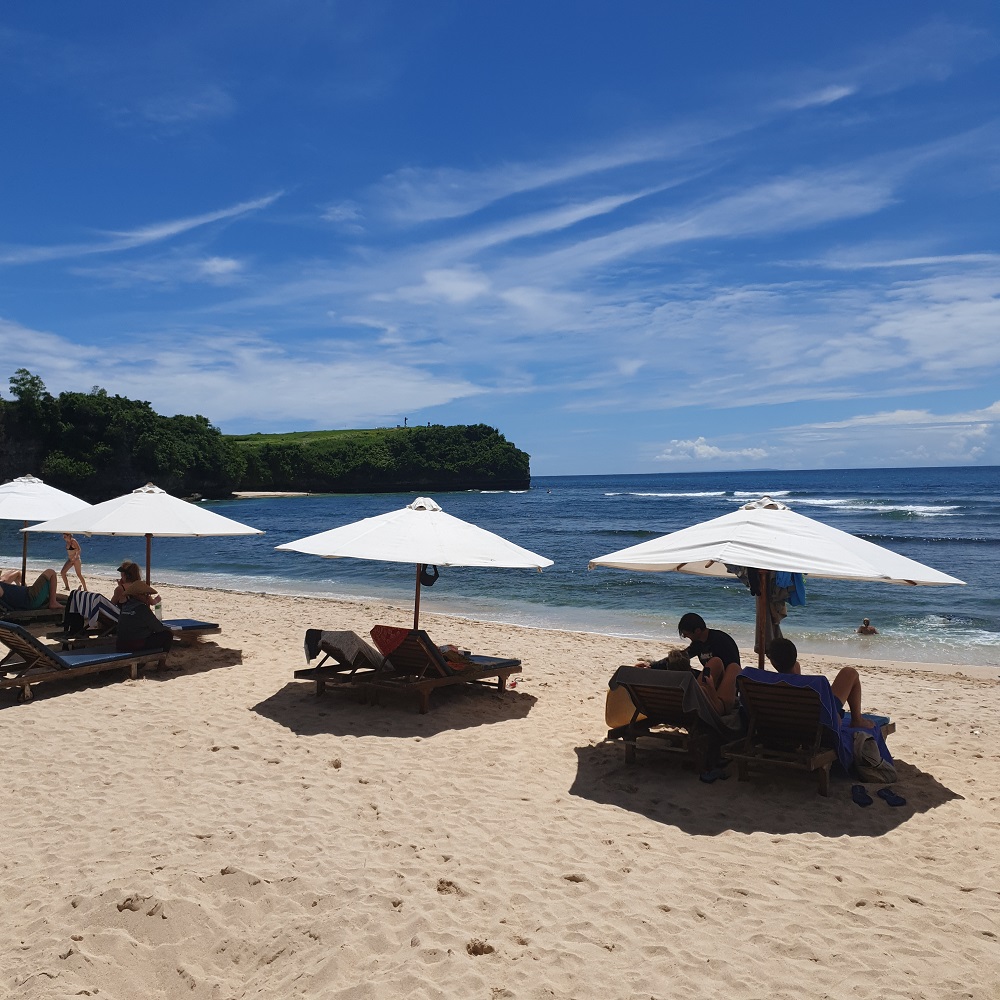 Padang Padang Beach just to the south of Balangan Beach is another top spot to visit with kids. For other top Bali beaches check out Uluwatu, Bingin Beach, Canggu and Amed.
To read our guide on the best places to stay in Bali with kids and how to find the best villas on Airbnb, read this:
– Kid Friendly Accommodation Bali
Want to go white water rafting in Bali? We did it in Ubud. Read the full review right here.