Cambodia is a fascinating country to visit, and often fills the gap in an overland tour between Vietnam and Thailand. 
We sort of went there by accident, having never heard of Angkor Wat before, only vaguely hearing things about the Khmer Rouge and landmines.  
Although Cambodia has come a long way since the atrocities of the Pol Pot regime, it's effects are seriously long lasting and every person you meet has a story to tell about where they were during the time of the Khmer Rouge rule.  You will hear some super sad tales.  While backpacking through the rest of SE Asia we read the book "First they Killed my Father", now a major motion picture directed by Angelina Jolie and that really set the scene for us.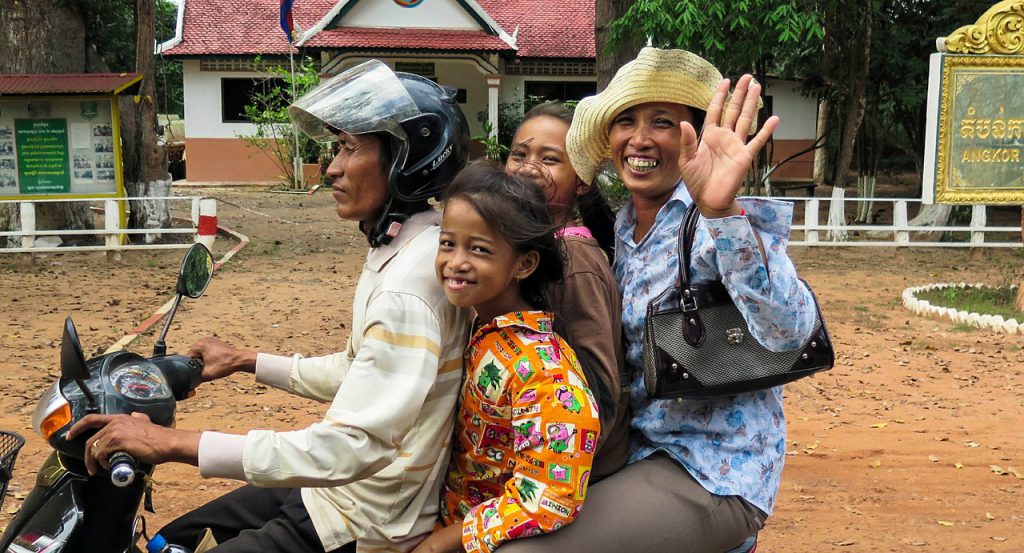 Highlights
As much as Cambodia's history is still very present and real in places like the Killing Fields and the S21 Prison in Phnom Penh, there is so much more to this blossoming country then first meets the eye.
Cambodia is home to the ephemeral Angkor Wat – the largest religious monument complex on the planet and a UNESCO world heritage site.  It will take you days to see the entire place!
Sihanoukville in the south boasts the most beautiful white sandy beaches and a thriving nightlife. 
The rivers and lake systems that snake their way up from Battambang to Phnom Penh are worth the uncomfortable river boat ride for the scenes and spectacles you pass on the shores on the way culminating in the sunset ride across the lake into the capital.
Dangers
Sure eating tarantulas is a thing, and thanks to the efforts of NGOs such as MAG and CMAC a lot of landmines have been removed.  However, after decades of war, it is estimated that there are still 4-6 million unexploded mines left in rural areas of Cambodia so you still have to remain vigilant and STICK TO THE PATH!  You will witness plenty of local children on crutches with one leg who didn't heed this advice.
You can't drink the water out of the tap and have some common sense when it comes to personal safety and hygiene.  
Check out International Travel Vaccination Requirements for more information on preventative measures.
You will need travel insurance.
What You Need to Know
Capital City
Phnom Penh
International Airport
Phnom Penh International Airport (PNH) located 10km out of the capital
Language
Khmer is the official language

Hello – 'sue-saw-day'

Money
While the Riel is the official currency, US dollars are widely found and used.  You will often pay for something in USD only to get Riel change in return.  For the latest exchange rates click here.
Visa
Tourist visas are valid for 30 days and are available for purchase at the airport or pre-purchase an e-visa online.
Best Time to Travel
It's always hot, driest and busiest November to March and rainiest in September to October.
Must See
Angkor Wat, Battambang River Cruise, Phnom Penh, Killing Fields, S21, Sihanoukville