We had an amazing time exploring Cambodia with kids. We have 4 of them! Our kids were aged 2, 5, 7 and 9 when we spent a month in this interesting country. Cambodia with kids is achievable. It is safe, and it is fun! Let me show you why.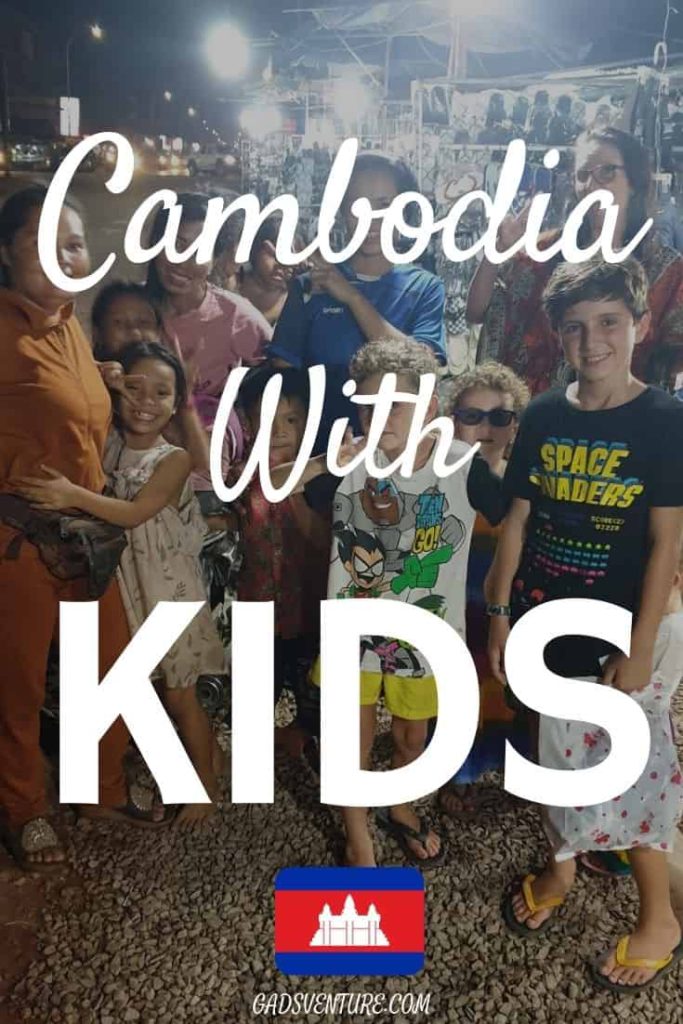 Cost of Cambodia with Kids
The main reason we love travelling in Cambodia, is the cost of things. The biggest outlay you will have is getting there, but once you are there you will find things are super cheap!
Cheap flights via Air Asia arrive into Cambodia at Siem Reap International Airport and Phnom Penh International Airport. So wherever you are in the world, if you can find a well-priced flight into a major Asian city such as Kuala Lumpur or Singapore, you can get a cheap hop over with Air Asia.
We prefer to use Skyscanner to research and compare flight prices:
Visa for Cambodia
You will need a visa to visit Cambodia. I recommend getting an e-visa prior to arrival to save you time and hassle at the airport. For details on how to get one, read this post.
Money in Cambodia
You need US Dollars to travel in Cambodia. This is what ATMs dispense, and the currency you need to buy or pay for anything while in the country. You can get your US Dollars easily inside the airport arrivals hall, for the best exchange rate.
Read the full post here: Currency in Cambodia
Cambodian Riel is given as change. $1USD = 4000 Cambodian Riel. So in general, pay in US Dollars and get Riel as small change.
Cash is king here, though credit cards are accepted at hotels, larger restaurants and some tour agencies. ATMs are everywhere. We use ING everyday accounts for International fee-free banking.
Accommodation for Families in Cambodia
Our challenge of travelling with a big family is always accommodation. The kids are still small enough that we only need 5 beds to sleep 6 people. And we could still find family rooms including breakfast for as little at $40USD per night including breakfast.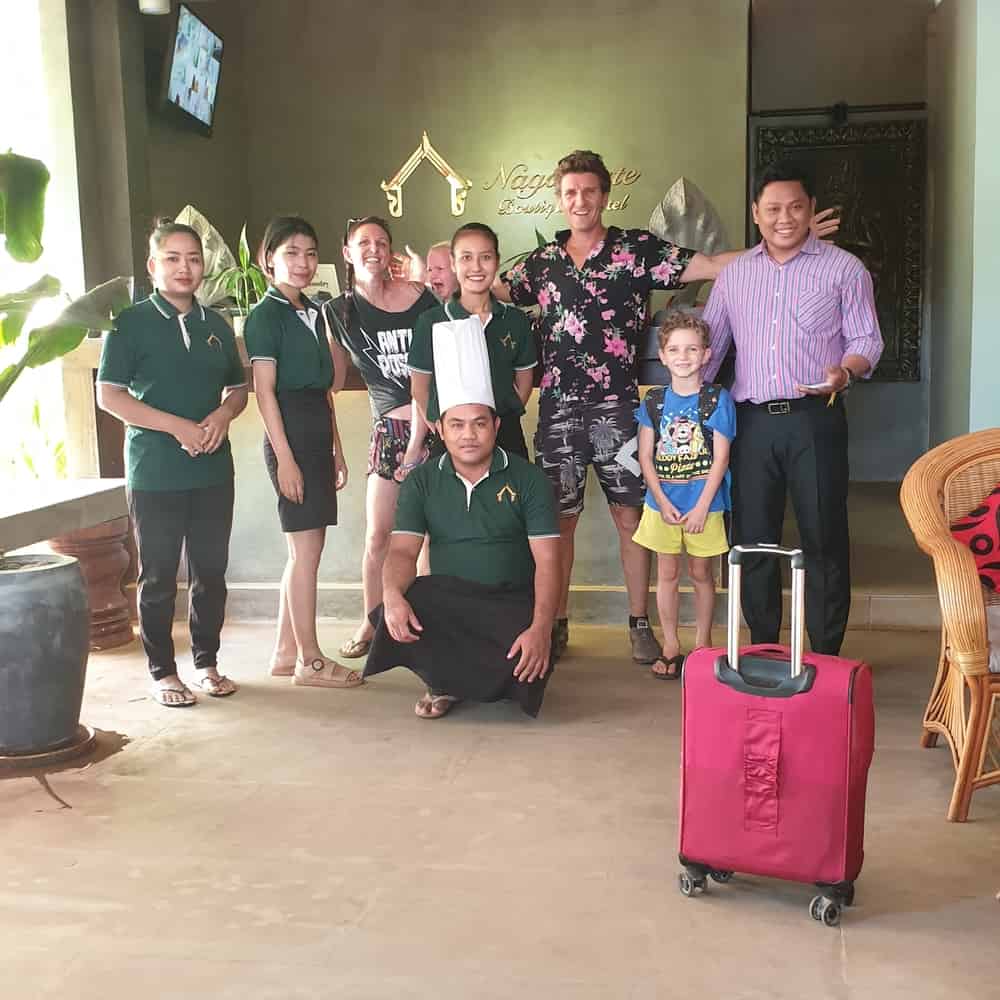 We loved Neth Socheata Hotel in the centre of Siem Reap and walking distance to everything. It didn't have a pool, but did include breakfast. A room with 5 beds was only $40 per night. They also offer free airport pick up.
Find the best family hotels in Siem Reap here. We have done the legwork for you and shortlisted the best budget family hotels in the coolest parts of town.
Include a pool and you can still pay as little as $50-$70USD nightly. Travelling in Cambodia with kids does not have to break the bank.
Another favourite in Cambodia with kids was Naga Gate Boutique Hotel in Siem Reap. It was 3 km out of the city, but you got a beautiful room and a giant pool. Check out their interconnecting family room for the best value!
Depending on which month you travel in Cambodia, especially with the kids, you will want a pool. March – June are the hottest months, and then June to October are the rainy ones. November to February is the peak tourist season in Siem Reap.
For a nice cool break while in the city of Siem Reap, take the kids to Water Park Khna. This cheap, low-key park has 5 fun slides, a big swimming pool and a little kid's water playground too.
Food in Cambodia
Food is cheap and delicious in Cambodia, making it a fantastic place to bring your family.
For a list of the best places to eat in Siem Reap, read this.
The cheapest food we found was:
Khmer Curry and Rice $3.50
Fried Rice with chicken or pork $2.50
Khmer Amok $3.50
French Fries $1.50
Burger with fries $3.50
Large woodfired pizza $7
Fried egg with plain rice (a kid favourite) $1
There are also western favourites such as Burger King, The Pizza Company and KFC in Cambodia, but no McDonalds. These are way more costly though.
Most restaurants we went to had a variety of western options on the menu such as hamburgers, fries, pizza and spaghetti bolognese. Which made it easy to feed kids in Cambodia!
Getting Around Cambodia with Kids
Around the cities, tuk-tuks are the main mode of transport. These cost-effective little motorbikes with a trailer easily fitted our family of 6. A ride around town will cost $1 – $2 or to hire one for the whole day $12 – $15. We did Angkor Wat with a tuk-tuk. Check out our full 3-day itinerary here.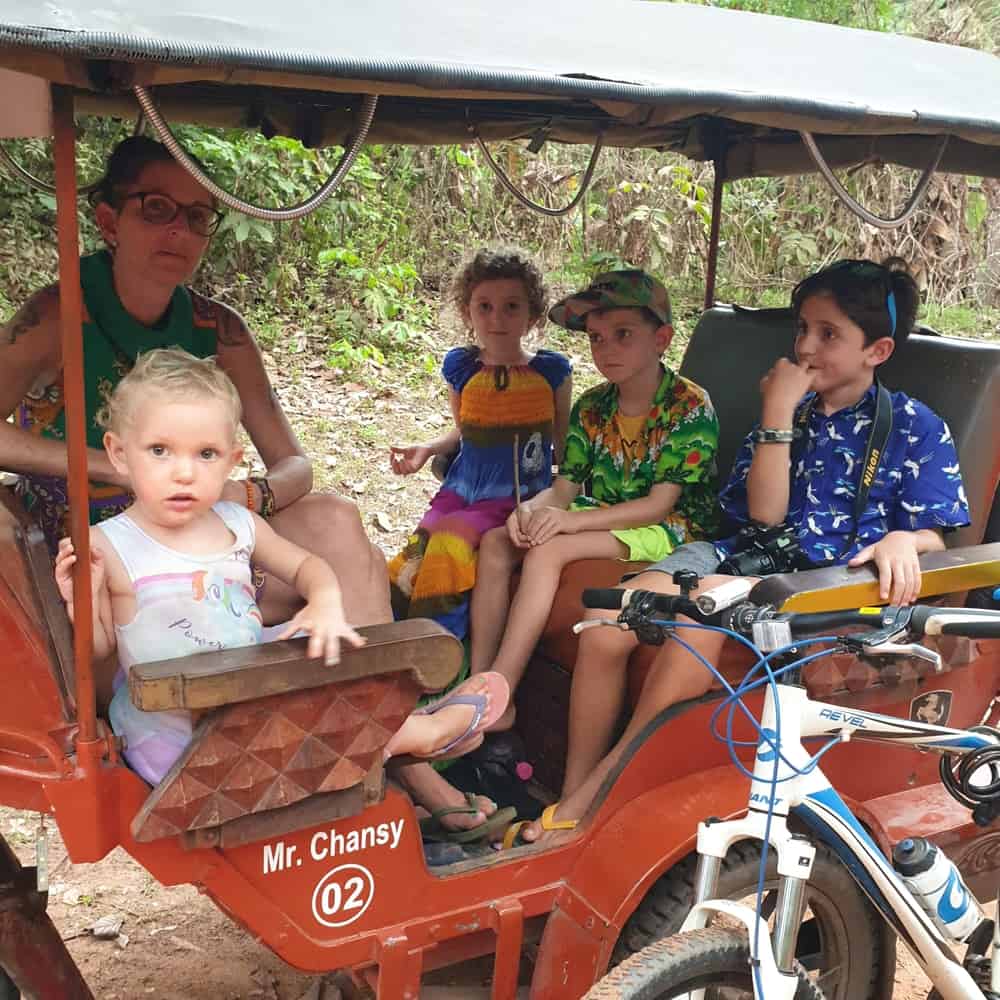 City to city, travelling Cambodia with kids is best done via private minivan transfer. It costs $125USD for the whole car between Phnom Penh and Siem Reap and only takes about 5 hours. Check prices and book your transfer here.
For us, this is way better than travelling by public bus which can take almost double that. The roads are paved all the way and your driver will make as many rest and refreshment stops as you need!
Things to do in Cambodia with Kids
Siem Reap with Kids
Angkor Wat
Visiting Angkor Wat is FREE for kids under 12. You may need to show your passport when buying tickets to prove their age though. We had to for our 9 -year-old!
Cost of tickets for adults and kids over 12:
1-day $37
3-day $62
7-day $72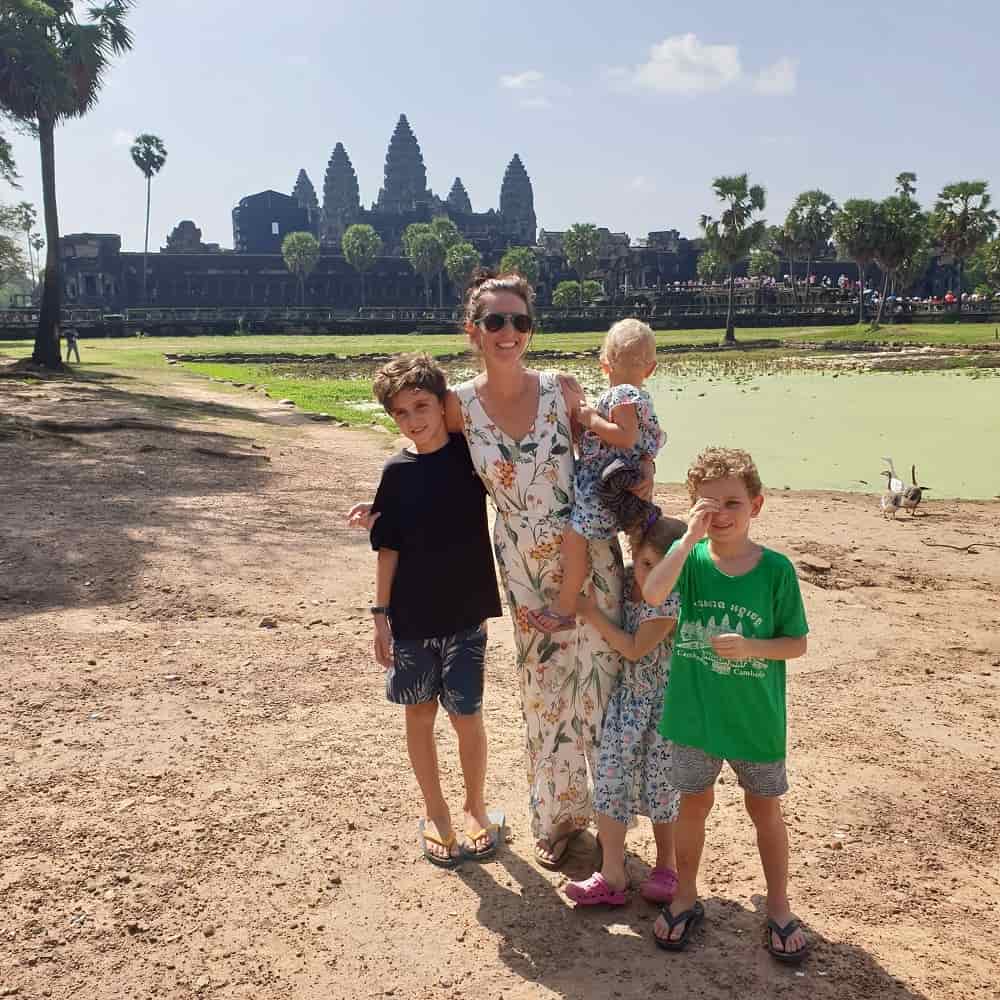 There is only one place to buy tickets for temple entry, and that is at the Angkor Wat Ticket office. You have to visit in person, and can pay by credit card. There area also ATMs located here. It is located in between Siem Reap and the temple complex. You need to pre-purchase tickets the afternoon before if you are aiming for a sunrise visit. Otherwise, just pick them up on the way.
Angkor Wat is open from 5.30 am to 5.30 pm and the other surrounding temples are open from 7.30 am. It is recommended to get there early to avoid the crowds.
All you need to know BEFORE visiting Angkor Wat is in this article.
Visiting Angkor Wat is one of the top things to do in Cambodia with kids or without. Our kids absolutely loved it. Taking the 3-day pass ($62) was the best option because it gave you a whole 10 days to use it up. This meant we could go for an afternoon, wait a couple of days, then go for the morning, and then a few days later had a final big day to finish it off. It can get tiring so the half days were great.
A 1-day pass ($37) would be a hard slog for kids. The 7-day pass option ($72) gives you a month to use it up, so this would be an even better option and let you see pretty much everything!
With bigger kids, try a bike ride around the ancient Angkor wall! This was a great way to explore the temples without seeing any other tourists along the way! This ride takes up to 2 hours and is recommended for kids over 9 years. For the details of our ride, read this.
---
The Cambodia Landmine Museum just outside Siem Reap was a favourite of the boys. Well presented exhibitions, videos and displays with easy to understand signage kept us informed and engaged.
This was a great place to learn about what happened here with simple stories and weapons displays.
---
The Banteay Srey Butterfly Centre was more for the girls! It was almost next door to the Landmine Museum and both can be visited on the way to Banteay Srei Temple (part of Angkor Wat). See Day 3 of our Angkor Wat in 3 Days Itinerary.
---
ArtBox in Siem Reap is a fun way to spend the morning in Cambodia with kids in a 3D trick art museum.
---
Watch the latest new release movies in 3D at a state of the art cinema in either Siem Reap or Phnom Penh. Check session times at Major Cineplex here.
---
Kompong Phluk Village Tour at Tonle Sap Lake is an interesting activity to do with the kids. Show the kids what real village is like. Best to visit after the rainy season.
---
There are some great cafes in Siem Reap too. Try Tribe for an arty vibe where they will serve you great coffee and entertain your kids with paper and pens. There is a dog cafe here too. Diffe Dofe Cafe lets you play with their well-groomed pups with a $5 drink. Find them on Trip Advisor.
Read this detailed post about all the fun things to do in Siem Reap besides temples.
Phnom Penh with Kids
S21 Prison and the Killing Fields With Kids
We visited Cambodia prior to having kids and checked out the Killing Fields with S21 Prison on that visit. I had no desire to go back there again, and I wouldn't take my kids at this age. As much as we have tried to explain what happened here in the 1970s with the Khmer Rouge atrocities, they can't quite fathom it.
If you visit Cambodia with kids over 12, they may be more able to comprehend the Killing Fields and S21. But be warned, they are very confronting.
---
In Phnom Penh, animal lovers will enjoy Phnom Tamao Wildlife Rescue Center. Most of the animals here were rescued from poachers and hunters and are cared for until they can be released into the wild again.
---
Kid City is a great day out in Cambodia with Kids. Perfect for babies up to 12 years, Kid City has a variety of indoor (air-conditioned) interactive play zones to keep them entertained and educated for hours! There are inflatables, trampolines, climbing walls and more. See their website for all the details.
Safety in Cambodia With Kids
Travelling anywhere with kids you have to be aware of their safety and there are a few dangers in Cambodia to look out for.
Travel Vaccinations for Cambodia
As well as being up to date with your usual vaccination schedule including MMR and Tetanus, it is highly recommended to get Hepatitis A and Typhoid vaccinations too. They won't give typhoid to kids under 2 years. Please see your GP or travel health clinic at least 3 months prior to travel to Cambodia with kids.
See our post for all the details on Travel Vaccinations for Cambodia.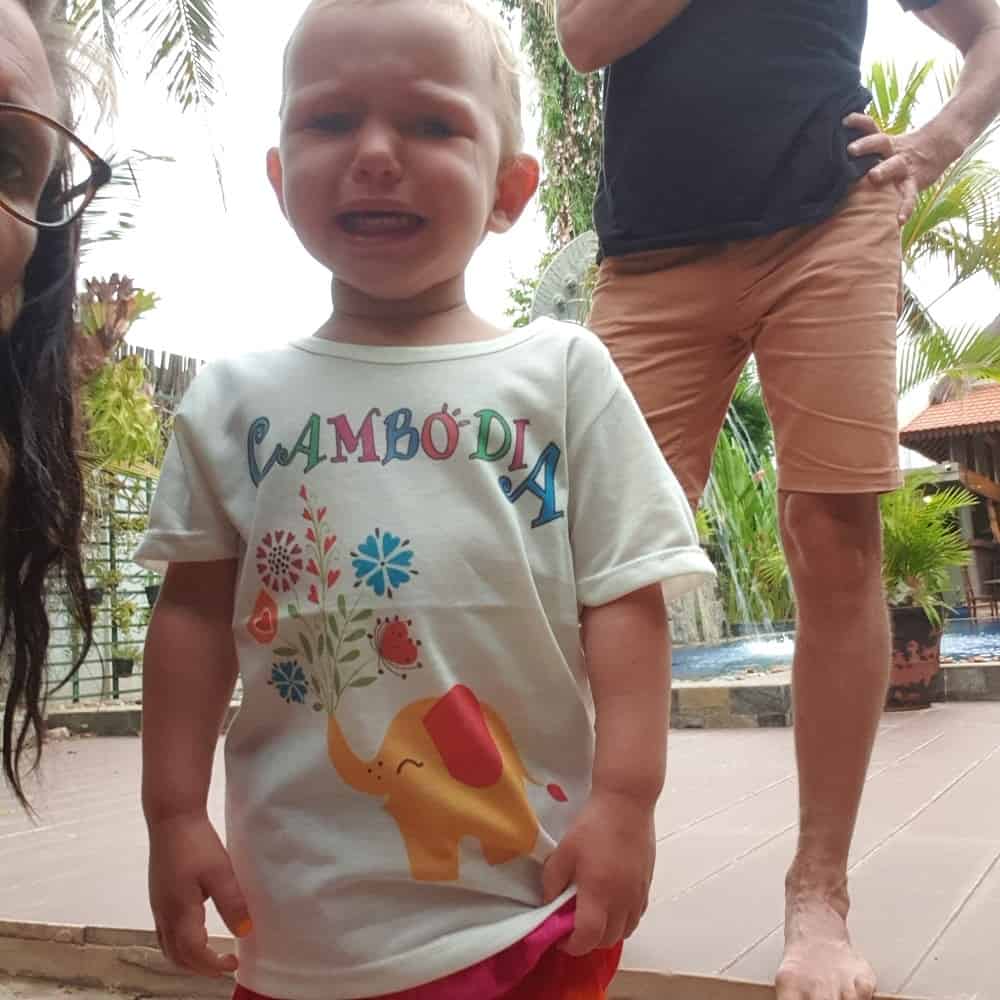 Health
Keeping your kids healthy and safe is no doubt your top priority. Here some rules that we follow and you should too:
Take a well-stocked medical kit. There are many pharmacies but they won't have your favourite or trusted kid's brands. Always carry paracetamol, bandaids and electrolytes as a bare minimum.
Use anti-bacterial hand gel after every high five (you will see what I mean) and before eating.
Don't drink the water out of the tap
Eat at busy restaurants and avoid salads
Use a pro-biotic for a month prior to travel. We found this helped our kids maintain a healthy gut.
Emergencies
Have a backup plan in case of a medical emergency. Make sure your travel insurance is in order.
In Siem Reap, the best hospital is The Royal Angkor Hospital. They have a 24-hour emergency and International quality care with a dedicated paediatric team.
Likewise, in Phnom Penh the best place to go in case of emergency is The Royal Phnom Penh Hospital.
Personal Space in Cambodia with Kids
We found Cambodia to be a friendly country. People were sometimes overzealous with trying to get photos of our kids, and they loved pinching their cheeks! The locals just love foreign kids and babies, but all those hands trying to touch them really pissed off the kids. They quickly learnt how to dodge and say "No touching!"
Road Safety
The roads are hectic and there is often no footpath. Wear sturdy shoes and watch out for random obstacles and holed. Carry smaller children.
Remember that cars drive on the right-hand side here! Look both ways before crossing the street.
Landmines
The most populated areas have been de-mined thanks to the efforts of the government and non-government organisations in Cambodia. But it is estimated there are still millions of mines and unexploded ordinance around the country. Don't let your kids run around or venture off paths. If you see anything that looks suspicious, notify the local police immediately.
Animals
Rabies is found in Cambodia, so avoid contact with mammals, especially cats, dogs, monkeys and bats. Report any animal bites or scratches to a doctor immediately.
Animals can be easily provoked if they feel threatened so for your children's safety, just stay away from them.
Mosquitoes
It's not just malaria, but dengue fever is another great reason to avoid mosquito bites. The prevalence of mosquitoes is going to vary depending on where you stay, and the time of year. We hardly saw a mosquito when we were there for example.
For peace of mind, do all you can to prevent mosquito bites.
Wear long sleeves and long cool trousers especially at dawn and dusk when disease-carrying mosquitoes are most active
Spray your room with bug killer before going to bed
Cover exposed skin with insect repellent containing DEET. Bring some from home.
Sleep under mosquito netting if conditions require it
If your trip is going to take in rural areas where malaria is more endemic, talk to your doctor about malaria chemical prophylaxis.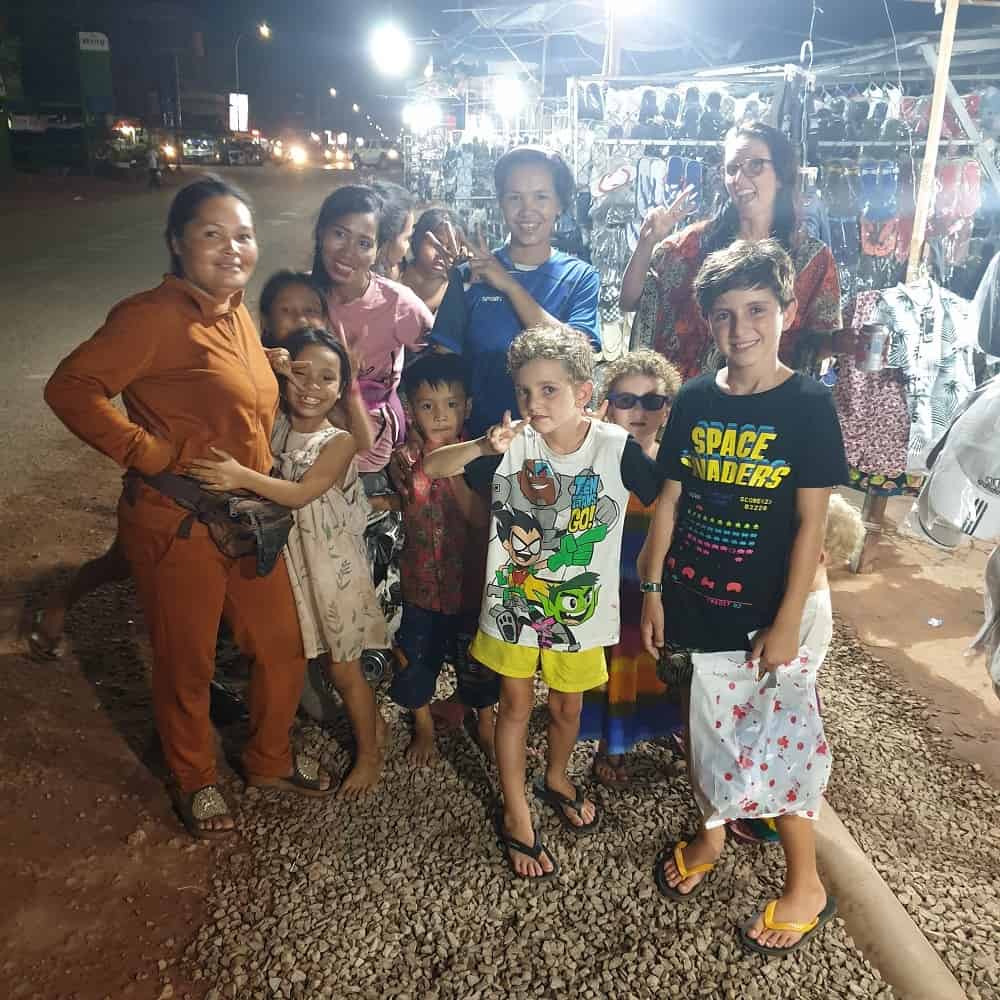 Visiting Cambodia With Kids?
Cambodia is an excellent place to visit with your kids. Not only is it cheap and easy, but it is such an intriguing country too. Every family member will enjoy themselves here. And as long as you follow the few guidelines above, you can have a safe holiday too.
Got any questions about Cambodia with kids? Drop them in the comments below or send us an email on kris@gadsventure.com.
We are happy to help fellow family travellers make their dreams come true!