Driving in Thailand is super easy. It makes sense to be independent and it is a much cheaper way to get around. We recently did a fun road trip driving from Chiang Mai to Chiang Rai with our family. Let me show you how.
Renting a Car in Thailand
Searching online for a rental car is easy. Check out a comparison site such as Flexicar and then narrow it down to which agent has the better deal. I then like to book directly with the rental company. In our case, Europcar had the best prices.
There are various smaller tour companies around the city of Chiang Mai that offer car rentals, but I prefer the security of going with an international company.
Cost of Renting a Car in Thailand
The cool thing about being an international traveller is that you have travel insurance (probably). Check your policy, because there should be a car rental excess cover in there somewhere. This means that as long as your car rental package comes with insurance, you don't have to pay extra to cover your excess. And if anything goes wrong, your travel insurance will pay this excess for you.
If you haven't got travel insurance, why the heck not?!
With that in mind, we rented a small sedan for 5000 THB for 10 days.
This means it is only $25AUD per day to rent a car in Thailand! For a family, buying several seats on a bus, paying for a private minivan transfer or a taxi can really add up. That's why driving in Thailand was the only answer for us.
Other Ways to Get from Chiang Mai to Chiang Rai

A quick search on 12GoAsia yielded a few other options to reach Chiang Rai:
1-way taxi fare 3900 THB for a 5 seater
8000 THB for a private minivan
public bus 220 THB per person
For the latest prices, click here:
From Chiang Mai to Chiang Rai
You can also visit Chiang Rai on a 12 hour day tour from Chiang Mai. This will depart your Chiang Mai hotel at 6 am, drive for 3.5 hours, then see the highlights of Chiang Rai before returning to your hotel by 7 pm the same day! That's a big day for us.
We were staying with friends, just out of the main centre of Chiang Rai town, so having a car was going to be our best option.
What you Need for Driving in Thailand
When you head off to collect your rental car, you need the following documents:
An International Driving Permit is required to hire a vehicle in Thailand
Driver's licence from your home country
A credit card in the driver's name
Passport
You are advised to have all of this on you at all times in case you get stopped by police.
Europcar also took a deposit of 9000 THB on credit card, which is supposed to be the excess. This is the part that your travel insurance should reimburse in case they decide to keep it!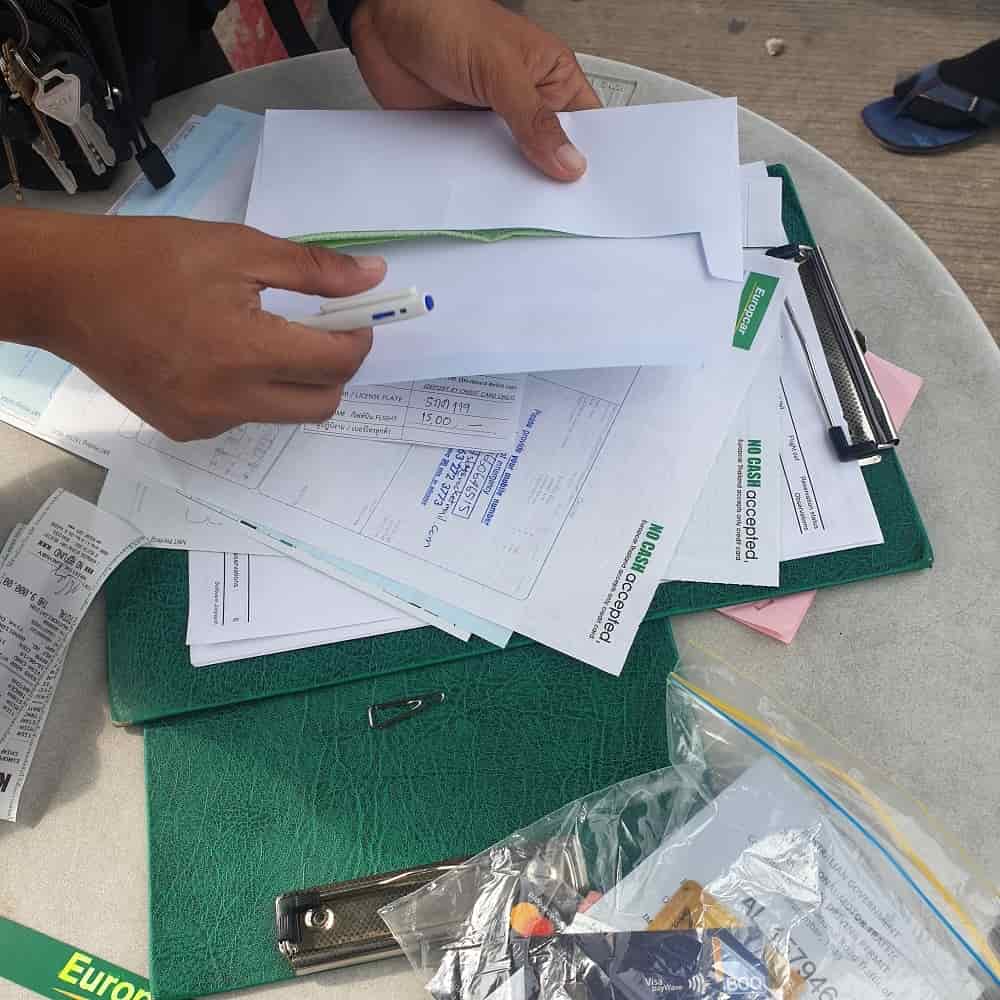 Driving in Thailand
Here they drive on the left side of the road, and cars are right-hand drive. The indicators are on the right, and the windscreen wipers and gear stick are on the left.
If you are not used to driving on the left, make sure you get an automatic car.
The rules are similar to home, but Thais have a much more relaxed approach to driving in Thailand. There are motorbikes which usually keep to the left, and car drivers seem indecisive about which lane to be in, sometimes straddling the divider line instead.
You are allowed to turn left at any time with care, even on a red light.
Drivers are calm, and there is no road rage. You get cut off a lot and have to give way to people reversing towards you on the highway sometimes. But as long as you go slow, stick to the slower left-hand lanes, and try to be as chill as the Thais, you will enjoy driving in Thailand.
The roads are great. In the cities, there are some super narrow streets, but once you get outside Chiang Mai, the highway is smooth and in great condition.
They are currently doing a major upgrade midway between Chiang Mai and Chiang Rai which has turned a big stretch of road into a construction site. This is pretty slow going and has added a bit of time to the journey at this point in time. I reckon it will take years to complete.
Fuel
Rental cars are economic, especially if you get a small 3-cylinder as we did. There are fuel stations all along the highway, and fuel costs on average around 22 THB per litre. Our car's tank cost close to 700 THB to fill.
Know in advance which side your rental car's fuel tank is located. And before you leave the rental agency parking lot, make sure you find out how to open the tank door. (This is from an experience we had while renting a car in Japan. It took us an hour to locate the lever so we could refuel!)
There are attendants that you instruct to fill your car up with fuel, and then they take your money to the cashier. You don't even have to get out of the car! The big highway stations also have 7-Elevens, Amazon Coffee and KFC. So you might want to get out of the car after all!
Parking
Red and white lines on the curb means no parking ever, yellow and white allows a drop-off, and black and white means no stopping during certain times of the day.
We had no trouble finding a car park in Chiang Rai, where the city streets are relatively quiet. In Chiang Mai, our hotel had free parking on the street.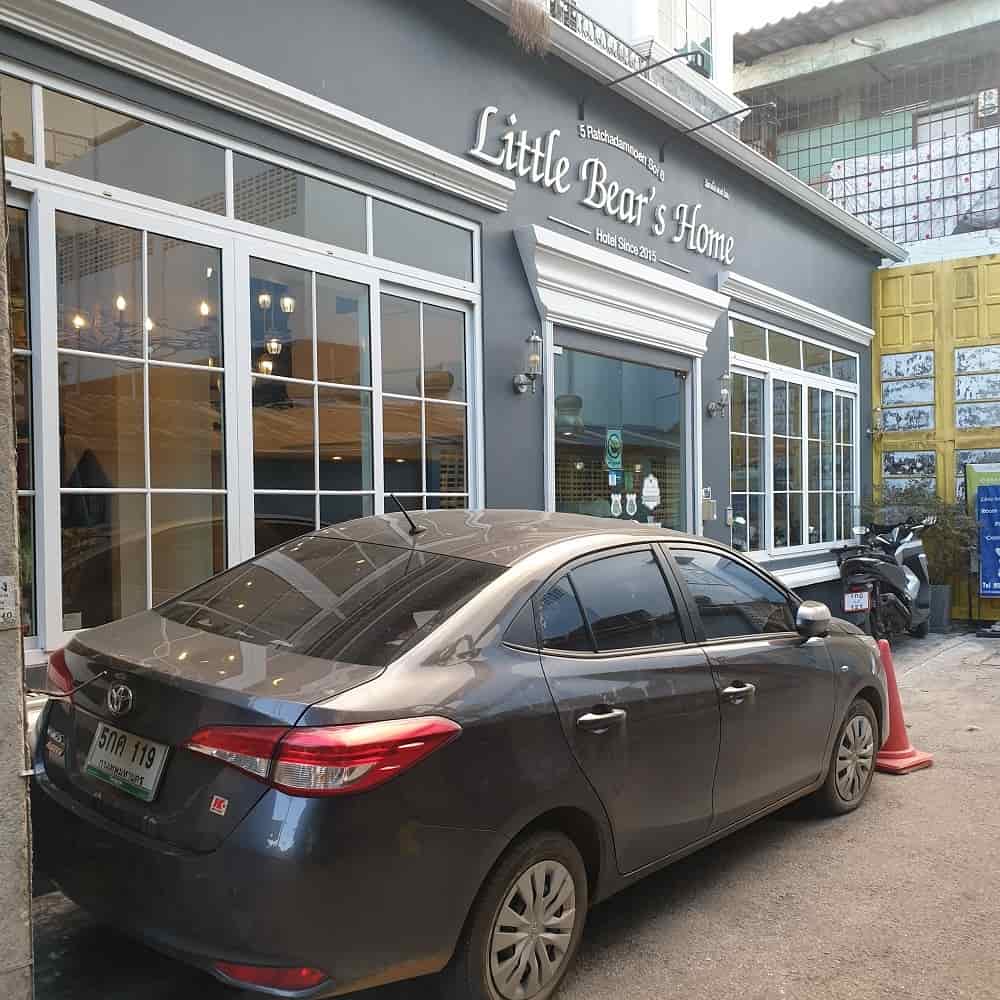 Directions for Driving in Thailand
The roads are fairly well signposted for major centres.
If you download the Google Maps app and save your route before leaving your hotel's free wifi, then you can continue using the navigator.
Get the Google Maps App here for Android
Get the Google Maps App here for Apple
It is also worth having a local sim card for emergencies. We bought ours when we arrived on Klook and collected it Bangkok airport for $6 AUD. It is easy to top it up every 7 days for 99 THB at any 7-Eleven.
I like the security of having a phone with me. We also have an Australian number which we can turn on for emergencies at a daily roaming rate of $10. This is called the Telstra 'Day Pass'. If you are in Australia, look into activating it before leaving home.
Driving from Chiang Mai to Chiang Rai
The road winds through some spectacular National Park territory, farmlands, and highway towns. There are some awesome coffee shops to stop at along the way. Look for Poenna Cafe about 3-quarters of the drive north. Doi Chang is another delicious coffee offering.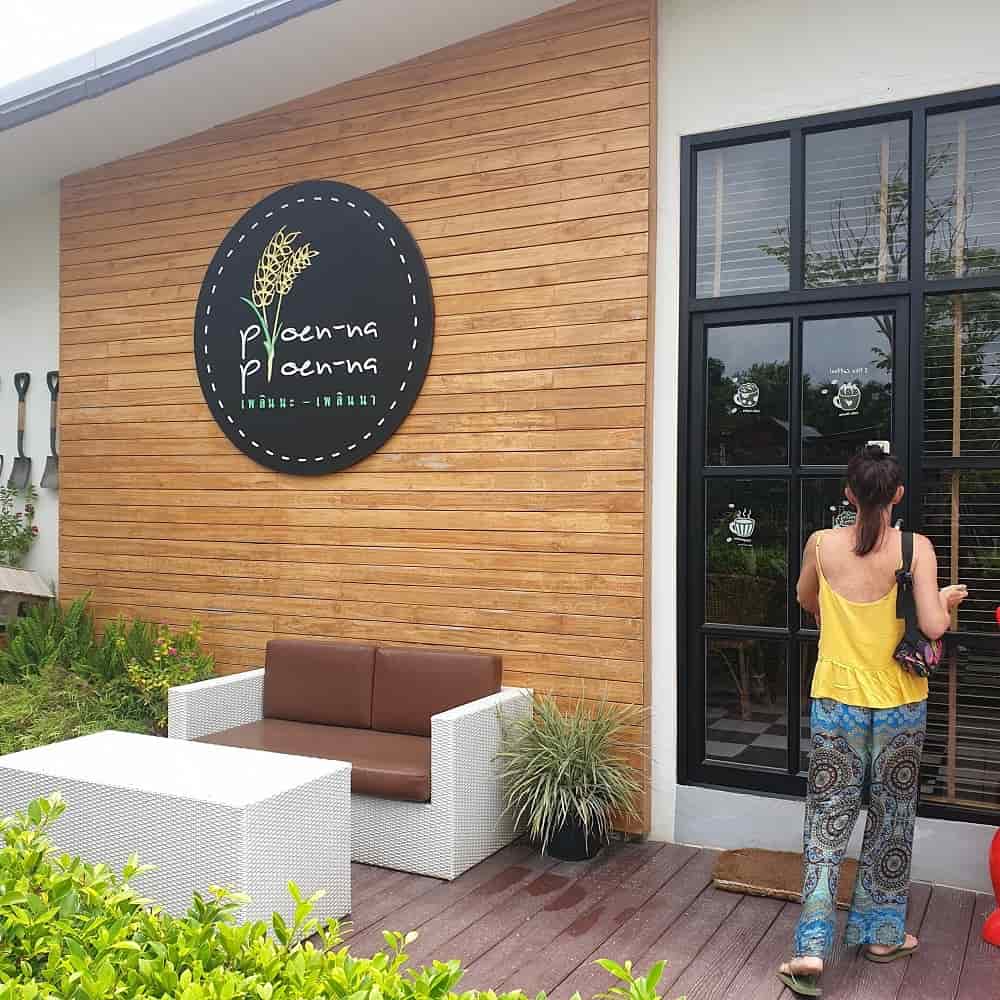 The fantastic cafe scene is evident as you head further north. The king and government have been encouraging the population and tribespeople to grow a crop other than opium, so coffee it is! This initiative has given rise to amazing little cafes, and boutique roasteries in Thailand's north.
Another notable place to stop is the Hot Springs. You see the big plume of steam as you drive along, and there are shops, and restaurants here as well. You can eat eggs that have been boiled in the hot springs in little baskets, but they tasted a bit weird, to be honest. A toilet stop here is a bargain at 5 THB.
At the back of the large parking lot, there is a small stream with slightly cooler water which is great for a relaxing foot spa. Just throw a few baht in the donation box for the privilege.
Driving in Thailand – The Verdict
We loved driving in Thailand. It was simple, cheap and gave us so much freedom. The drive from Chiang Mai to Chiang Rai was a perfect initiation into Thailand traffic, and I would definitely recommend driving in Thailand to anyone coming up this way.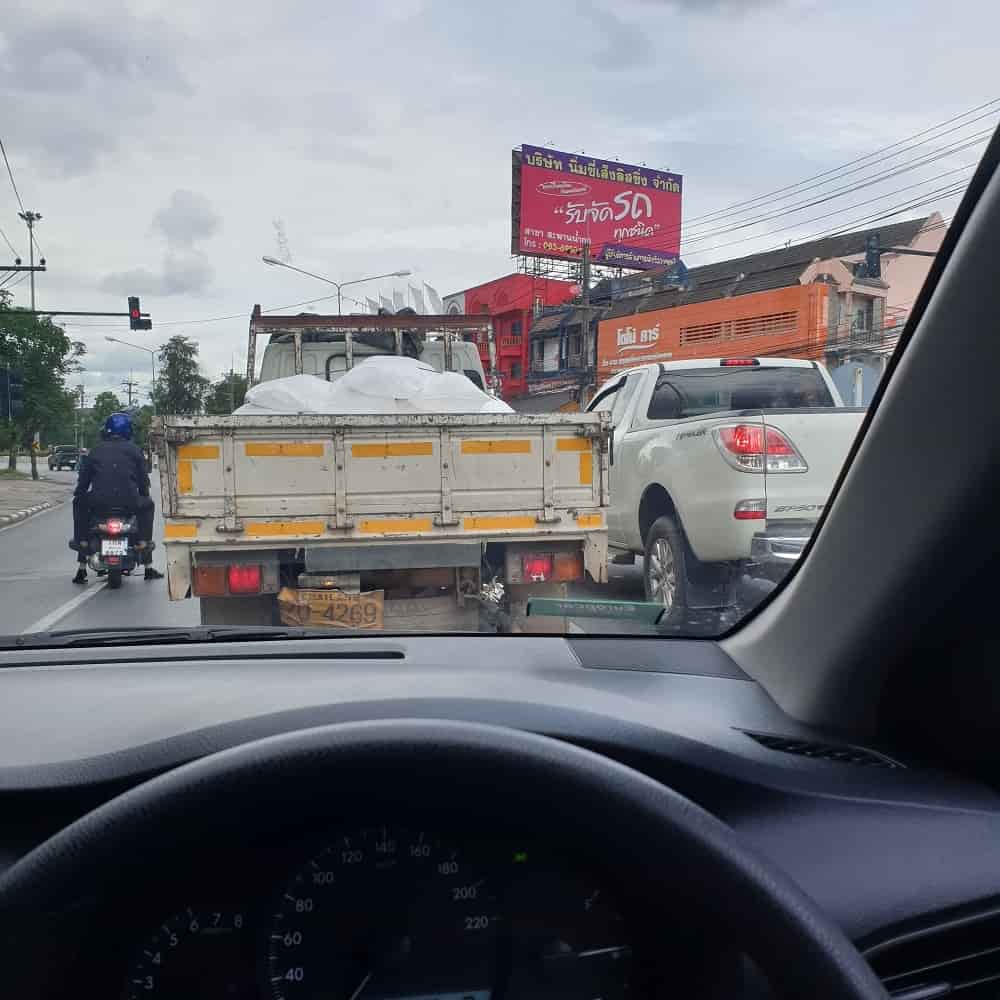 Related Articles
Check out some of our other stories for more information on visiting Thailand with kids: