There are many things to do in Ao Nang Thailand. Check out our full list of the top things to do in Ao Nang Here.  One of our favourite activities to do in Ao Nang Thailand with kids was to go on a 4 Island Tour Krabi.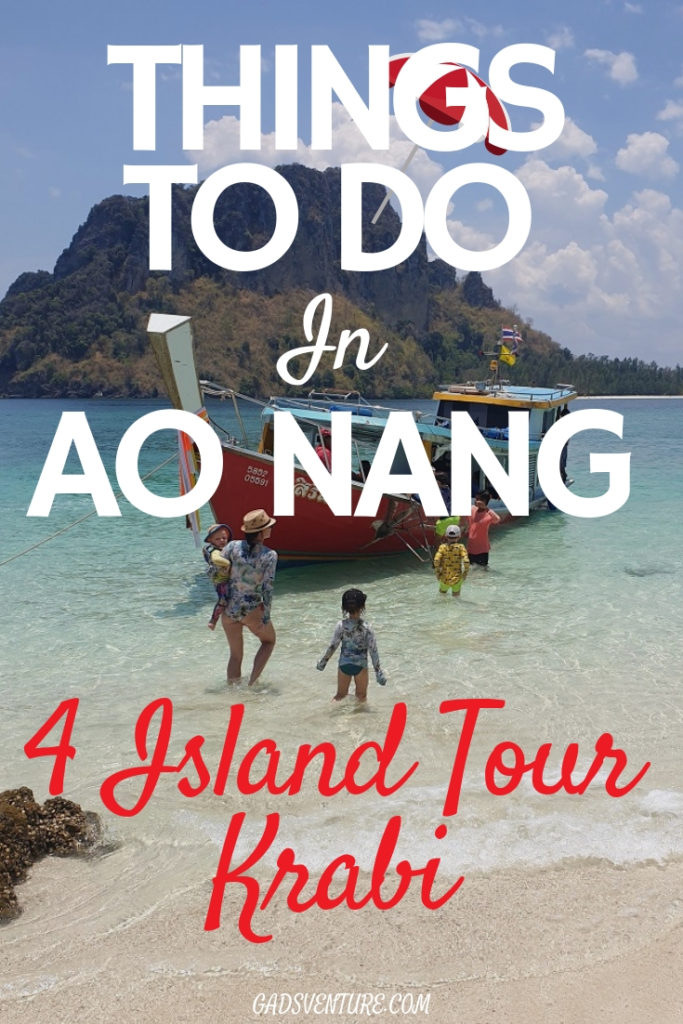 This tour was booked with GetYourGuide. We compared prices across the board. There are booking agents on every street corner as you wander around Ao Nang Beach village. As we gathered the brochures and compared the prices across the agencies, we noticed one major thing in common. The price from these agents were double the price of the tour on GetYourGuide.
Heading to Thailand soon? Find out if you need visas, or vaccinations for your visit!
International Reputation
GetYourGuide are an international booking agency. So, you are booking with local tour guides, just all with the convenience of being able to search and pay for your tour online. This gives you the added advantage of paying by credit card which then adds your credit card insurance as well.
Reviews
GetYourGuide only use reputable tour agencies on the ground so you know that your tour is always going to be a good one. There are reviews to read from people who have done the tour previously, which I absolutely love. There is nothing so good as reading reviews from someone who has just done the tour you want to book. We have ruled out things thanks to the reviews, as well as jumped right in and booked based on reviews too.
Easy to Use
The ease of searching, booking and paying for your tour on GetYourGuide is just so simple. They have really streamlined the process. I love not having to get out massive wads of cash to pay some guy on the street too.
The 4 Islands Tour Krabi from Ao Nang, Thailand
This was one of our favourite tours to do from Ao Nang, Thailand. We got picked up from our hotel (all included) at 8.30 am after a nice breakfast at our homestay in Ao Nang. The van took us down to near the pier at Noppharat Thana Beach which is next to Ao Nang Beach. This is where all the boat trips leave from, including the ferry rides.
Try Ziplining in Ao Nang Thailand!
Our guide lined us up under the tree, and we had to show our mobile voucher which was available offline on the GetYourGuide App. They gave us stickers which said "4 Island" and told us we were on boat number 007.
National Park Entry Fee
Then we had to pay separately for the National Park entry fee. This fee is always a separate entity, no matter where you book the tour. It is 400 THB per adult and 200 THB per child over 4 years. Make sure you have this cash with you. The tour guides then pay this cash directly to the National Park officers on the islands.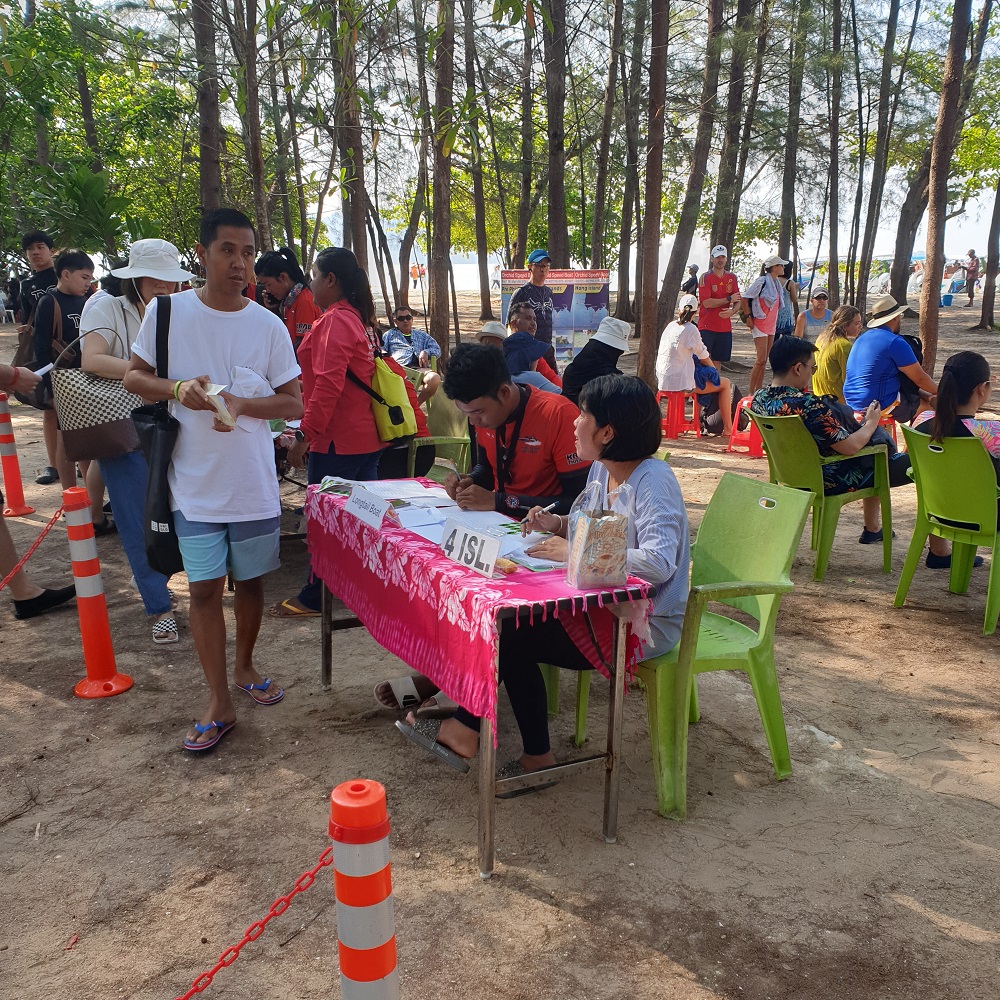 Eventually, we were taken to our boat. We chose a longtail boat tour because it was cheaper, however, there is also the option of a speedboat tour. You can also hire your own private speedboat for the day if you wish.
We walked over 100 meters to the creek and loaded onto our longtail boat, climbing over the side on a metal ladder. We had to wade through knee-deep water to enter the boat.
There were our family of 6, plus around 10 other persons on the longtail boat. They had life jackets for our bigger kids, but we took our own for our smaller children. You can buy kid's life jackets from the shops at Ao Nang.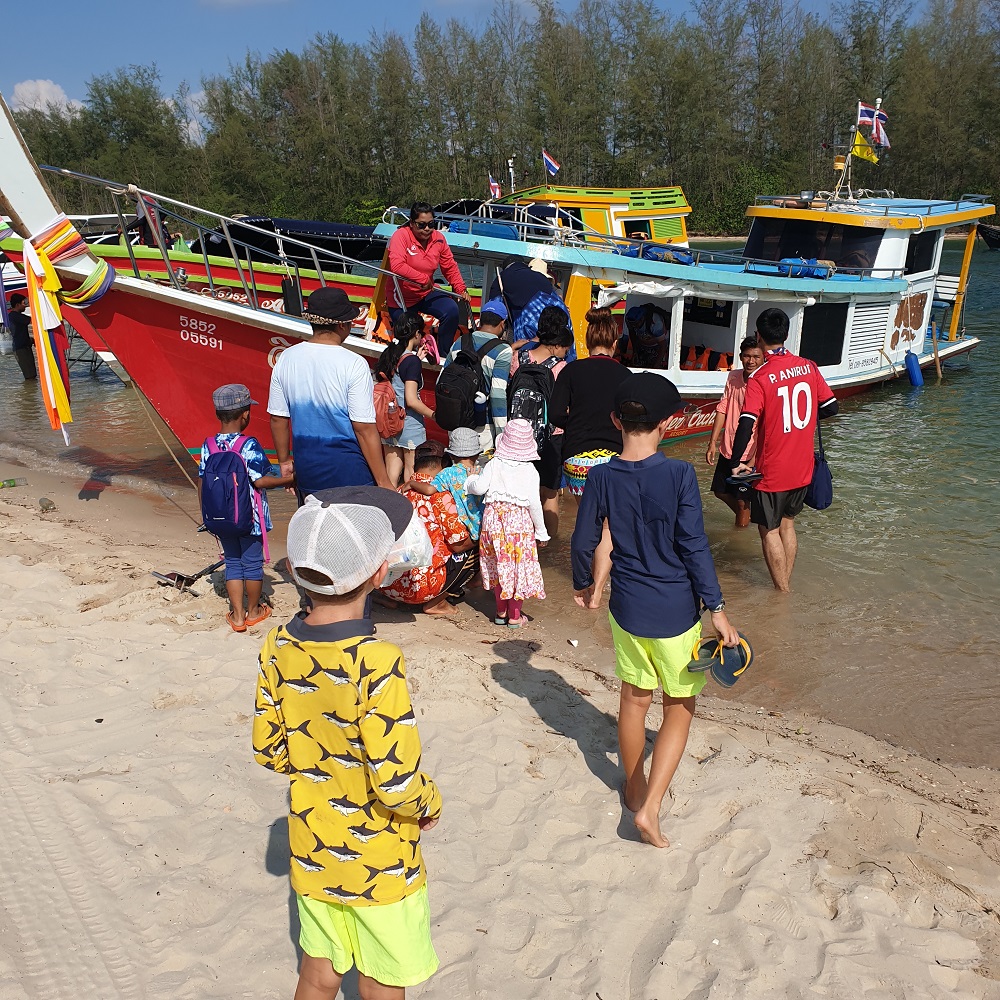 We brought along our reef walker shoes but didn't end up using these as we only waded on sandy bottoms. You can buy these in Ao Nang also, kids and adult sizes are available.
The First Stop – Phra Nang Beach and Princess Cave
This beautiful beach was a perfect first stop for a swim after only about 20 minutes on the boat. We were there at high tide which meant that to get to the cave from here, you had to wade through thigh deep water. Luckily we had already visited the cave on our trip to Railay Beach previously, so we didn't mind not going.
We hung out at the beach and swam under the beautiful limestone cliff islands. The water was clear and perfect for swimming. It was very calm and perfect for the kids. There was a shady area at the top of the beach to relax.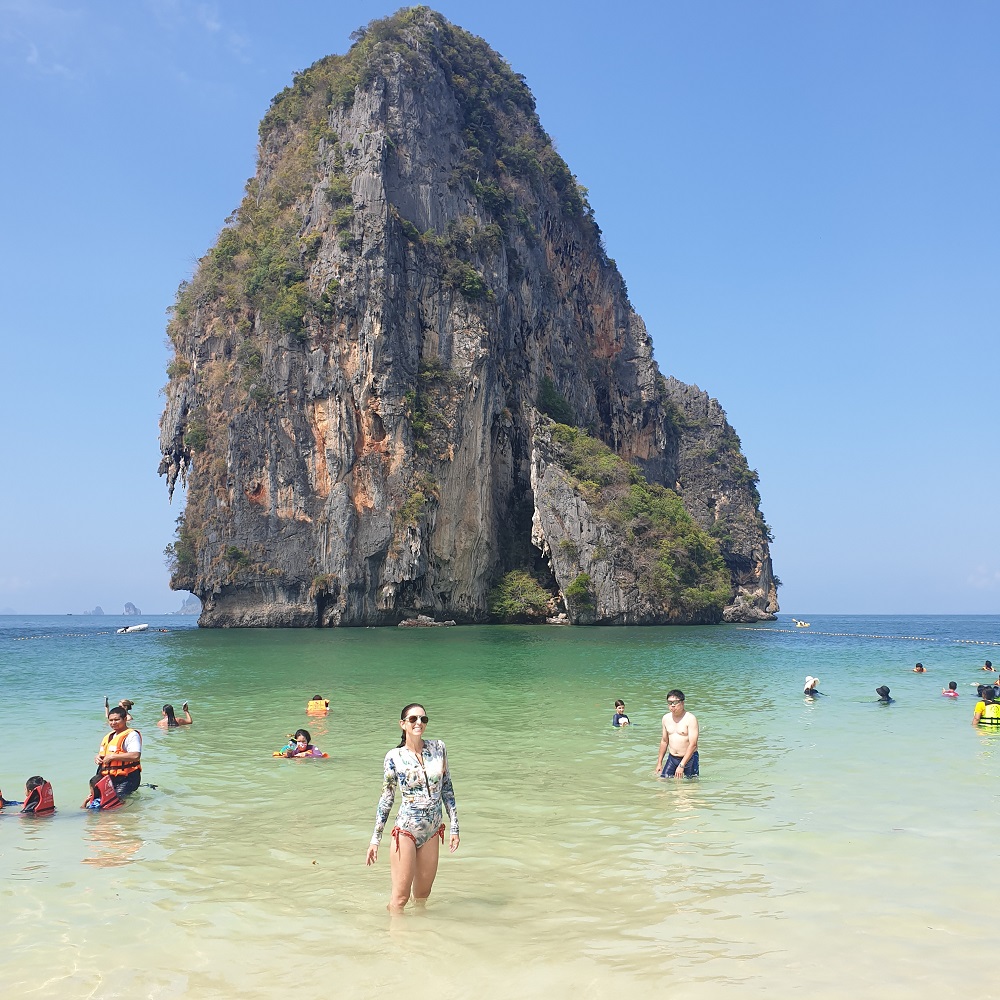 You can buy food and drinks here from little longtail boat food vendors. The prices are surprisingly good compared to the mainland.
Down at the cave, you will find a temple full of wooden penises where people go to worship and invoke virility.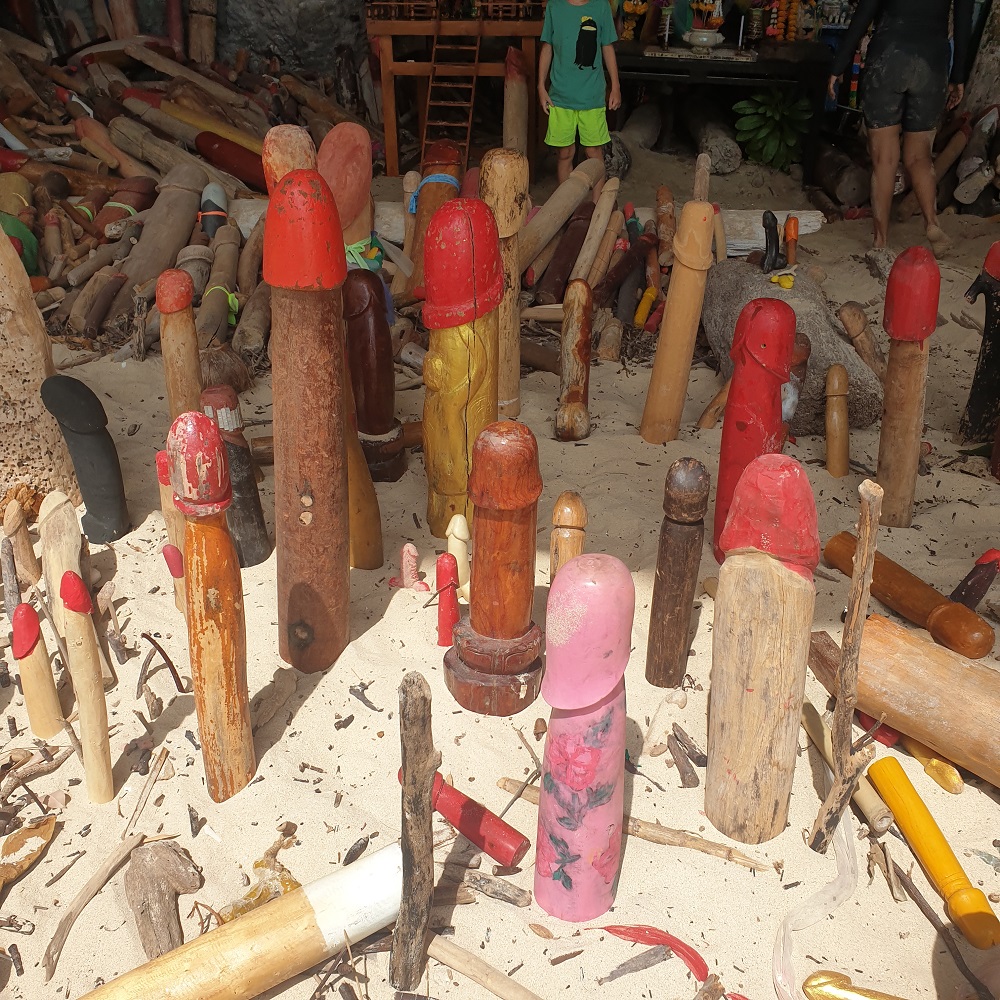 Please remember this is a proper sacred temple and as such you have to dress modestly and behave accordingly.
Read This Now: Best Beaches in Khao Lak
Stop 2 – Chicken Island
After about an hour on Phra Nang Beach it was time to head out to our next stop – the first of the 4 islands. I recommend that you bring a few snacks for the journey as this is where the kids started to get hungry. Cold water was included but it was a long wait until our included lunch.
There was a lovely Thai lady on board with her 2 kids who ended up feeding mine too!
Chicken Island (Ko Kai) is a towering rock that looks a bit like a chicken head. It is a good photo opportunity. Then you can jump into the water here for snorkelling. Masks and snorkels were included. There was amazing fish life here, and the kids even got to see little Nemo clownfish which was a definite highlight. Our kids are good swimmers and enjoyed snorkelling around and looking under water. We bought our own goggles for the kids.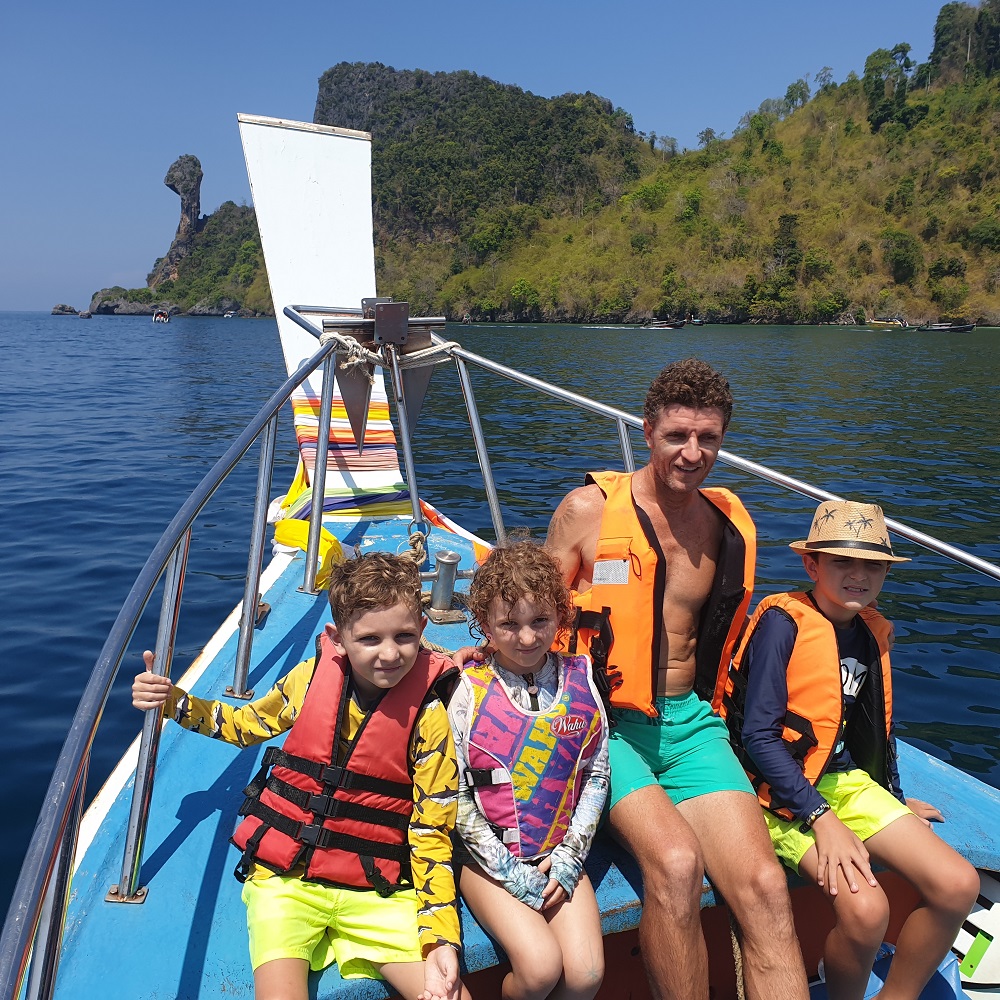 The Next Stop – 3 Islands
At the next stop, it would be wonderful to visit it at low tide so you get the full effect of the 3 islands which join together via a causeway. You land on Tup Island, which was quite busy for a small island.
There is a National Parks office here, which is where the tour guides pay your National Park Fee.
From Tup Island we could walk across the causeway in knee deep water to the next island Ko Mor, but the causeway across to Chicken Island was too deep to attempt. If you want to time it better, for low tide, then you get the full effect of the 3 islands joined together.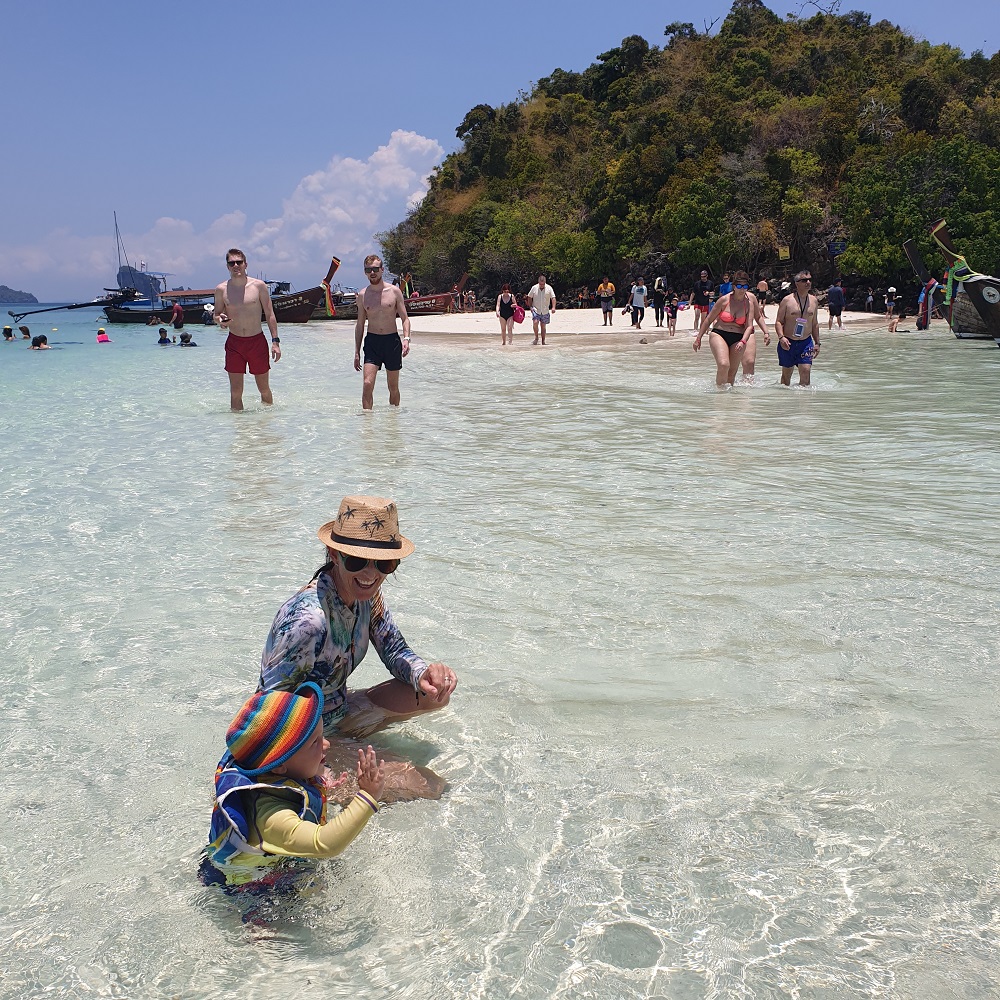 Check the tide times for Ao Nang here.
The water is so clear and blue, and the sand is so white, this is a magical place. Unfortunately, drones are not allowed to fly here so we couldn't get any amazing aerial footage.
You could swim in a small area on the opposite side to where the tour boats land but just watch out for strong currents here. There are boats coming and going constantly here. If you get a private tour, you can dictate what time you arrive, and so avoid the crowds, and get the tide right too. Visiting at sunrise or sunset would ensure you had it all to yourself. We were there around 12 midday.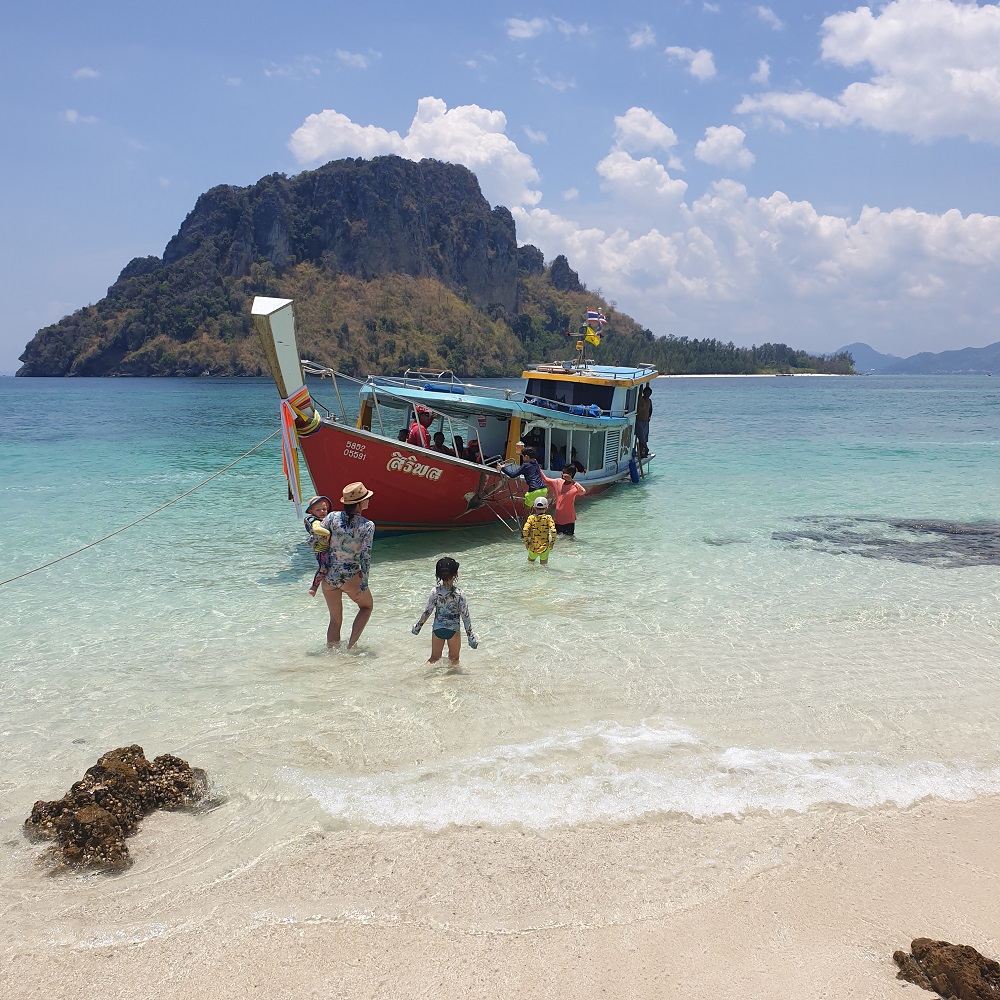 There is no alcohol allowed in the National Park. However, there is a small kiosk on Tup Island where you can buy some grilled corn or some crisps. (They are overpriced compared to what you would find on the mainland for example $4 for a packet of crisps)
The 4th Island – Poda Island
Finally, it was time to head to the 4th island for some lunch which was all included. This island is called Poda Island. It was quite busy again with all the tour boats using this as the stop for lunch. But it was a big area and easy enough to find your own place under the shady trees.
What is in Phuket for kids? Find out here.
Lunch at Poda Island
The buffet style Thai lunch was excellent. We enjoyed rice, chicken massaman curry, mixed vegetables, vegetarian massaman, and fresh fruit. With more ice cold water. Even the kids loved the food!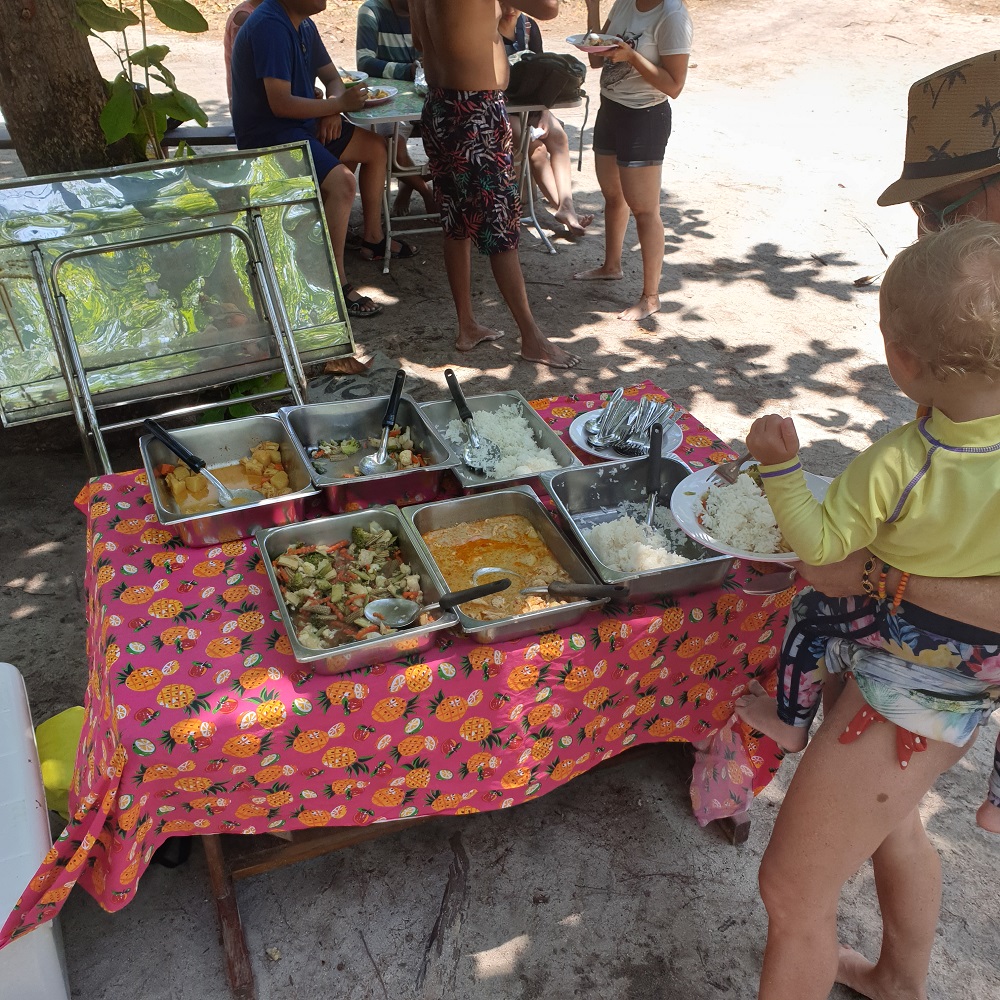 Snorkelling at Poda Island
We then had plenty of free time to explore Poda Island at our leisure. There is a secret and very special snorkelling spot at the southernmost corner of the main west-facing beach. If you swim out to the border of the roped off area, you will be rewarded with heaps of fish life and impressive hard and soft corals. We saw lots of sea urchins, and there was a deep drop off which was teeming with sea life. Watch out for low tide, as it is too shallow to swim over the coral.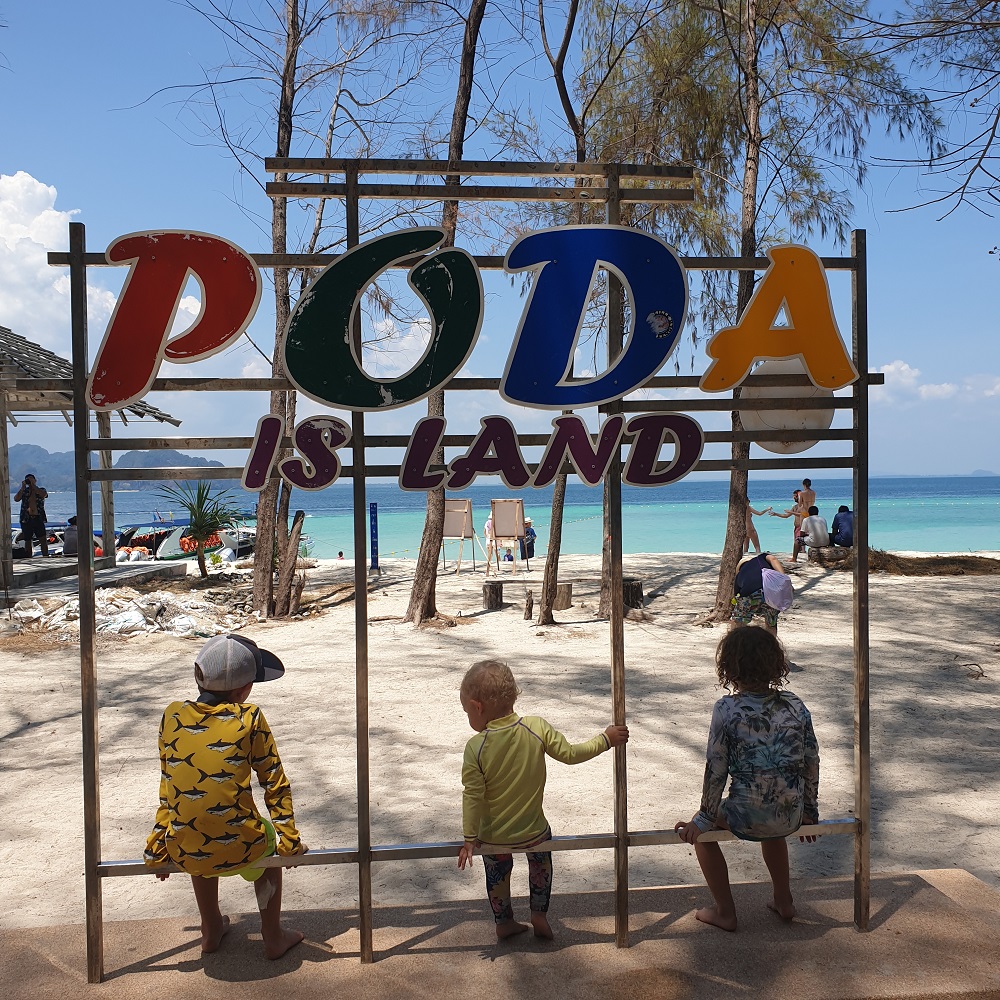 After a delicious lunch and a super fun day in the sun seeing some spectacular islands, it was time to return to Ao Nang. The ride back took around 20 minutes, and then we had an included taxi ride back to our hotel.
Ao Nang Thailand 4 Island Tour Krabi with GetYourGuide
The Verdict
Our 4 Island tour Krabi was seamless. From getting picked up, looked after all day and then dropped back at our hotel, we couldn't fault the tour. It was so easy to book, and we had so much fun snorkelling and cruising on our photogenic longtail boat.
It was a great trip for the kids who are aged between 2 and 9 too. They especially loved seeing so much fish life while snorkelling. If you are staying in Ao Nang, Railay Beach or Krabi, I definitely recommend the 4 islands tour.
Read This: Things to do in Khao Lak
How Much does it Cost?
This is the bottom line: The 4 island tour Krabi from Ao Nang cost $28(AUD) per adult and $20 per child over 4 on a longtail boat. To do the same tour on a speedboat it costs $46 per adult and $37 per child. I prefer the longtail boat because it feels more authentic, and it was so much cheaper. The speedboat is faster between your islands, however. Book your tour with GetYourGuide by clicking on the link.
The inclusions were hotel pick up and drop off, life jackets, cold water, and lunch.
Any Bad Bits?
I would love to see a morning tea provided too. That would really add to the experience. We were forever grateful to the Thai lady who threw our kids a few crumbs of Pringles. But some fruit or a muesli bar at Chicken Island would have helped immensely.
Other than that, it was a perfect day.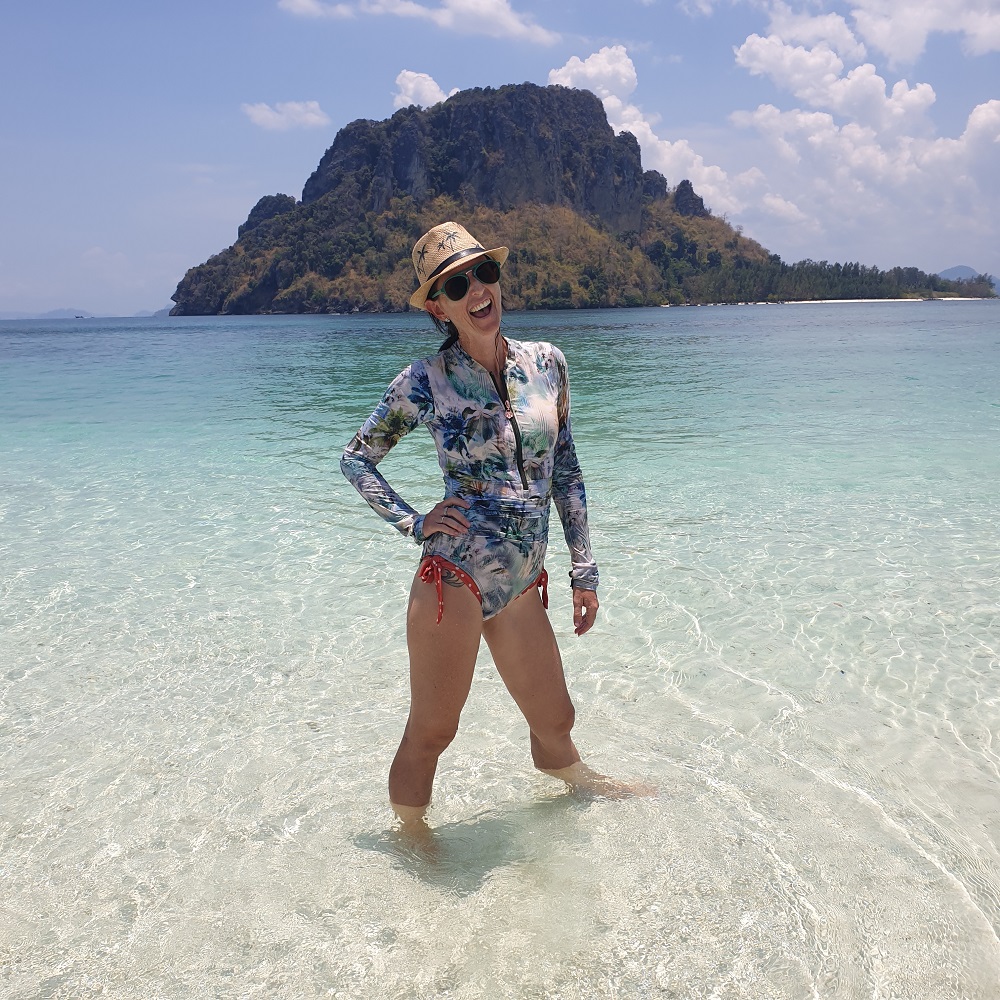 Check out GetYourGuide for some other great tours when in Ao Nang Krabi:
We loved the Ziplining Adventure in Krabi, and we have also booked an amazing White Water Rafting Experience in Bali through GetYourGuide too!
After Ao Nang, we headed down to the stunning Koh Lanta on a ferry and stayed for a couple of weeks!
More info: Best Beaches to Stay on Koh Lanta