When we first came to Ko Lanta, we had no idea what we were doing.  Someone once said 'Koh Lanta is the island you go to when you don't know which Thai island to go to'.  But which is the best beach on Koh Lanta?  Well, that all depends on you.
How to Find the Best Beach on Koh Lanta
There were so many accommodation options to choose from, but we didn't know our Long Beaches from our Bamboo Beaches, and were so confused as to where we should be based!  We ended up booking a night in a bungalow on the southern end of Long Beach, known as Phrae Ae Beach.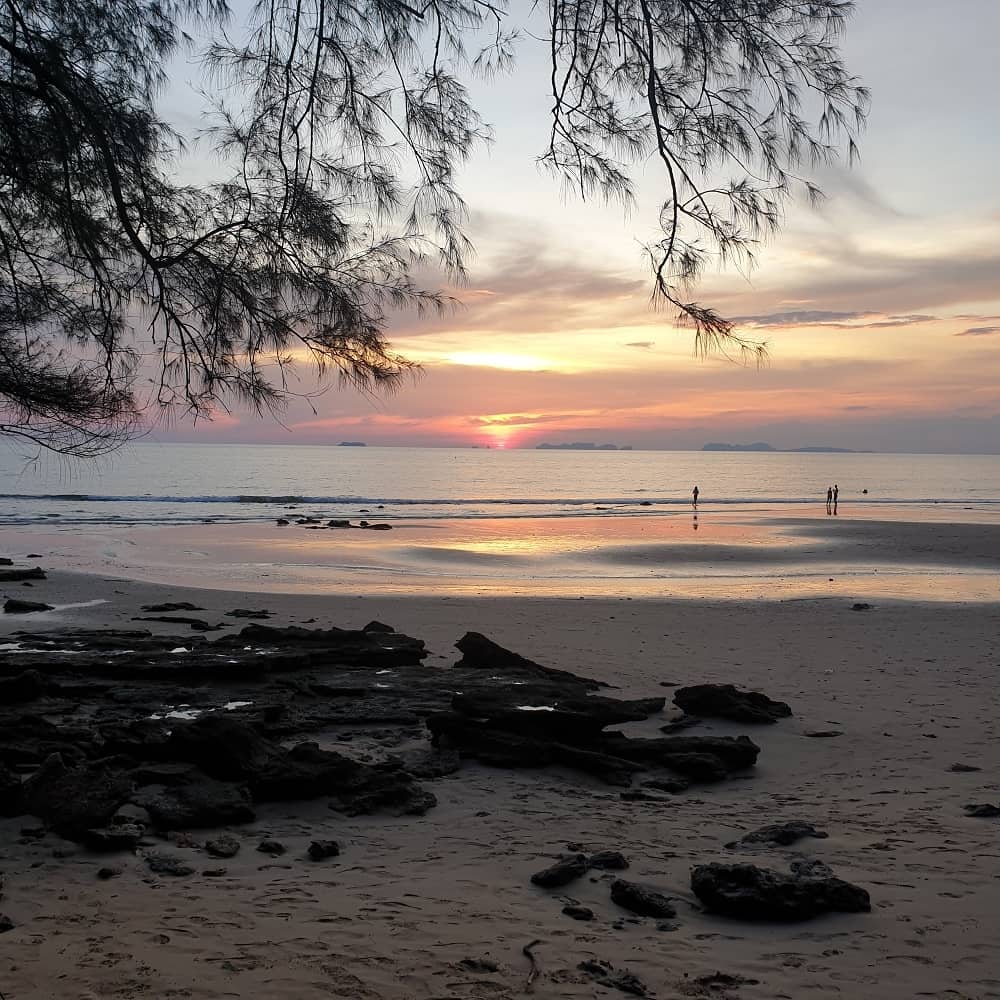 It is such a beautiful little corner of the world, that we never wanted to leave.  We loved the gently sloping beach, the wonderful clear swimming at high tide and the stunning sunsets.  It was safe and loveable, with everything you needed to keep you occupied and entertained for weeks. 
Each part of the island definitely has its own unique vibe, and we moved around a bit trying to find the absolute ultimate in beach bungalow accommodation.  With a family of 6, on a budget, it wasn't always particularly easy, and we found ourselves more often than not, renting 2 bungalows so we could accommodate our whole family.
Check out the Best Beaches of Khao Lak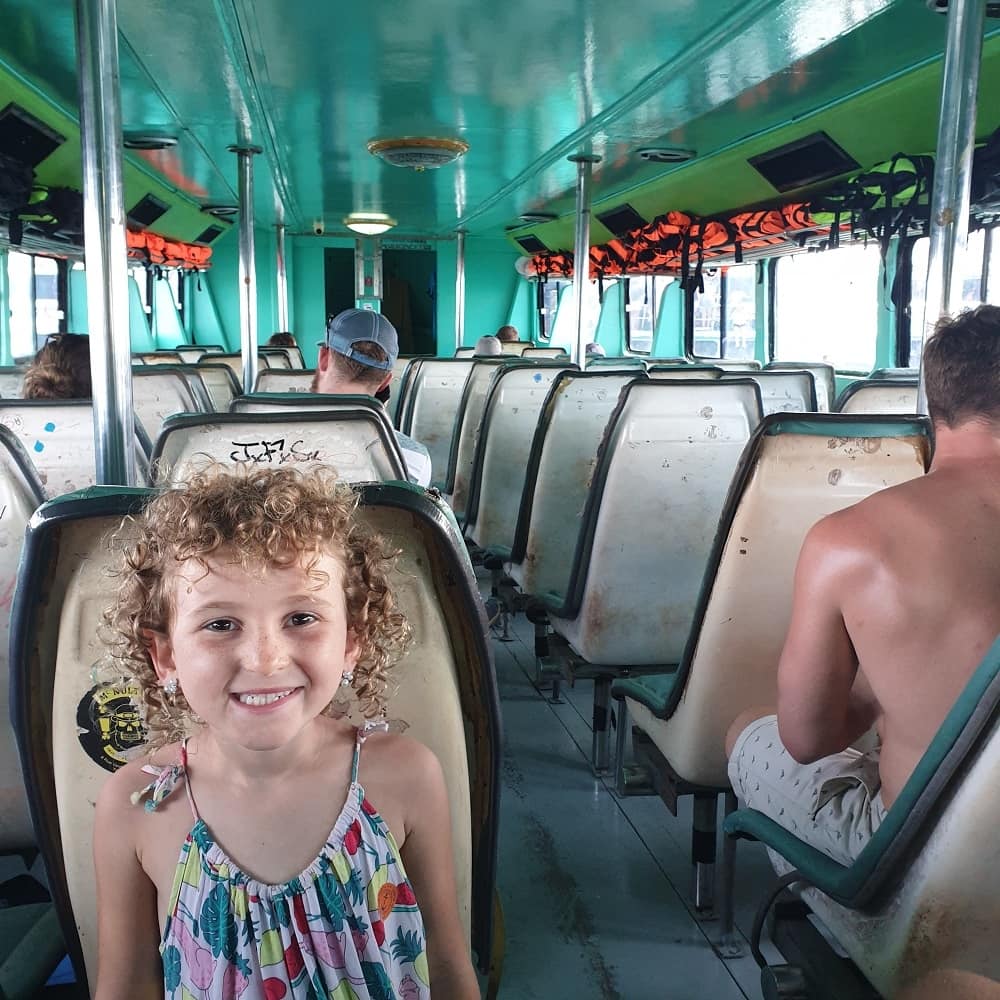 Arriving on Koh Lanta
If you are coming to Koh Lanta, you will most likely be arriving in Saladan Pier in the north of the island.  Here you must pay a 10 Baht fee as you exit the ferry.  There are many waiting taxi drivers to take you to your hotel. 
I always recommend pre-booking your transfer to save hassle at the gate.  We paid 300Baht to get to our hotel at Long Beach from the pier and that was for 6 of us, plus all our luggage, and a surfboard on a tiny tuk-tuk taxi.  Thankfully it was only a 15-minute drive.  Many hotels on the island will provide a free pier pick up, just ask when booking.
The nearest airport is Krabi, and Phuket is the closest for International arrivals.  From Phuket and Ao Nang, the best way to get to Koh Lanta is via ferry or private speedboat.  From Krabi Town or Airport, a van or bus is the best option.  Ko Lanta is connected to the mainland by a bridge.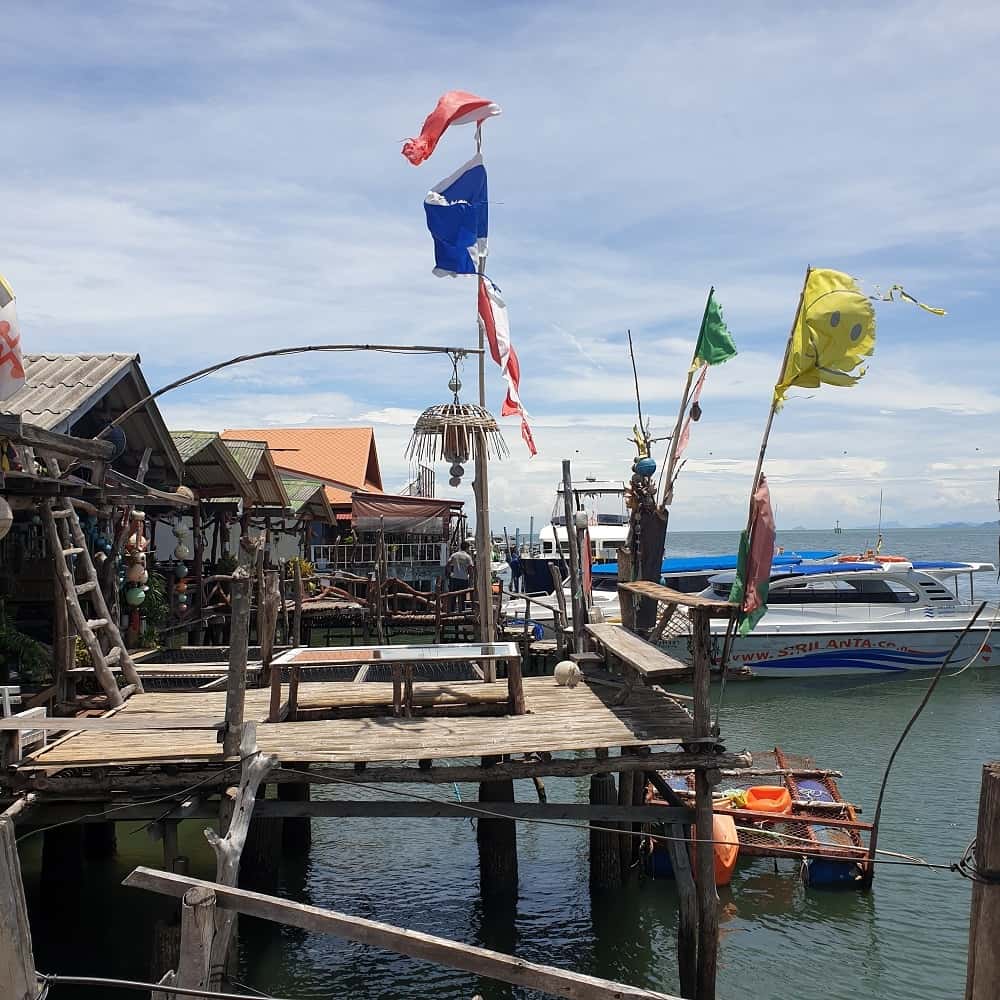 These are the beaches on the west coast of the island where you can stay and play, listed in order from north to south. Or from the Saladan Pier to the National Park.
The Best Beach on Koh Lanta
Khlong Dao Beach
This is the home of the more upmarket resorts and is the closest to the Saladan Pier which is the drop-off point for ferries from the mainland, and the bridge.
Where to Stay at Khlong Dao Beach
Closest to the Saladan Pier The Crown and the Coco Cape Lanta Resort are beautiful and popular family-friendly options.
The best beachfront mid-range options sitting on Khlong Dao and facing due west for the beautiful sunsets are:
Best Accommodation on Khlong Dao Beach For Families
Khlong Dao Sunset Villa has a family-sized Holiday Home which sleeps 4 including breakfast for $158AUD. they also offer a children's playground.
Read This Now: Things to do in Ao Nang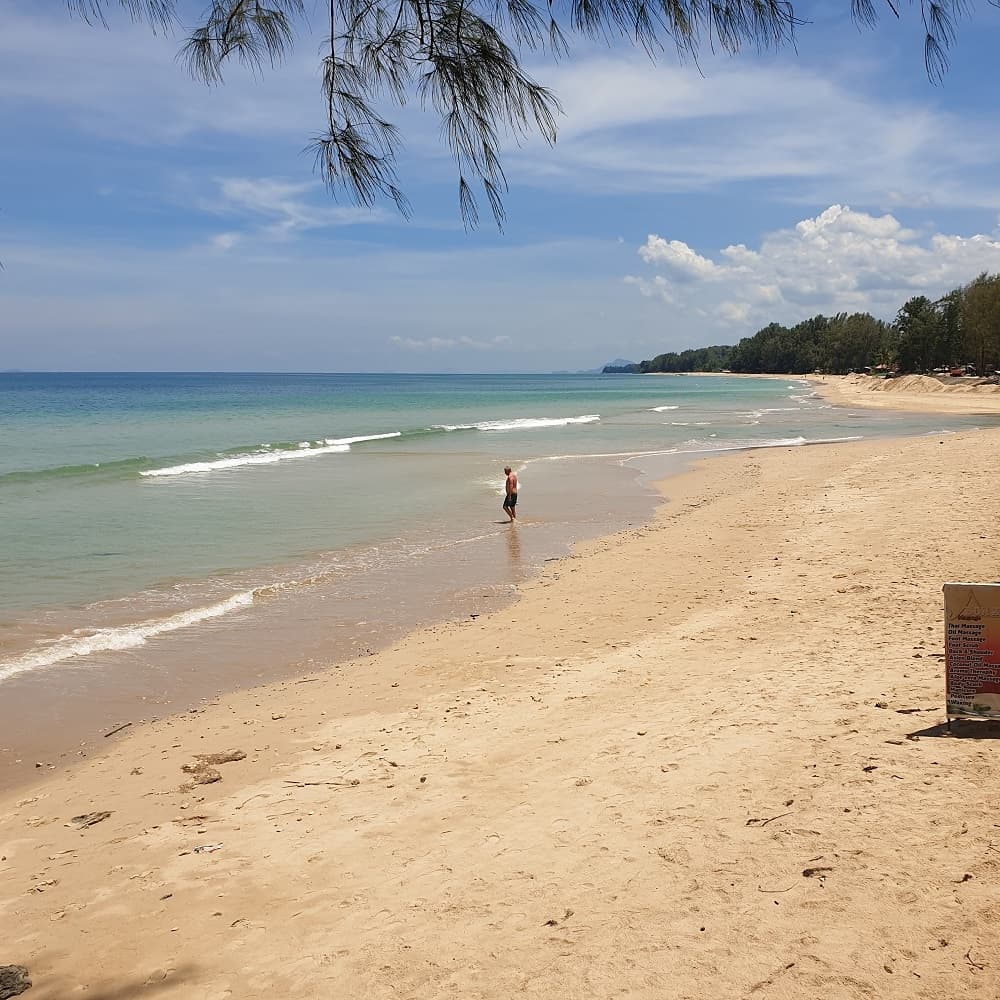 Long Beach
A long white stretch of sand, with a clear corner called Phrae Ae that leads to a rocky cove.  This corner is perfect for kids because at high tide it is shallow and clear for ages.  On the southern end are some rocks which you can explore at low tide.  There is a small clean creek which runs out here, some cool beach bars and bungalows. 
To the rear of the row of hotels, you find the main highway which links the island.  It is dusty, and busy at times and lined with restaurants, a 7-11, and mini-marts selling everything, including fresh fruit.  The restaurants on the opposite side of the road to the beach have slightly cheaper prices to those on the beachside of the road, and all of these are much cheaper than eating on the beachfront itself.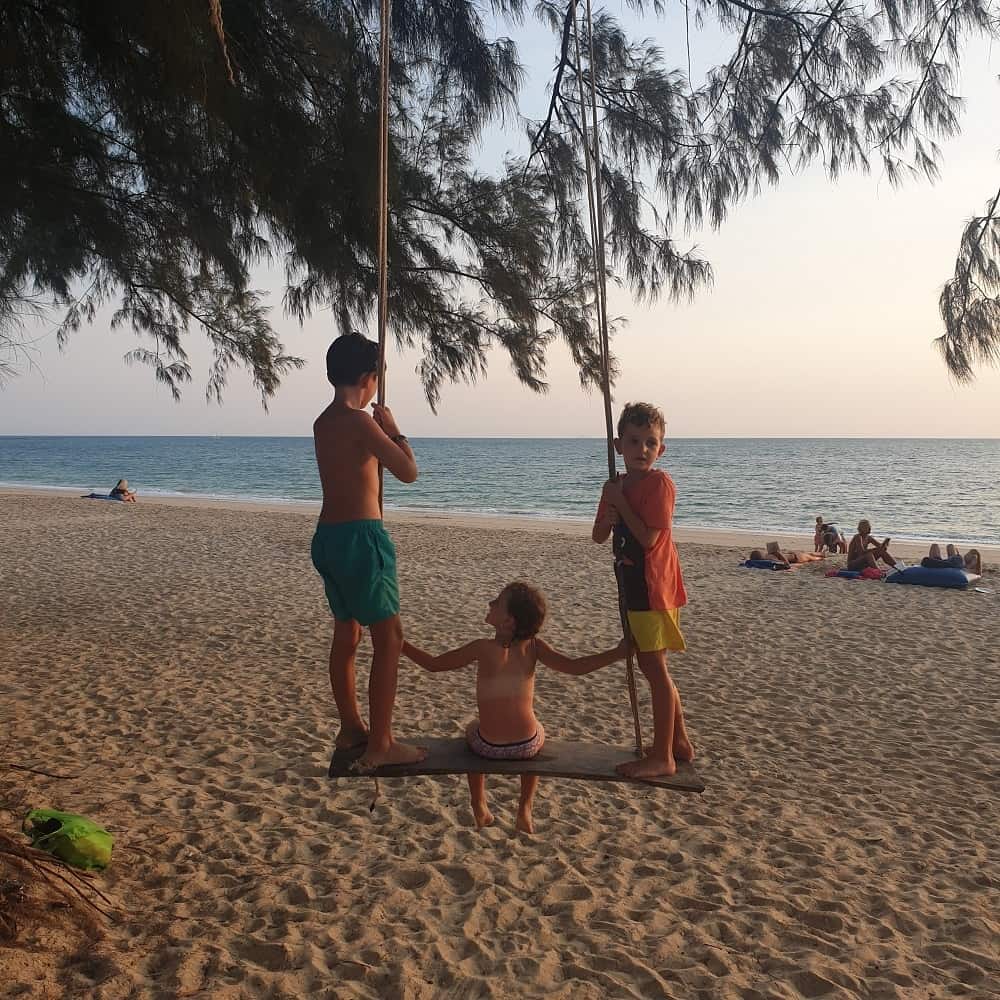 Where to Stay on Koh Lanta – Long Beach
For solid beachfront double rooms on Long Beach check out:
Best Accommodation for Families on Long Beach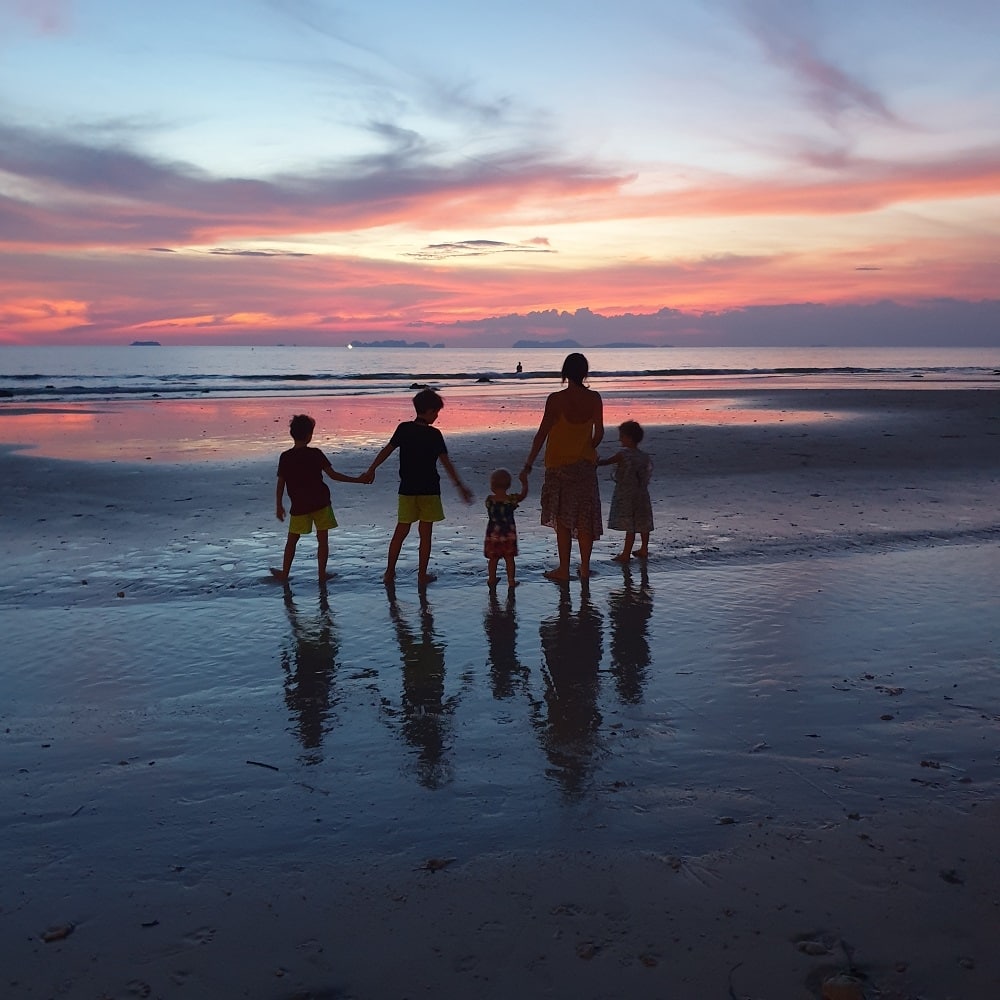 We loved staying on Phrae Ae on Long Beach and would recommend it as the best place on the island for kids.  For our favourite and most rustic beachfront bungalow try:
Where to Eat and Drink at Long Beach
There are some cool restaurants and bars lining the beachfront at Long Beach. These are beautiful places to enjoy the sunset from. On the main street of town, you will find much cheaper options for food. We frequented Jumrat while we were there, and also bought supplies from 7-Eleven.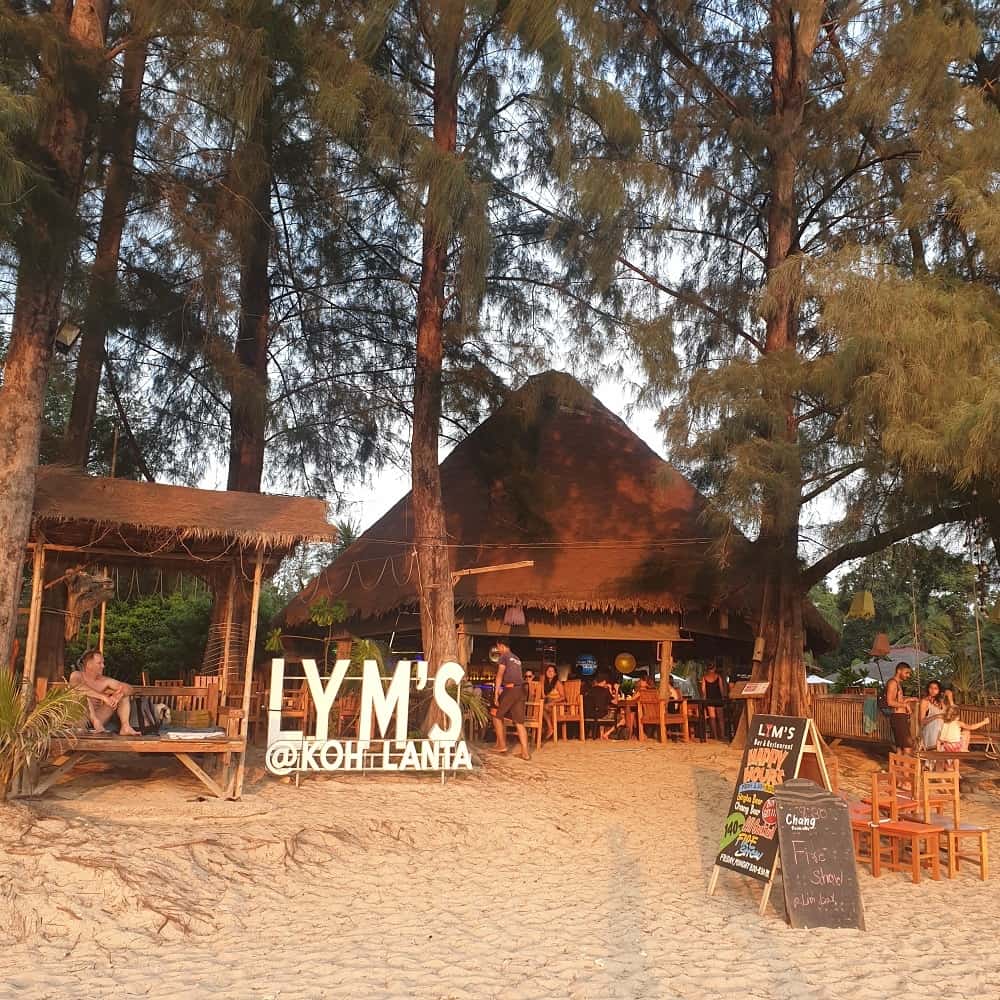 Galaxy Restaurant was a great and ambient little place with a pool table and super friendly staff with delicious food. You can get either Western or Thai options at most of the places around town. Our kids ate a lot of fried eggs and plain steamed rice.
For drinking, try Funky Monkey! They have live music, and karaoke nightly. If you get up and sing a song on stage, you get a free shot! They have free pool tables as well.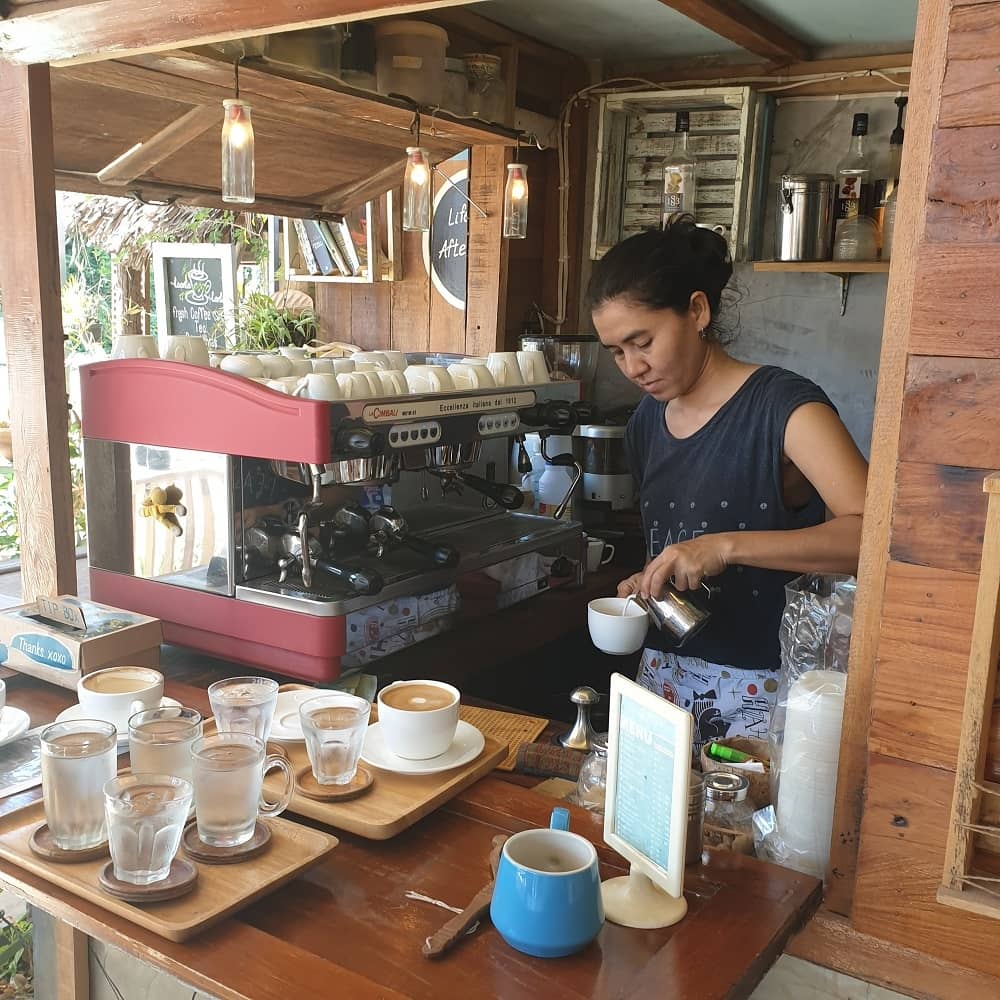 The Best Coffee Shop on Koh Lanta
Almost next door to the 7-Eleven in Long Beach, you will find a tiny cafe called Laanta@Lanta. Find them on Trip Advisor. They serve up delicious rich flat whites and lattes out of a tiny booth and are consistently good. The owner is so super friendly, finding little toys for the kids, and giving us plenty of free smiles too. Make sure you go and see for yourself if this is indeed the best coffee in Ko Lanta!
You can rent rooms here too, with a one month stay priced at only 500Baht. Great for a long term stay!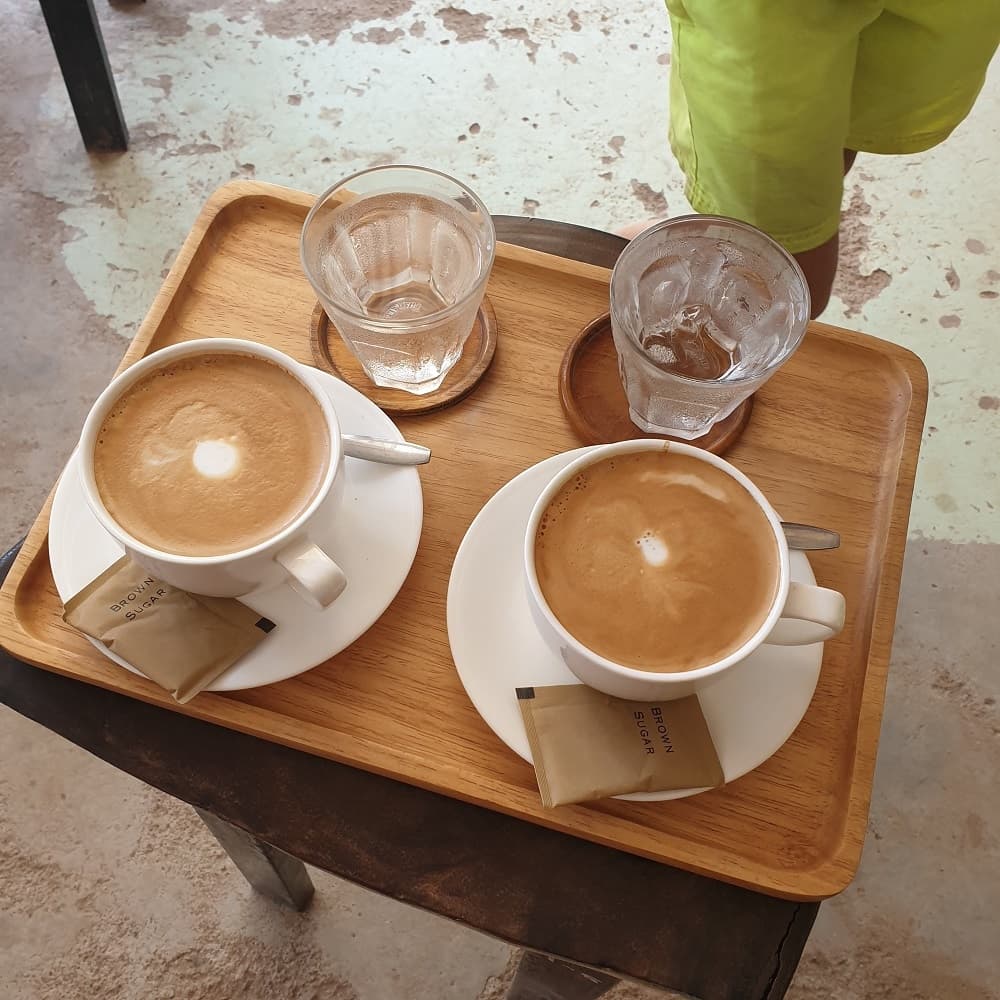 Best Blog Read: 4 Island Tour Krabi Review
Khlong Kong Beach
This small crescent of sand at high tide has a steeper gradient into the water.  The shore is lined with hotels, bungalows and beach bars while the dusty street has some restaurants, and big road works going on. 
Home to such inspiring beach bars as Freedom Bar, and Mushroom Bar, this is a great place to watch the sunset.  There is a 7-Eleven conveniently located here.
Where to Stay on Koh Lanta – Khlong Kong Beach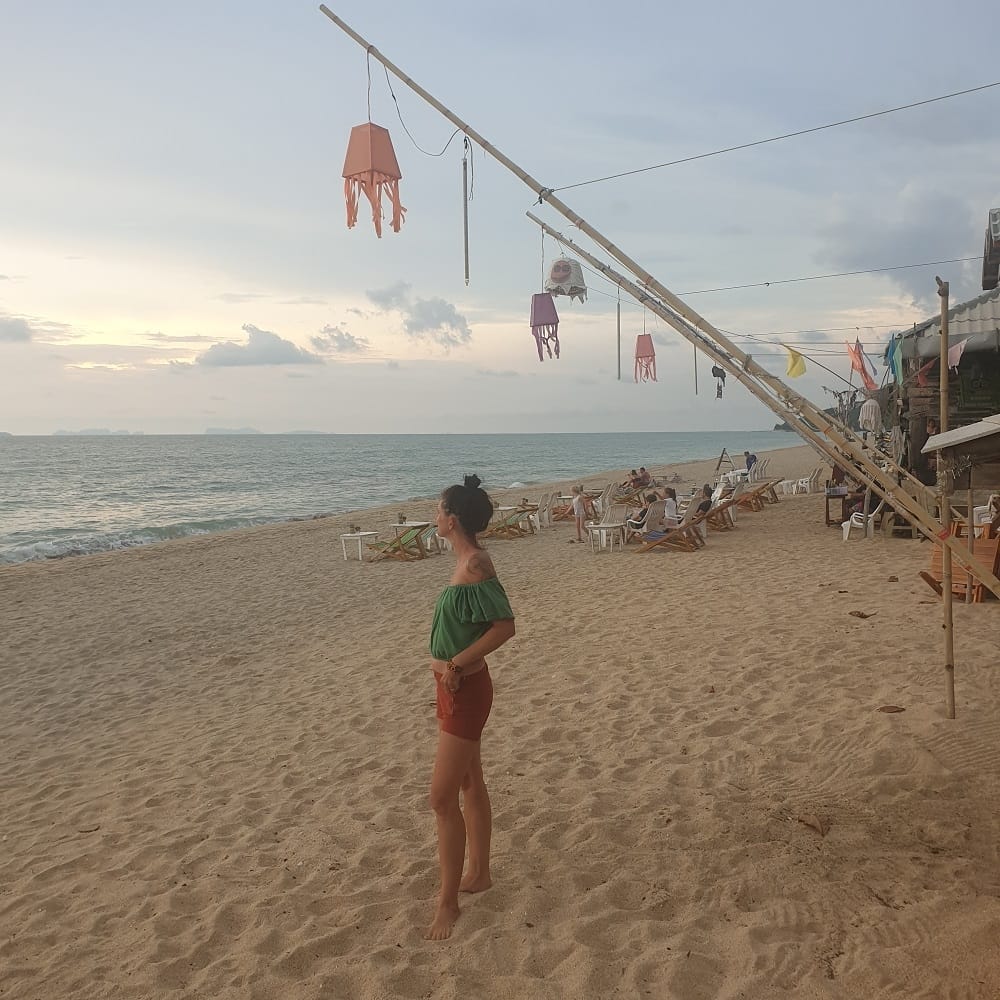 Khlong Nin
A long and white sandy stretch lined with restaurants and accommodation, Khlong Nin has a cool touristy vibe.  You can find good coffee here at Monkey Buziness Cafe with a cute little gift shop attached, as well as a minimart.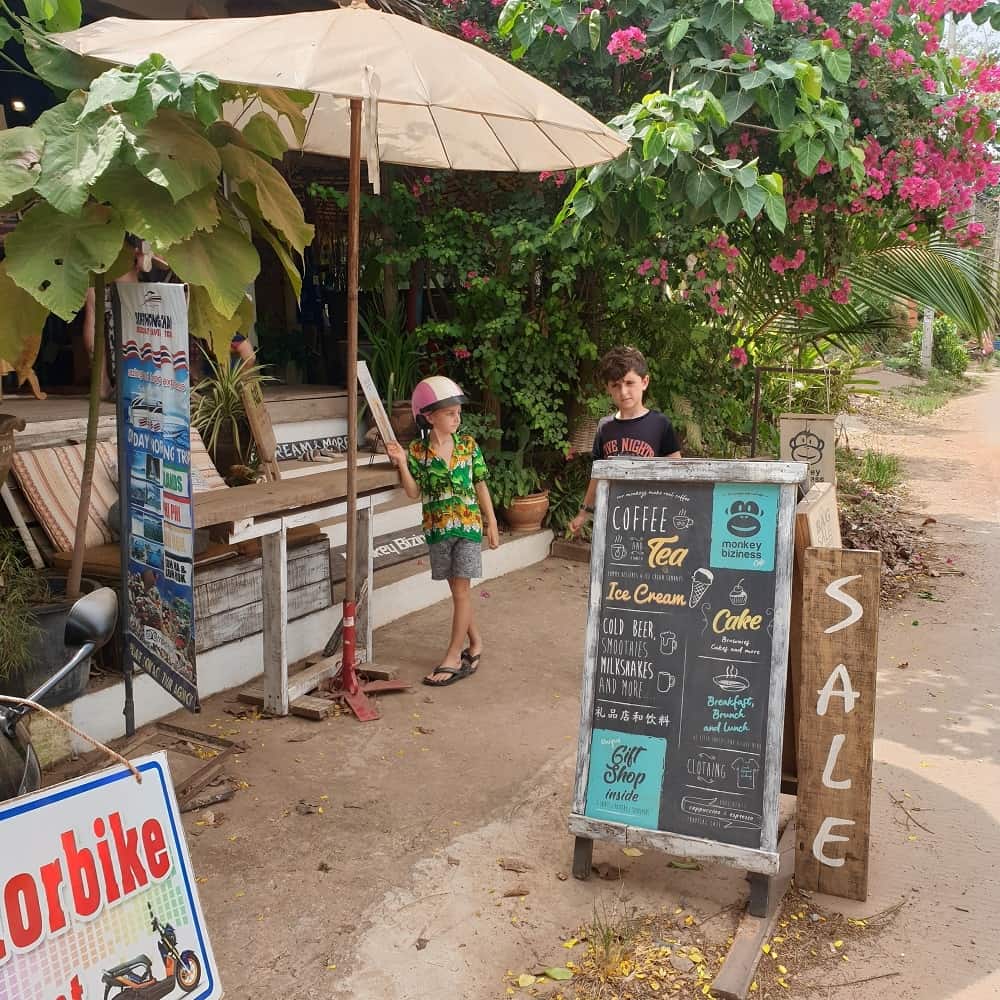 Where to Stay on Koh Lanta – Khlong Nin Beach
On Khlong Nin Beach we stayed in a huge beachfront family bungalow for $40 with a pool and stunning views: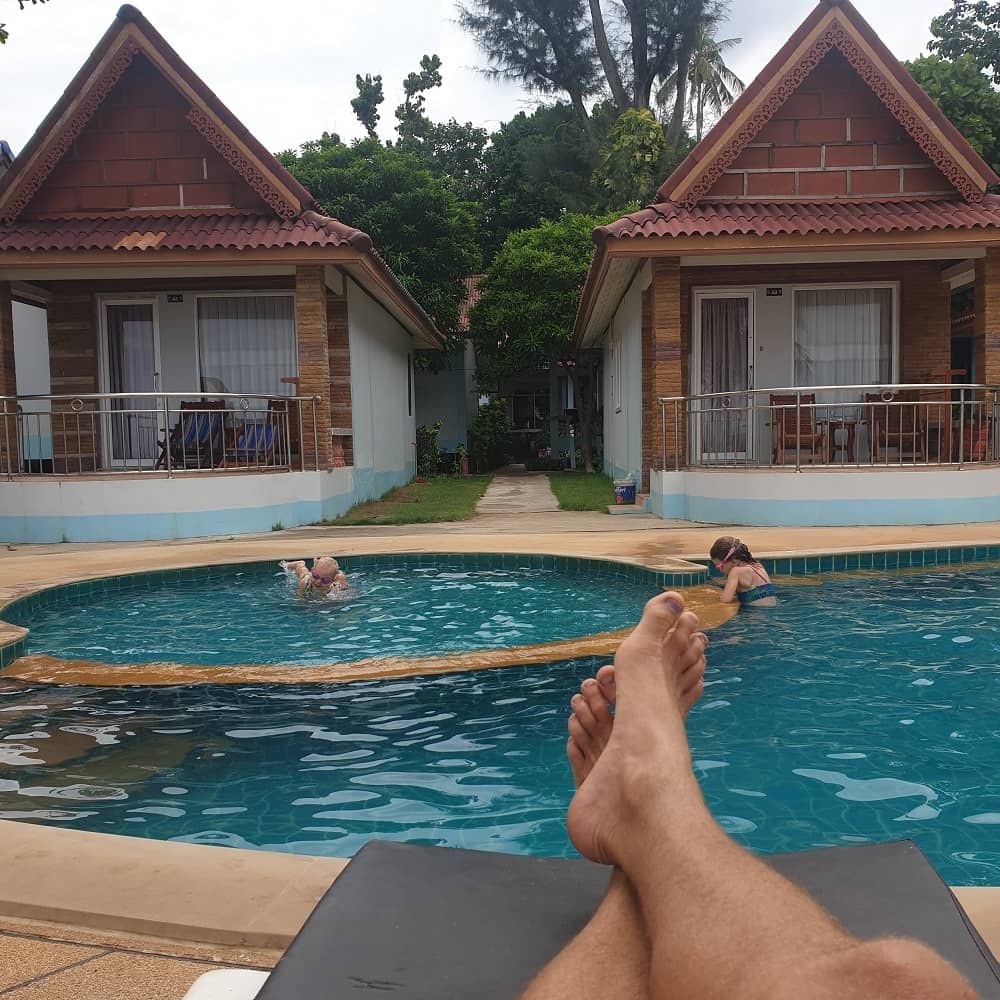 Where to Eat and Drink at Khlong Nin Beach
The beach is lined with cool restaurants, we just ended up eating at our resort above as the prices were very good and the food was decent.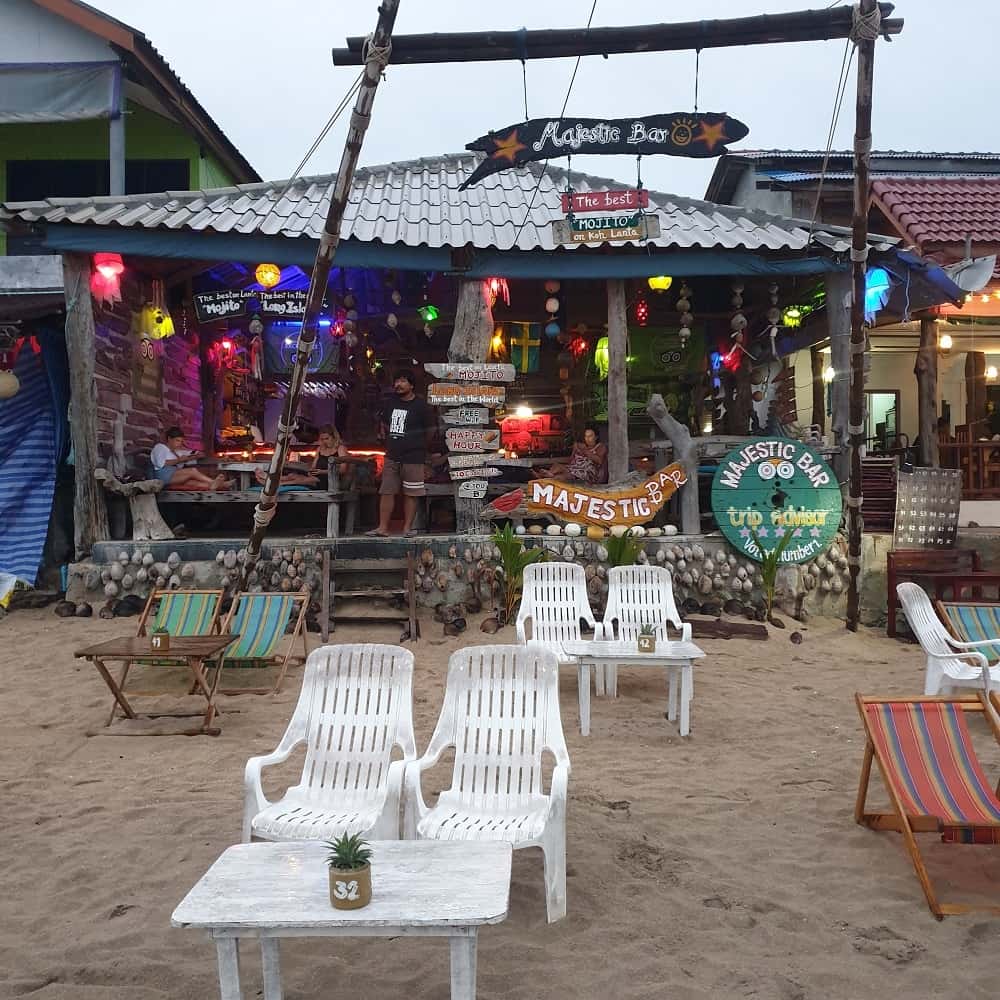 The Majestic Bar on the beach here has the best mojitos on Koh Lanta for 100THB during happy hour 5 pm to 8 pm.
Kantiang Bay
This is where Koh Lanta really starts to shine with a quieter bay.  The water is crystal clear, and the bay ends with rocks to either end.  Pimilai Resort and Spa occupies the hill to the south, and the hills are beautifully forested.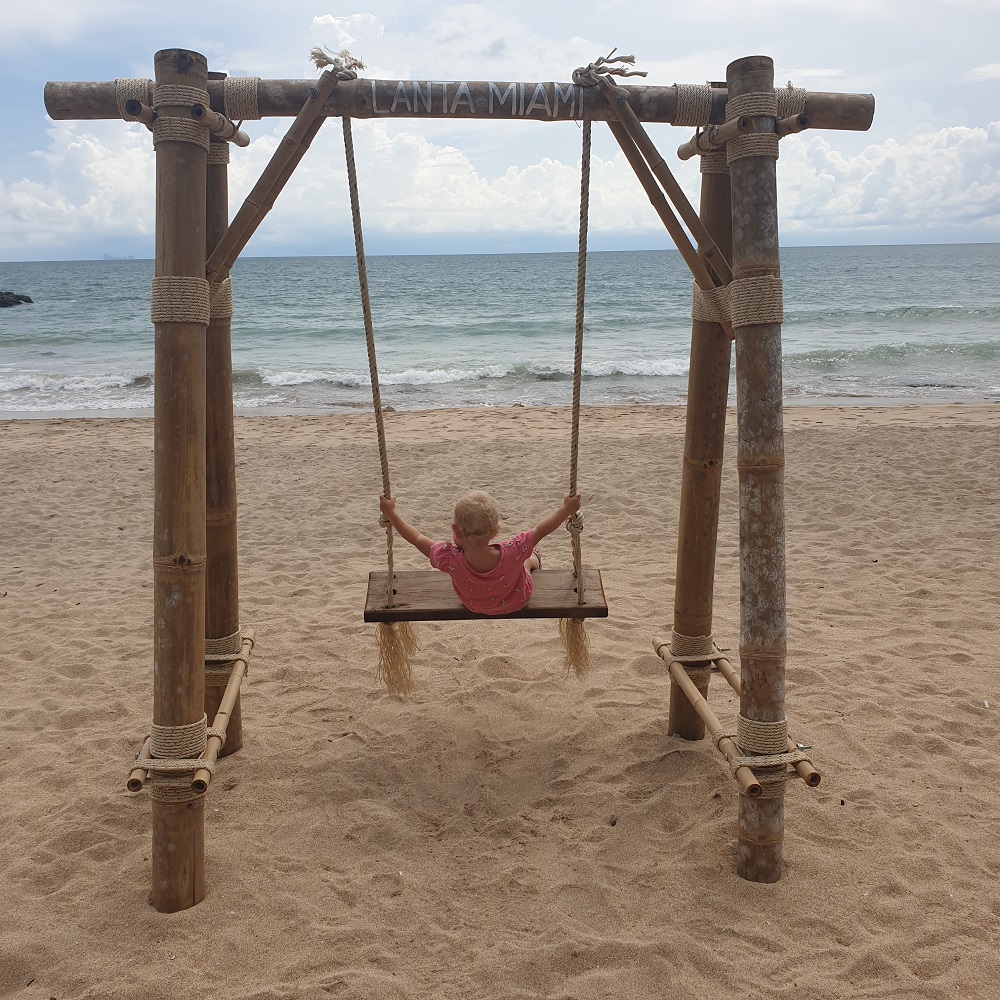 This bay is so romantic, with some beautiful bungalows and a village on the shore.  There is good snorkelling just off the beach.  In the small village, the road is less dusty, and you can get everything you need.  There is a 7-Eleven, some awesome street food, and souvenir shops here. 
Swimming is better towards the southern end of the bay where there are fewer rocks. Also, swimming at high tide is more pleasant.
This was my favourite of the beaches here thanks to its beautiful cove characteristics and the fact that it was quiet, but not too quiet.  We also enjoyed the convenience of having a mini-mart and cheap street food too.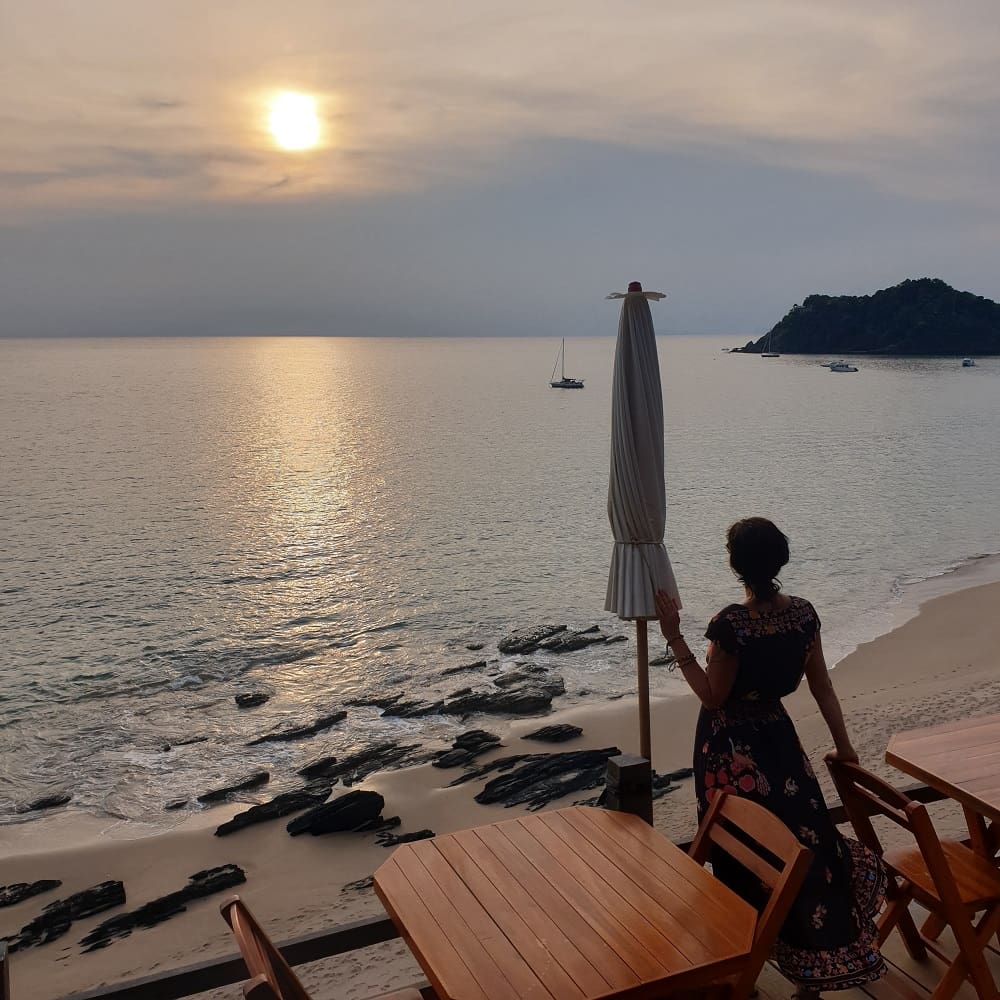 Read This: Ziplining in Krabi with GetYourGuide
Where to Eat and Drink at Kantiang Bay
The best place to drink here is Why Not Bar. They have a nightly fire show which starts at 8.30 pm. There is a restaurant attached. The restaurants on the beachfront are more expensive than the ones in the main street of the small village. We preferred the small cheaper ones in town. There were 3 or 4 to choose from, with dishes around 100THB.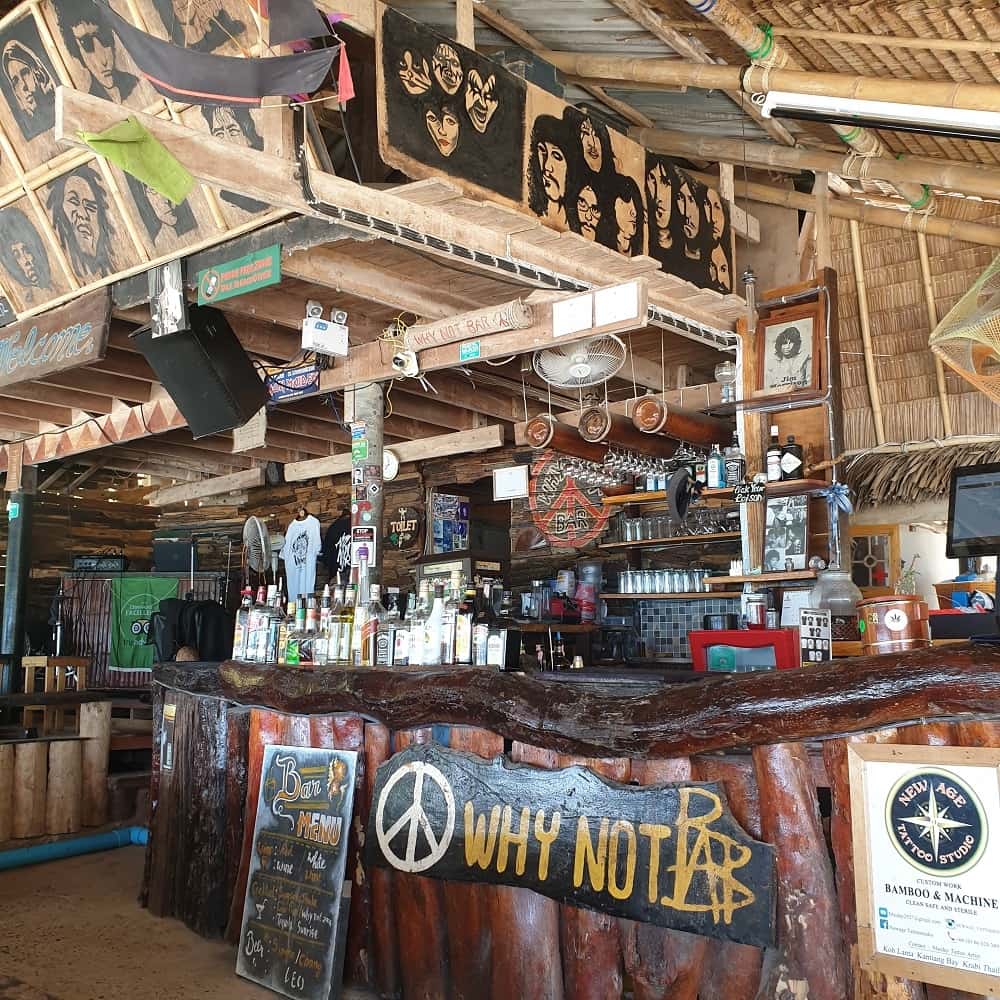 There is also a 7-11 in town for supplies, and they do great coffees, frappes and toasted sandwiches.
Where to Stay on Koh Lanta – Kantiang Bay
Budget
Kantiang Bay View Resort – $60 per night for a family room. We stayed here, but you won't find it on any websites. The beachfront bungalows are just roll on up and stay. It is right next door to Why Not Bar and we could watch the fire show from our balcony.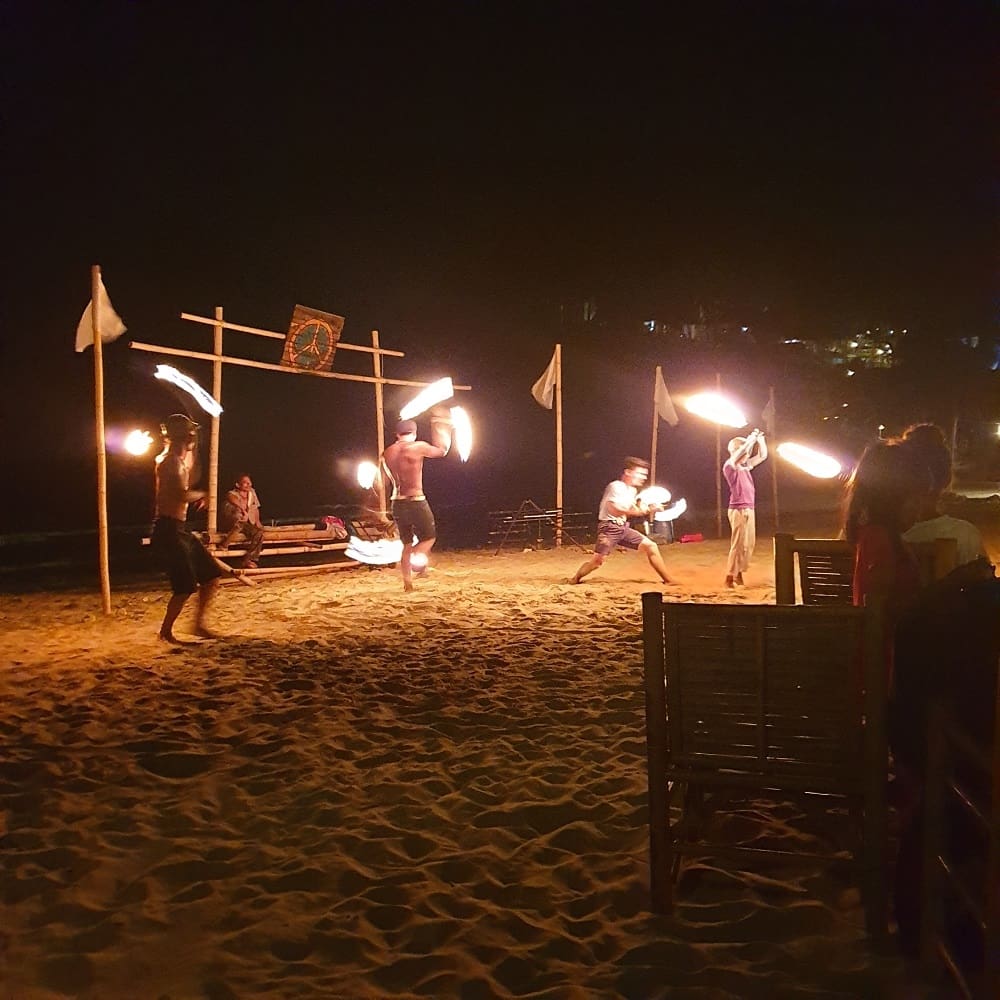 Mid-Range
Luxury and Family
For a luxury stay on Koh Lanta, you can't go past Pimalai Resort and Spa located at the southern end of Kantiang Bay. It is just beautiful and regularly called Thailand's Best Resort. Double rooms start at $495 and you can even find a 3 bedroom villa here which sleeps 6 people for around $2000 per night.
Sunset Bars at Kantiang Bay, Koh Lanta
At the southern end of Kantiang Bay, drive up the hill to find the most epic sunset restaurants along the cliff edge.  Prices here are surprisingly good for such a great position, with most dishes around 100Baht.  If it's a beer you are after, make sure you check that it is available before making yourself comfortable and these are mostly Muslim run places.  
Travelling to Thailand? Check here to see if you need Visas and Vaccinations before leaving home.
Read This Now: Visiting Railay Bay
Nui Bay Beach
This is a secret secluded spot on the island of Koh Lanta.  You can't stay here but it is the perfect place for swimming, snorkelling and relaxing.  There is a rustic shack called the Secret Beach Bar at the base of the steep steps.
This is one of the most beautiful bays on Koh Lanta that no one really knows about it. Expect to see romantic tanned couples playing in the water or relaxing on the beach.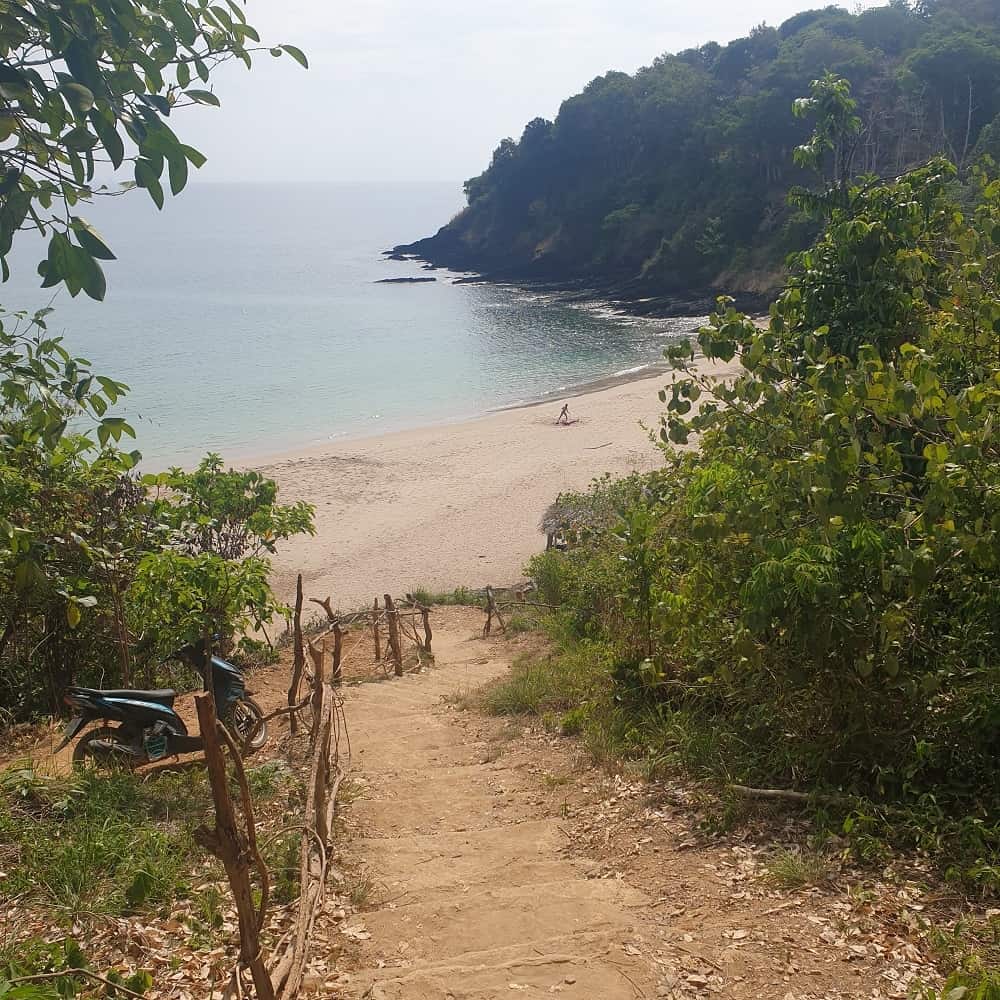 Bamboo Beach
This is the most secluded spot on the island of Koh Lanta!  Stay here and while away your days swimming and relaxing on your own private beach.  There are only a handful of accommodation options here, and characteristic rocks at either end of the bay.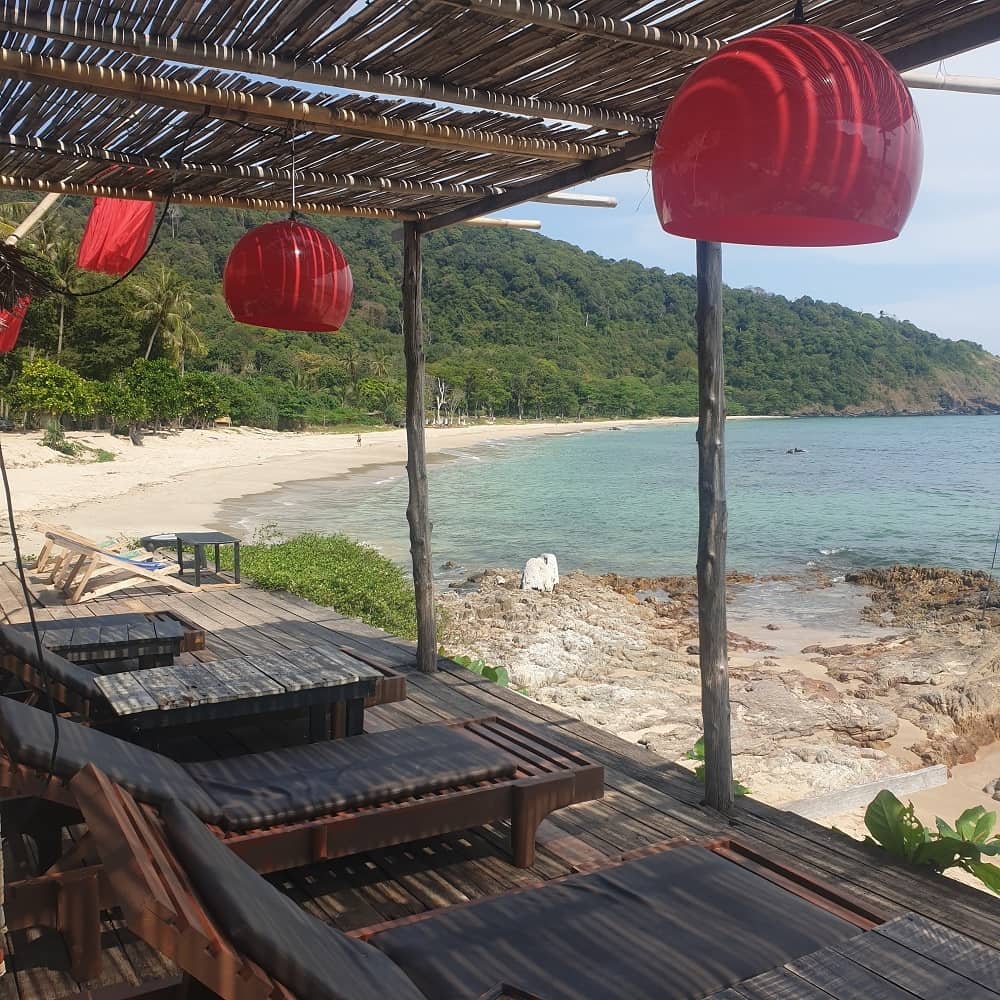 Where to Eat, Drink and Stay at Bamboo Beach
Bamboo Beach is great for a day trip and is definitely one of the best beaches on Koh Lanta. Stop in at Baan Phu Lae and hire a kayak for 100Baht.  They also had beachfront bungalows on a beautiful strip of lawn for 800Baht fan only or 1000Baht for air-con.
Or stay at La Laanta Resort for a very comfortable and chilled luxury holiday.  This gorgeous resort boasts 2 swimming pools and a private stretch of beach. It is a stunning spot to bliss out.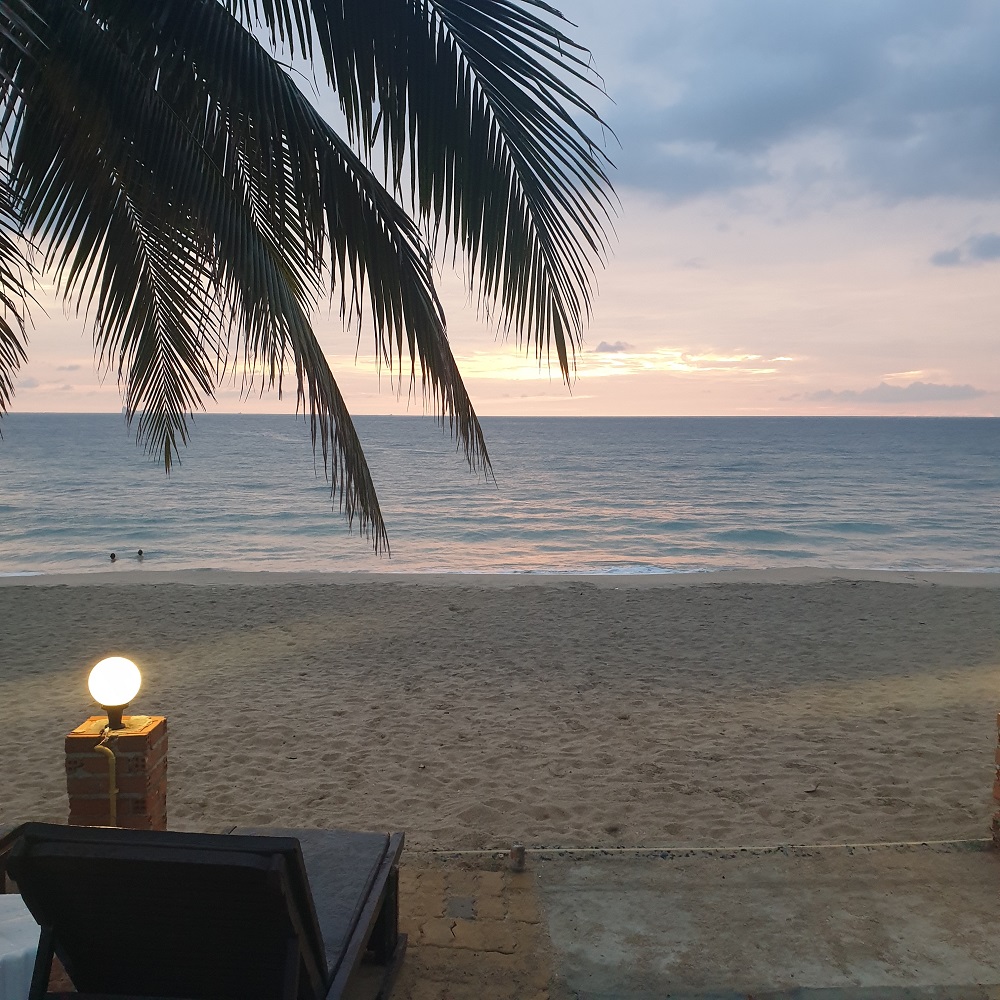 Bamboo Beach is only a couple of km from the entrance to the Koh Lanta National Park.  
Bamboo Beach is the most peaceful and tranquil spot we have found on Ko Lanta.  A great place to get away from it all for a few days.  
Old Town
Where to Stay on Koh Lanta – Old Town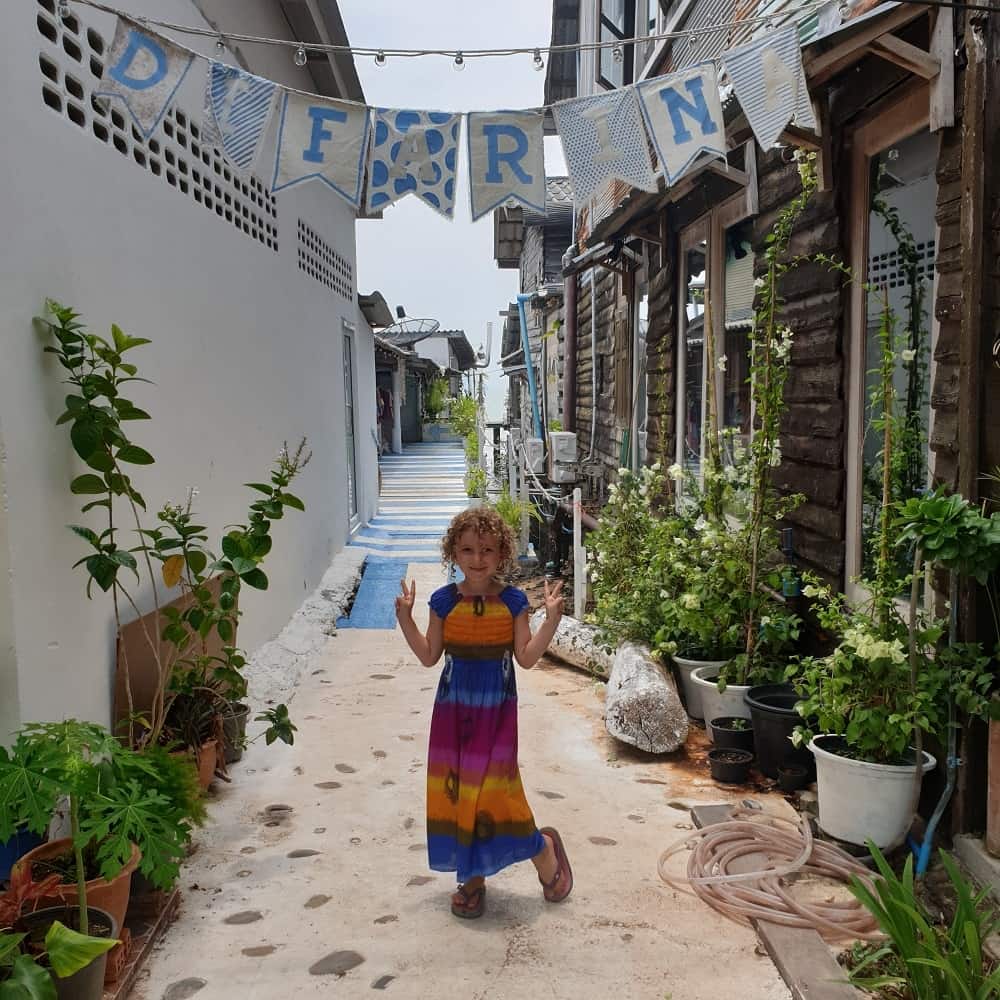 If you want to spend longer than a day trip at Old Town, there are a few accommodation options with endless views over that ocean. This is only a new development at Koh Lanta Old Town, with accommodation only recently becoming available as tourism increases. At low tide, the water goes out a fairway, and reveals endless mudflats, but at high tide, the views are gorgeous. The beach is not suitable for swimming.
For around $20 – $50 a night, there are some cute wooden guesthouses here. Most offer a double bed and fan.
Check out Airbnb for some different options of full houses on stilts over the water which sleep 4 to 6 people.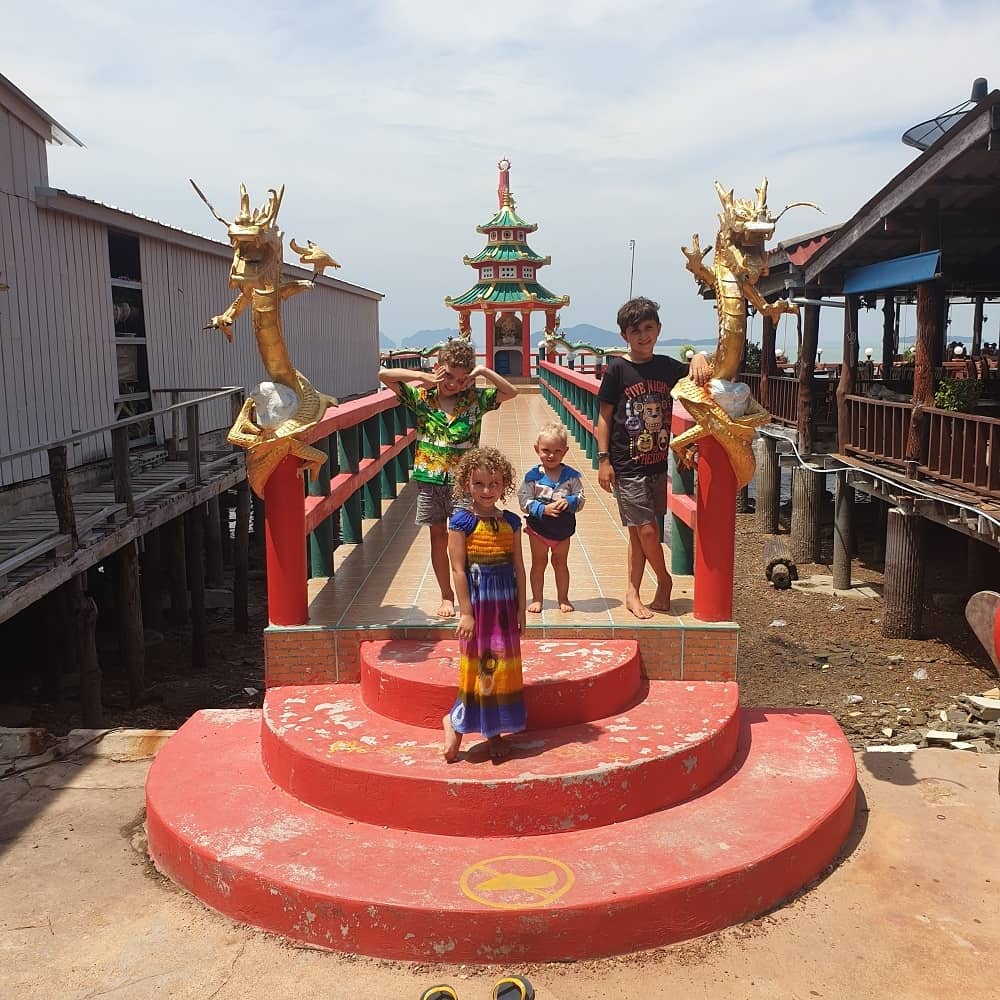 Where to Eat and Drink at Koh Lanta Old Town
Wandering around Koh Lanta Old town was just wonderfully atmospheric. You felt like you had stepped back in time. We loved the fruit shakes and 'wake-up' tea (Thai tea mixed with espresso) at Grandma's House, and for lunch try any of the overwater restaurants.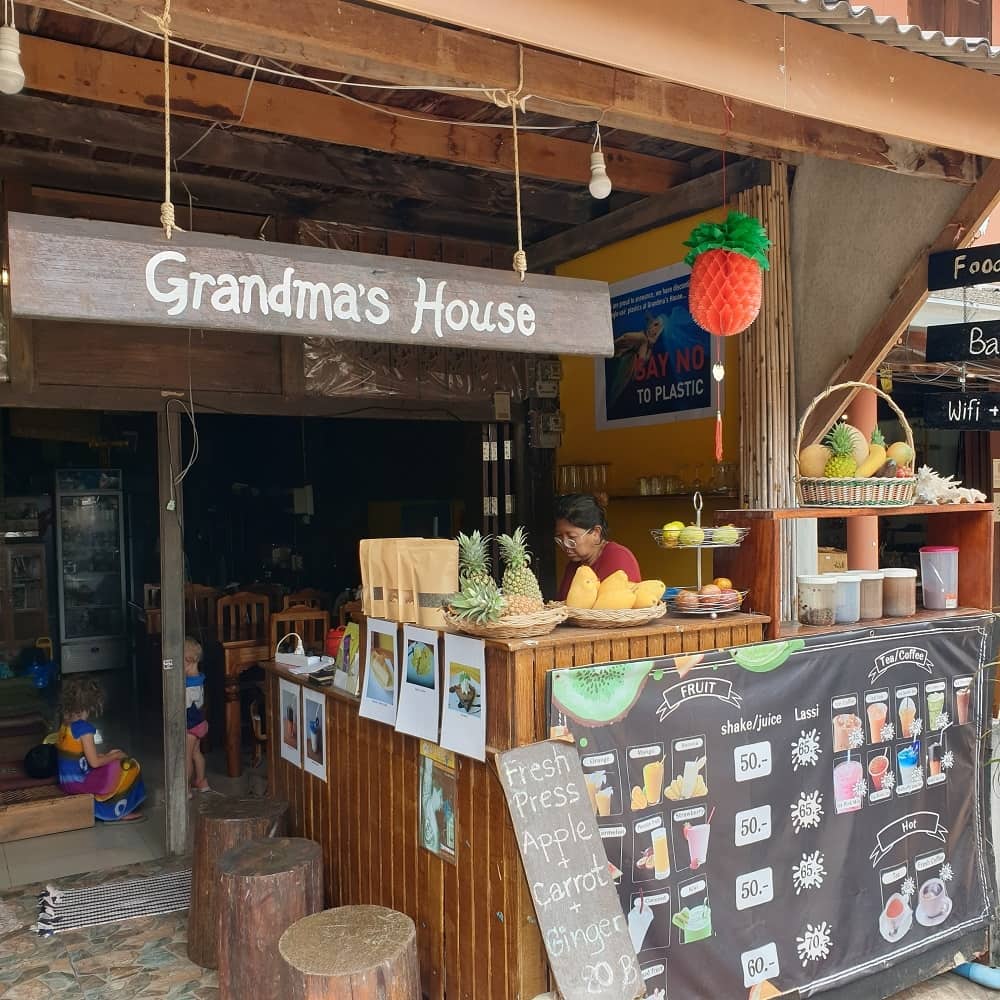 Seafood is the order of the day here, as this is a fishing village, and you pay per weight. Simply pick your lobster or crab out of the tank, and they weight them for you there before whisking them off to the kitchen!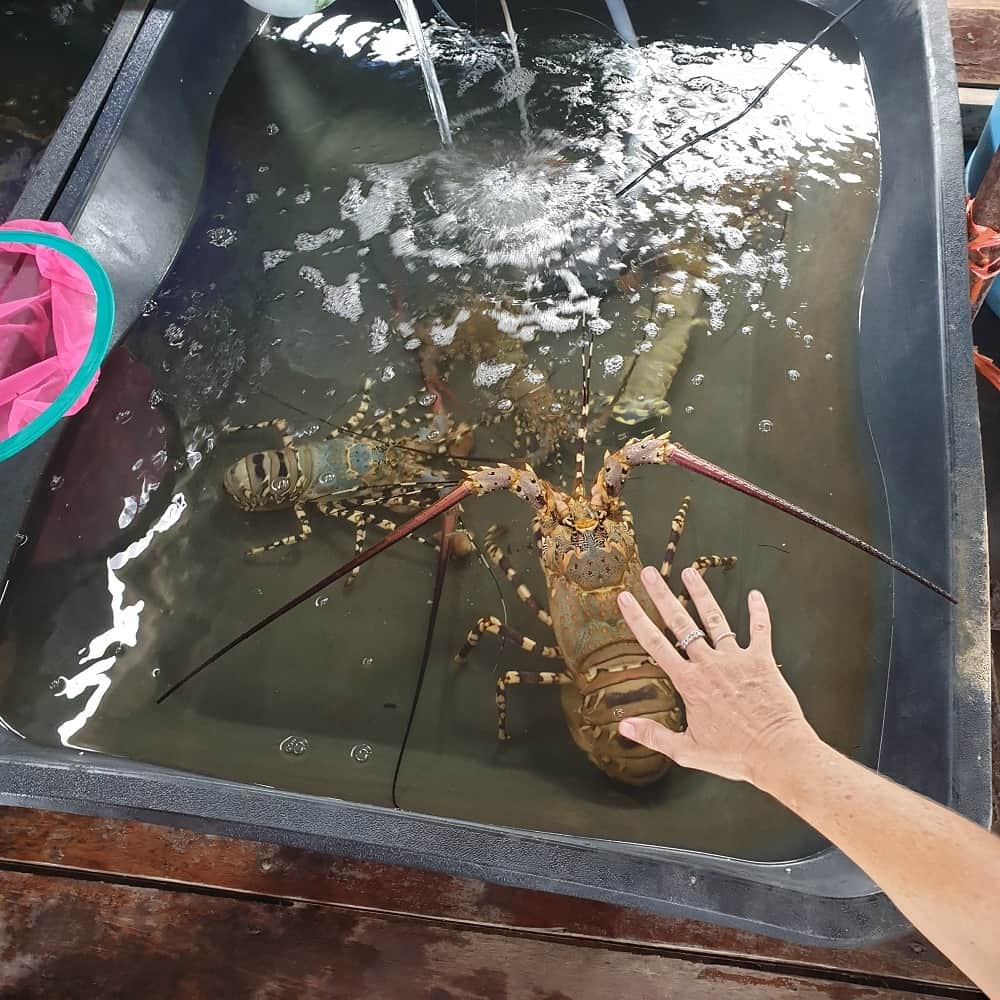 Getting Around Koh Lanta
The roads are fairly quiet, but also quite bumpy as well.  Take care when riding a scooter, as accidents can and do happen.  There are so many international medical centres all over the populated parts of Ko Lanta, so you will be well cared for if you do need medical attention.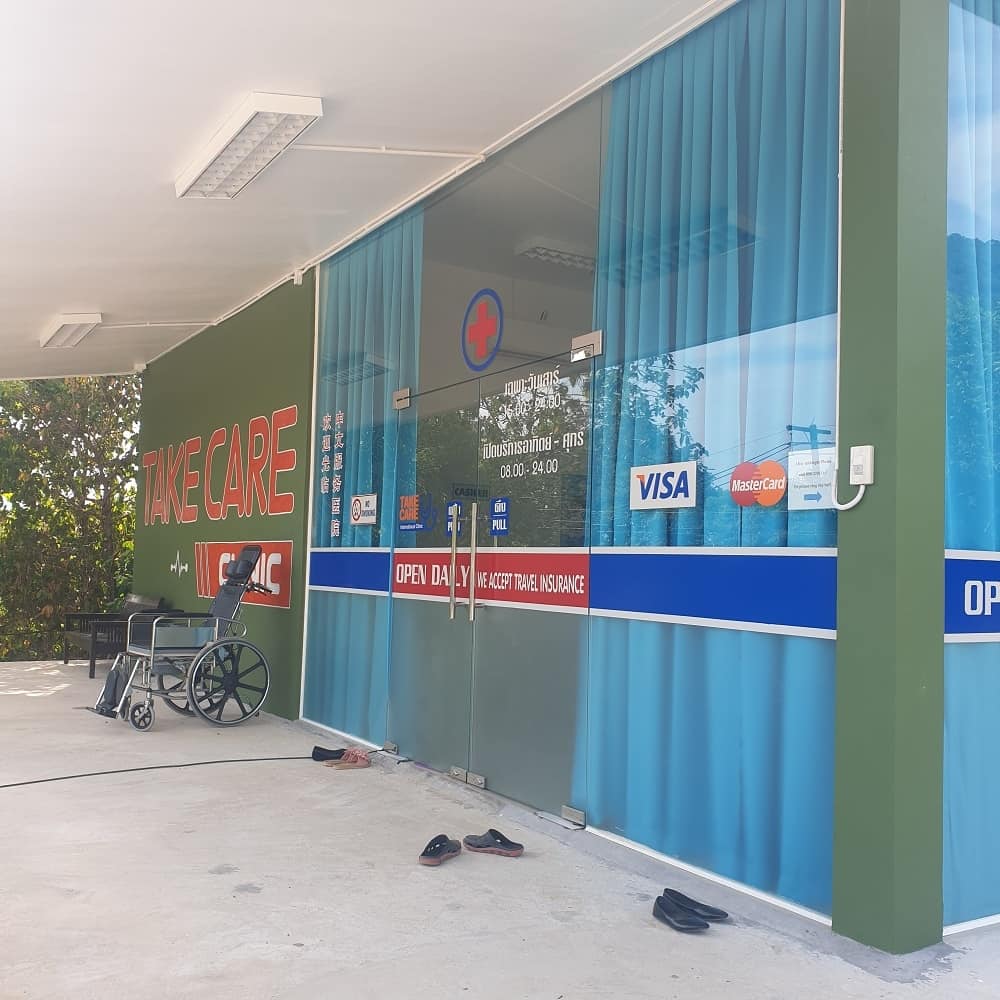 We paid 300Baht per day for 2 motorbikes, but that was a good deal as they were pretty clapped out bikes.  
Motorbike taxis can be found everywhere along the street and if you walk along, looking hopeful, one will find you.  There are also pickup truck taxis, and truck tuk-tuks available and you can flag these down easily.
How to Explore Koh Lanta
Hiring a motorbike will cost between 150 and 300Baht per day and this is a perfect way to explore the island.  Going all the way from Long Beach in the north to the national park in the south will take around 45 minutes.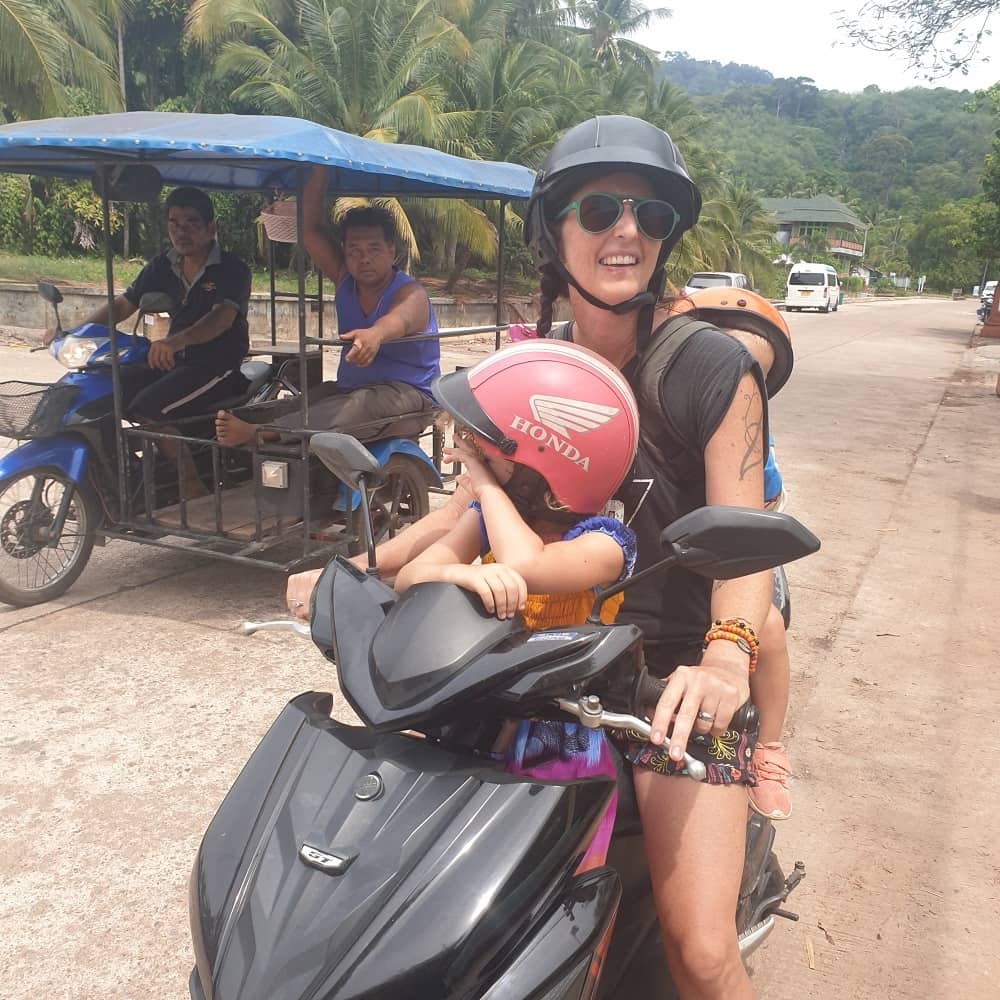 The traffic is light, but watch out for potholes and bumpy parts of the road.  There are a number of waterfalls, lookouts, secretly hidden beaches, and roadside fruit shake stands to check out along the way.  We saw heaps of monkeys on the side of the road, please be careful as they are totally unpredictable!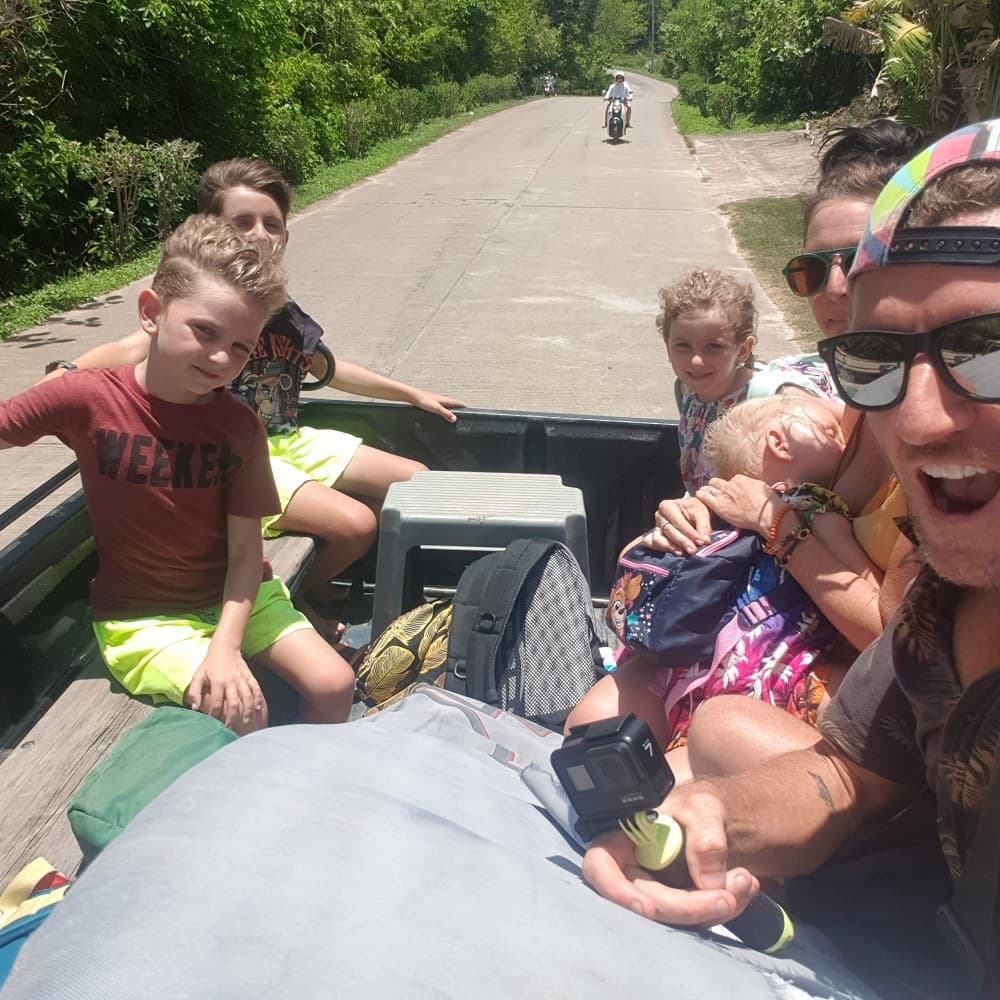 A motorbike taxi for the day will set you back around 1500Baht.
What's your favourite beach on Koh Lanta?