A visit to Ao Nang, Krabi would not be complete without a trip to the beautiful and picturesque Railay Beach Krabi Thailand. Ao Nang itself is a cool little beachside resort town set across a couple of nice beaches – Ao Nang Beach and Noppharat Thani Beach.
Watch this video to see what Railay beach really looks like.
Read This Now: Things to in Ao Nang
How to Get to Railay Beach Krabi Thailand
We flew into Phuket International Airport, and spent a few days up at Khao Lak en route to Railay Beach. Khao Lak is a super nice place. Check out the best beaches in Khao Lak right here.
From Khao Lak we took a private minivan down to Ao Nang. This cost us 2000 THB and it was direct hotel pick up straight to our hotel in Ao Nang.
From Phuket you can catch a ferry directly to Ao Nang or straight to Railay Beach. Or you can fly into Krabi Airport and get an airport transfer directly to your hotel.
At Ao Nang, you can catch a long-tail boat transfer to Railay Beach Krabi Thailand. The tickets cost 200 THB return per adult and you buy them from the ticket booth on the beach end of the main street. Kids tickets are 100 THB return.
The long-tail boat ride takes about 15 minutes and is a very scenic and pleasant trip. We visited in April when the weather was quite warm, but the rain had not yet started. There was no wind and it was smooth sailing all the way.

Arriving at Railay Beach, Krabi, Thailand
Arriving on a long-tail boat you will find yourself at West Railay Beach. This is a beautiful long stretch of sand framed at either end by stunning tall limestone escarpments which make this stretch of Krabi coastline famous.
There is a huge roped off swimming area and it is shallow for a long way out, making swimming here very safe. Adjacent to this is the parking area for all the long-tail boats waiting to take you back to Ao Nang.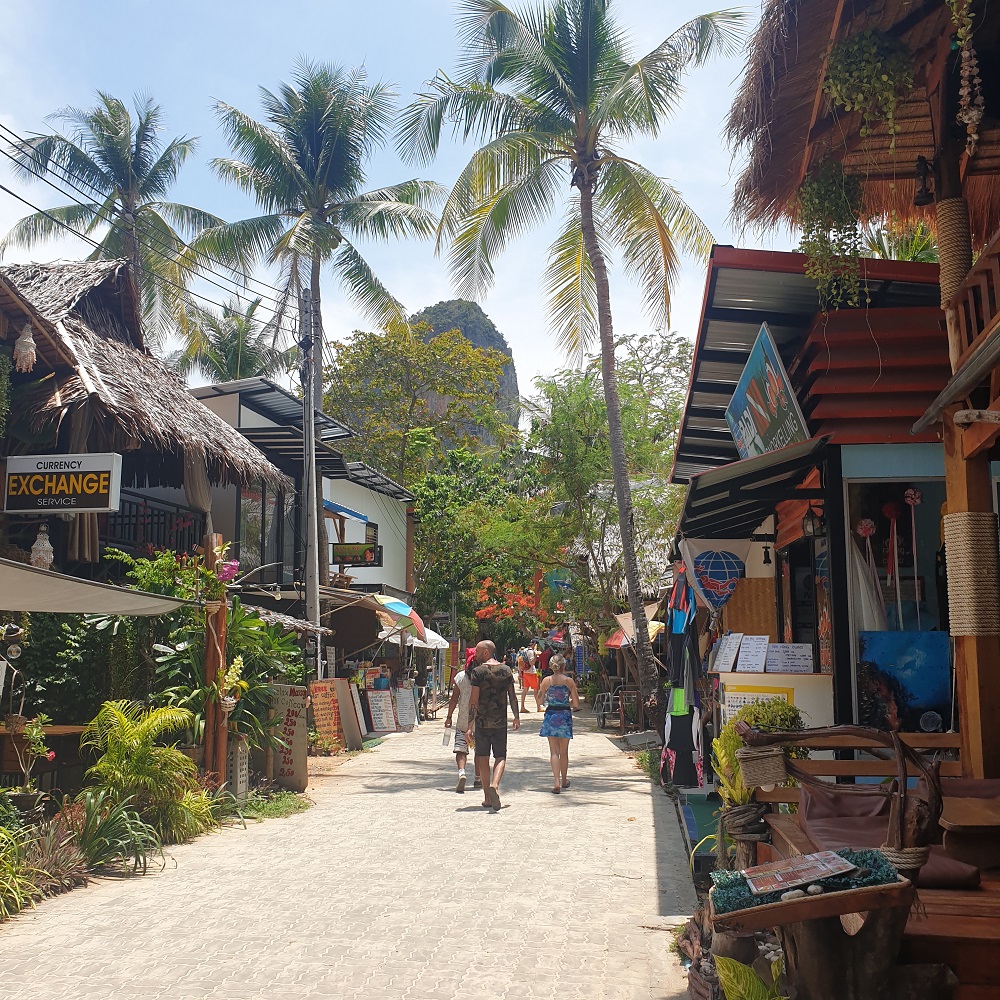 Things to do in Railay Beach, Krabi, Thailand
Watersports
Swimming and relaxing on the beach is the most common activity here. You can hire a SUP for 100 THB per hour, and the paddling here is awesome thanks to the calm steady waters. Otherwise, a kayak will set you back 200 THB per hour. Paddle down to the southeastern end of the beach and out to the point to find an ocean cave that you can paddle on through. You can continue on around this point and find yourself at Phra Nang Cave Beach.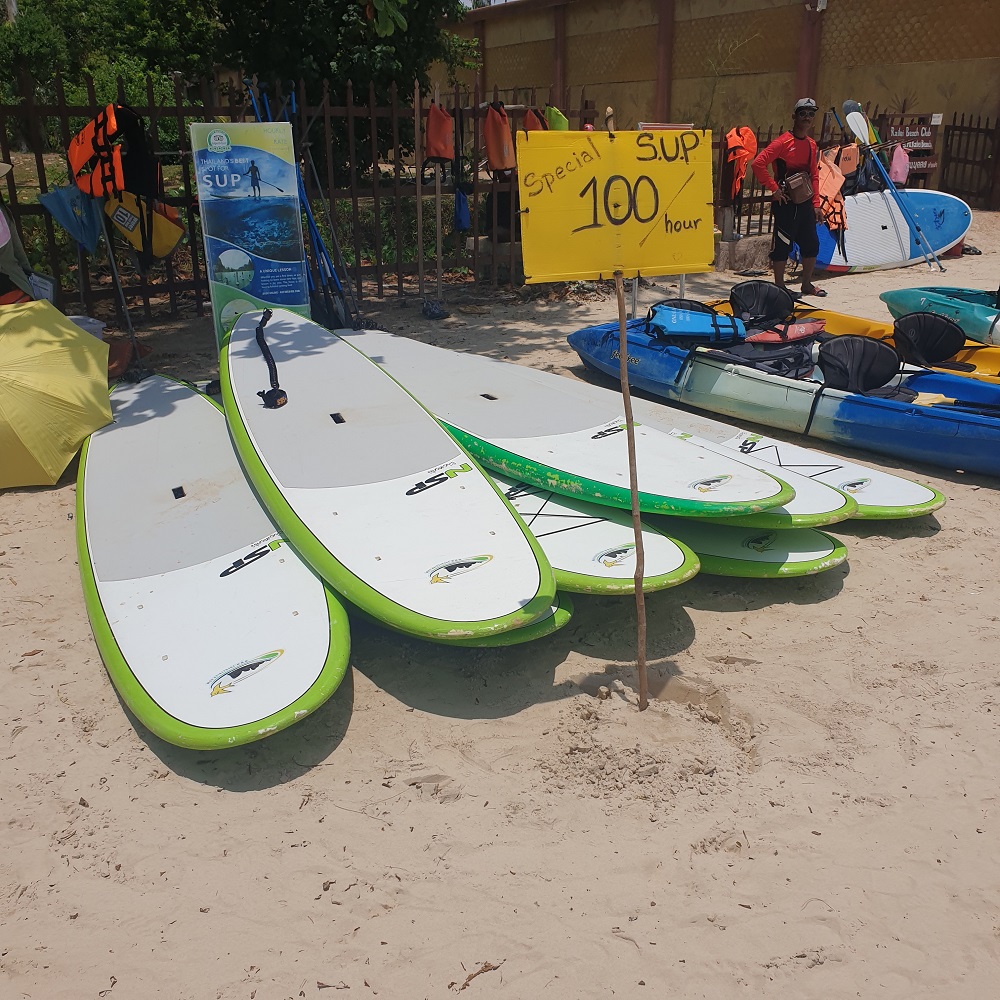 Phra Nang Beach and Pranang Cave
Access this via the water, or else via a walk through town across to East Railay Beach and back out to the Cave Beach. There is an easy shady walk underneath limestone cliffs, and through some small caves to reach Pranang Cave. Once you get here, you will find a nice shady beach that is perfect for a swim under the cliff. There is a fertility temple which has all icons of giant wooden phallus's placed to improve a male's virility. (With 4 kids already, we tried to steer clear).
Please remember that this cave is a sacred temple and act accordingly. Do not enter the temple unless you are covered with a sarong. Do not wear shoes.
"Local people, fisherman and navigators believe and hold faith in the Princess of the Pranang Cave that she will preserve and protect their livelihood and fulfill one's wishes. When their wishes are fulfilled, votive offerings would be made at the shrine. Common gifts are flowers and incense sticks, but usually the spirits of the Goddess are offered a special gift, the lingam, which is carved from wood. The belief of the lingam and holy womb shall create fertility and prosperity to the whole earth and mankind."

The sign inside the cave reads thus
Continue on past the temple cave and you will find some rocks to clamber over, but not much else. It was a nice viewpoint looking back towards the cave though.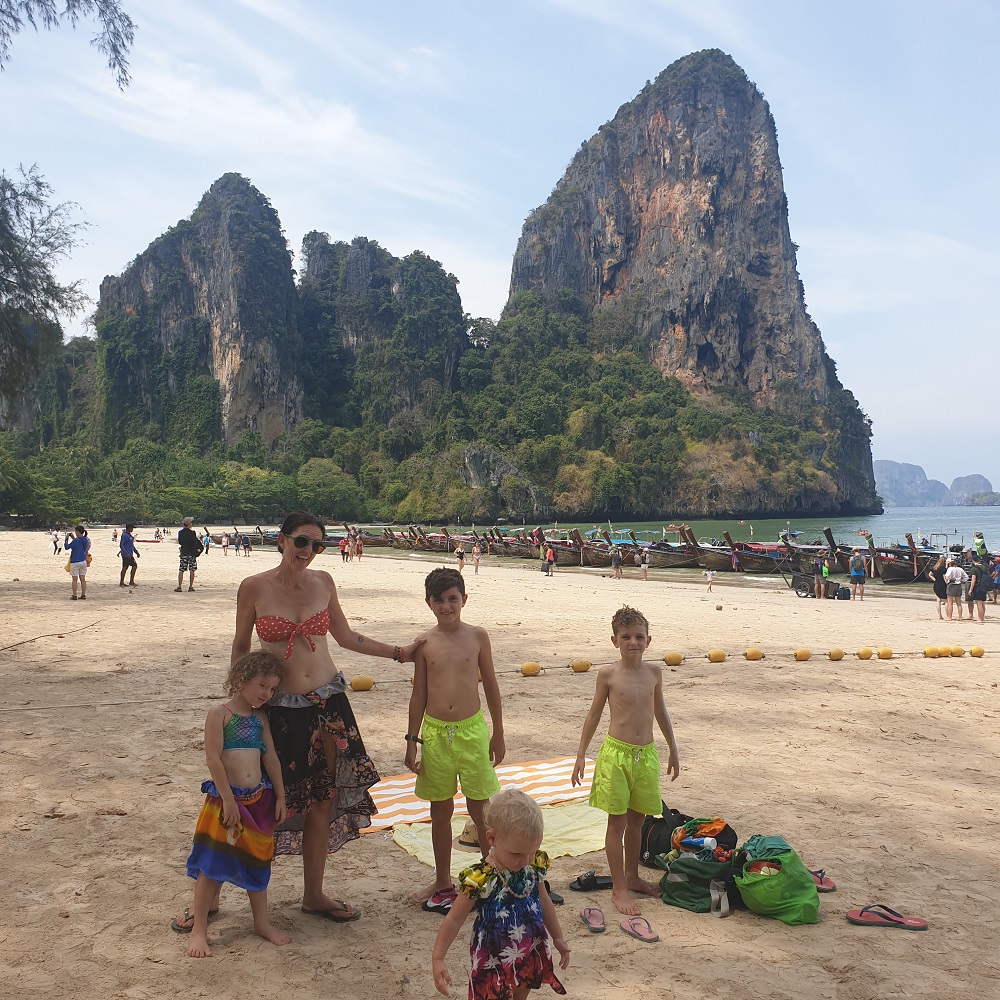 Princess Lagoon Walk
Halfway along the cave path, you will find a walking track leading directly up the hill to a lagoon. The path is high difficulty, and was very slippery so we couldn't attempt it with kids. Following the path to the top will take about half an hour with a moderate amount of fitness. At the end you will find a small lagoon to cool off in, and a beautiful view over Railay Beach. The lagoon is better if there has been recent rain.
Railay View Point
Another tricky climb with ropes and handholds, this scramble will be rewarded with a great view over Railay Beach Krabi, Thailand. The climb takes about half an hour with a moderate amount of fitness. It is advisable to wear closed in shoes, and if it is muddy, the red mud will stain clothes.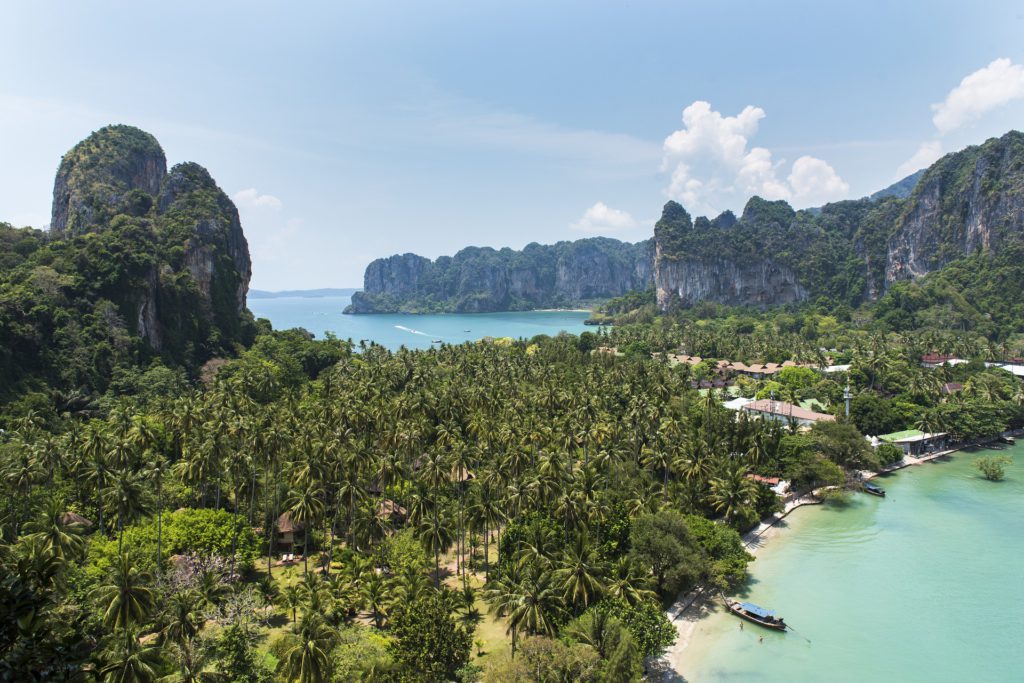 4 Islands Snorkelling Tour
It is possible to get on a boat tour here to take you out to the 4 islands and go snorkelling. We booked ours on GetYourGuide and you can either take a longtail boat, or a speedboat. The 4 islands include Phrang Na Cave Beach, Chicken Island, Tup Island and Poda Islands. We even saw little clown fish while snorkelling! We booked our 4 Islands Tour with GetYourGuide. The offered the lowest prices compared to the tour guides on the street. And we loved being able to pay by credit card securely online.
See the full review here (coming soon).
Rockclimbing in Railay Beach, Krabi
There are little rock climbing shops all through Railay Town. It is a favourite sport here so you will find some professional operations offering climbing tuition and equipment.
Try Krabi Rockclimbing, for all courses from beginner to advanced including multi-pitch and deep water solo experiences. Real Rocks Climbing is another professional internationally renowned setup.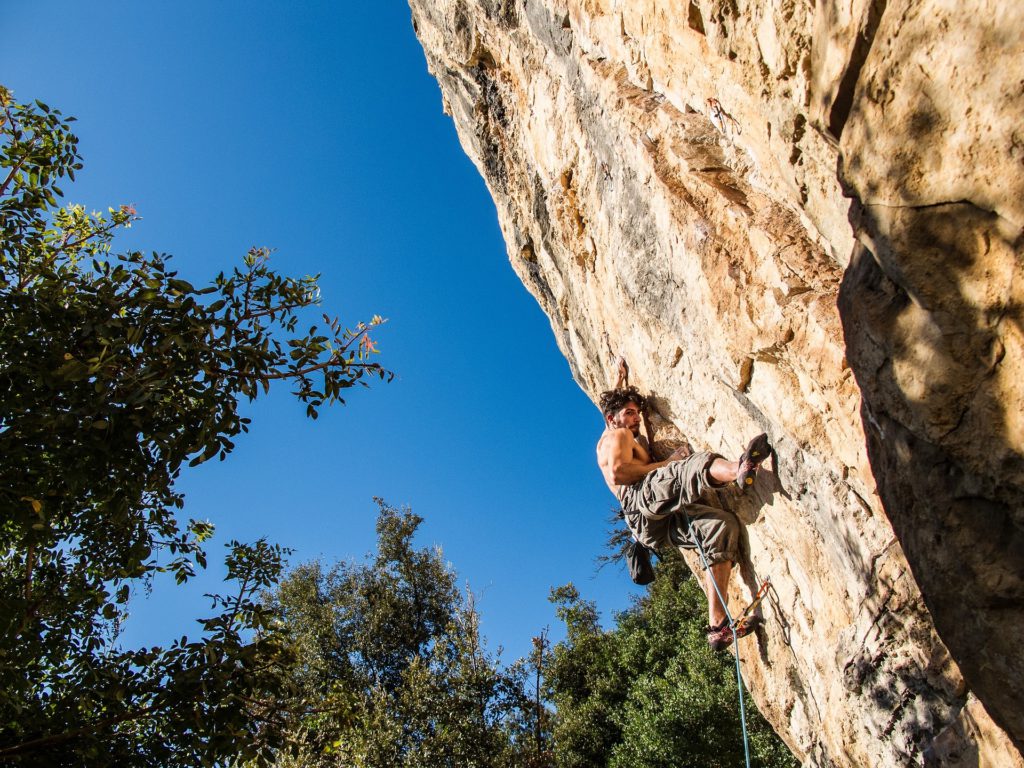 Watch the Sunset in Railay
The beers, the beach and the cliffs make for some spectacular sunset viewing on West Railay Beach. Note that you may pay double for a beer here thanks to the fact that everything has to come over by boat.
Eat and Drink your way through Railay Town
In between Railay West and Railay East Beaches, you will find 3 main drags of shops, with restaurants and bars. There is the usual assortment of reggae bars, with things on offer besides beers. Fruit shake and pancake shops all jostle for attention between massage parlours and other eateries. Note that the restaurants off the beachfront are cheaper.
There are a few mini-marts throughout town as well.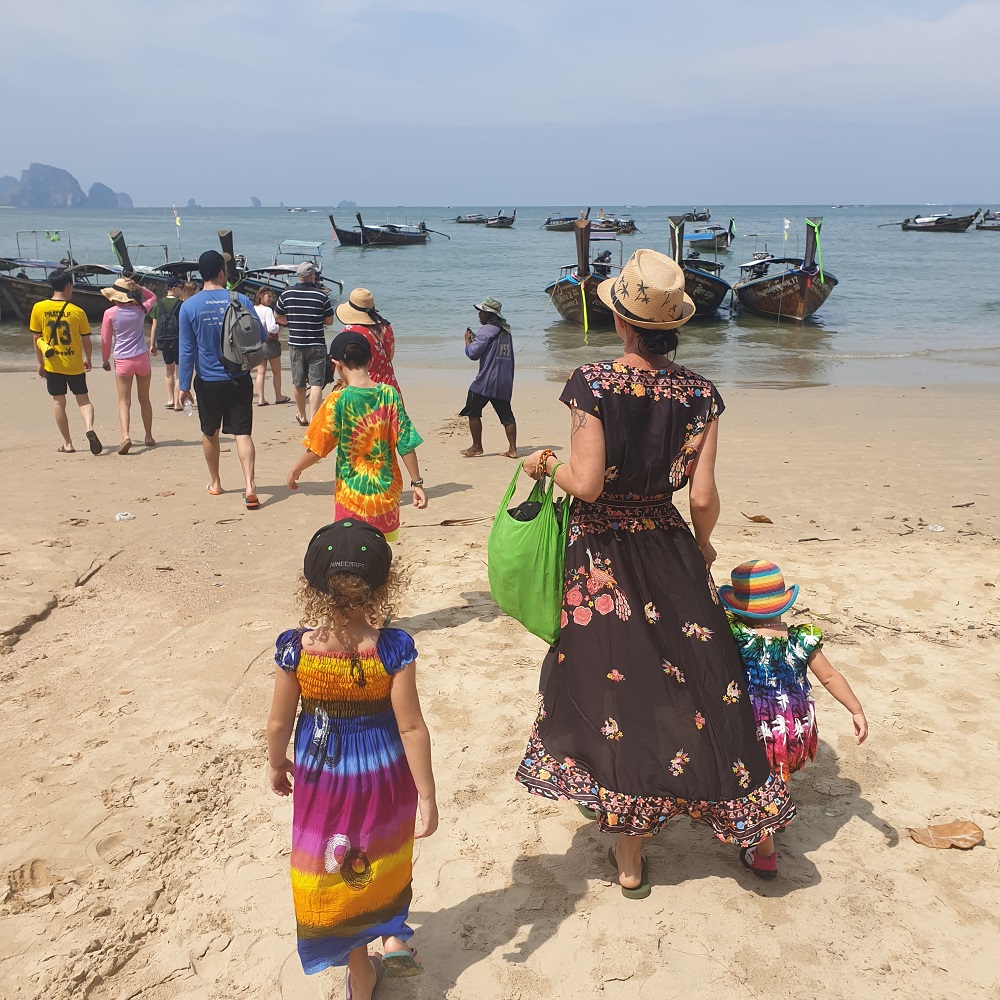 Get a Thai Massage
A one hour Thai Massage will set you back a whole 300 THB to 400 THB. This is something you should do more than once while you are visiting Railay! The shops are everywhere. And you don't need an appointment, just roll on in and prepare to be massaged.
A Thai massage is like a bit of a yoga massage, and you get stretched around as well as massaged. A great way to spend a relaxing and rejuvenating hour of your life.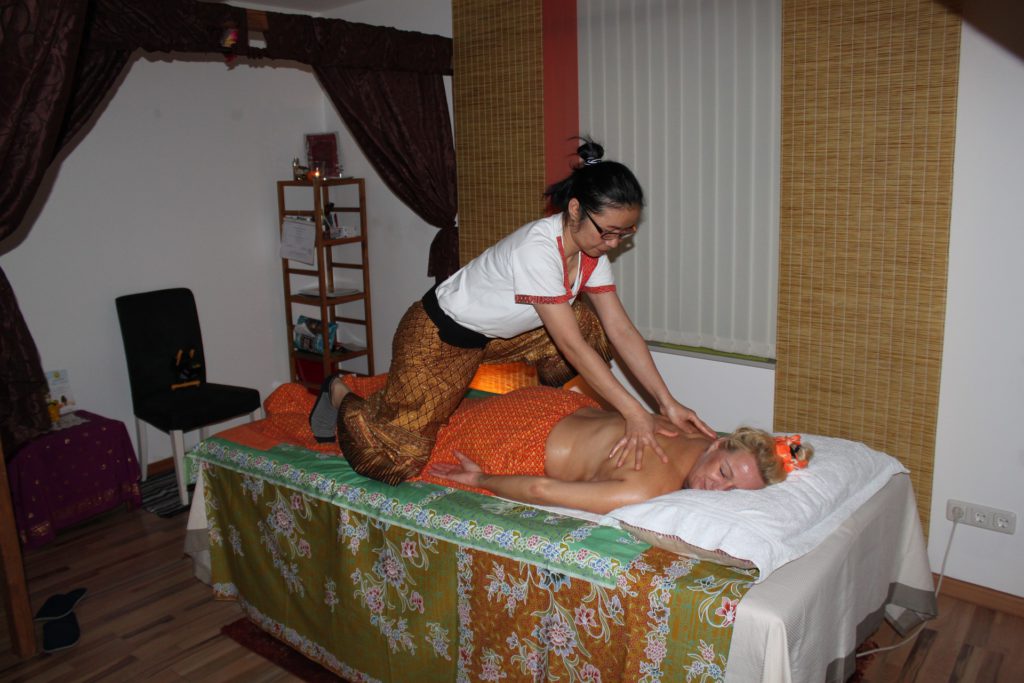 Where to Stay in Railay West
Check out these mid-range hotels overlooking the beach in Railay West:
Where to Stay in Railay East
Railay East is the other side of Railay. It is more muddy and mangrovey over here, but the accommodation prices are lower.
Check out these great accommodation options:
Budget
Mid Range
Luxury
Best Accommodation for Families (Prices in AUD)
Ao Nang Private Villa – 2 Bedroom Villa at East Railay with private pool and garden $132 per night
Railay Bay Resort and Spa – 2 bedroom pool villa including breakfast – $423 per night
Diamond Cave Resort and Spa – Quadruple room for $59 per night
Tonsai Beach
The next beach to the West of Railay Beach is Tonsai Beach. It is supposedly one of the best places for rock climbing in and around Krabi. The karst formations here are like nowhere else on earth. Tonsai has a more chilled out vibe than Railay, and you can reach it by boat, or by walking along the beach at low tide.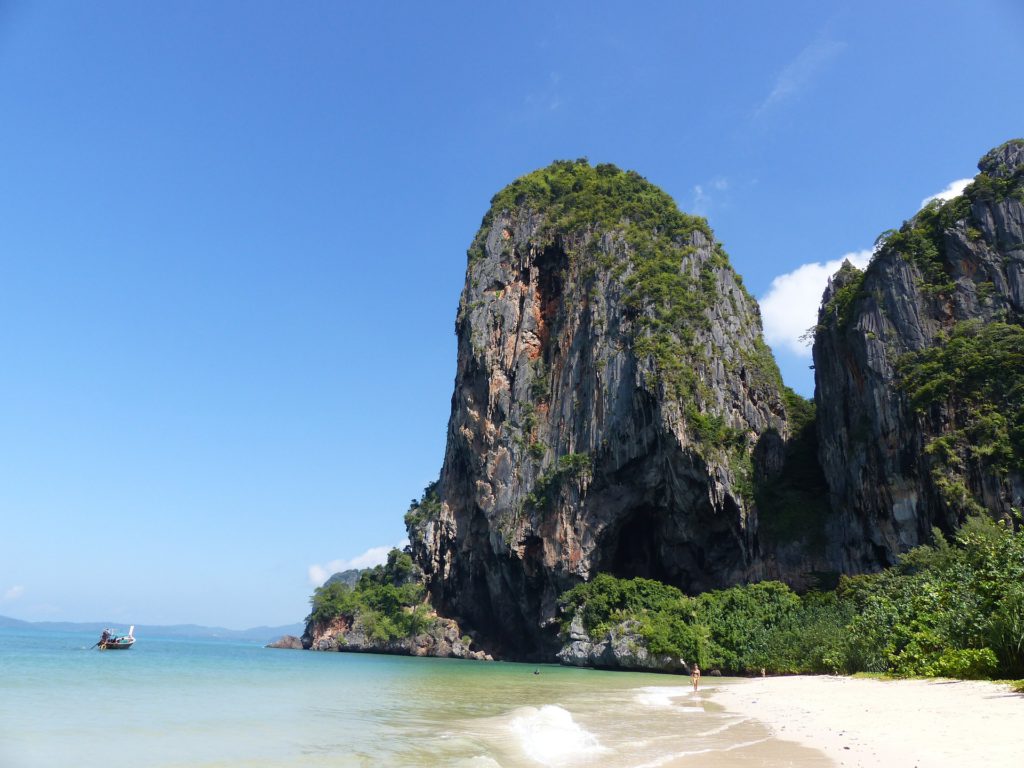 You can stay at Tonsai at the beautiful beachfront Tonsai Bay Resort. Otherwise, there are some simple bungalows such as Chill Out Bar and Bungalow which is set back from the beach in the forested hill. Expect monkeys on your roof here and a nice peaceful stay.
At Tonsai Beach you either relax, swim in the clear water, watch the sunset or go rock climbing.
Railay Beach, Krabi, Thailand – The Verdict
Railay Beach in Krabi, Thailand is the sort of place where you can visit for a day and do nothing at all, or stay for a week of fun-filled activity and action adventure. We loved the time we spent here and felt Railay Beach to be super family friendly. From the calm waters of the bay to the interesting cave formations and great food options, Railay Beach is the place to be.
Are you planning a trip to Thailand?
Check here to see if you need vaccinations or visas first!