There is a little bit of everything to be found in Phuket. It is such an exciting island full of possibilities. Phuket and its beaches are white sand paradises with a fun loving culture at heart. We spent a memorable few days in Phuket with our family and discovered just what is in Phuket for all ages.
What is in Phuket for Kids?
Phuket is a fantastic place to take your family on holidays. It has the convenience of an International Airport receiving flights from all over the world. There are so many things to do in Phuket that every kid and kid at heart will be entertained.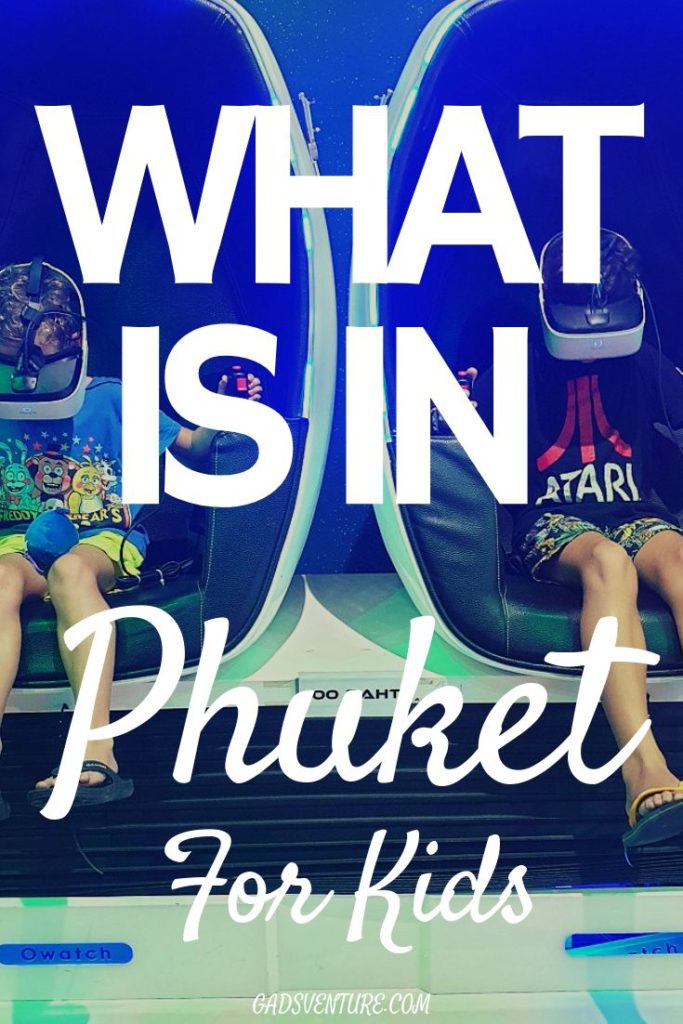 Are you planning a trip to Thailand? Check here to find out if you need visas and vaccinations BEFORE you go!
Water Sports at Patong Beach
If you wander down onto Patong Beach, you will find there are many more things to do than just sit on your beach chair and relax while having a 400THB massage.
Try your hand at swimming, jet skiing, parasailing, wakeboarding, surfing, waterskiing, sailing, and windsurfing! Rental prices vary depending on activity and lessons are available down on Patong Beach.
Location: Patong Beach, Phuket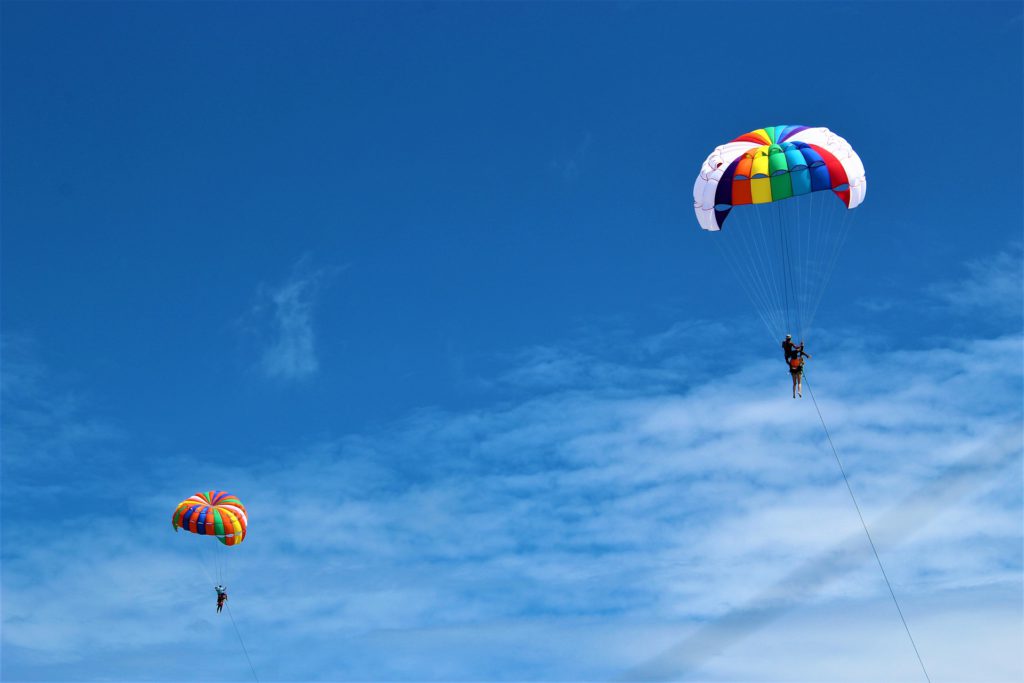 Where to Stay at Patong
We stayed at the Patong Marina Hotel by Lofty. This was an epic family room overlooking Patong Beach with a huge terrace. A family room had a big double bed and a set of extra large bunks for only $87AUD a night. Just perfect for our family. They also have 2 bedroom suites that sleep 6 and 7 for a great price. Perfect location right on the beach.
Phuket Aquarium
This is a fun place to visit and is especially good for a rainy day in Phuket. See fish life up close from the underwater tunnel. Seahorses, baby turtles, clownfish, piranhas and colourful reef fish all seek your attention in this small aquarium.
Phuket Aquarium is an entertaining way to spend a couple of hours with ticket prices only 180THB for adults and 100THB for kids.
Location: Wichit, Mueang Phuket District, Phuket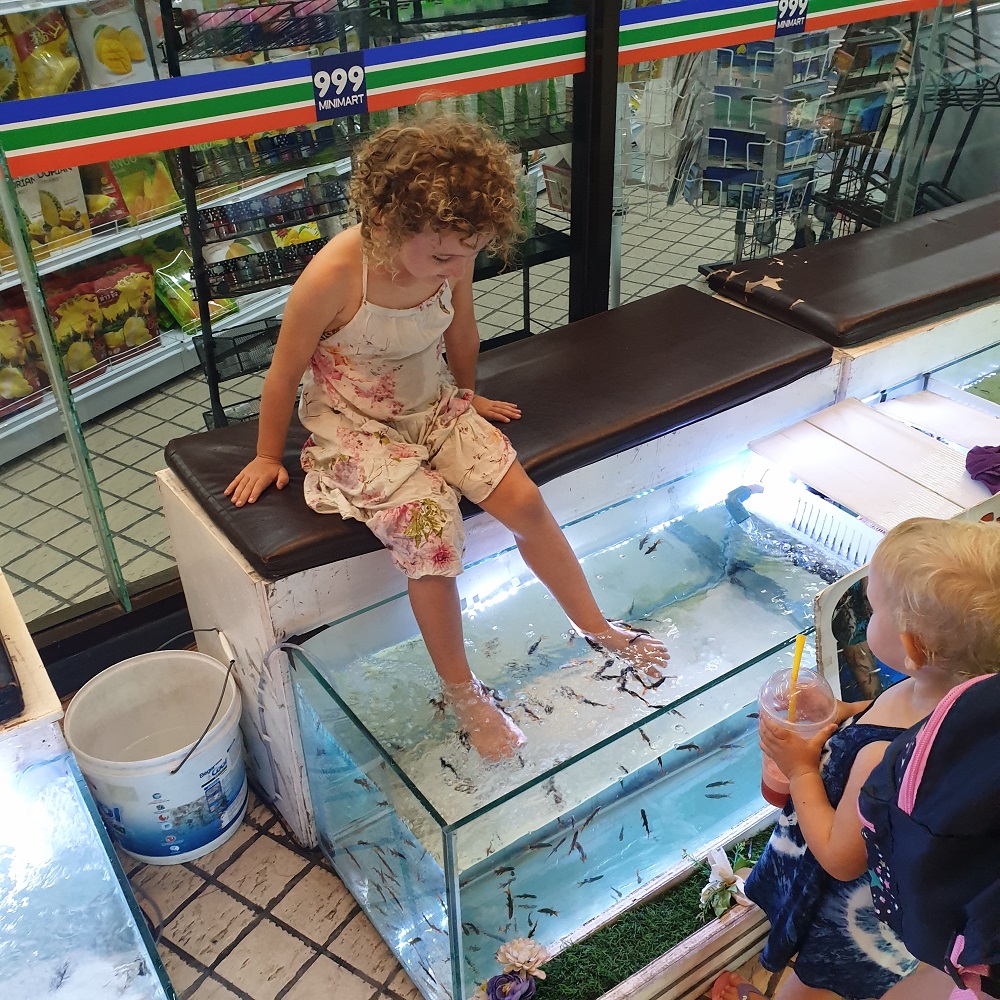 Splash Jungle Water Park
Your kids will love going to this awesome water park in Phuket. Featuring 12 of the most electrifying slides for all ages including Superbowl, Boomerango and a Wave Pool, this is the wettest fun you can have. Great for those hot Phuket days. There is even a dedicated area for your smaller children.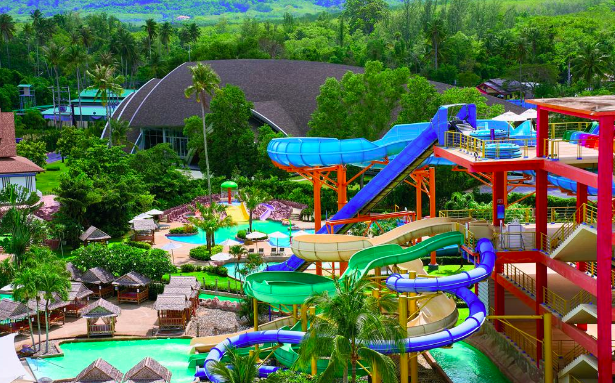 Splash Jungle Waterpark is open daily from 10 am to 5.45 pm. The Splash Beach Resort is also on site so you can stay and play all you want. Located near Phuket Airport at the peaceful Mai Khao Beach.
Cost for park entry starts from 1300THB per adult and 650THB per child. Kids under 5 are free.
Location: 65 Soi Mai Khao 4, Tambon Mai Khao, Amphoe Thalang, Chang Wat Phuket 
Phuket Trickeye 3D Museum
The Phuket 3D Museum houses about a hundred paintings to stimulate your imagination using engaging 3D technology. This quirky museum is open from 10 am to 6 pm. Fun photo opportunities to pose within the pictures for hilarious outcomes.
Location: 130/1 Phangnga Rd, Tambon Talat Yai, Amphoe Mueang Phuket, Chang Wat Phuket 
Best Blog Read: Interesting Facts of Thailand
Baan Teelanka – Upside Down House
This very unique attraction includes an amusing fully upside down house, a VR 9D movie centre, maze, a tuk-tuk video studio and an escape room on site.
Prices vary and packages are available on their website:
Upside Down House 190THB kids, 350THB adults
Maze 120THB for kids and 170THB adults
Escape Room 290THB for kids and 520THB per adult
VR 120THB for kids and 170THB for adults
Tuk-Tuk Video 150THB for kids and 250THB per adult
Upside Down House is open from 10 am to 6 pm daily.
Location: 9 Ratsada, Mueang Phuket District, Phuket
The Kids Club Phuket
This fantastic family friendly kids activity park will have them entertained for hours. Conveniently located at The Kee Resort and Spa, Patong, The Kid's Club provides up to 3 hours of supervision for your children in an indoor playground. This is probably better suited to children 7 and under.
Parents can go shopping or relax in the parent's lounge. Kids over 1-year-old cost 200THB per hour. Socks are required. Open from 10 am to 9 pm daily.
Location: 152/1 Thaveewong Rd. Patong Kathu Phuket 
Kidzoona & Molly Fantasy
Kidzoona and Molly Fantasy are interconnected play zones on the 3rd floor the Jungceylon Mall in Phuket. For the little ones aged under 8, go to Kidzoona with plenty of soft play, a giant hamster wheel and a ball pit while Molly Fantasy is great for older kids with arcade based games.
The weekday price for Kidzoona is 200 – 320 THB depending on height, and adults must remain with the children at 100THB. Prices increase on the weekend and it is open 11 am to 9 pm daily.
Location: Jungceylon Shopping Centre, 200 Tambon Patong, Amphoe Kathu, Chang Wat Phuket 
VR Arcade
Older kids will enjoy the Virtual Experience Video Game Arcade set in central Bangla Road, Patong. With games starting from just 100THB, be prepared to be amazed and entertained by this awesome technology.
Location: Bangla Road, Patong, Phuket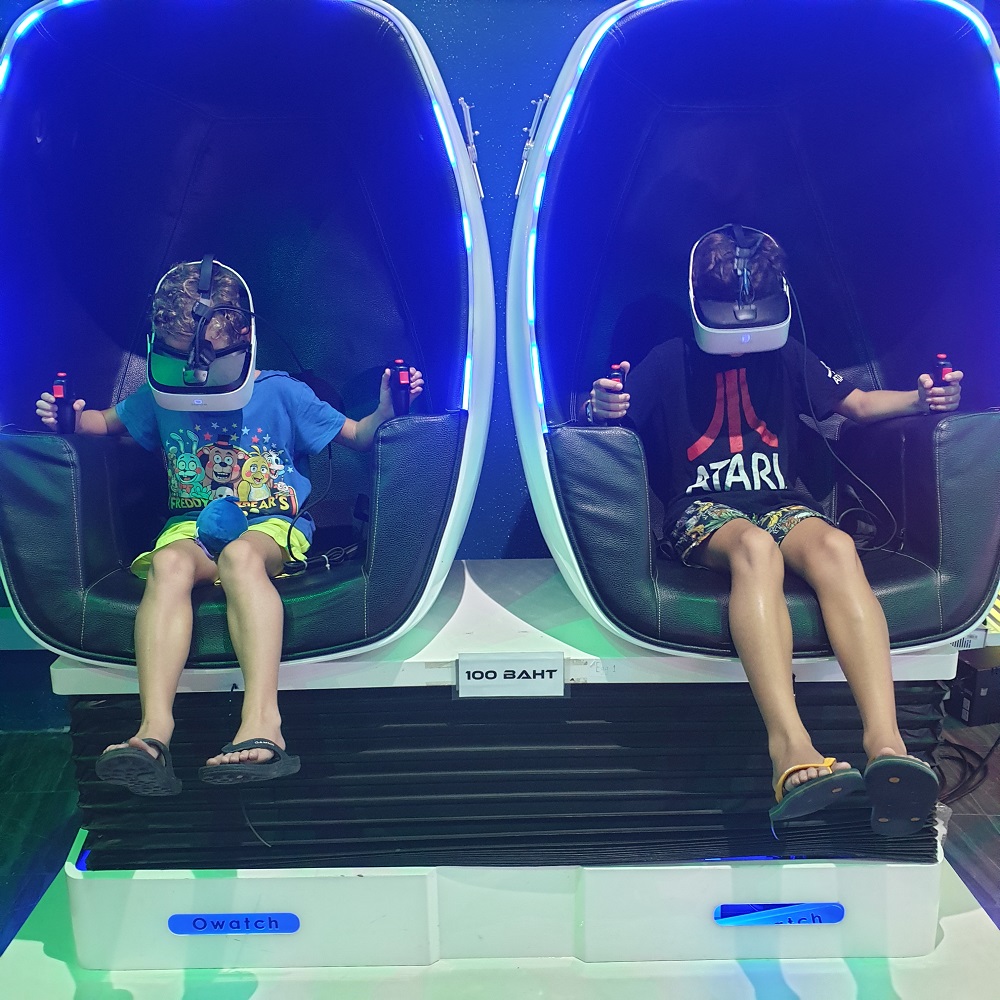 Best Blog Read: Songkran Festival Thailand
Mid-Air Circus Arts Academy
Within the British International School of Phuket you will find this daring way to spend an afternoon, as a high flier. With no previous necessary, learn the skills needed to perform a single and double trapeze, silks and more on this full-sized flying trapeze.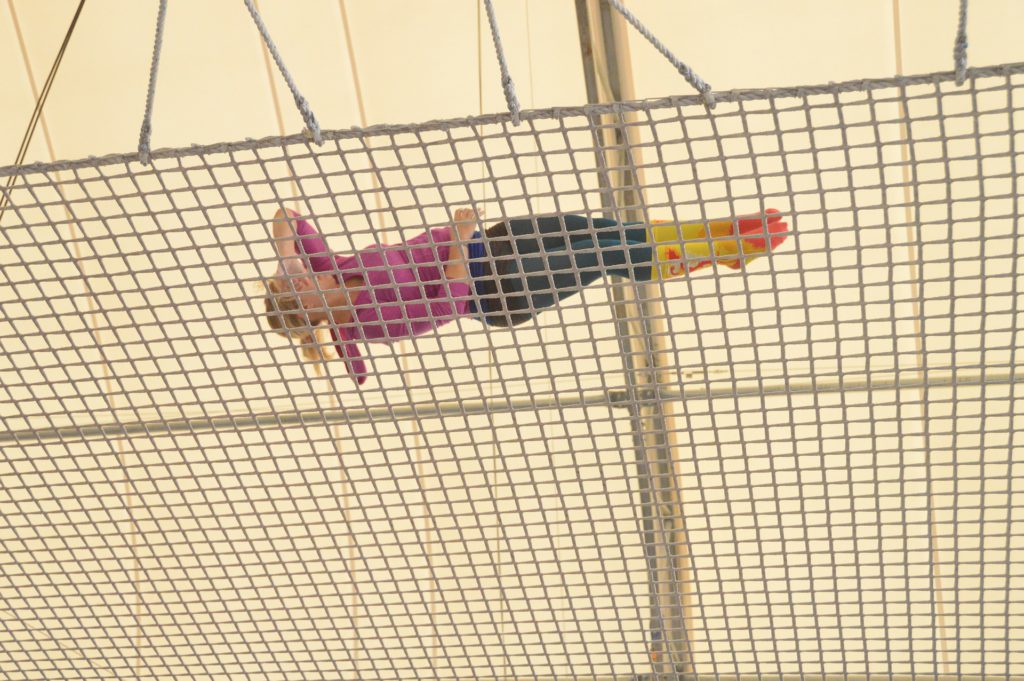 The Mid-Air Circus Arts Academy is open Monday to Friday from 2.45 pm until 6 pm. A 90-minute drop-in class costs 1050THB and bookings are advisable.
Location: British International School, 59 Moo 2, Thepkrasattri Road T. Koh Kaew, A. Muang Mueang Phuket District, Phuket
What is in Phuket for Older Kids?
Phuket Shooting Range
The Phuket Shooting Range is located on the road to the Wake Park. It includes activities such as indoor shooting ranges with real ammo, air rifles, clay shooting, paintball, archery, and even go-karting. Prices vary depending on activity and it is open daily from 9 am to 6 pm.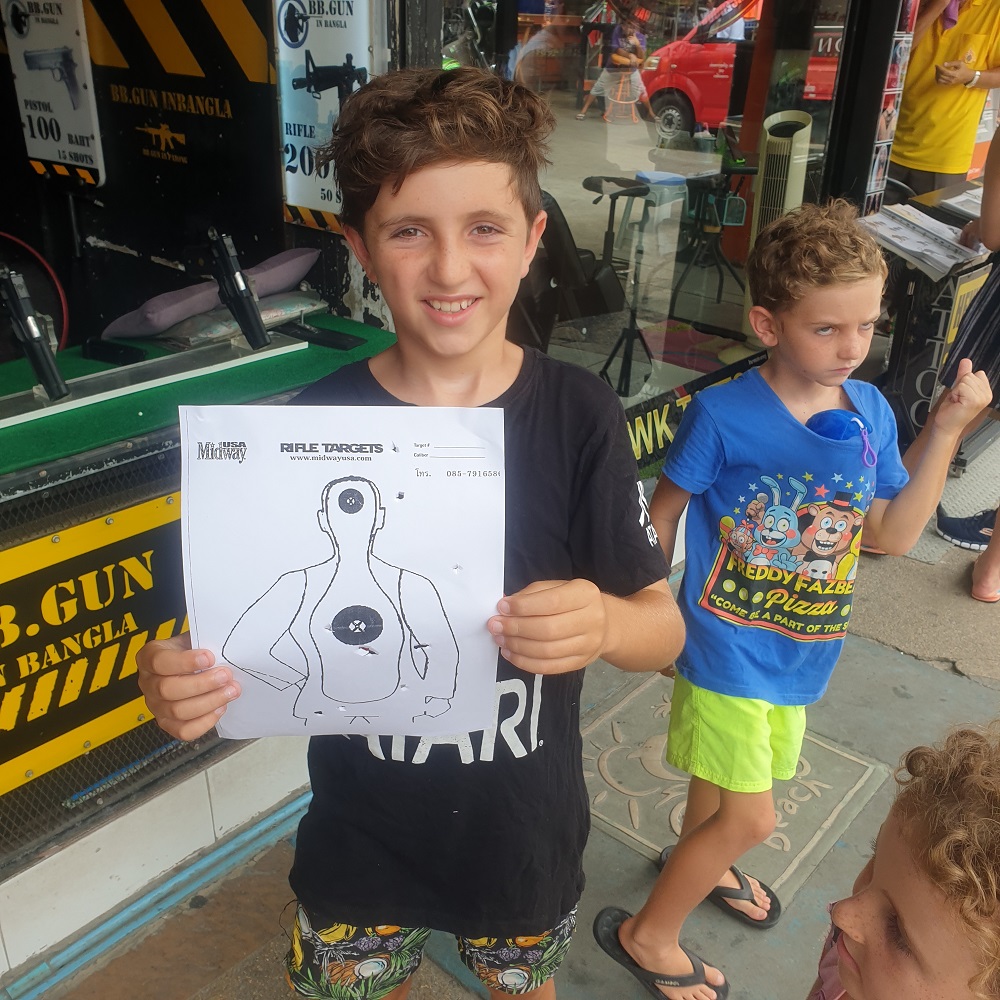 Location: 165 Surin Soi 5, Amphoe Mueang Phuket, Chang Wat Phuket 
Patong Boxing Stadium
Here you can watch a real Muay Thai fight on Monday, Thursday and Saturday nights or undergo training yourself to become a Muay Thai fighter.
Training starts at 500THB per hour. A ringside seat for a fight at Patong Boxing Stadium costs 1500THB.
Compare ticket prices below:
Location: 2 59 Sainamyen Rd, Tambon Patong, Amphoe Kathu, Chang Wat Phuket
Phuket Wake Park
Phuket Wake Park is located in the centre of Phuket Island and is an ultimate recreation facility. It boasts being the 'Best Wake Park in Asia' with a tower height of 10.5 m and a cable speed of 30 km/h.
You can hire a wakeboard for 500THB and the park is open daily from 9 am to 6.30 pm. Phuket Wake Park offers a big cable, a training cable and coaching. Cable rates start at around 450THB per hour for kids, and 750THB per hour adults.
Location: 86/3 Moo 6 Vichitsongkram Road, Kathu, Phuket
Rollerball (Zorb Rolling)
Suitable for all ages from 6 – 60, Rollerball involves squeezing yourself and a friend into a large plastic sphere with some water and hurtling down a hill. It is truly an exhilarating experience. This is the longest Zorb rolling course in the world at 190 metres.
Rollerball is open daily from 10 am to 6 pm and is located just 2 minutes outside of Patong. Prices start at 950THB which includes a drink, a roll and insurance. Wear swimmers.
Location:  Pa Tong, Kathu District, Phuket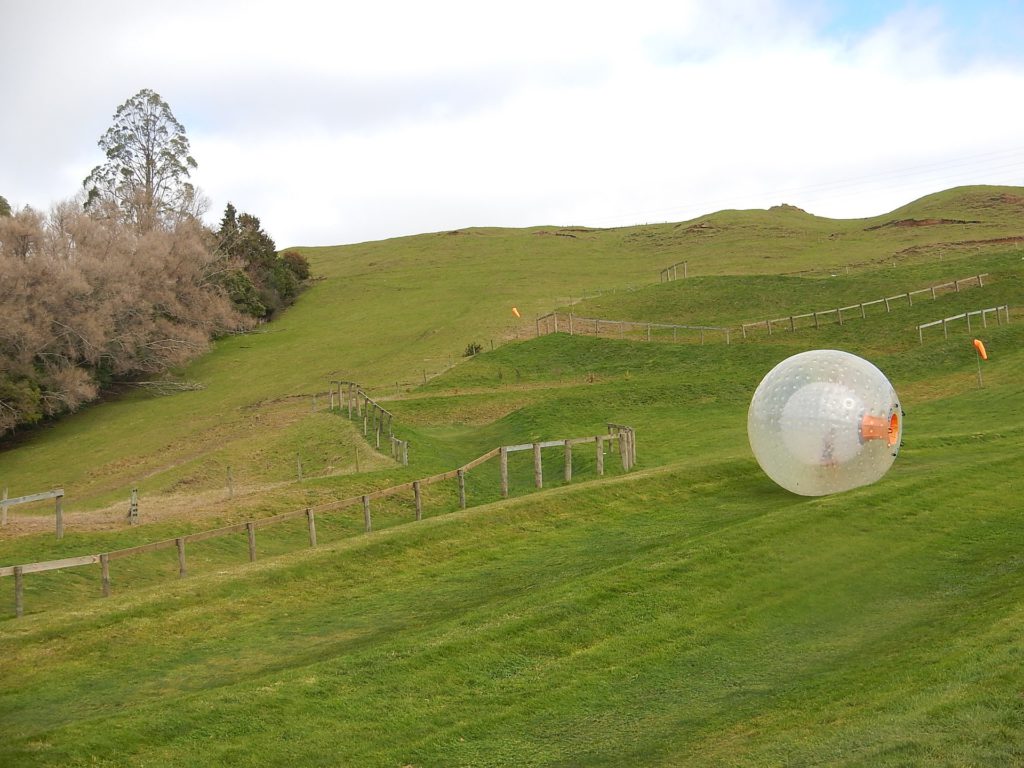 Phuket Jungle Bungy Jump
This is a 50 m bungy rising over a tropical lagoon amidst a gorgeous rainforest. It is an incredible setting for a thrilling jump. The company is run to Australian and New Zealand high standards.
Located 20 minutes away from Patong Beach, a bungy jump is worth 2200THB. Phuket Jungle Bungy Jump is open daily from 9 am to 6 pm.
Location: Kathu, Kathu District, Phuket 
What is in Phuket for Culture Lovers?
The Big Buddha
The famous Big Buddha is a seated Maravija Buddha in Phuket. It is 45 metres tall and visible from most anywhere in Phuket. Entry is free and the view from up here is breathtaking. You can either drive or walk up the 94 steps from Wat Chalong to reach Phuket's Big Buddha.
The Big Buddha in Phuket is open from 8 am to 7.30 pm daily.
Location: Soi Yot Sane 1, Chaofa West Rd, Nakkerd Hill near Chalong
As with all Buddhist monuments and temples, you will need to ensure your shoulders and knees are covered and behave in a respectful and quiet manner. If you are not dressed appropriately, a free sarong will be provided for you to wear upon entry. Please remove your shoes.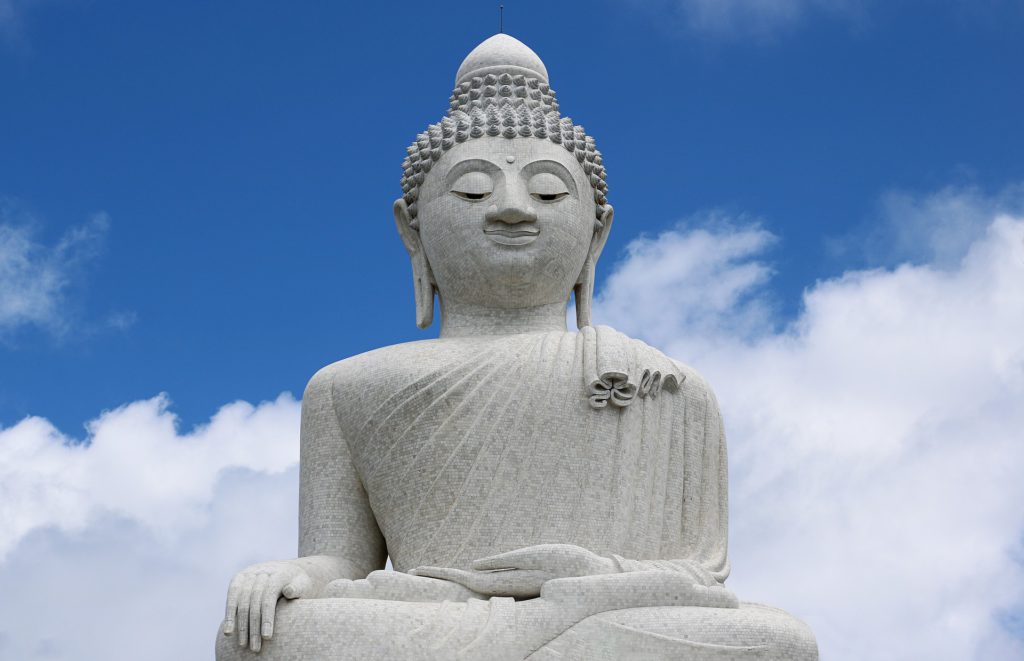 Visit a Buddhist Temple
Wat Chalong
This is one of the most important and most impressive Buddhist temples in Phuket and has been welcoming worshippers for over a century. Inside the main pagoda, there is a splinter of Lord Buddha's bone.
Wat Chalong is located 7 km south of Phuket is open from 7 am to 5 pm. Entry is free.
Location: 6 70 Chao Fah Tawan Tok Rd, Chalong, Mueang Phuket District, Phuket 
Wat Pra Thong
A small temple with a half-buried Buddha statue. The way the story goes, a long time ago a small boy tied his buffalo to a stick, but it was actually the top part of the hat of this statue. The boy and the buffalo both soon died. The kid's father brought a team to dig up the statue, but they were attacked by swarms of hornets. Later, those who tried to dig it up were attacked by angry ants. So, instead, they decided to leave the statue where it was and built Wat Pra Thong around it instead.
Entry is free to Wat Pra Thong and it is open from 8 am to 5.30 pm every day. It is located on the way to Phuket Airport.
Location: 172/2​ Nanai Rd, Thalang District, Phuket 
Wat Khao Rang
This is a small but charming Buddhist temple with a gorgeous golden seated Buddha. It is located on Soi Wachira in Phuket Old Town.
Location: Mueang Phuket, Mueang Phuket District, Phuket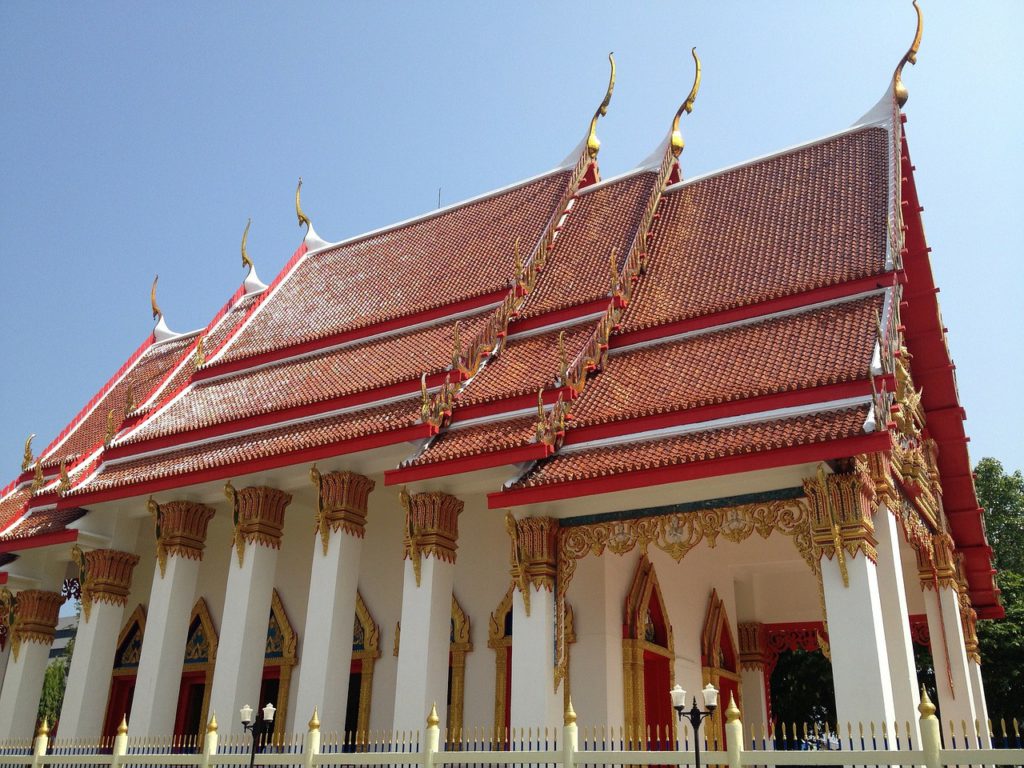 Thai Hua Museum
The building itself is an attraction of the Hua Museum which is housed in an impressive 1930s colonial-style mansion. Learn about the original Chinese traders that inhabited this area and Phuket's rich history as a tin producer.
It is open from 9 am to 5 pm daily. The cost for entry is 200THB, plus 200THB extra if you want to take photographs.
Location: 28 Krabi Road, Tambon Talat Nua, Muang District, Phuket
Thai Cooking Class at Phuket Thai Cooking Academy
In air-conditioned comfort, learn how to make some of your favourite Thai dishes.
Cost: 3200THB including a market tour and a splendid waterfall visit to top it off. Check prices and book your spot by clicking the link.
Location: 81/23 Soi Chang, Kathu, Phuket
What is in Phuket for Nature Lovers?
Vist the Beautiful Beaches on Phuket
As well as the more famous resort clad and party style beaches, there are many lesser known ones found around the island.
Nai Harn Beach
This beach is famous for its stunning location at the southernmost end of Phuket which makes for absolutely breathtaking sunset views. Find the Phuket Yacht Club here, along the 800 metres of dazzling sand.
Banana Beach
A little bit further out but definitely worth the trip, Banana Beach has perfect white sands and a palm-lined shore. This secluded beach is found past Bang Tao. The clear waters are perfect for swimming and snorkelling.
Laem Singh Beach
Between Kamala and Surin you will find Laem Singh Beach which is known for its particular beauty and aquatic life.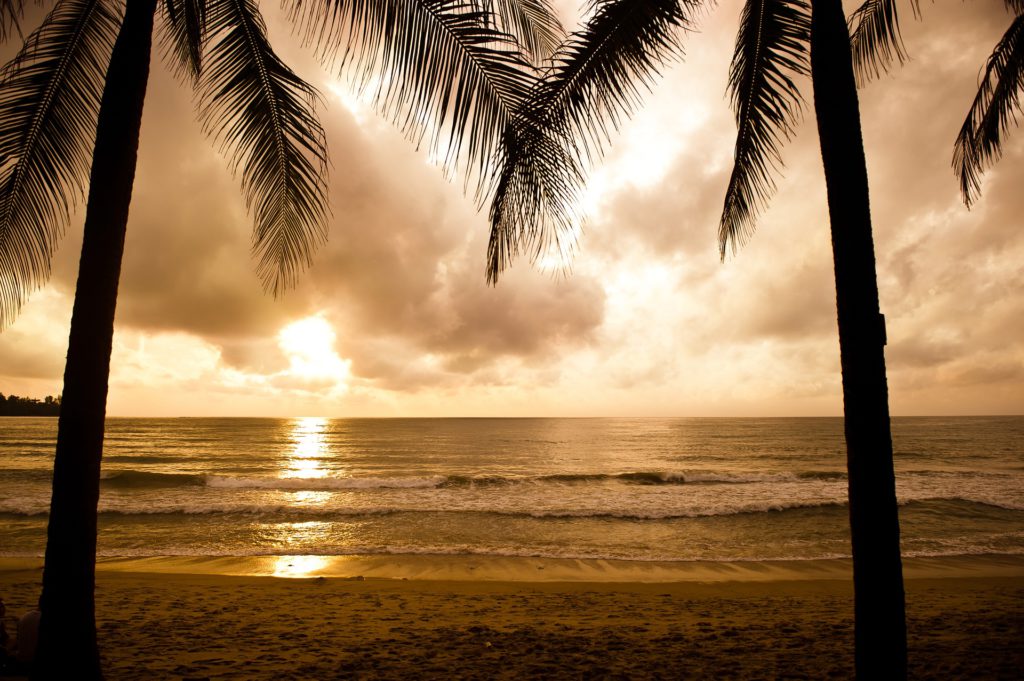 Freedom Beach
White sand, lush foliage and turquoise water make Freedom Beach worth a visit. It's only 2 km south of Patong, but can feel like many worlds away. You can only access this beach via longtail boat between December and May.
Tri Tra Beach
Otherwise known as Emerald Beach, this is located about 2 km south of Patong and is a wonderful 2 km stretch of sand perfect for sunbathing. At low tide, there is good snorkelling too.
Paradise Beach
As the title predicts, this gorgeous beach is, in fact, paradise. With a stunning white sand cove only 150 metres in length framed by palm trees, Paradise Beach is a winner. Only 3 km south of Patong.
Kata Noi Beach
This beautiful beach is only 15 minutes walk south of Kata Beach. You can find a lovely stretch of sand and some excellent places to eat and great snorkelling straight offshore.
What is in Phuket? Any Markets?
Awesome Markets in Phuket
Chillva Market Phuket
This is a relatively new market with a shiny new atmosphere. Here you can find food and drinks, as well as souvenirs, clothes and craft.
There is a hipster container area with bars and restaurants open every day from 4 pm to 10 pm with the full market opening Thursday to Saturday 4 pm to 11 pm.
Location: 141/2 Yaowarat Road, Phuket Town.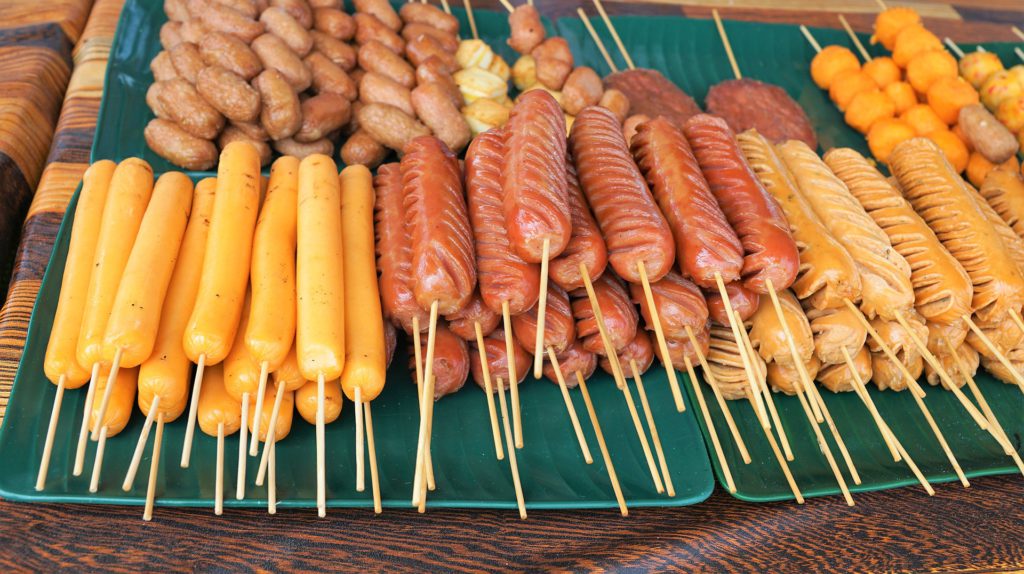 Phuket Indy Market
Only open from 4 pm to 10 pm on Thursday and Friday, this is more of a hip young person vibe market. It takes up one lane of Limelight Avenue and is kind of like a car boot sale style. You may find exactly what you never knew you were looking for here.
Location: Talat Yai, Mueang Phuket District, Phuket 
Phuket Weekend Market
This place is a crazy busy market behemoth open every weekend. It is overwhelmingly bustling at times but is a fantastic place to soak up some authentic Thai atmosphere. Try the street food here.
Location: Chao Fa West Road, Phuket Town
Phuket Sunday Walking Street
Held on Sundays, this popular handicrafts market is found Phuket Town. It is in a beautiful part of Old Town in the renovated Thalang Road.
Location: Thalang Road, Phuket Town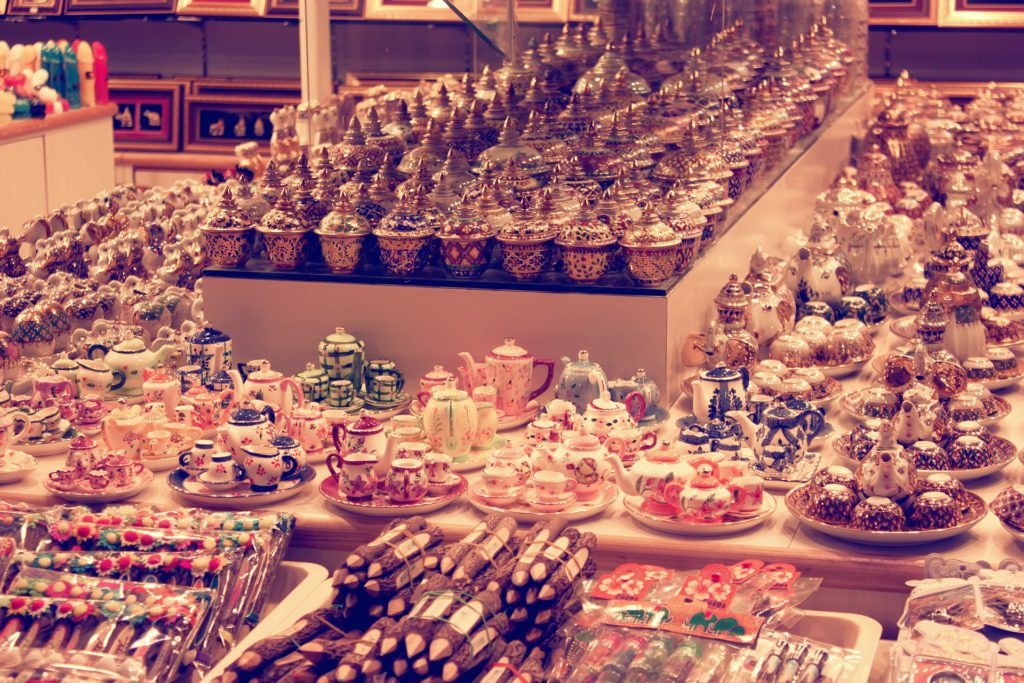 Best Day Trips From Phuket
When in Thailand, we find GetYourGuide to be a reliable cheap price and reputable tour agent. They offer many day trips from Phuket.
James Bond Island and Phang Nga Bay Tour
A boat trip up to Phang Nga Bay will take in the wondrous limestone karst formations on Krabi province. See James Bond Island made famous by the movie "The Man with the Golden Gun", and visit the Muslim Fishing Village.
Khao Sok National Park
This protected area of national park north of Phuket has tigers and elephants roaming wild. The gibbons are especially noisy in the early hours of the morning. Day trips are available from Phuket.
Maya Bay, Viking Caves and Monkey Bay Tour (Koh Phi Phi)
Koh Phi Phi is one of the most beautiful resort islands in the Andaman Sea. Visit Maya Bay, otherwise known as "The Beach", Viking caves with their spectacular 1000-year-old cave paintings, and Monkey Bay via speedboat.
Similan Islands Tour
Only 70 km north of Phuket, Khao Lak is the launching point for day trips to the incomparable Similan Islands. Snorkelling tours depart daily from hotels in Phuket. Note that the Similan Island National Park is closed to visitors from May to October.
We have used GetYourGuide successfully many times for our family while travelling through SE Asia. Check out our most recent reviews below:
For more on the Weather in Thailand month by month:
Also nearby to Phuket are Ao Nang, Railay Bay and Koh Lanta which make a great next stop on your holiday around southern Thailand.
What is in Phuket? So much. There is such a great variety of things to see and do on this lovely island. From adventure to relaxation and everything in between, you and your family are spoilt for choice on Phuket.
See you there!