What is Songkran?
The Songkran Festival of Thailand is the Thai New Year's National Holiday.
Songkran takes place from the 13th – 16th of April and is an important date on the Buddhist calendar. It represents the ritual washing away of the sins and negativity of the year before.
The name Songkran comes from a Sanskrit word meaning "passing" or "approaching" Known as the largest water festival in the world, Songkran is one massive friendly water fight that involves everyone!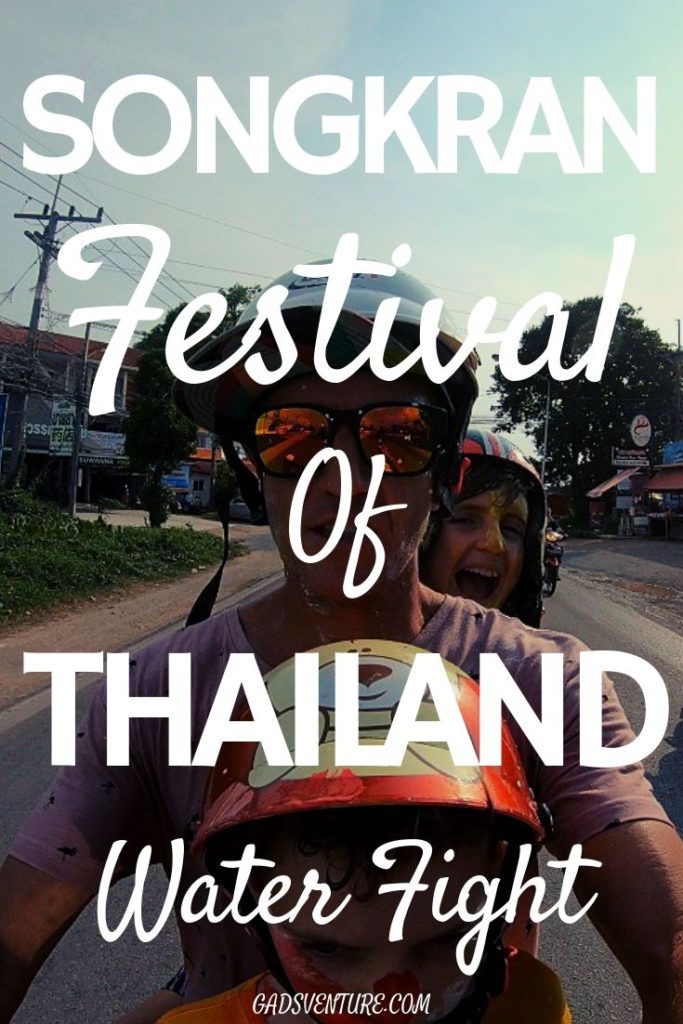 If you get a chance to experience the Songkran festival in Thailand you will definitely never forget this amazing experience.
Best Blog Read Now: Visiting Koh Phi Phi
Songkran in Bangkok
All over Thailand, banks and businesses are closed to celebrate Songkran Festival.
And in Bangkok, the area of Silom sees a massive party. People take to the streets along a 4 km stretch with whatever vessels of water they can get their hands on. They proceed to drench everyone in sight in celebration of Thai New Year. Washing away the old, and bringing in the new.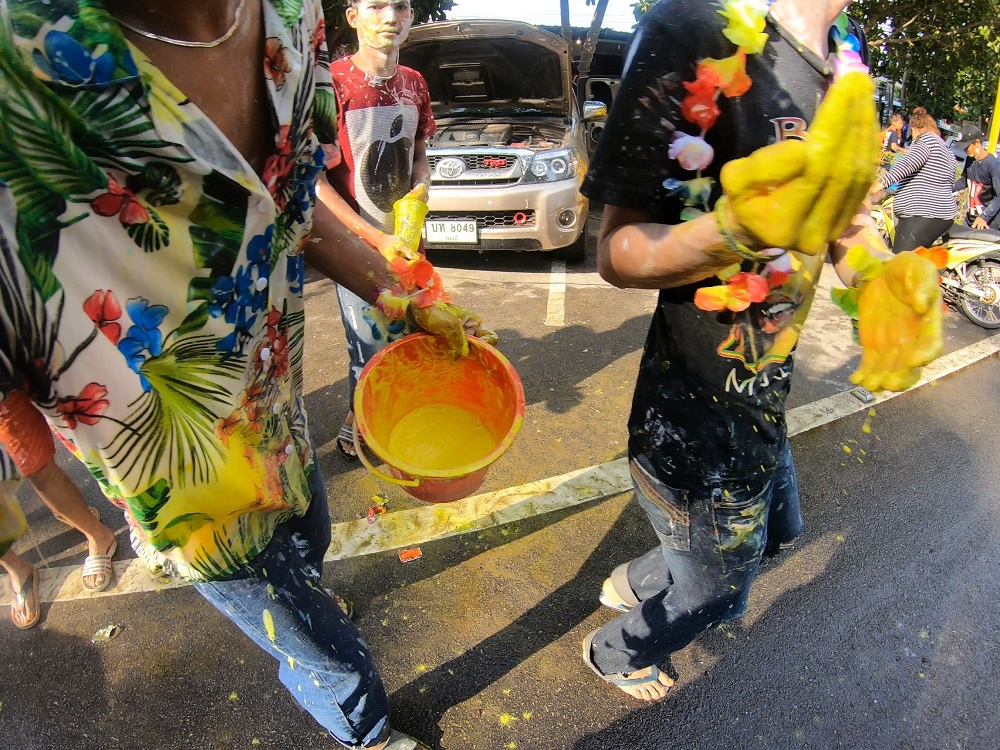 Ao Nang: the Home of Thailand's Best Festival
Luckily for us, and almost by accident we were visiting Ao Nang in Thailand in April. This was right on the weekend of the world famous water fight.
Ao Nang is the heart of the Songkran Festival of Thailand and the local Thais go crazy this time of year.
Check out Places to Stay in Ao Nang Here
Where is Ao Nang?
Take a look at this map to find out where to go!
[mappress mapid="25″]
How to Get to Ao Nang
Flying into Phuket International Airport and getting a ferry transfer across to Ao Nang is how most tourists will arrive. Alternatively, there is an airport at nearby Krabi, and many hotels in Ao Nang will arrange airport transfers from here.
Check out Things to do in Ao Nang
We took a private van transfer from Khao Lak where we chilled out for a few days after arriving into Phuket from Bali.

This time of year Ao Nang and surrounding areas get really busy, so make sure you have your accommodation pre-booked. A lot of extra stalls pop up around this time which caters for the massive crowds on Songkran.
Banks and many local businesses close their doors for a couple of days over the Festival weekend but most tourist places are open.
If you want to avoid the Festival just stay away from the main streets and hideout in your hotel for 2-3 days because you will get wet no matter what.
Read This Now: Visit Railay Beach
Where to Buy your Songkran Festival Water Pistol
If you are going to be involved you are going to need a water pistol! Water pistols can be purchased from almost anywhere, restaurants, markets and 7-Elevens.
Hot tips for purchasing a water pistol:
Water pistols on the street are expensive, expect to pay 750THB for a large gun.
Don't buy a small gun, they break quickly. We learnt the hard way and bought some cheap pistols which broke in the first few uses.
Buy pistols from 7-Eleven, Family Mart or the Tesco Lotusmart for half the price. Expect to pay 300TBH for large. Or better still, bring your own
The pump handle breaks on the smaller water pistols.
There are water fill points along the street, so no need to worry about water shortages.
Best Blog Read Now: 4-Island Tour Krabi Review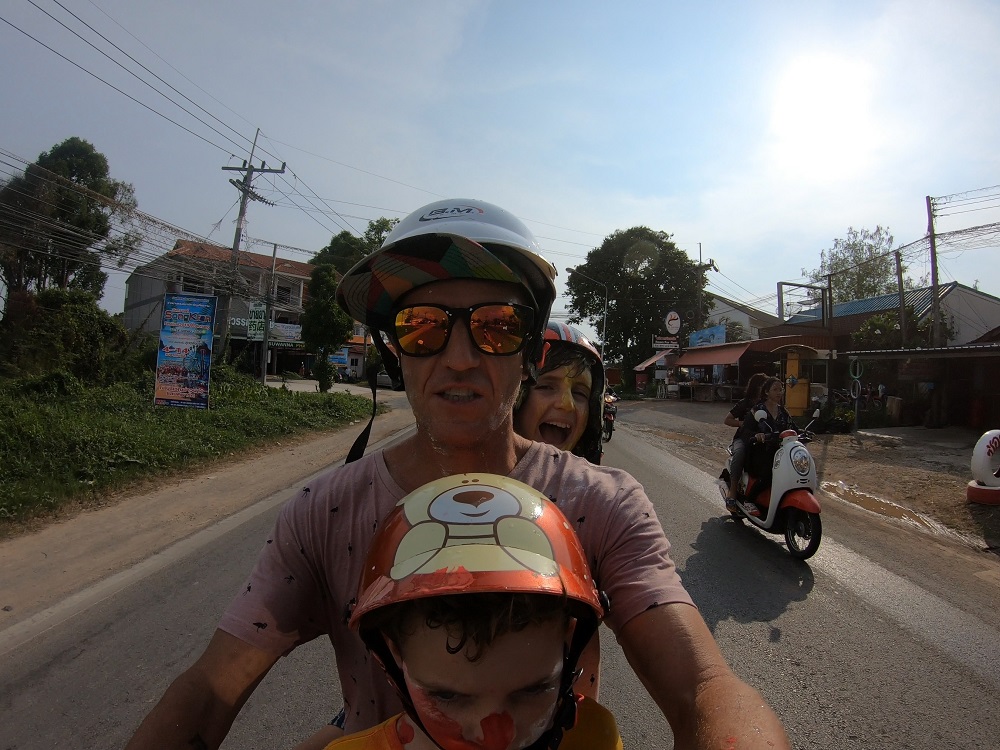 What to Expect When You Hit the Festival Streets
Chaos! Absolute chaos. We were on scooters and had a blast but I'm not sure I recommend driving a car due to the amount of traffic and congestion.
In Ao Nang they have a one-way circuit that parades through town. It crawls at a slow pace.
Locals are riding in the back of pickup trucks with water buckets and guns, some trucks may have 10 people in the back squirting water at you.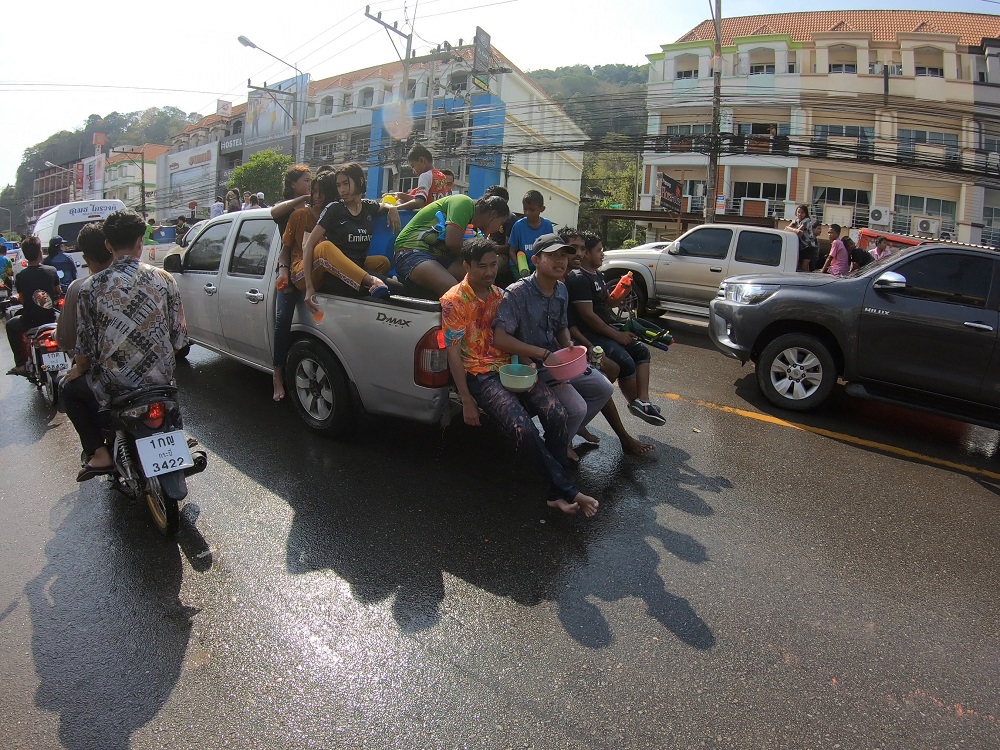 The sidewalks will have Thais with hoses and buckets dousing you in water unexpectantly. This can often come as a shock.
Sometimes it can be freezing cold water, a small squirt or a giant splash. Not only is water being thrown about but food colouring can find its way onto your body as well. Some water is also scented with herbs and perfume.
There are groups of kids walking around with paint. They unexpectantly smear patrons in the face with red, white or yellow. But it is all part of the good fun.
Read This: Best Beaches on Koh Lanta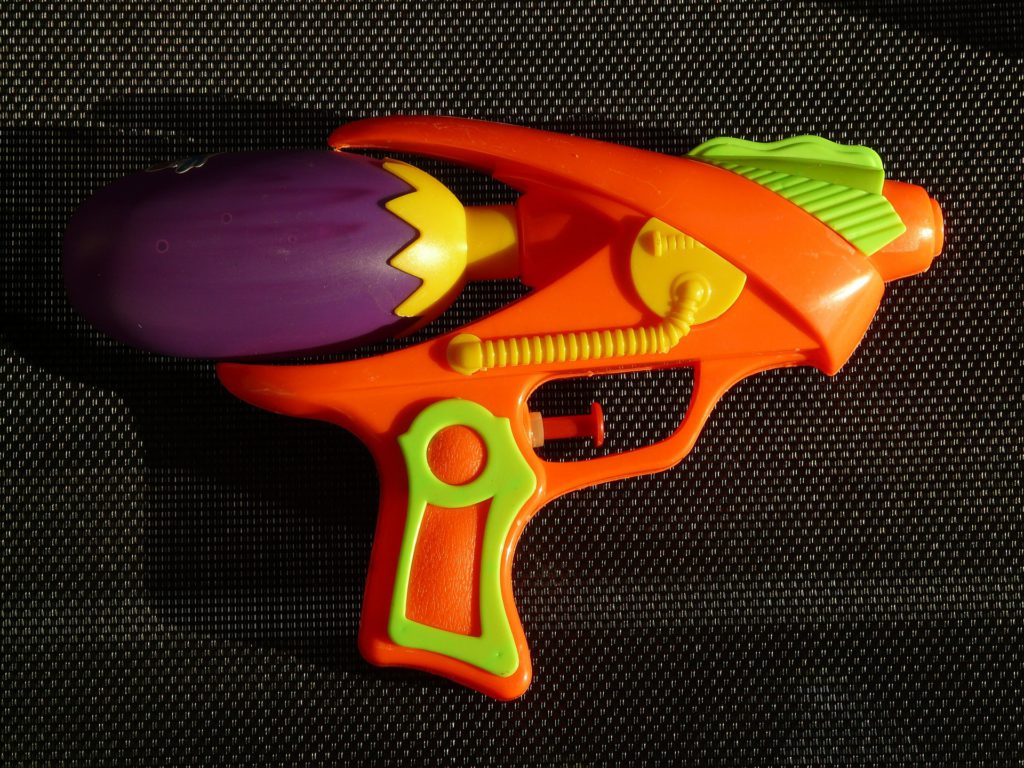 Dangers
Things to look out for when participating in Songkran Festival:
The road can be slippery from water
Unexpected loads of water thrown at you can cause a shock
Many distractions can cause you to have an accident
Try not to swallow the water or drink it (not sure where water is from!)
Wear glasses to protect them from water shots
Protect your valuables from water, carry a waterproof bag
It is busy so watch out for traffic and unexpected excited motorbike riders coming from nowhere
Exhaustion – it is very hot at this time of year so drink plenty of water
Sunburn – cover up or use some sunscreen
Our First-Hand Experience of Songkran Festival 2019
Our family participated in the Songkran Festival of Thailand and absolutely had a ball.
We had two Scoopy scooters for our family. One for the boys and one for the girls. Mum and dad drove while the kids used the water pistols and fired upon anyone and everyone.
This experience was mad! So busy and so wet, we got soaked from top to bottom. The traffic moves super slow. But you can get unexpected motorbikes flying up the gaps so be aware.
We found water-filled drums on the side of the road to fill up our guns which was handy.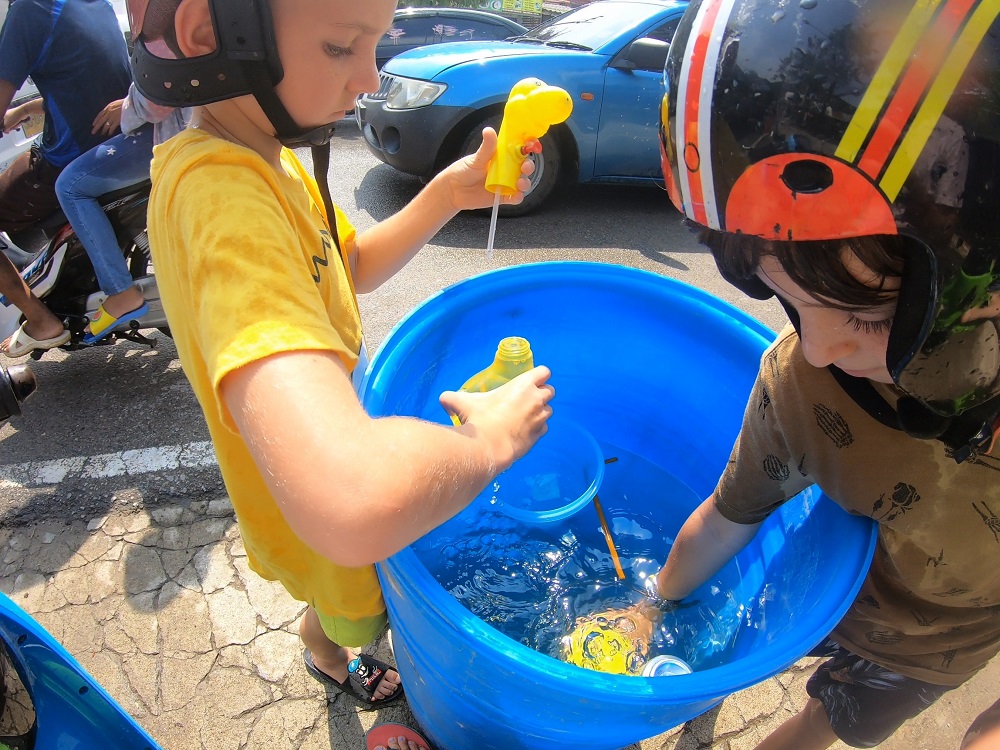 20 Interesting Facts of Thailand
The Weather in Thailand in April
The day we participated was very hot around 35 Degrees so midway we got exhausted and had to hide out in one of the many Ao Nang restaurants lining the street. The problem with the Songkran Festival is that even the restaurant workers are involved so they got us with water also.
Read This Post: The Weather in Thailand (When to Go)
After about 3 hours of water fighting and trying to stay upright avoiding being hit with paint or water we had had enough.
But you can't just escape the madness. It just keeps on going and going! My tip is to keep swapping roadsides avoiding groups of locals with hoses and paint. You can use cars as partial shields also.
In the end, we survived but we were so covered in paint, powder and water. It was such a relief to get back to our guest house and take a shower.
Is it Worth Going to Songkran Festival?
Definitely! Our children loved it and we loved it. It was so nice to participate in the favourite Thailand National Festival.
We enjoyed so many smiles and laughter in Ao Nang for the Songkran Festival that I will never forget.
The only bad part about the whole experience is that it goes for a few days and after doing it once we were not keen to participate the next day.
Watch out! Some locals keep going the next day and if you aren't prepared you could get drenched. My kids were not impressed by this.
If you would like to experience this world-famous water festival for yourself make sure to visit Ao Nang in Thailand in April, you won't regret it!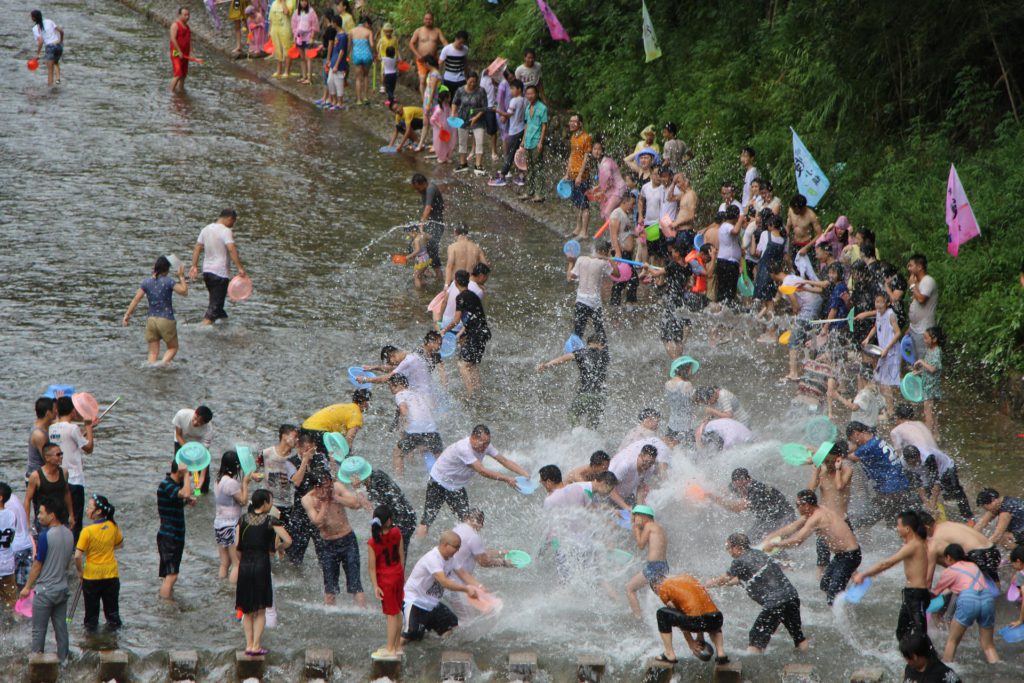 After Songkran Festival is Over
There's heaps of other fun stuff to keep you busy in Ao Nang when Songkran is over. Check out these great tours: