A visit to Cambodia, Siem Reap and the wonderful temples of Angkor Wat would not be complete without stopping in at the Banteay Srei Butterfly Centre.
We spent a great amount of time in Siem Reap, taking in Angkor Wat in 3 days, and visiting the Cambodia Landmine Museum too. (This is a must-see attraction in Siem Reap)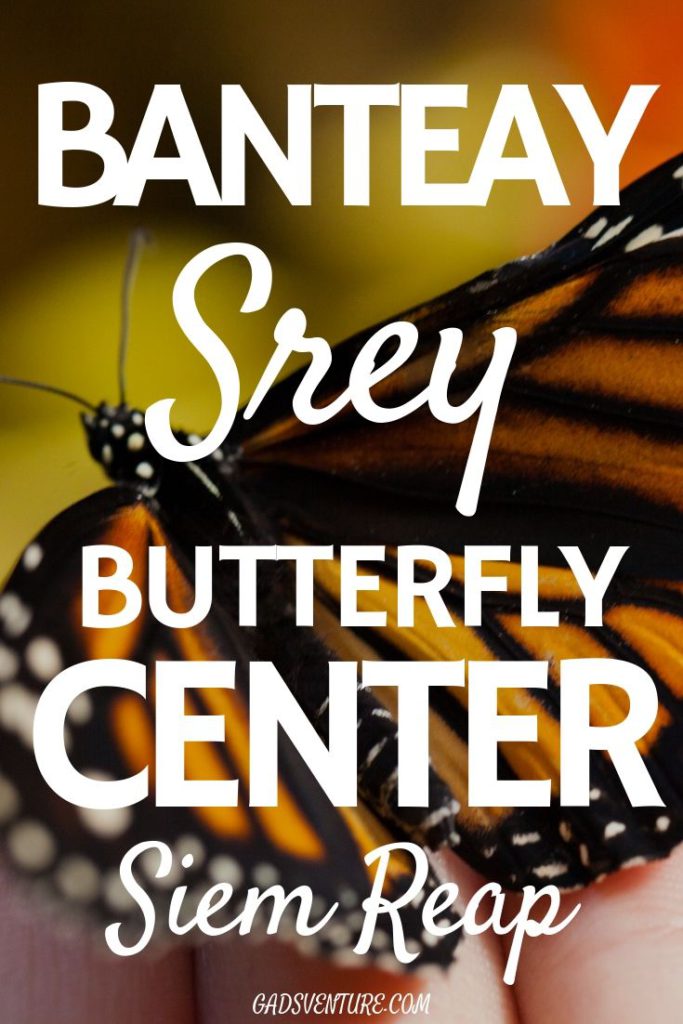 Where is the Banteay Srey Butterfly Farm?
The Bantey Srey Butterfly Farm is located 24 kms outside of Siem Reap. It is often visited as part of your 3 day Angkor Wat itinerary, on the way to the Cambodia Landmine Museum and Banteay Srei Temple.
Banteay Srei Temple is included in your Angkor Wat pass and is one of the most beautiful temples we had seen.
For details on visiting the most famous temple complex, find out all you need to know in this post.
For some other great things to do in Siem Reap besides temples, have a look at these:
How to Get to Banteay Srey Butterfly Farm
By car from Siem Reap, the Butterfly Farm takes about 50 minutes. We were in a tuk-tuk which was closer to 1.5 hours.
It was a beautiful drive through the countryside, with traditional Cambodian villages lining the road. Palm sugar merchants and basket weavers were selling their wares nearby.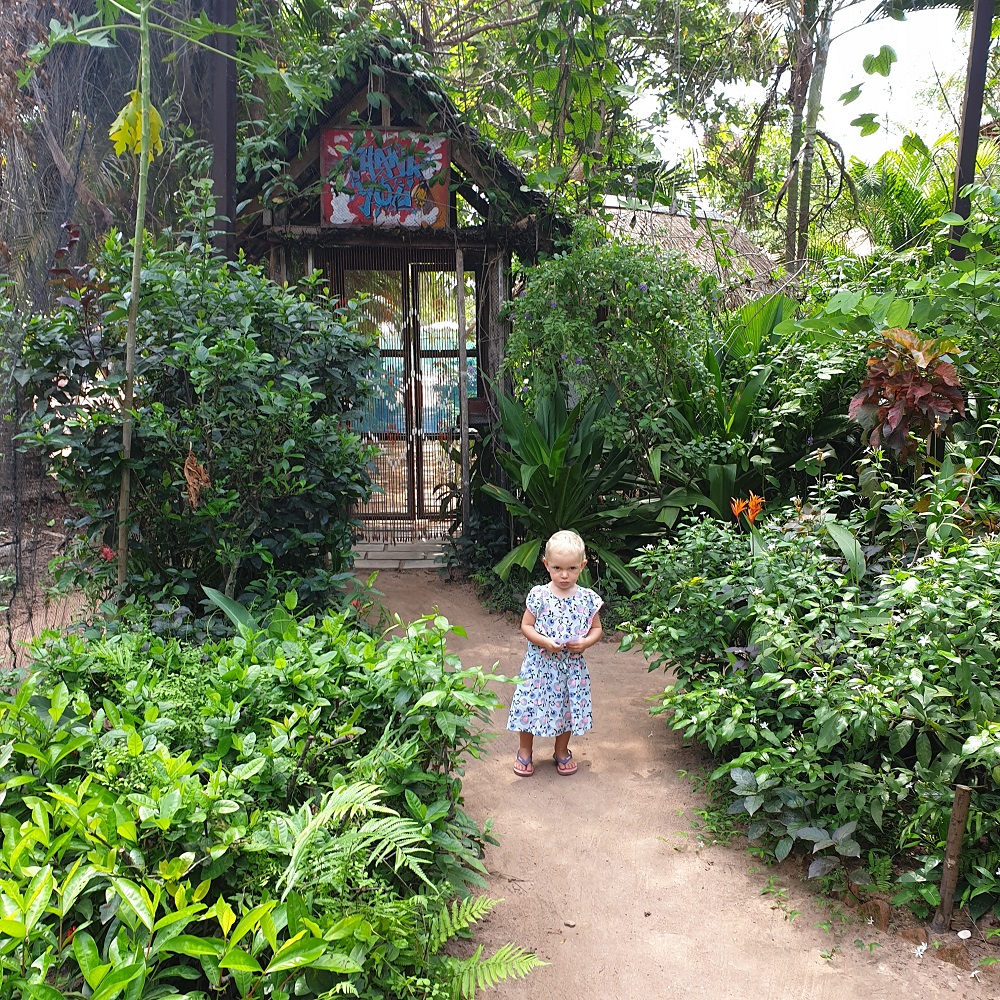 Entrance Fee
Adult $5
Child under 12 years old $2
under 3 free
It is open daily from 9 am until 4.30 pm.
The butterflies are more active in the cooler morning. Avoid visiting during rain, as this is when the butterflies hide out.
The Banteay Srey Butterfly Farm
The Bantey Srey Butterfly Farm is Southeast Asia's largest butterfly farm. As you enter, you are offered a free tour. The guide is very knowledgeable about what goes on here. However, his English was a little bit hard to follow on his excitable spiel at times.
The butterfly enclosure itself a large netted dome with many butterflies flitting about. Narrow pathways weave about through a gorgeous flowery garden. It is mostly shaded and there are a few pleasant seating areas.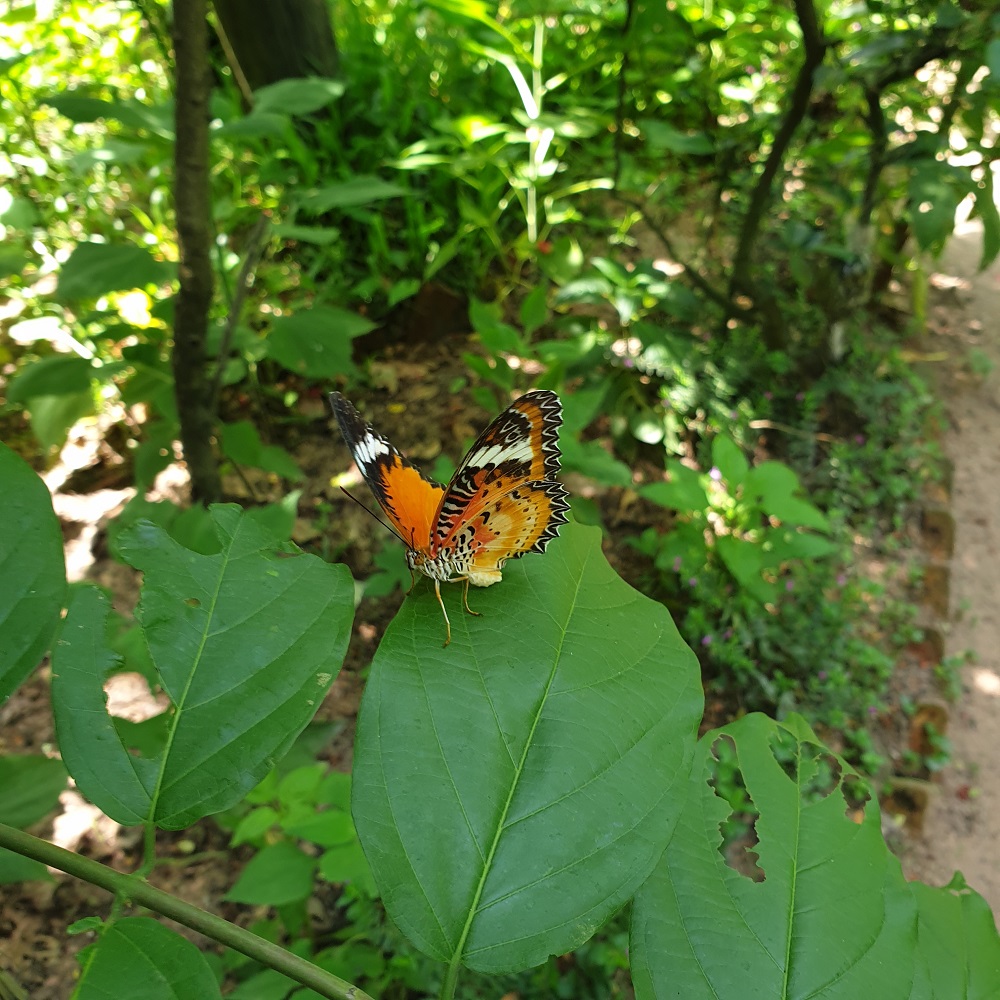 The Banteay Srey Butterfly Centre actually export butterfly pupae and supply many butterfly exhibitions at zoos worldwide.
Seeing the Butterfly Life-Cycle
The guide takes you through the enclosure while describing the different species of Cambodian butterflies found within. He then explains the butterfly life cycle and is able to show you each stage.
They have big boxes containing butterfly eggs which they collect and keep in small climate-controlled containers. Then tiny caterpillars feed on leaves, which turn into big fat caterpillars. These creatures feed on 8 times their own body mass every day. Caterpillars shed their skin several times as they grow.
After 2-3 weeks of eating, they build a chrysalis around themselves attached to a leaf. Special boxes then contain these cocoons which will metamorphasise into butterflies between 10 and 14 days. The caterpillars actually liquify and then reassemble themselves to become butterflies.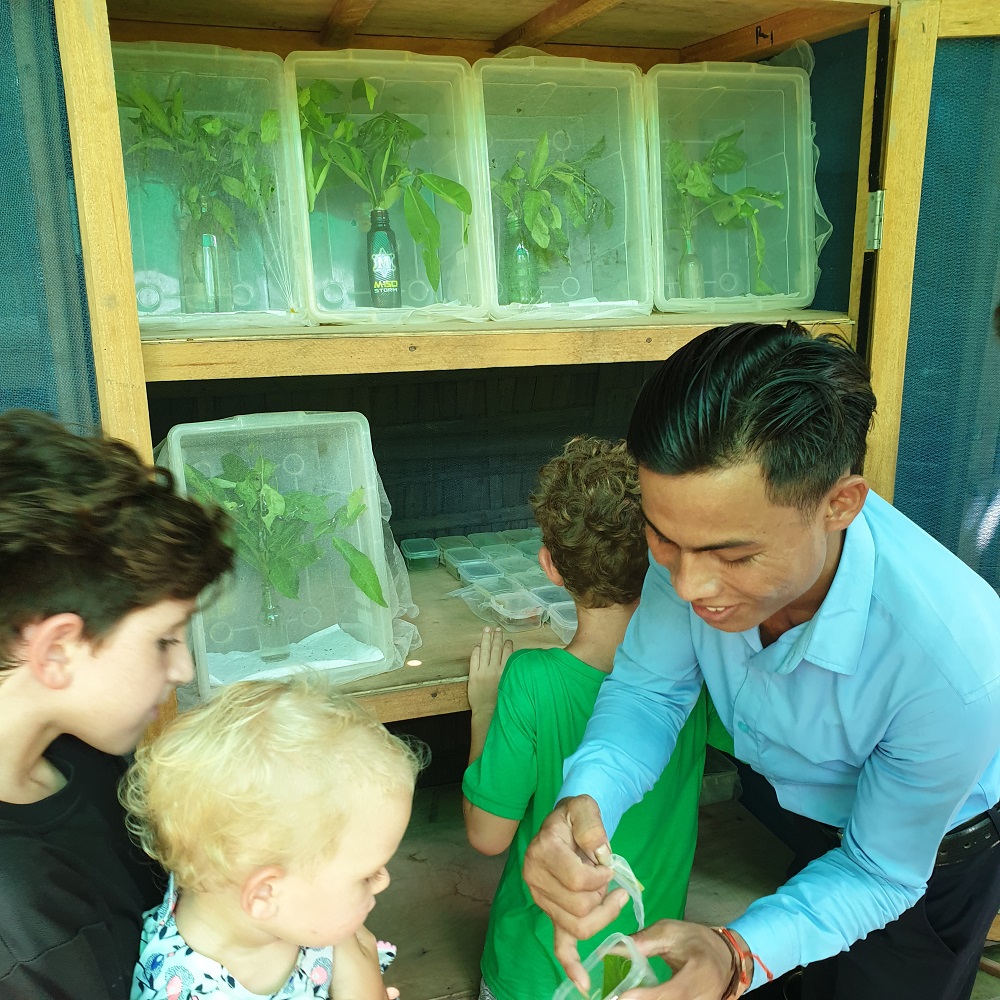 We were able to open the box containing the collected cocoons and allowed some freshly transformed butterflies to fly off into the enclosure. There were still others that were hanging their wings to dry, freshly hatched that weren't ready to fly just yet.
Butterfly Conservation
The Banteay Srey Butterfly Centre contributes to butterfly conservation efforts by partnering with organisations to discourage harmful practices. This includes illegal logging, pesticide use, and slash and burn farming practices. All of which are widely used in Cambodia.
Why we Need Butterflies
Butterflies are important pollinators of wild plants and crops and this is necessary for the production of fruits
As indicators of environmental health
Providers of an important link in the food chain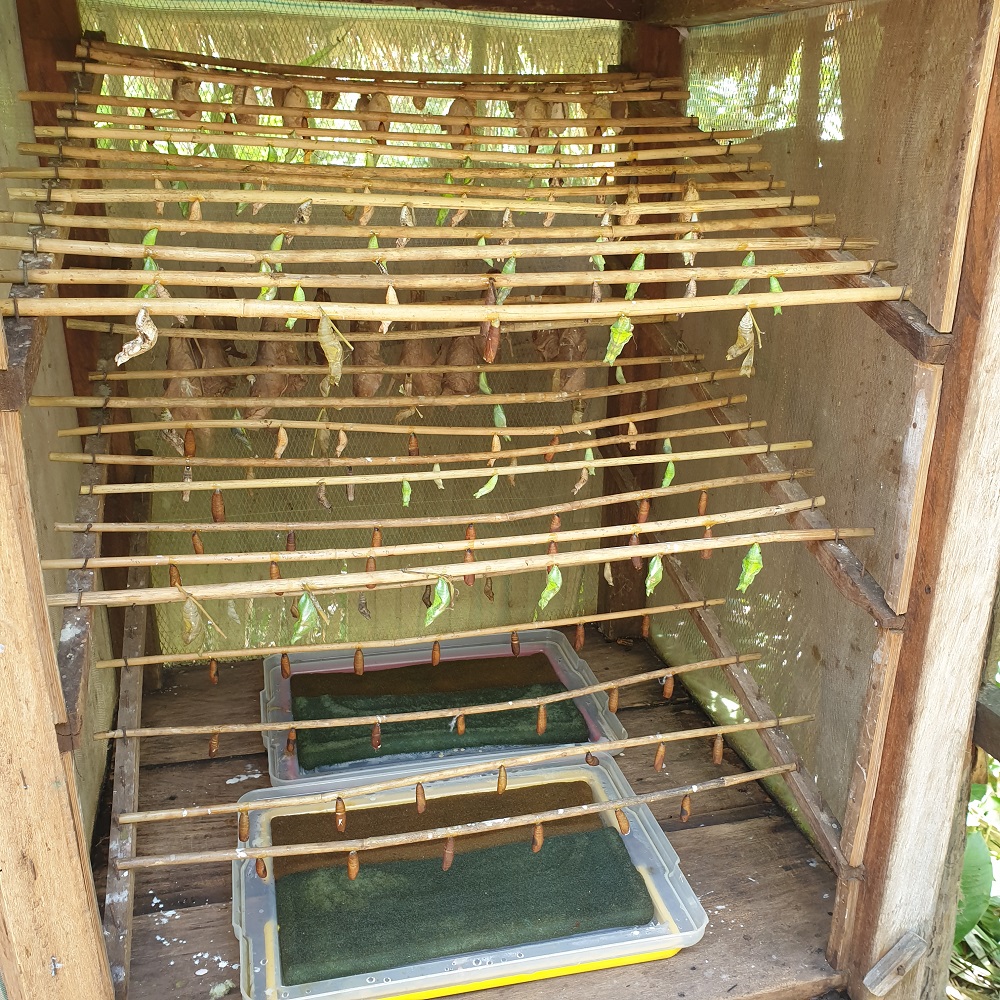 The Banteay Srey Butterfly Centre – The Verdict
The kids enjoyed butterfly spotting, butterfly chasing and playing hide-and-seek among the beautiful garden. They were able to check off each species that they found flying around or feasting on flowers.
They also enjoyed learning some fun butterfly facts
Did you know butterflies taste through their feet?
There are tables and chairs inside the enclosure, where you can enjoy a refreshing fruit shake, or some food if you wish. Prices were quite reasonable. They also had basic toilet facilities on site.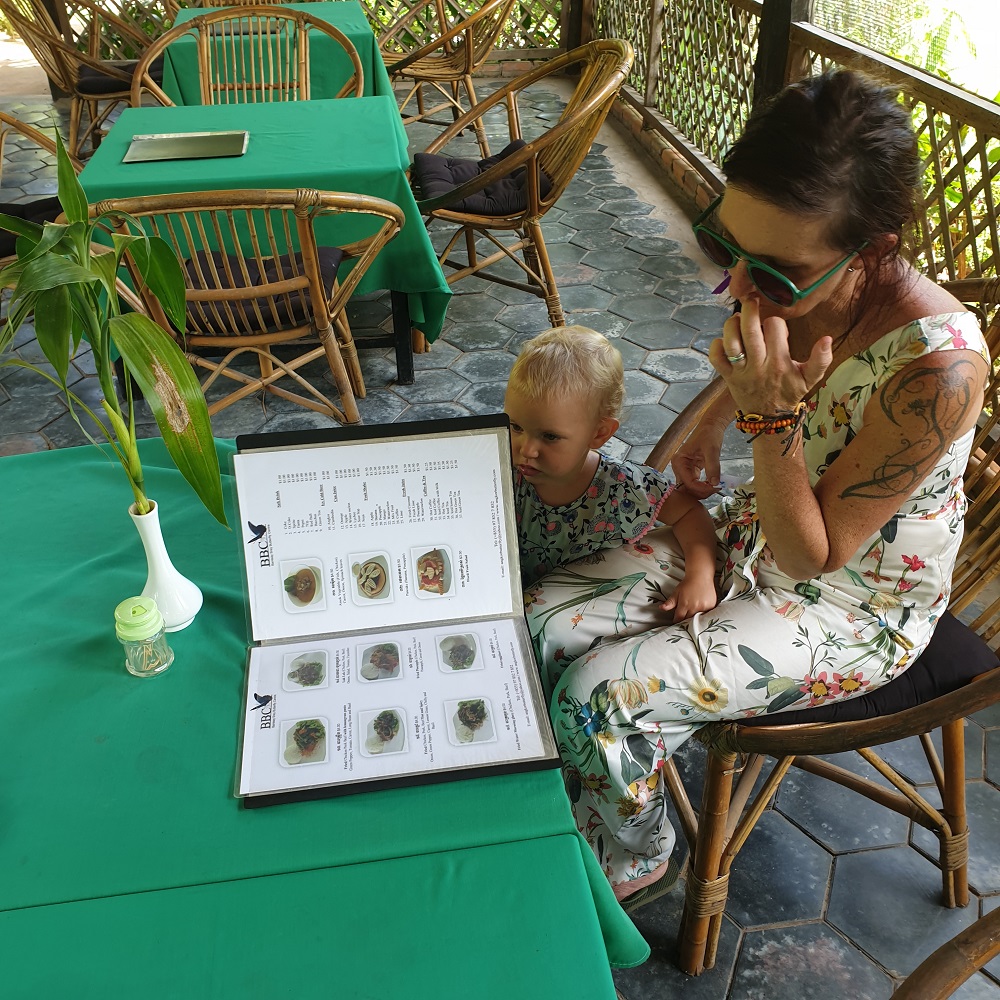 As a tourist attraction, it was a very pleasant way to spend around 45 minutes, and have a green break away from crowds, temples and traffic.
From an educational perspective, they had good signage and the guide was very knowledgeable.
I kind of expected more butterflies, but there were so many in different stages of their life cycle around the enclosure. And we were visiting in the heat of the day. Due to butterfly habits, the earlier the better.
We did see quite a few, and it was cool to see so many beautiful butterflies in an (almost) natural habitat. Seeing especially large butterflies, up close, feeding on flowers was a highlight.
The Banteay Srey Butterfly Centre gets 3.5 out of 5 stars. It is small but educational. If you are driving past, definitely stop in and see for yourself.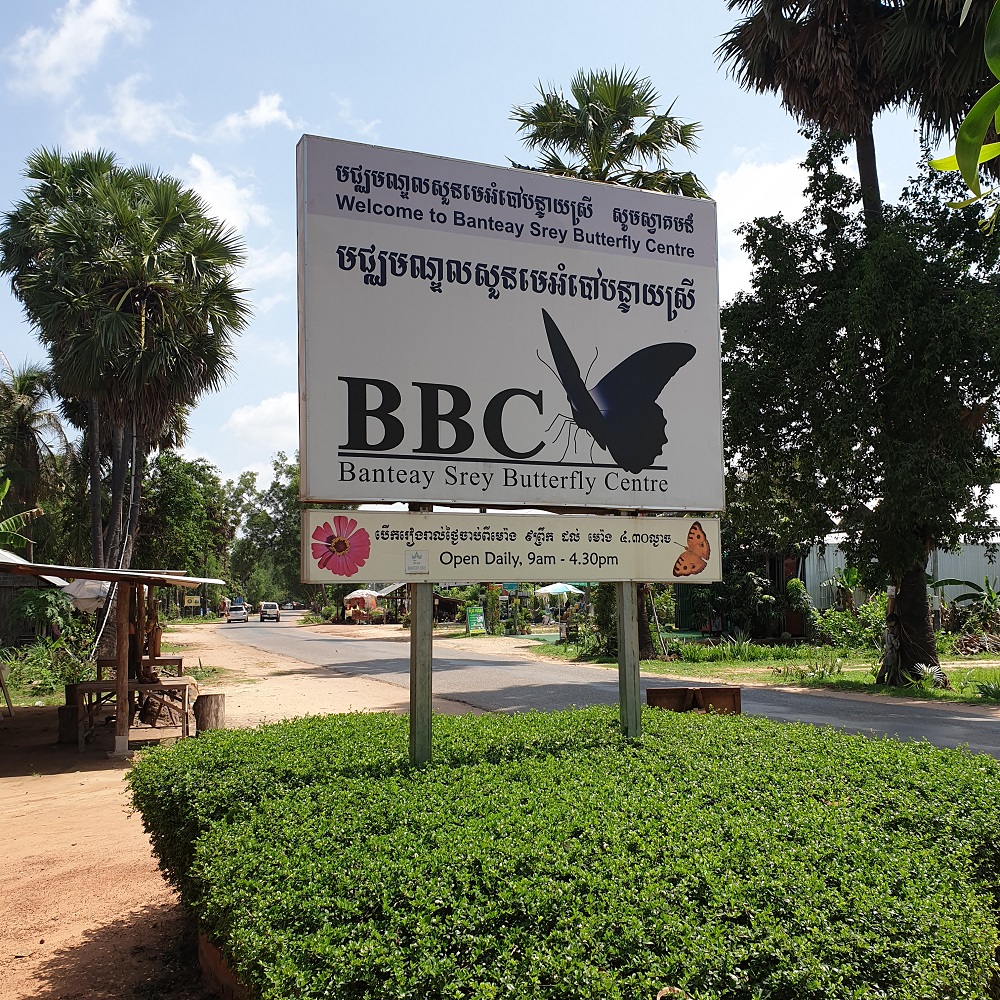 Where to Stay in Siem Reap
For all the details of the best part of town to stay, and the best options for families, and couples from budget to luxury, read this now:
Best Places to Stay in Siem Reap
Where to Eat in Siem Reap
There are so many great Siem Reap restaurants! For all the details, read this: Best Eats in Siem Reap
We have also found the Best Cafes in Siem Reap for you too!
How to get a Cambodian Visa
If you are travelling to Cambodia, you will need a visa. Find out how to get one here.
Travel Vaccinations for Cambodia
Yes, you do need vaccinations for Cambodia. Typhoid and Hepatitis A are highly recommended. Please read this for all the details.
Currency Used in Cambodia
The US Dollar is the most popular currency used in Cambodia, but the Riel is also used. Find out how it all works in this post.
Guidebook for Cambodia
We love using the Cambodia Lonely Planet
How to Visit Angkor Wat
Find out all you need to know BEFORE you visit Angkor Wat here
Follow us on Instagram to check out how the rest of our Siem Reap travels unfold as we take our family of 6 around Southeast Asia.