There are many options for visiting one of the greatest temple complexes in the world. Doing Angkor Wat in 3 days is the most family friendly (and temperature friendly) way that we have found. I will share our full itinerary with you below.
For more advice on travelling Cambodia with kids, Click here.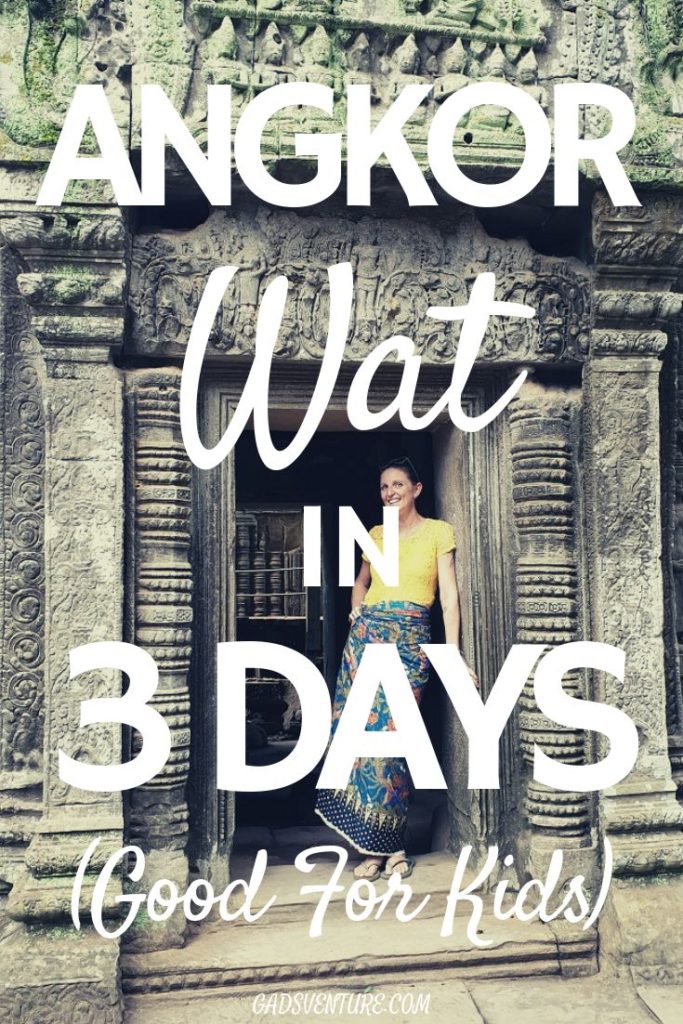 How to Buy Tickets to Angkor Wat
The first thing you will need to visit Angkor Wat is your temples pass. This is only available from the ticket office which is located at Aspara Road, Khrong Siem Reap. There are 3 options for visiting Angkor Wat. Prices are in USD:
1 Day Temples Pass for $37
3 Day Temples Pass for $62
7 Day Temples Pass for $72
Now, the 7-day temple pass obviously represents the most value for money. But most visitors don't have that much time in Siem Reap. So we are concentrating on Angkor Wat in 3 days.
If you wish to visit Angkor from sunrise on day 1, you have to buy your pass the day before at around 5 pm.
The ticket office is a busy place. In the 5 months of 2019 up until May, over 1,000,000 foreign tourists have bought tickets to Angkor Wat. It has definitely increased in popularity since I first visited 15 years ago. In those days, we did the whole lot in 1 day for $20.
The 3 Day Pass
The 3-day pass gives you 10 days validity. That means you don't have to use it up in 3 days, but you can go any 3 days out of the 10. So if our passes are valid from the 12th to the 22nd May, our visits occurred on the 12th, the 14th and the 20th for example.
The best thing about doing Angkor Wat in 3 days is that you can take it all at a snail's pace. Siem Reap is hot and the temples are dusty and busy. It is easy to do half days instead and not get all 'templed out'. You can also avoid heatstroke by biting off more manageable chunks of temple.
When is the best time of year to visit Angkor Wat? Find out here.
Day 1 of Angkor Wat in 3 Days
Day 1 gave us a temple taster tour. This was an opportunity to cruise through the temple complex, pointing out places we wanted to look at more closely.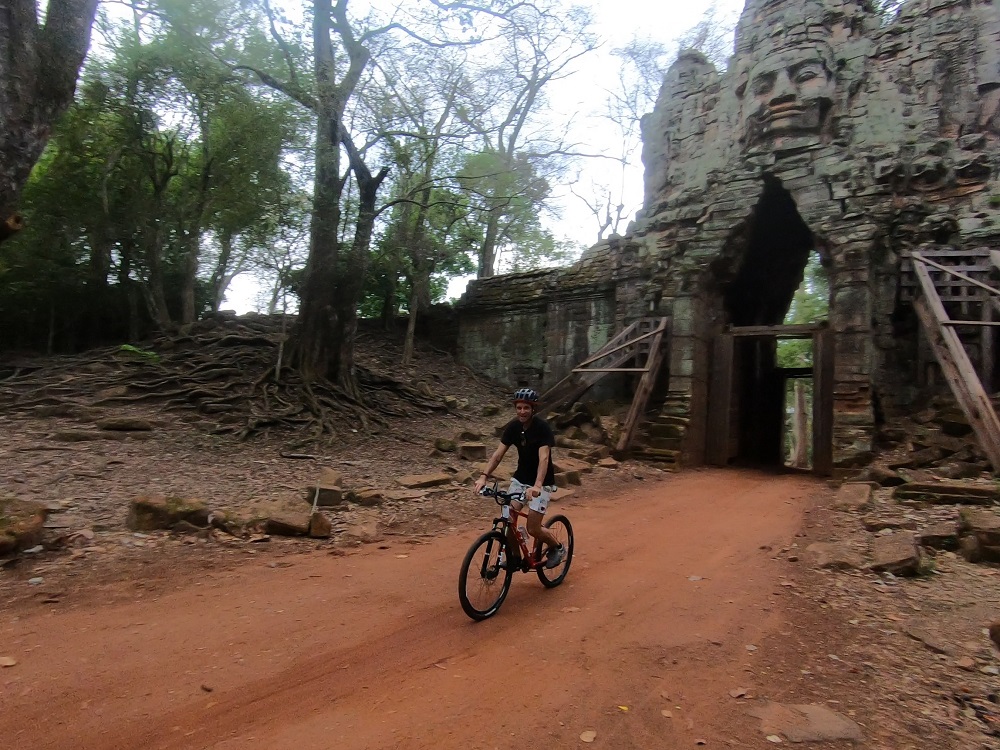 We also hired a mountain bike on this first day. Then rode around the entire ancient wall which surrounds the ruins. This 12 km loop was an easy ride. We got to see all of the incredible 5 gates. Also, 4 secret corner temples that no-one else ever sees. Doing the wall this way allowed us to avoid the crowds of tourists too!
Read the full post of our Angkor Wat Wall Ride Here.
After the ride, which took about 2 hours to complete with plenty of time to stop for photos, we finished with a picnic on the lawn overlooking Angkor Wat and the beautiful moat.
This is a very popular evening activity for Khmer people. The banks for full of locals out for the evening. You can hire plastic mats, hammocks, candles, eskies. Get ice, beer and great food all from the sellers lining the road.
Day 2 of Angkor Wat in 3 Days
Ta Prohm Temple
Opening hours for Ta Prohm Temple 7.30 am – 5.30 pm
After a day of rest, we were ready to tackle the temples again. We wanted to see Ta Prohm, and remembered it as a highlight on our last visit 15 years prior.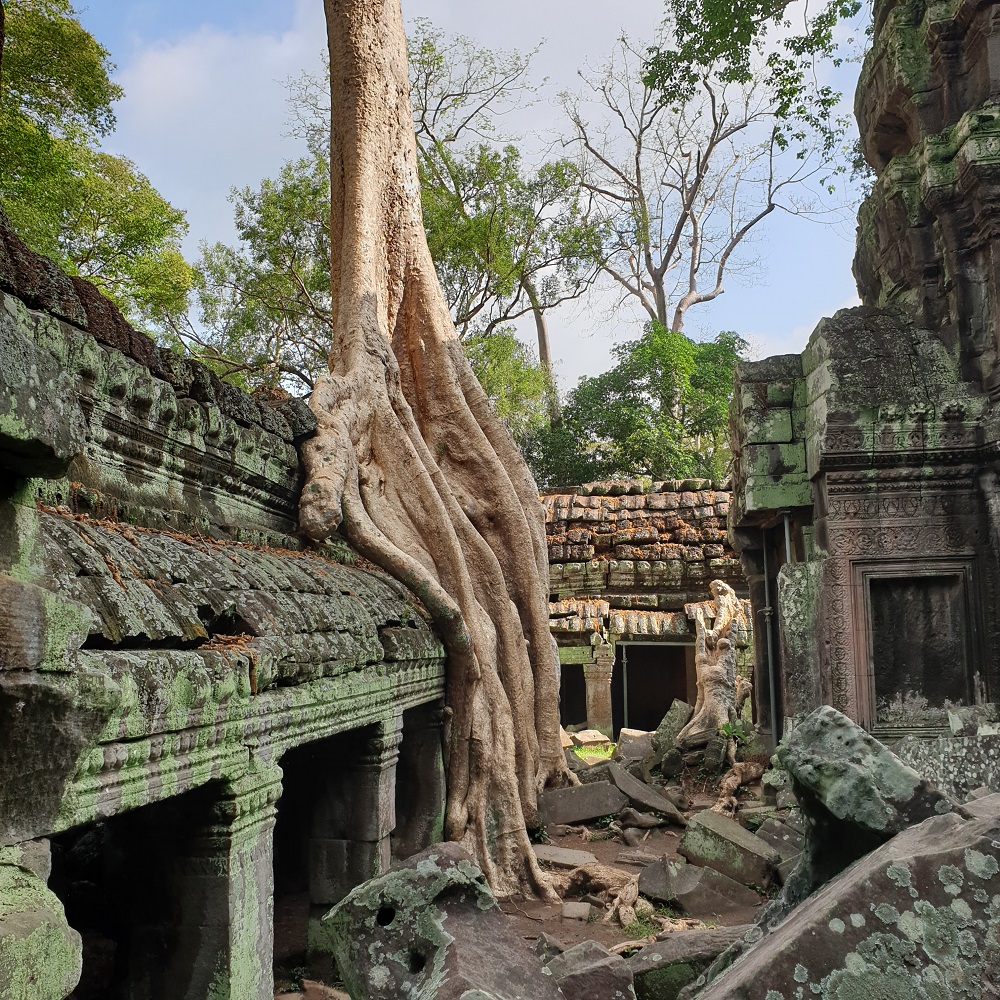 The only problem was the drastically increased visitor numbers and also the huge popularity of this particular temple. So, we made sure to arrive at 7.30 am, just on opening time. And we managed to get the whole place to ourselves for half an hour.
We spent around 2 hours wandering around these impressive ruins. They have restored a lot of it, and ruined much with boardwalks and ugly fences. But it still maintains the magical feel of a very special place indeed.
Ta Prohm was made famous by starring on the cover of the Lonely Planet Cambodia edition. Many backpackers lining up to try to recreate the pic. The same tree was also in the Tomb Raider movie starring Angelina Jolie where Lara Croft picked a jasmine flower.
2 hours in Ta Prohm was enough for us to enjoy the dappled sunlight filtering gently into the majestic temple grounds. The maze-like structure was covered in parts by moss. The banyan trees, hundreds of years old towered over us all, while gradually trying to strangle the temple walls.
Additionally, there are Buddhist nuns inside the temple. They will give you a bracelet and a blessing for a few hundred riel. Or you may prefer to light a stick of incense also. This temple was built in the 12th century AD. Although it was difficult to imagine 80,000 people living here, the presence of this nun somehow gave it a sense of tradition and living history.
Around 9 am, the massive tour groups started arriving, so we made our exit.
Ta Nei Temple
Opening Hours for Ta Nei 7.30 am – 5.30 pm
One of the smaller Angkor temples is Ta Nei. It is in a fairly worse state than many of the others in the complex. However, its remote location further into the jungle along a small dirt track ensures no cars or buses visit so it is one of the lesser visited ones.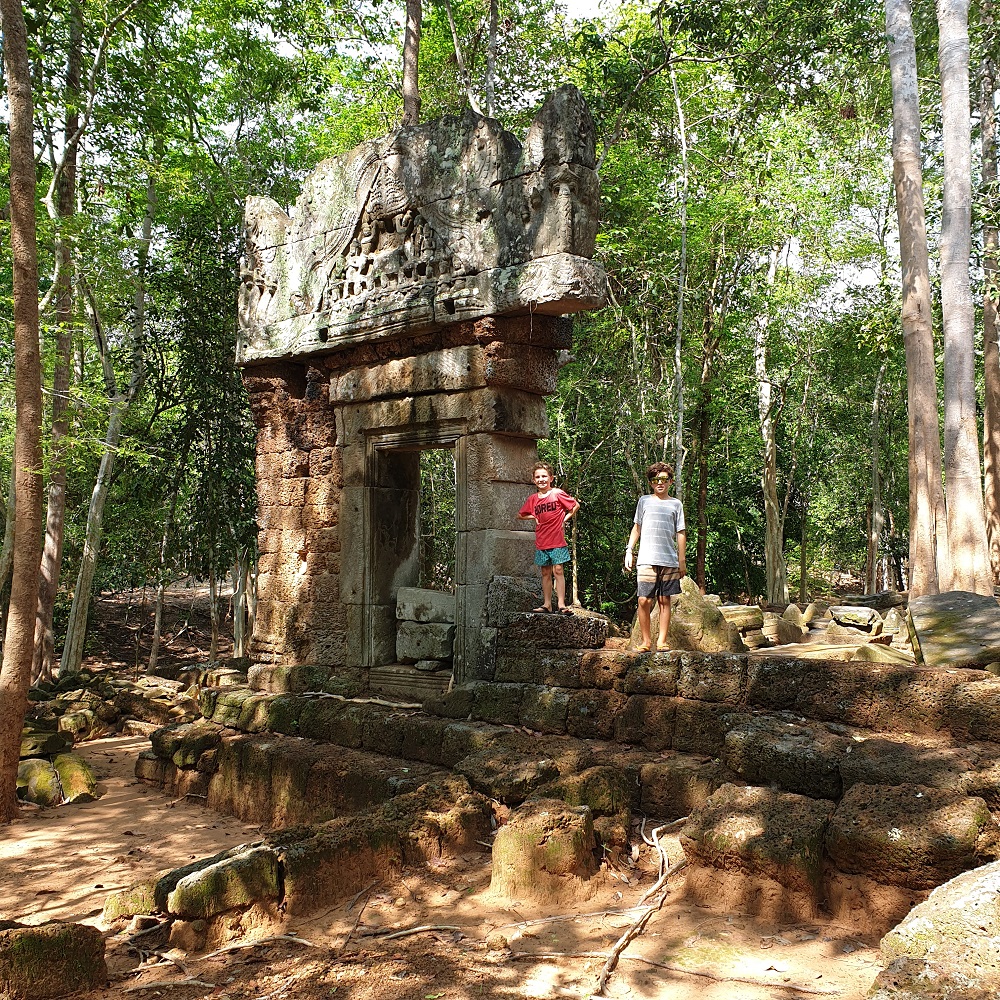 As you approach the temple from the dirt track, you feel like you are one of the explorers discovering the temple for the first time.
Built in the late 12th century and possibly once a hospital, Ta Nei sits all alone in its forest. It is in quite a state of rubble. The outside walls are intact though and you can wander around. Marvel at the wonderful carvings which are still visible through the lichen.
We had this atmospheric temple all to ourselves when we visited and it was quite surreal. Furthermore, the filtered light through the trees provided a wonderful backdrop to the ancient ruins.
Ta Keo
Opening times for Ta Keo 7.30 am – 5.30 pm
Ta Keo is one of the tallest monuments at Angkor Wat. It is a massive pyramid-shaped unfinished temple that was originally dedicated to the Hindu God Shiva and built during the 11th century.
Nobody is sure why building works suddenly stopped, but there are records that say it was struck by lightning, which would have been seen as bad luck.
Preah Khan Temple
Opening Hours for Preah Khan 7.30am – 5.30 pm
Visiting Preah Khan is a must on your Angkor Wat tour. To find it you have to exit the North gate and continue west. Thanks to this, it is also one of the lesser visited temples on the Angkor site.
But it is very impressive. Built by the King to honour his father, Preah Kahn in a huge temple complex. You approach it along a promenade, with a bridge, then through a big gate, and along another promenade before reaching the temple proper. It is a large rectangular fashion with a lot of ruined galleries. There are many cleared and restored pathways to explore.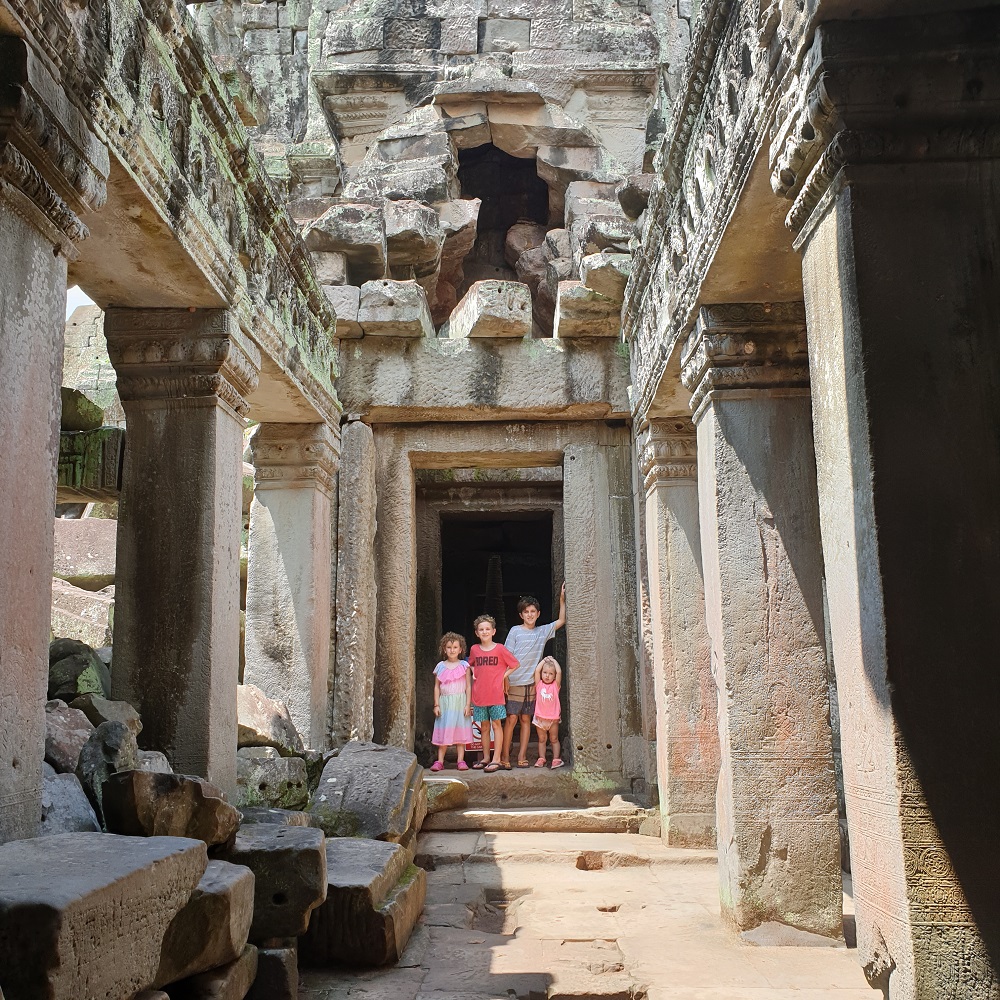 This complex was home to nearly 100,000 attendants and servants. This included 1000 Buddhist teachers and 1000 dancers!
The richness of Preah Khan was evident even though much of it is ruins. It was a beautiful temple, and the gold of its sandstone walls made the light filter perfectly. There are many wells and statues left intact, amazing after so many years. Preah Khan, like all of the Angkor Temples, is under continuous restoration work. As such, many areas are off limits.
The grounds here are especially beautiful with tall trees. The temple is a great place to explore for an hour or more.
The Terrace of Elephants and Terrace of the Leper King
These two large structures lead onto each other and are a fun place to explore. You can climb up to the terrace which is only a few metres above the ground and marvel at the hundreds of elephants and other carvings.
This is a hot site though, in the full sun so we didn't last long here. Definitely worth a stop, but covered with big tour groups too.
Bayon
Opening hours for Bayon 7.30 am – 5.30 pm
This is one of the most famous and most richly decorated temples at Angkor. It was the official palace for more than one king. It's famous for the serene and smiling faces on all sides of its many towering pillars.
The preservation efforts here are incredibly well done and you are able to access most areas within the palace itself. Look for the amazing carvings and bas reliefs on the walls.
Bayon is always busy. But it is huge too. You can always find yourself alone in some hallways or courtyards. It is a spectacular example of Khmer architecture and definitely not to be missed.
Bayon can take up to 2 hours to see every hallway. But we were getting tired by this point. And it was nearly lunch time so we were done in about 45 minutes.
Heading to Cambodia soon? Find out here if you need vaccinations, and how to get your visas. The practical stuff.
Baphuon Temple
Opening times 7.30 am – 5.30 pm Note that this temple does not permit children under 12 to enter.
Baphuon is certainly an impressive site. It is so high and imposing, situated close to the road opposite and amazing Bayon. It is in the middle of the Angkor complex and thus is frequented by many visitors.
Walk along the amazingly preserved and restored pathway atop hundreds of pillars to reach the beautiful structure. Baphuon stands three tiers tall and is over 100 metres by 100 metres at its base. This temple was built on sand so was largely unstable for much of its almost 1000 year lifetime.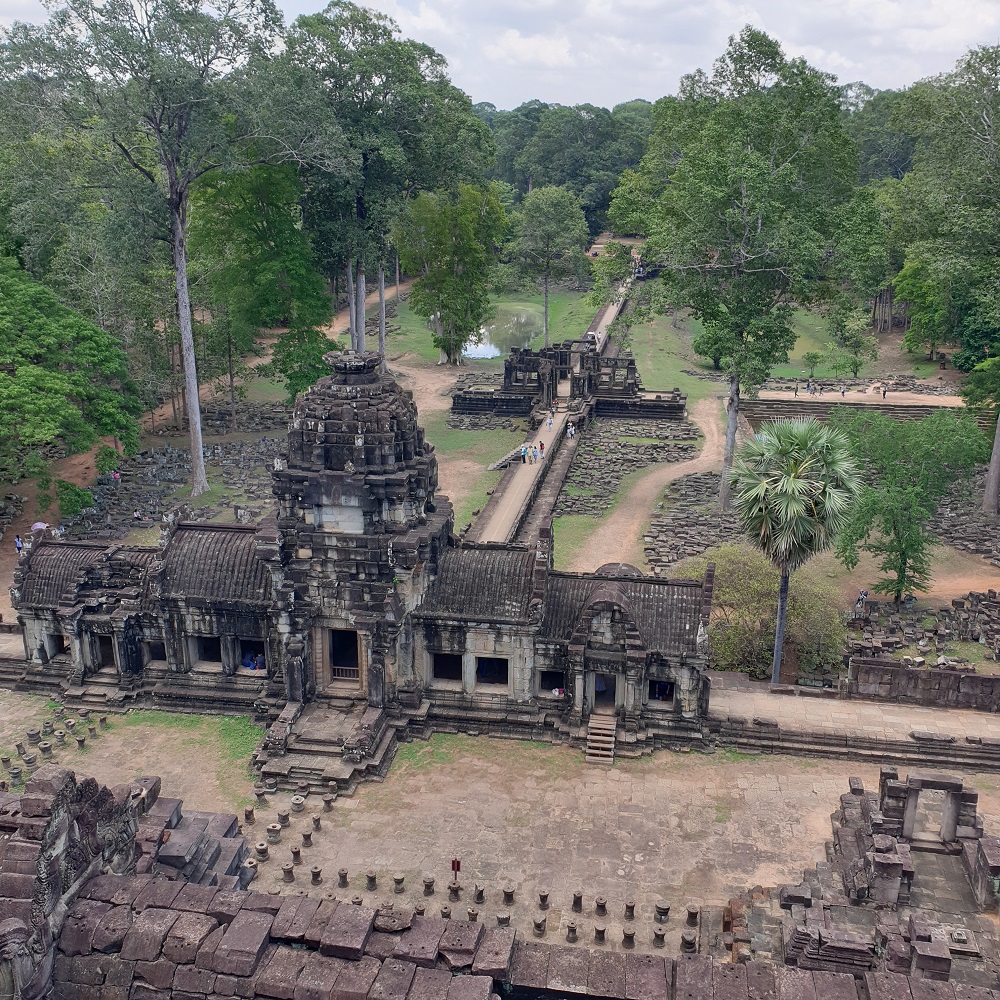 Restoration efforts were interrupted by the coming to power of the Khmer Rouge. During this time, all of the records and mapping of the block position were destroyed which certainly hampered efforts. It took 51 years and a combined international team effort to fully restore the temple to its current glory.
No Kids Allowed
Unfortunately, children under 12 years old are not allowed to enter the temple. This is because the stairs are incredibly steep and it would just be too dangerous for kids.
I waited at the bottom of the temple among many beautiful shady trees and rubble. With my 4 kids who are all under 12. Only my husband got to climb to the top of this structure without me. He reported a lovely view of the grounds below, but the temple is so impressive from the ground, too. (I think he was just trying to make me feel better because I didn't get to climb it.) Luckily we had visited here pre-kids too, and I had already climbed Baphuon.
At the end of day 2, we were all done and dusted (and dusty) by 2 pm. Perfect timing for an awesome hearty Khmer lunch back in town.
Read This: Things to do in Siem Reap Besides Temples
Day 3 of Angkor Wat in 3 Days
On day 3 we returned after a couple of days relaxing in Siem Reap. Finally, we got to see the most famous place of all, Angkor Wat. Doing this last day at sunrise would be amazing. But we were running late and so got there around 7 am instead.
Angkor Wat
Opening times 5 am – 5.30 pm
Most importantly, Angkor Wat is the largest religious monument in the world on the site measuring over 400 acres. It was originally built as a Hindu Temple dedicated to the god Vishnu. This was back in the early 12th century. Gradually the temple transformed to Buddhist faith.
Secondly, Angkor Wat is the symbol of Cambodia, appearing on its national flag. It attracts millions of visitors yearly as the country's main tourist attraction.
The huge moat surrounding the temple, the 5 amazingly preserved towers and the large stacked galleries take a lot of time to explore. That is why we left it until last. So we could appreciate the grandeur of this most beautiful place in Cambodia. The temple is still an important Buddhist centre. As such, there are many orange-clad monks within.
We spent around 3 hours clambering through doorways, up and down steep stairs. Admiring stunning examples of carvings and bas reliefs along the way.
Avoiding the Crowds at Angkor Wat
We were there with a big crowd, all coming to see this amazing spectacle. But it was still possible to find some peace amongst the chaos. The temple is just so immense.
Try to enter not through the first and second doors, instead go down to the third door. All the big groups go through the first two.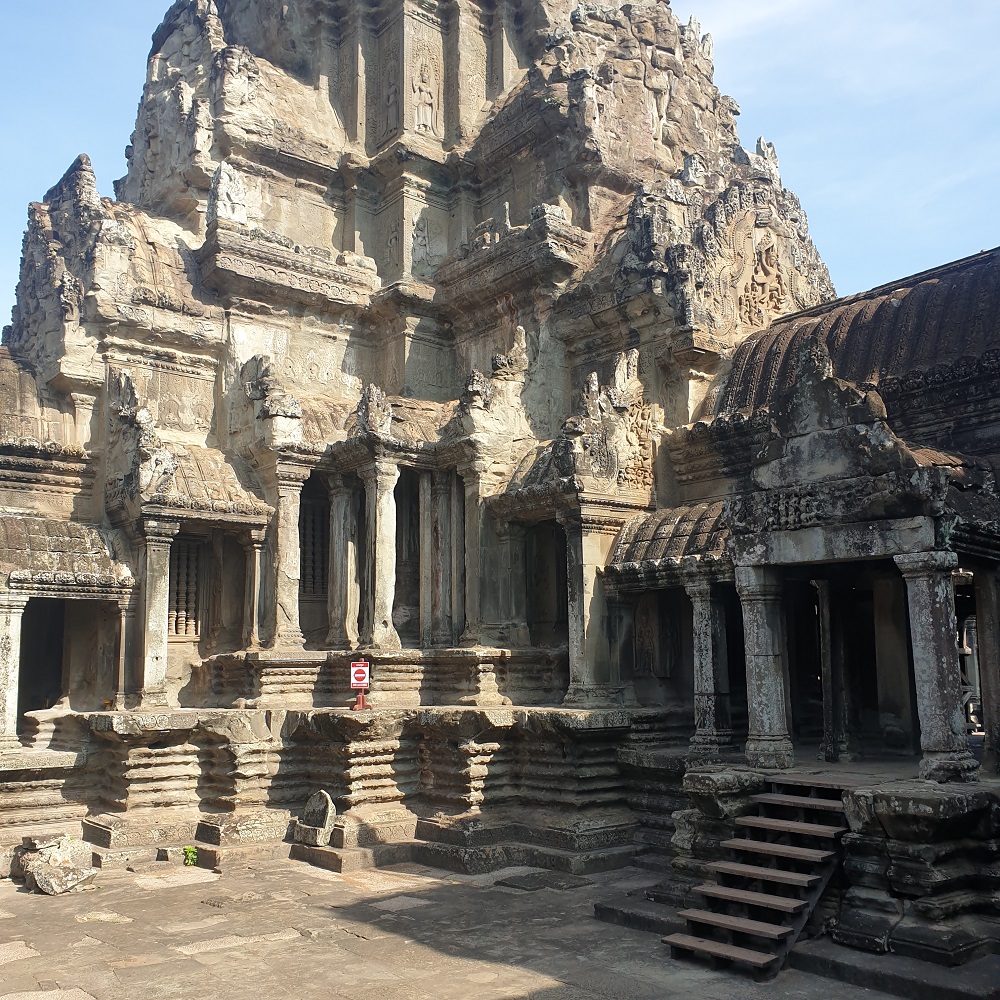 Moreover, after going all the way through the centre of the big and grand temple, exit by heading around the galleries. These long hallways surround the main temple building, and the walls are covered with the most astounding carvings.
You may have this hallway all to yourself, we did. This is like living history, observing the pictures which really tell a story. Amazing that they have survived intact for so long. They used to be all brightly coloured, and in some places you can still see remenants of this.
Likewise, time it right to climb up the steep stairs to the very top temple floor. There is often a cue, and you may find yourself stuck behind a crowd of Chinese tour groups if you are not careful.
Note that children under 12 years old are not allowed to climb up the steep tower.
Additionally, there are many rules when visiting this and all of the Angkor Temples. We found the Chinese tourists to, unfortunately, ignore most of these. They regularly had knees and shoulders showing, and were disrespectful of the 'be quiet' and 'no smoking' rules. Even our young kids noticed this.
Find out all the rules for visiting Angkor Wat here.
Pre Rup
Opening Hours for Pre Rup temple 7.30 am – 5.30 pm
Pre Rup is an awe-inspiring temple built in the 10th century AD to honor the Hindu God, Shiva. It is one of the oldest temples on site. The two outer temples are crumbling and tilting outwards at an alarming angle, and will soon overpower the wooden struts holding them up. The orange bricks used in Pre Rup are smaller than the huge blocks in other temples, in alignment with its older age.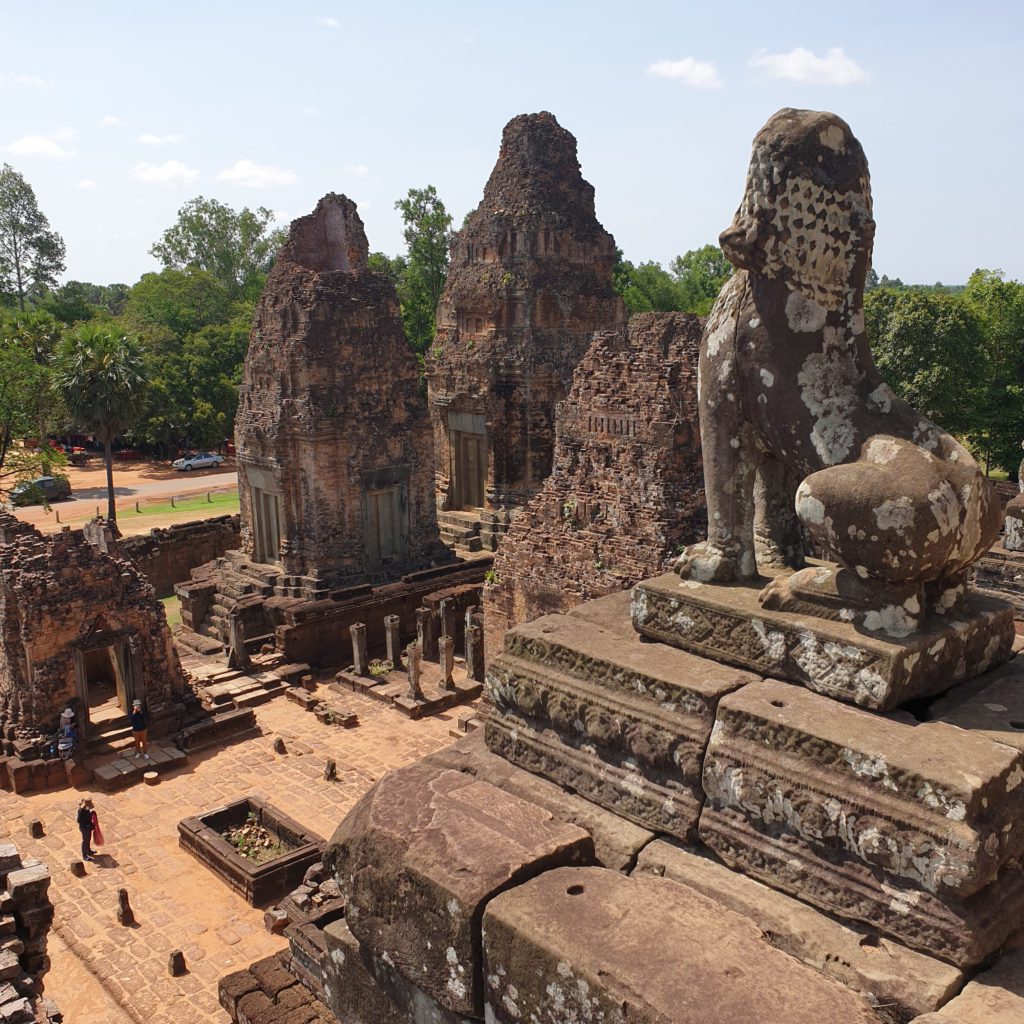 Pre Rup retains some air of mystery as they are not really sure what it was used for. Some reports indicate the possibility of an ancient crematorium, but this has not been confirmed.
Whatever its use was, it is a stunning temple to visit, nonetheless.
Banteay Srey Butterfly Centre
Opening Hours 9 am – 4.30 pm
Entrance Fee: $5 Adults, $2 Kids
On the last day of our Angkor Wat tour, we decided to head out to the Banteay Srei Temple which was a further 20 km away from the main Angkor Temple complex. But it is still covered by your 3-day pass to Angkor Wat.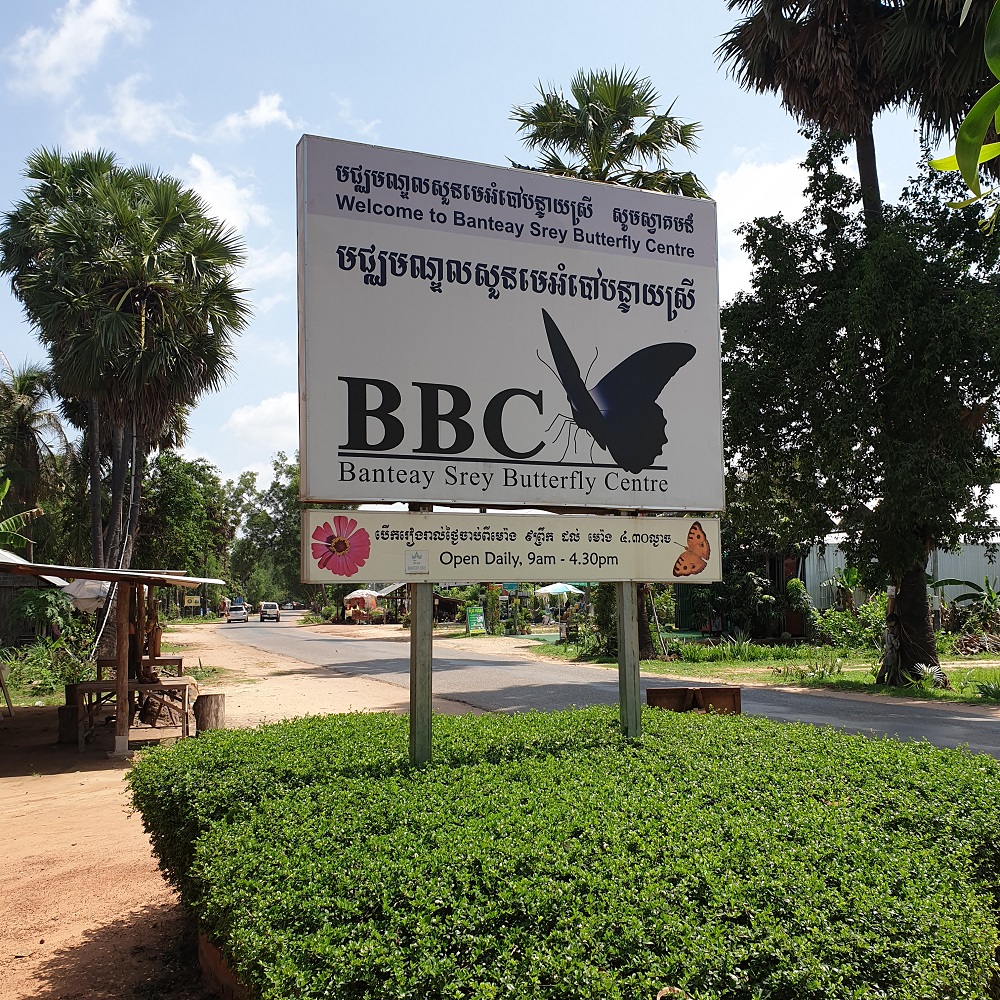 In addition, on the drive out, we stopped at the Banteay Srey Butterfly Centre. This was a relaxing green visit with many butterflies in a garden filled enclosure. We were able to enjoy some refreshments here too.
Read our full review of the Banteay Srey Butterfly Centre here.
Cambodia Landmine Museum
Opening Hours 7.30 am – 5.30 pm
Entrance Fee: $5 Adults, Kids Free
This was a very sombre but important stop on the way to our final temple. The Cambodia Landmine Museum is an incredibly informative look at the terrible legacy of landmines in Cambodia. Furthermore, it has a focus on demining the country and looking forward to the future of Cambodia.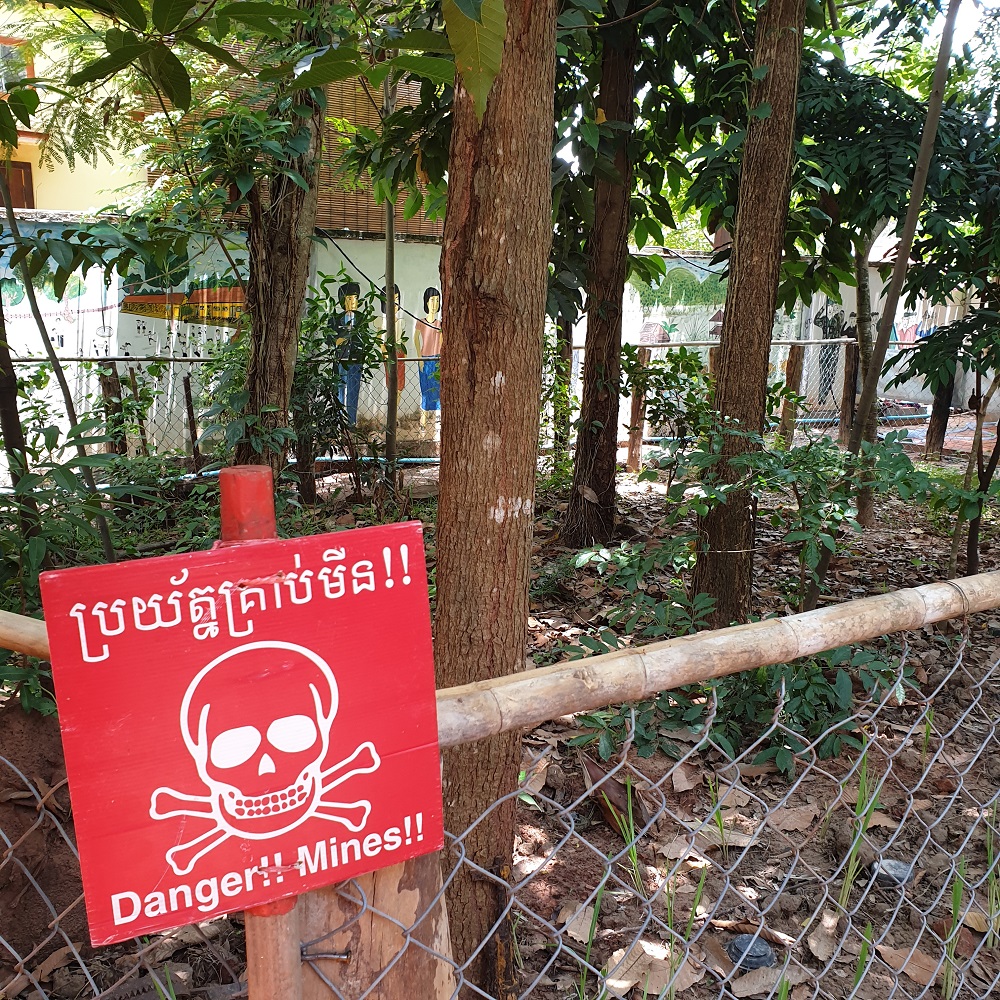 For our full review of the Cambodia Landmine Museum, Read This.
Banteay Srei Temple
Banteay Srei Opening Hours 7.30 am – 5.30 pm
The temple of Banteay Srei was definitely worth the trek out the extra 20 km. After all, it was one of my all time favourite places. Known as the Citadel of Women, the temple is almost pink in colour. Plus, the exquisite carving details are the best I had seen anywhere in Angkor. They are almost 3 dimensional in places. The temple was finished in 967AD making it one of the oldest at Angkor Wat.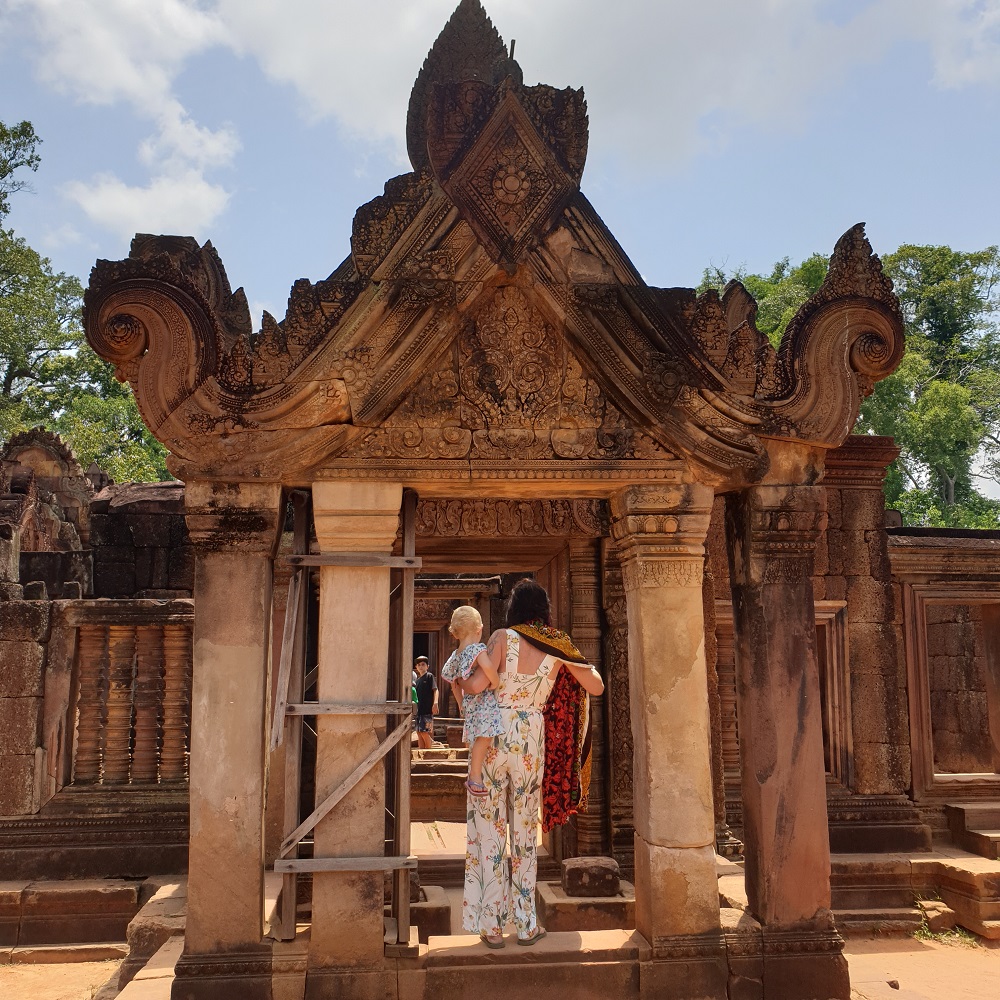 It was my favourite. If you only have one day to visit Angkor Wat, I recommend seeing Banteay Srei as your number one temple. You can visit it as part of a tour with GetYourGuide. Check prices below:
3 Days at Angkor Wat
This was such an amazing once in a lifetime experience (or twice if you are me). I fully recommend getting the 3 day pass for Angkor Wat. You can experience the temple at your complete leisure. The kids remained interested and gained a great education from visiting such important religious structures.
Other Information for Visiting Angkor Wat
You can find food and drink sellers, toilets, clothing shops and other conveniences throughout the park too. Toilets are free if you show your ticket.
Remember to have your knees and shoulders covered to respect the religious significance of the site. However, if you forget, you can buy sarongs and scarves on site. Also, keep your ticket on you at all times, as you are frequently asked to show it.
Getting Around Angkor Wat
We chose to do it ourselves as the cheapest option. So we hired a tuk-tuk driver for the 3 days at between $12 – $15 per day. Thankfully, Khmers don't have to pay entry to the temples. This guy had a map of the area, and we already knew some of the places we wanted to see at the same time. So we had a bit of a plan.
The tuk-tuk was shaded and comfortable. It takes about 30 minutes to drive to Angkor Wat from Siem Reap. Our driver picked us up from our hotel each day. Angkor Wat in 3 days was just perfectly done.
Angkor Wat with GetYourGuide
Not keen to arrange it on your own? Comparatively, GetYourGuide has a variety of 1 to 3-day tours that take care of everything for you. GetYourGuide also arranges hotel transfers, and you can even pay by credit card online. We have used them heaps as our booking agent for tours in boat tours in Thailand and white water rafting in Bali. You can check prices and compare locally with the links below.
These are some of the most popular 5-star small group tours at Angkor Wat. They all depart from Siem Reap hotels:
Have you been to Angkor Wat? If it's on your bucket list, what's stopping you?!
Things to do in Siem Reap besides Angkor Wat
It's true, many people only visit Siem Reap for the temples. But if you look deeper, you will find so many awesome attractions that are begging to be explored here! There is so much to do!
Where to Stay in Siem Reap
We had a massive interconnecting family room at Naga Gate Boutique Hotel. It had 2 big king-sized beds, plus 1 king single, 2 bathrooms, a gorgeous pool and breakfast included. All for $67US per night. It was a couple of km from town, but they provided a free shuttle twice a day, and free airport transfers.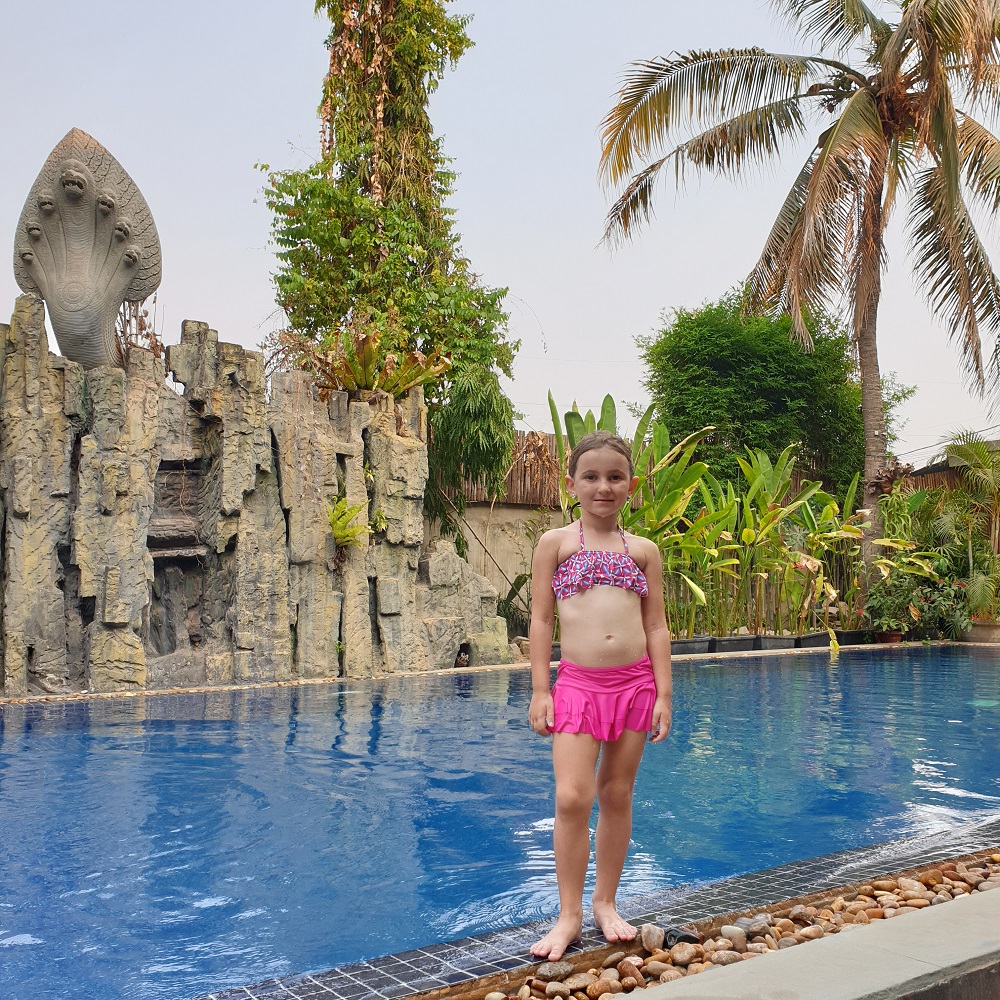 What's more, we stayed for over 2 weeks we liked it so much! The staff were so lovely and much of the time (low season) we had the entire hotel to ourselves.
Siem Reap is a compact city, with a lot of different locales. To find out the best neighbourhood for your stay, and find the best hotels in your budget, read this post: Where to Stay in Siem Reap
Read this for 18 more fun things to do in Siem Reap, besides Angkor Wat.
Where to Eat in Siem Reap
There are so many great Siem Reap restaurants! For all the details, read this: Best Eats in Siem Reap
The Cafe culture here is alive and well too. We found the 8 best Siem Reap cafes for you!
How to get a Cambodian Visa
If you are travelling to Cambodia, you will need a visa. Find out how to get one here.
Currency Used in Cambodia
The US Dollar is the most popular currency used in Cambodia, but the Riel is also used. Find out how it all works in this post.
Guidebook for Cambodia
We love using the Cambodia Lonely Planet
How to Visit Angkor Wat
Find out all you need to know BEFORE you visit Angkor Wat here