Let's face it. Siem Reap is a fun city! It is full of fantastic activities and attractions to keep you busy for weeks. Come for Angkor Wat, but stay for all the excitement Siem Reap has to offer. Follow our journey as we take you through the most fun things to do in Siem Reap other than temples.
We did Angkor Wat in 3 days. See our full itinerary here. We even managed to avoid the massive crowds!
The 3 day pass for Angkor is valid for 3 days out of 10 days. That means you may have 7 spare days where you are searching for other fun things to do in Siem Reap. We spent a month in this city exploring it with our 4 young kids. Let me tell you, they are not always easy to please, and we have to keep them entertained.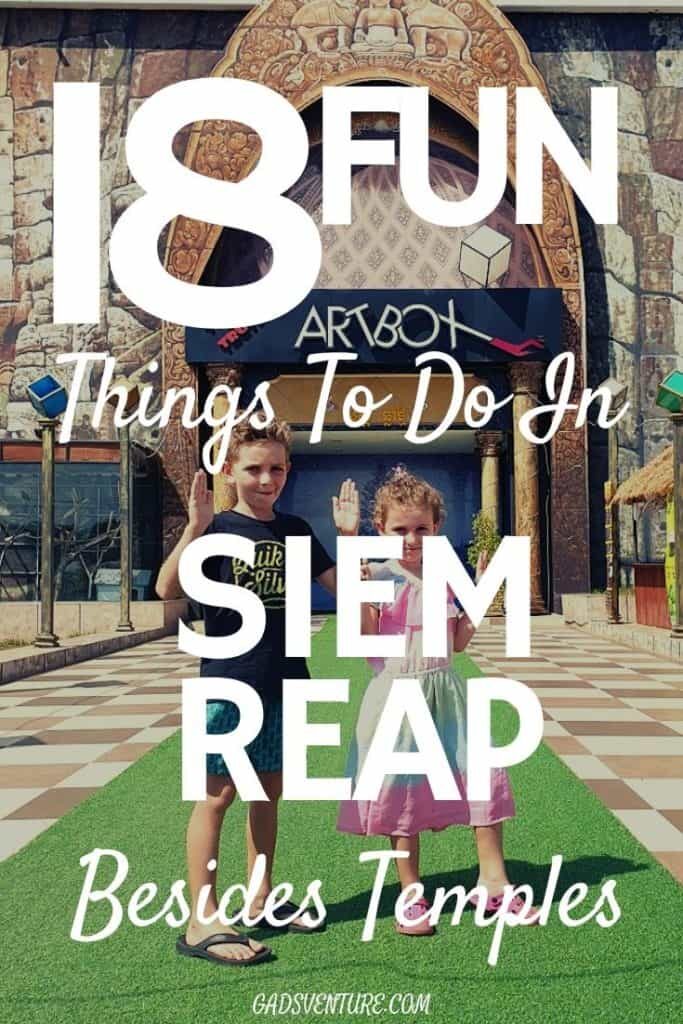 Discover the best way to get a Cambodian Visa
1 Pub Street Siem Reap
This cool crossroads is in the centre of town and remains closed to traffic from 6 pm nightly. The streets are lined with pubs and bars selling beers for 0.50 cents, and cocktails for $1.50. The food is decent here too. Check out Viva for awesome Mexican, Laundry for a free pool table and darts, and Angkor What?.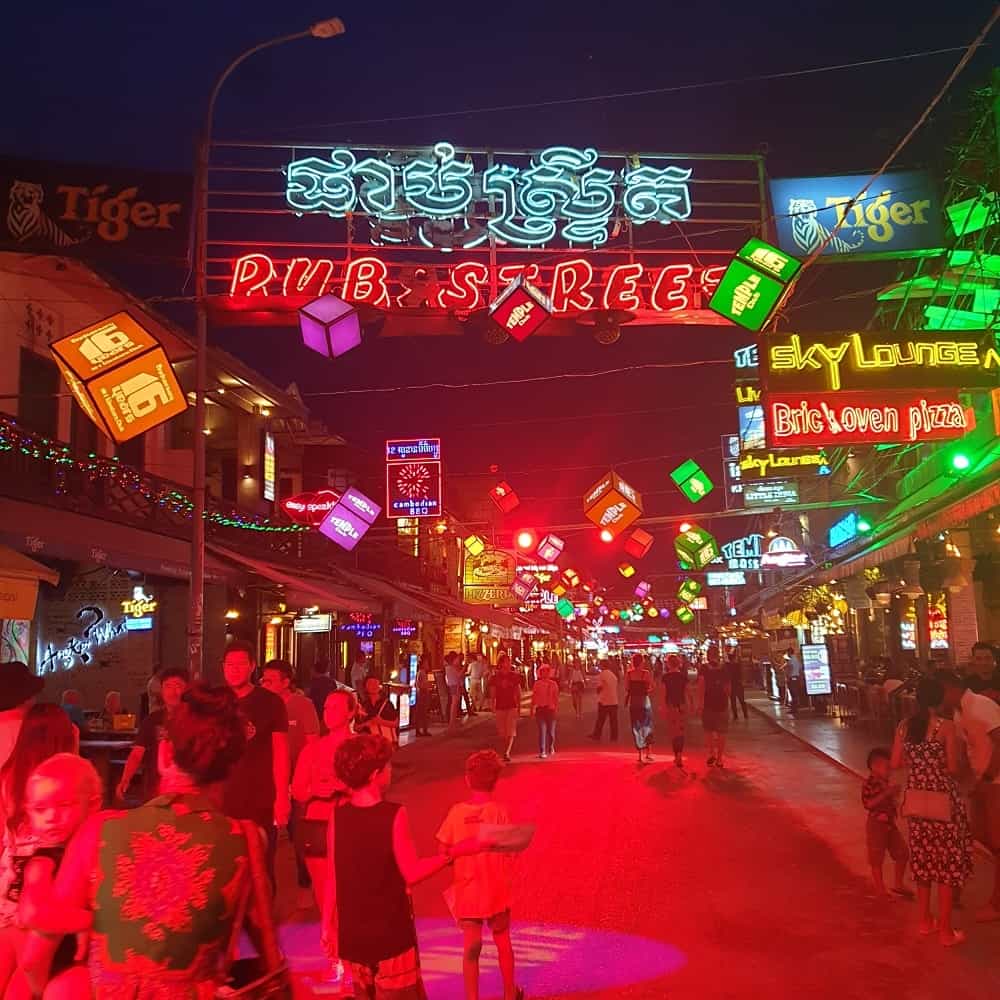 On the parallel streets, you will find more local fare at cheaper prices. Pub Street comes alive after dark with backpackers, flashpackers and locals enjoying the great atmosphere.
You can find fried ice-cream and fried spiders from market stalls as well as clothing and massage places amongst the bars. A pub crawl along Pub Street is one of the most fun things to do in Siem Reap other than temples.
Where to Stay near Pub Street
We stayed at Neth Socheata which is close to Viva in a little French colonial alleyway. It was a perfect location to explore the Old Market area, and they even had a huge air-conditioned family room to sleep all 6 of us for under $50US a night including breakfast. Great value double rooms start at just $20!
For all the best places to stay in Siem Reap for budget through to luxury read this. We also have broken down the neighbourhoods for you, so you can find your ultimate escape right here. Family section included!
Read all about Cambodia with Kids here.
2 Explore the French Influence Cafe Culture
If partying isn't your thing, a gradual sample of the city's best cafes is a delicious way to spend your time in Siem Reap. Check out our guide to Siem Reap's best cafes here. We especially love the riverside Sister Srey, and Little Red Fox Espresso.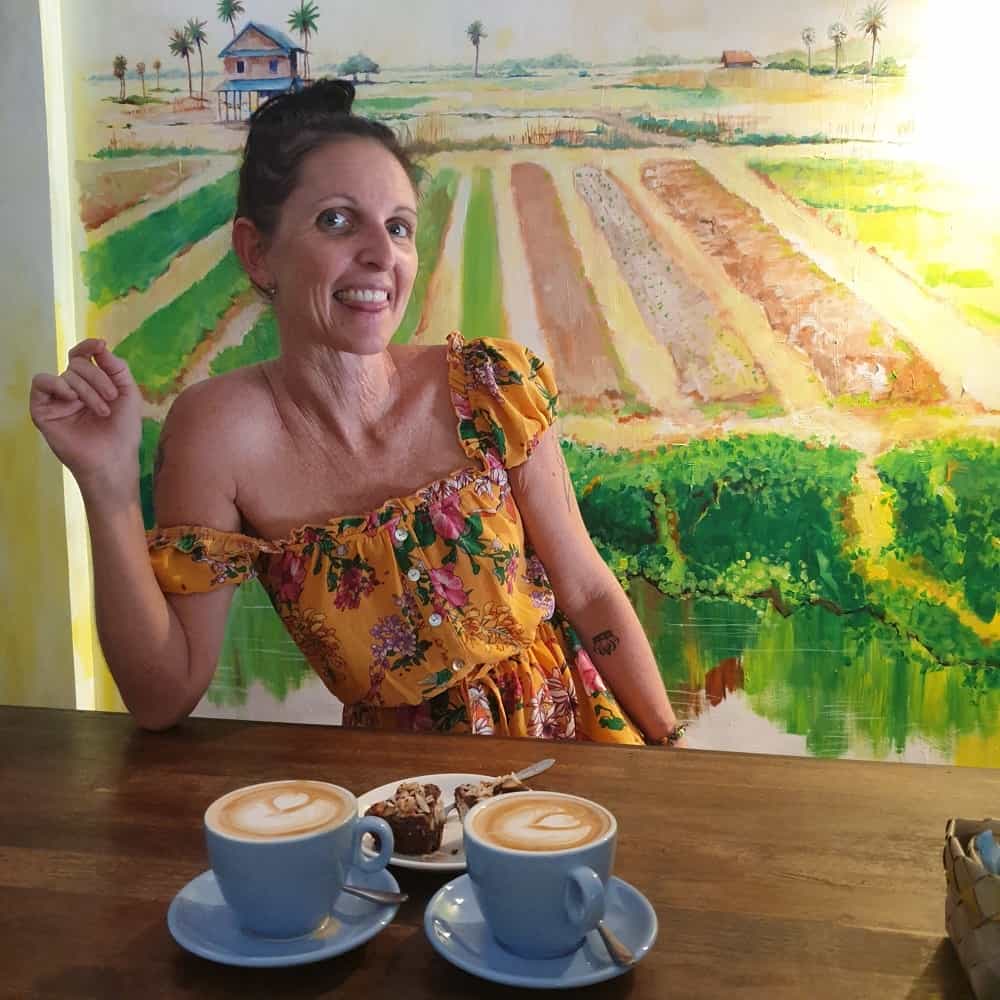 3 Cambodia Landmine Museum
Now we actually saw this and the Butterfly Centre below as part of our Angkor Wat tour on the 3rd day of a 3-day pass. They are both on the way to Banteay Srei Temple and around 25 km out of town.
The Cambodia Landmine Museum is dedicated to the life's work of Aki Ra, and his systematic and sometimes unorthodox demining of Cambodia.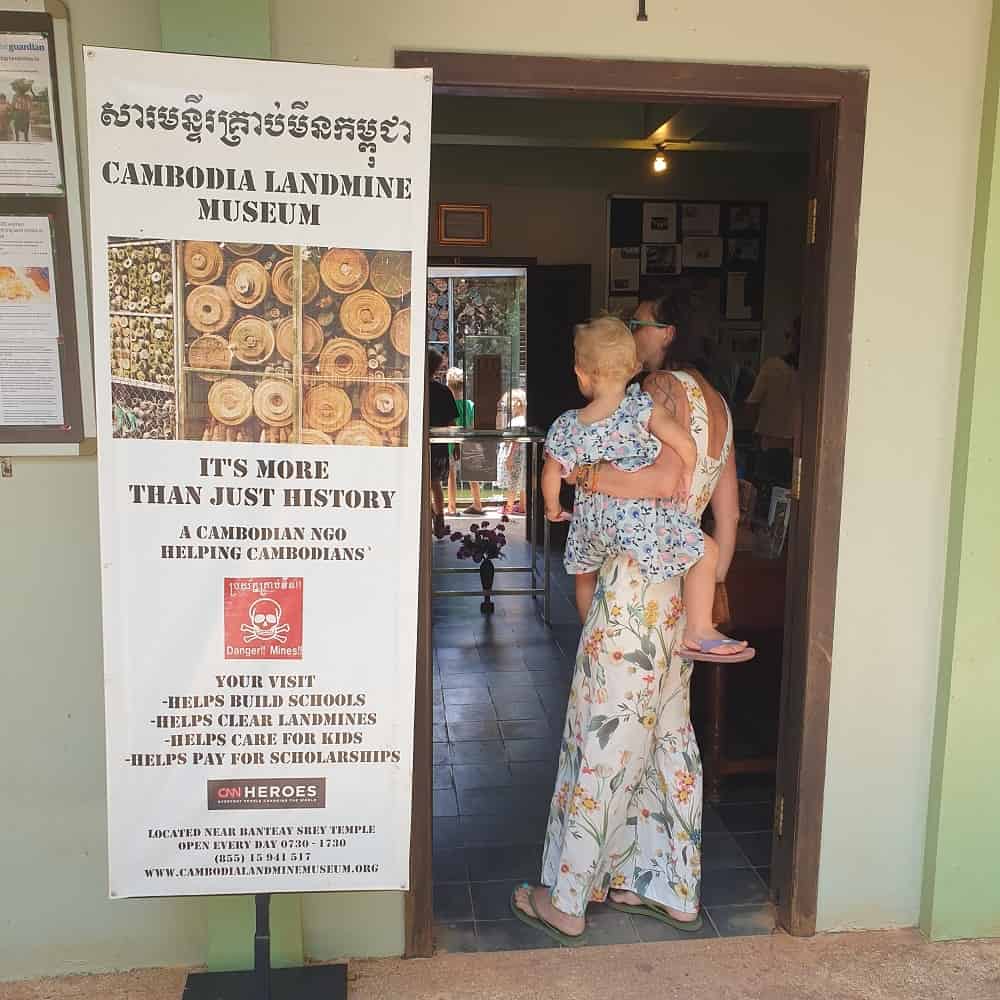 It is a very well organised and sombre museum and explores and educates not only on landmines but also the events leading up to the Khmer Rouge occupation and the subsequent Vietnamese invasion. It was at this time when millions of mines were laid. The Cambodia Landmine Museum is definitely worth the trek.
Admission is $5 and it is open daily 7.30 am to 5.30 pm.
4 Banteay Srey Butterfly Centre
This low key enclosure is full of beautiful butterflies all vying for space within a flowering tropical garden. If you visit earlier in the morning, the butterflies are more active.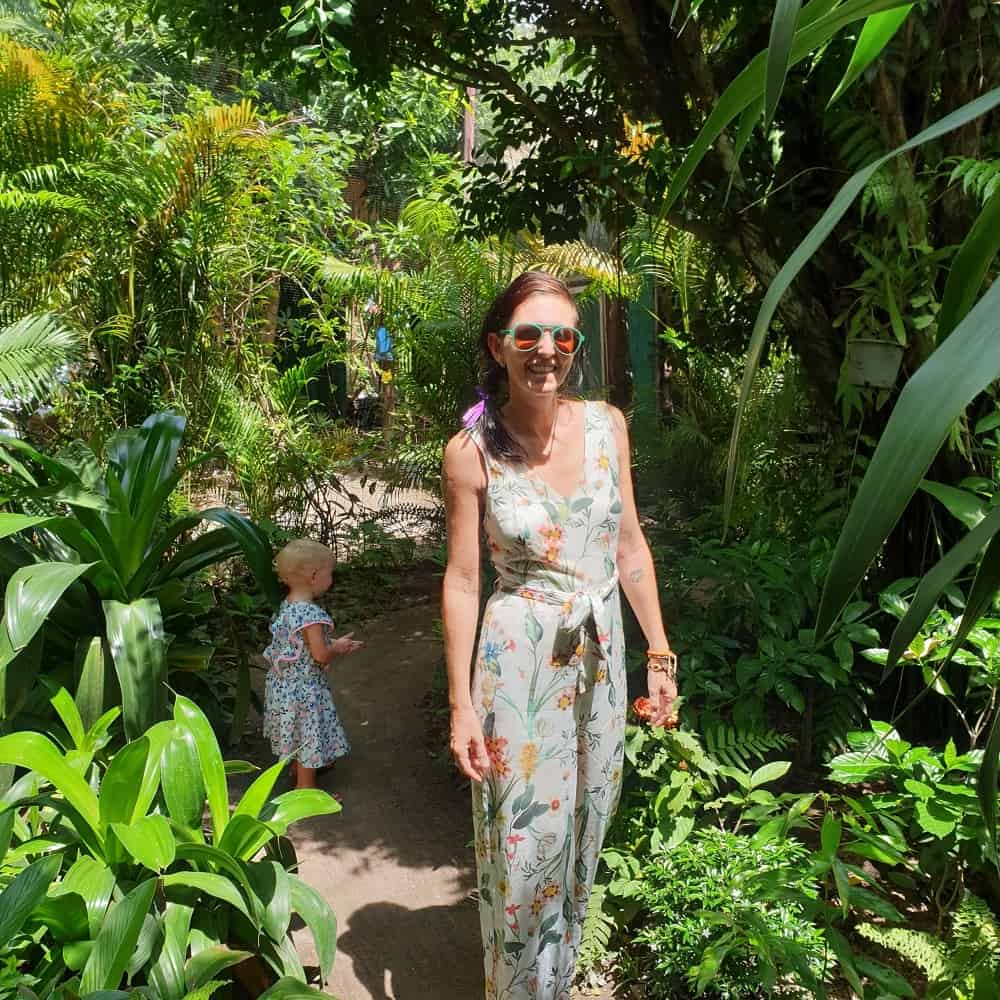 Admission is $5 and a free guide is included.
5 Walk Along the River
The river is the most scenic part of downtown Siem Reap and a lovely place to let the kids run some energy off. It is cool under shady trees, and especially nice after the rainy season.
Read more in the Ultimate Siem Reap City Guide
Along the river visit Brown Coffee for a delightful city vibe, and the Hard Rock Cafe. Wat Phrea Prom Rath is a cool riverside temple to visit also.
6 Visit the Dog Cafe – Diff Dofe
Edited: This place has sadly closed down.
Yes, there is a dog cafe in Siem Reap! For $5 you can pet play and snuggle with around 10 adorable pooches with a drink included. The iced coffee here is great. The dogs are clean and well kept and are all purebreds. If you are missing your pup at home, this is a fun way to get your canine fix.
Location: Wat Damnak Road – behind back entrance Art Center Night Market, Siem Reap

7 Artbox
This epic 3D art trick museum is filled with over 150 examples of vibrant paintings by talented Korean artists. Take your own daring and unique pictures in various states of cleverly designed and seemingly dangerous positions. Cost is $9.90 for adults and $7 for kids.
Read our full review of Artbox including how to get cheaper tickets here.
Location: Krous Village Road, Krong Siem Reap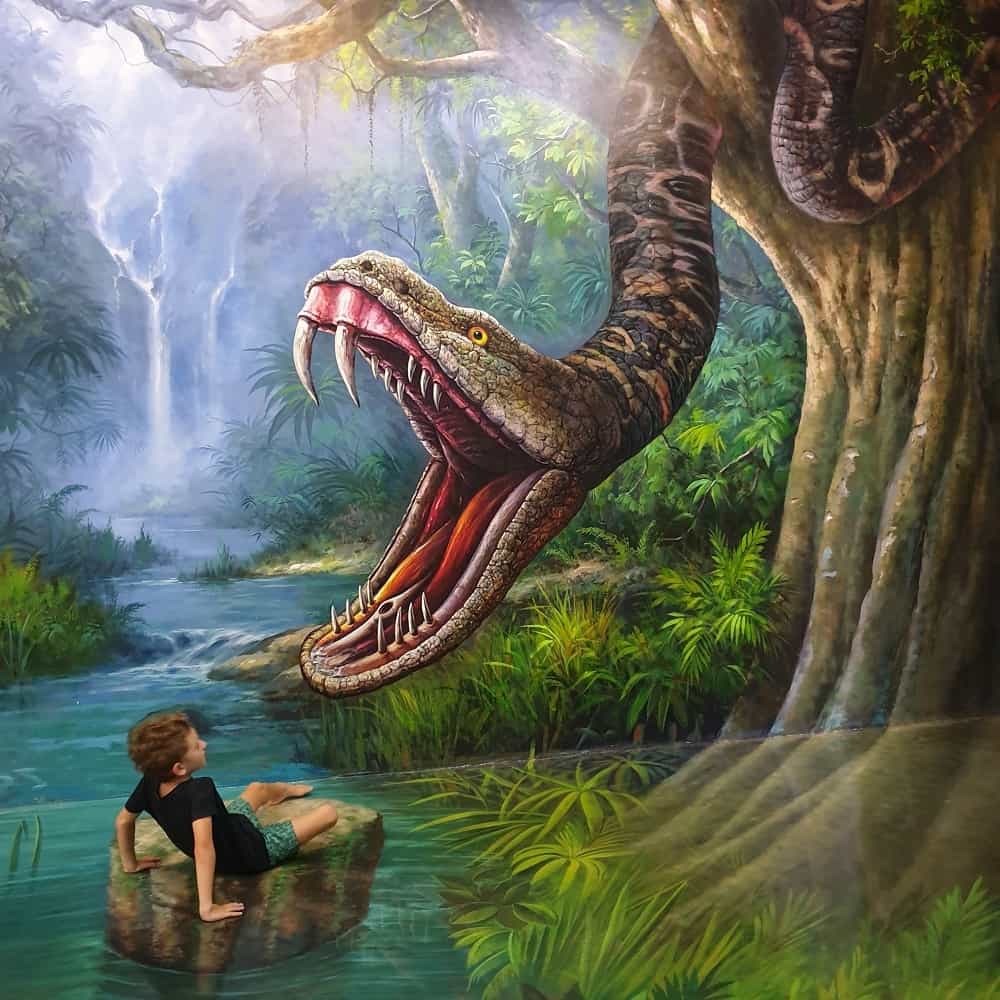 8 Go to the Movies
Siem Reap has its own Major Cineplex which shows all the latest movies from around the globe, in English, and in 3D. Tickets cost $4.50 per adult. Check session times here.
Location: Sivatha Road, Krong Siem Reap
Alternatively, head to the movie lounge Cinemax and KTV and hire your own private movie booth with a large couch and a selection of not new releases. This is a bit like having your friends over to watch Netflix. There are karaoke booths here too, but unfortunately, they don't have any English music. Entry is $3 and there are no session times.
Location: Preah Sangreach Tep Vong St, Krong Siem Reap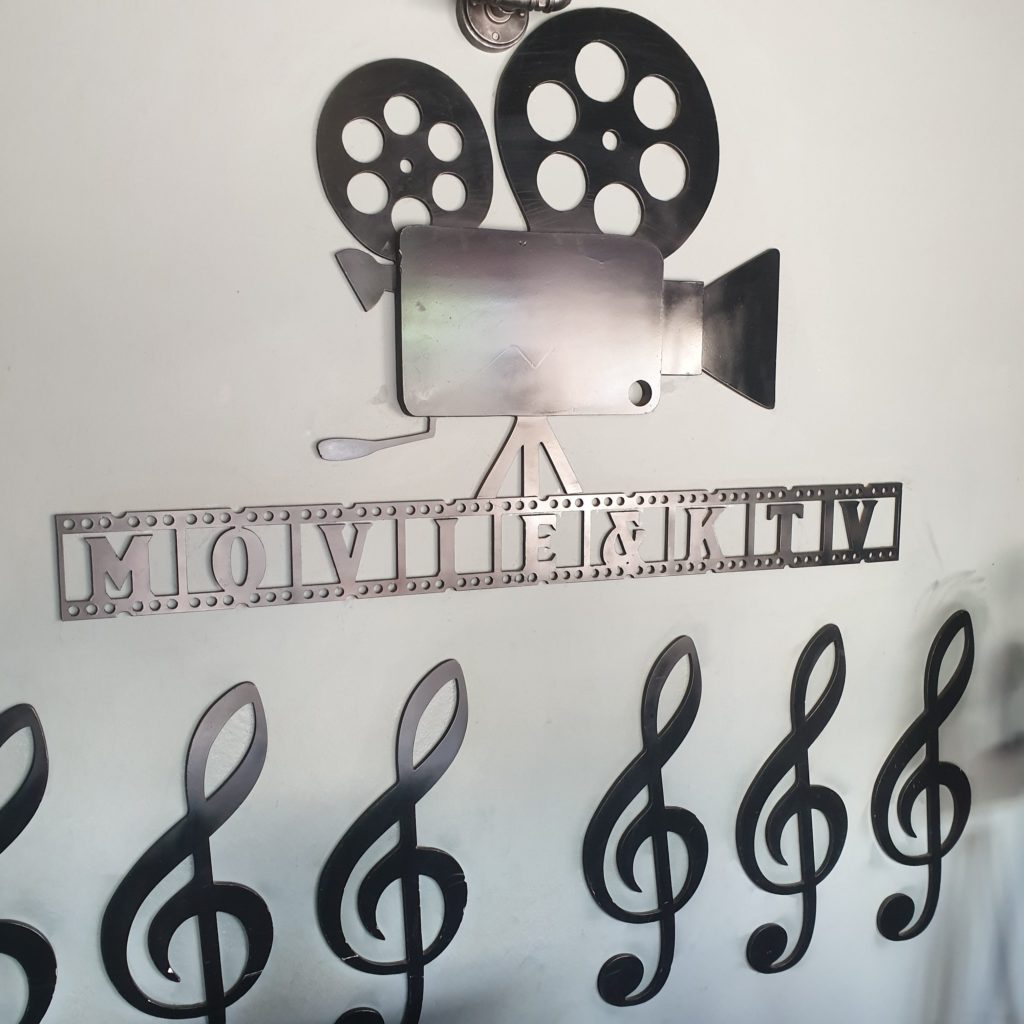 9 Tonle Sap Lake and Floating Villages Tour
Tonle Sap is the freshwater lake found just outside of Siem Reap. Here you can tour the floating villages and discover how these Cambodians support a meagre existence using the lake. It is recommended to visit the lake after the wet season from October to February, as this is when the water is replenished and full.
Read the full review of our Tonle Sap Lake Tour here. Find out the best way to book online and save.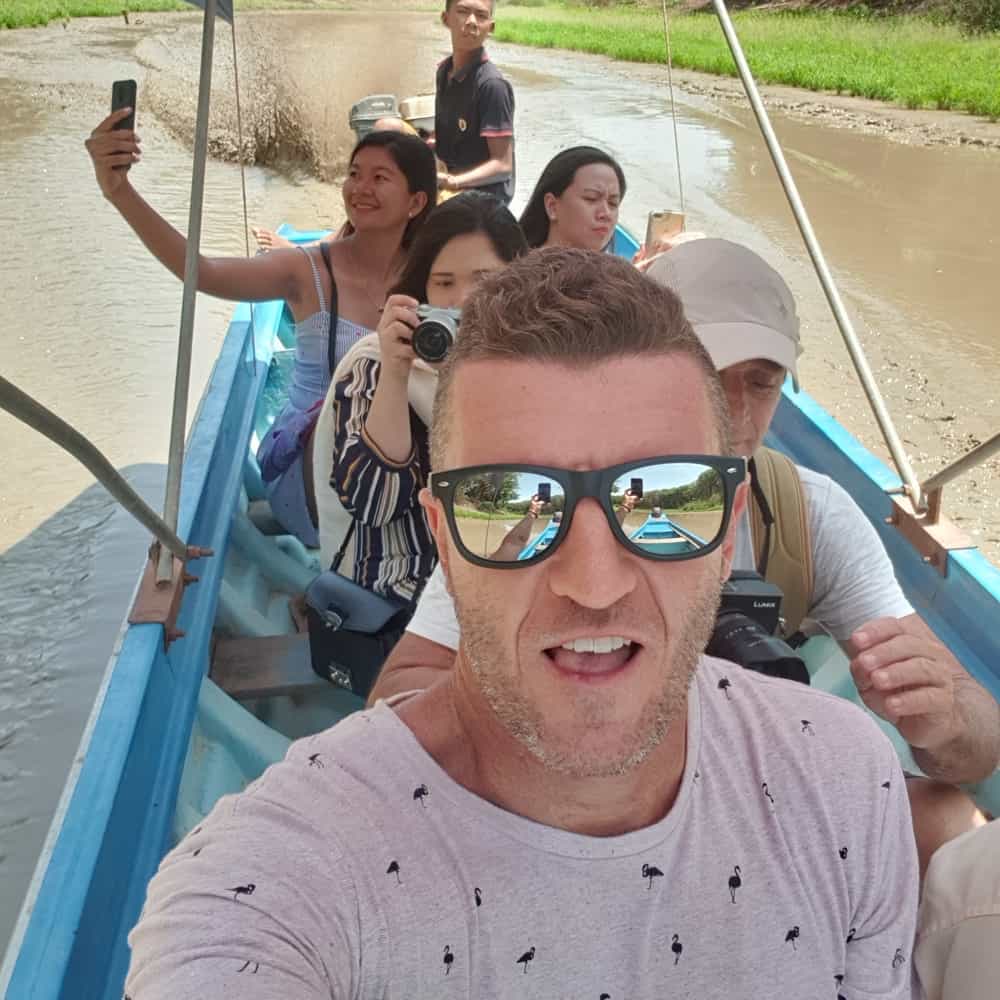 We found some of the best value and best-rated tours here for you with GetYourGuide. The benefit of these is you can read reviews, check prices and book online, paying securely by credit card.
10 Phare – The Cambodian Circus
Be entertained by the energetic and lively Cambodian youth. The Phare team brings traditional Cambodian stories to life using dance and acrobatic skills. Tickets cost from $18 – $38 and shows are on every night at 8 pm.
11 Get Pampered
I don't know about you, but I am a very busy mother to 4 boisterous kids. Anytime I can find for a little pampering I am definitely fond of. So for me, this makes one of the most fun things to do in Siem Reap besides temples. From massages to beauty treatments, hairdressers and nails, you can find it all in central Siem Reap for a fraction of the cost you would pay at home. Everybody got haircuts for a mere $6 each.
Also on offer are those fish 'massages'. You know, the ones where you stick your feet into a big tank full of little fish and they nibble your dead skin from between your toes? I actually got roped into one of these in Thailand, and I didn't really enjoy it at all. It tickled, and every now and then a big silverfish would literally bite my foot! the fish in the tanks in Siem Reap are about 10 times the size as those little Thai fish, and the kids think they look suspiciously like piranhas. So I'm giving it a miss.
12 Swenson's
Take the kids to Swensons for a big old ice cream sundae treat. They are huge and absolutely delicious. They will love you for it!
Location: Angkor Trade Centre, Old Market Area, Siem Reap
13 Lucky Mall
This 3 storey mall only has a few shops in it but will take up a couple of hours of your time, and it was fun for the kids. The bottom level is taken up by a large supermarket where you can find all your conveniences. Level 2 has a huge Lucky's Burger place.
On level 3 you will find a great bookshop with many English titles. This is the best place in town to stock up on educational materials for your world schoolers.
Also on the top floor is a toy store which has a small arcade with rides and an indoor playground. This is well suited up to age 6 and costs $1.50 for a play. Simple arcade games start at 25c a turn.
Location: Sivatha Rd, Krong Siem Reap
14 Explore the Markets
Old Market
Around the centre of town, there is the Old Market. It is an indoor maze full of local flavours as well as many tourist shops. You can find clothing, jewellery, toys and artefacts here. Bargaining is easy, especially in the low season! This place can get pretty warm in the middle of the day. It is great to visit at night.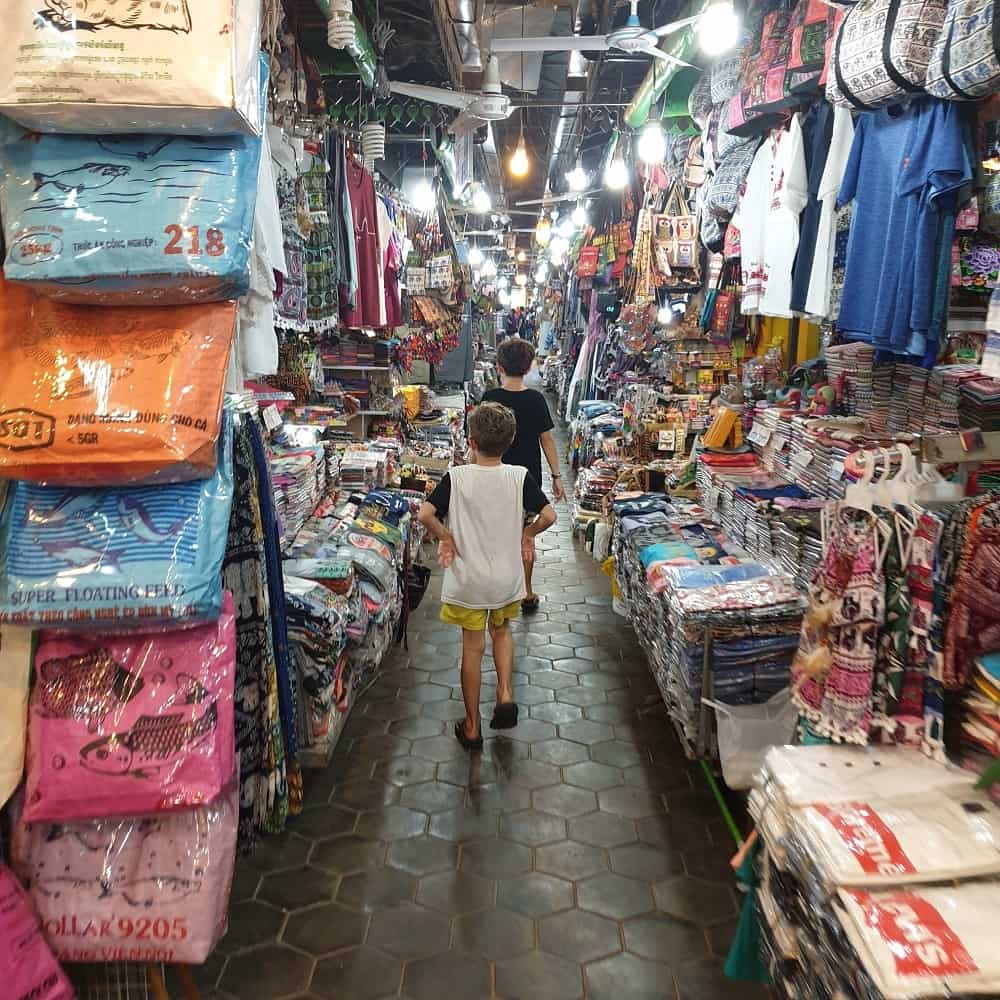 Siem Reap Art Centre Night Market
Just across the river, you will find the Night Market. It has a similar vibe with Cambodian silk, henna and artisan stalls.
Siem Reap Night Market
To the north of Pub Street, within walking distance, you will find 2 more notable night markets. They all basically sell the same things.
Angkor Night Market
Is a similar vibe again.
15 City Tour by Tuk Tuk
For $5, any tuk-tuk driver will take you on a tour Siem Reap centre, stopping at tranquil Wats and different neighbourhoods along the way. This is a great way to orientate yourself when you first arrive in town.
16 Bicycle or ATV Countryside Tours
Bicycle tours take in the city of Siem Reap as well as the surrounding countryside. See a different side of Cambodia by slowly cruising through traditional villages with teak wooden houses. Interact with real locals in the farms and towns and see what Cambodian life is like outside of the city.
You can book tours with your hotel reception desk. We like to compare prices with GetYourGuide as well to find the cheapest deal.
17 Angkor Zipline
This cool zip line adventure takes you through the jungle inside the grounds of Angkor Wat. You don't need a temple pass to complete the zip line but just being inside the magnificent temple grounds will give you memories to last a lifetime. Including lunch and hotel transfers, the Angkor Zipline gives you the thrill of single zip lines, a sky bridge and an abseil down. For all the details and where to book click here.
Check out the other cool Zipline we recently reviewed in Krabi, Thailand!
18 Water Park Khna Siem Reap
This low key water park entertained our kids for an hour or more on a super hot Siem Reap day. They have 5 small waterslides, as well as a kid's play zone with a tipping bucket.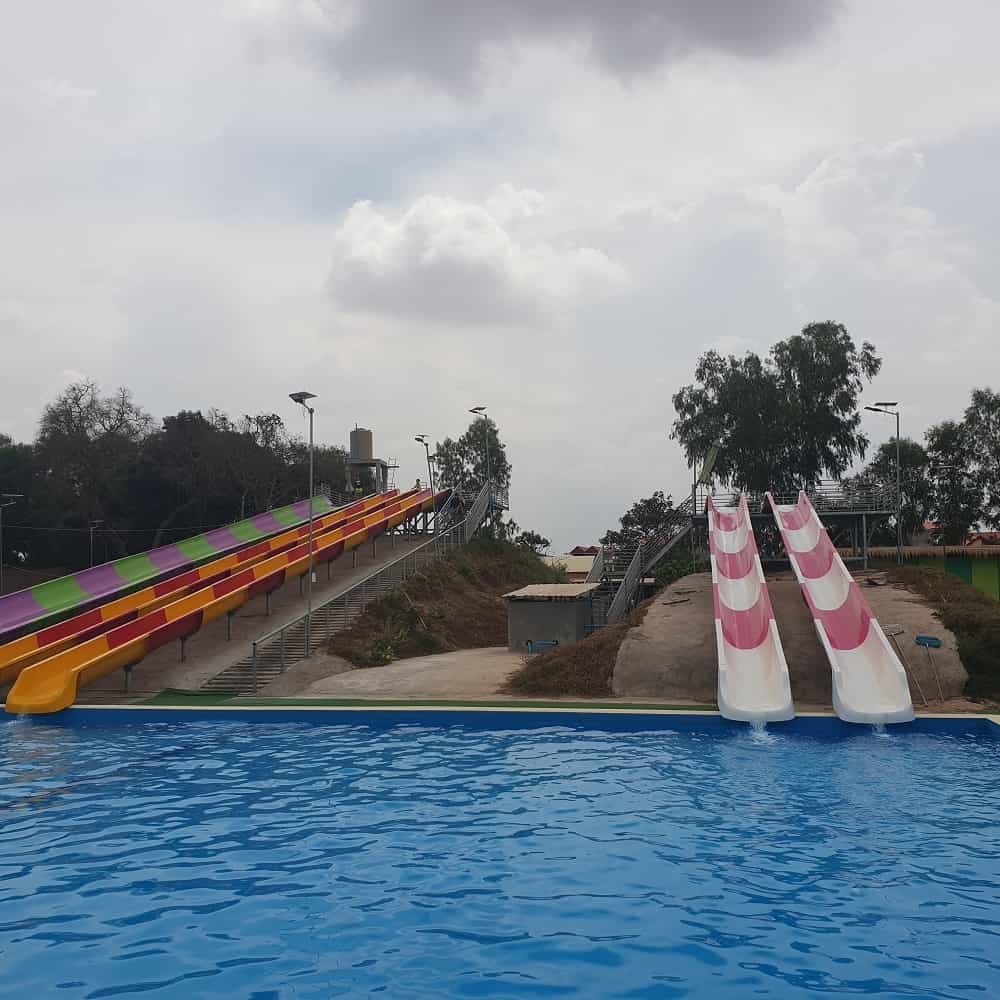 For more photos and all the details, please read our review here.
Fun Things to do in Siem Reap (Besides the Temples)
As you can see, there are so many fun things to do in Siem Reap besides the temples. If the weather is super hot, or rainy, you can easily find something to entertain you on this great list.
Do you know of something that deserves to be on this list? Let us know in the comments below!
Other Info for Visiting Cambodia
For more information before visiting Cambodia, have a look at these practical guides below:
Also, check out our Siem Reap Restaurants Guide here.
Follow us on Instagram or Follow us on Facebook to keep up to date with our family's adventures in Southeast Asia.