Another fun thing to do in Siem Reap is the Tonle Sap Lake Tour & Kompong Phluk Tour. The tour can be done as a morning tour or afternoon tour from Siem Reap.
We did this tour recently and found it to be an eye-opener for travellers wanting to experience life on the Tonle Sap Lake.
It was a standout half-day trip where you got to see into the lives of real villages living in the Kompong Phluk village. The Tonle Sap lake tour and Kompong Phluk tour are combined and it is a great break from staying in Siem Reap.
Tonle Sap Lake Tour and Kompong Phluk with GetYourGuide
We booked this tour through GetYourGuide for the best price, reliability and the convenience of paying online.
We use GetYourGuide and are always happy to fully recommend them for transport and tours. Because we pay for all our tours ourselves, we are always on the hunt for the best price.
So every tour we do has been heavily researched to make sure we are getting total value for money. All our opinions are our own.
If you want more information on Cambodia and how to travel to Siem Reap and surrounds, read our Cambodia travel guide. 

Video of our Tonle Sap Lake and Kompong Phluk Tour.
Booking the Tonle Sap Lake Tour & Kompong Phluk
Booking was easy via the GetYourGuide App, you have a choice between a morning tour or the afternoon tour. We chose the morning tour which takes around 5 hours.
This particular tour seemed the obvious choice as it was short at only 5 hours, and it had the morning option. It tends to really heat up in Siem Reap in the early afternoon so I didn't fancy being on a lake at that time of day.
Cost of Tonle Sap Lake Tour
At $35AUD per per person, this tour was perfectly in our price range as well. The reviews were many, and seemed to point towards knowledgeable guides and an interesting morning on the lake.
These tours can be booked through any local travel agent but these definitely vary in price. They may try to charge you more, and you may have to haggle over the price and compare companies. To avoid this I recommend booking through GetYourGuide.
Another advantage of booking online is you can use your credit card to pay securely and can cancel for free up to 24 hours before your trip if your plans change.
Our Kompong Phluk and Tonle Sap Lake Tour
Kompong Phluk and Tonle Sap Lake is only a 30-minute drive from the main centre of Siem Reap. But with picking up customers and getting organised, it takes a while before you get to Kompong Phluk village.
Firstly you will be collected from your hotel via a comfortable air-conditioned van and taken to the meeting point near Pub street. This is where travellers on different tours disperse. Booking through a central agency means that everybody comes together here, and then are taken on their various tours.
Once you are confirmed on the guide's list, it's into the van and off to your first destination with your English speaking tour guide.
Read Next: 18Things to do in Siem Reap!
Kompong Phluk Village Tour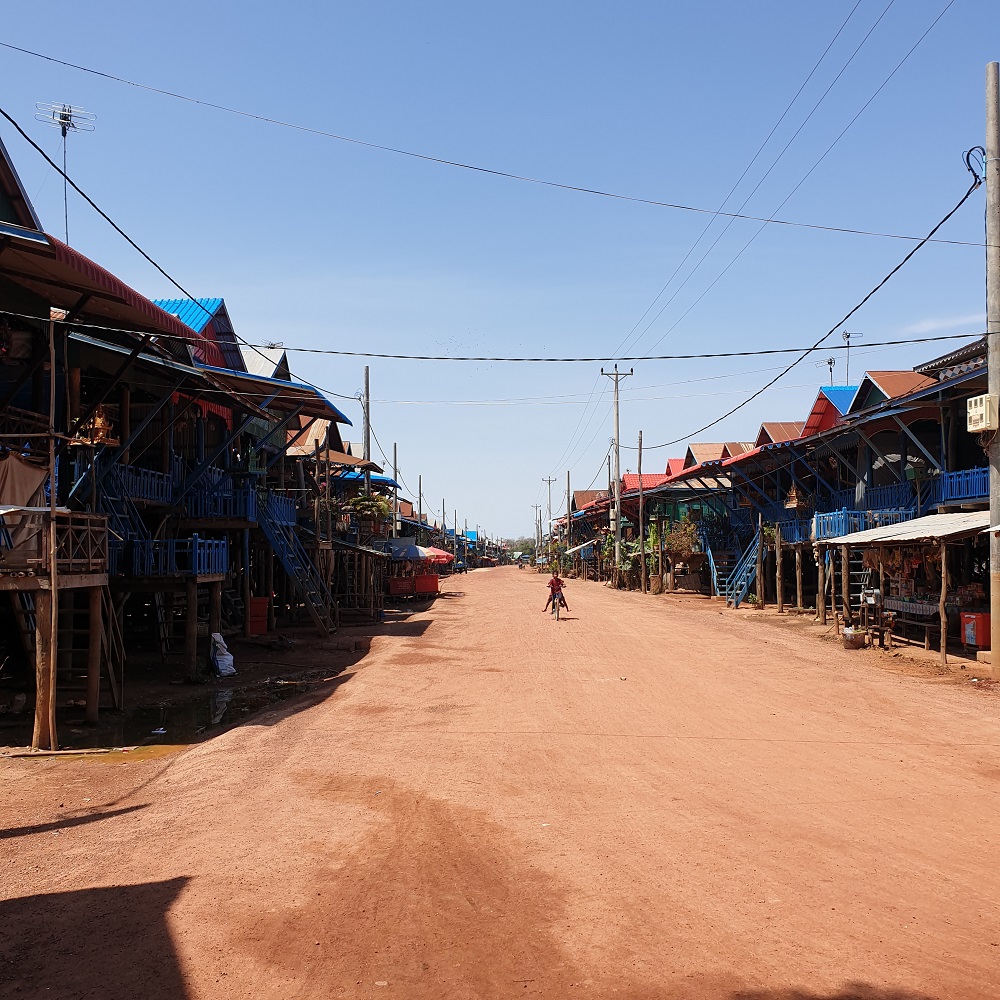 Kompong Phluk Village is a small fishing community situated near Tonle Sap lake in the Siem Reap Province and home to 3000 Khmers. Kompong Phluk is built on stilts with houses situated about 6 to 10 meters in the air.
During the dry season, the buildings are exposed due to lack of water. In the wet season when the water levels are high the stilts are hidden underwater and the only way to get around the village is by boat. Kompong Phluk's economy is built on fishing, shrimp farming and tourism.
Fishing is only allowed in the dry season. But once the big wet season hits, fishing is no longer permitted and the village shares the profits from tourism.
On this tour, you will see how the villagers live and operate in their day to day lives. You will learn about the history of the village, the people and their local environment. During our visit, we were able to watch the children play games, and the villagers sorting shrimp, fixing nets, and cooking food. We were also shown how the houses were constructed.
Tonle Sap Lake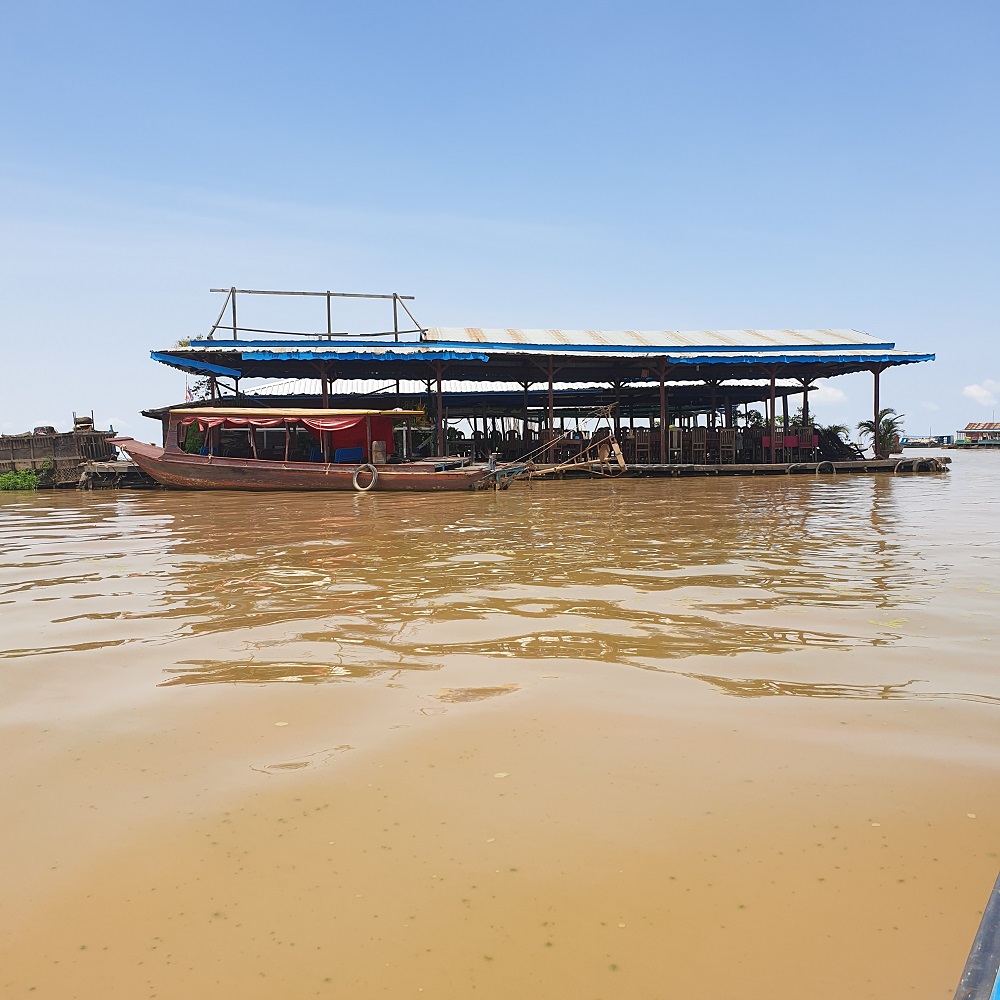 Tonle Sap means a large river that is fresh, not salty. Its name roughly translates into 'Great Lake'. The Lake is connected to the mighty Mekong River via the 120 km Tonle Sap River which forms the Cambodian floodplain.
Every wet season the Mekong replenishes Tonle Sap Lake. It sits in a geological depression (the lowest region in the area).
The lake's size during the dry season is 2,500 km2 with a length of 160 km and approximately 1 to 2 meters deep. While during the peak of the wet season in September – October it's area increases to 16,000 km2 with a length of 250 km and approximate depth of 6 – 8 meters.
Tonle Sap Lake is a very important water source for Cambodia's food supply and directly impacts the livelihood of large numbers of the rural people who need it to survive.
The lake is the largest freshwater lake in Southeast Asia and was designated a UNESCO biosphere reserve in 1997.
Tonle Sap Map
Read This Next: Best 3-day Angkor Wat Itinerary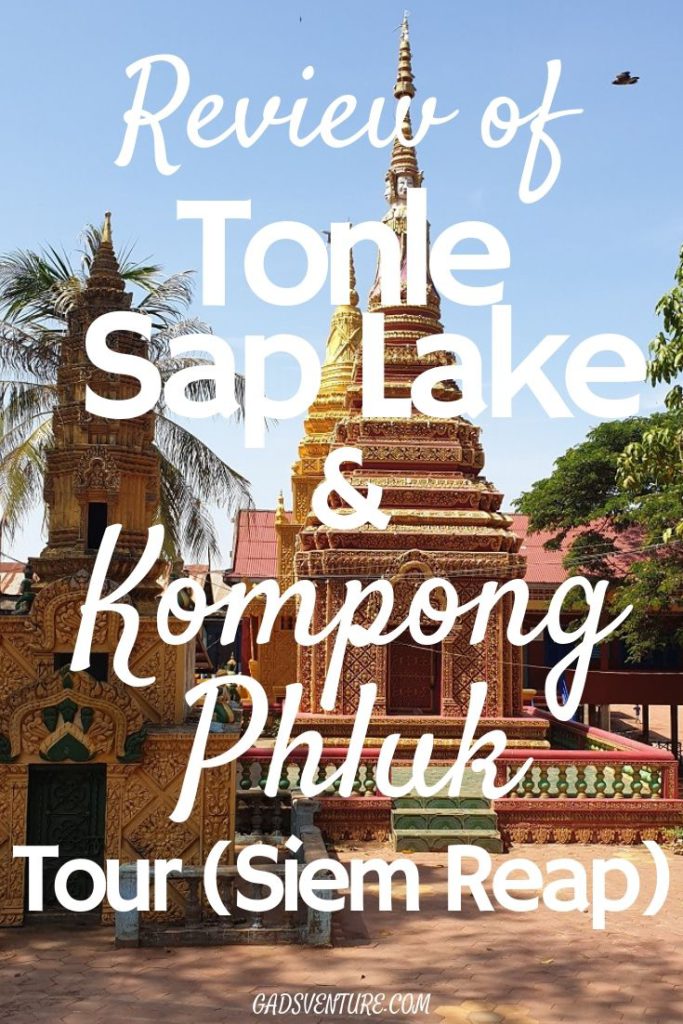 Tonle Sap Lake Tour & Kompong Phluk Village Review
The Tonle Sap and Kampong Phluk Tour with GetYourGuide was a great half day tour.
The van picks you up around 8 am which gives you time to have breakfast. If this doesn't suit you can also book an afternoon tour which begins at 2 pm, we chose the morning.
The drive time only took about 30 minutes in a very comfortable new air-conditioned van. While on the way to the village our guide who spoke very good English provided us with great information on Cambodia and it's people, he was very knowledgeable.
We had to stop at the ticket office to register for the visit, but this was taken care of by our guide and is included in your tour booking. The stop felt a little like a sales stop so that the local cafe and shops could make a couple of sales. You didn't have to buy anything, but it wasted a little bit of time.
What to Bring
Once at the village, our driver dropped us off with our guide and we proceed to walk through the entire village. Make sure you bring a hat, sunscreen and some mosquito repellent. Icy cold water is provided so you don't need to worry about that!
When To Go
We visited the lake and village during the dry season, so there wasn't very much water about. The village walk was amazing, you could buy some books and pencils for the local children and watch them play games in the dirt.
The walk never once felt weird or like you were an impostor, it felt very natural and the locals didn't mind you taking pictures of their everyday lives.
Heading out Onto The Tonle Sap Lake
Our guide led us to the long tail boat where we proceeded to journey along the narrow waterway out into the Tonle Sap Lake, this was exciting. The boats are narrow but quite fast and took us to a floating restaurant out on the lake. It was advised by our guide to only buy a drink here not food.
He demonstrated to us how locals purify water using sodium crystals and told us information about Tonle Sap Lake.
The floating restaurant was an experience. A small crocodile farm and catfish pond were on board the floating building and you had views out into the lake as far as the eye could see. Warning the water is brown at this time of year, so don't jump in.
Once we made it back to dry land after about an hour we proceeded back to our van. Then we headed back to Siem Reap via a lunch stop. Note that this lunch is not included with your booking.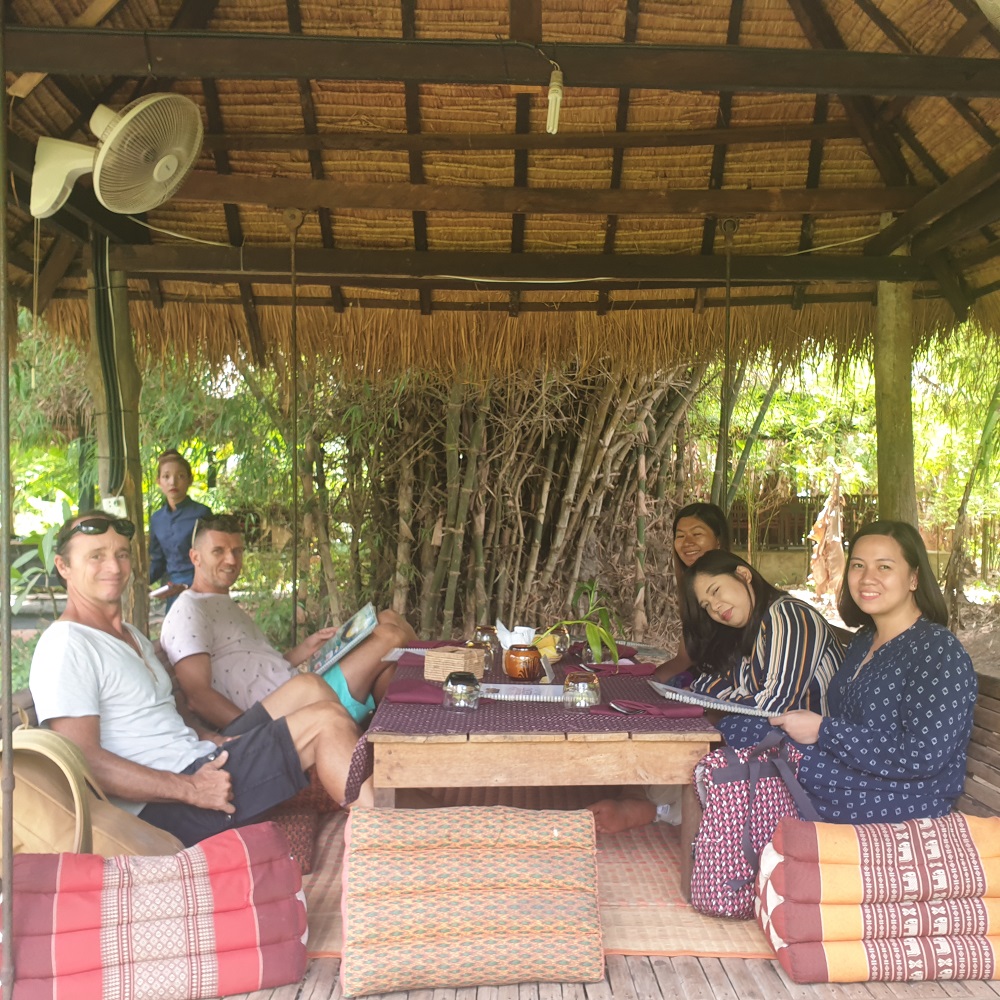 Lunch at a Local Restaurant
When the tour is over you begin to head home. But not before having lunch at a local restaurant just up the road from Tonle Sap Lake. It was a bit of a surprise for it is not mentioned in the tour, but it is that time of day.
The food was delicious but a little overpriced for local food, expect to pay around $6 for a Khmer curry and $2 for Cambodian draft beer. I know it sounds cheap, but when you live here for a few weeks you get used to cheaper to prices ($2 for a curry is normal).
More Info: Money in Cambodia
The restaurant is situated in a nice area surrounded by bamboo and relaxed seating areas undercover. The staff were great! My recommendation is to try the mango and sticky rice, delicious.
Read This: Best Siem Reap Restaurants
Tonle Sap Tour Suitable for Children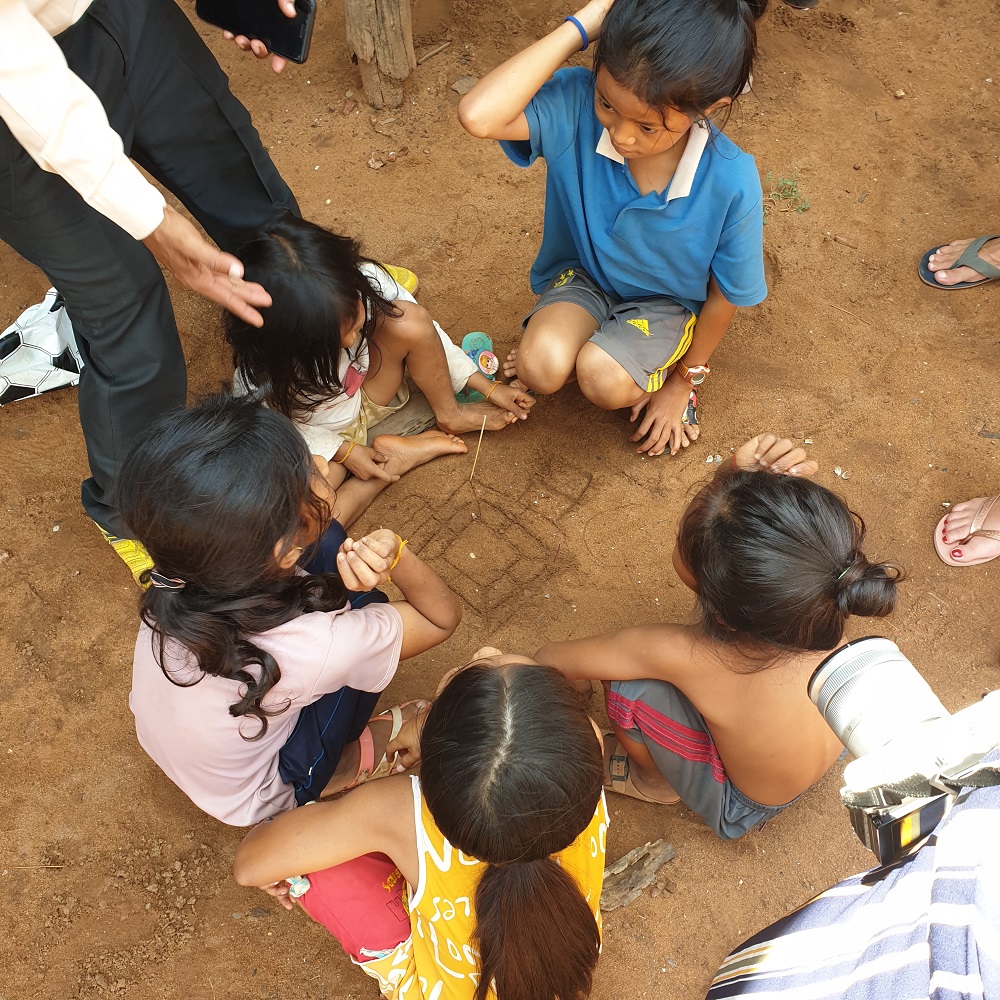 The Tonle Sap Lake and Kompong Phluk tour is the perfect length for children to participate in. Another option would be to take a private tour of the lake so you have the van all to yourself. This is always valuable when you have a big family!
Your kids will benefit from meeting the local children in the village and seeing the games they have developed. The boat ride out to the floating restaurant was a blast and the kids would love it, even though the engine noise could be a little loud.
Children would love to see the crocodiles, cat fish, water purification process and to see what life on Tonle Sap lake is really like firsthand.
The tour is the perfect length to keep everybody entertained from start to finish.
Check out some other great tours we have booked with GetYourGuide here:
ArtBox Siem Reap
Ferry Transfers
Private 1-day Tour of Chiang Mai, Thailand
Read Next: Where to stay in Siem Reap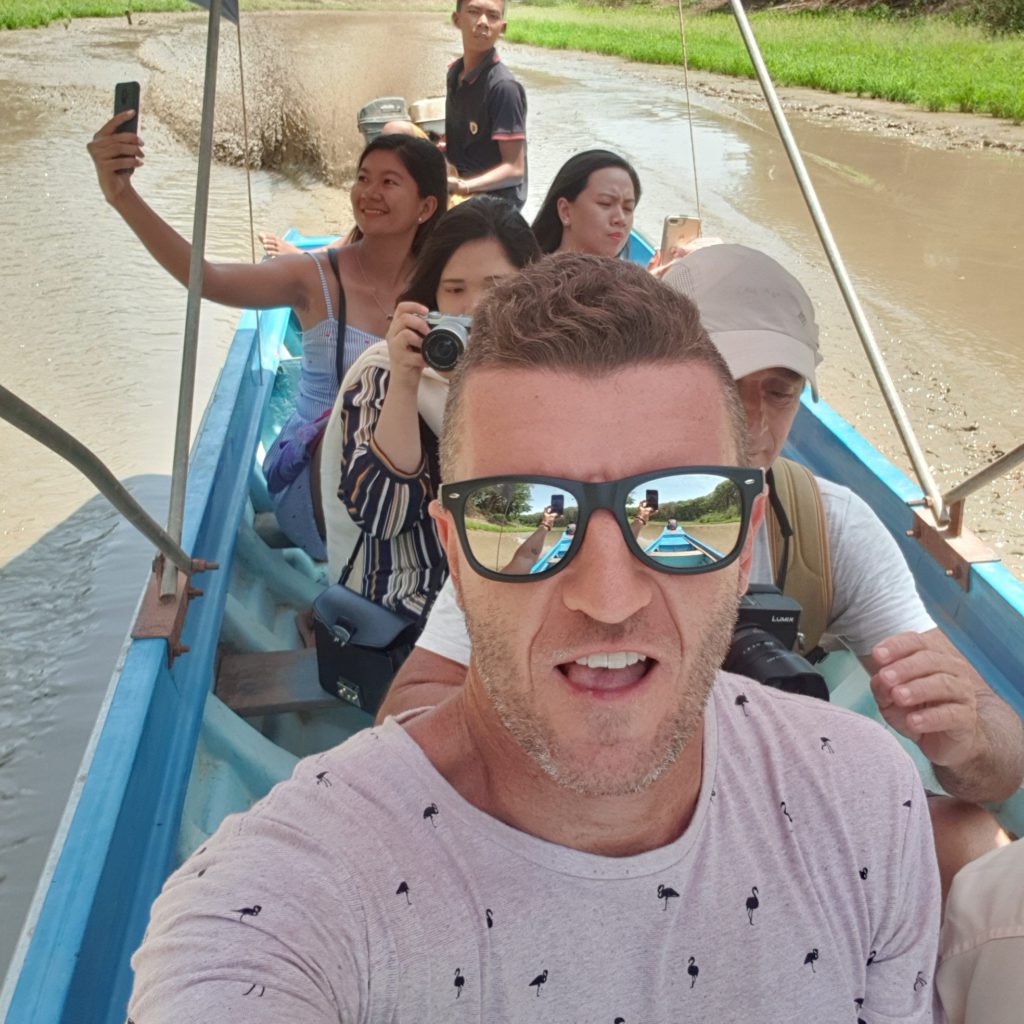 Another Great GetYourGuide Tour
The best part about booking tours through GetYourGuide is that there are no cash transactions (apart from souvenirs and treats) to deal with. It's fun, easy, no stress, and no problems.
We had plenty of time visiting the areas and our guide was such a great guy, it was a shame to let him go. Our driver was professional and never once took risks.
I was expecting some hard sells on this tour since we were visiting a village, but not once did I feel pressured or hassled.
Conclusion
Want some extra things to do in Siem Reap when you visit? Then this small tour is well worth the $18 US per person price tag to experience some extra parts of the real Cambodia.
Book your tour here with GetYourGuide and save time and money.
Want more Cambodia Travel Help? Check out our Cambodia Travel Guide
Find Your Cambodia Lonely Planet here.
Visa for Cambodia
Heading to Cambodia soon? You will need a visa. Read this:
Weather in Cambodia
Find out the best times to visit, and avoid the heat and the rain.
Best Hotels in Siem Reap
We have done all the hard work for you. Check out this article to find the best location in the city of Siem Reap, and hotels for families, couples and all budgets!
Visiting Angkor Wat
We did a 3-day pass and loved every minute! Here are our must-have guides for your visit to the famous temple complex: