Visiting Angkor Wat is on everyone's bucket list. Here we will let you in on a secret. How to visit Angkor Wat without the crowds. Angkor Wat has become super popular since we first visited in 2004.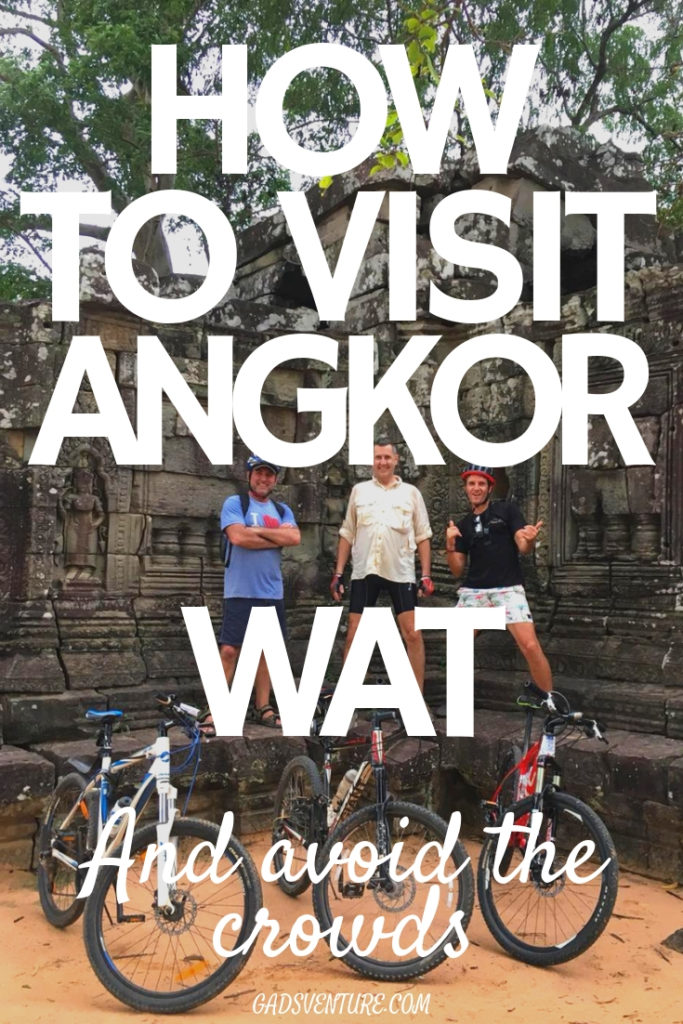 In those days, only a few thousand backpackers per year trickled through the gates. Entry was $20, and the proceeds went to a petroleum company! Fast forward to 2019, and we have bought our 4 kids to follow in our backpacking through SE Asia footprints. A lot has changed.
Find out exactly how to do Cambodia with kids here.
How Much Does Angkor Wat Cost?
Depending on how much time you have in Siem Reap, Cambodia, there are 3 options for visiting Angkor Wat:
One Day Pass – $37 USD
Three Day Pass – $62 USD and valid for any 3 days out of 10 days
Seven Day Pass – $72 USD valid for any 7 days in a whole month (this represents the best value for money)
Best Itinerary: Angkor Wat in 3 Days
How to Buy Tickets for Angkor Wat
You have to go past the ticket office for Angkor Wat to buy tickets. There are ATMs everywhere inside the ticket office, or you can pay by credit card too. The ticket office is in a huge complex a few kilometres from the temple entrance. If you wish to visit from sunrise, you need to purchase tickets the day before at 5 pm.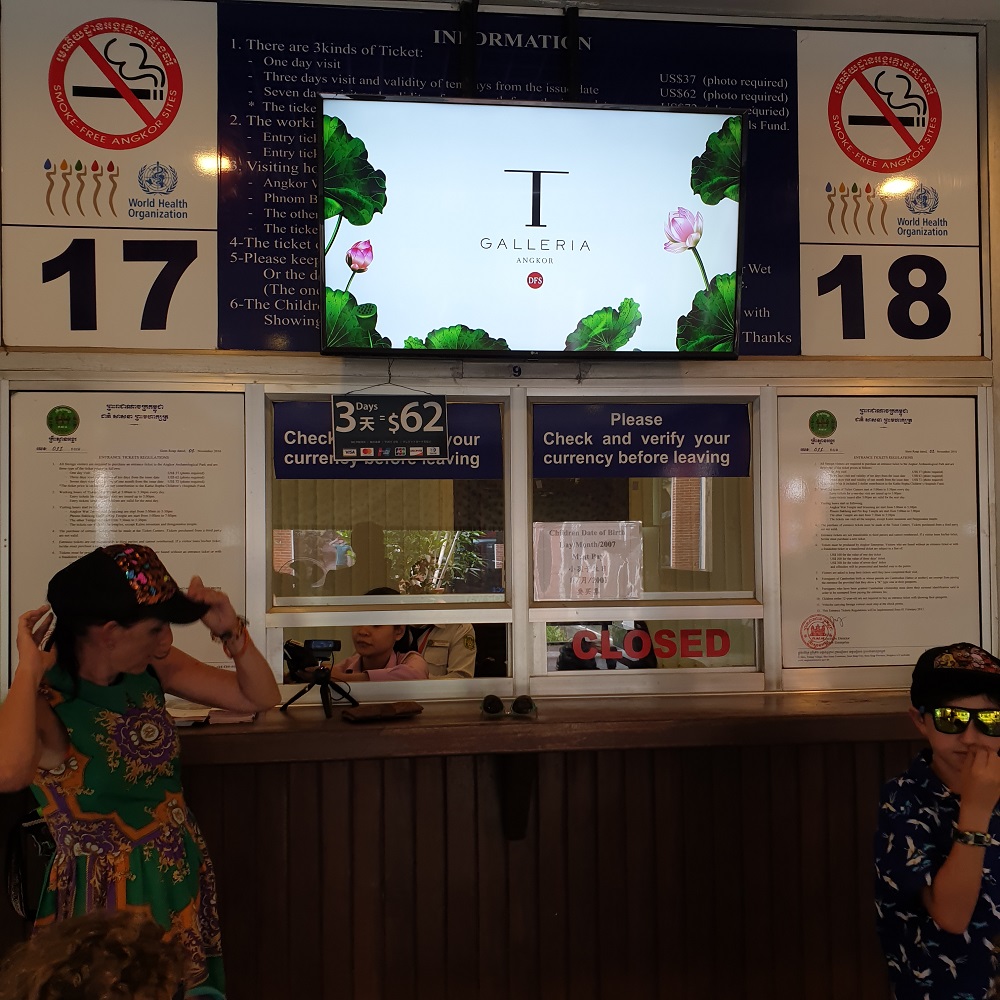 This ticket office is the only place to buy tickets for Angkor Wat. The tuk-tuk drivers know the way. On the way out to the temples, you need to turn right and detour about 3 km east until you reach a big roundabout.
The address is Circle Apsara Circle (Angkor Kyung Yu) Street 60m, Treang Village, Sangkat Slor Kram, Siem Reap Town, Siem Reap Province. The Angkor Wat Ticket Office Website provides more information on location, opening hours and even details about each temple within Angkor Wat.
How to Enter Angkor Wat for Free
The ticket entry points close at 5.30 pm daily so, in theory, you can enter the temple complex, just not the temples themselves for free after this time. There are no gates, and many people enjoy picnics on the lawn in front of Angkor Wat in the evening with restaurants open along the strip.
Find the Best Cafes in Siem Reap Here
The Three Day Pass
We have gone with the 3-day pass option. This allows us entry for any 3 days within 10 consecutive days, and with the kids, is definitely the best way to go.
The last time we visited Angkor, we only did a one day pass, and it was a massive day. I am not sure we got to see everything, but we were so worn out trying to do so.
View our full 3-day itinerary here.
On our first day of entry, we got to see some special parts of Angkor and avoid the hordes of tourists who were crawling all over the ruins.
Planning a visit to Cambodia? You will need a visa. Find out how to get your visa here.
It is highly recommended to get travel vaccinations for Cambodia. Find out what you need here.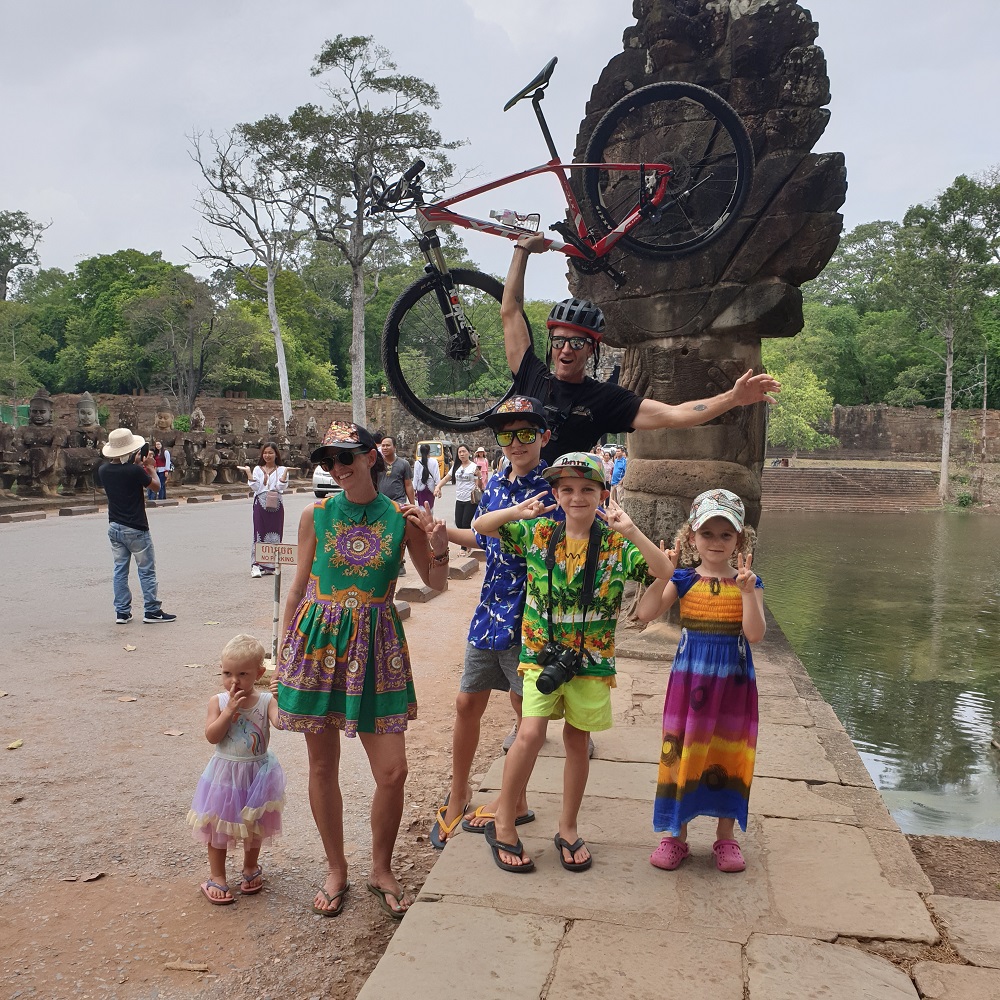 Find Flights to Siem Reap Here:
How to Visit Angkor Wat and Avoid the Crowds
The best way to visit Angkor Wat and avoid the crowds is to arrange a mountain bike and ride your way around the ancient temple wall. This 12km easy to moderate course takes around 2 to 3 hours depending on your level of fitness, and then you can finish off with a beautiful sunset picnic on the lawn.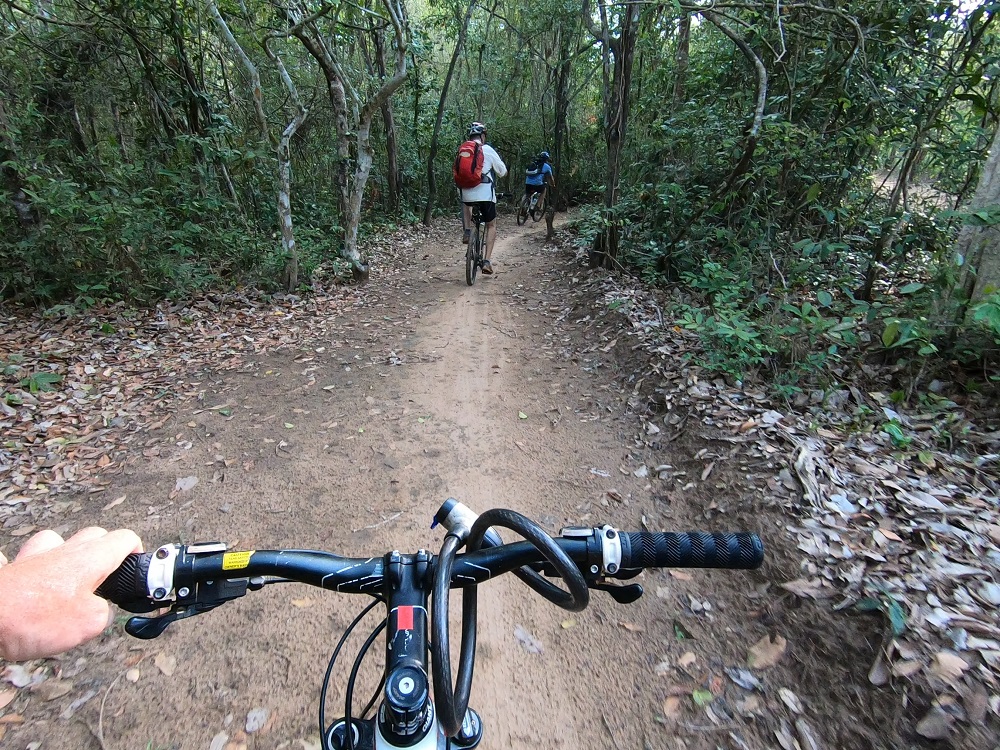 The course takes you along the top of the crumbling wall along a smooth sandy track about 1 metre wide. You weave through a beautiful forest of trees and vines and pass the hidden jungle gates as well as the busy ones.
There are 5 amazing gates along the journey – South, 2 on the East, North and West and 4 temple spires, one on each corner.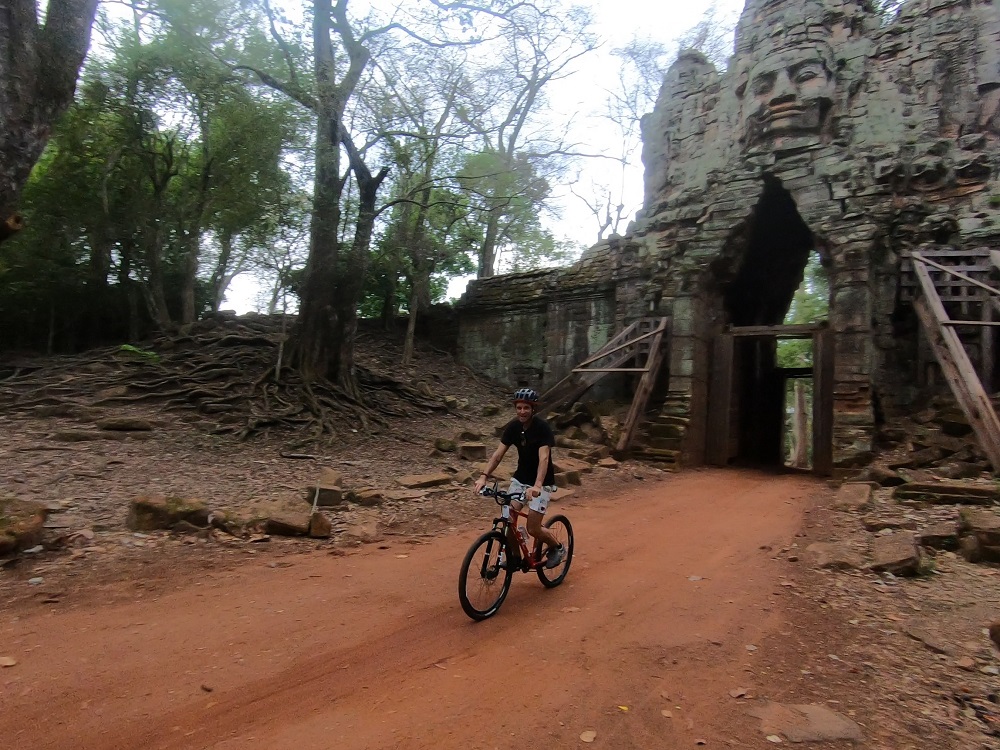 Many of these beautiful examples of Khmer temple architecture will never be seen by any regular tourists. On our ride, we did not encounter another single person on the bike track. Except for when we had to go around the gates.
How to Find the Start of the Track
The mountain bike track goes along the top of the wall which is connected by the gates. This wall lies inside the square moat around Angkor Thom which is the top marker on the map below. The bottom marker represents the main Angkor Wat temple.
Enter Angkor Wat via the South Gate and cycle up onto the wall which runs either side of the gate. It doesn't matter which direction you start. The path runs along the wall and goes around in a rectangle around the entire temple complex. We started our ride around 3 pm and were finished by about 5.30 pm. Our journey went anti-clockwise.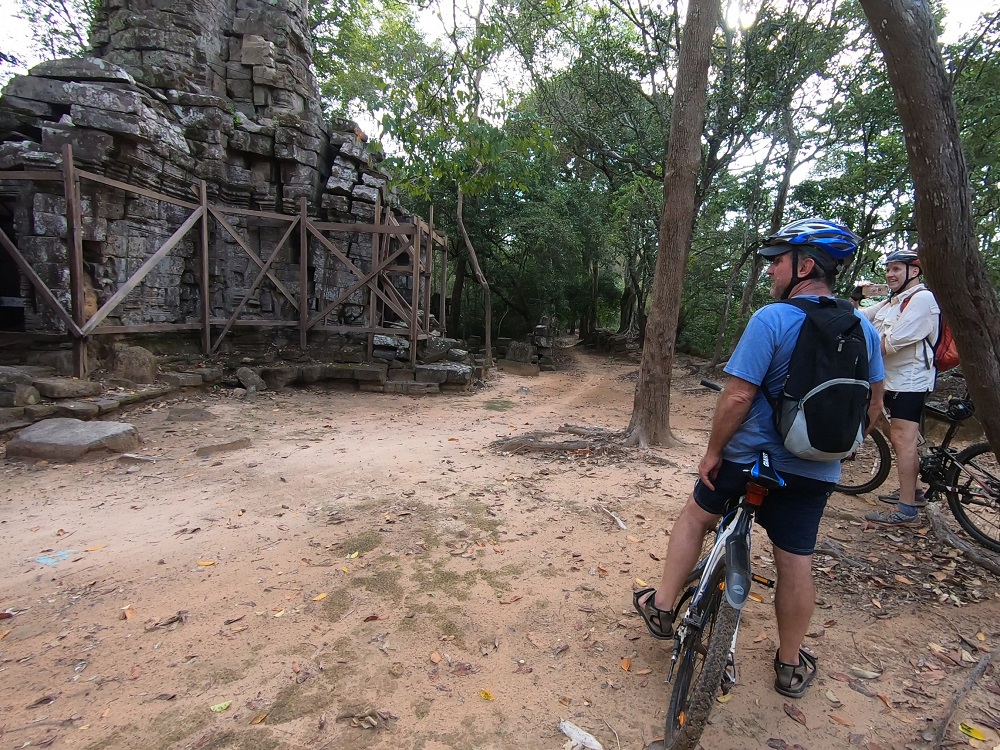 Where to Hire a Mountain Bike in Siem Reap
We got our mountain bikes in the city of Siem Reap from Aing Kimsan Bicycle Shop and Rental at Preah Sangreach Tep Vong St, Krong Siem Reap. A hardtail Giant mountain bike cost $8 for the day including a helmet.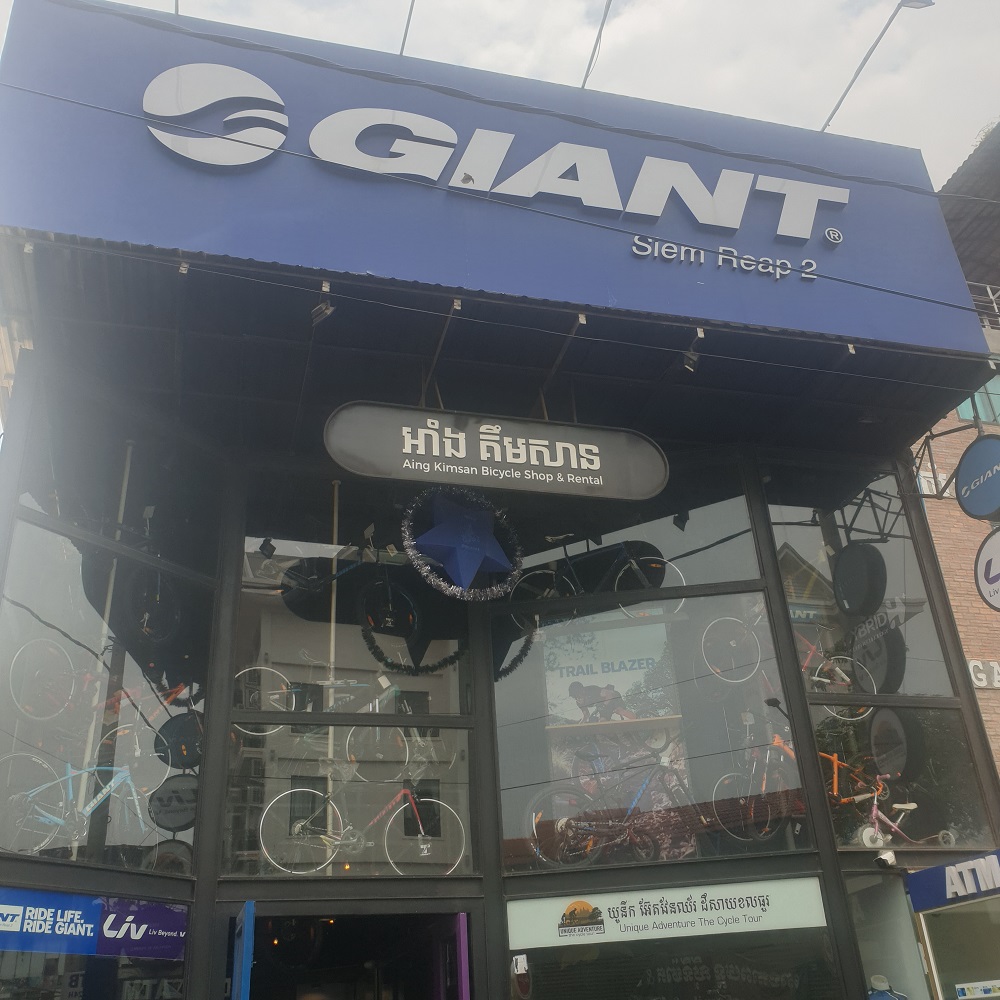 Bicycle Tours of Angkor Wat
If you don't want to organise all of this yourself, GetYourGuide and Grasshopper Tours offer a couple of great small group tours including bike hire from Siem Reap. Be aware that you are responsible for getting your own Angkor Passes though as these are not included in the prices below.
How to Get to Angkor Wat and Getting Around Angkor Wat
It is possible to ride your mountain bike all the way from your accommodation in Siem Reap to Angkor Wat. The temple complex is about 10-15 km from town which will take around 30 to 45 minutes. Unfortunately, the ticket office is not really on the way to Angkor Wat, you need to make a 3 km detour if you haven't bought your tickets the day before.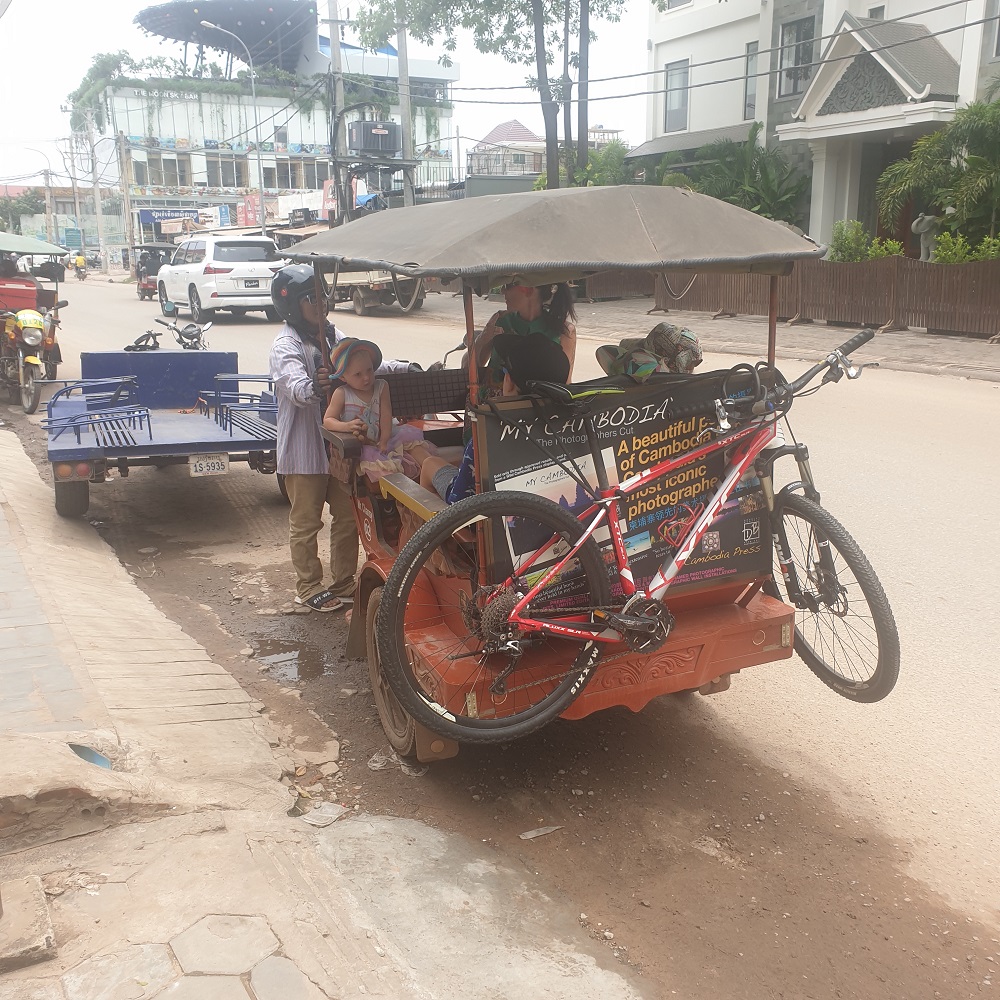 With kids, hiring a tuk-tuk driver for the day is the best way to get to Angkor Wat and getting around Angkor Wat. Our guy picked us up from our hotel, took us to the bike hire shop in town, we stopped for lunch, then bought tickets and headed out to the temples. He was then our support vehicle, taking the wife, kids and snacks around and meeting us at each gate. He stayed for dinner, then brought us home around 8.30 pm via the bike shop again all for $12.
The Best Tuk-Tuk Driver for Angkor Wat
When you get a good tuk-tuk driver in Siem Reap, it is advisable to get his phone number and use them exclusively. This will get you a better rate, and ensures your guy will really look after you. We had been previously quoted $15 or $17 for a day at Angkor Wat, so we were really happy with the price we ended up with.
For a great tuk-tuk driver who is familiar with the bike shop, and is able to attach the bike to his tuk-tuk, give Mr Chansy a call on 077 480 929. He knows his way around the temple complex like the back of his hand and speaks great English. Mr Chansy is also familiar with the route for riding around the wall.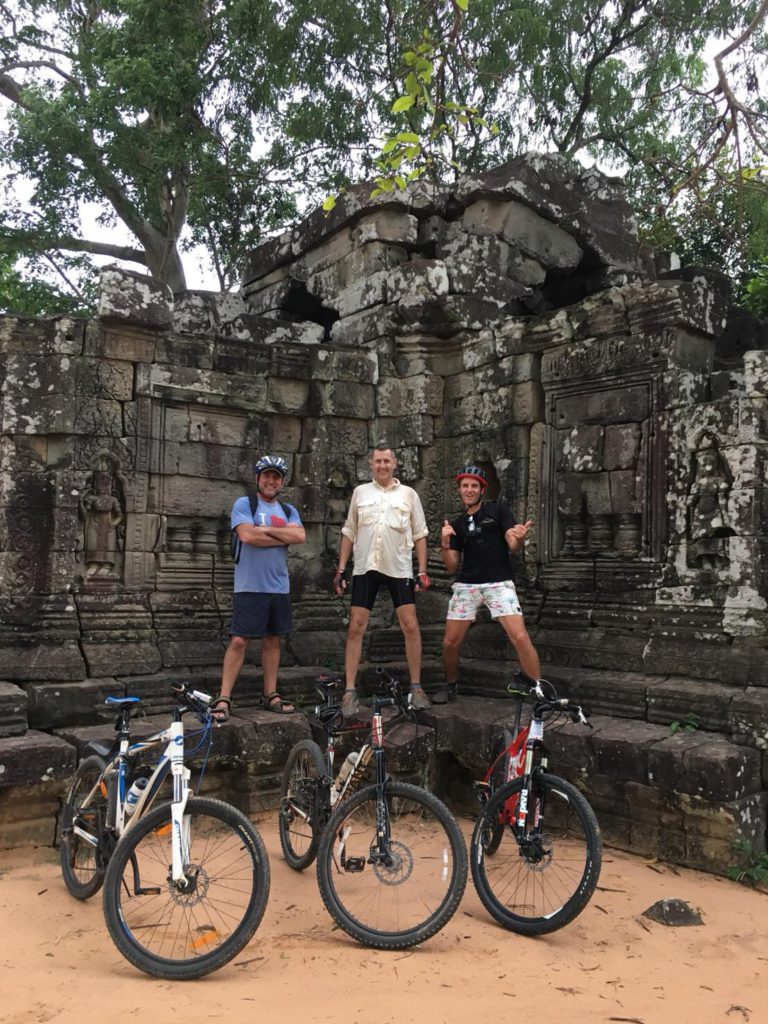 How to Visit Angkor Wat and Avoid the Crowds
The peak season for Angkor Wat and Cambodia is the dry cool months between October and March. April and May get very hot, and June to September is the rainy season. You will obviously find more tourists, and higher peak season prices in the peak period. We were there in May, and it was hot, but ok. Make sure your hotel has a pool, and stay hydrated.
For details on the weather in Cambodia month by month, read this next.
Another way how to visit Angkor Wat while avoiding the huge crowds of tourists is to aim for an early visit or go late in the evening. The ticket entry booths don't open until 7.30 am, but you can enter the park before this to view the temples from the outside from sunrise.
Later in the evening, all the tourists go home at 5.30 pm and you are left with a beautiful sunset view over Angkor Wat temple almost all to yourself as all the tour buses exit the park.
Visiting on a rainy day is also helpful as it keeps numbers down. Weekdays are less popular with Khmer local visitors.
Aim to get to Ta Prohm (the famous jungle temple) at 7.30 am as it opens and have it all to yourself! Head out to lesser known temples such as Ta Nai and Preah Khan which is where the tour groups don't seem to get to.
The famous temples such as Bayon, or Baphuron and Angkor Wat are busy. So is the Elephant Terrace and the Terrace of the Leper King. No matter what. Sometimes you just have to suck it up and go for it. Again, earlier the better. This is helpful for dealing with the sun and the heat as well!
Things to do in Siem Reap besides Angkor Wat
If you are looking for things to do in Siem Reap besides Angkor Wat, there are heaps!
Read This Now: Best Things to do in Siem Reap Besides Temples
Check out our articles below:
Where to Stay in Siem Reap
For all the details of the best part of town to stay, and the best options for families, and couples from budget to luxury, read this now:
Best Places to Stay in Siem Reap
Mid Range – The best place we found to stay in Siem Reap for a family of 6 was the Naga Gate Boutique Hotel. They have an interconnecting family room on the ground floor that sleeps 6 including breakfast for only $67US per night. There is a huge pool, the breakfast is amazing, and they provide a free tuk-tuk service to town in the morning and afternoons.
They also offer free airport pick up. We stayed here for over 3 weeks it was so good! The beds are super comfortable, the aircon and the wifi works and there is a little store across the road to buy your beer and water.
Budget – We also stayed at Neth Socheata Hotel for a very tidy budget option. It was perfectly located on the prettiest little street close to Old Market and Pub Street. No pool, but spacious air-conditioned rooms with comfy beds and breakfast included. Double rooms only cost $30US per night. Family rooms are available, and they can sleep 5 people. Definite thumbs up – location, location, location!
Read this for 18 fun things to do in Siem Reap, besides Angkor Wat.
Where to Eat in Siem Reap
There are so many great Siem Reap restaurants! For all the details, read this: Best Eats in Siem Reap
We have also found the Best Cafes in Siem Reap for you too!
How to get a Cambodian Visa
If you are travelling to Cambodia, you will need a visa. Find out how to get one here.
Currency Used in Cambodia
The US Dollar is the most popular currency used in Cambodia, but the Riel is also used. Find out how it all works in this post.
Guidebook for Cambodia
We love using the Cambodia Lonely Planet
How to Visit Angkor Wat
Find out all you need to know BEFORE you visit Angkor Wat here
Follow us on Instagram to check out how the rest of our Siem Reap travels unfold as we take our family of 6 around Southeast Asia.