Is Angkor Wat Siem Reap on your bucket list? The first time I came to these spectacular crumbling temples was over 15 years ago when Cambodia was just a blip on the backpacker trail. These days it gets millions of visitors per year and has become a must-see destination for so many. On our recent visit, we had our 4 young kids in tow. They were suitably impressed too.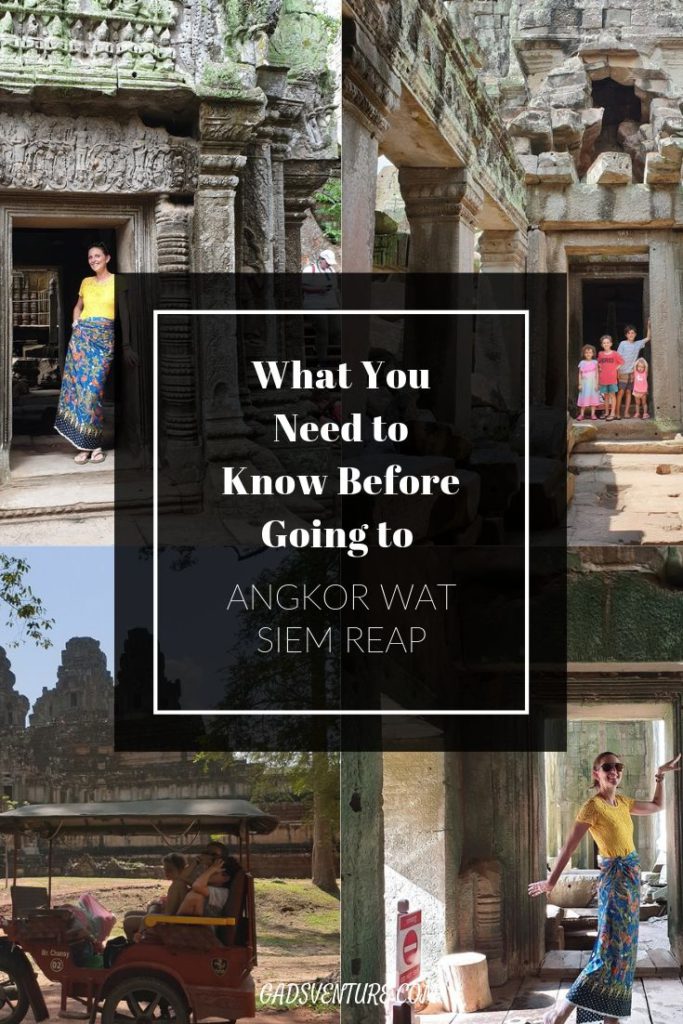 What You Need to Know Before Visiting Angkor Wat
Angkor Wat is a magnificent temple complex in Cambodia. It sprawls over 402 acres making it one of the largest religious sites in the world. Angkor Wat temple complex is a UNESCO World Heritage Site and is considered the 7th Wonder of the Ancient World.
Angkor Wat temple itself is the largest and best-preserved monument here. It was originally built as a Hindu temple in the 12th century and later converted to Buddhism. It is a vast temple with central lotus style peaks which make it so distinctive. The complexity of the structure is evident as you wander through and marvel at the design. It is surrounded in entirety by a huge moat.
The temple ground contains many more amazing examples of early Khmer architecture, all in various states of restoration, disrepair and ruin.
Planning a trip to Angkor Wat? You WILL need a visa.
Find out the easiest way to get one here.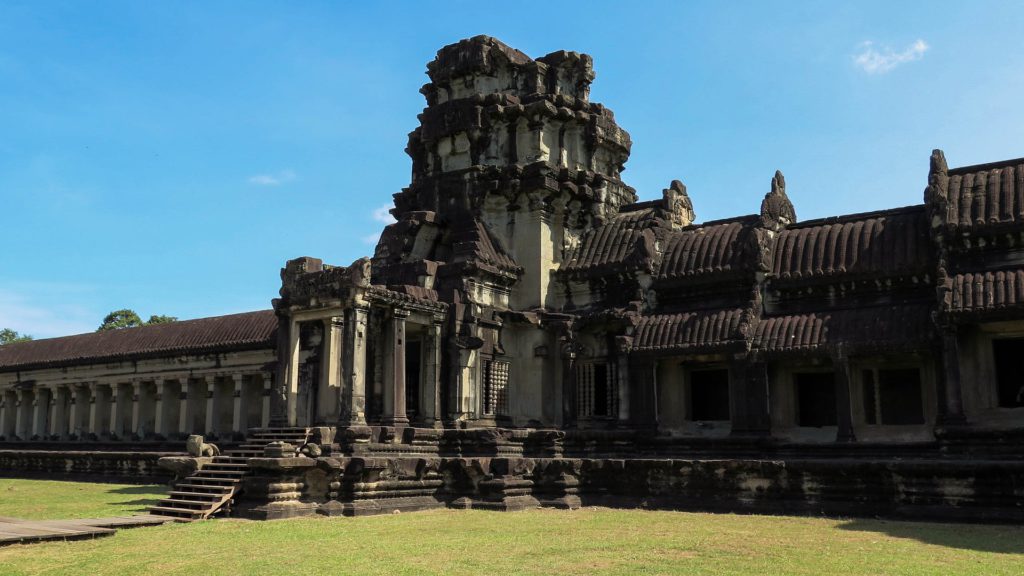 The most famous temples at Angkor Wat Siem Reap are:
Angkor Wat – the symbol of Cambodia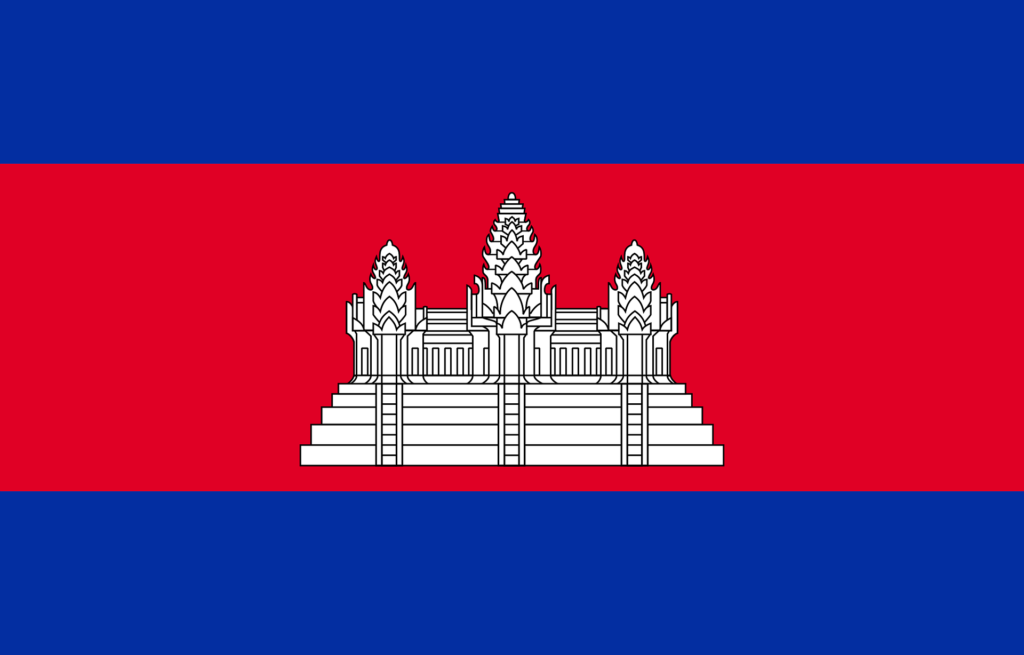 Bayon with its easily recognisable serene and smiling faces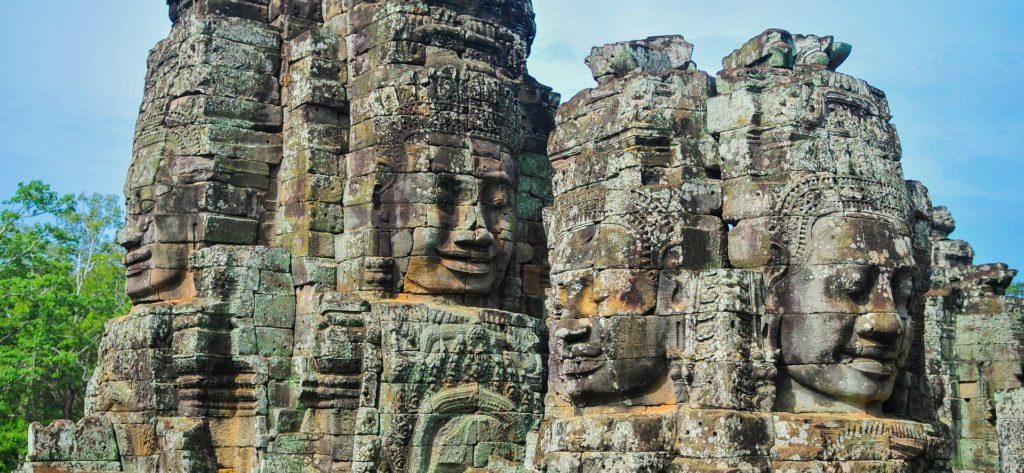 Baphuon – a tall and imposing structure (no kids under 12 allowed on this one thanks to the steep and ancient stairs)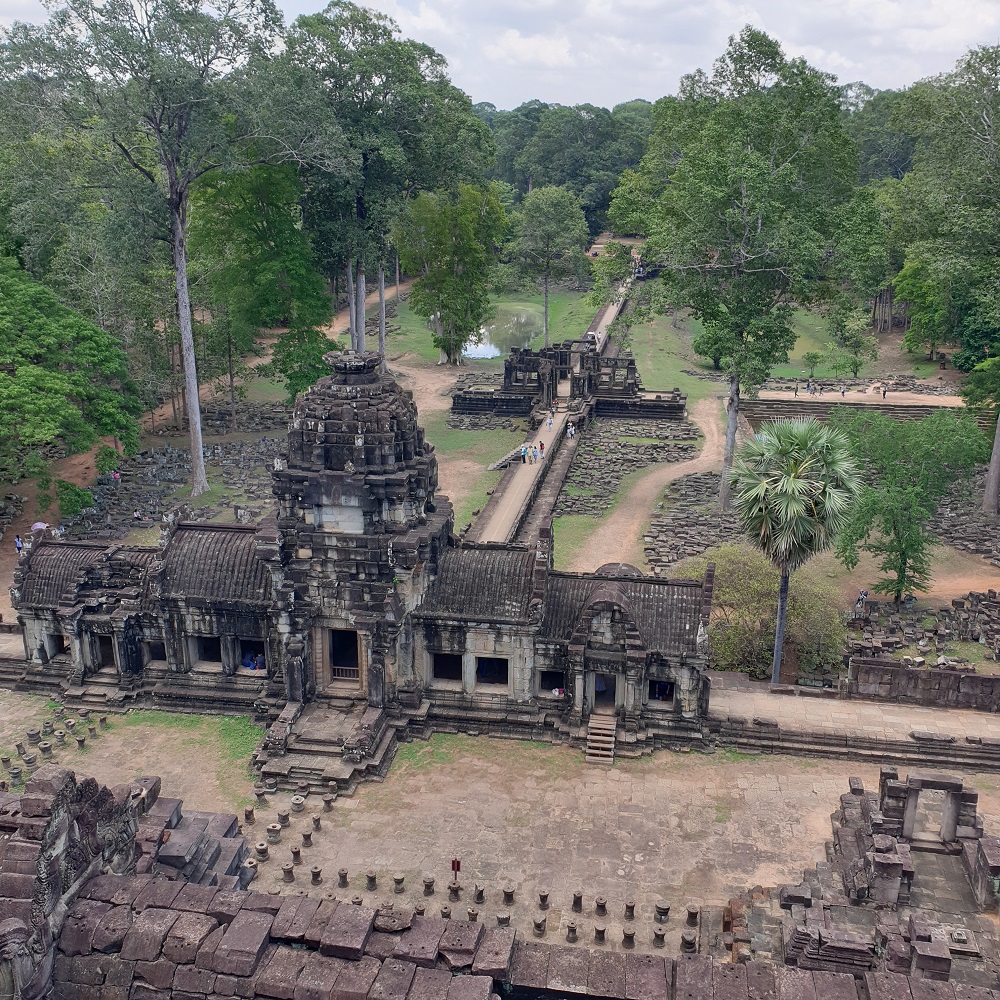 Ta Prohm has starred in Hollywood films such as Tomb Raider and is a distinctive temple which is being gradually taken back by the jungle.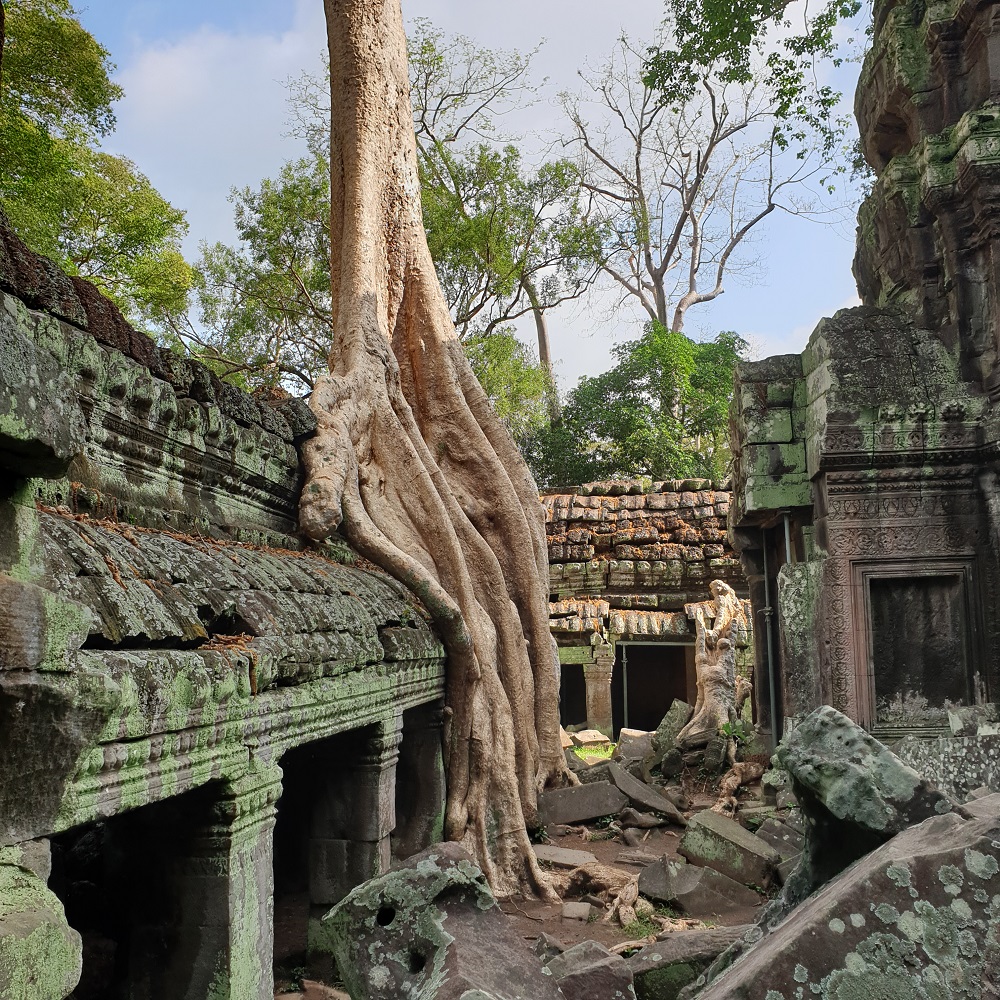 Preah Kahn – an extensive temple which once housed over 100,000 people and was a Buddhist university.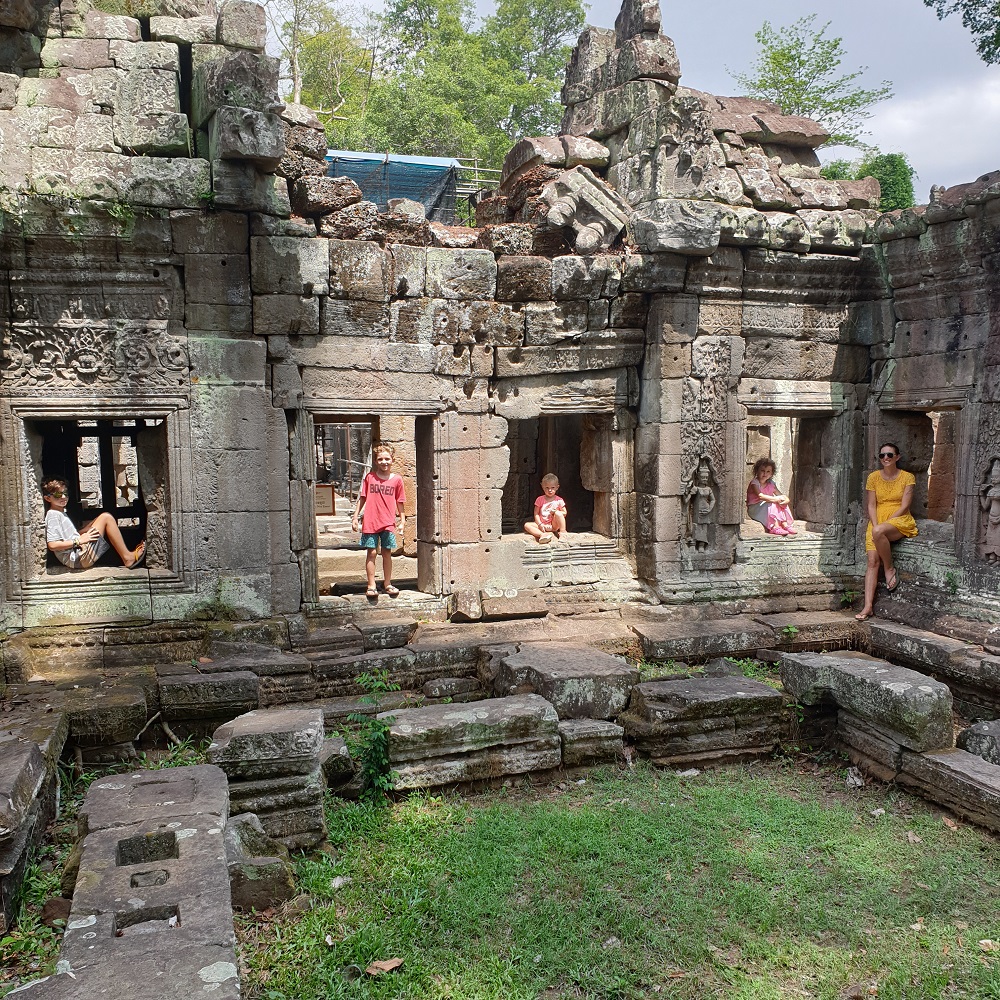 Ta Nai is a quiet and peaceful temple mostly in ruins but it has an atmospheric charm deeper in the jungle. Not accessible by car.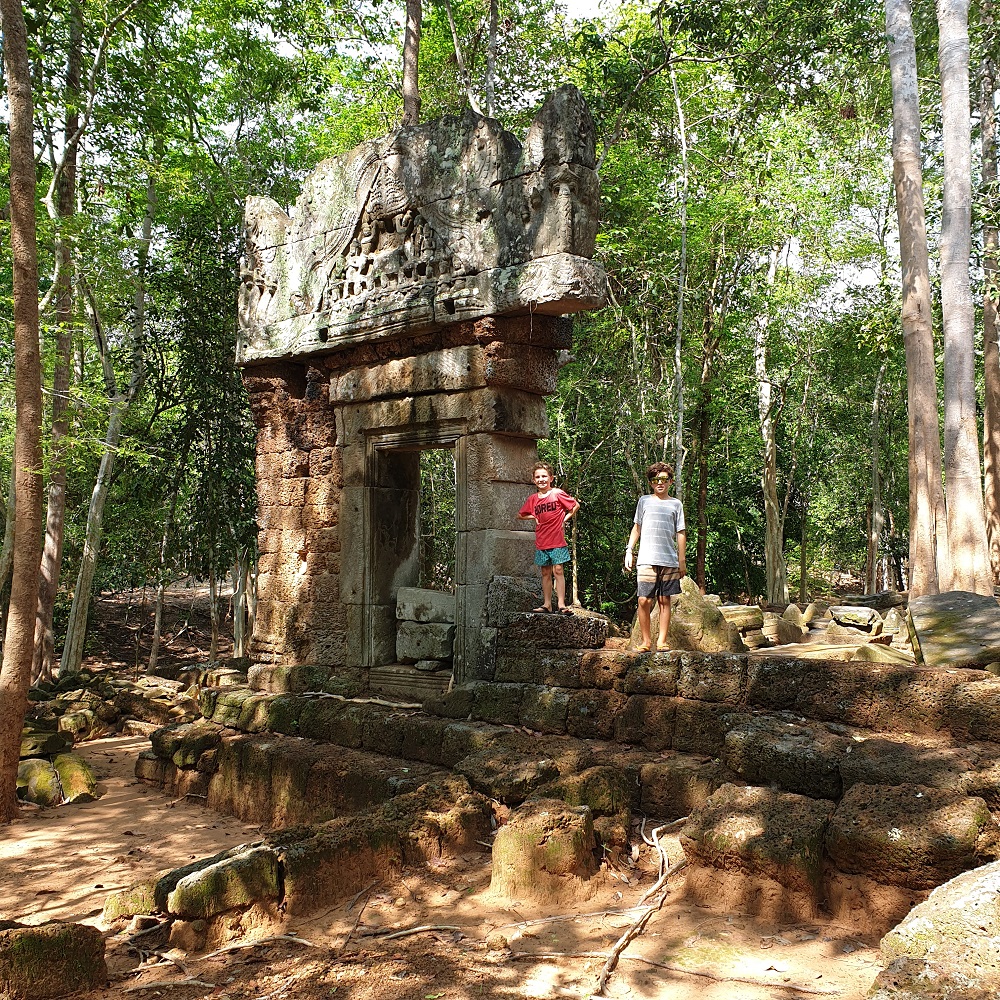 Banteay Srei – a bit further away from the main complex but still covered by your ticket, this impressive 10th-century structure was the Citadel of Women. It has the best carvings and a beautiful pink hue.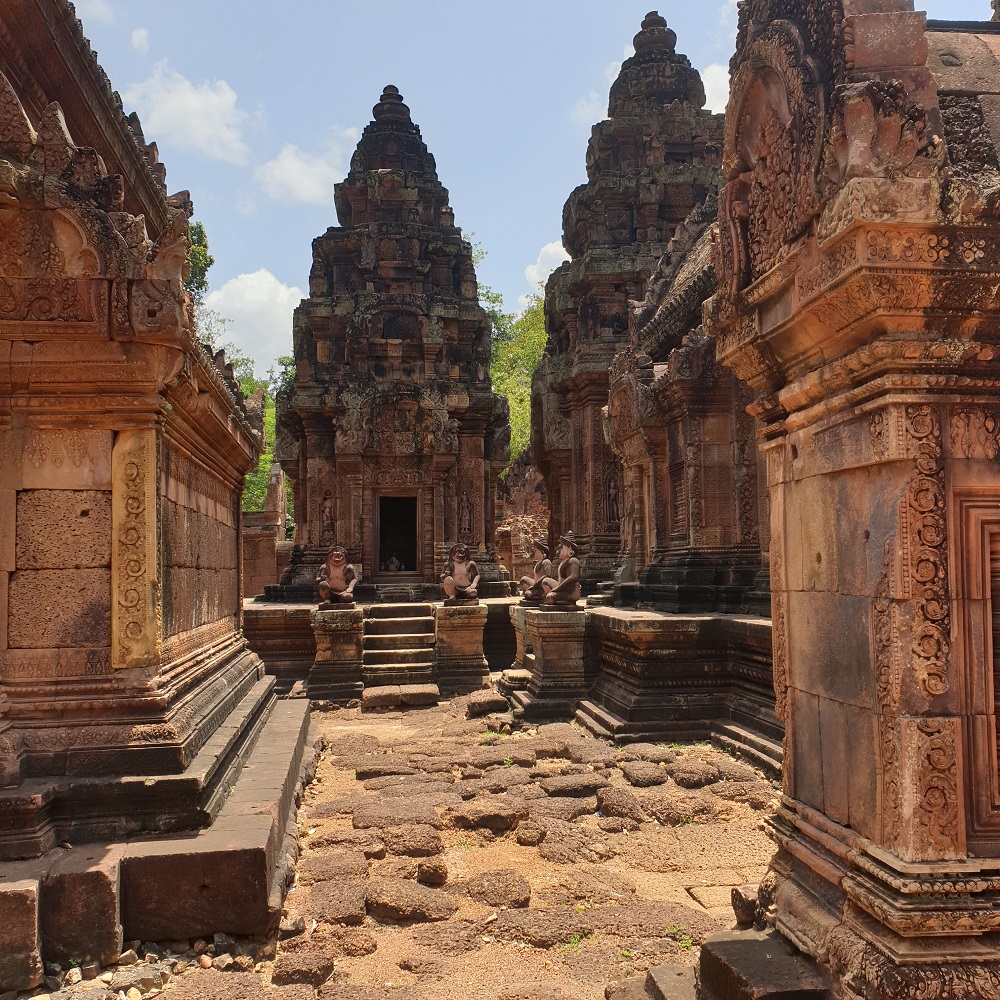 Combine your trip to Banteay Srei with stops at the brilliant Cambodian Landmine Museum, and the Banteay Butterfly Centre!
Where is Angkor Wat?
Angkor Wat is located 6 km away from Siem Reap in the centre of Cambodia. Siem Reap is used as a base for visiting the ruins.
Find the Best Cafes in Siem Reap Here
How Much Does Angkor Wat Cost?
There are 3 options for tickets for your visit to Angkor Wat. These prices are in US Dollars:
1 day pass $37
3 day pass $62 (valid for 3 days out of 10 consecutive days)
7 day pass $72 (valid for 7 days out of a month)
Kids under 12 are free (you may be required to show a passport for proof of age)
Khmer or a Khmer parent, free of charge
For more info on what currency you will need when travelling to Cambodia and how much things cost, Read This Post Next:
Your total price will vary depending on how you decide to explore the famous ruins, whether by tour or privately. The tickets listed are entry only. Further options are below.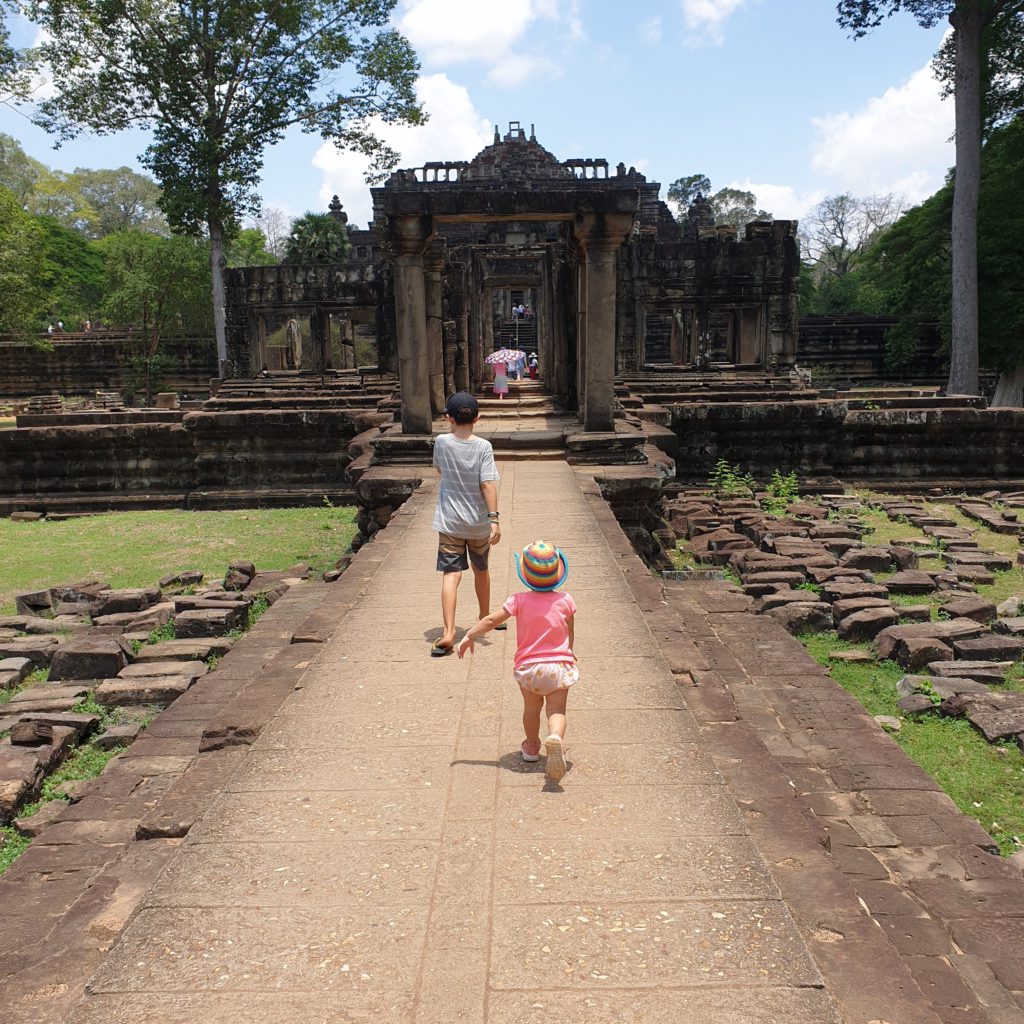 Opening Times for Angkor Wat Temples
Most temples within the complex are open from 7.30 am until 5.30 pm. You will need to show your ticket on entry into each.
Angkor Wat opens from 5 am until 5.30 pm.
After 5.30 pm, many locals spend the evening having picnics on the lawn overlooking Angkor Wat.
Where to Buy Tickets for Angkor Wat
You can only buy tickets for Angkor Archeological Park from the Angkor Wat ticket office which is found on the way to the temples. This is 4 km from Siem Reap. Ticket offices accept payment in US Dollars or widely accepted credit cards and there are many ATMs here also.
Note the ticket office does not accept Amex.
The Angkor Wat Siem Reap Ticket Office is open daily from 5 am until 5.30 pm.
If you wish to be at the temples for the sunrise, you can purchase your pass the day before after 5 pm. Mention that you want the ticket to commence the following day.
You will be asked to show your tickets regularly as you tour around the complex and holding no ticket is punishable by law.
How to Get to Angkor Wat
There are a few different ways to get to Angkor Wat and this will depend on your budget and requirements.
Tuk-Tuk Around Angkor Wat Temples (Budget)
With a 3 day pass, we arranged our own tuk-tuk driver for $15USD per day to take us around the temples at an easy pace. Every tuk-tuk driver in town wants to take you to Angkor Wat. Bargain hard to get the best price. Don't pay over $15 per day.
Doing it this way is the most budget option for seeing Angkor Wat Siem Reap. We skipped eating food out there and just bought overpriced water as we only did half days.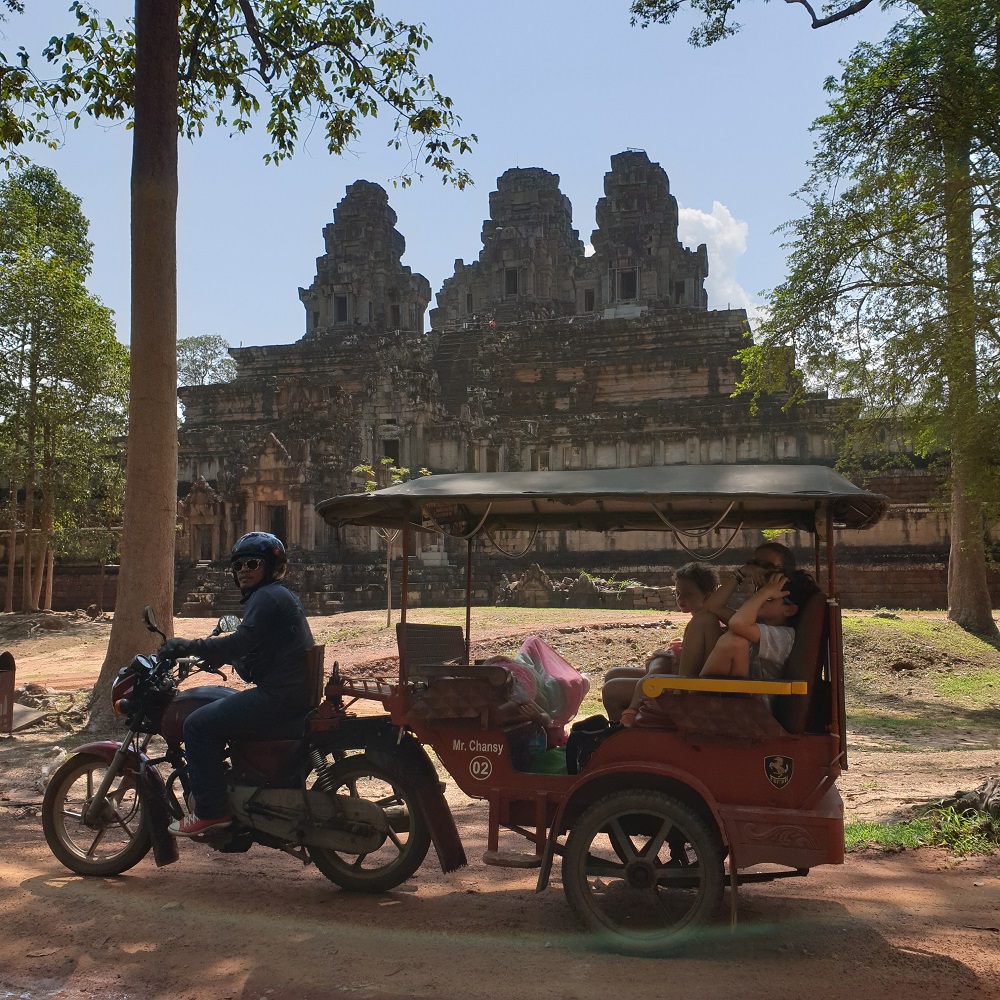 Therefore, for our family of 6, (4 kids are under 12) we saw Angkor Wat over 3 magical days for only $169USD.
For our full 3 day itinerary which will please everyone in your family, read this:
How to do Angkor Wat in 3 days.
As you enter the temples, official Angkor Wat Cambodia guides are available for hire. These cost $15. These guys generally have good English and great knowledge of the temples.
Tours of Angkor Wat Siem Reap
There are a variety of tour companies offering basic, budget, and unique tours of Angkor Wat. Here are some of our favourites. These all include hotel pick up but don't include the ticket for entry unless indicated.
Budget Tour of Angkor Wat
Small Group Sunrise 1 Day Tour of Angkor Wat
Cost: $26USD per person
Start your day with a stunning sunrise over the awe-inspiring Angkor Wat. Visit Angkor Thom City, Bayon and finish up at the spectacular jungle-clad Ta Prohm temple. Hotel pick up and drop off is included, and transport is by air-conditioned vehicle. (No children under 5 allowed on this tour.)
Mid-Range Tours of Angkor Wat
Cost: $85
With a private and personal guide who grew up living in Angkor, ride around and visit the famous temples for the day. Enjoy a 4 course traditional Khmer lunch and learn the secrets of Angkor Wat including tales of ghosts and burials. Enter Angkor Wat temple from a secret entrance to avoid the big crowds at sunset.
Angkor Wat Photo Workshop Tour
Cost: $130 per person
For budding or professional photographers, this unique tour gets you access into a deeper heart of Angkor Wat. See the stunning temples with a different eye as you are guided by professional international photographers. Learn some new skills, or brush up on your old ones. This is a flexible tour which aims to teach photography techniques using the most special and intricate subjects away from the crowds of tourists.
Cost: $70 per group
Tour around the ancient temples in an American war jeep that was a witness to the Vietnam War with an English speaking guide. This unique experience takes you via the famous Angkor Wat, Bayon, Baphuon, Ta Keo, the Terrace of Elephants, as well as lesser visited Ta Nei and Prei Rup. It is a true example of modern history meeting ancient history.
Luxury Tour of Angkor Wat
Sunrise at Angkor Wat and Champagne Breakfast
Cost: $305 including temple pass
Experience an absolutely unforgettable morning at Angkor Wat watching the sunrise over the impressive temple. Tour the well-preserved and spiritual place with a private and knowledgeable guide. Get up close and enjoy the beautiful detail on the carvings while learning all about this special 12th-century monument. After your tour of the temple, retire to a quiet spot overlooking the lake and celebrate with sumptuous champagne breakfast.
Ride a Bicycle Around the Ancient City Wall
For a full run-down of how to ride a bike around the crumbling Angkor Wat wall, and where to hire your Giant mountain bike in Siem Reap, read this now:
Visit Angkor Wat by Mountain Bike and Avoid the Crowds
This unique and fun adventure involves a 2-hour ride atop the ancient wide wall seeing hidden gates and corner temples without another single human!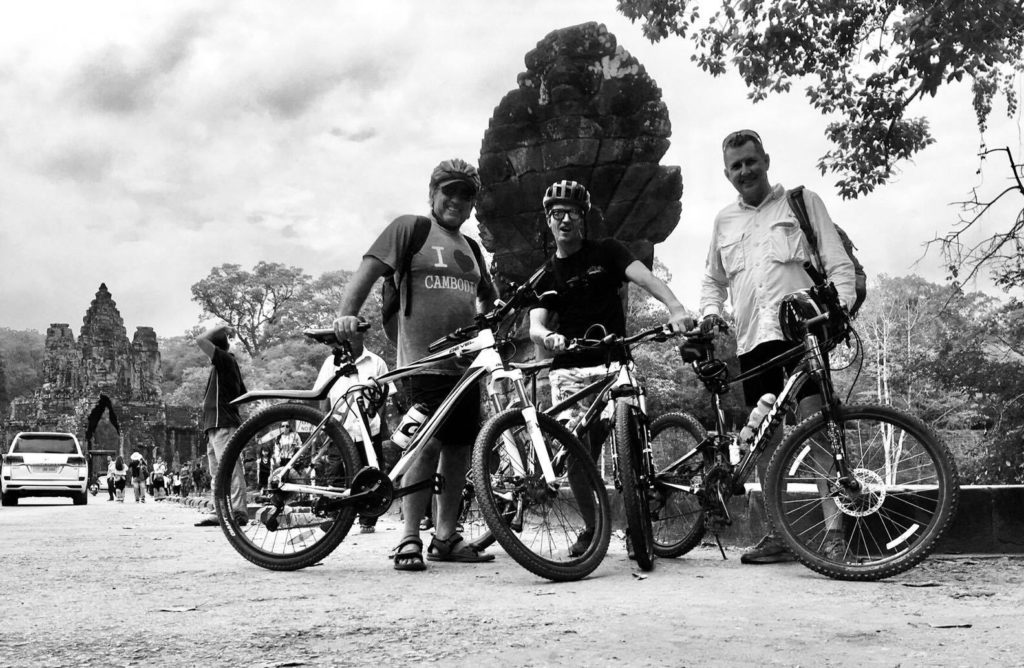 When to Visit Angkor Wat
The best times of the day for visiting Angkor Wat are the early morning, and the late afternoon. Seeing Angkor Wat for the sunrise is a very special experience.
In order to avoid big crowds at some famous temples such as Ta Prohm, try to be there as the gates open at 7.30 am. This will give you at least an hour before the big tour busses arrive.
Ta Nei is a much quieter temple and it is beautiful to visit in the heat of the day as it is hidden in a private shady grove.
Banteay Srey is also further away so has smaller crowds.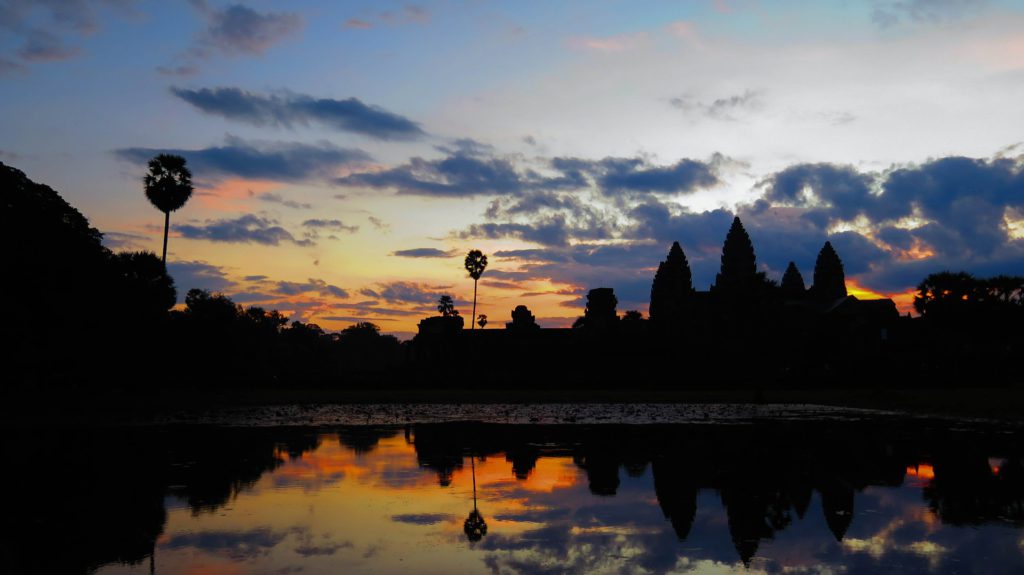 Sunrise during Summer is around 5.30 am, while in Winter you can view it at 6.30 am. Visit this site for the exact times during your visit.
Remember, to visit Angkor Wat for sunrise, you need to already have your ticket. Buy tickets for the following day from 5 pm the day before.
Peak Season for Angkor Wat
Tourists tend to visit Angkor Wat year round. The dry and cooler months between November to March have the most comfortable weather for visiting, however this is when crowds will be heavier.
April and May are the hottest months to visit, and June to September is the rainy season. However, you will still see periods of sunshine during rainy season. We visited in May. It was hot, but not unbearable. There were still plenty of package tourists.
Code of Conduct for Visiting Angkor Wat Temples
As Angkor Wat Siem Reap is an extremely important religious monument, there are some rules you must follow to be a respectful tourist.
The APSARA National Authority has implemented an official visitor Code of Conduct to harmonise tourist experiences at Angkor Wat. There are wardens who enforce these rules all over the place.
The Official Rules:
Dress code – Respectful dress is strongly encouraged. No revealing clothing. Shoulders and knees should be covered.
You are not allowed to touch carvings, sit on ancient balustrades, lean on the pillars, graffiti or remove anything from the Angkor Wat temple site.
Sharp items, high heeled shoes, umbrellas, tripods etc are discouraged.
Loud talking, shouting or hearty conversation is not permitted and is considered offensive. Be quiet, calm and peaceful when visiting.
There are areas of restricted access. This is for safety, so do not disobey 'no entry' signs.
Do not smoke. Angkor Wat has been a non-smoking site since 2012.
Do not litter.
Please do not give candy, money or other items to children. This activity encourages them to beg. Donate to a charity instead.
Be respectful of monks. They are to be revered. Make sure you ask first before taking pictures. Women are not allowed to touch or stand too close to monks.
Other Things You Need to Know Before Visiting Angkor Wat Siem Reap
There are toilets scattered around the park everywhere. Show your ticket for free entry
Food and drink are available. The price of water is about $1.
There are clothing sellers with sarongs and scarves if you forget to cover your shoulders
You may come into contact with beggars, especially children. It is advised not to give them money
Furthermore, if you are visiting the temples with your own children, be aware the Cambodians and the Chinese tourists are very fond of foreign kids. They will want to take pictures and touch the kids also. It is a bit confronting, and these people made my children cry on more than one occasion with overzealous cheek pinching. Just politely but firmly say no thank you and walk away.
It can get hot out there. Drink plenty of water and stay hydrated. Try to visit in the morning or afternoon and spend the hottest part of the day resting.
Read This Next: Fun Things to do in Siem Reap Besides the Temples
That's all you need to know before visiting Angkor Wat Siem Reap Cambodia. It is a once in a lifetime experience so make sure you enjoy yourself and make the most of this magnificent place.
Have you been yet?