I have been in Siem Reap for a month now with my family, living and blogging about this cool place. But do you guys even know where is Siem Reap?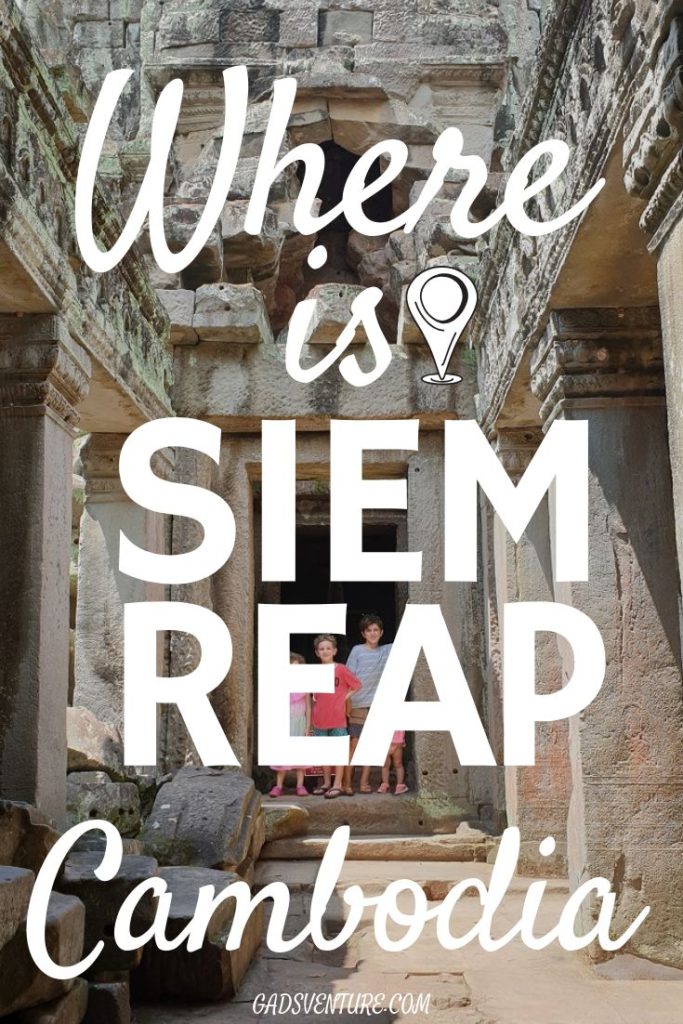 Have you ever heard of Siem Reap? Or Cambodia? Maybe you have heard of Angkor Wat? Well stay tuned, keep reading and I will let you in on the location of this wonderful city. As well as what there is to do around here (trust me, you will get excited), where to stay, and where to eat and drink.
So, Where is Siem Reap exactly?
Siem Reap is in Cambodia. Unlike Cambodia's capital city Phomn Penn, Siem Reap is home to the country's most famous tourist attraction – Angkor Wat.
Read This Now: How to see Angkor Wat in 3 Days
Siem Reap is 318 km northwest of Phnom Penh, 411 km east of Bangkok and 462 km northwest of Ho Chi Minh City. Siem Reap is the capital city of its district, so it is officially called 'Krong Siem Reap'.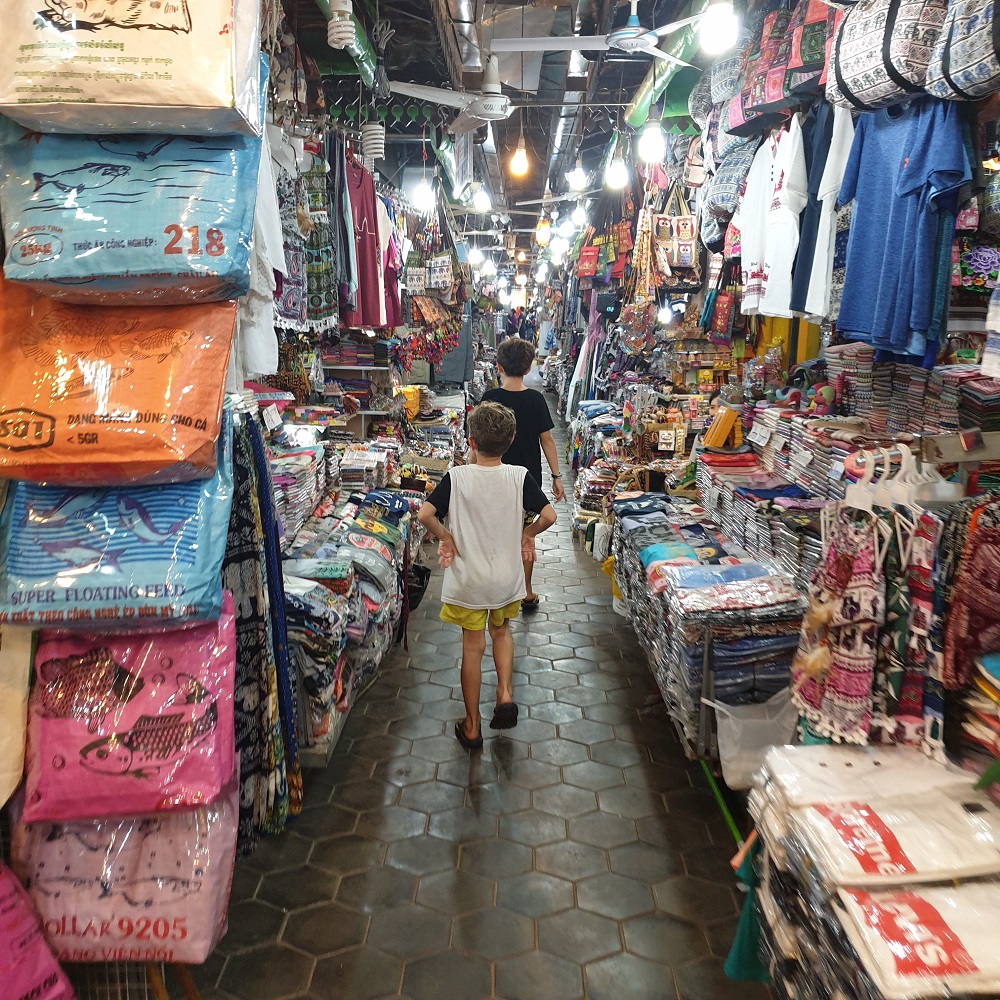 How to Get to Siem Reap
There are many ways to get to Siem Reap. Most visitors arrive into Siem Reap International Airport.
Read: How to get a Visa for Cambodia
We flew in from Phuket on a direct 1 hour flight with Air Asia. Flights from Bangkok are similar in price and length.
You can catch a public bus all the way from Bangkok, Phnom Penh or Ho Chi Minh.
Private minivan taxis also ply the route between Phnom Penh and Siem Reap. You can check prices for private transfers below:
Or arrive in style via a boat across Tonle Sap Lake from Battambang, Phnom Penh, or even Saigon. Check prices with GetYourGuide for the 7-day epic boat ride through the Mekong Delta and up to Siem Reap above.
We like to use 12GoAsia to compare prices between the different modes of transport. You can browse and book online through their website.

What is Siem Reap Known For?
The number one tourist attraction in Cambodia is Angkor Wat. This UNESCO World Heritage Site was once the largest pre-industrial city in the world. Now it is the largest and best-preserved temple complex anywhere.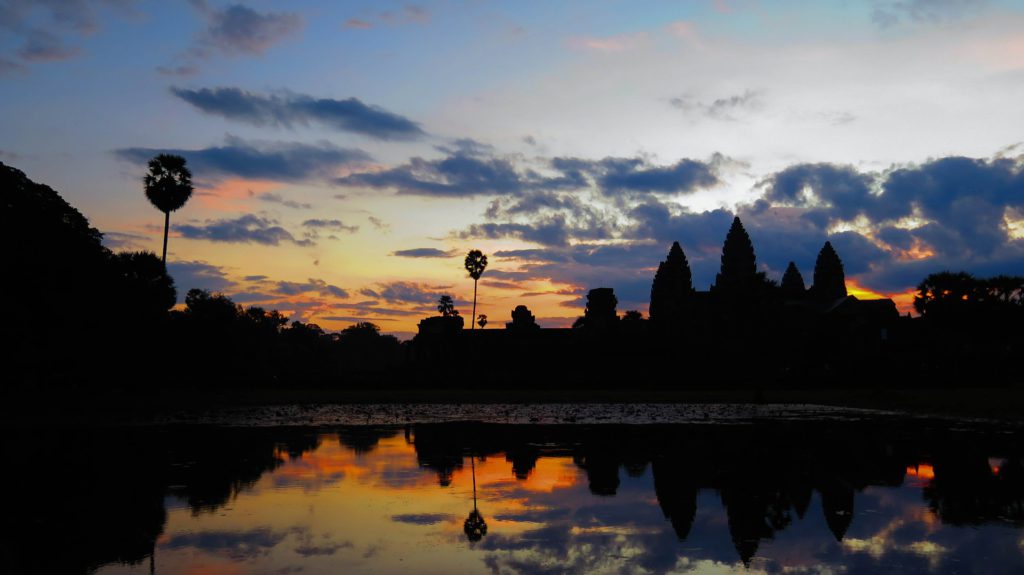 The 5 lotus towers of the main temple rising 65 metres into the sky is the reason most people come to Siem Reap, indeed to Cambodia. Visiting Angkor Wat is one of the most special experiences a traveler can have.
Read This: How to See Angkor Wat Without the Crowds
Visiting Angkor Wat
You can visit the famous temple complex as part of a tour group, a bicycle tour, or with a private tuk-tuk.
Using GetYourGuide as an agent when booking an Angkor Wat tour is very helpful. Even if you just check prices and compare them with local booking agents, they are very helpful and easy to use. The major advantage is you can browse, book and pay online and know exactly what is included.
Some of the best Angkor Wat tours with GetYourGuide we found are:
DIY Tour
Guides are available to hire at the temples for $15 per day. And your tuk-tuk driver is variable, but usually around $15 per day. Khmers do not have to pay entry at Angkor Wat. So you can also organise your own tour of the temples. Every tuk-tuk driver you take around town will offer to take you.
Angkor Wat tickets must be pre-purchased by foreigners and can only be bought from the Angkor Wat Ticket Office before entry. The options are as follows, and all prices are in USD:
1 day pass – $37
3 day pass (for use within 10 days) – $62
7 day pass (for use within 1 month) – $72
The Angkor Wat ticket office is located at Apsara Rd, Krong Siem Reap.
Angkor Wat is an incredible must-see experience. If it weren't for this, many people would not even know where is Siem Reap!
What is There to do in Siem Reap Besides Angkor?
Read This: Things to do in Siem Reap Besides Temples
While Angkor Wat is definitely the main attraction of Siem Reap, there are still heaps of other ways to spend your time here.
Tonle Sap Lake and Fishing Village Tour – Adjacent to Siem Reap is the huge lake which is home to people existing on a meagre fishing existence. Tours range from sunset dinner cruises, to half day looks into this unique way of life. Click on the link above to check prices with GetYourGuide.
Artbox – An immersive and engaging 3D art museum. Wander around and take creative and fun pics of yourselves with dynamic backgrounds. You can buy tickets on GetYourGuide above, and they are cheaper than at the museum.
Cambodia War Museum – A sombre look at Cambodia's recent civil war and the fight against the Khmer Rouge. Weapons and a real tank are on site.
Go to the Movies – The Major Cineplex Siem Reap shows the latest international and English movies in 3D and tickets are only $4.50.
Bicycle Tour – There are many companies offering bike tours of Siem Reap and the surrounding countryside. Check out some of the most popular ones below:
Pub Street, Siem Reap
Pub Street is so cool, it get's its own heading in what is there to do in Siem Reap. It is really 2 streets that are closed off to traffic after 6 pm nightly. The walking traffic then slows down to enjoy the 0.50cent beers and $1.50 cocktails lining each side o the road. There are market sellers with fried ice cream, fruit shakes and fried spiders (!). Kids selling light up toys, and landmine victims plying their wares.
Markets
Pub Street is in the middle of town and is surrounded by cool markets including the Old Market and the Night Market. Both are worth a browse. The shop sellers are all so friendly and they are easy to bargain down. Things are cheap in Cambodia.
Find out more: What Currency is Used in Cambodia?
Where to Drink in Siem Reap
The best places to drink can be found along Pub Street. Check out Laundry for an awesome place to play pool. The Red Piano Bar is also popular and there are a few versions of this around town. However, a lot of places are owned by the Temple group, and you will notice the same theme repeated many times over in different bars on Pub Street and elsewhere.
Srey Sister, Little Red Fox Espresso and Crane are the best places for the most delicious coffee.
Check out this post: Best Cafes in Siem Reap
Where to Eat in Siem Reap
Along the river bank are a swathe of cheap food stalls which sell everything from Lok Lak and cocktails, to fried rice and spring rolls. Fruit shake carts can also be found everywhere in the centre.
Our favourite place for food is Viva. This Mexican restaurant has a trifecta of cheap frozen margaritas, excellent Mexican food as well as succulent Khmer dishes at great prices. There are 2 versions of this great restaurant in and around Pub Street.
Thai Kitchen is worth the hike if you want the best Thai in Siem Reap. Furthermore, Elia offers fantastic Greek and budget priced souvlaki with fresh lemonade.
Definitely try a Khmer BBQ while you are here, it is a fun and delicious way to have dinner.
Where to Stay in Siem Reap
Luxury
For a luxury stay right in the action, The Golden Temple Boutique is exceptional.
Mid-Range
For an awesome mid-range boutique hotel which has great family interconnecting rooms, we stayed at Naga Gate Boutique Hotel. This place has a huge and beautiful pool, polished wooden floors, comfy beds and includes a brilliant breakfast for under $60USD per night. That's for 6 people! The Naga Gate is 2.5 km south of Pub Street and they offer a free tuk-tuk transfer to town twice per day. It costs $3 in a tuk-tuk to get back.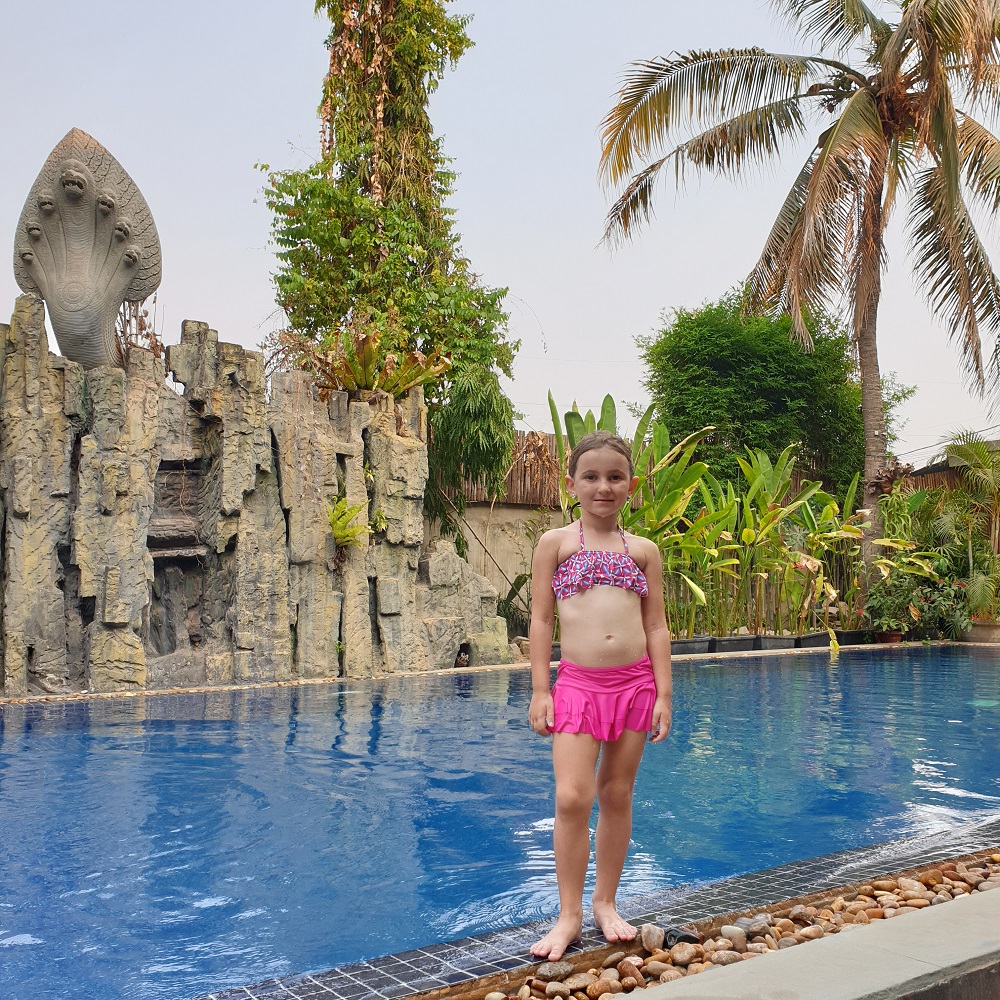 Budget
Neth Socheata Hotel is an epic budget option which gives you a clean and decent room with 5 comfy beds, air-con, satellite TV and breakfast included for under $50USD per night. No pool here, but it is in a super location only a block from Pub Street, and down a little quaint alleyway with restaurants and shops. Double rooms only cost $20!
Getting Around Siem Reap
The best and easiest way to get around Siem Reap is by tuk-tuk. There are drivers everywhere waiting to take you wherever you desire. Around the city, rides are $1-2. It is wise to ensure you have small notes on you for this.
There is Grab in Siem Reap, and Pass App which are like the Cambodian versions of Uber. The advantage of these are that you can order and pay online without cash having to change hands. But we never used them. Pass App operates the little 3 wheeled Indian style tuk-tuks.
So Now you Know Where Siem Reap Is!
I hope this article has helped you to find out little more about where is Siem Reap and what there is to do there. You will find a delightful city full of vibrant culture and fun loving people. Furthermore, Siem Reap seems to be emerging from its former shadows and is becoming the cosmopolitan heart of Cambodia.
Have you been?