During our days exploring Angkor Wat in Siem Reap, we hunted for other interesting things to do. We found a low-key water park that kept our kids entertained, The Banteay Srey Butterfly Centre, great markets and drinking areas, and then we found the excellent Cambodia Landmine Museum.
Find out more about visiting Cambodia with your kids here.
This place is one of the best, most well-presented museums I have ever been to.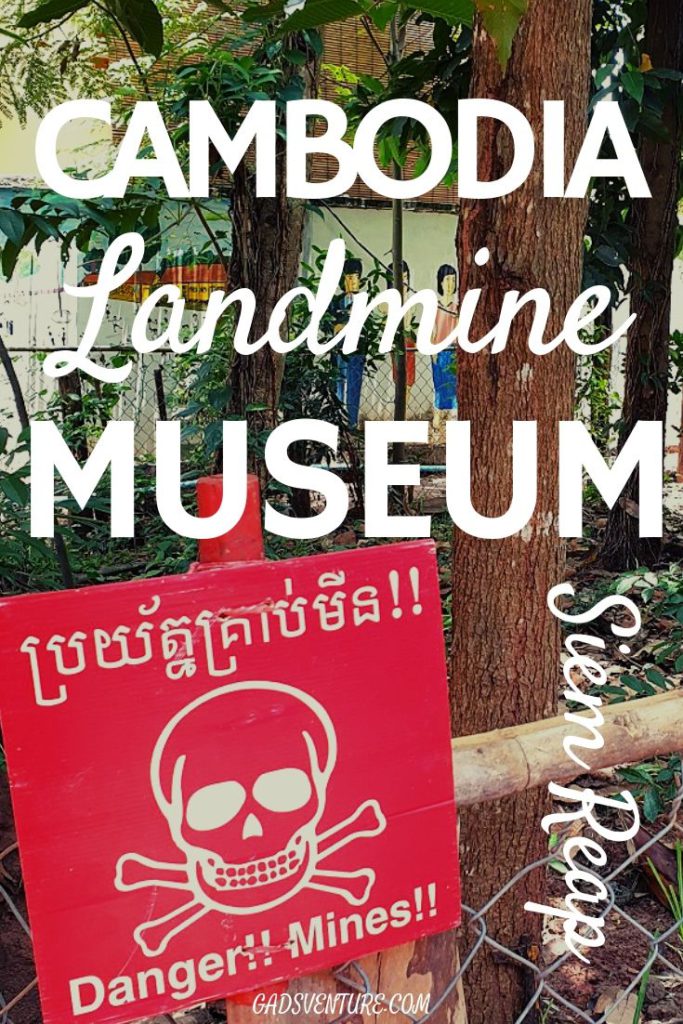 Where is Cambodia Landmine Museum?
This tribute to Cambodia's vast and terrible experience with landmines is located 28 km from Siem Reap. This will take around 50 minutes in a car. We were in a tuk -tuk which took about 1.5 hours.
We visited it as part of our Angkor Wat in 3 days itinerary. It is best visited as a day trip from Siem Reap. Take in the Banteay Srei Butterfly Farm and Banteay Srei Temples on the way. The Banteay Srei Temple is included on your Angkor Wat ticket. This is a very beautiful temple and a great way to avoid the crowds at the main Angkor Temples.
Heading to Cambodia soon? You will need visas and vaccinations!
Opening Hours and Cost of the Landmine Museum
The Cambodian Landmine Museum is open from 7.30 am until 5.30 pm daily.
Cost for adults is $5
Children $2
Children 5 years and under are free
Khmers are free
How are the Entrance Fees Used?
The entrance fees are transparently broken down:
$1 is used to support programs in country villages;
$1 of each ticket is used to clear landmines in rural areas of Cambodia.
$3 is used to support the underprivileged children who actually live at the museum and receive schooling, as well as to pay staff.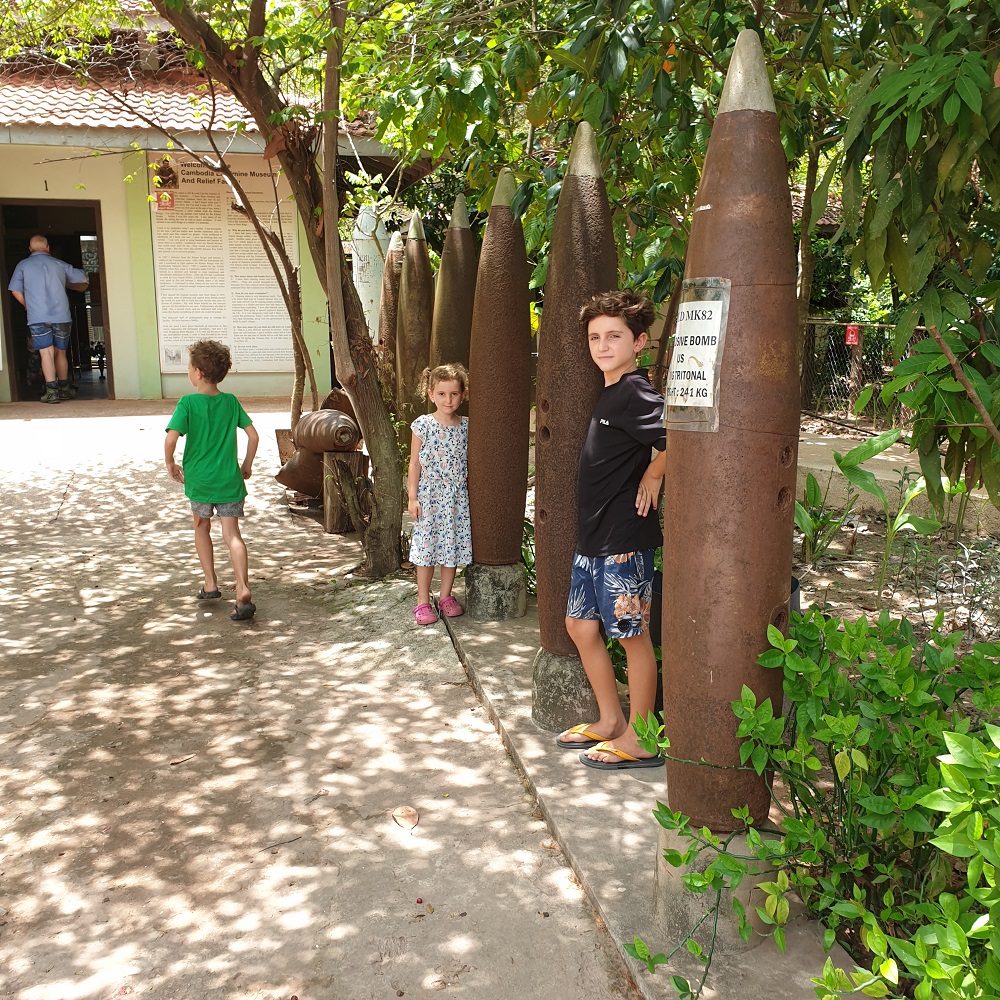 Aki Ra
Aki Ra is the founder of the Cambodian Landmine Museum. He doesn't know what year he was born but believes it was around 1970.
Aki was a child soldier during the days of the Khmer Rouge. He got his first gun when he was 10 years old.
After the war ended, Aki Ra began clearing and collecting weapons.
I used to lay landmines when I was a soldier. I laid thousands. Sadly I did not realise how terrible landmines were, or how much pain they caused my people……..from childhood to adulthood, all I knew was war. I grew up thinking that was normal.

Aki Ra
Aki Ra first opened the original landmine museum close to Siem Reap in 1997. In those days, landmine clearance was still done using primitive means of 'probing'. Deactivated mines were then dissassembled so that they could sell the valuable parts. But many de-miners were not as skilled as Aki Ra so there were a lot of casualties.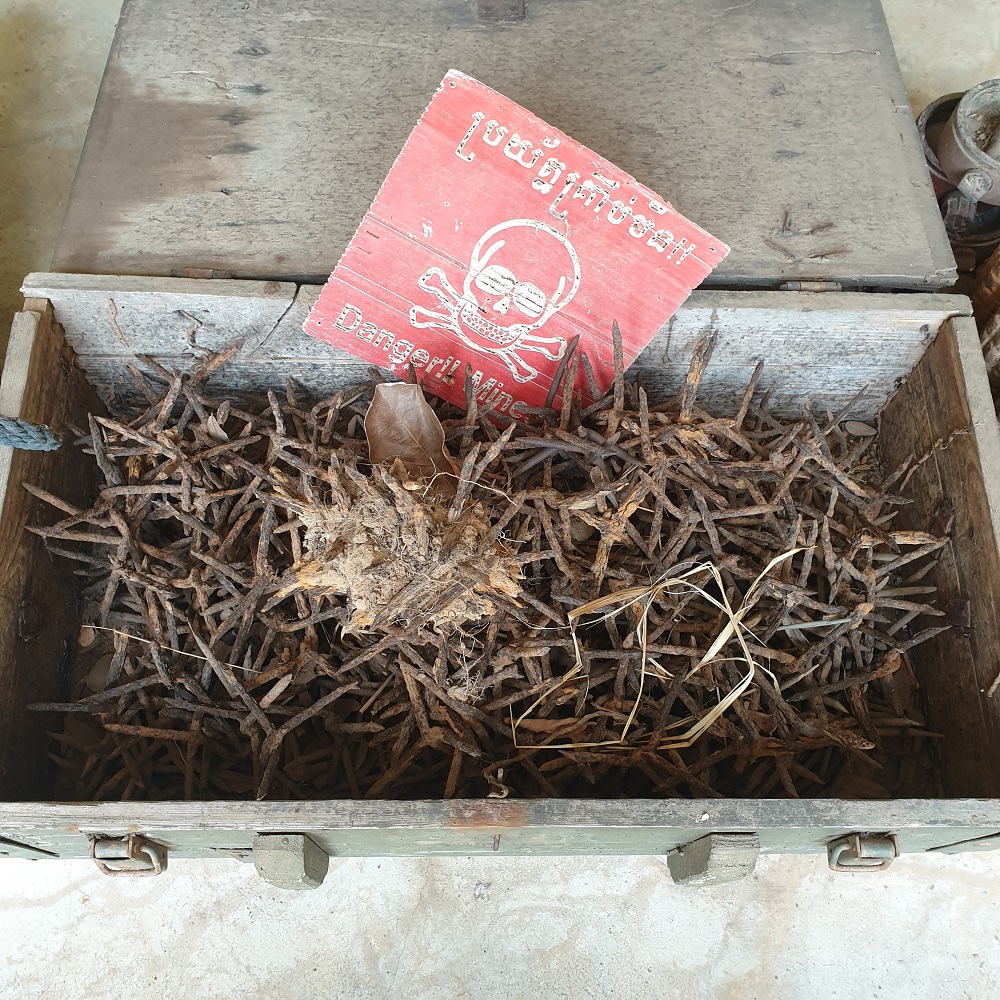 New Government Licencing
The government decided to regulate the practice and decreed that all people working in the field and clearing landmines had to have a licence.
It is estimated I have cleared over 50,000 mines and UXOs (unexploded ordinances). Clearing mines is very dangerous work. You have to know a lot about each type of weapon because they are all different. Any mine can kill you from making simple mistakes. I have good experience as a soldier, and I know how to take many weapons apart without them exploding…… It takes a long time to master this profession.

Aki Ra

In 2006, the new government regulations stopped Aki Ra from demining using his old fashioned methods. So, he started his own government-certified demining NGO to continue to clear landmines in his country.
He began supporting and training landmine victims, and gathered dozens of children into his care. Aki Ra's NGO is called Cambodian Self-Help Demining (CSHD).
The Landmine Legacy in Cambodia
It is estimated that there are still 3-6 million active landmines left in Cambodia. And there are tonnes of bombs left as well. It will still take many years to clear them all.
Since 1979, approximately 64,000 Cambodians have been injured or killed by landmines. And it is no joke when you see the victims of landmines begging in the streets of Siem Reap. Or playing in the Khmer Landmine Victims Band at Angkor Wat.
The Cambodia Landmine Museum
The Cambodia Landmine Museum is set around a central unit which holds thousands of deactivated landmines. The exhibits surround this inside rooms with so many more bombs that the team have collected.
There are displays featuring the more than 500,000 tonnes of bombs which were dropped by the US airforce in the 1960s and 1970s.
Haunting videos play in each room. One shows footage about the Khmer Rouge takeover. Secondly, in the next room, a video presents in-depth knowledge about the terrible destructive power of each type of bomb.
The exhibits are very comprehensive, and there are a lot of photos and so much information to take in.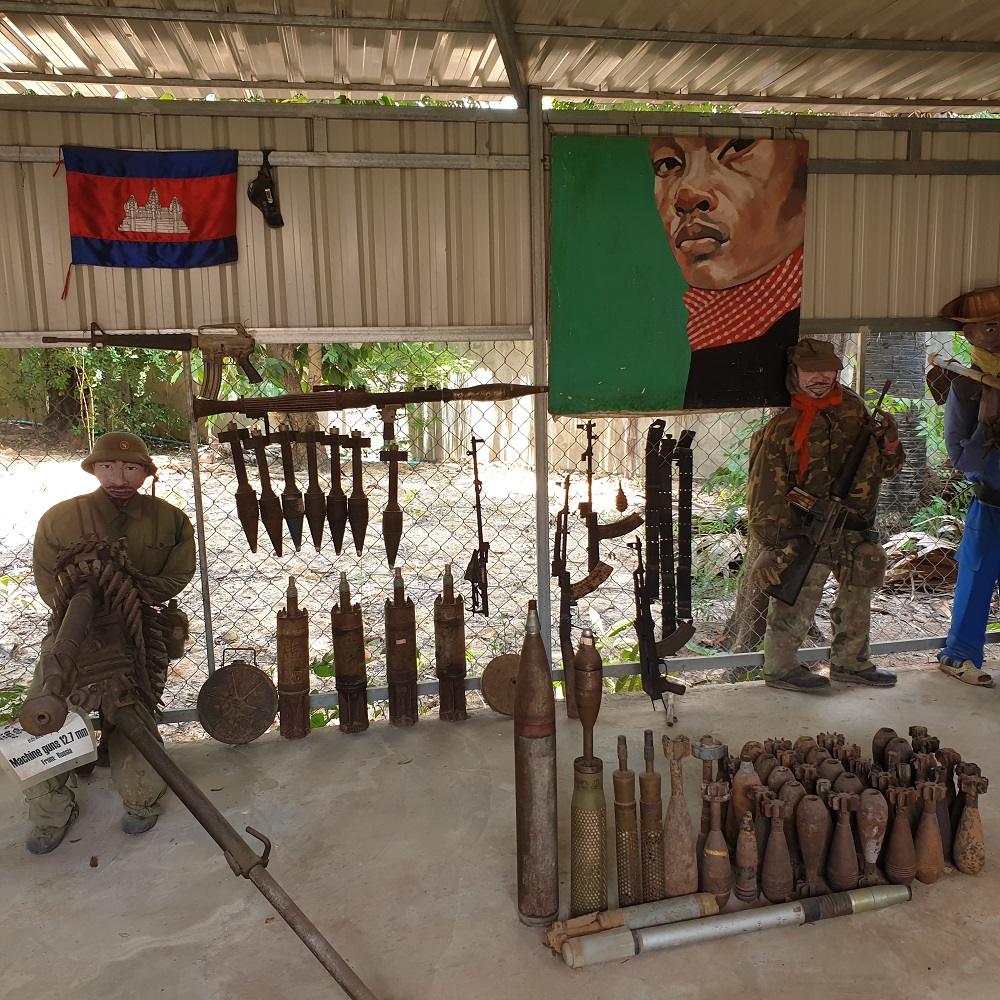 The Minefield
Additionally, you will even see an engaging example of a minefield, with mines and UXOs disguised in the brush behind a fenced off area.
All the mines and UXOs, and munitions on display have been officially inspected by the Cambodian Mine Action Authority and declared safe.
The Khmer Rouge occupation and the violence that occurred strikes so deeply in the heart of visitors to Cambodia. The Cambodia Landmine Museum presents the information in a sombre yet positive light. There is hope for the future.
Facilities
The area is mostly shaded. Furthermore, we visited in the middle of the day, and the temperature was pleasant. There are big trees providing shade and a peaceful atmosphere.
There is also a small shop in the museum which sells Cambodian made products to help keep the organisation afloat. You can get your landmine soap, recycled brass jewellery made from old bombs, and t-shirts too. Donations are also welcome.
Moreover, there is a snack shop providing food and drinks at the front of the museum, and super clean toilet facilities on site.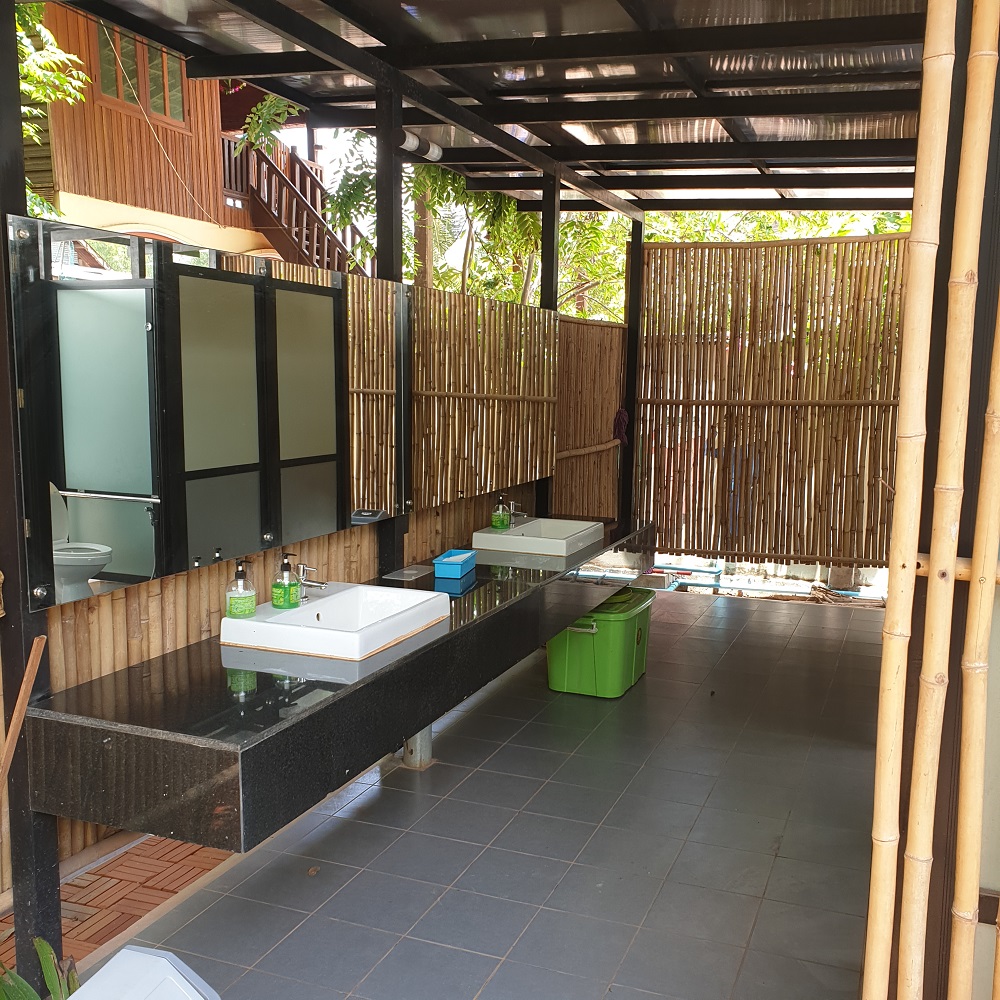 Demining Efforts Continue
Landmines never go inactive. So although many of these bombs were laid during the Vietnamese occupation of Cambodia between 1978 to 1989, they are still just as dangerous today.
In contrast though, thanks in large to Aki Ra's efforts, since demining efforts began, over 500,000 anti-personnel mines and 10,000 anti-tank mines have been removed from the ground in Cambodia.
But so far, only half of the minefields in Cambodia have been cleared. There are still 1,950 square kilometres of minefields left to clear.
Cambodia has a national goal as a nation. That is to be landmine free by 2025.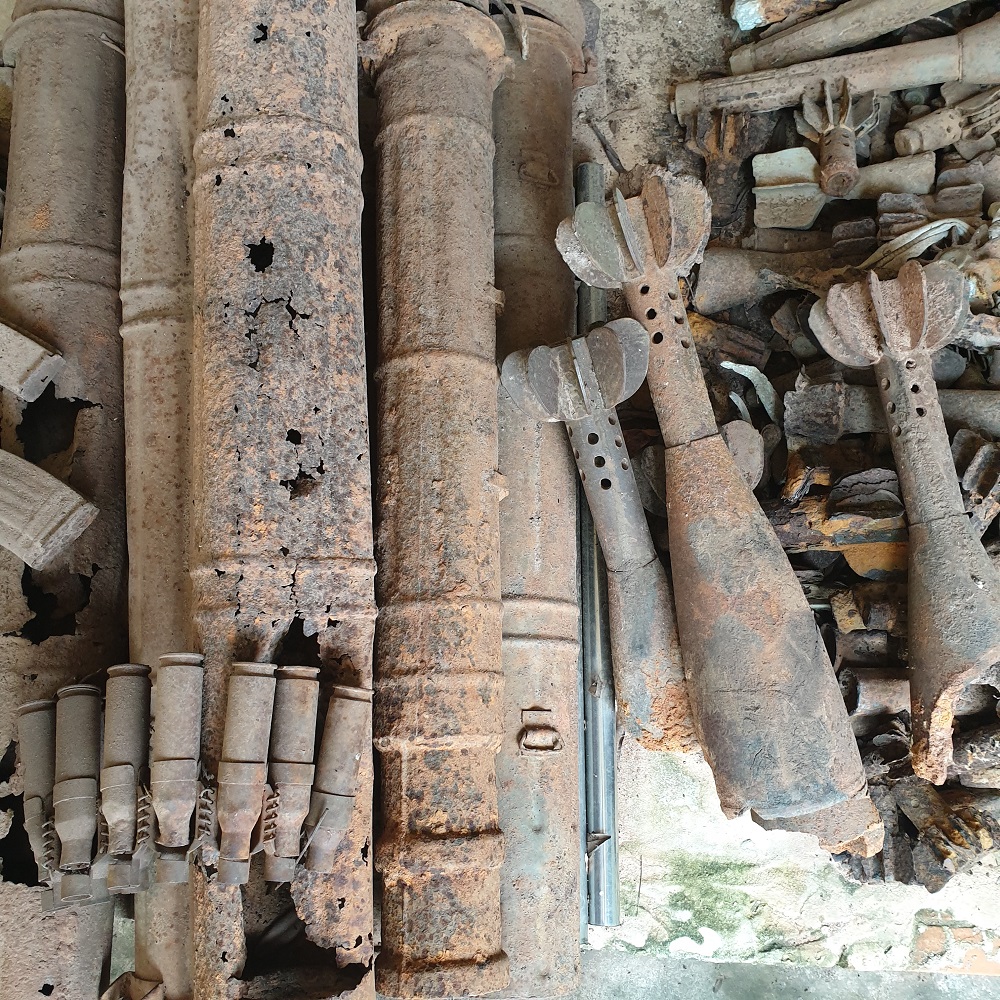 Cambodia Landmine Museum – The Verdict
We had tired hungry kids when we visited. But they were instantly excited and intrigued by Siem Reap's Landmine Museum. The boys at 9 and 7 loved every aspect. They read each display, and marvelled at the pictures and exhibits. They were able to learn so much about Cambodia's recent history and the cost of war.
This wasn't our first visit to Cambodia, however, it was our first proper look at the real world landmine problem. Therefore, as an overall experience, the Cambodia Landmine Museum gets 5 out of 5. It's a definite must-see on a trip to Siem Reap.
You can see their website here for more information.
Check out their great reviews on Trip Advisor too.
For more great things to do in Siem Reap check out our reviews here:
Where to Eat in Siem Reap
There are so many great Siem Reap restaurants! For all the details, read this: Best Eats in Siem Reap
We have also found the Best Cafes in Siem Reap for you too!
When to Visit Cambodia
Read this for the weather in Cambodia month by month.
How to get a Cambodian Visa
If you are travelling to Cambodia, you will need a visa. Find out how to get one here.
Currency Used in Cambodia
The US Dollar is the most popular currency used in Cambodia, but the Riel is also used. Find out how it all works in this post.
Guidebook for Cambodia
We love using the Cambodia Lonely Planet
How to Visit Angkor Wat
Find out all you need to know BEFORE you visit Angkor Wat here
Follow us on Instagram to check out how the rest of our Siem Reap travels unfold as we take our family of 6 around Southeast Asia.