Before heading off on your trip of a lifetime to Angkor Wat, you will want to check the Siem Reap weather.
We have just spent 3 weeks in Cambodia's famous Siem Reap visiting the temples and experiencing Khmer culture.
For the best 3-day itinerary of Angkor Read This
Because you are spending a lot of time visiting temples it is crucial that you pick the right months to visit Cambodia. You don't want to overheat or get too wet.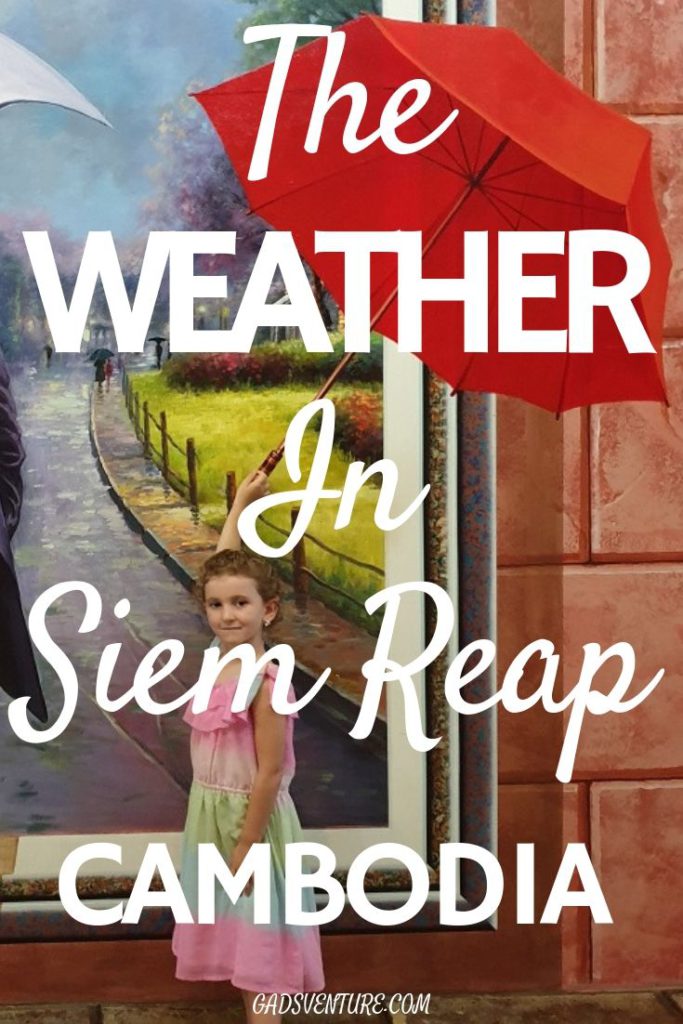 Unlike Thailand Weather, Cambodia is very different and only has two seasons Wet and Dry.
You need a visa to visit Cambodia. Find out how to get yours here.
Cambodia Weather
Cambodia has two distinct weather patterns, a dry season and a wet season.
The dry season runs from November to April while the wet season runs from May to October.
Dry Season in Siem Reap
Siem Reap Weather – October to April
Cambodia's dry season sees the arrival of the dusty Northeast monsoon.  Hot air is pushed around the area drying out the entire country very fast.
November to January are the cooler months with temperatures in the high 20's Celsius.  No wonder this is the peak tourist season for Cambodia. No rain and cooler temperatures attract many foreigners to Siem Reap especially.
Best BLOG READ: 18 Fun Things to do in Siem Reap (Besides Temples)
After January the country begins to increase in temperature. By March, travelling in Cambodia gets very hot and unpleasant.
April is disgustingly hot and dusty. Therefore, try your hardest to avoid the months of April and May.

After the wet season of May to October the roads become very dangerous with potholes and washouts. But luckily the dry season sees roads being graded and repaired.
Best Places to Visit in the Dry Season
If you love the beach then this is your time to shine.  Calm clear ocean waters and sunshine hitting all beaches at this time of year.
Best places to visit at this time are:
Beaches at Kep
Ko Kong
Sihanoukville (Do not visit here at the moment it is dangerous and dirty due to construction)
Find out More: Currency Used in Cambodia
Wet Season in Siem Reap
Siem Reap Weather – May to October
Cambodia's wet season sees the arrival of the Southwest monsoon which blows from May to October.  The Southwest monsoon brings three-quarters of Cambodia's annual rainfall every year.
The weather during this time is wet and rainy. During the peak of the season from July to September, it can rain almost every day.  It usually doesn't rain all day, but heavy downpours and thunderstorms generally occur in the afternoons.
You will get wet during the wet season unless you have a tuk-tuk by your side at all times.
The big downside to the wet season in Cambodia apart from the rain is the localised flooding and degrading conditions of the road network throughout the country.  Because there are many dirt roads in Cambodia, they deteriorate quickly.
Even Siem Reap, a major city has terrible roads full of potholes and poor drainage.
Travelling in the North and rural areas will be the most affected by the wet season. Expect slow travel times.
Other Wet season related problems will be bridge damage and localised flooding.  
Read This Next: A Bike Ride Around Angkor Wat (how to avoid the crowds!)
Currently all major roads that are all weather and sealed are: 
Siem Reap to Phnom Penh arterial road
Phnom Penh to Battambang arterial road
Phnom Penh to Sihanoukville arterial road
The heaviest of rain falls in the Cardamom Mountains so it is not advisable to head up there during this time.
Tips for Visiting Cambodia in the Wet season
The positive side to visiting Cambodia and Siem Reap during the wet season is the dust is gone and the whole country is green and lush.
Angkor Wat temples are uncrowded and have a more magical appearance due to the wet season. The wildlife is more abundant and vibrant.
This time of year you can get great discounts on Siem Reap hotels. Visiting Tonle Sap lake during the wet season you will get to see plenty of water and experience a floating village at its finest.

Places to Avoid during the Wet Season
Stay away from coastal regions during Cambodia's wet season.  At this time of year, most beaches experience rough seas and a lot of rain.
Who wants to go on a beach holiday with howling winds and torrential rain? Not me!
Best Time to Visit Cambodia and Siem Reap?
November is the coolest month and the start of the dry season, so visiting between November to January will see the best Siem Reap weather for temples and beaches around Cambodia.
But to avoid the crowds try to travel either side of the busy months, October could see some rain about while February will be a little warmer and dry.
Our last trip to Siem Reap was May and we found the Siem Reap weather to be very hot with a few storms in the afternoons but not too many Chinese tourists which were great for seeing the famous Angkor Wat temples.
Temperatures fluctuate a lot so pick your days in Cambodia wisely to avoid disappointment.
Visiting Angkor Wat soon? Read this before you go: