Are you travelling at the moment with a family? If so how is your sex life on the road going?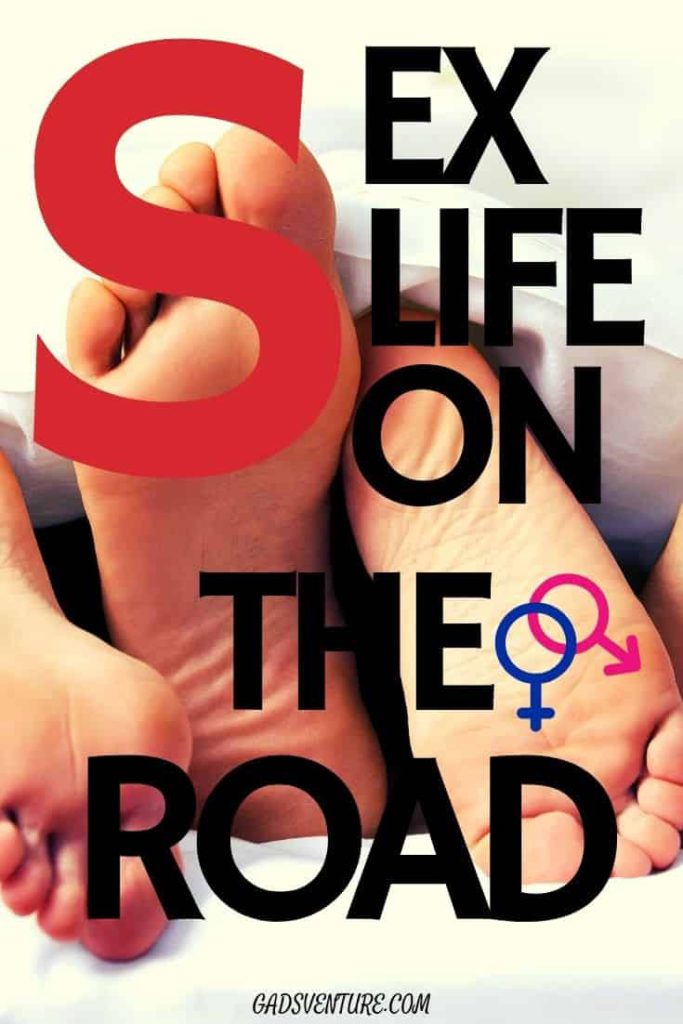 If you are just at home you probably have a rough schedule you stick to due to normal life's day to day routines.
Work, school activities, kid's sport and general household chores get in the way of our sex lives every day but we manage to fit in a bit of passion on a fairly regular basis I hope.
So, imagine living on the road and travelling the globe with kids, 24 hours a day, 7 days a week. No wonder your sex life on the road suffers.
Travelling is portrayed as romantic, exotic and setting yourself free. But when travelling with kids you are hardly free and romance can be hard to come by unless you manage your sex life on the road well.
Barriers to Sex Life on the Road
In your mind, you probably think you will be having hot steamy sex every night on your epic trip. Unfortunately, the reality is this won't happen.
We have 4 children ranging from 9 years old to 2 years old and let me tell you there is always someone in your face.
For example, the babies are asleep but the older ones are awake, or eldest are asleep and your young ones will be there. You can't win.
Here are your greatest barriers to sex life on the road:
Toddler
Problem
The baby or toddler will not go to sleep for some unforeseen reason. Travelling really messes with the baby's routine. Sightseeing, catching a plane, eating at different times, it's a little wonder.
Don't you just hate when tonight is the night though? You both are in the mood and waiting for your little angel to nod off so you can enjoy each others company but she/he will not sleep.
You try and try your hardest but nothing will work – the ultimate cockblocker. They finally do nod off and where do they sleep? Right smack bang in the middle of the bed laying sideways! WTF!
By this time it is probably nearing 12 o'clock and you are both knackered from the day's excitement.
Get that baby out of your bed and into her very own Phil and Ted's Travel Cot! Great idea!
Solution
One of you either falls asleep from sheer exhaustion so you give up and give it another try tomorrow night.
You can take the action to the bathroom, or clear a small section of the bed. Try to not wake the baby up with too much movement or sound.
Have a quickie up against the wall and make sure they don't wake, which we all know if it is going to happen it happens. Babies and toddlers just know what you are up to.
Budget Hotels
Problem
How hard is it to find a hotel room that caters for families properly? It is very hard, especially in Southeast Aisa. Beds are generally small and close together with no privacy and rooms are the size of a kid's room at home.
We have a large family so probably find it harder than most. It can often feel like there is no escape with 2 or 3 to a bed and everybody in each other's faces.
The can have the general feel of overcrowding in a prison cell. If you can manage to have any kind of sex life on the road under these circumstances my hat goes off to you.
Get a room:
Solution
Ipads, phones and big screen TV's are your main solution in this circumstance. Then, having a few beers with your partner so you have lowered inhibitions gives you the courage to have a quickie out on the small porch.
Make sure you aren't too exposed to your neighbours and keep the curtains ajar so you can see if one of your kids is coming to ask you a stupid question like, "Where is the remote?"
You need to be quick because circumstances can change in a flash!
Tiredness
Problem
It's hard to have everlasting energy when you are travelling on the road with kids. There is so much is going on overseas.
There is never a dull moment travelling with a family and this can become tiring. The ups and downs are totally draining. Every spare moment is filled with the fun, and then the fallout.
You need to look out for their safety, make sure they don't touch the wrong things, stop fights, keep them happy, walk 1000 miles, assist with problems and decision-making issues.
So when it comes to your special time you could be both exhausted from dealing with small problems all day. Also being overseas the beds may be uncomfortable with a bad pillow causing extra strain on sleeping patterns.
We just stayed at a hotel with a family of 6 with only 2 double beds and so much noise from the nightclubs below that we really suffered. It didn't take much convincing to change rooms after one night. There would be no love there!
To keep a normal sex life under these pressures is hard work.
So many tours, so little time.
Solution
Get plenty of rest and try not to do too much while on your trip. Sleep in more, don't get moving until after 10 am or come back to the room for a siesta. Just take life slowly.
Try to find some time to bond during the day! Can you keep your kids occupied with television for 5-10 minutes? This will save you trying to build up the courage late at night. Again lock yourself in the bathroom if you can.
Sickness
Problem
Travelling overseas with 6 people guarantees someone is going to be sick or injured somewhere along the line of your trip.
Sickness can be yourself, your partner or anyone in your family at any time in any place. This is why it is important to take advantages of the good times while travelling. You don't know what tomorrow will bring.
Illness can strike at any time so live each day and night to the fullest and try to embrace each other as much as you can. Because once someone is ill there is no romance – trust me.
Solution
Don't put sex off too much when you are a little tired, you may become ill and sex will be off the menu for some time causing stress between each other.
Find the time to please each other's needs and wants while you are healthy, don't take your health for granted.
Sickness causes so much stress on a family because everybody is affected.
And get yourself a good first aid kit.
Lack of Privacy
Problem
Privacy is the ultimate challenge when travelling, it always seems if you disappear for one second out of your child's sight they will come looking.
This lack of privacy can drive you crazy! Alone time for you and your partner is non-existent during waking hours that's for sure.
Solution
It is amazing the places you can hide in a small hotel room. Get outside for a couple of minutes at night to sneak some passion in. (This is our favourite – keep your clothes on)
Lock the bathroom door and turn the shower on for 5 minutes if you are struggling for privacy.
Use a side position in bed later at night or early morning but be quiet and stay covered up. Your kids will never know.
Go on a cruise. They have great kid's clubs!
You could always get yourself a babysitter or nanny depending on where you are. Big hotels will offer a kid's club in many cases. This is not an option for us. I have a very limited list of people who I allow to look after my kids, and they are all at home in Australia.
Cheap Beers
Problem
Drinking too much when on holiday's or travelling can be a problem you can add to your sex life also. If you are in a country with cheaper drinks compared with at home you are likely to overindulge.
You will feel more randy earlier on and be up for anything but due to your children also being awake the action will be taking place late at night.
We all know how hard it is for a man to finish after loads of cheap beer and late nights.
One of you will fall asleep before any passion ever arises, so sad but true in a lot of cases.
Solution
Strike while the passion is hot because you both will be at peak performance early on and will finish the act of passion very quickly.
Get those kids of yours onto technology fast and find your secret hidden spot away from prying eyes and just go for it.
You can now really enjoy the rest of your night knowing you can just fall asleep.
Familiarity
Problem
Spending every waking hour with your partner and family is rewarding on one hand but all members can start to take each other for granted. This is bad for sex on the road.
Because everyone is just there all the time, we can become complacent and passion can slip away quickly.
Solution
Make time for each other, every day. Grab each other's hand once a day, say I love you once a day. Keep pinching yourself and reminding each other how privileged you are to be doing this amazing experience together.
Touch, cuddles, kissing and intimacy are as important as sex on the road. Use this to feel close to your partner and it will improve your sex life on the road.
Everything becomes normal eventually no matter what it is.
Excitement levels
Problem
Staying excited about sex on the road is a challenge. With so many obstacles it is easy to just give it up.
Because you are experiencing amazing new things every day your endorphins are being overloaded with awesomeness. Not leaving much room for excitement in the bedroom.
We find sex is generally better when you are experiencing a boring life. People who work and live in boring areas only have one thing to look forward too, SEX!
Solution
Don't overload every day with excitement and wonder. Have days doing nothing, just chill at your accommodation or hang around at your favourite cafe.
Make life boring every now and then so you can enjoy those simple primal pleasures more with sex on the road.
Time
Problem
Just because you don't work you think there will be heaps of time in your day.
This is not the case because you wake up late, then have a longer than usual breakfast and usually have a day planned full of fun.
Before you know it the time is 6 o'clock you have dinner, organise the kids, and sit down and realise the time is 11 pm.
Where did my day go?
Solution
It is hard to keep burning the candle from both ends. Getting up early and going to bed late every day will burn you out fast.
You need to make time for each other even though you are on holidays. Have a plan and a loose schedule.
Every night draw a rough plan so that you can pencil in some time with each other.
Contraception
Problem
Are you protected against accidentally conceiving while travelling or on holidays? If not make sure you have a safeguard because we tend to let our guard down when on holidays.
You are relaxed and excited which may lead to unprotected sex during the heat of the moment so make sure you take care.
We have conceived one on holiday in New Zealand, and one other was made at a tropical island at the Great Barrier Reef! It happens!
Solution
See your doctor about the different contraceptive methods you can use while overseas.
There are a variety of devices such as:
Implanon (Our favourite for travel)
Pill
Condoms
Mirena
Choose which suits best because you may make travelling harder if you conceive another child.
Comfort Levels
Problem
Travelling abroad or even interstate will get you out of your comfort zone leaving you to feel uncomfortable. If your accommodation is dirty and uninviting your mood will be low.
If your accommodation is ambient and comfortable your mood will be more upbeat and excited.
Your comfort level will affect your mood which will affect your sex on the road.
Solution
Going too budget with accommodation will have a negative effect on your mood because your surroundings affect how you feel.
Try to pick hotels and guest houses that feel like home or resemble a place of safety and comfort. We all know there is no place like home, so why not try and replicate this a little when travelling.
Feeling comfortable will put you in the right mood for some love and bring greater joy to your life.
This will lead to a better sex life on the road.
Sex Life on the Road is up to you!
For a great sex life on the road you need to work at it because it will lead to a happier family with less tension and general stress.
You can have sex anywhere but it is up to you and your partner to get creative.
Making love at home or on the road is difficult with kids but if you can get through these hard times with love then your relationship will be stronger in the end.
Just hold on and enjoy the journey, your kids won't be kids forever.
Take Your Family on a Gap Year, Find Out More!
We just survived 6 months in Southeast Asia with our family, and managed to enjoy regular sex on the road. Find out more about our amazing adventure here:
6 Months in SE Asia with 4 Kids – How-To Guide
You look like you could use a holiday. Check flights to your dream destination right now: