Siem Reap is a small and manageable city with so much more to it than the temples of Angkor Wat.  But when visiting for the first time, it is tricky to know where to stay in Siem Reap. 
The city can be broken down into a few districts, and depending on what you are into, we will help you find the best place for you!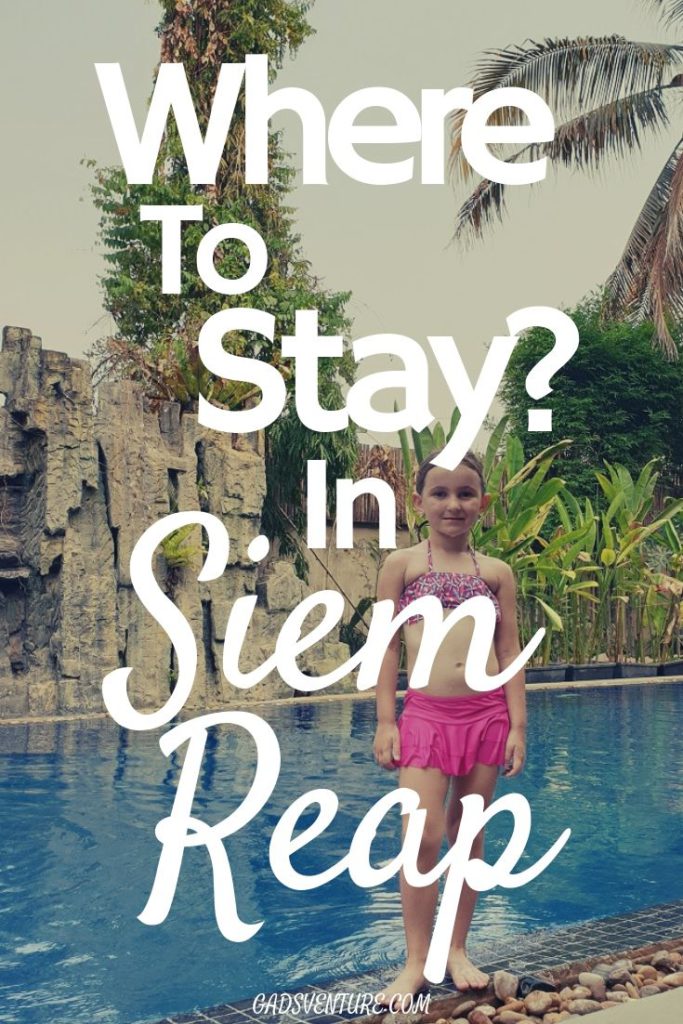 Siem Reap Central
The area around Pub Street, and bordered by Central Market Street and the river is a great place to stay if you are into nightlife and great dining. 
The famous excitement of Pub Street comes alive at night with neon lights, thumping music and a fun party atmosphere.  There are cheap beers for 0.50c and many cheap excellent restaurants in this area.  Check out our post on the best restaurants in Siem Reap for all the details.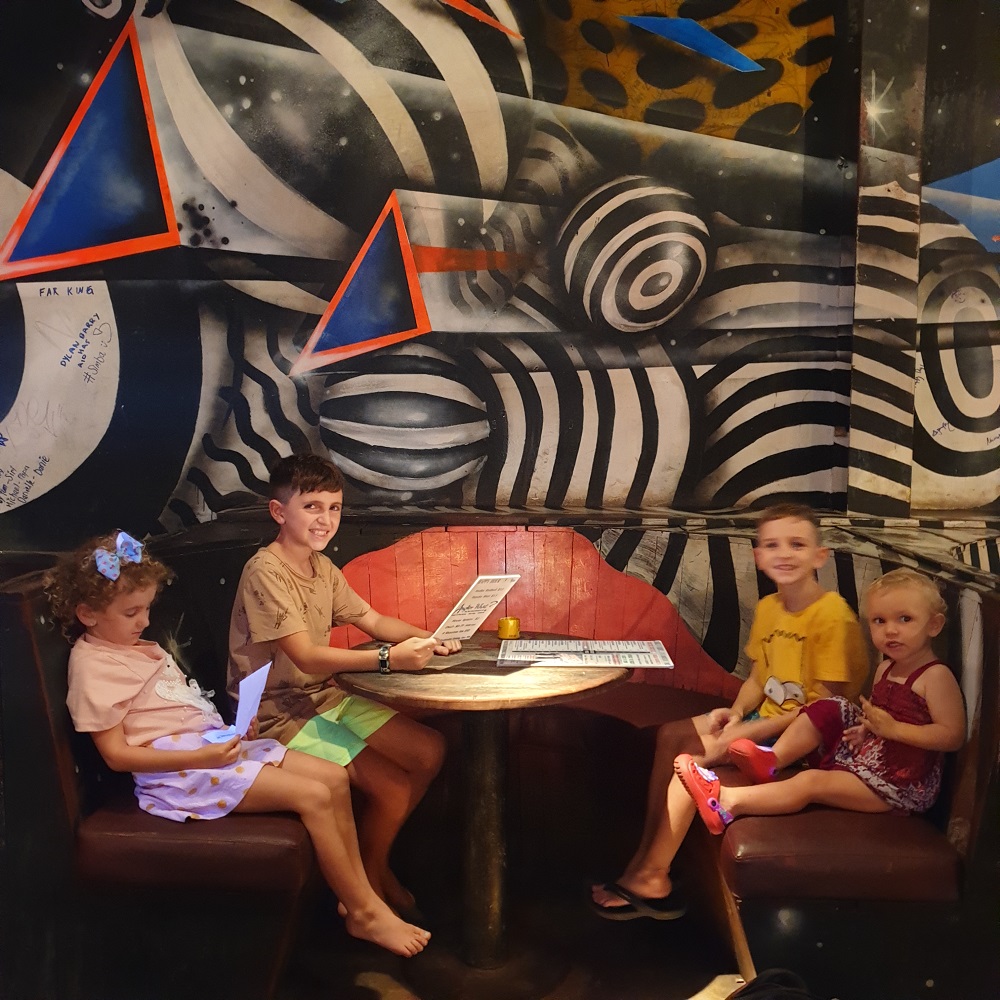 Staying in this area will mean you are within walking distance to most of Siem Reap's fun attractions.  The Old Market, Sister Srey Coffee, Laundry Bar and Viva Mexican are some of our top places to visit here.
Where to Stay in Siem Reap – Central Siem Reap
Best Budget Hotel and Best Family Hotel in Central Siem Reap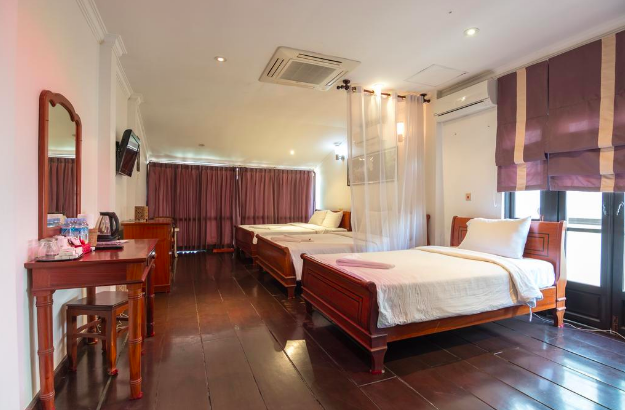 We stayed at Neth Socheata Hotel which was centrally located and within walking distance to everything, but in a very quiet alley.  This budget option had clean air-conditioned double rooms for $30AUD per night, including breakfast. 
A family room slept 5 for only $40 per night and was one of the few budget options we could find which would sleep a family.
---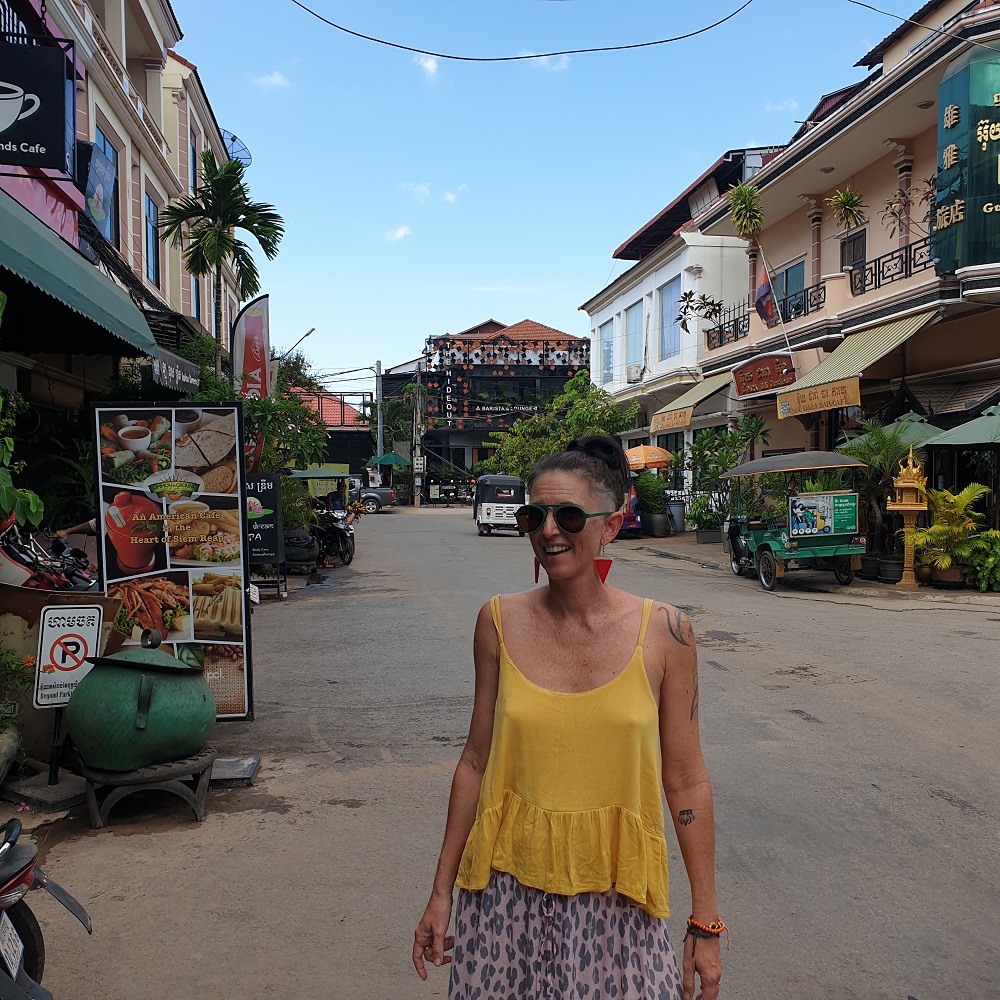 ---
Best Budget Hostel in Central Siem Reap
Nearby Belly Hostel has air-conditioned double rooms for only $19 and has a pool as well!  This is a bonus if travelling to Cambodia during the hotter months of March to August.  
---
Read More: Weather in Cambodia
Best Mid Range Hotels in Central Siem Reap
The Ibis Styles is in a perfect spot overlooking the river, close to everything including the Major Cineplex which shows all the new release movies in 3D!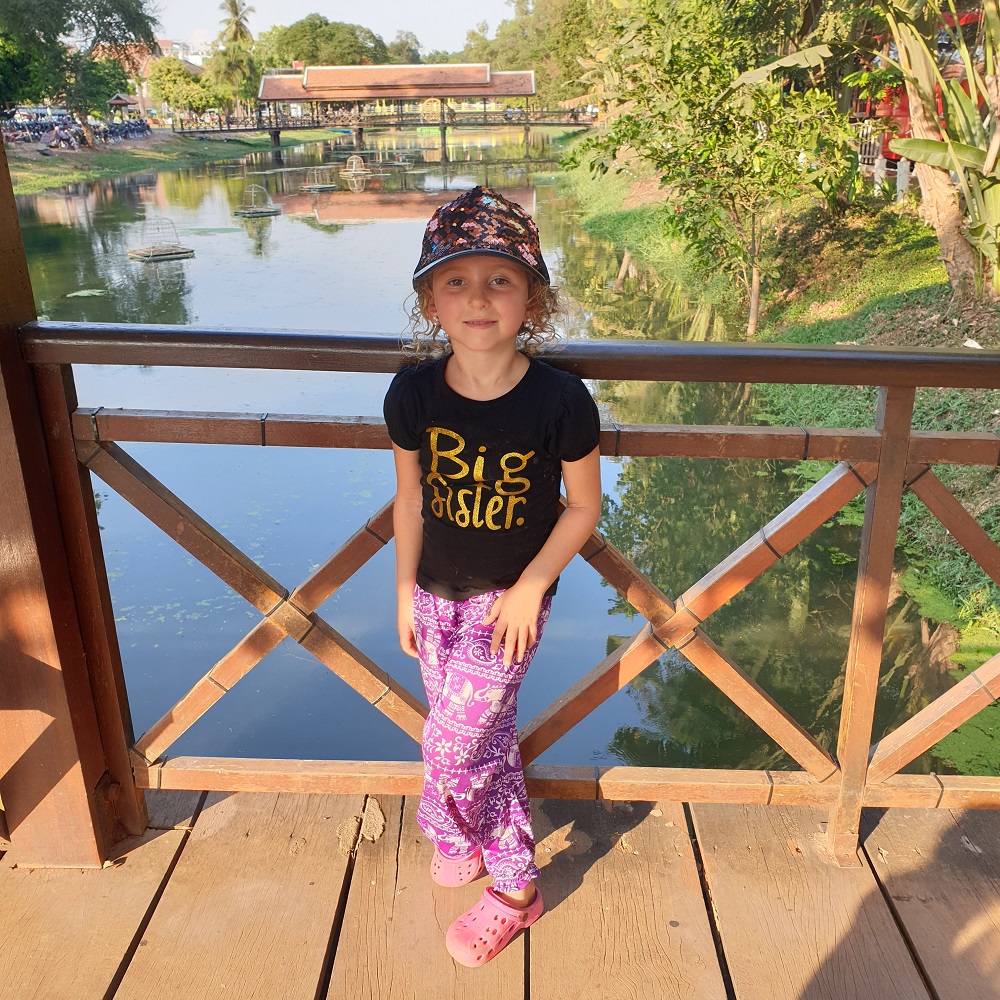 Read More: Things to do in Siem Reap Besides the Temples
Rooms at the Ibis start at $79AUD including breakfast.
---
Ta Prohm Hotel and Spa is a 4-star rated property right next door to the Ibis.  Double rooms or suites vary in price depending on balcony and views but are an affordable $62 – $159AUD per night during the high season.  They have a cool indoor swimming pool, free breakfast and offer a free airport transfer.
---
Where to Stay in Siem Reap – Sok San Road and Angkor Night Market Streets
This area is just to the northwest of Pub Street and Central Siem Reap.  From here it is still only a couple of minute walk to get to Central Siem Reap. It is a bustling crossroads lined with cheap restaurants, bars, with less of the thumping tunes you get on Pub Street.  There is a nearby Night Market.
Some of the best restaurants we found in this area are Red Angkor for the cheapest and best Khmer food, Temple for great pizza and Khmer BBQ, and Red Piano.  The Skybar is a fun place for a sunset cocktail.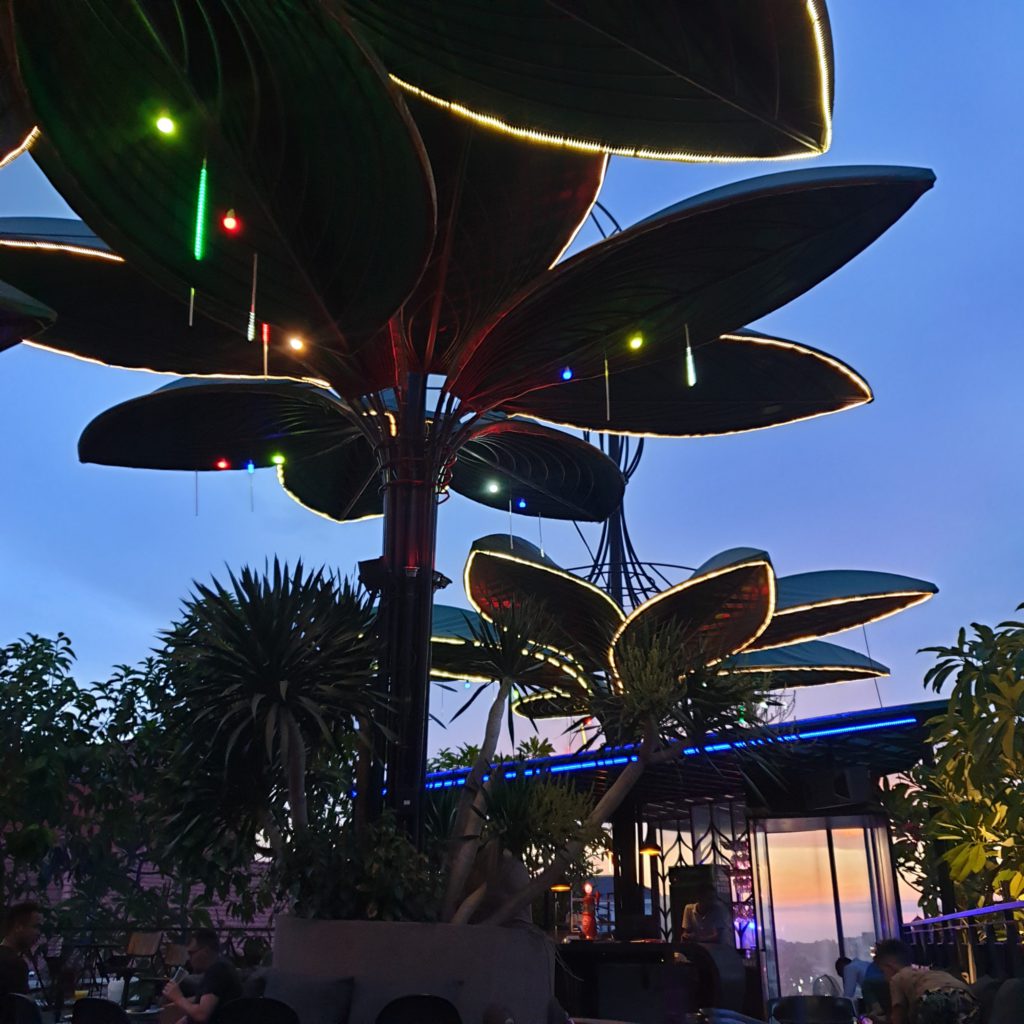 Also further down Sok San Road, there is a computer centre offering online gaming for 50c an hour.  Our older kids loved this spot!
Best Budget Hotel Sok San Road Siem Reap
We loved the location of the Hotel Rajdhani Palace!  A double room including breakfast is only $30AUD per night and you can get a deluxe family room which will sleep 5 people for $50 a night.  Both of these options include breakfast, and they have a beautiful swimming pool too.  
---
Best Mid-Range Hotels Sok San Road Siem Reap
For $62 including breakfast and a free airport shuttle, get yourself a fabulous mid-range room at the 4-star Apsara Centrepole Hotel.  Rooms are comfortable, air-conditioned and beautifully furnished and the pool is massive!
---
Just around the corner, the Golden Butterfly Villa offers simple rooms in a wonderfully lush landscaped setting.  Double rooms come with breakfast for $46AUD.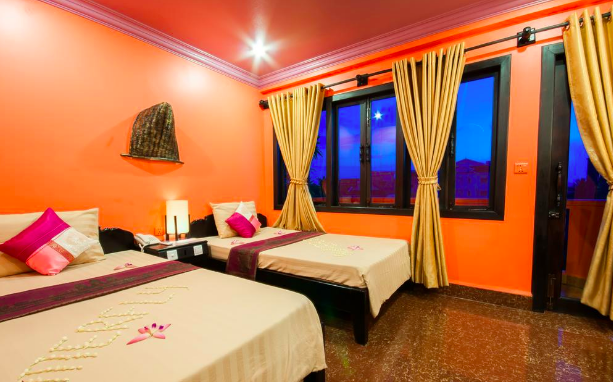 ---
Best Luxury Hotel Sok San Road Siem Reap
For a beautiful 5 star stay on Sok San Road, you can't go past the Golden Temple Boutique.  Gorgeous rooms including a sumptuous breakfast and a free airport transfer start at $232 per double.
---
Where to stay in Siem Reap – Kandal Village
Kandal Village is a hip emerging neighbourhood located in between Central Market and the Old French Quarter. The cafe culture is alive and well here with some fantastic cups to be found at Little Red Fox Espresso, Tribe and Crane among others. Art galleries and boutique shopping can also be found in the attractive streets of Kandal Village.
Read More: 8 Best Cafes in Siem Reap
Best Hotels in Kandal Village
---
Where to Stay in Siem Reap – The Old French Quarter
The grand opulence of The Old French Quarter is like a step back in time to Cambodia's Colonial past. Wide boulevards, tall shady trees, and white magnificent hotels set this area apart from the rest of Siem Reap. In the Old French Quarter, you will also find shopping malls and Starbucks.
Best Family Hotel in the Old French Quarter
The Grand Sunset Angkor Hotel is one of those gorgeous imposing white buildings in the old French style. They offer family rooms which sleep up to 6 people for only $90AUD per night including breakfast. Prices also include a free airport transfer, and they have a lovely outdoor swimming pool.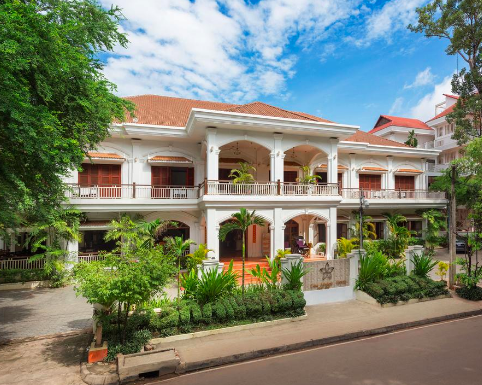 ---
Best Mid-Range Hotel in the Old French Quarter
The centrally located Mekong Angkor Palace Inn has stylish and elegant rooms situated around a refreshing swimming pool. A triple room including breakfast is only $51 a night, making this a solid mid-range option in an upmarket area.
---
Best Luxury Hotel in the Old French Quarter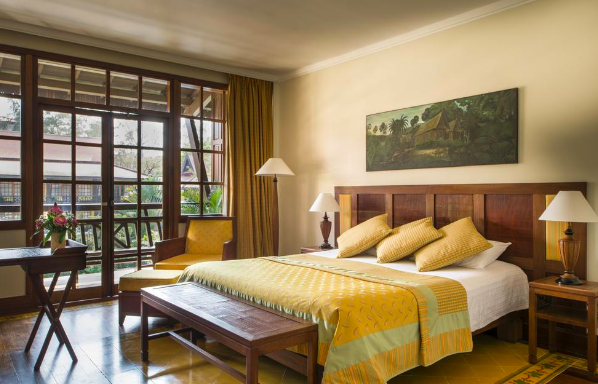 The Victoria Angkor Resort and Spa is the prettiest example of Colonial architecture in the Old French Quarter. It is set in lush private gardens across the road from the Royal Gardens. High ceilings and rich wooden floors create a stylish atmosphere at this beautiful hotel. Double rooms start at $234AUD and include a delicious breakfast.
---
Where to Stay in Siem Reap – Wat Damnak
Wat Damnak area denotes the streets south of the river, and close to the Artisan Night Markets. Here you will find leafy and narrow streets, with a historical feel. You will find many mid-range boutique guesthouses in the higgledy piggeldy and atmospheric streets closer to the temple.
Thai Kitchen is a great place for incredible Thai food on this side of the river, while there are cheaper eateries scattered about the streets with traditional Khmer food. If you are a dog lover, Diff Dofe Cafe is a great place to play with 10+ cute puppies while enjoying a beverage.
Read More: Where to Eat in Siem Reap
Best Hotels Near Wat Damnak
My top pick for the area around Wat Damnak is Blanc Smith Residence. Double rooms including breakfast are $85, and they even have a family room sleeping 4 only $100 a night. The building itself is just beautiful and the rooms tastefully decorated. Blanc Smith is a fantastic mid-range option and is close to everything you need.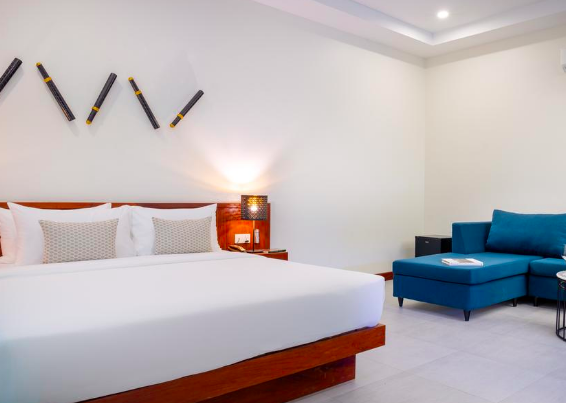 ---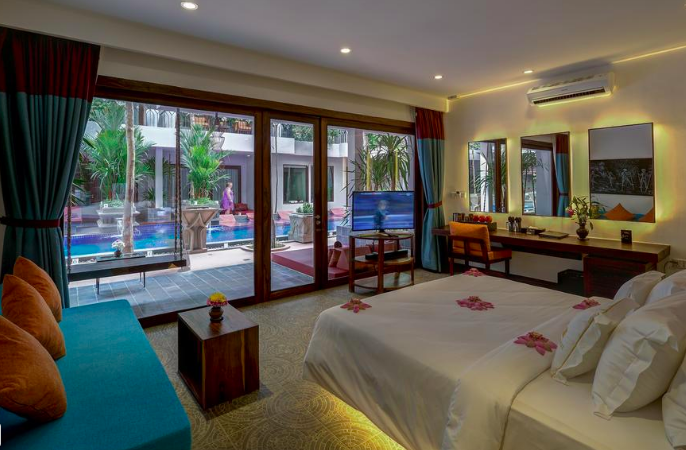 Golden Temple Retreat offers stylish 5-star accommodation away from the hustle and bustle of the city and is one of our top picks for where to stay in Siem Reap. Double rooms start from $190AUD per night and include a sumptuous breakfast and a free airport transfer. The pool is just stunning and the rooms, gorgeous.
---
Best Places to Stay in Siem Reap with a Family
As always, travelling with a family of 6 is not without its challenges. One such challenge is finding enough beds in the one room, for an affordable price! Here are some of our favourite family hotels in Siem Reap:
Naga Gate Boutique Hotel is 3 km south of Central Siem Reap, but is one of our favourite places to stay in Siem Reap! This boutique property is only mid-range priced, but the value for money you get is astounding. Huge rooms with deluxe wooden floors, terrace and an enormous sparkling pool, with a delicious and varied breakfast increasing the value. Being 3 km from town, the hotel provides a free tuk-tuk shuttle twice daily to town.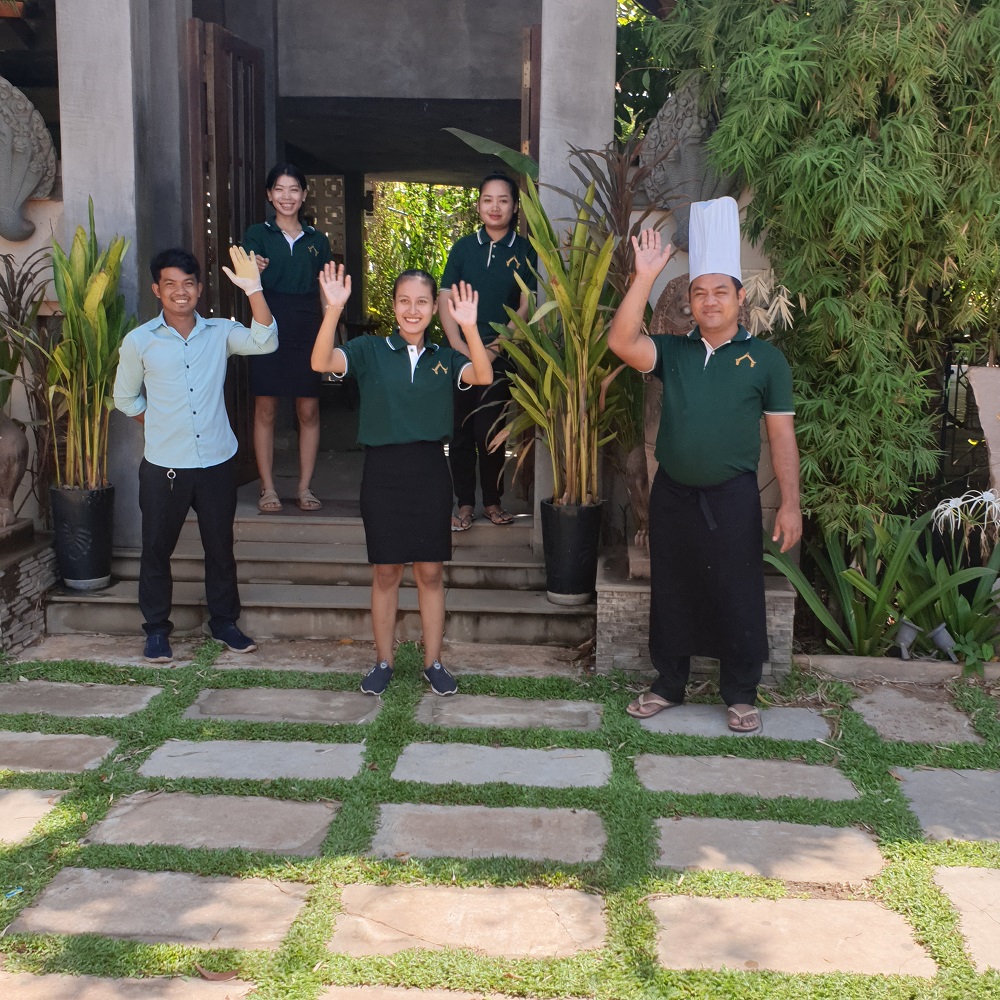 The interconnecting family room was the best value we found in Siem Reap. It boasts 2 rooms, with 3 large beds for only $130AUD per night, and a free airport transfer is included.
---
Ta Som Guesthouse and Tour Services offer a variety of family rooms sleeping 4 – 6 people starting at $99AUD a night for 2 double beds. Prices include breakfast and the hotel is located inside the attractive Old French Quarter.
---
For amazing value, or if you are travelling with a group of friends or families, check out The Amazing Residence. They have a huge 4-bedroom family suite that will sleep up to 12 people for $350 a night including breakfast. It is in a superb location just outside Pub Street.
---
Find out More: Angkor Wat 3-Day Itinerary
Great Places to Stay in Siem Reap
As you can see, there are many different amazing places to stay in Siem Reap to suit all budgets. This list is handpicked and will save you time and money when looking for your accommodation. If you know of a hotel in Siem Reap you think we should review, let me know in the comments below!
Most hotels offer an included breakfast, and many will offer a free airport transfer, at least one way. You can usually buy beverages and food on site too. Tuk-tuk is the best way to get around Siem Reap and a one-way trip around town should cost $1.
More Information on Siem Reap: