There is a water park in Siem Reap! It is true! if you have already done your day or 3 at the temples, and are kicking back, wondering what things there are to do in Siem Reap besides Angkor Wat, we have got you covered.
We just went for a dusty drive, and a fun little play at a low key but super fun water park in Siem Reap.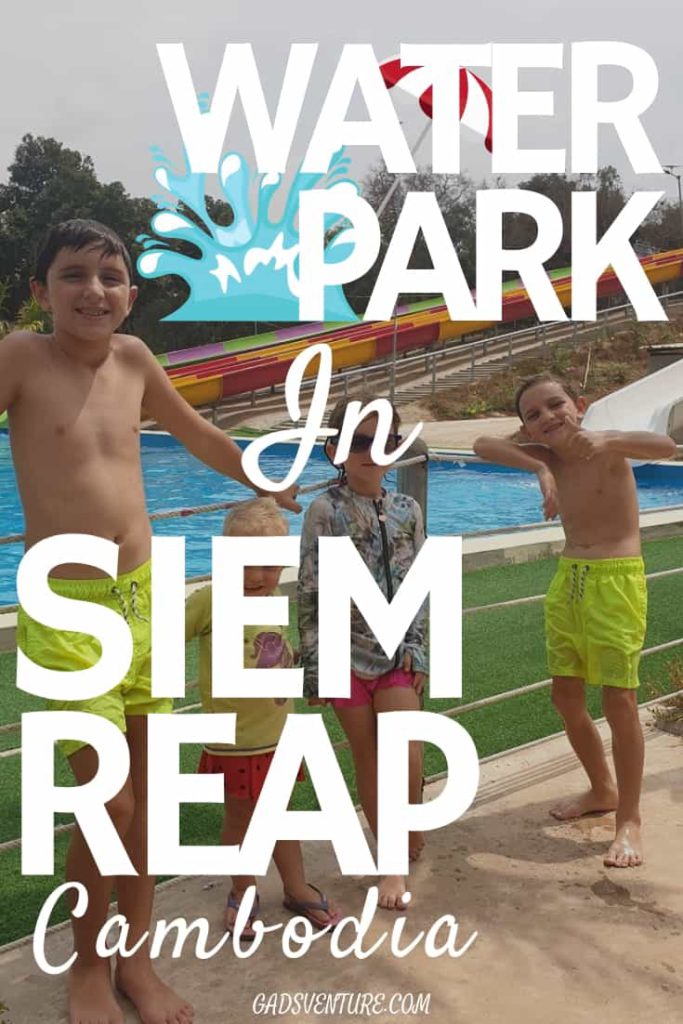 Water Park Khna Siem Reap
Our kids are aged 9, 7, 5 and 2. So understandably, temples do not excite them that much. Even Angkor Wat, the most exciting temple complex in Southeast Asia!
Find out more in our Cambodia with Kids section here.
We took 3 awesome days to see Angkor Wat with a very kid-friendly itinerary. Read all about it here.
We visited Siem Reap in May, when it is at its hottest. And although the swimming pool at our boutique hotel was awesome, we were looking for a fun activity to do that was something to do in Siem Reap besides Angkor Wat.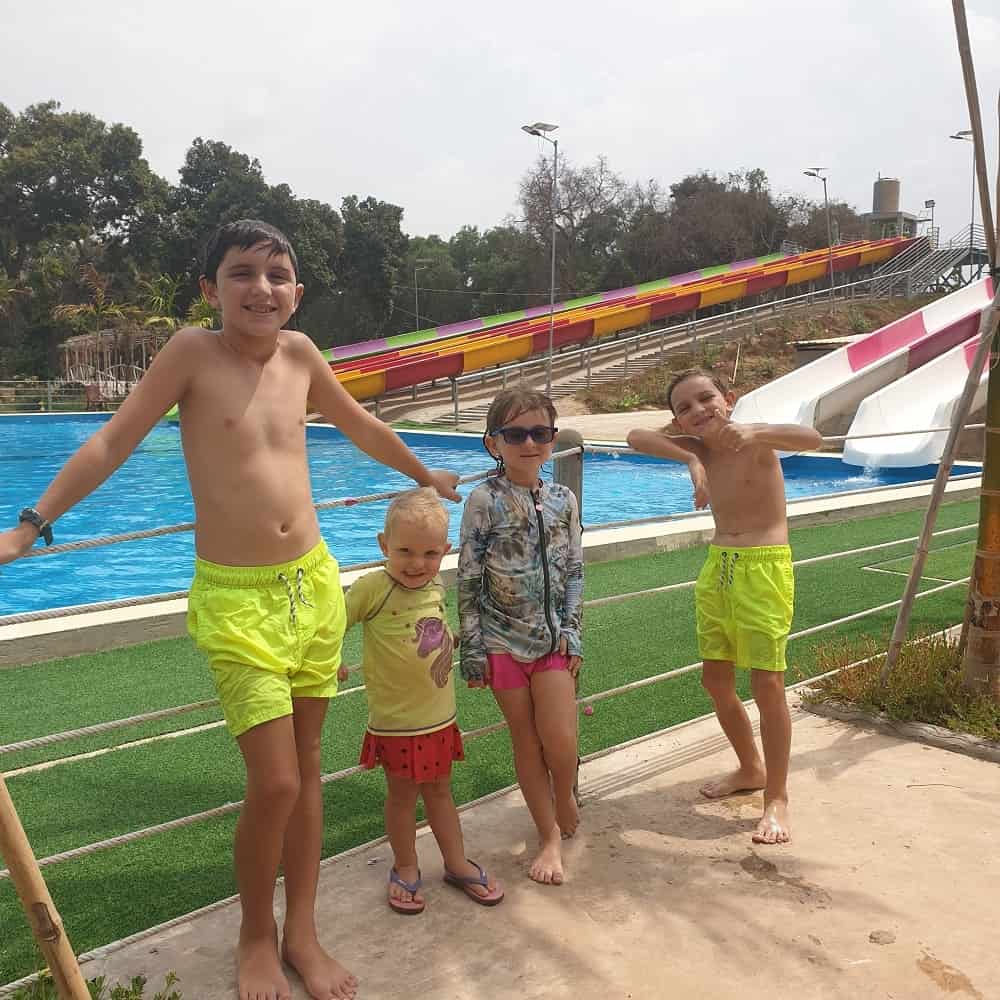 We caught a tuk-tuk south of the city, for about 15 minutes. We got lost along the way, the driver didn't have a clue where we were going. Our Google maps (offline) provided the only directions we had. The route took us down dusty, bumpy streets, and dirt tracks that totally looked wrong, but we finally made it.
Other Things to do in Siem Reap Besides Angkor:
How Much Does the Water Park Siem Reap Cost?
Like everything in Cambodia, we found the water park in Siem Reap to be so reasonable! On arrival, we had to get a $15 cash card. Then they took the money for the water park off that.
It was a bit confusing at first:
The $15 card equated to 60,000 Cambodian Riel.
The adult entry for the water park Siem Reap was 8,000 Riel ($2) each
Kids cost 4,000 Riel ($1).
So with 2 adults, 3 kids and a baby who was free, we were left with 32,000 Riel.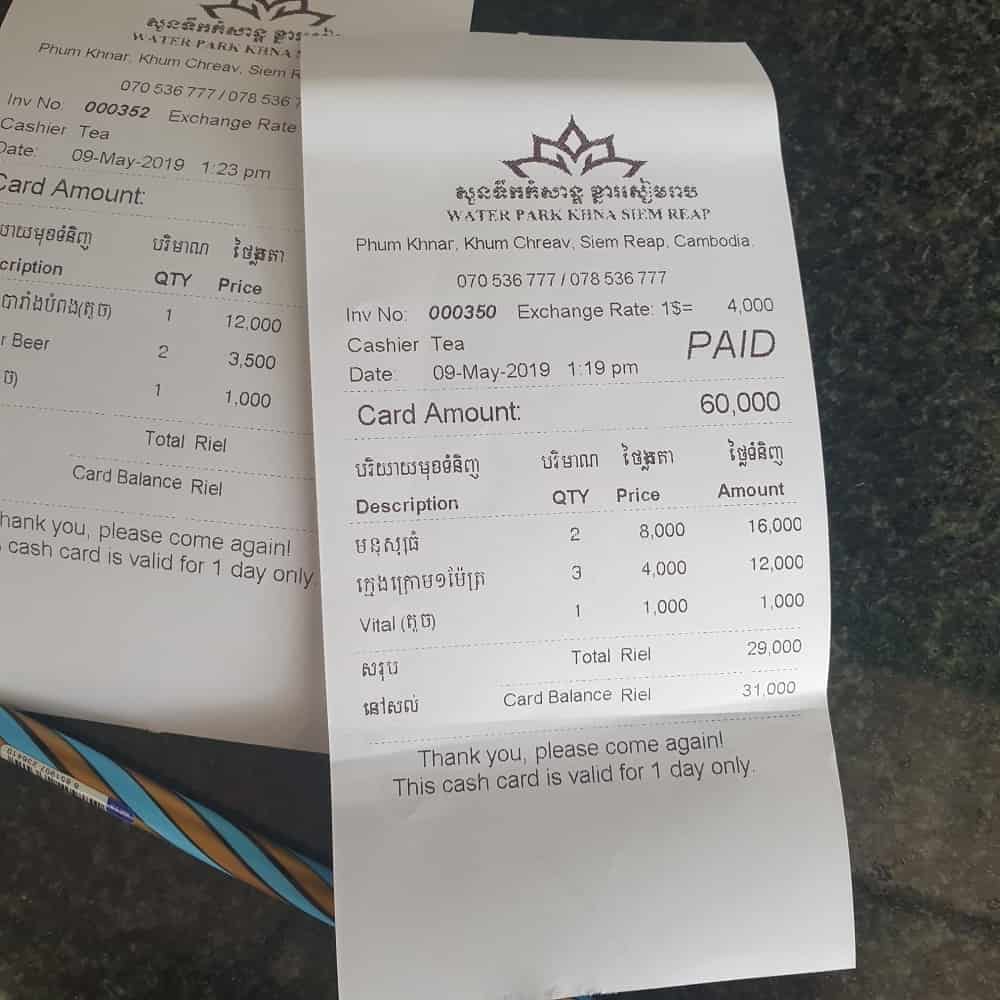 They have a restaurant there, so we ended up ordering a couple of strange shaved ice dessert things, some french fries, a couple of beers, and about 5 bottles of water to use up our cash card!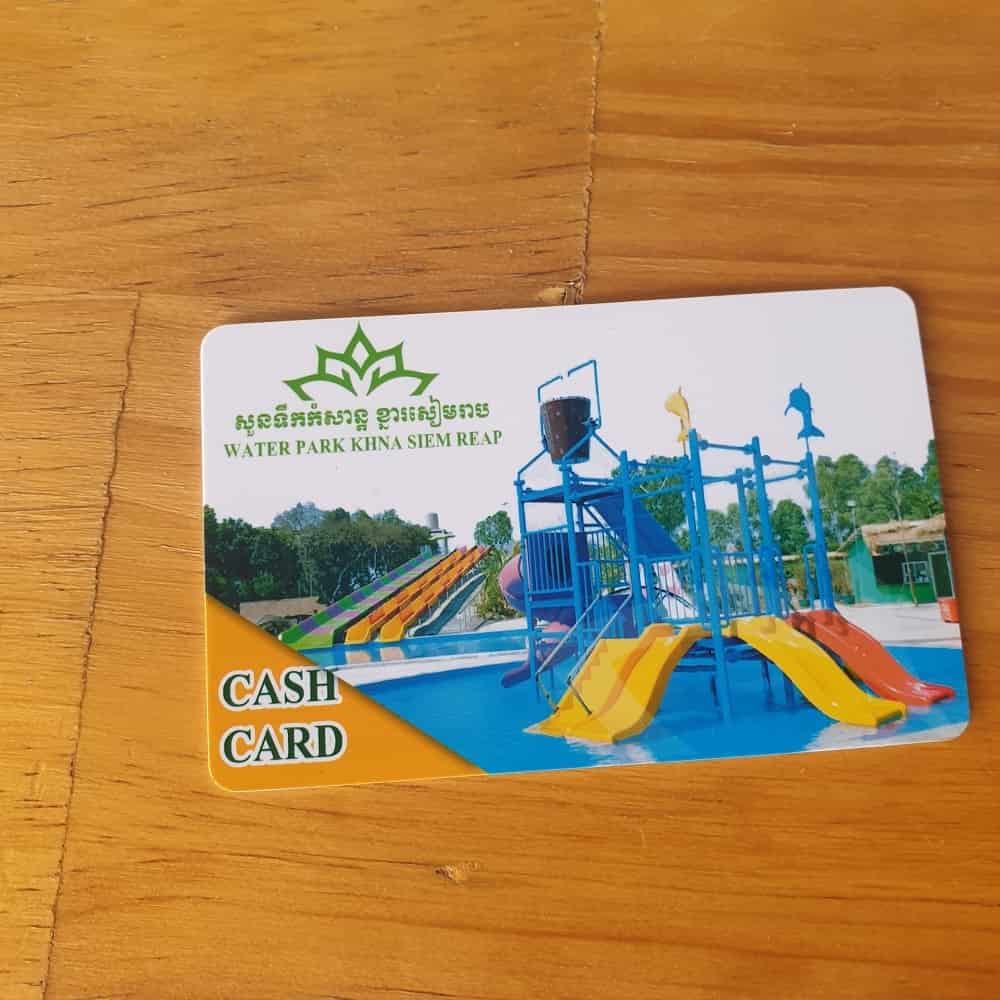 They had real food too, such as fried rice for $3, and fried chicken for $3. Something about the fact of being the only patrons there made us not want to partake in the food. There were some locals that visited as we left, so perhaps they do get heaps of visitors at a certain time. Our kids loved having it all to themselves though.
The Water Slides
There was a big wide slide, and 2 skinny ones straight down. Then 2 more pink and white ones which were like the speed slides. They all ran into a big pool that was shallow enough to touch, but deep enough to land a water slide into. They were not high slides by any means, but fast enough to keep all the kids entertained and delighted.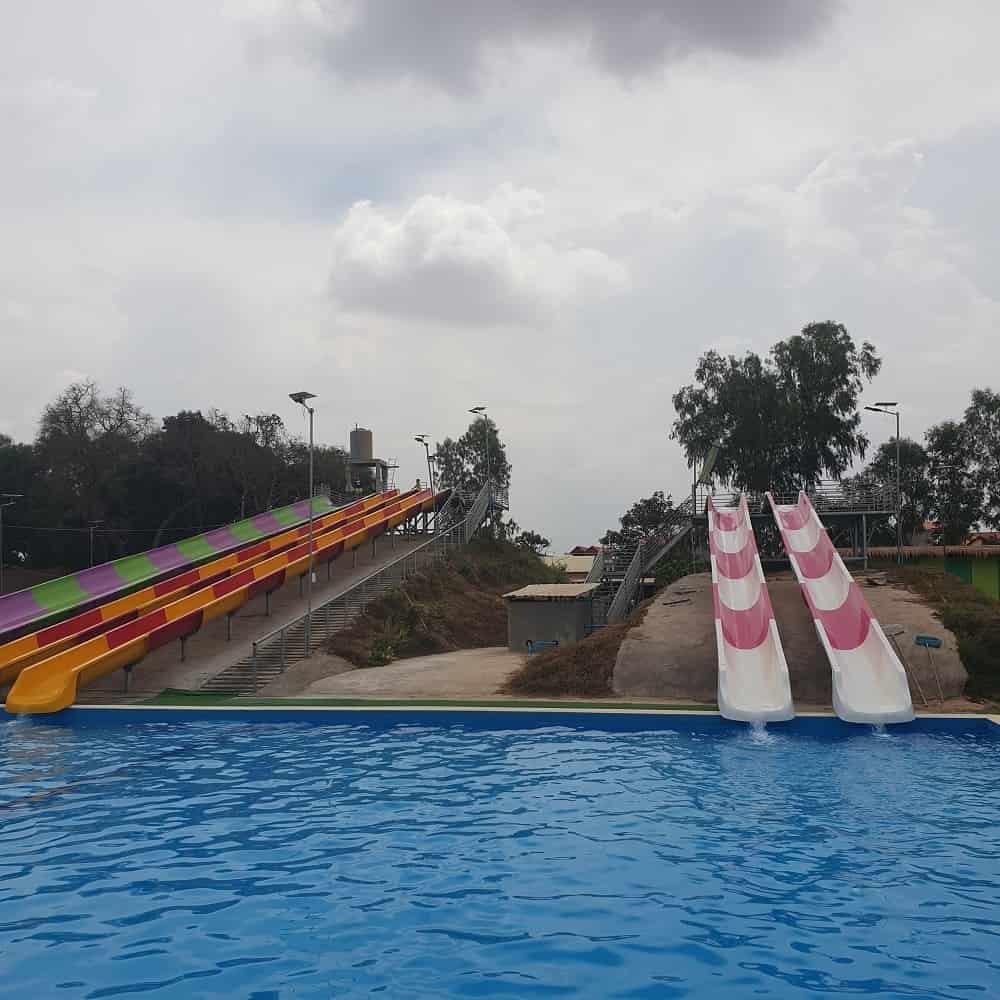 The Kids Park
There was even a small area with knee-deep water for the little ones. It had a water playground area with one of those buckets dumping water over another 3 fun little slides. My little miss 2 was a bit terrified of the bucket but loved the slides.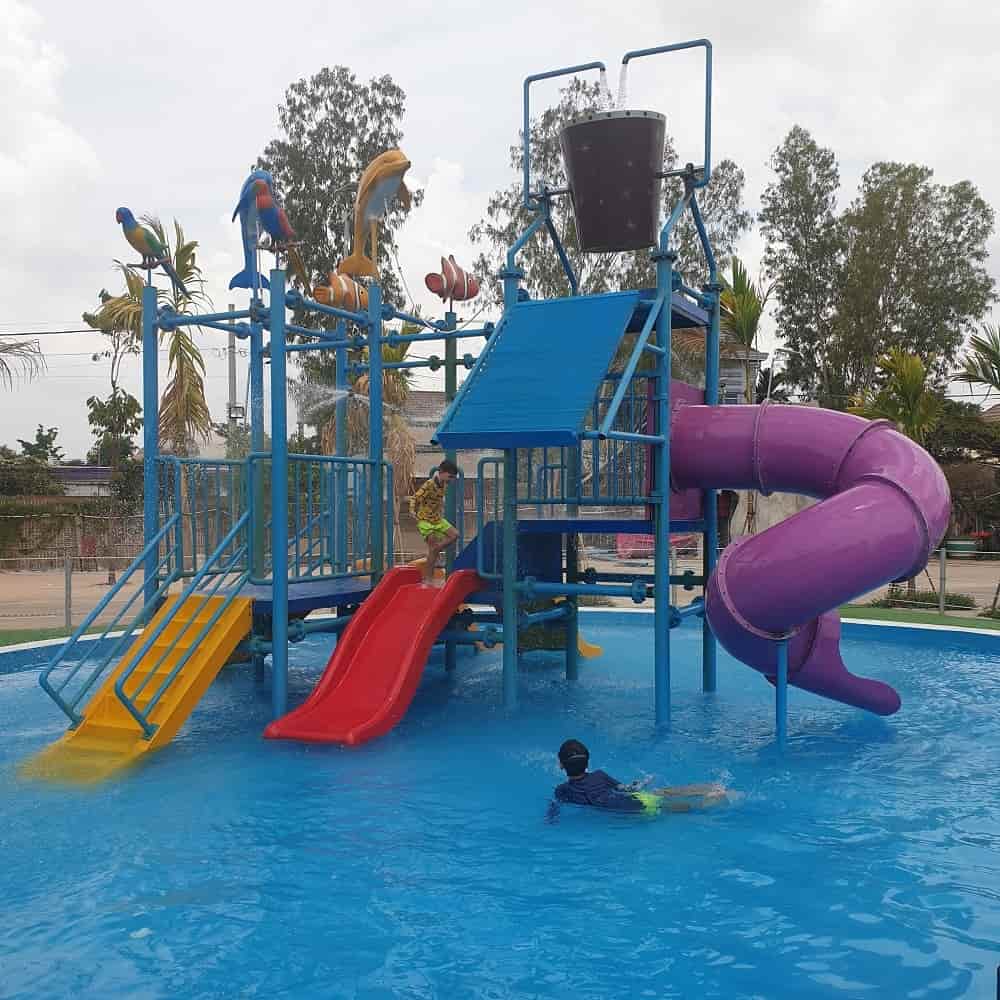 Amenities at Water Park Siem Reap
Apart from the restaurant, they do have men's and ladies' toilets and showers. These were set apart from the main building. There is a fence of sorts around the main pool, but it is not a 'pool' fence as we are used to so kids do need supervision. There were no lifeguards.
Water Park Siem Reap – The Verdict
This place was awesome. If you are on the hunt for things to do in Siem Reap besides Angkor Wat, then the water park Siem Reap is definitely for you. Don't go if you are expecting excellent waterslides and high adrenaline. But do go if you have little kids. Kids up to about 13 would be happy here. They absolutely loved every minute and we only had to drag them away because there was a storm coming.
Travelling in Siem Reap can be so hard because there is really one main attraction. Luckily we are here for a long term stay. So we get to find all those other things to do in Siem Reap besides Angkor. The water park Siem Reap will entertain and cool you down on your days off.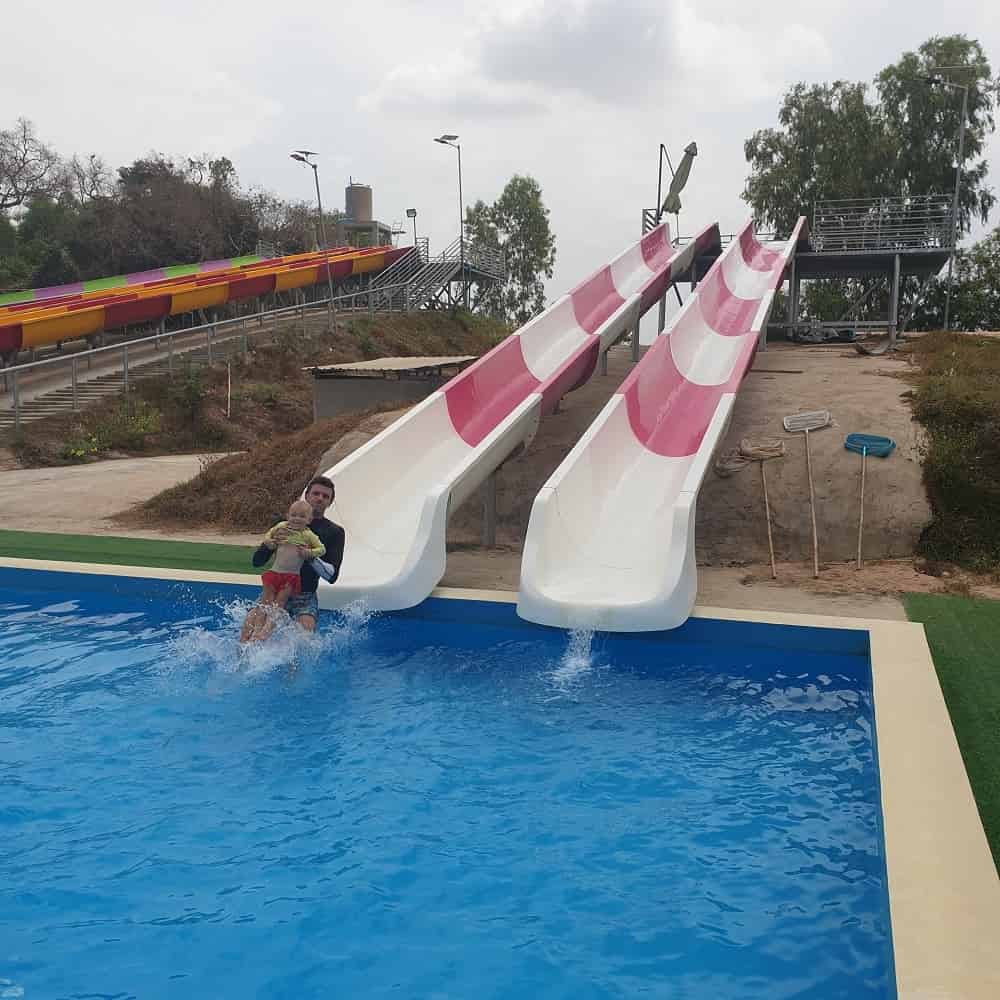 Read this for 18 more fun things to do in Siem Reap, besides Angkor Wat.
Where to Eat in Siem Reap
There are so many great Siem Reap restaurants! For all the details, read this: Best Eats in Siem Reap
Where to Stay in Siem Reap
It's a compact city, with a lot of different locales. To find out the best neighbourhood for your stay, and find the best hotels in your budget, read this post: Where to Stay in Siem Reap
How to get a Cambodian Visa
If you are travelling to Cambodia, you will need a visa. Find out how to get one here.
Currency Used in Cambodia
The US Dollar is the most popular currency used in Cambodia, but the Riel is also used. Find out how it all works in this post.
Guidebook for Cambodia
We love using the Cambodia Lonely Planet
How to Visit Angkor Wat
Find out all you need to know BEFORE you visit Angkor Wat here