I am sitting in my Bali villa, deep in the heart of Uluwatu on Bali's Bukit Peninsula. I can hear the gentle roar of the ocean and taste the salt on the air which is carried by the gentle breeze as I write the Bali Travel Guide. Before me are dancing palm fronds and endless blue skies. It is paradise.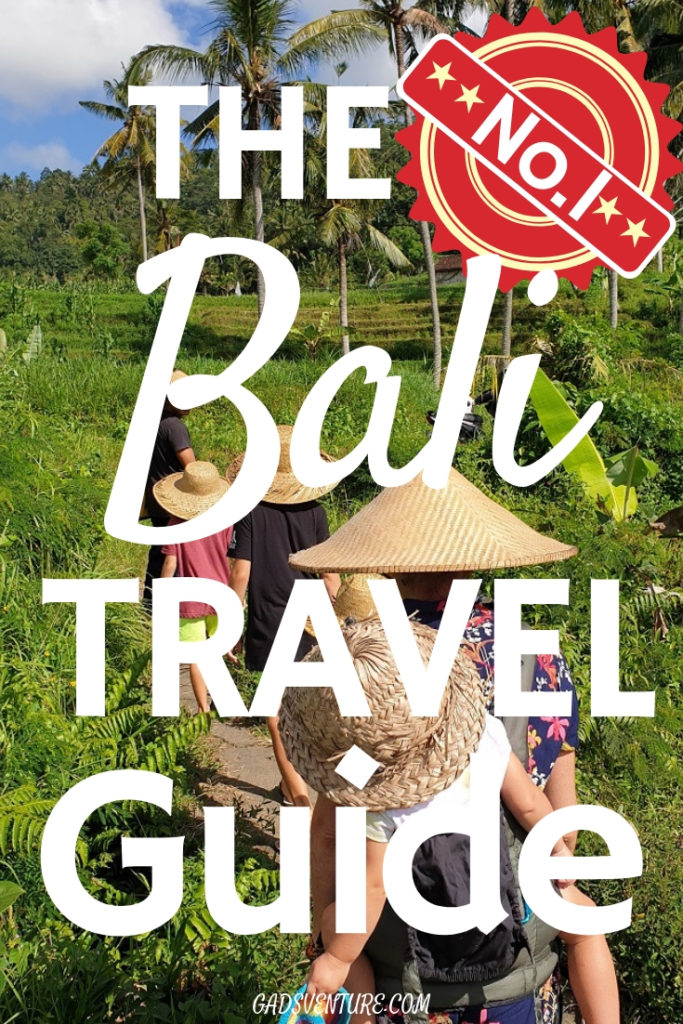 I want to share this paradise with you. So I have created the Bali Travel Guide which will tell you absolutely everything you need to know to make your stay in Bali the best trip of your life. I keep coming back again and again, and soon you will want to too!
When to Go to Bali
Bali's weather is divided into the wet season, and the dry season. November to late March is usually the wet part, and March to November is much drier. The peak holiday periods fall between December to January and June to August, which coincide with the big international summer holidays.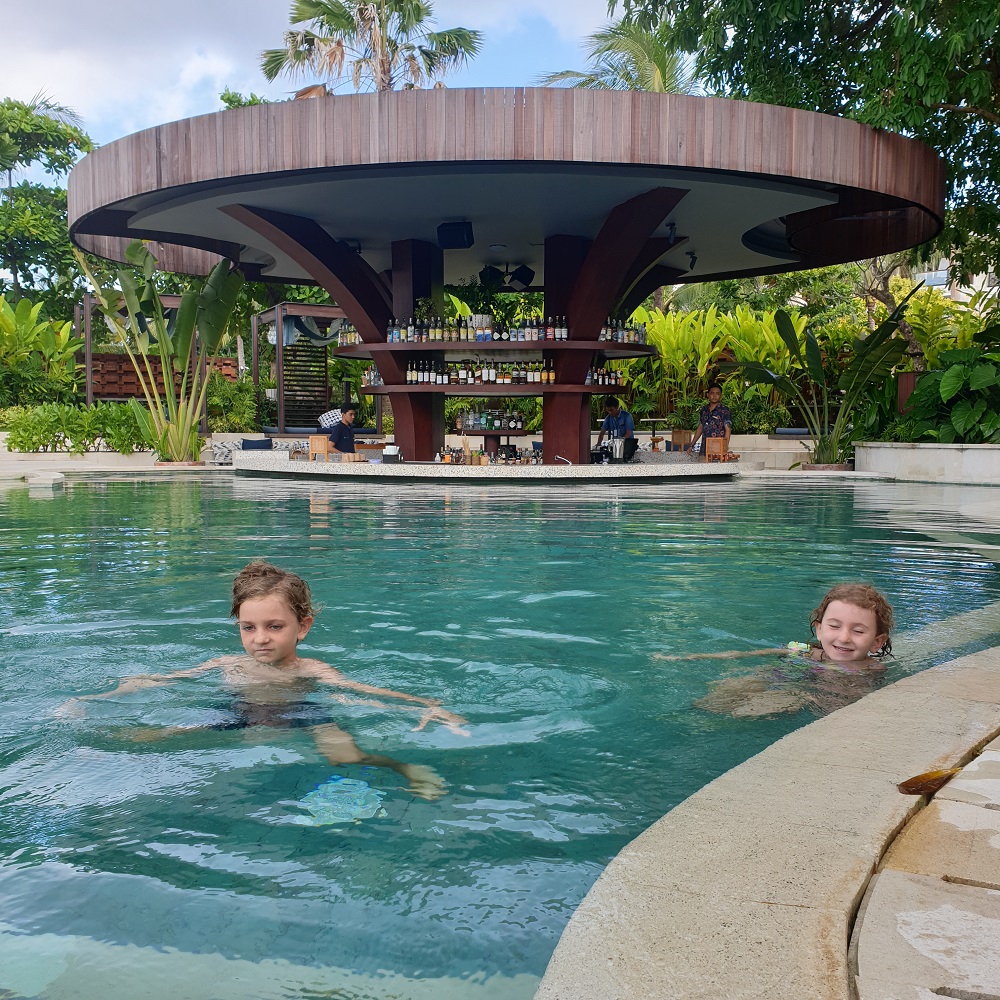 Our favourite time to visit Bali is between March and May. In March you may get the tail end wet season weather, but this is usually defined by a short sharp shower of rain in the evening after a lovely sunny day. In May you have a better chance of clear skies, and the best sunsets.
Read This for all the details: Bali Weather
Planning a Trip to Bali? Read This Next – Do I Need Travel Vaccinations for Bali?
Getting There
From Australia, you have a choice of direct Virgin or Jetstar flights from most major capital cities. Jetstar have sadly recently ceased the cheap flights out of Townsville. Indirectly, flying AirAsia from such centres as Kuala Lumpur, Bangkok or Singapore are popular routes.
Ngurah Rai Airport is the island's only International airport and it is massively busy with hundreds of flights from just about every airline in and out daily. Check out Skyscanner for the best deals. Use the 'whole month' feature to find the cheapest day to fly.
Arriving in Ngurah Rai International Airport
The airport is located in Denpasar. When you touch down, you are often guided to an airport shuttle bus which will take you to the main terminal building.
This is an impressively imposing structure and has underdone massive renovations since we first started coming here 10 years ago. The arrivals hall is usually an efficient and smooth process.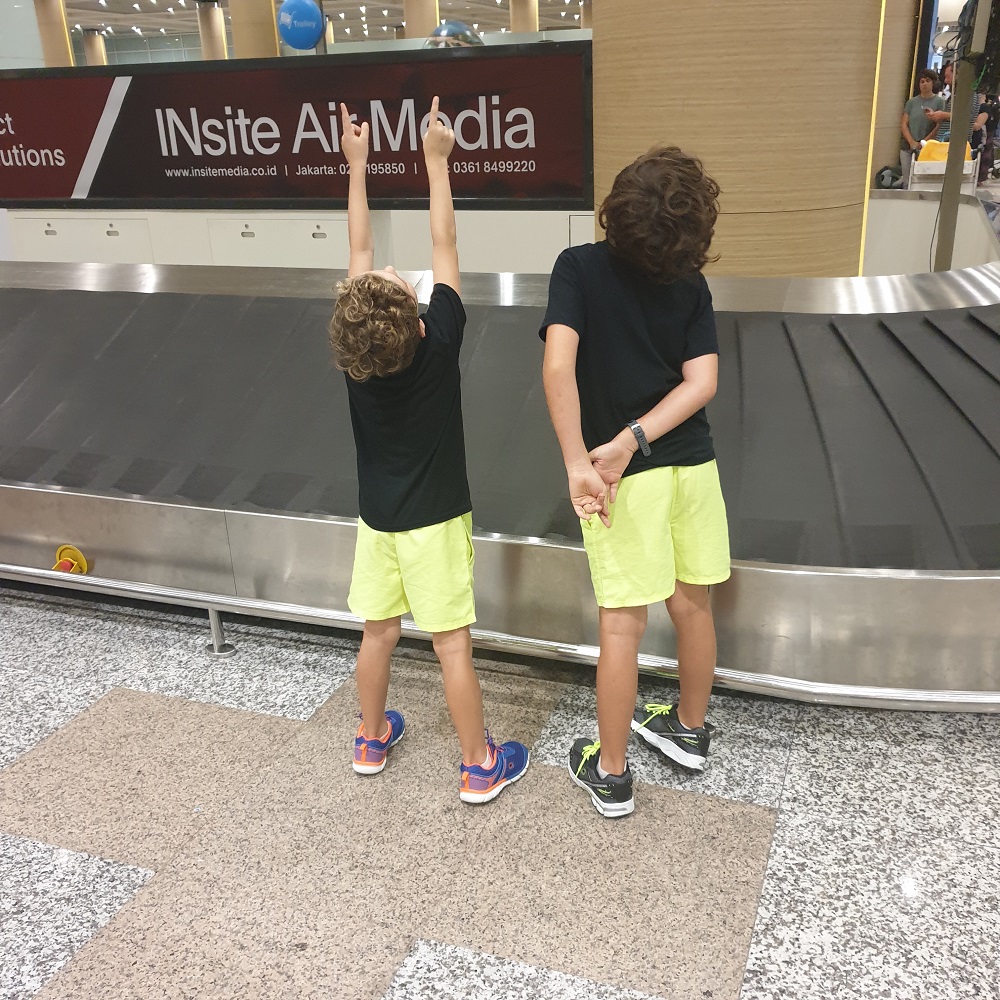 Find out if you need a visa to visit Bali or if you are eligible for the visa waiver program, read this.
For Australians, British and Americans we get a free 30 day stamp. If you want to stay longer than the standard 30 days, you can pay for a visa on entry that is extendable. For more information about longer stays, see here.
The Arrivals Hall
We have typically had really long waits at the luggage carousels. Just be patient, you are in Bali now. Your luggage will be coming directly. Surfboards and other oversized items are dumped unceremoniously at the end of the carousel rows.
There are toilets located before the immigration desks, and after the luggage carousels. Exit through the customs clearance by handing them your form and you are good to go.
Hot tip: With small kids you are often shown through a 'family line' and get to skip the queue at immigration.
Without kids to help you get VIP status, you can actually pay for a VIP Fast Track pass to help you clear customs and immigration faster! Click on the link to find out more!
Once you have cleared immigration and customs and retrieved your luggage, you wander through a hall where you can buy a Bali Sim Card, and change money. You will find an ATM here too. For more details on money in Bali, what to use and how to find it, read this:
It is always advisable to have some Indonesian Rupiah on you when you leave the airport. Otherwise, get your taxi or driver to stop at an ATM en route. They can be found at just about every convenience store.
Getting An Airport Transfer
Hot tip: Book your airport transfer before arriving.
You can do this through your accommodation, or by booking through GetYourGuide using the link. It is so good not having to run the gauntlet of taxi drivers all trying to take you for a ride – both literally and figuratively.
An airport transfer to most places in Bali should cost between 200,000IDR and 350,000IDR. These are nice large and comfortable airconditioned vans and can fit a large family with luggage. We always fit a surfboard in too, no worries!
Watch out for helpful guys trying to carry your bags, they are porters and will expect you to pay them a small amount at the end.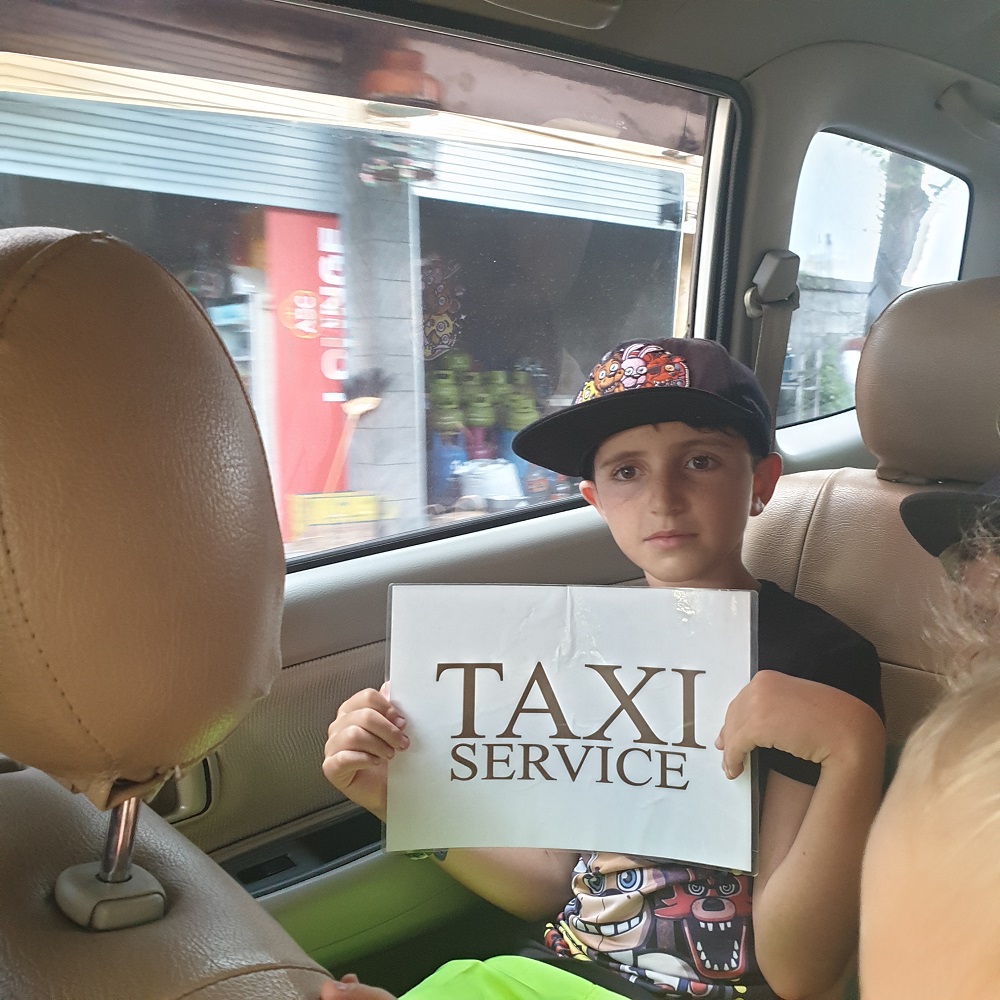 Bluebird Taxi, Grab and Gojek
To catch a Grab (the Asian version of Uber) you will need to go over to the Domestic Terminal as they are not allowed at the International. Be aware that Grab and Gojek (motorcycle taxi) are not allowed in many tourist centres too. Bluebird Taxi has a rank here though. A Bluebird Taxi to Seminyak will cost around 80,000IDR (make sure they turn the meter on) while a Grab will be closer to 50,000IDR.
Gojek and Grab will also deliver food and you can pay online using the app. Get the apps here before you go: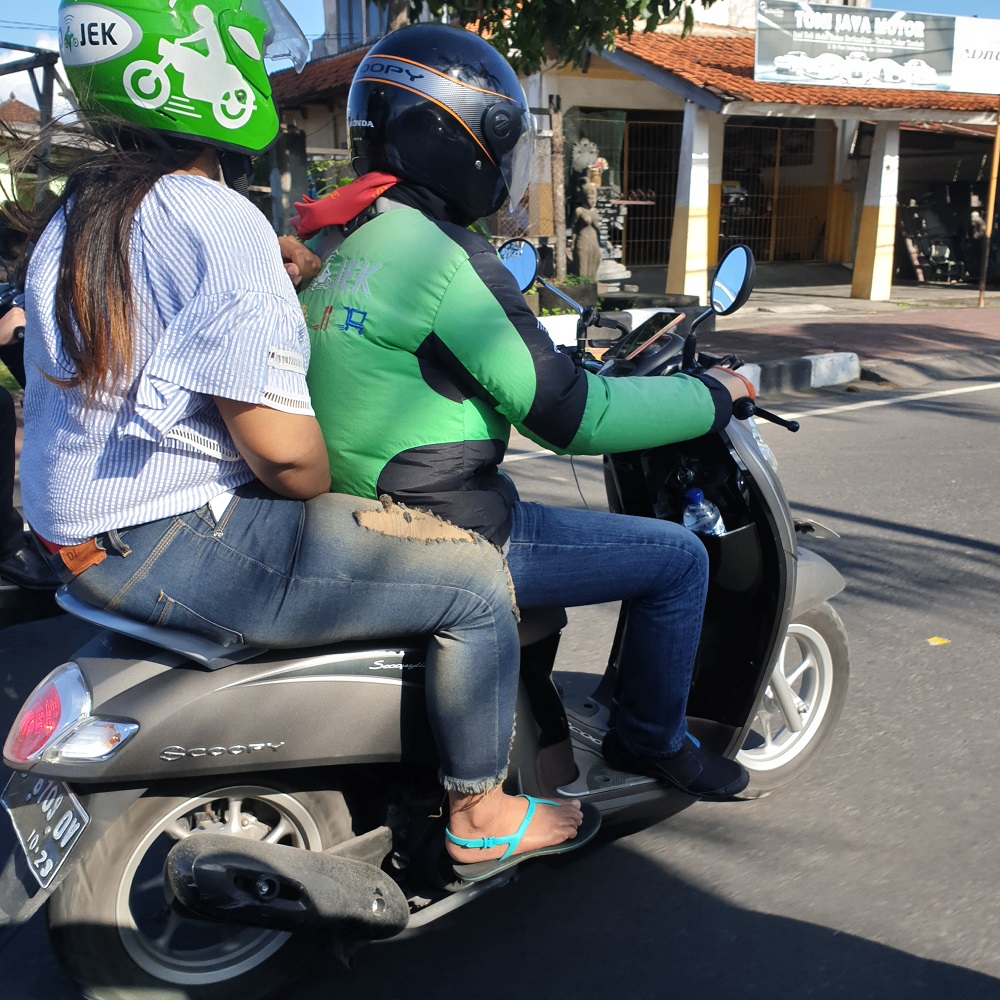 Getting Around Bali
Taxis
Bluebird Taxi service is the most prevalant company in areas such as Seminyak, Legian and Kuta. You can download the app here which makes it easy to order a car.
Otherwise you can always flag them down on the street. Watch out for 'fake' Bluebirds. They do exist. A real Bluebird will always have his meter on, you won't have to ask. And the drivers wear shirts with blue birds on them. A fake one probably won't even have a meter and don't have the nice uniforms.
Bluebirds are rarer in Canggu, Uluwatu and Ubud, thanks to private taxis getting a real foothold here. This means fares in these areas are more expensive and you have to negotiate hard to get a better price as they don't use meters.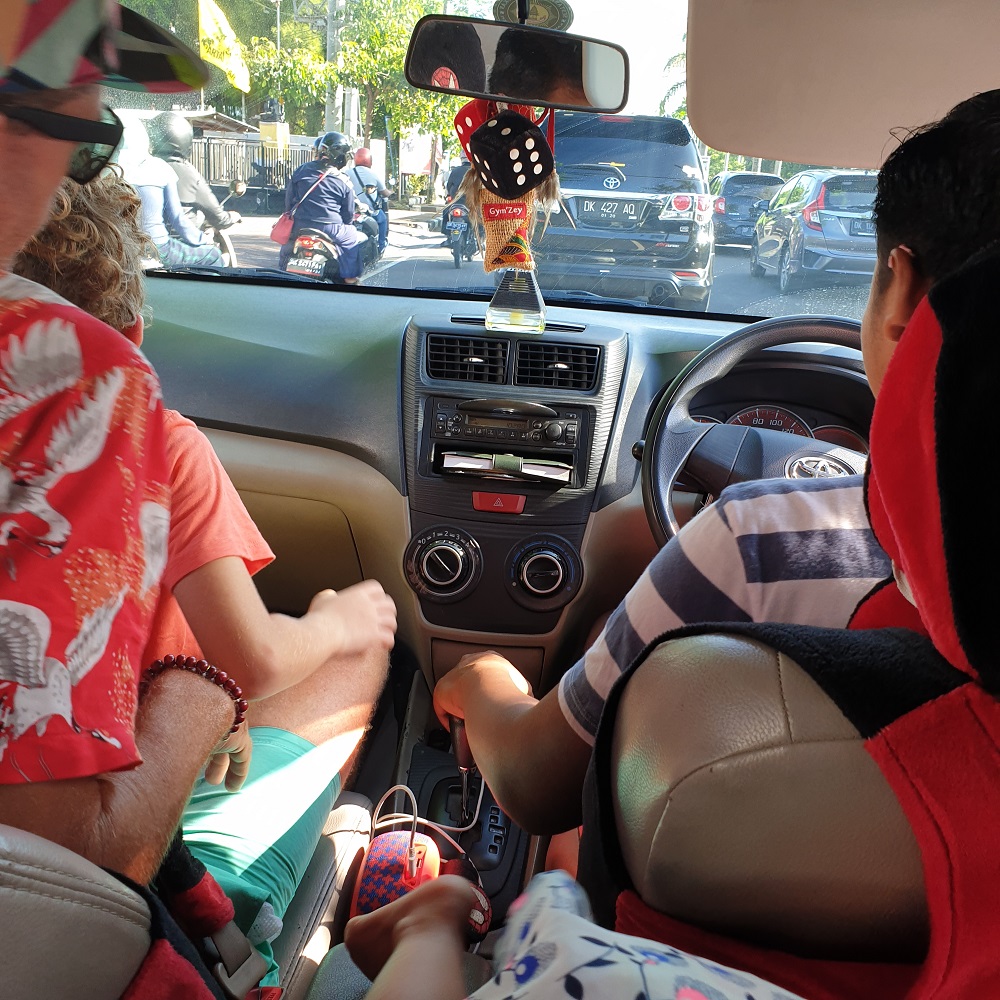 Private Car
A private car and driver is the way to go. You negotiate a daily rate, or excursion rate, they pick you up from your door, and are with you all day. You can even organise to hire the same driver for your entire stay if you like them! Rates can vary greatly. Expect to pay roughly 200,000IDR to 350,000IDR for a one way trip, or around 400,000IDR+ for a whole day.
We loved taking a car for a chaufferred shopping trip into Seminyak! It was so nice getting in and out of air-conditioned comfort, driving between boutiques. And the driver looked after all of our bags too. If you find a driver you like who offers you good prices, then he will always share his WhatsApp number so you have him on call.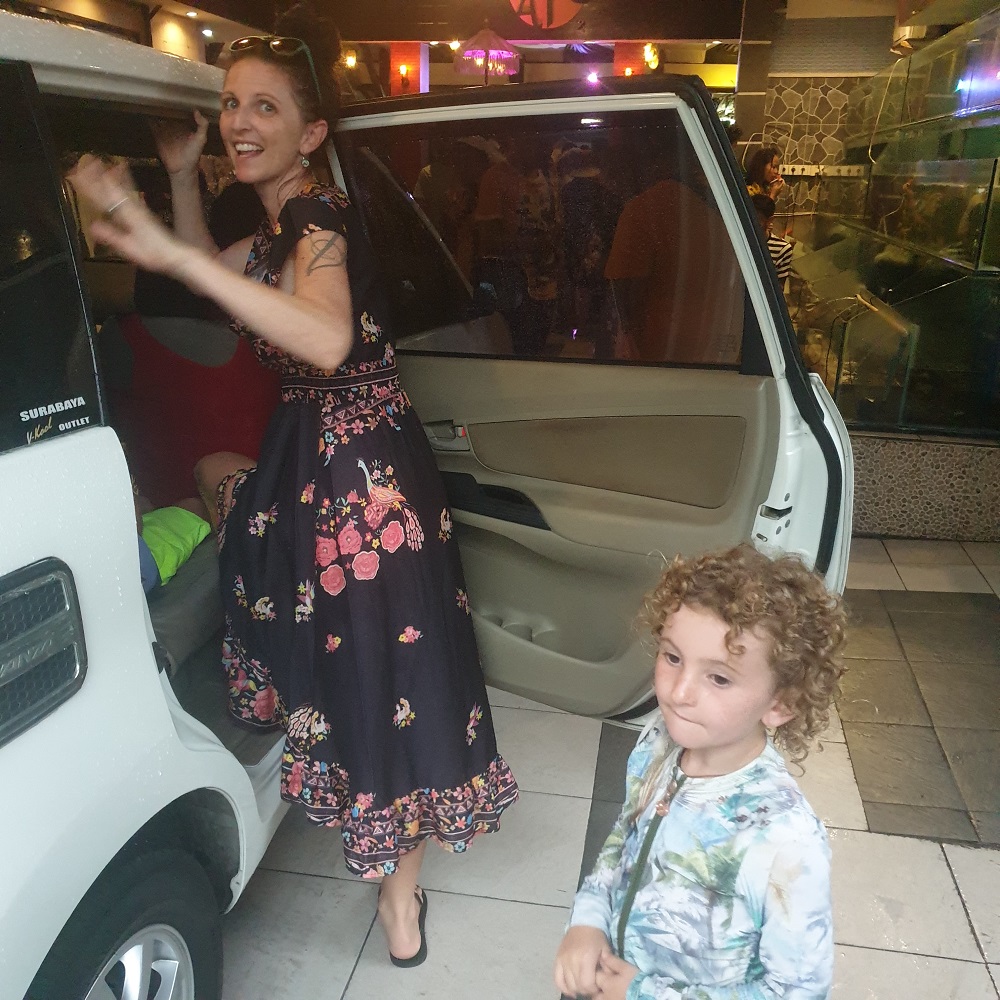 Motorbikes
Hiring a motorbike may not be for everyone, but it can be the ultimate way to travel within Bali. Just make sure your travel insurance is up to scratch. World Nomads have great international policies. Check here for an instant quote:

You are supposed to have an International Driver's Permit to hire a bike, however we have never been asked for this when in Bali. It's usually just our villa host arranging a couple of motorbikes for us, there's nothing official going on. Motorbikes cost about 60,000IDR per day.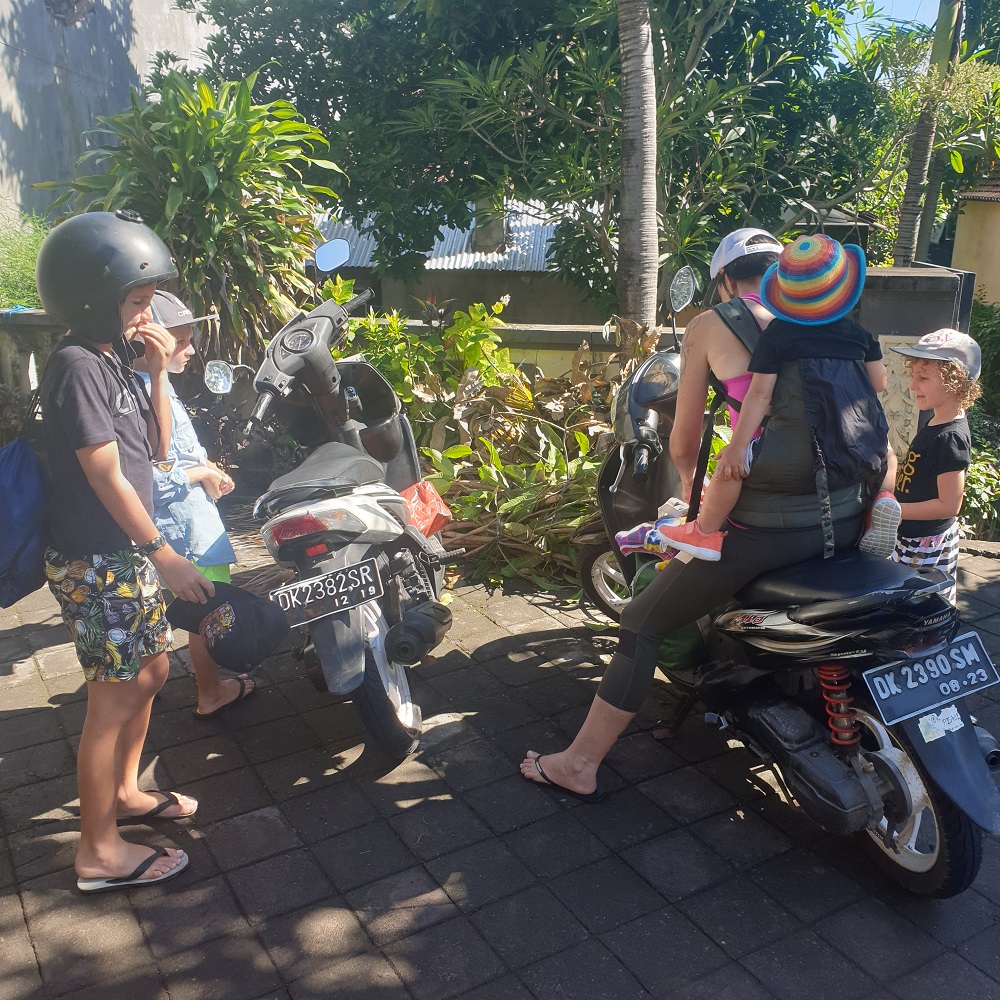 Take it slow, wear a helmet and don't drink and drive. Keep to the left and let faster vehicles past. Be ready for anything, including chickens and dogs! I like hiring motorbikes in quieter areas like Uluwatu and Amed, but will avoid it in more busy and populated centres such as Seminyak and Canggu. But that's just me.
Bali for Families
Read This Now – Is Bali Safe?
We keep coming back to Bali over and over again with our 4 kids. It is such a great place to visit with little ones! The people are so friendly and helpful at every turn.
There is no such thing as car seats in Bali. Often you won't even find seatbelts at all. And if you plan on riding motorbikes with your kids, bring your own child sized helmets as they are hard to get with a rental. Swimming pools do not have fences. You can hire a temporary pool fence from Bali Baby Hire. If you are staying in a private villa. They supply and erect a fence which complies to Australian Safety Standards. Other baby equipment can be hired from them to, such as cots, highchairs and strollers so no need to bring your own.
You can find drop in childcare at Cheeky Monkeys, and The Garden Early Learning. Bali Nannies can supply a nanny to join you on your holiday, taking care of and playing with your kids.
If you have fussy eaters, the food at The Joglo will appeal to everyone. You can find Western style food on most menus, and popular fast food restaurants in the main tourist areas.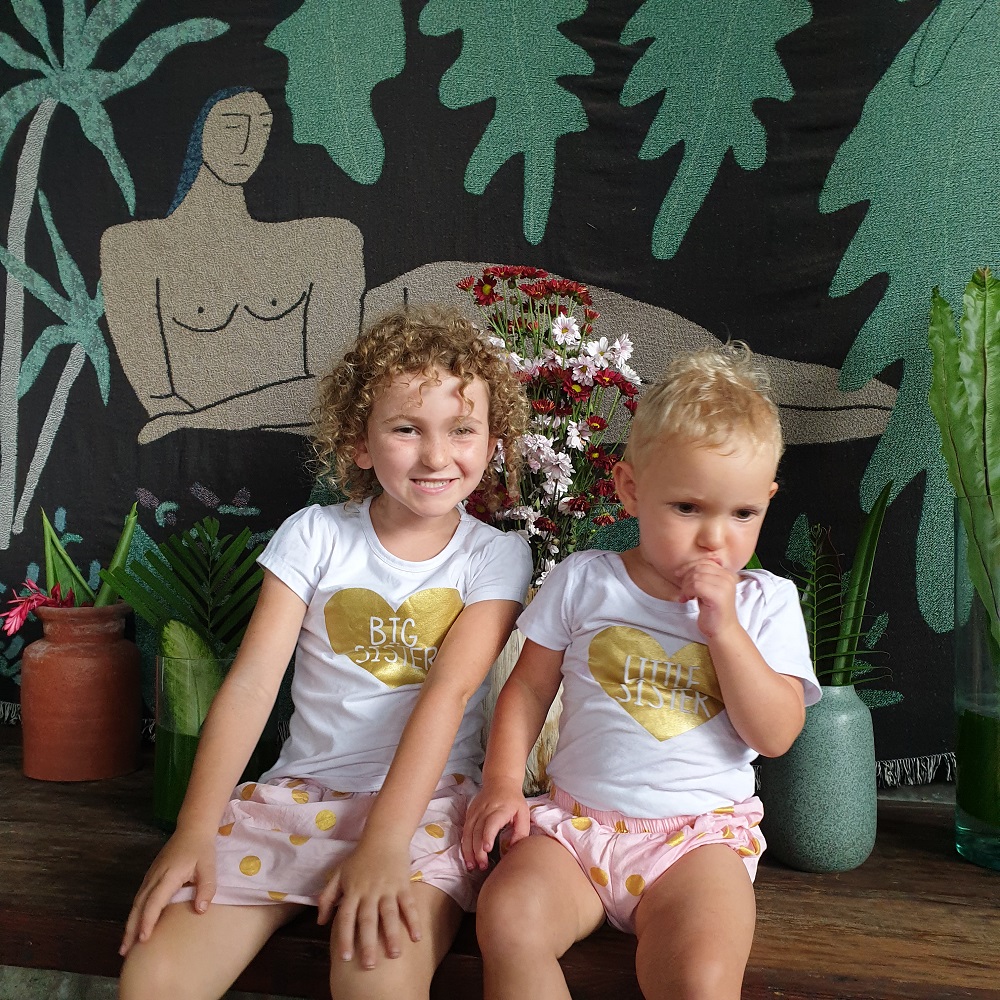 You can find medical centres for tourists everywhere. Ask your hotel for the closest one to where you are staying, and they will often do house calls too. BIMC is the best hospital. There is one in Kuta and Nusa Dua and they have 24 hour emergency service. Prima Medika an awesome foreigner friendly clinic in Denpasar. I have been to both with my kids.
Where to Stay in Bali
There are so many different regions in Bali. From sand and surf, to partying all night long, and country mountain vistas, Bali has it all. I hope this Bali travel guide will help you decide how to make the most of your trip.
Uluwatu
[mappress mapid="16″]
Uluwatu and surrounds are a surfer's paradise. Kids love it too. Most of the beaches, however, are down steep pathways, and through rocky cliffs.
The sand is beautiful at Bingin Beach with its gorgeous sunsets and steep stairs.
Balangan Beach is super atmospheric with wooden warungs overhanging the white sand.
Padang Padang can get pretty busy with tour groups, but you will have it all to yourself before 9am and it is perfect for swimming and surfing.
Uluwatu is home to the stunning clifftop Pura Uluwatu temple with nightly fire dances, incredible sunsets and some of the best surf in Bali.
Getting Around
Riding a motorbike around here is pleasant thanks to smooth quiet roads. Or else you can get a private taxi from the multiple transport stands dotted around the place. Alternatively, ask your villa host or accomodation reception to organise you a lift. Get your driver to wait for you rather than a one way ride, as negotiating a different lift back you will probably pay more.
Where to Stay in Uluwatu
Budget ($10 – $100)
Mid-Range ($100 – $500)
Luxury ($500+)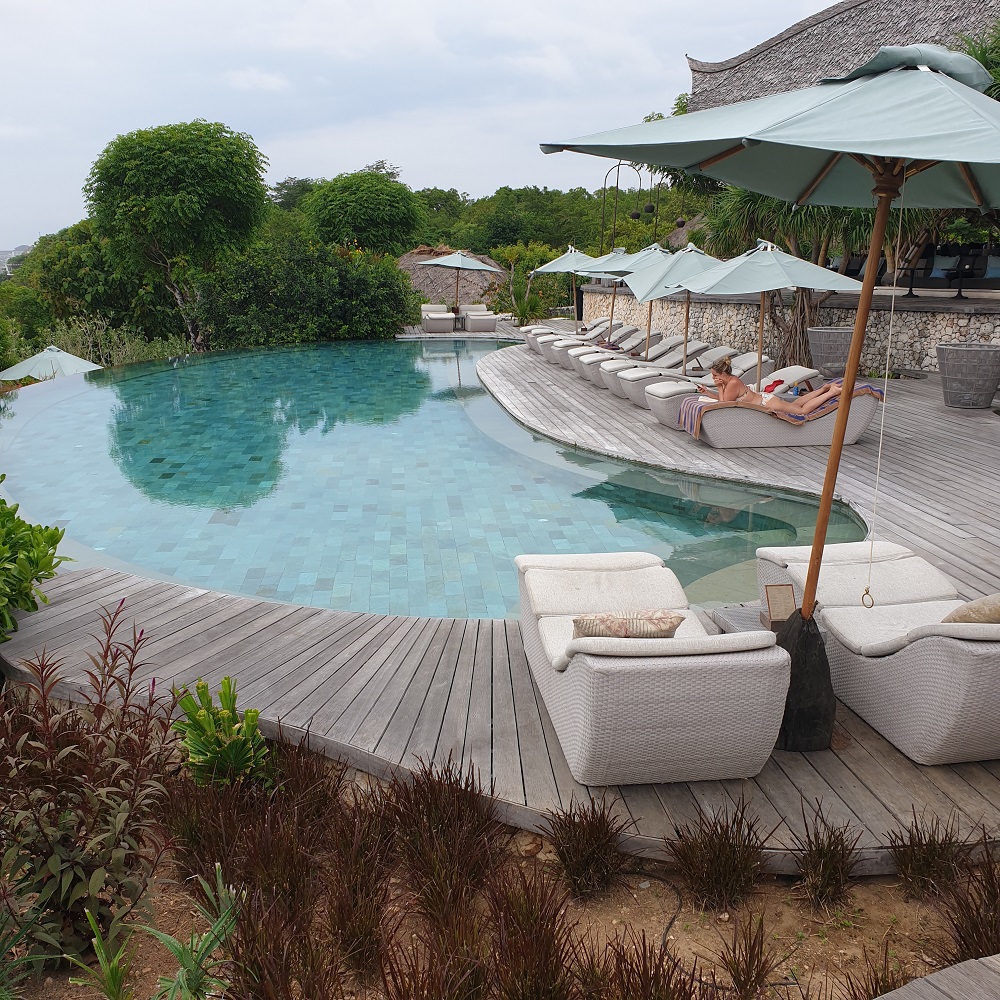 Where to Stay in Uluwatu For a Family
Eat
Ulu Cliffhouse – Amazing infinity pool overlooking the ocean
Despacito – Low key spanish style with pool
Bukit Cafe – Western Food
Buddha Soul – Organic
Brothers Warung – Awesome Indonesian
Kuta
More the scene of groups of partying backpackers, hens parties and stag do's, Kuta has a great nightclub scene, excellent markets and a fantastic beach to learn to surf. It is also the home of Waterbom, Asia's best waterpark and a must on any Bali itinerary.
Buy your tickets before you go and save on entry!
Legian and Seminyak
Staying in Legian or Seminyak means you are close to everything and there are some incredible villa options to be found. Walk out your front door directly to awesome dining and shopping. Visit the popular and world-famous beach clubs Potato Head and Ku De Ta (kids day on Sundays starting 11am).
Where to Stay in Legian/Seminyak
Budget (under $50)
Mid-Range ($50+)
Luxury (over $250)
Where to Stay in Seminyak For a Family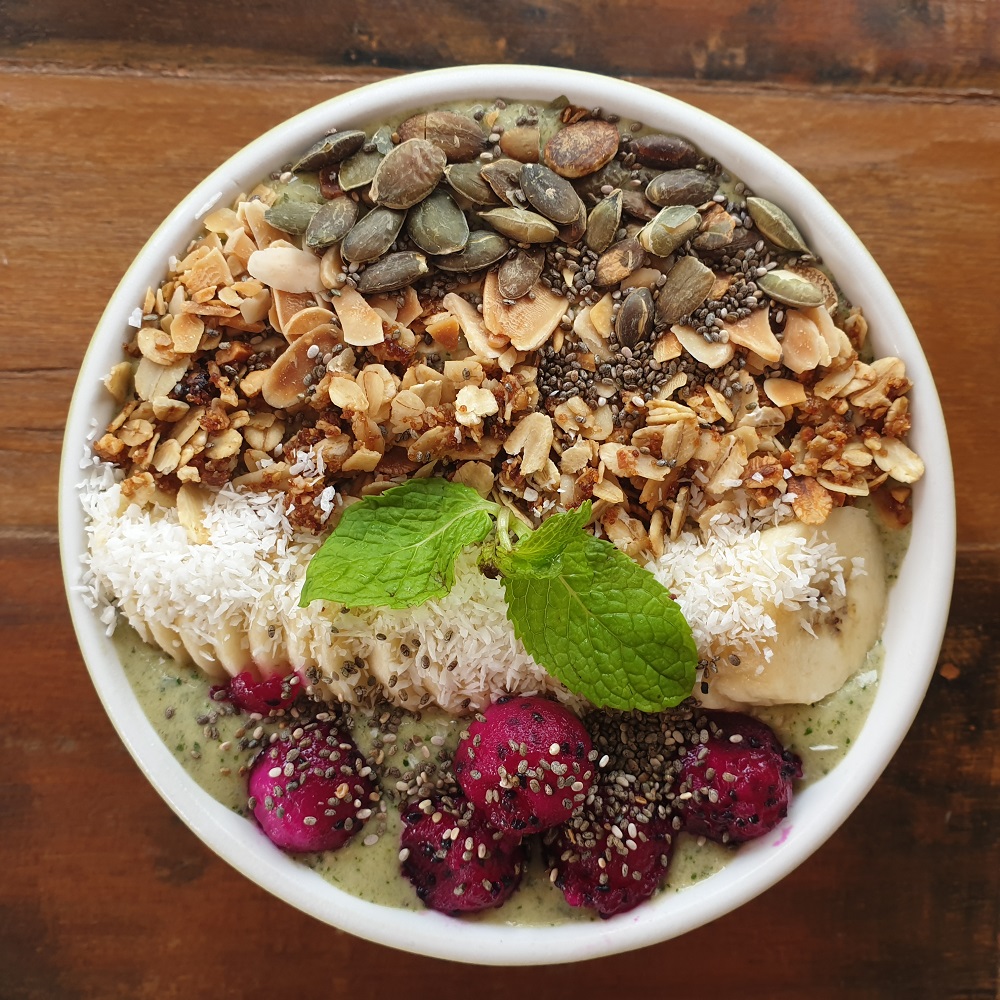 Best Restaurants in Seminyak
Naughty Nuri's
Maybe Tony
Bamboo
Bikini
Bali Pearl
Duck Duck Goose
Sea Salt
Getting Around
Kuta, Seminyak and Legian are best served by Bluebird Taxis and private cars.
Canggu
Canggu is our family's favourite place to stay in Bali.
Best Blog Read Now: Ultimate Family Canggu Travel Guide
It is so easy to get around by motorbike and private car. There are beautiful huge fully staffed private villas here which are so nice to stay in with your own private pool. The dining options here are amazing and you can find cheap eats, smoothie bowls, Indian, and everything in between in classy settings.
Where to Stay in Canggu
The best areas to stay in Canggu and main street names are listed here:
Berawa Beach (Jalan Pantai Berawa)
Batu Bolong Beach (Jalan Pantai Batu Bolong)
Echo Beach (Jalan Pantai Batu Mejan)
Pererenan (Pererenan Beach Street)
The neighbourhoods get progressively quieter as you go down the list, heading west. When searching for your accommodation, anything along these main streets, and on the beach side of Jalan Raya Canggu will be great.
Best Restaurants in Canggu
The Joglo
Warung Dandelion
The Piring Daun
JL Restaurant Bali
The Shady Shack
BB52 Burgers
Lupe Canggu
Lola's Shaking All Day
What to do in Canggu
Definitely check out Finn's Rec Club if you come to Canggu. It is such an epic day out for all the family. Tamora Gallery offers great kid's activities on Sunday's especially. La Laguna is super kid-friendly. Cheeky Monkeys and The Garden cater to all your drop-in Childcare needs.
Nusa Dua and Sanur
If you are looking for an all inclusive resort style holiday with swimming pools, a calm beach and watersports galore, then you will want to check out Nusa Dua and Sanur. Sanur is just slightly more low key (cheaper) than the opulence that you find in Nusa Dua.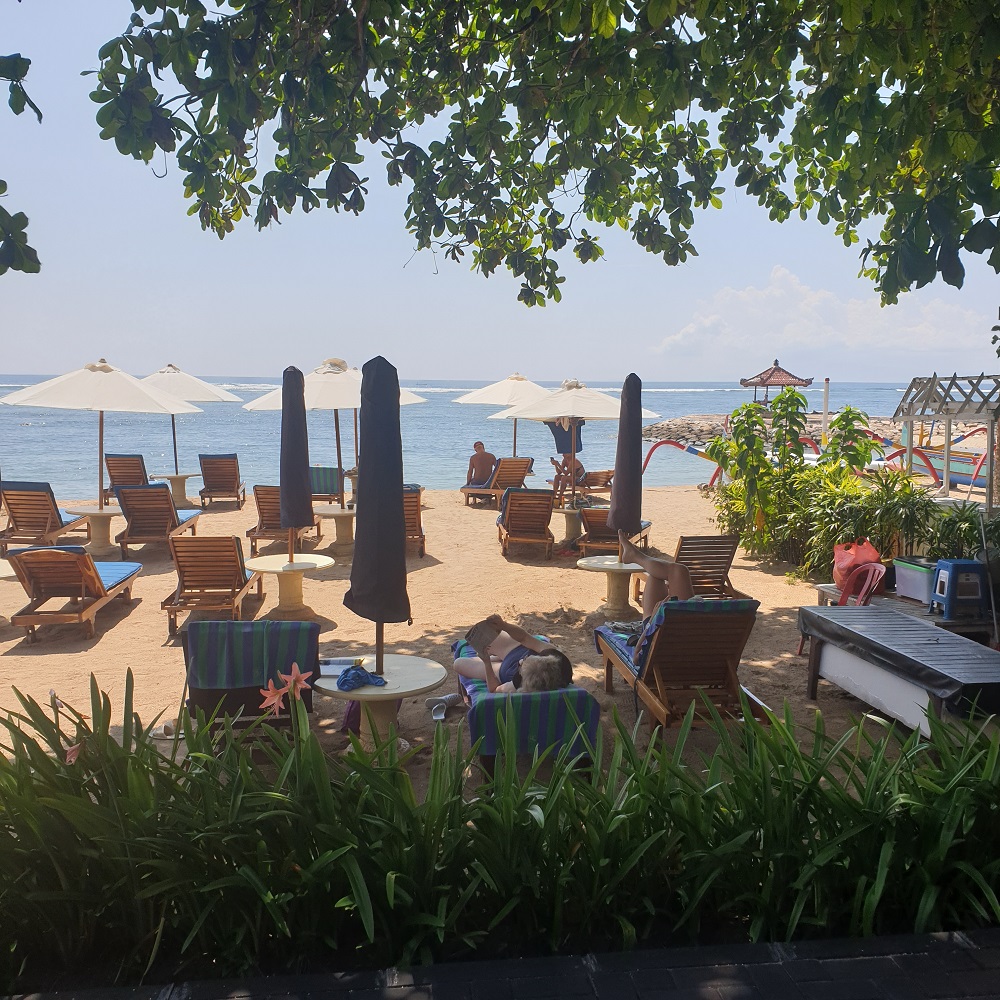 Where to Stay in Nusa Dua
Popular Resort Choices