I'm so excited for you! You have booked your flights, found a great villa and are all ready to go to Bali! Yay!!! But what about money in Bali? Do you know what the currency is, or the conversion rate? What happens when you run out of money and your card won't work!? What then? Read on to discover all the answers.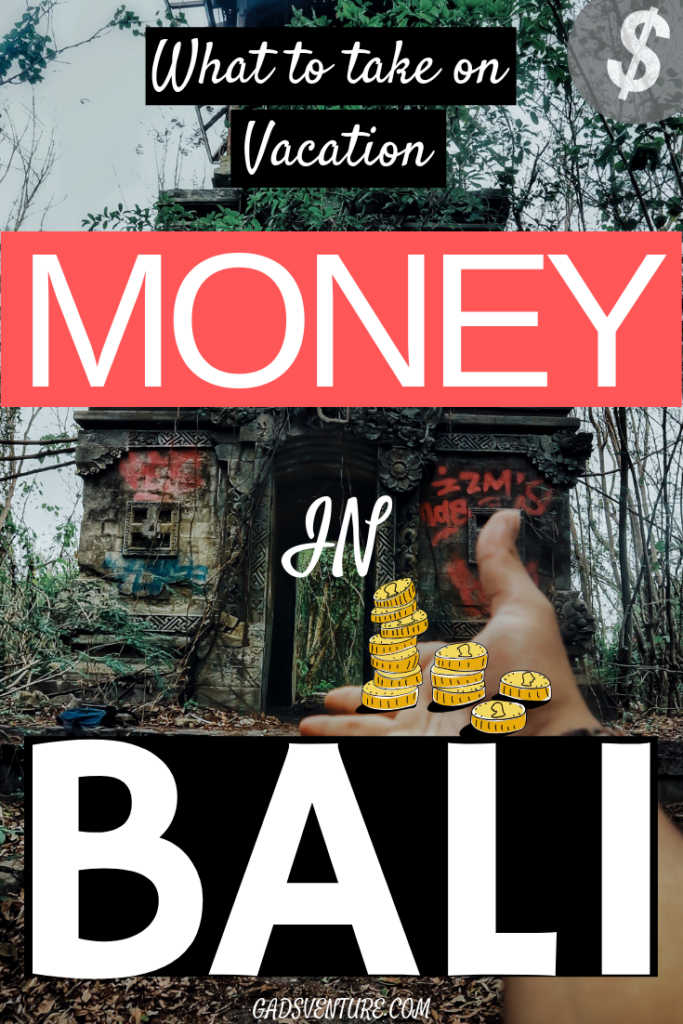 The Money in Bali is the IDR
IDR stands for Indonesian Rupiah and is the only currency you need to worry about when on holiday in Bali.
IDR notes come in denominations of 2,000, 5,000, 10,000, 20,000, 50,000, and 100,000.
You will come across plenty of coins too, these include 1,000, 500, 200, 100 and 50 coins.
For the latest up to date exchange rates check XE.com.
On this very day:
$1 Australian buys around 10,000IDR (easy for working out costs on the run!)
$1 US buys about 14,100IDR
£1 gets 18,200!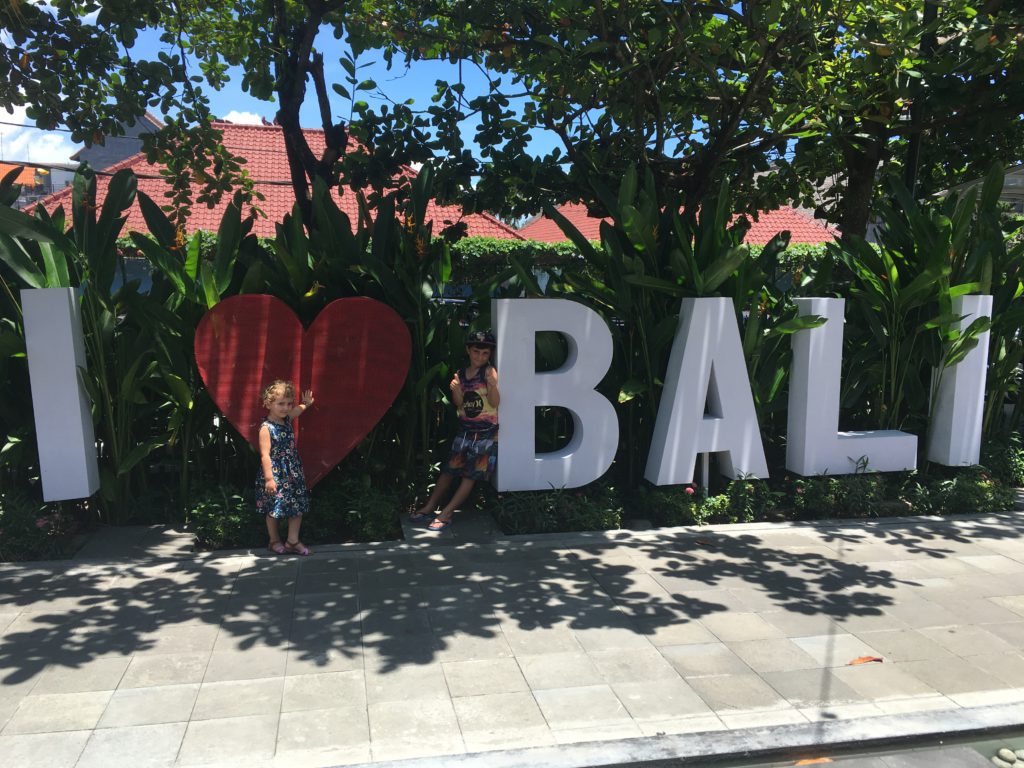 How Much Money Do I Need?
The great thing here is that your money in Bali goes pretty far. It is no accident why we keep going back to Bali again and again. It has become our favourite place to take our family thanks in part to its cheap cheeriness!
Try Canggu for our favourite place to stay in a beautiful Bali Villa!
Share the Cost
For a family of 6, it is possible to find a fantastic villa on Airbnb for between $30 and $60 AUD per night. These places have pools, are close to the ocean and are fully staffed too! The thing I love about staying in a Villa like this is the attention to detail from the beautiful staff, and the feeling like you have your very own luxury beach house. You definitely get more bang for your buck on Airbnb.
Another great thing about booking a large villa is that you can share the house, and the cost with family or friends!

For example, our last stay in Bali was booked for on average $55 a night – this is for a family of 6. Previous holidays we have shared with a couple of families and booked a 5 bedroom private villa for no more than $500 a night (which was then split between the parties.
Follow this link to have a browse on Airbnb and be prepared to be impressed. It's free to join up, and you can get a genuine $55 off your first stay!
Find a Well Priced Resort
If a resort stay is more your style, you can find a room here and the prices are around $100+ per night.
So the bottom line is, depending on your numbers, and your level of luxury, you can spend as little as $20 for a backpacker's, $30 for a basic villa with a shared pool, $50 for a 3 bed family villa with your own pool, $100 at a resort, or more.
Food is cheap, taxis are cheap. There is a lot of shopping to be done, especially at the stylish boutiques around Seminyak/Legian and the markets at Seminyak Square, Kuta and Ubud.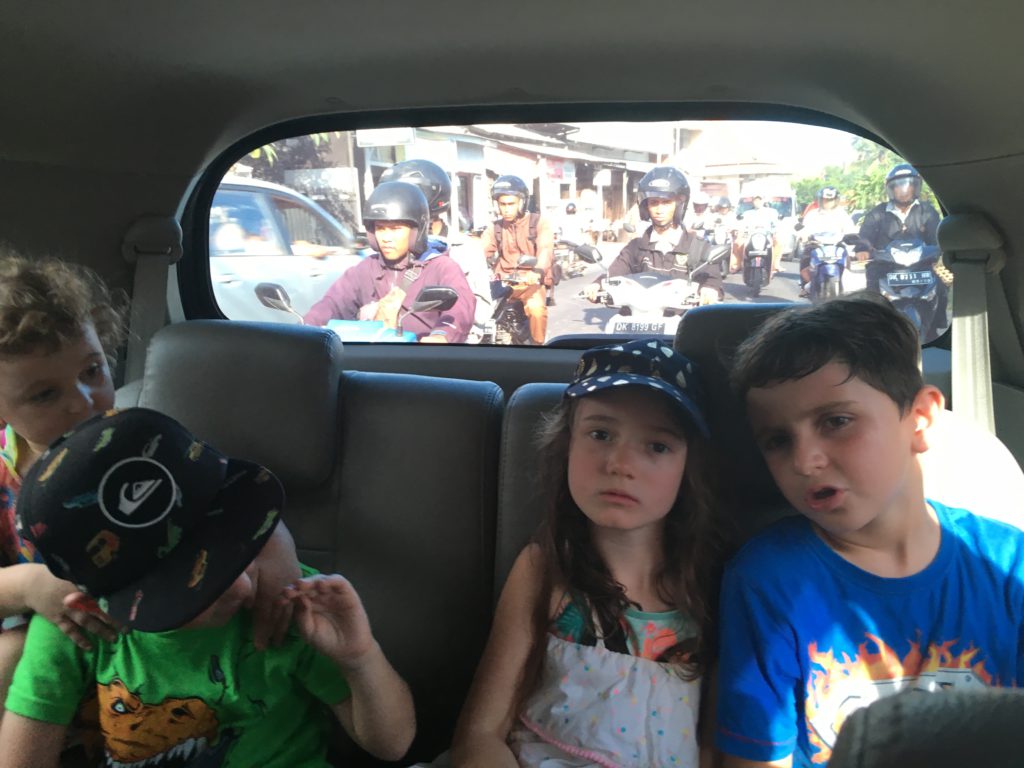 Save Money on Transport
To save money on taxis, make sure to download the Grab App for Apple or Grab App for Android before you go. This is like Asian Uber. Cheap taxis, food delivery and cashless. GoJek is similar: Check it out here. While both Grab and GoJek are great options for getting around Bali, just be aware that they are not allowed everywhere. Bluebird Taxi is still your best bet otherwise.
For a 2 week stay for a family of 6, with our flights and accommodation already paid for on credit card, we had $2000 spending money.
For the Ultimate Bali Travel Guide, read this.
Our next trip is Bali for one month and our budget including accommodation, food and activities for all 6 of us is $100AUD per day. Follow us on Facebook to see if we manage to stick to budget!
How to Handle Money in Bali
Here are some tips to make your money in Bali easier to manage:
Credit Cards in Bali
Pay for as much as you can with your credit card. Visa and Mastercard are widely accepted at shops and restaurants. Using your plastic here will save your cash for more important things. The fees are negligible as the bank will always give you the best exchange rate.
Find all the best Bali Surf Spots here!
ATMs in Bali
ATMs are everywhere in Bali. There is literally a little ATM booth on every street corner, and inside every convenience store.
Use your Visa or Mastercard to get cash advance at these machines.
These ATMs are VERY SLOW! You really feel like pacing up and down in the tiny booth, and the person before you always seems to take half an hour and then leave with nothing. Balinese also do their depositing via ATM, so this could be a reason they are taking so long.
The booths are air-conditioned and sometimes it's a good excuse to get money out, just to enjoy a 5 minute reprieve from the heat outside!
You will pay a small ATM fee, plus an international transaction fee, plus a cash advance fee in most cases. To minimise this, try to withdraw a decent amount each time.
ING Bank in Australia is one of the few banks I know of which is International Transaction fee free. For more info on their Orange Everyday Account see here.
Watch the withdrawal limit – usually between 1,250,000IDR and 3,000,000IDR. I try the limit first, but as these machines frequently run out of money, you may need to reduce your amount and keep trying until it gives you something.
There are actually more than 10 CBA ATMs (Commonwealth Bank of Australia) throughout Bali which lets you use your debit card as well. These are conveniently located in Kuta, Canggu, Denpasar and Nusa Dua. There is even one within the Waterbom Waterpark!
Citibank also has ATMs in Denpasar, Kuta and Sanur.
We haven't personally suffered from card skimming activities in Bali ATMs but just keep your wits about you and still remember to cover you PIN, just like you would at home.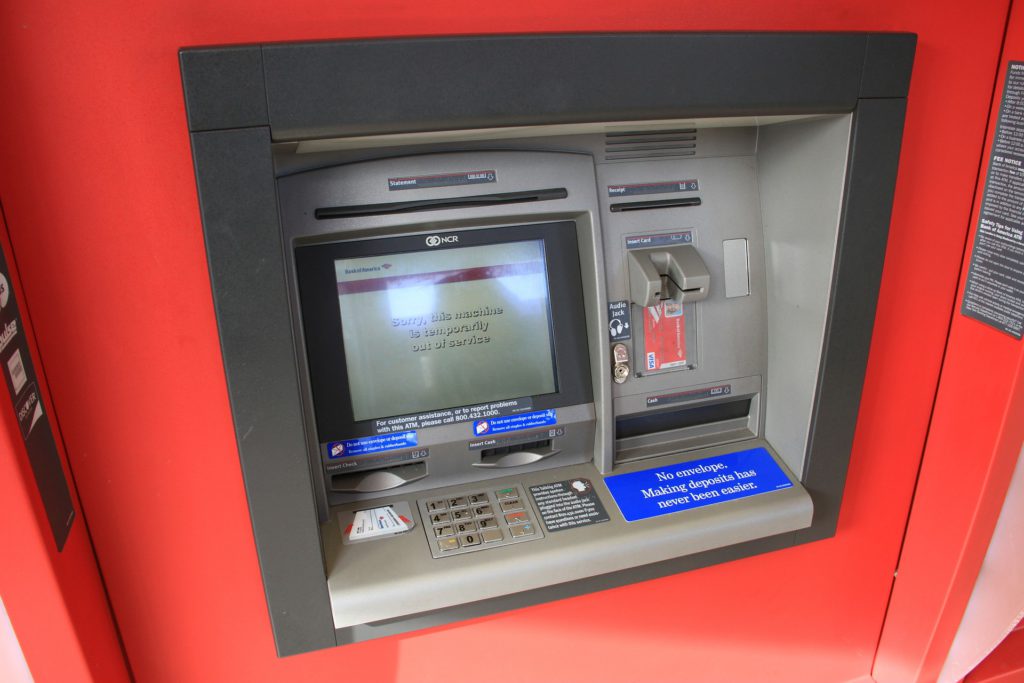 What to do if the ATM steals your card in Bali
This is the hottest tip!!! Unfortunately it is one we learned the hard way. As a traveller you know that sinking feeling you get when the ATM just sucks your card away and refuses to give it back! You quickly go through all the scenarios in your head, how to contact the bank, what back up cards you have, ahhhh. What a pain! However, there is a secret hack that hopefully will save you the heartache:
Simply turn the ATM off and on again at the power point and hope for the best. In some circumstances, this makes the machine spit out your card and live another day! (Thanks for the tip Wylde Travel Family)
Please go to another ATM before trying again.
What about Money Changers in Bali?
Like an ATM, there are money changers on every other corner! It is easy enough to shop around and find a good rate. US dollars seem to be favoured by money changers, and always make sure your notes are late issue, and free from creases and rips.
Changing your money at Denpasar Airport tends to give you a worse exchange rate.
Money for Arrival in Bali
To save extra hassle at the airport, I always like to arrive with a pocketful of cash into Denpasar. About a week before leaving, I change $500 or so Australian dollars to IDR. I like to get a feel for the money before I go to a different country and educating our kids on foreign currencies is essential too. They think it's fake money though LOL!
You will need cash on hand for a bottle of water on landing, a taxi or to pay a porter. I always arrange my airport transfer beforehand with my accomodation, but it is still expected to tip these guys a couple of dollars too. Especially because they will carry your bags for you.
Keeping Money Safe
At any stage when travelling in SE Asia I don't recommend carrying any more money on your person than you feel comfortable losing. 99.9% of the time you are safe as, but it wouldn't be the first time a drunk traveller has been fleeced. We have never had a problem with dishonest people in Bali but if you are worried, there are cool anti-theft style backpacks you can invest in for peace of mind.
In our backpacking youth, it was more often your fellow backpackers that you had to watch for thievery anyway!
I often will carry all my money on my person, up to 3,000,000IDR. Then I have a smaller purse which is easy to access with only 500,000IDR in it, or money in my pocket for frequent use.
Hotels or villas will usually have an in-room safe for you to use if you feel uncomfortable carrying cash.
Wearing a wallet close to your body can help with money security, but in all honesty, it is really to hot to wear one of these for me.
Other Ways to Manage Money in Bali
Like every good traveller knows, you can't rely solely on one money source while abroad. That is why we travel with: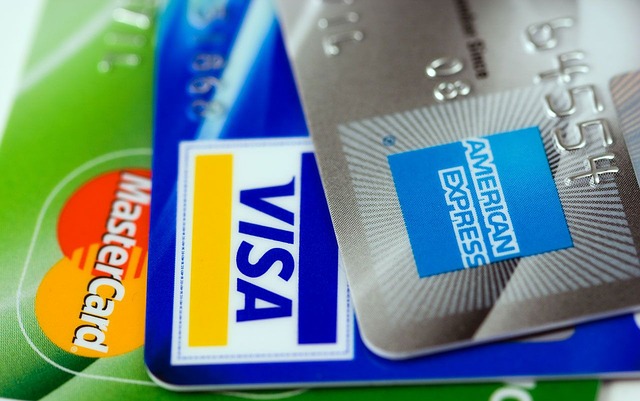 At least 2 different credit cards
A Visa Debit card
$200 or so of US Dollars (I have this same $200 for years now and never needed it, but I am glad it is still there)
Keep these sources separate. My husband and I have a credit card each on us, then we have another back up card in a different bag, and back up cash stashed elsewhere.
The key is to keep your options open!
Tipping in Bali
While tipping in Bali is not a requirement, it kind of is expected. We always leave a 10% tip in appreciation of good service. Balinese people really go out of their way to make your stay a good one. Whenever we find someone who is extra wonderful, we give them a tip. Taxi drivers, porters, someone who gives you directions. It is nice to tip your villa staff as well.
That's It
I hope that you have found some answers on how to manage your money in Bali. Money is a big issue when travelling but after travelling the world for over 15 years, first with my husband and now with 4 children, I have picked up a few tips along the way.
With your money sorted, you can now kick back and enjoy your trip to Bali!
Get all the practical info here such as your vaccinations, Bali weather and visa requirements and you are ready to go!
How many sleeps to Bali?
Comment your answer below and make sure you share this post with anyone you know who's headed to my favourite island paradise!
Read more about great Bali destinations below: