A Gibb River Road Experience
The Queen of all the stops along the Gibb River Road, is El Questro Station! Just the name sounds like something out of a Hollywood blockbuster production and is enough to inspire desire in the hearts of many.
El Questro Station is no doubt the best station in the Kimberley region It boasts everything the Kimberleys has to offer on it's 700,000 acres of wilderness.
Be prepared to be blown away by its sheer beauty and the many, many tours and activities on offer. From flying, boating, fishing to horseback riding, 4×4 exploring, hiking and relaxing in it's hidden natural areas throughout the property, El Questro has you covered.
Once you enter the El Questro Station property you will never want to leave, even if you planned on only visiting for a couple of nights! We came here for a few days and ended up staying here for 2 weeks of absolute fun and adventure.
Let us show you the wonder of El Questro Station and why you should make this destination a solid commitment while exploring the Kimberley region. If you only have time to visit one spot in the Kimberley's make it El Questro.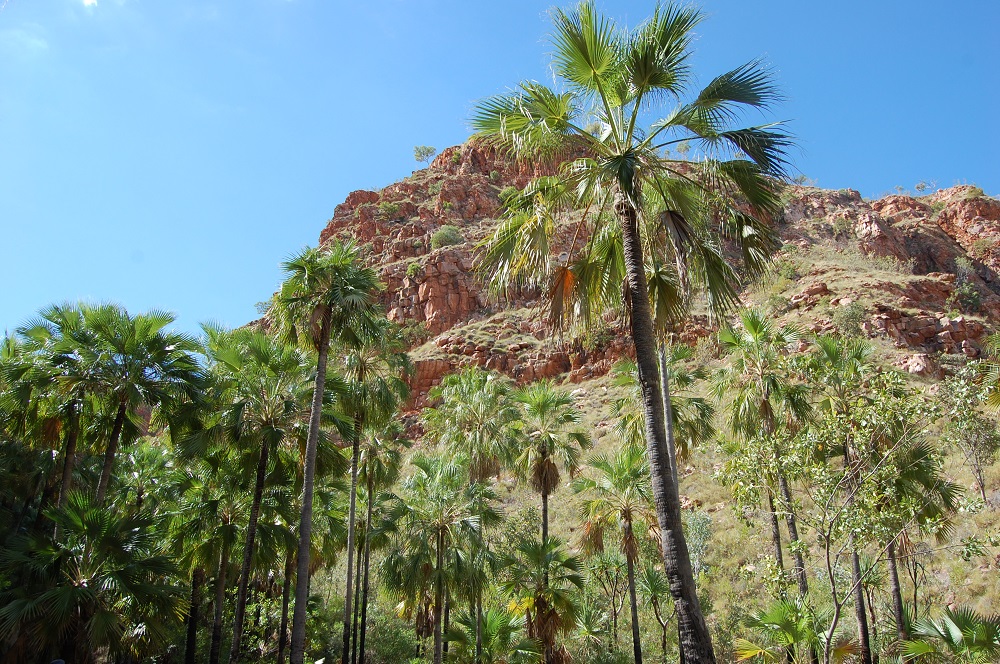 Where is El Questro Station?
The El Questro Station is situated 110km West of Kunnunarra township on mostly sealed bitumen road that now reaches El Questro turn off and the Emma Gorge.
It is then another 16km down a gravel road to the camping areas, but this road is no pushover, you still have a few creek crossings to contend with to get to the homestead. So it is not advisable to bring in a 2wd vehicle or a low clearance 4×4 you may get stuck.
Getting Here
There are 3 exciting options to get to El Questro Station depending on your budget and adventure levels.
Option 1 is to self drive to the station which is the most common method, but relies on you having your own 4×4 vehicle or hiring one.
Option 2 is to organise a scheduled transfer from either Kununnara Airport or from your accommodation in town.
Option 3 – This is  my favourite – If you have a little extra cash why not fly out to the station in style either on the station helicopter or via a small plane that all can be arranged via contacting the station.
Getting here is as much fun as staying here so choose your method and get cracking!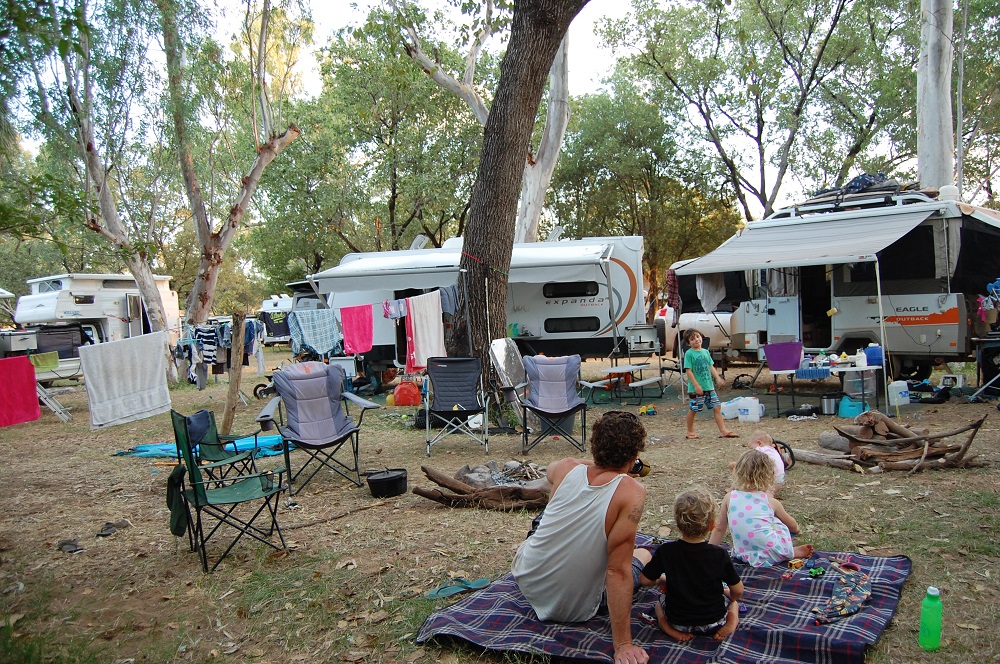 El Questro Station Accommodation
The station provides a wide range of exciting accommodation options which range from luxury chic homestead stays to good old rough bush camping.
Depending on your needs or the occasion, El Questro has you covered. Whether you are on your honeymoon, a romantic getaway, weekend away with friends or your'e traveling Australia with your big rig there is an option to suit, your accommodation options are as follows:
El Questro Homestead
Nestled in the Kimberley's ancient landscape, surrounded by lush green lawns and sitting alongside the scorched red cliffs overlooking the magic Chamberlain River are 9 suites. This is not a family option unless your kids are over 15, so mainly a romantic stay for couples.
They have a few different room options, there are 3 Garden rooms available, 2 Gorge View Rooms, 3 Cliffside retreats, & 1 Chaimberland Suite.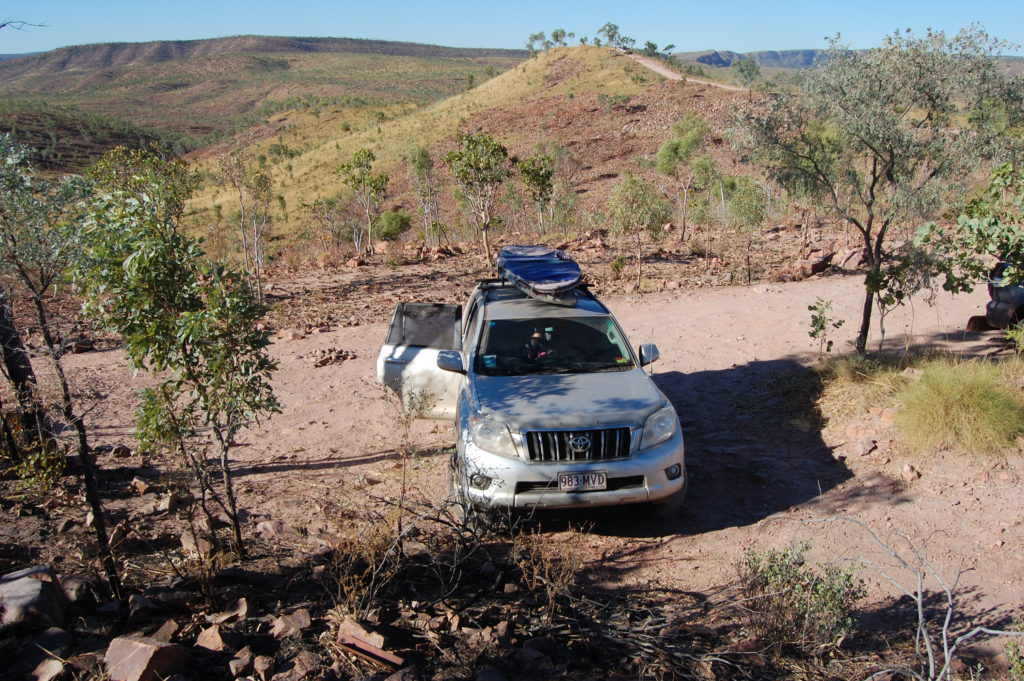 The homestead provides breakfast, lunch, and dinner overlooking the Gorge. It also runs complimentary and exclusive experiences for all guests, facilitated by knowledgable guides that know the area.
See the El Questro Website for more information regarding the Homestead stay.
El Questro Station Stay
This is the main central area of the station where all the action happens, this is where you can checkin, grab an ice-block or grab a few extra things from the on-site store. They sell enough supplies here to keep you going for a while.
Here you can grab an air-conditioned resort style bungalow on the banks of the mighty Pentecost River. This style of bungalow is great for families and the kids, with open green lawns and a safe waterhole for swimming what else do you need?
Wildlife is abundant out here, and the kids will love it! and you are only moments away from enjoying a classic outback steak from the Steakhouse restaurant nearby. There are two types of rooms to choose from:
Garden View Rooms from $339 per room
River View Rooms from $409 per room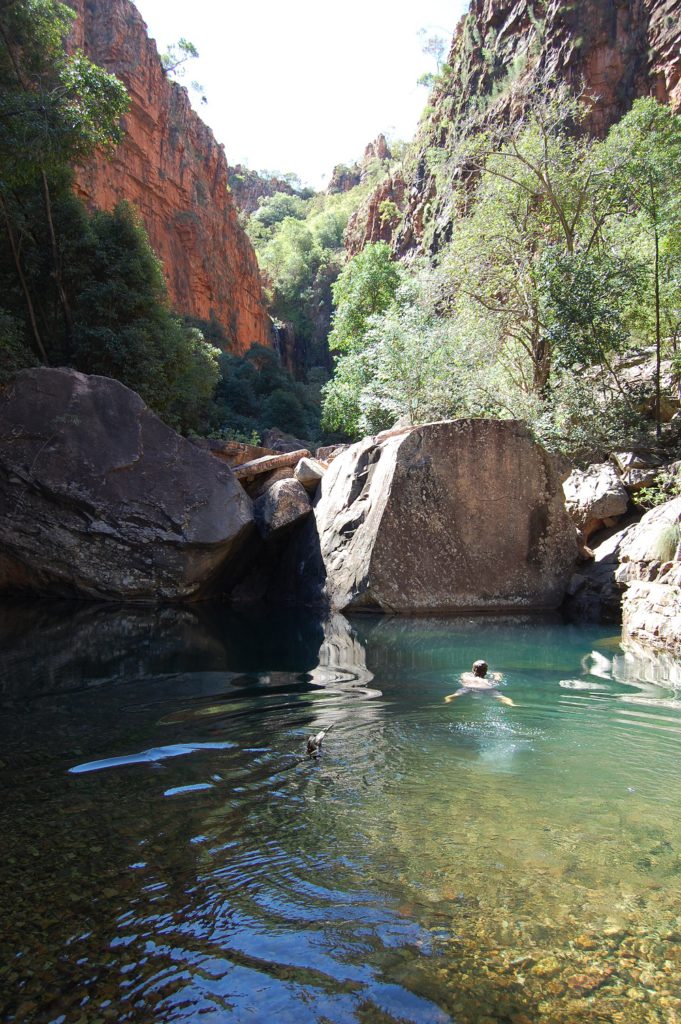 The amenities included in these types of rooms include:
Mini fridges
Tea & Coffee Facilities
Linen & Towels
Toiletries (Australian made)
Hair dryer – Ironing board
Daily Servicing
Safe Swimming hole
Make your booking here for the El Questro Station Rooms.
Facilities Available at the Station
The main station centre pretty much provides you with everything you need while staying out here on the amazing property, all you need is time! Here are some of the services and amenities they provide;
Steakhouse Resturant
Swinging Arm Bar (Beer o'clock, you can even buy takeaways)
Tours & Activity bookings
Wifi available (extra cost to guests only available in the Bar area)
Maps & Guides (for self-drive tours and trekking)
Grocery shop (well stocked with everything you need)
Payphones available
Shared Laundry facilities (coin operated)
EFTPOS – ATM available
Fuel – tyre sales and repairs centre
El Questro Camping Areas
There are 3 totally different ways you can experience camping at El Questro, which is rare because isn't camping just camping? No! it's not, not out here.
The 3 different camping options are as follows;
Luxury Camping Tents
You don't need your tent, they have it all set up for you, no need to blow up that air mattress, all tents include:
1 Large canvas camping tent with giant windows
1 luxury bed with soft linen and bedside tables
Outdoor dining setting (table and chairs)
Power – Towels – and a Fan
No need to rough it out here in the outback reserve your spot book this now!
Or call the station on +061 9161 4318 email travel@delawarenorth.com
Powered Campsites (Station)
When we first arrived at El Questro we needed power, for we were only charging our batteries while we drove which wasn't enough. Thank goodness for the powered campsites, but they are $20 dearer per night than the unpowered creekside sites.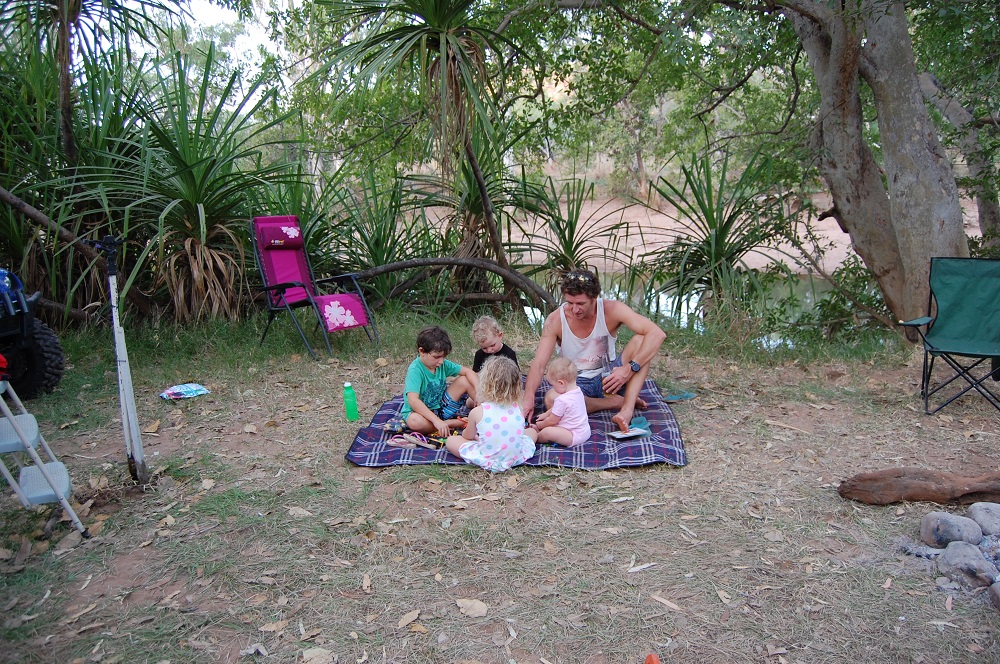 These campsites are very close to the store and include;
Amenities block (Hot Showers & Toilets)
Coin operated laundry
General store – Restuarant & Bar
Power and water
Tour & Activity bookings
Make a reservation by clicking here.
Black Cockatoo General Campground (Creekside)
This is the campground we stayed at when some of our dear friends and family came to visit, wide open camping areas shaded by tall leafy trees offering plenty of shade during the warm days. The Pentecost river was right nearby but a little steep in this location unless you walk up stream for a bit.
We had our vans in a circle surrounding our fireplace where each night we would mingle and share our day's adventures with a couple of cold beverages. These sites are just down the hill from the general store and require a small walk to the bathrooms and facilities.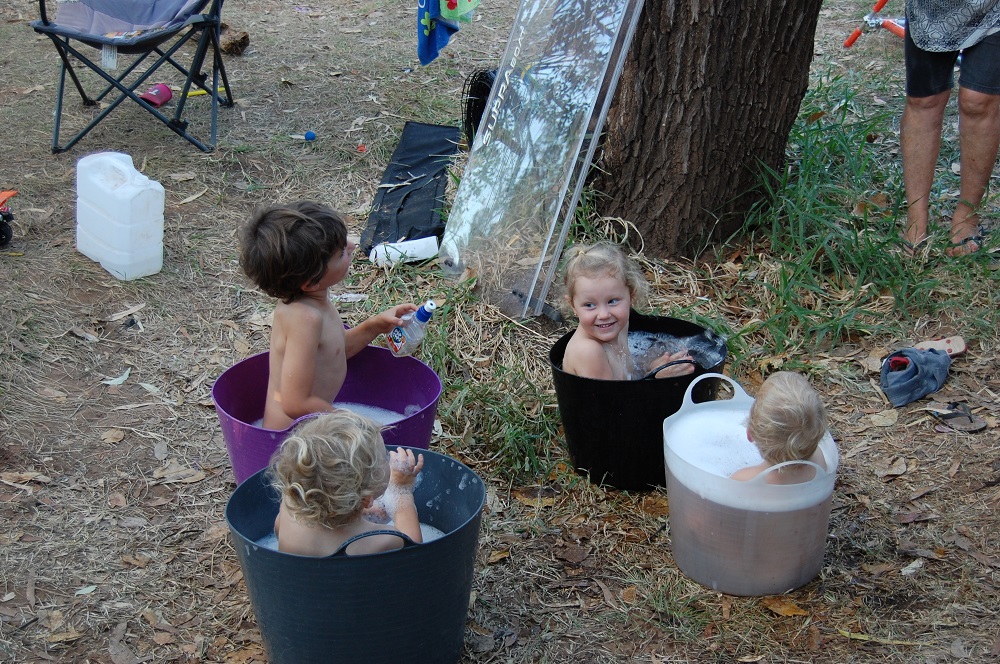 Choose between Powered or nonpowered sites which include:
Amenities block (Hot Showers & Toilets)
Newly constructed Camp kitchen
BBQ's
Coin operated laundry
General store – Resturant & Bar
Power and water
Tour & Activity bookings
Remember it costs about $22 dollars extra a night for power! To book or enquire click here!
Private Riverside Camping
For a more secluded camping experience, why not try out the private camping areas. The station provides 30 secluded private riverside sites along the Pentecost river that are a little further out of the way.
The campsites are around 10 minutes drive from the main station along the track that takes you up to the homestead. As you get to the sites you will notice tracks heading off to each site which are quite hidden.
These sites are not suitable for large vans or buses due to branches overhanging the access tracks. Swimming is not advised at these sites due the risk of crocodiles. For us with all the kids, we opted out of these sites as well.
These are very basic sites and more suitable to campers wanting peace and quite away from other travellers. Only basic facilities are provided such as Eco loos, everything else is your responsibility.
To make a booking or reservation Click here!
What are the Best Free Things to Do at El Questro Station?
There is so much to do at this station without having to spend 1 dollar! Trust me, we spent 2 weeks here and never got bored. We actually never wanted to leave.
Here is our extensive list of Free things to do at El Questro Station:
1. Zebedee Springs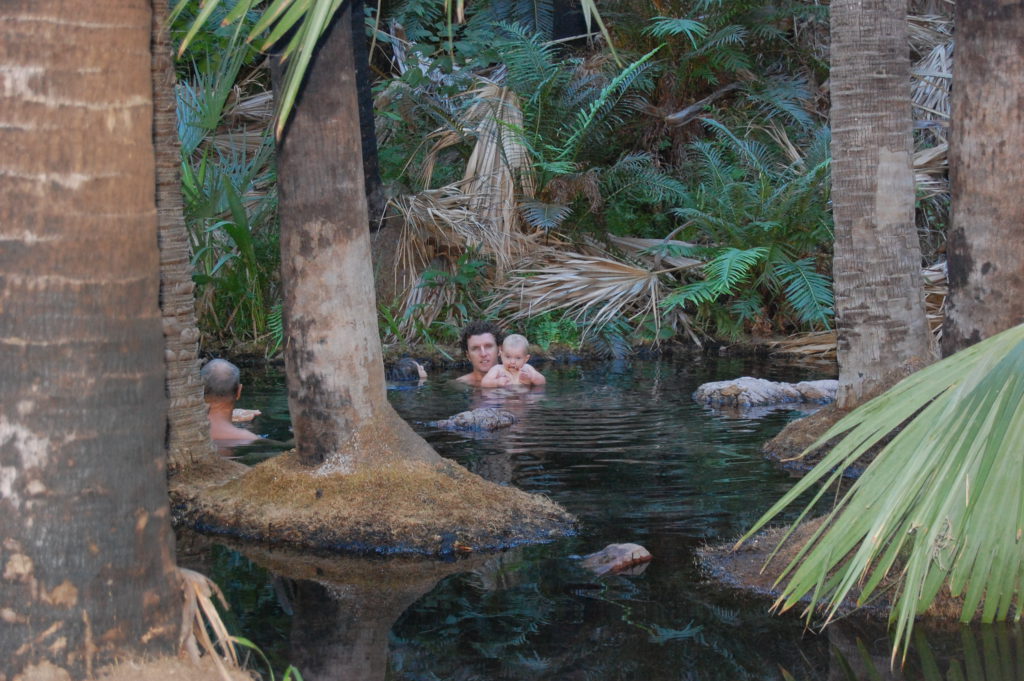 If there is one thing you have to do while at this place is to experience the thermal springs, called Zebedee Springs. This place is truly a hidden paradise, set below rocky cliffs amongst the tall creek palms that keep it entirely shaded all day long.
Take Your Breath Away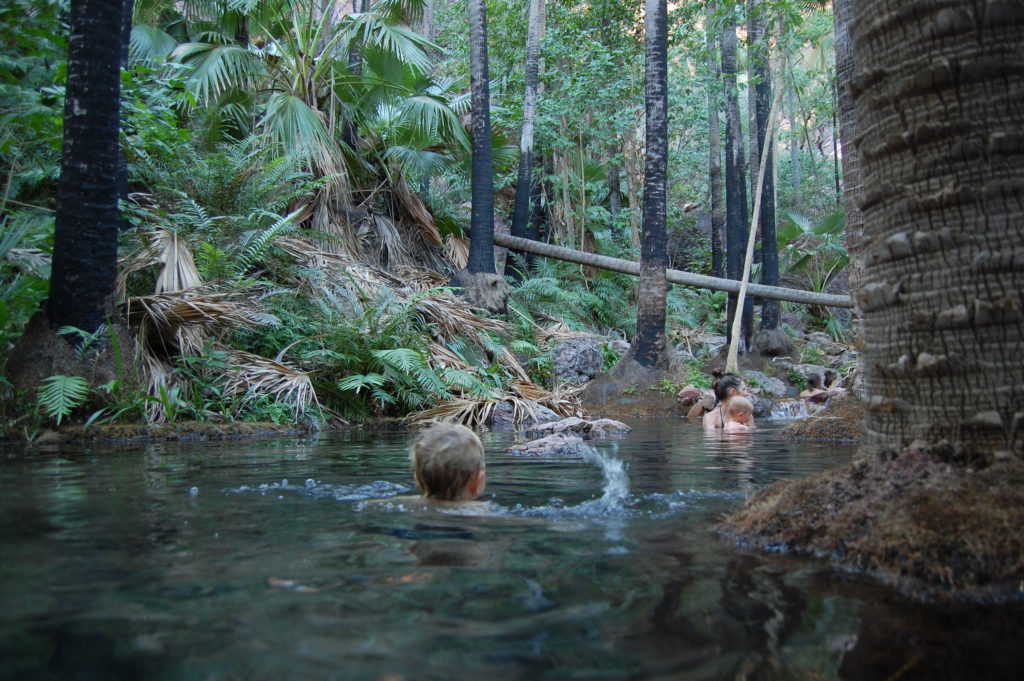 The 29ºC crystal clear pools will take your breath away! My eyes are welling up just thinking about it. So magical and so warm, these pools are formed by underground water trickling out from the cliff.
Hot Tip for Zebedee!
Hot tip! Get up early say 6.30 and get to the pools for 7am, you will basically have them to yourself. The pools closer to the cliff are the warmest, but there are beautiful secluded holes all over the place.
To get here from station central you just take the road back to the main road for about 4km's or 10 minutes where you will come to a sign that says Zebedee springs. You will park then on foot it is about a 5-minute walk along a timber board walk to the spring area where the experience begins.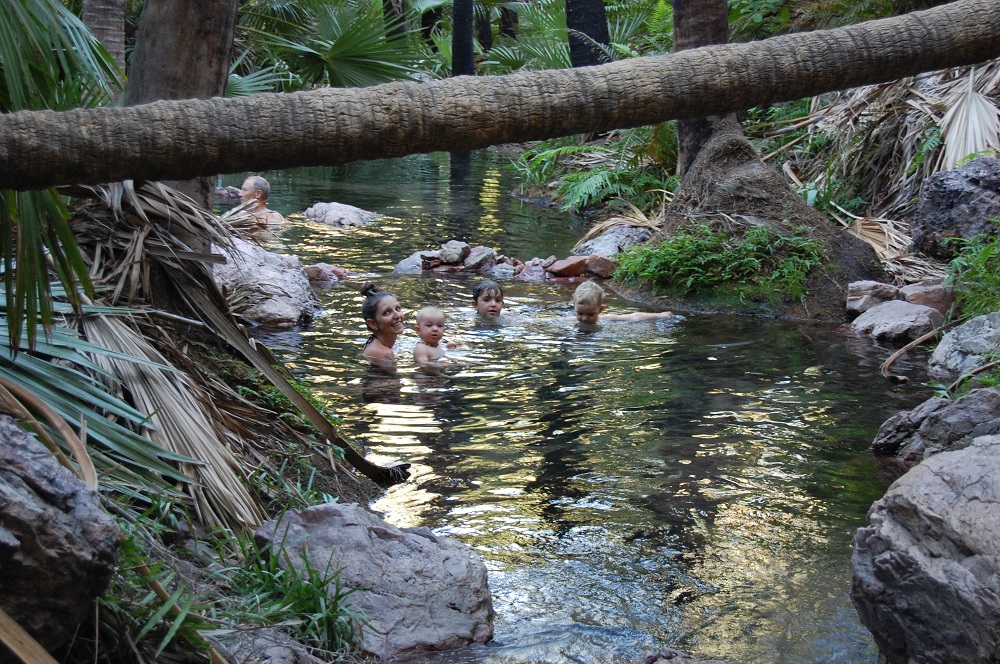 It is the perfect early morning ritual to start off your day at El Questro.
Note: Zebedee Hot Springs is closed daily every afternoon to rejuvenate.
2. El Questro Gorge
If you want to take your family on a adventure that they they will remember take them to the El Questro Gorge, it is quite a challenge just to get there.
Watch the Water Levels
The creek crossing is quite deep and long depending on water levels, we had a Toyota Prado with no snorkel so we could only travel through water that was no deeper than 800mm, the water level was just about lapping at this height but we made it across.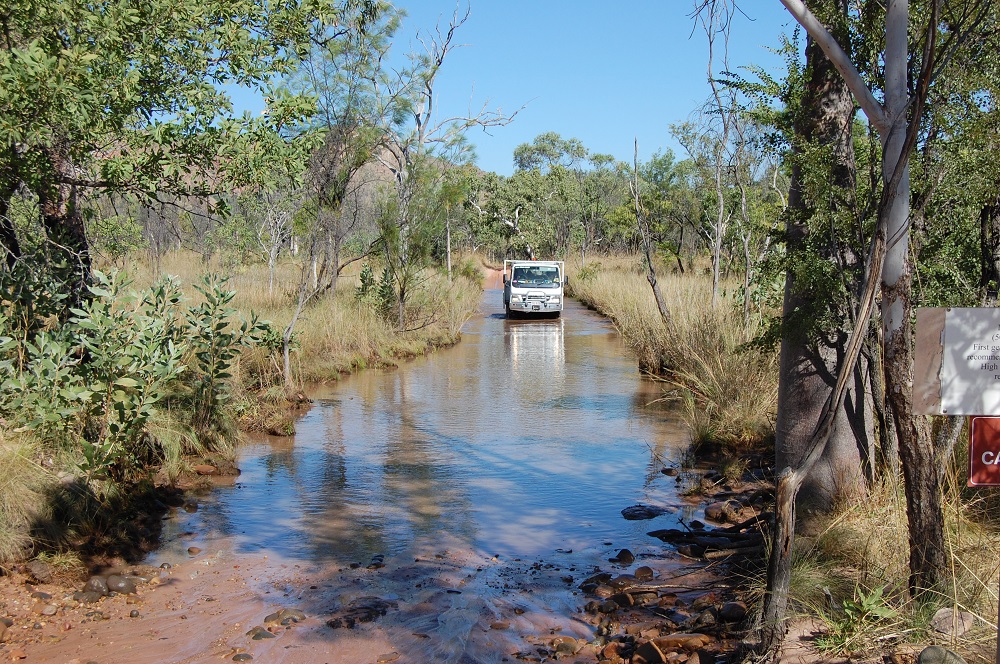 Once you get through the 4×4 track you will come to the parking area where you will head off into the great exciting gorge. We all had little kids, some walking, some being carried.
Great Trek with the Kids
The trek was exciting and super interesting, started off quite flat, wetland kind of country and turned into rocky bolder type country surrounded by the Gorge towering cliffs on either side. The kids had a ball, you felt like you were in an Indiana Jones movie. Most of the walk is shaded by the trees and cliffs so nice and cool.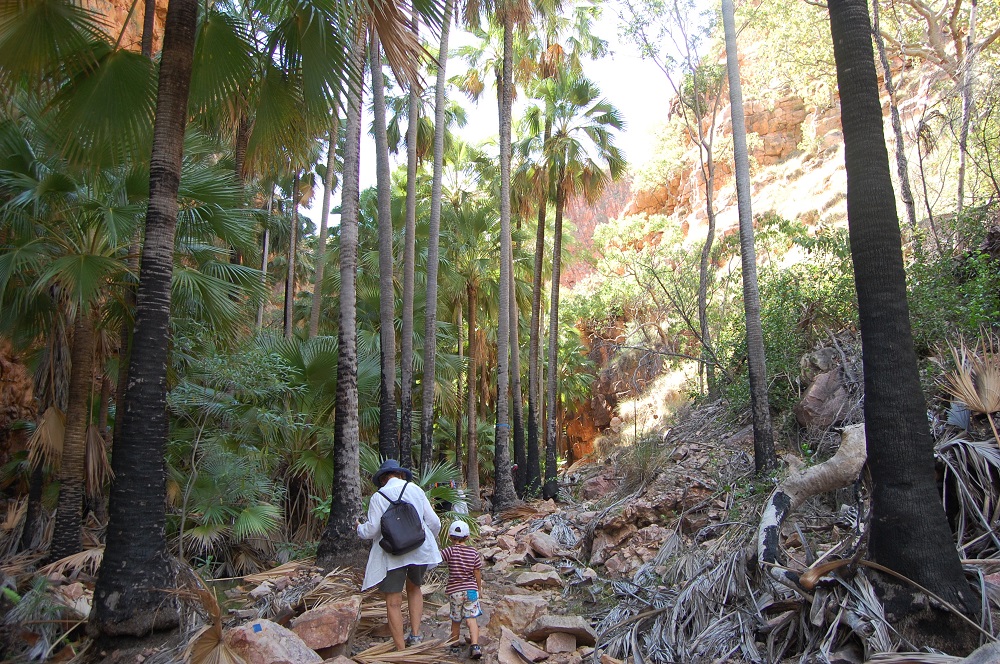 Eventully you come to a water hole, this is where you stop if you have little ones and have a swim! Remember the water is allways a little chilly out here so your kids maybe reluctant to hope in at times.
We headed up here with a group so we had a couple of babysitters available which enabled myself and a couple other friends take on the rest of the trek up the Gorge.
Best Gorge Walk Ever
It gets really hard and becomes boulder climbing and jumping country, so much fun without kids! You scramble and hop from boulder to boulder for about an hour until you come to the last waterhole which is fed by a magical waterfall.
Pictures Just Don't do it Justice
This spot is spectacular and definetly worth a swim, the water is so pure and fresh, untouched by the human spirit. Once you have refreshed your body after the impacting hike, it's time to head back boulder hopping once again all the way back to the begining. This was so much fun climbing rocks, jumping into waterholes, balancing along fallen trees, such an amazing adventure to experience.
This is a must do while staying at El Questro Station.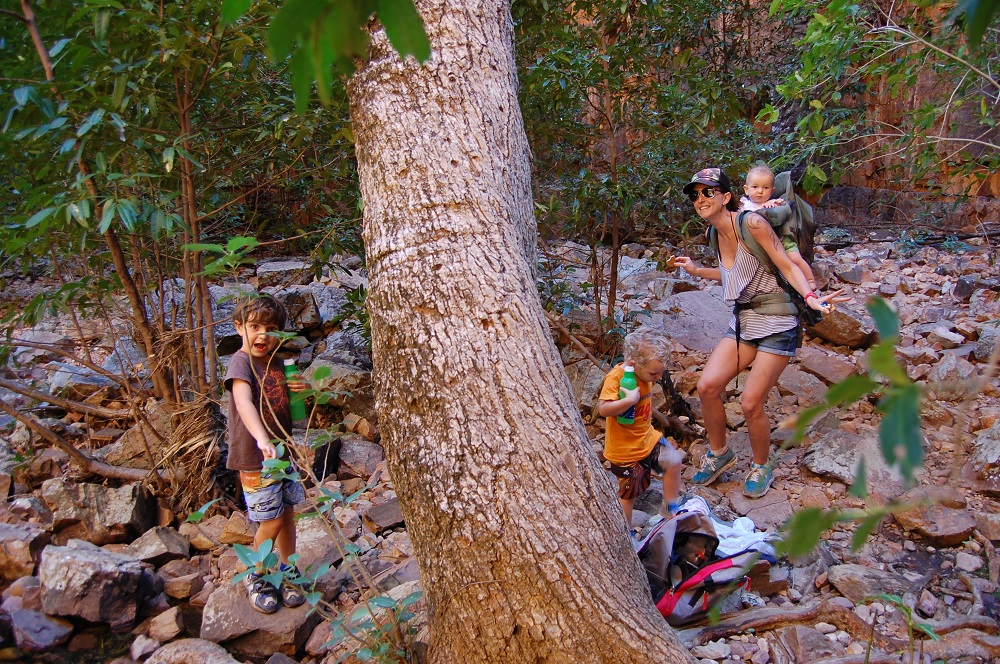 Other El Questro Station Experiences
We were lucky enough to have a friend who brought an ATV on the trip, so we got to explore parts of the station that I wouldn't take my nice car. Even though you can access most of the spots I went with a 4×4 I just didn't want to scratch it!
There are some amazing lookouts around the station where you can head for sunset or sunrise, they are challenging to get to but so worth it. These memories will never fade, the landscape is permanently etched into my brain.
Our Barra Fishing Adventure
We were told about this terrific water hole nearby where you could catch yourself a giant barramundi! The station has boats situated on the banks that you can hire. To hire these boats you had to see the station shop and grab yourself an electric motor and battery to attach to the rental boats, we had some fishing lines already so didn't need to hire these.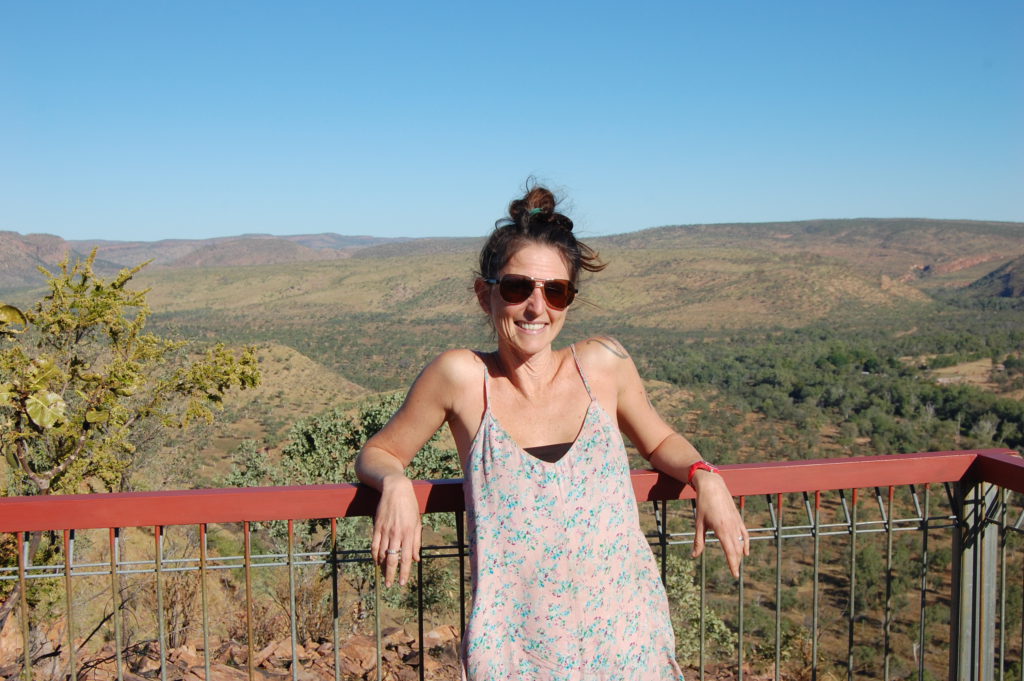 Spectacular Scenery
The track to the waterhole was challenging but we got there, set up the boat and hit the water. We fished for a couple of hours while being watched by the ancient cliffs, it was so beautiful and quite. That's what you get when you have an electric motor.
We cruised up and down the river drifting around trying to catch these damn fish! The only Barra we saw swam directly past our boat, it was huge but obviously not interested in our bait. We did catch a couple of logs and got snagged but no luck catching the famous barramundi.
If you love fishing go and hire an electric boat and try your luck, catching barramundi is a very seasonal thing so check with a pro on how to do it!
Things to Do Around the Main Station Area
If you don't feel like exploring the Station property just hang around your camping area, there is so much to do. The station shop is open from 7 am to 6 pm daily.
Here is a list of exciting activities to do without venturing too far away from your camp: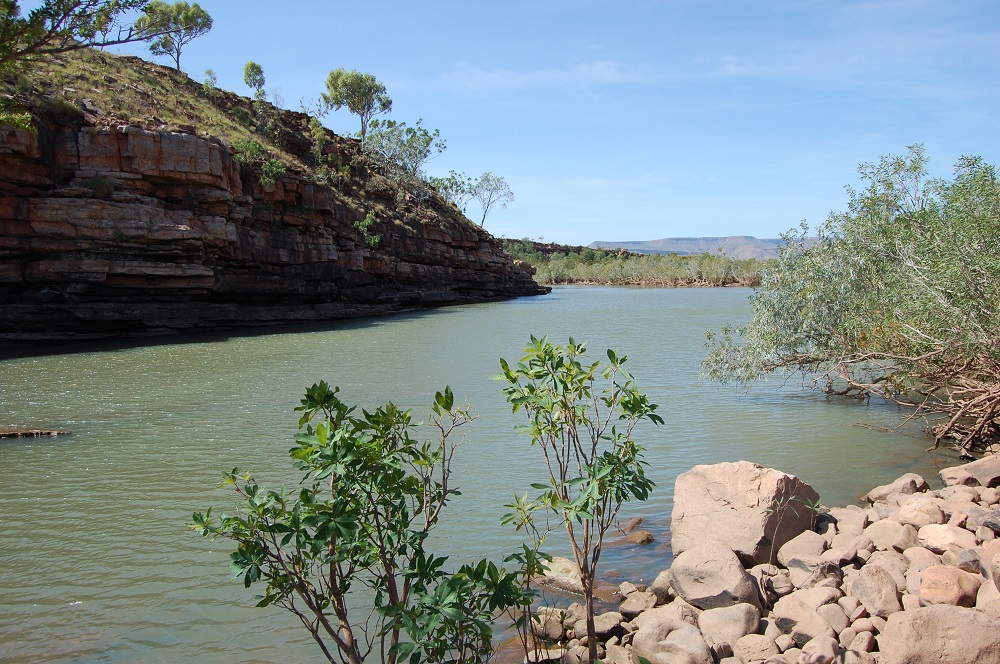 Swim in the Cool Pentecost River and relax by its banks
Just relax under the shade of the tree's and read a book
Visit the station shop and buy some souvenirs or grab a snack
Dine in at the Steakhouse Resturant and try out their delicious cuisine
Grab a cold beer or wine at the Swinging Arm Bar
Check your emails or browse the net at the bar with Wifi (costs extra)
BBQ's and woodfired pizza at the Swinging Arm Bar with live entertainment
The opening times of the Steakhouse Resturant are lunch at 12 pm – 2.30pm & dinner 6 pm – 8.30pm closed on Saturday nights.
Saturday nights the bar provides Aussie BBQ's and wood-fired pizzas with live music, open times may vary.
The Top Must Do Activities at El Questro (Recommended by us!)
Swimming holes and thermal springs
Waterfalls (some you can only get to via helicopter)
Hikes & treks (easy & hard)
Unique fishing spots (Catch a Barramundi)
Wildlife and Fauna spotting (animals everywhere)
Amazing lookouts (Some difficult to get to, some easy)
Visit spectacular gorges and river systems (3 rivers run through the property)
Stay in unique outback accommodation that you wont find anywhere else
Whatever tickles your fancy you will find it here, basically the best of the Kimberley region is contained on this one special property for anyone to enjoy.
The Breathtaking Emma Gorge
Emma Gorge is also situated on El Questro Station and definitely worth the drive to visit and explore. But If you would like to find out more about this magical gorge visit our Emma Gorge Link.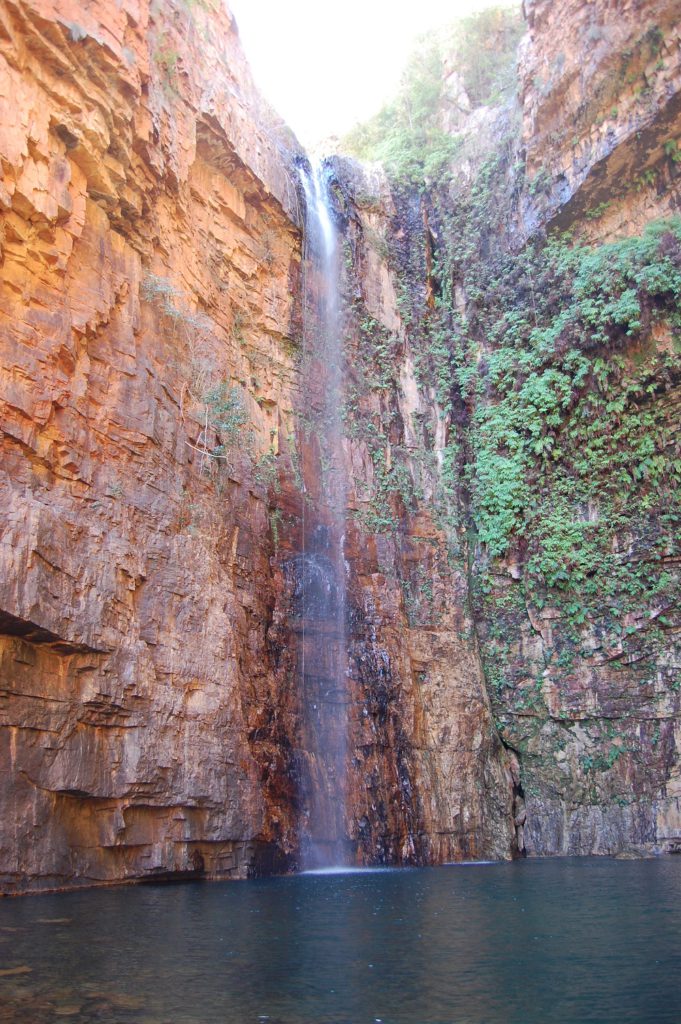 Conclusion
El Questro Station is the champion of all the stations in the Kimberley region. If you haven't got time or the right equipment to drive the entire Gibb River Road I would just visit El Questro for the entire 2 week period you will definitely not be disappointed, trust me.
We give the El Questro Station a whoping 10 out of 10 Gstar rating!
[table id=10 /]
Click on the links below to find out more about our other favorite Stations and Gorges on the Gibb River Road!
Home Valley Station
Emma Gorge
Tunnel Creek
Please drop a comment in the comment box below if you have a any further questions regarding the El Questro Station experience!
And don't forget to subscribe for more great content!