A Gibb River Road Experience
If there is only one Gorge you want to visit, it's Manning Gorge on Mt Barnett Station.
There is so much to do here, you could spend a good solid week exploring this part of the Kimberley. The campground is spacious with plenty of great facilities. You can hike, swim or relax all from one location.
The actual Manning Gorge is about a 3km hike away but well worth the mission, a spectacular waterfall feeding various waterholes where you can wade and play.
Mt Barnett Roadhouse is nearby for any supplies you may need while in the area such as fuel, food or drinks. This is where you purchase your camping permits also.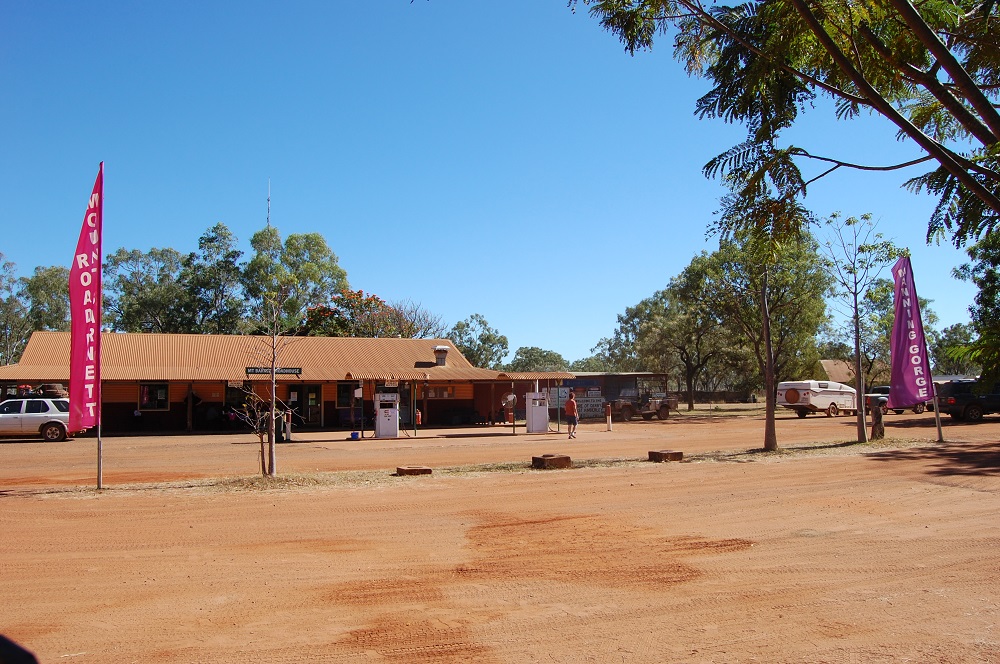 Getting There
Make sure you pay here first before heading to the campground area.
If you are coming from either Derby or Kunnunurra it is about halfway along the Gibb River Road. You can't miss it once you get to the Mt. Barnett Roadhouse stop.
The road into the campground is one of the better access tracks along the Gibb which is always a pleasure. Once here find a shady spot and setup that fancy camper of yours.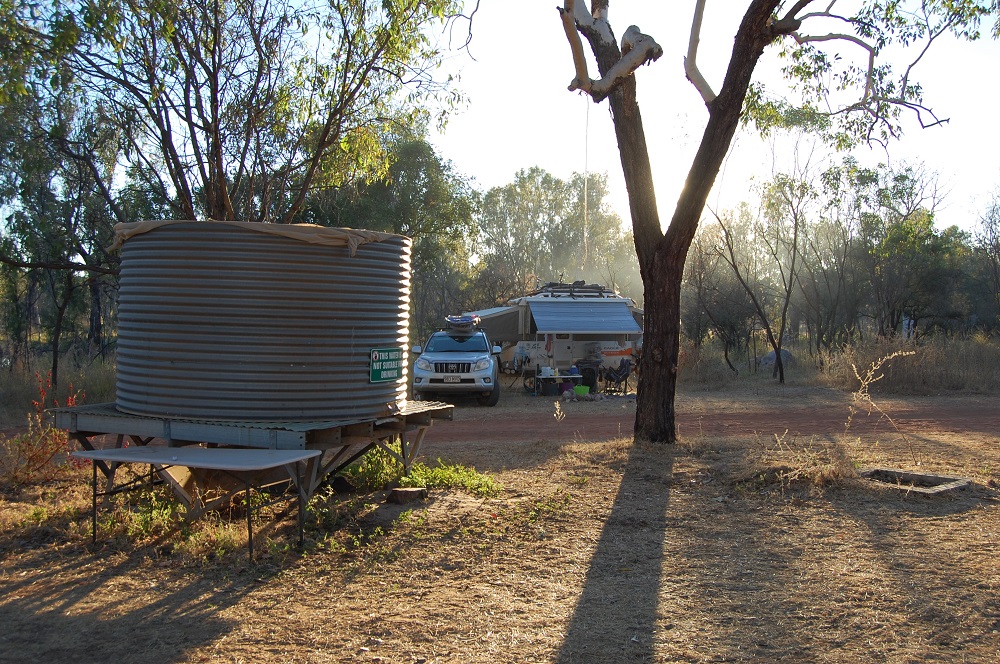 When is the Best Time to Visit
The best times to visit Manning Gorge is still May to September. At any other times the road is pretty inaccessible.
It is advisable to visit the Gorge earlier rather than later in the season as the waterfall can dry up later in the winter months. Around May and June is the best times.
This campground can get popular with adventure tour groups also and because it is easily accessible is popular. So maybe try to avoid school holiday times as well.
Always check at the information centres at Derby or Kununurra before entering these areas because information can change quickly.
The Manning Gorge Camping Area
The camping grounds are well positioned for access to the Manning Gorge walk and the local creek. With grassy sites and general shade throughout it is the perfect spot to camp for more than just one day.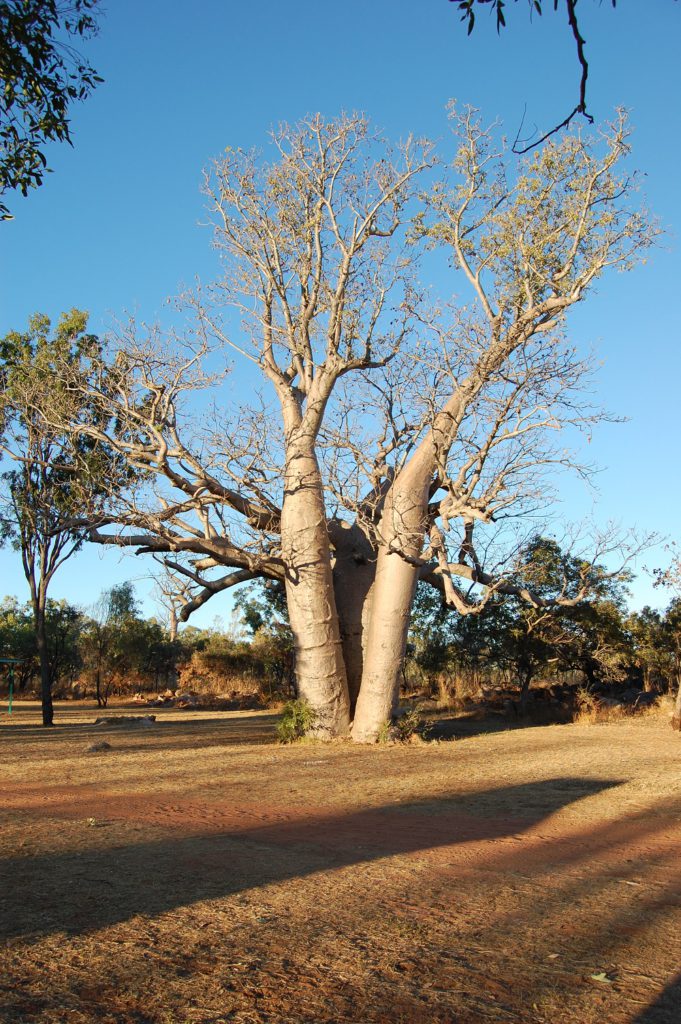 It has some really unique boab trees on the edge of the grounds and plenty of spaces to camp and experience nature.
The facilities are clean and functional with flushing toilets and showers. But who needs a shower when you have access to a beautiful clean creek flowing next to the site. Don't use soap here though.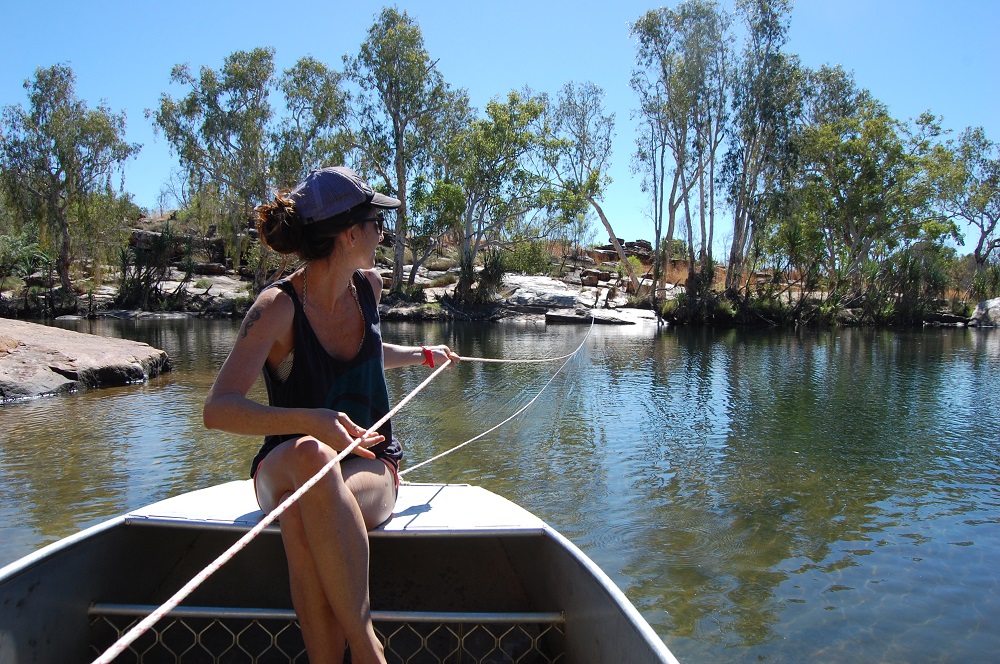 The creek is only a short stroll from the campground down onto a sand white creek bed. This was such a good area for the kids, we played here for hours and hours.
Cost to camp here was comparable to all the other campgrounds and has to be paid before arriving. The roadhouse on the way in caters to this.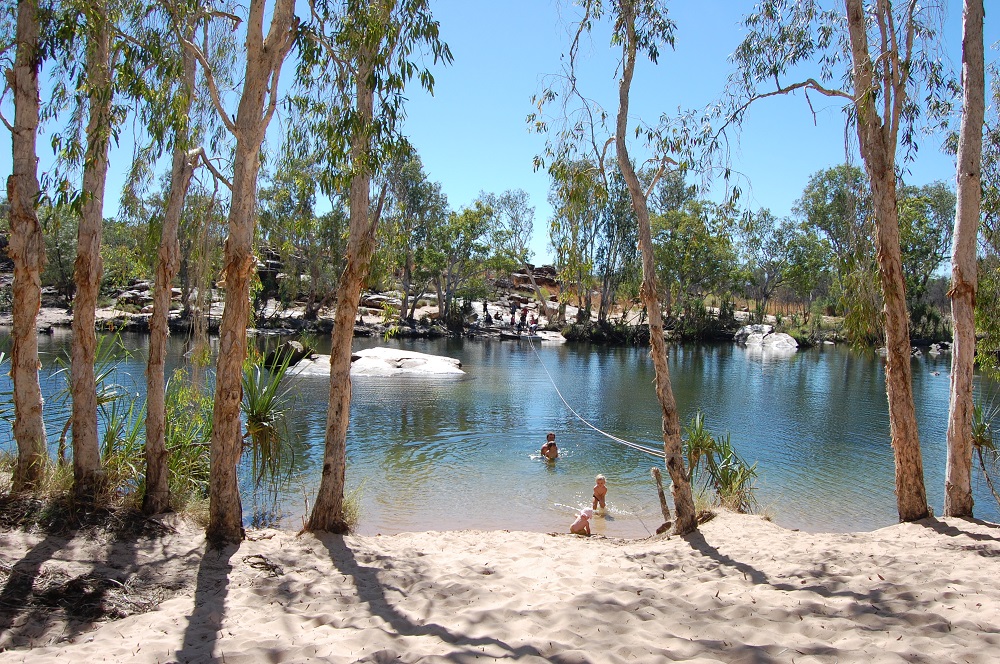 Our Manning Gorge Experience
Manning Gorge offers so much to outdoor enthusiasts. It suits couples young and old, also families with younger or older kids.
You can either just hang around the nearby creek and play in the sandy creek bed, swim in the safe shallow crystal clear waters and play on the little boat that takes you from one side of the creek to the other via a rope pulley. We had so much fun with our kids here it catered to them perfectly.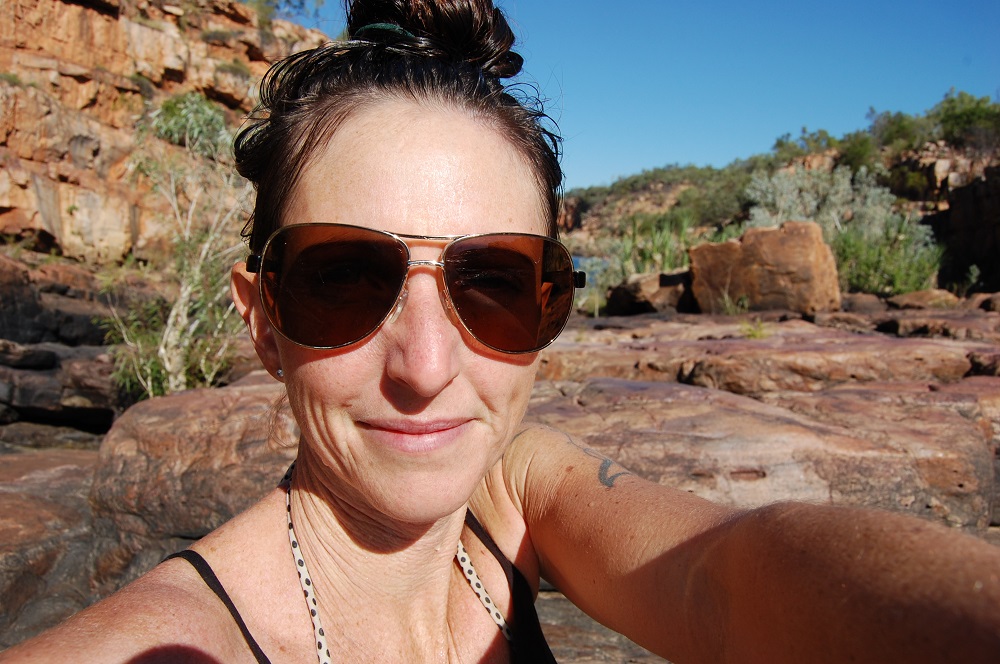 We both took turns hiking to the main Manning Gorge. It is a 3km trail of medium difficulty which leads you into another beautiful waterfall. This is surrounded by more pristine freshwater pools scattered along the creek.
You really deserve a swim when you reach this destination. The walk can be a little hot at first for it winds it's way through open scrub. You end up going through some quite challenging rocky outcrops that lead you into the gorge.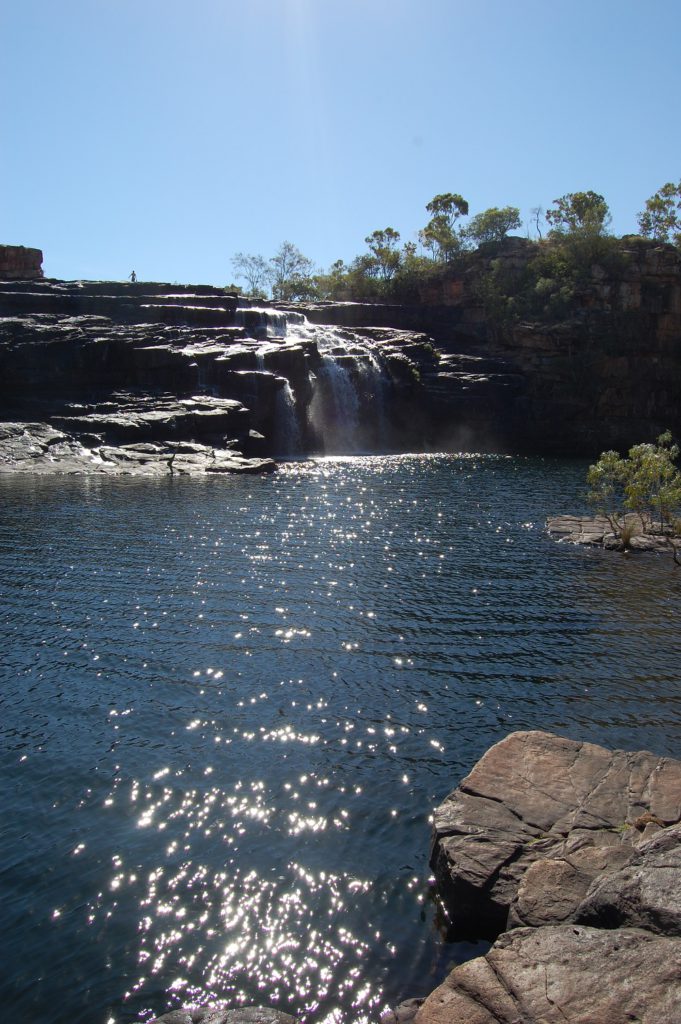 Take care going down through here. I almost twisted my ankle on a rock here, and to get back is a fair hop. So please watch your step. But once here there is so much to explore! Climb to the top of the falls and leap off into the deep waterhole! (Check before you leap for rocks and submerged logs.)
Just Relax and Take it in!
Or just relax and float around in the many pools that are joined by the same watercourse. This place is simply magic. You don't even have to worry about getting hot on the walk back because you get to go through the creek again and cool off.
Day time temperatures are really nice this time of year but at night it can get a little cool beside the campfire. You may need that flannel shirt and a good blanket. The spookiest thing about camping here for us was the howling of the dingoes at night. It sounded like there were hundreds out there. There was probably only 3!
We didn't really want to leave this spot. It was sort of like hanging at the beach but in the Kimberleys, if you get my vibe!
Dangers and Hazards
Manning Gorge itself is probably a little hazardous for young children and crazy tourists that like to rush and leap off high cliffs. This is why we left the kids at the camp and trekked separately. 3km was a little far for our kids to manage at the time.
The campground seemed really safe with plenty of open space to run around. There are nice shallow entries into the creek for little kids. Please always supervise your kids while hanging out by the creek.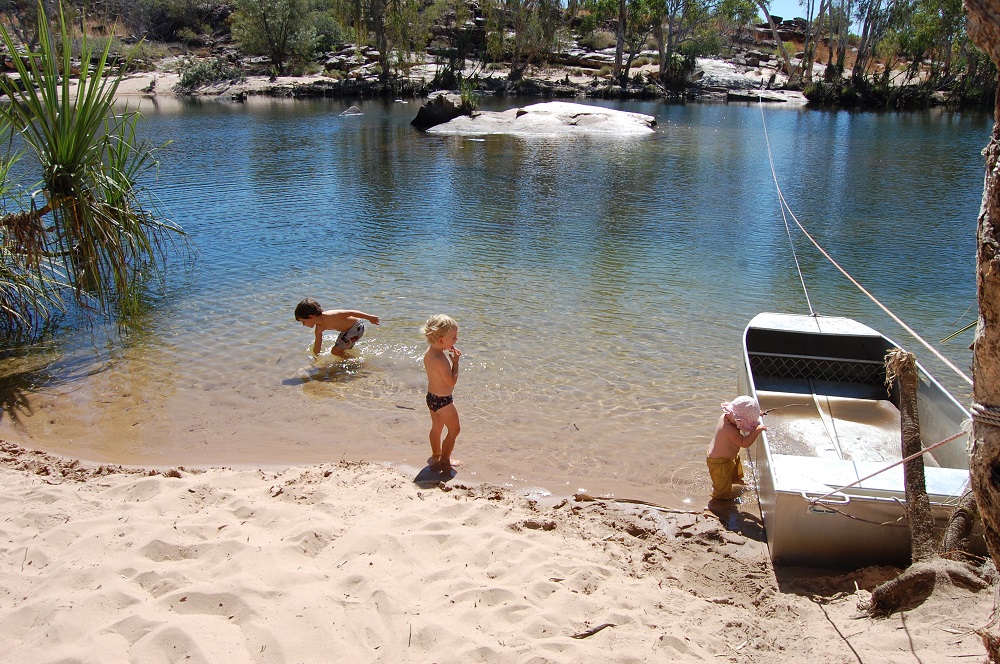 The creek has some freshwater crocodiles floating around also so be aware. Even though they are not aggressive you could be in the wrong place at the wrong time.
Be wary of snakes and spiders, you are still in nature and this is their home.
Be careful of slips and trips, especially while hiking, you maybe the only person on the track all day. Take your time climbing rocks and trekking through water and pay attention.
Always carry a first aid kit and try to trek with a companion out in these remote areas. It could save your life. At the very least, make sure you tell someone where you are going.
Conclusion
We loved Manning Gorge and the camping area. I could spend a good solid week here again in the future. I wouldn't change a thing about this place I just wish it was right on my doorstep.
We strongly recommend staying at Manning Gorge for at least 3 days for the best experience. Mt Barnett Roadhouse is just up the road for if you forget anything or run out of supplies.
We give Manning Gorge a 10 out of 10 overall because everything about the area is such an amazing experience.
Click on the links to find out more about our favourite destinations on the Gibb River Road!
What is your favourite Gorge in the Kimberley Region?  Comment below! 
Cheers x