A Gibb River Road Experience
Does anybody feel like a scone? Covered with jam and whipped cream mmm! Yes please! You have to travel miles to get there, but Ellenbrae Station comes up with the goods.
That is what Ellenbrae Station is famous for, it's scones, and that's not all it has to offer! You can stay here also and enjoy an afternoon in peace and tranquility. It is a real break from the corrugations that you will have grown to despise by this welcome stop on the Gibb River Road.
Upon arriving at the station gates you are greeted by beautiful lush green grass that is unusual for out here. I think it stays lush due to the giant shady trees at the farmhouse, and this is where you can enjoy a cup of tea or coffee with a famous scone overlooking the old rustic homestead.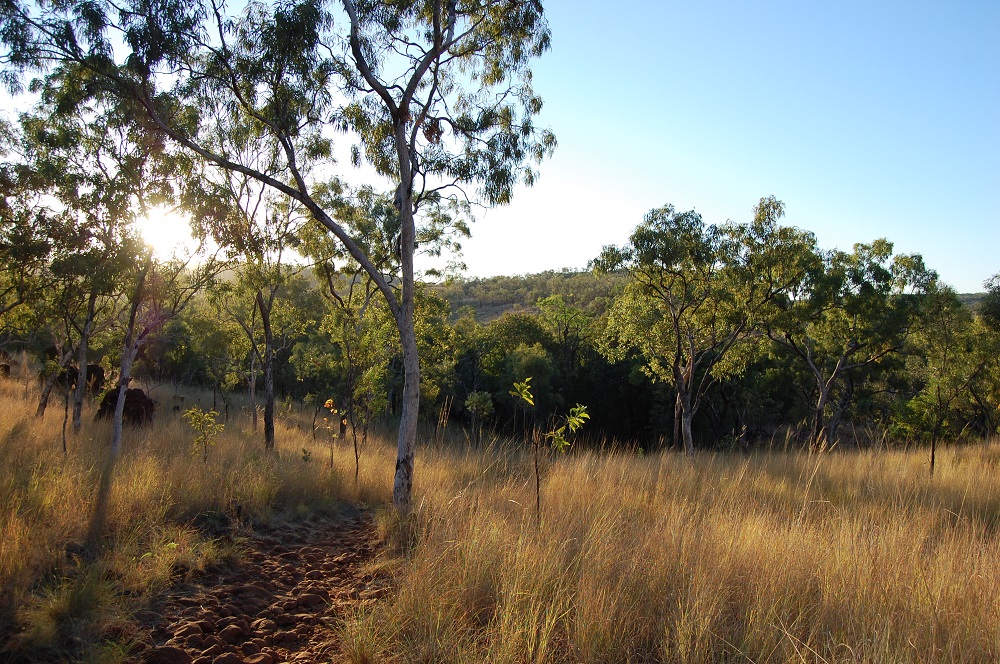 Ellenbrae Station covers 1 million acres in the Kimberley region and predominately farms cattle.
Getting Here
If you have made it this far, well done! When we were at Ellenbrae Station a Toyota Landcruiser was cruising along with no back tyres. The things you see out on the Gibb.
The station entrance is situated 230km from Kunnunarra and 485km from Derby. At the time of writing, I thought the Gibb River Road was rough, but it was nothing compared to the little creek crossing you need to cross to access the station.
The access road in wasn't to bad, but the first creek crossing was very rocky and made me slightly anxious. Crossing most creek crossings for the first time is always a little daunting.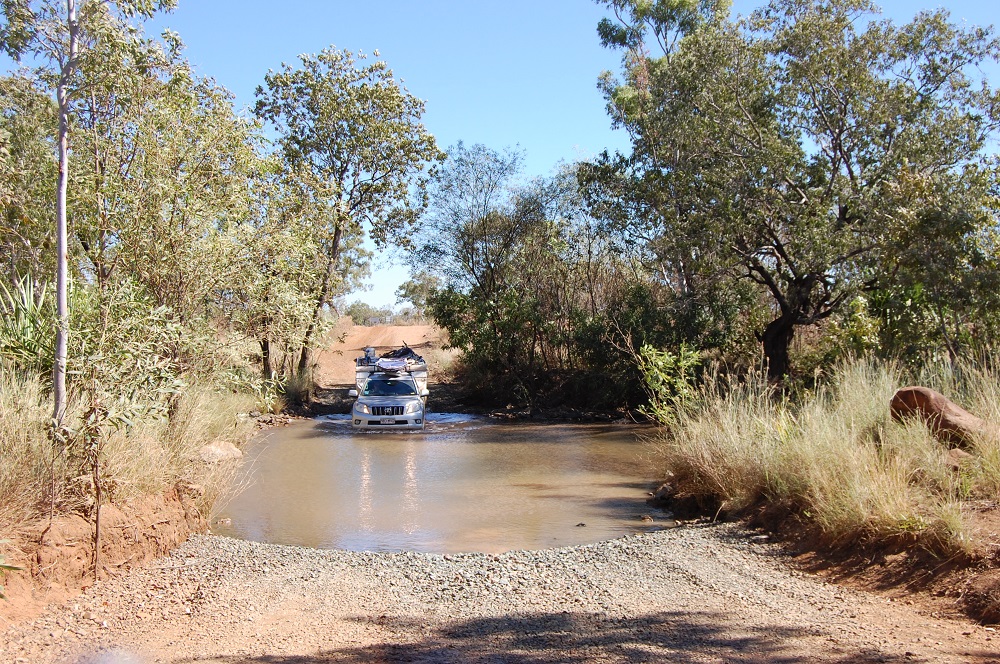 The homestead is only a short drive off the main road, so great for an overnight stay and a scone. The campgrounds are just back a little way from the homestead, on your left as you come in.
Ellenbrae Station Facilities
The station isn't anything like Home Valley station or El Questro, this place is a little more basic. No tours or flash helicopters for tourists just simple station life.
Facilities and Services they provide;
Toilets and Showers (Hot!)
Food and Drinks (including the famous scones that are amazing!)
Picnic areas
Tyre repair (you may need this out here!)
BBQ areas
Outdoor camping kitchen
Bush walking tracks
Fishing
Ellenbrae Camping & Accommodation
Ellenbrae Station has a variety of accommodation options to suit most travelers. Whether you love camping or staying in cabins they have you covered.
Camp Sites
There are two sites for camping, the Ringers Campground and the Jackaroos Campground.
The Ringers campground is better for groups and socializing with others and has a waterhole nearby which is great for swimming and a spot of fishing. It has a
The Jackaroos campground is a natural more secluded area for those who want to feel like they are the only campers around.
Both these sights are excellent spots surrounded by native shady trees with unique toilets and shower facilities and hot showers powered by a woodfire heater.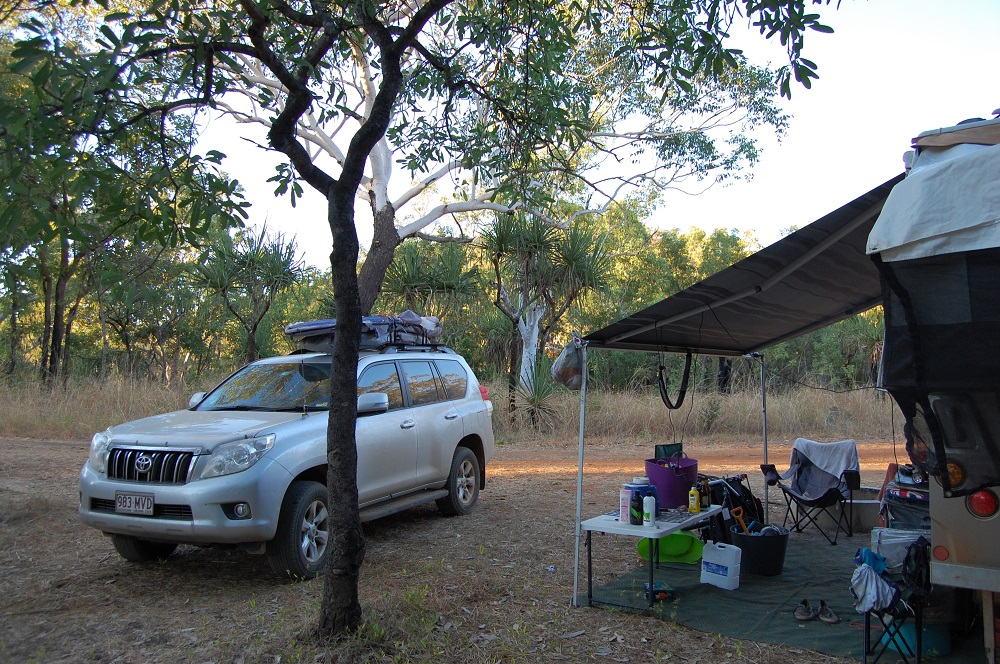 Cabins
Ellenbrae stockmen's cabins are located throughout the gardens around the homestead. There are 5 in total consisting of:
Wren – 1 Queen size bed
Brumby – 1 Queen size bed
Finch – 1 Double bed
Knobtail – 3 Single beds
Wallaby – 1 Double bed & 2 singles (Suitable for small families)
Note that all cabins have no power supply but are equipped with a sink, running water, light and mosquito nets, it's hardly the Hilton but a definite experience.
All cabins have access to a communal camp kitchen, BBQ fireplace, and 2 Toilet blocks.
Accommodation costs at Ellenbrae Station;
[table id=5 /] [table id=6 /]
For further information and bookings please email info@ellenbraestation.com.au or ring the station
+061 891 614 325 Web: Ellenbrae Sation.
Our Ellenbrae Experience
After a long and tedious day on the mighty Gibb River Road once again we finally came to the famous Ellenbrae station turnoff.
Only a short drive off the main road you come to a creek crossing, it looks easy enough to drive through but the crossing was extremely rocky and I only have one spare tyre.
Creek Crossings
The thing with creek crossings is that they are always changing with each season so it is always a journey into the unknown when tackling them. After getting through this one I wasn't too keen to come back in the morning.
As we headed up the driveway towards the homestead I noticed a beautiful big boab tree standing amoungst the lush green lawns and picturesque gardens.
We have found paradise guys, I don't ever want to leave!

Kris Gadsby

Rumour has it that Ellenbrae Station sells the best scones in the Kimberleys! Actually, they are the only ones and let me tell you they are worth the price!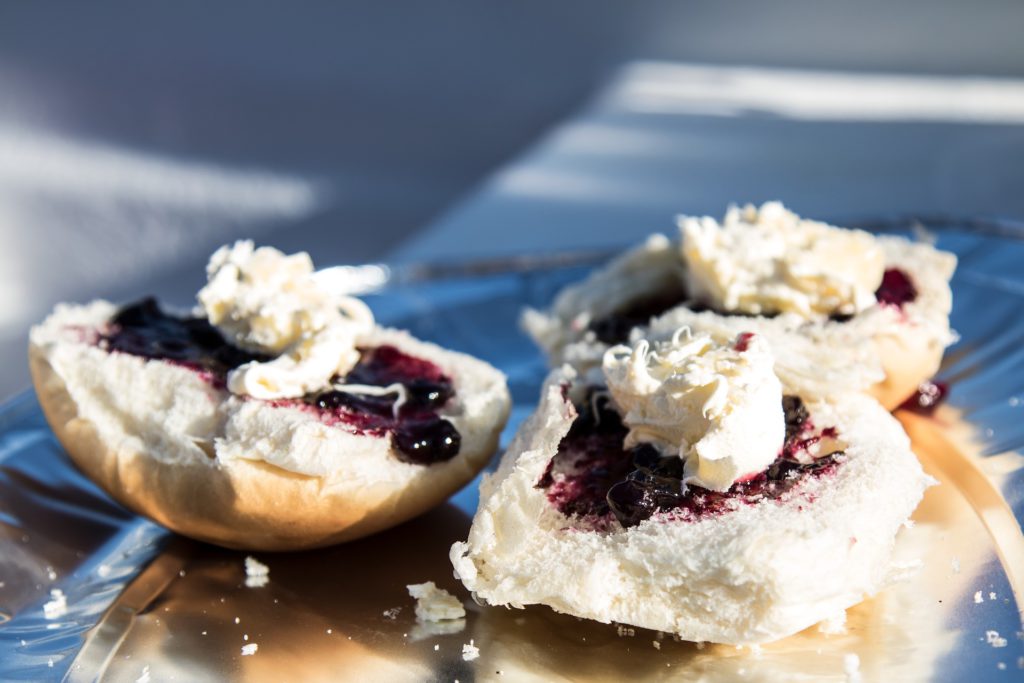 Scones to Die For!
The incredible scones come with butter, jam and fresh cream, what an afternoon it was sitting near the homestead in this rustic cottage overlooking the bushland, kids exploring and getting up to no good.
At last, the sun was going down on yet another epic adventurous day and we were there with coffee in one hand and a scone in the other. We finally decided we better go and set up camp before dark, so we did.
The camping ground was back down the hill and seemed very spacious and surrounded by trees and vegetation. A little track lead us down to a small waterhole amongst the vegetation where you could have a play with the kids. Ask at the homestead about the croc status here.
The facilities were fantastic and very unique with the old communal kitchen area and rock fireplace very central. Ellenbrae was a great spot to spend the night before heading off to our next destination.
We highly recommend a visit to the Ellenbrae Station on your tour of the Kimberly region.
Conclusion
Ellenbrae Station is a must see and must do destination while touring the Gibb River Road track, we recommend spending the afternoon and night at this fantastic station. You also have to try the famous scones! You won't find another scone like it out here.
We give the Ellenbrae Station a 8 out of 10 Gstar rating!
[table id=7 /]
Click on the links below to find out more about our other favorite Stations and Gorges on the Gibb River Road!
Please drop a comment in the comment box below if you have a any further questions regarding the Ellenbrae Station experience!
And don't forget to subscribe for more great content!