A Gibb River Road Experience
Galvans Gorge is a very special place and a secret Gorge that not too many people know about.
This is probably the best gorge in the world and the 8th natural wonder of the world.
Make sure you visit this little gorge for an amazing experience.
This slice of paradise has to be seen to be believed. Our indigenous ancestors got to cherish this place many, many years ago.
This should be overrun by tourists because of it's easy accessibility and location to the Gibb River Road.
But I guess it just doesn't have the big name, thank heavens for that!
Galvan's Gorge is the best place to cool off on a hot day.
It's also a great place to break up the drive. Make sure you spend some time here and relax for a couple of hours.
Trust me when I say this place is magical.
I recommend all artists visit Galvans Gorge at some point, and try to capture its natural beauty on canvas.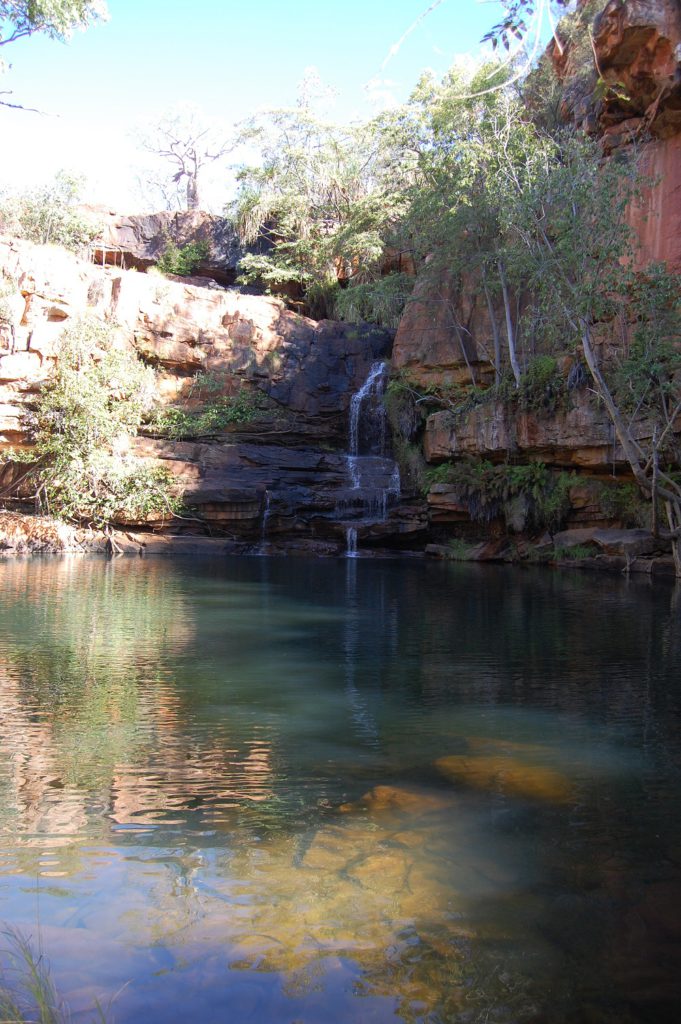 Getting There
Getting to Galvans Gorge is super easy, the gorge is 284km east of Derby on the Gibb River Road. It's just a little past the Adcock River on your left.
To visit this natural beauty heritage site, you just have to hike into Galvans Gorge for about 1km.
The trek is easy, very picturesque and flat.
Once you arrive you will be in awe of this beautifully landscaped sacred waterhole.
This is one of the easiest Gorges to get to on the Gibb River road, and the prettiest.
When is the Best Time to Visit
The best time to visit Galvans Gorge is between May and September.
Try to avoid the school holidays if you can. We weren't here during any holidays and it was quiet, actually I think we were the only one's there.
Always check the information centres at Derby or Kununurra before entering these areas, the climate can change in an instant.
For the latest road conditions check here.
Camping
There is no camping near Galvans Gorge. Years ago you could camp almost anywhere along the Gibb, you could even camp at nearby Adcock Gorge.
Those days are gone! So see here for the list of camping spots while touring this section of the Gibb River Road.
Fees vary at the different locations depending on National Park camping or if staying on an actual working Station.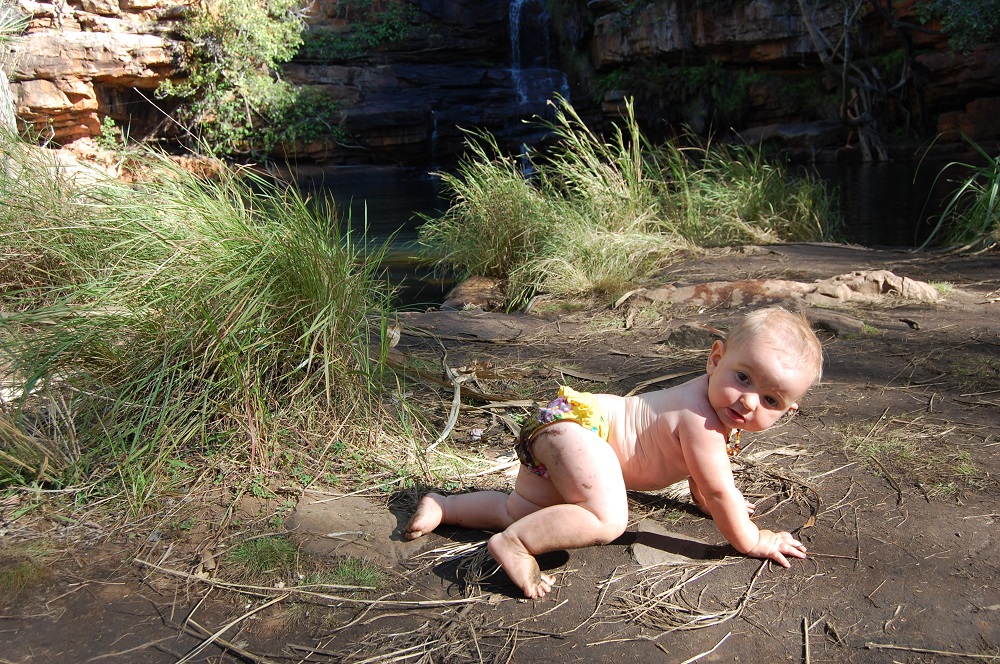 Our Galvans Gorge Adventure
We found out about this little gem through a fellow camper at Windjana Gorge.
Galvans Gorge" It was a beautiful little spot just off the main road" The best swimming hole in the Kimberley's.

Fellow Camper!
So we had to visit no matter what!
We arrived here around lunch time, finding it was pretty easy due to a little sign marking the area.
We parked our caravan in the carpark. Got the kids ready and headed off on a journey of discovery.
The trek starts in open forest and follows the creek up to the gorge. Travels through trees and over some easy to navigate boulders in the creek bed. The trek is only 1km and ends up opening up into this oasis, what can I say but only Wow! You will see what I mean.
An Artists Heaven!
Galvans George is like heaven, it has been made by a famous artist with a great eye for detail. You stand at the base of the Gorge and admire the beauty.
"Am I really seeing this"?
Gum trees overhang the waterhole and are at the base of a multi-tiered waterfall.
A boab tree situated at the top of the tiered waterfall adds to the special character of this place. The area has a very spiritual feeling, you can feel the ancient spirits watching over you as you play.
Witness the Beauty
We swam in the cool water of the waterhole and swung from the old rope swing letting go into paradise. We prepared some lunch for us and the kids and ate while still admiring the view. All we could think about was how lucky we were to be able to witness this place of beauty.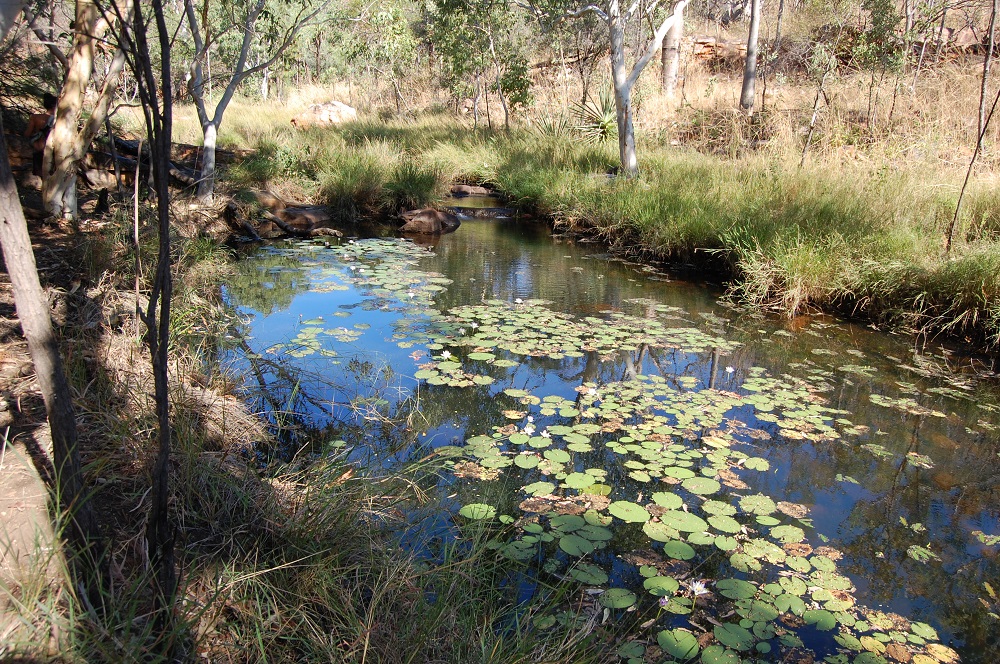 After a few more swims and swings we decided to leave, heading back to the car to continue our journey. Goodbye Galvans Gorge!
It was hard to leave and continue on to the bumpy old road, but adventure awaits! We still had so much more to see.
Dangers and Hazards
Galvans Gorge is a pretty safe place for families and travellers. I would take care when diving into the waterhole, check for logs or submerged rocks before diving in.
Watch out for your kids, there is no pool fence around a waterhole. Also, be aware of creepy crawlies in the area.
Be careful of slips and trips around the edge of the waterhole, you are a long way from help.
Drowning, breaking or spraining a limb could mean a very long and painful drive for help.
Take your time climbing rocks and always check the water first before diving in.
Always carry a first aid kit, and if possible travel with a companion in remote areas.
It could save your life!
Conclusion
Galvans Gorge is a rare place, that you only find once in a lifetime.
The short time spent here felt like a lifetime! It must have been the spirits that inhabit this land.
Make sure when you are traveling past this area to stop in for a swim and some soul searching. This place will truly take your breath away.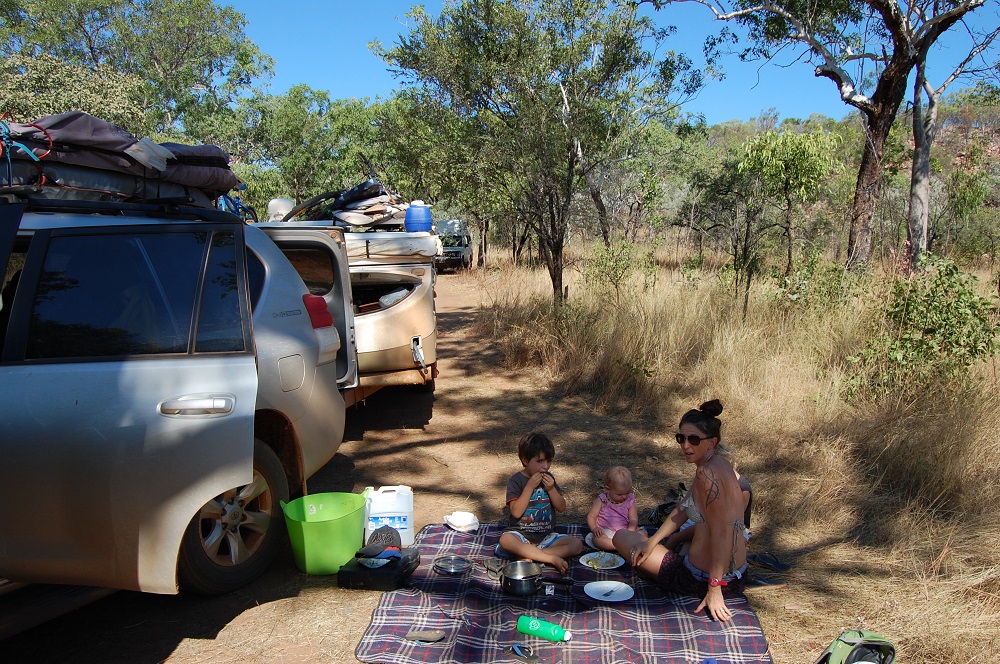 For picnics along the Gibb River Road, you will need a great picnic set! Check out these awesome sets from Amazon:
We give Galvans Gorge a rating of 10 Gstars, see how we rate a destination below in our table.
[table id=9 /]
Click on the links to find out more about our favourite destinations on the Gibb River Road!
What is your favourite Gorge in the Kimberley Region?  Comment below! 
Cheers x