A Gibb River Road Experience
You may have heard of Tunnel Creek, this giant water torn tunnel that winds itself through the Napier Range is situated in the Tunnel creek national park of the Kimberley region. This was our first stop on the Gibb River Road adventure when traveling from Derby.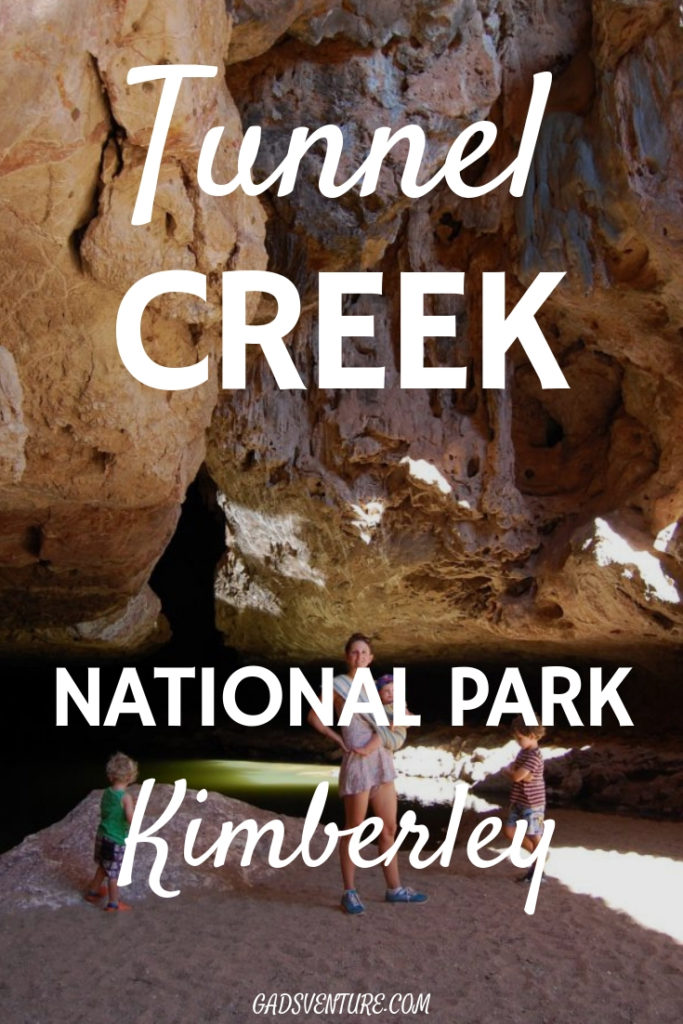 Tunnel Creek is approximately 750m long and you can trek safely from the crumbly entrance to the exit and back again in a couple of hours.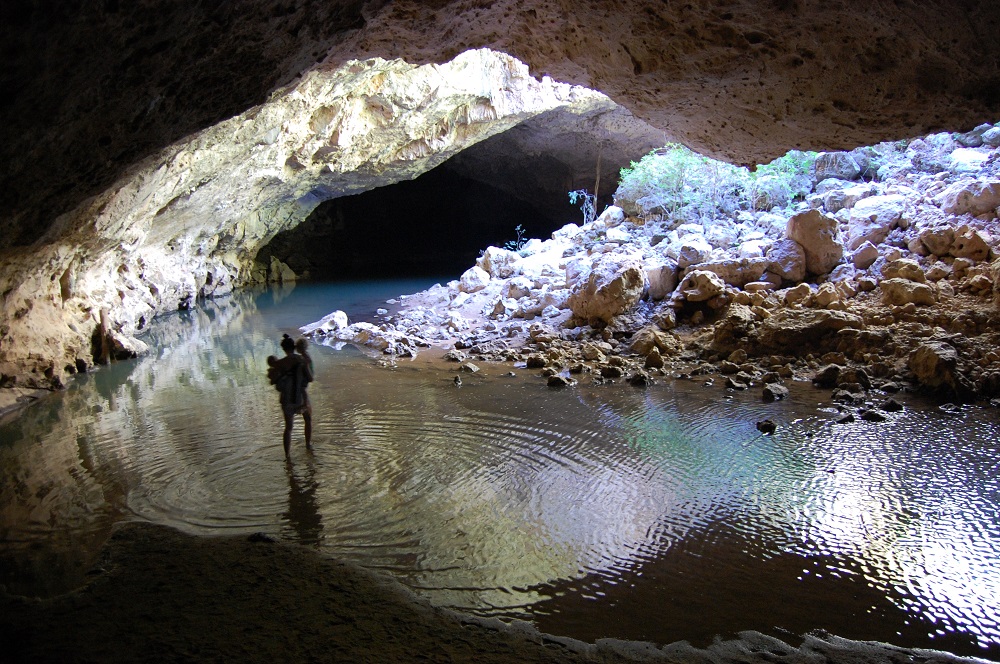 Make sure you wear some waterproof boots because you will be walking through water, navigating some slippery rocks and trekking through total darkness while micro bats fly around giving it that spooky feel of excitement.
Getting There
From Derby you can take a day trip to visit the tunnel system, but it is 180km and takes about 2 and a half hours to get here one way. If you are coming from the Fitzroy crossing area it is 112km one way.
Tunnel Creek National Park has facilities such as an information shelter and toilets but no camping on site. If you would like to camp the nearest campgrounds is at Windjana Gorge about 36km North-East.
We accessed Tunnel Creek from Windjuna Gorge which made it really easy to pop over explore the caves and then return back to our site for the afternoon sunset. The road was in good condition, with a little corrugation when we visited but changes throughout the season depending on traffic and weather. For the latest on the Gibb River Road conditions, see here.
When is the Best Time to Visit?
The best times to visit Tunnel Creek is between May and September, and try to avoid the school holidays if you would like less visitors.
The park is inaccessible outside of these times due to heavy rain and flooded creeks. Remember it is a creek so heavy rainfall will most likely fill up the cave system.
Always check at the information centers at Derby or Kununarra before entering the Gibb.
The Cave System
This is Western Australia's oldest cave system dating back millions and millions of years and was formed from water eroding the limestone which opened up a huge cave measuring 15m wide and 12m high in most places. The roof of the cave near the center has collapsed slightly over time causing a little bit more of a costraiphobic feel to the walk. My wife does not like caves or tunnels and almost refuses to go inside them, for some reason she loved the Tunnel creek caves.
If she can do it anybody can, that's a fact.
Water only flows through the cave after it has rained or after the wet season. Pools of water are present on the 750-meter trek due to the close water table location.
When we visited in May there wasn't too much water laying around just the odd waterhole that you had to walk through.
Our Tunnel Creek Cave Experience
At the time of this family adventure, we had a 4 year old, 2 year old and a 1 year old baby. So it was going to be challenging no matter what but we are up for most challenges.
The start of the trek through the tunnel is rocky and little tricky, you need to scale some large rocks that are blocking the entrance to the caves slightly. For us we had to lift the kids up and over the large boulders to gain access.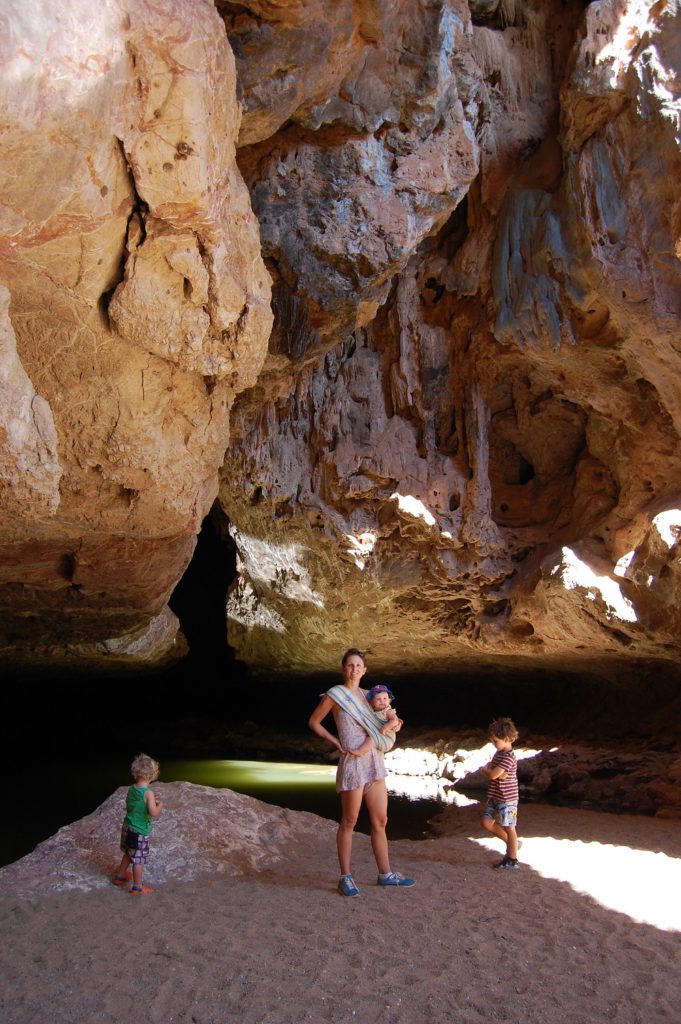 Once inside the entrance the fun begins, it is like stepping into the lost ark, or the temple of doom movies, my wife was a little worried.
Don't Be Scared of the Dark!
You need to navigate your way around rocks over sandy areas and water courses that meander throughout the cave system. It gets pretty dark after you leave the entrance and you will need a good torch so that you don't fall over and hurt yourself or your children.
We had a torch each and the 2 eldest had a torch so that we wouldn't lose them. As you pass through the cave jumping over rocks and following streams the limestone roof becomes closer to the point you can almost touch it. As you walk through the darkness you can hear the micro bats flying around making that light high pitched sound.
Carry a Great Torch!
Lets hope the torches don't die! It gets really dark so hold your kids hands if you can through this bit.
Every family seems to have one child that always gets into a pickle, that's our Dash and yes he tripped over and fell into a puddle as expected.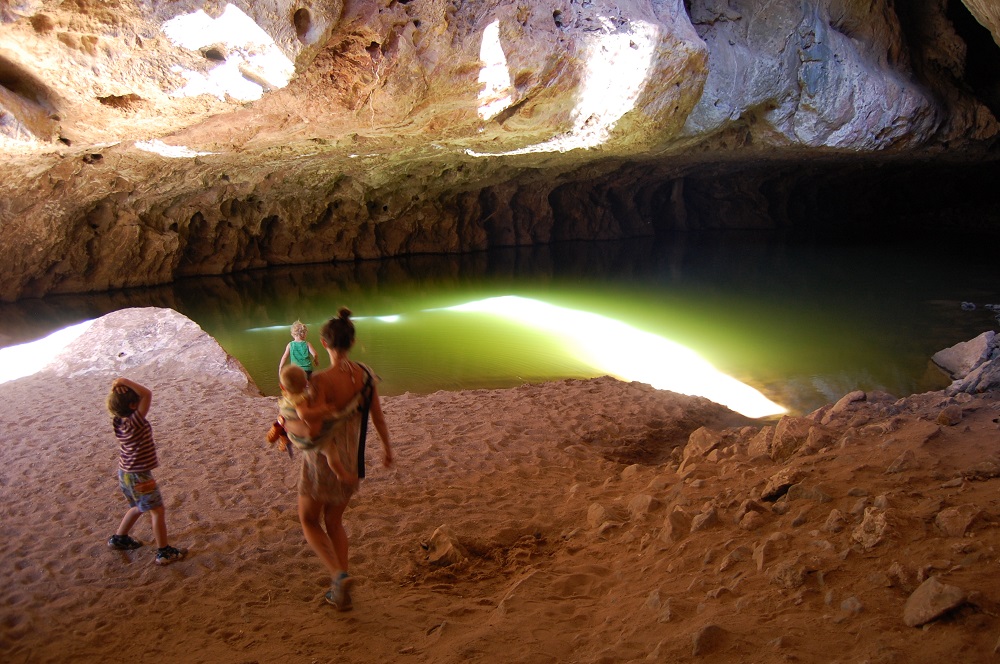 After what feels like ages the cave begins to open up again and becomes ginormous like a cathedral type experience. You slowly begin to see the light at the end of the tunnel and realise you are not lost.
The path becomes sandy with a small stream winding out through the entrance over some medium sized rocks. This is the end of the walk and a place to have a snack, take some photos and play with the kids.
Tunnel Creek has Hidden Obstacals!
Just be careful at the end of the tunnel, while we were here we saw an older traveler slip over onto rocks here, he didn't look to well.
Once your ready to head back, you need to follow the path back, retracing your steps and trying to not get lost again or fall over into the dark mysterious waters. Our trip back was a breeze, traveling with kids is easy!
Look Up!
Opon exiting the cave we were told to look up near the entrance and you can see some Aboriginal rock art, it was a little tricky to see but we found it.
This was probably the best thing to do in the Kimberley at the time, even though it was our first stop. The experience really took you back to the Dreamtime and is a must do for all ages.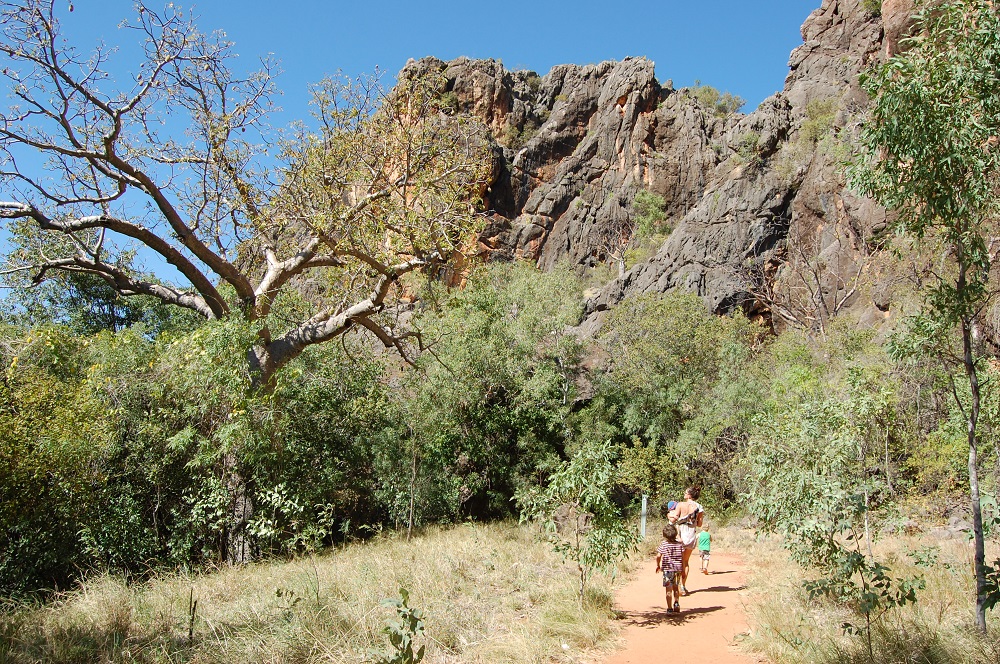 Dangers and Hazards
Tunnel creek is a fairly safe place for all in general, but like all Australian National Parks you still need to be catious and aware what is around you at all times.
Jandamarra would beg to differ back in 1897 when he was killed by the authorities outside the entrance to the caves, poor old Jandamarra!
Crocodile Safety
The Kimberley region is famous for its crocodiles so this would have to be the number one hazard. Tunnel Creek is home to several freshwater crocodiles but lucky for us they are not aggressive and aren't really interested in humans. (We didn't see any!) The crocodiles you have to be worried about are the saltwater crocodiles (estuarine crocodiles) They are not found up this far in the creek and river systems but times can change.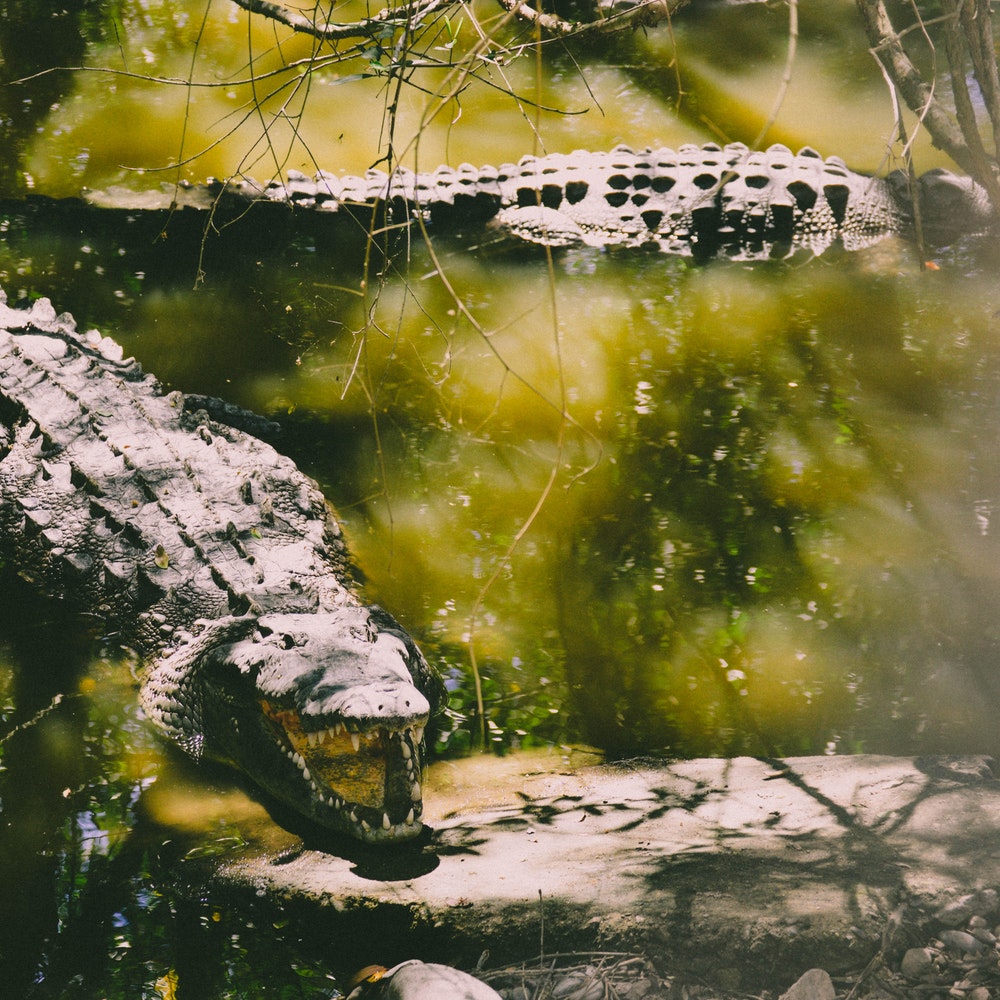 So be crocwise when traveling through this entire region.
Be wary of snakes and spiders, you know what Australia is like they can be anywhere, we saw a giant python to the entrance of this particular cave.
Be careful of slips and trips, you are a fair way from help, so breaking or spraining a limb could mean a very long and painful drive for help. Take your time climbing rocks and trekking through water and pay attention.
Don't look at your trip through the lens of a camera the whole time, look up and stay alert for any hazards that could ruin your trip.
Always carry a first aid kit and try to travel with a companion out in these remote areas it could save your life.
Cost to Visit Park
Park entrance fees cost – $13 dollars for a vehicle carrying under 12 passengers. Conssession holders $7 dollars and motorcycles $7 dollars.
If you are carrying your parks pass you don't have to pay this fee every time you enter a national park.
Annual parks pass = $92 a year
Concession parks pass = $58 a year
Holiday pass = $46 for 4 weeks
Where to stay
The closest place to stay near Tunnel Creek is Windjana Gorge which is 36km away by car:
All sites are unpowered and campground has regular facscilities such as toilets, and cold showers.
Costs = $13 dollars an adult, $10 dollars for concession, and $3 dollars for a child 6-15.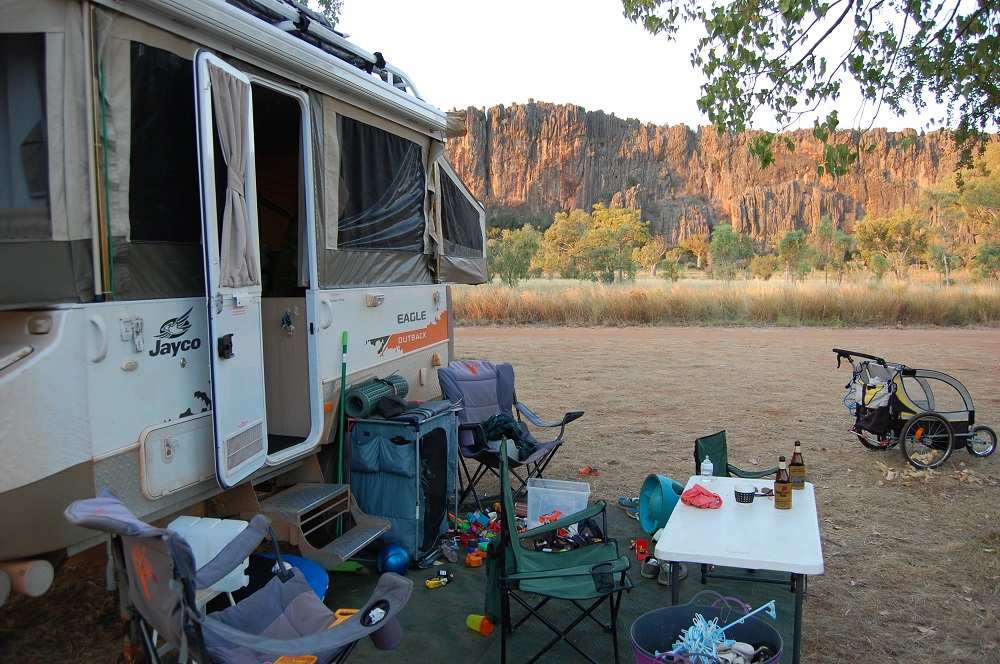 Conclusion
We had a blast visiting the Tunnel Creek National park and would recommend it for anyone with an adventurous spirit. It's so easy to get to, and doesn't take you too long to complete walk, it is probably the coolest walk you will ever go on in the Kimberley region! Because it is completely covered in shade, it's a cave.
We give the Tunnel Creek walk an overall 8 Gstar rating, see how we rate a destination below in our table.
[table id=4 /]
Click on the links to find out more about our favorite destinations on the Gibb River Road!
What is your favourite Gorge in the Kimberley Region?  Comment below! 
Cheers x