A Gibb River Road Experience
Bell Gorge is supposedly the most popular gorge on the Gibb River Road, and the most beautiful. You may have to be the judge of that! Bell Gorge is pretty spectacular that's for sure.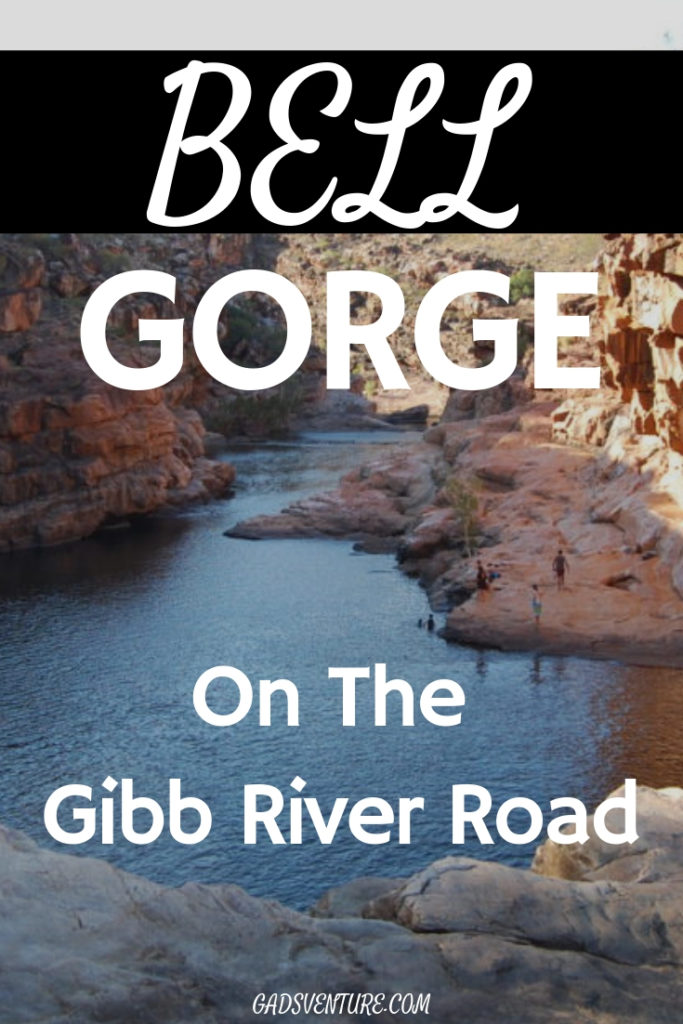 Thanks to it's location just 260km from Derby and 30km off the main road, many travellers only do Windjana Gorge, Tunnel Creek and Bell Gorge due to the relatively easy access. If you are going to sample the Gibb River Road, this is a great way to do it from Derby or Broome.
What these travellers don't realise is that they are missing out on many other incredibly gorgeous gorges in the Kimberley region that are equally as spectacular (or maybe even better) than Bell Gorge.
Thanks to it's ease of access, depending on when you visit Bell Gorge it could be busy! I have heard that it is common to have cues of people lining up to go to the Gorge, when we visited Bell Gorge it was quite late in the afternoon and not too many people around! Awesome. I wouldn't miss this gorge, it was spectacular and a great place to visit with the kids.
The Road into Bell Gorge
Like all these Gibb River Road sidetracks they all tend to be a little hairy and require some caution to navigate to your destination.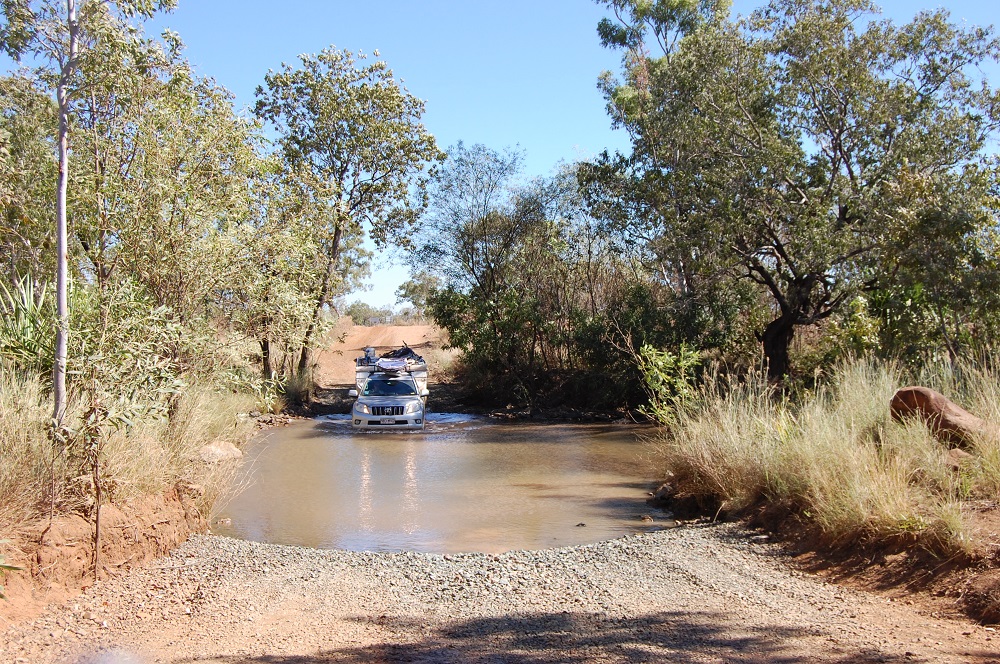 The access road at the time was in sound condition. For the latest Gibb River Road Condition Report, see here. You have to navigate some creek crossings full of water. I must admit when you first come to one you are unsure of the depth and hope it doesn't go too deep. It is a great idea to walk across the causeway yourself before taking your rig over to check for holes, (just look out for crocs) or wait and watch another vehicle go through first.
The road winds around for about 30km until you arrive at the National Park camping area Silent Grove, this is where you will be camping, unless you are just doing a day trip out from Derby.
The Silent Grove Campground
The camping here is similar to all National Park Camp grounds in Western Australia, you pay before you enter and then go find a suitable site to park your rig or setup your tent.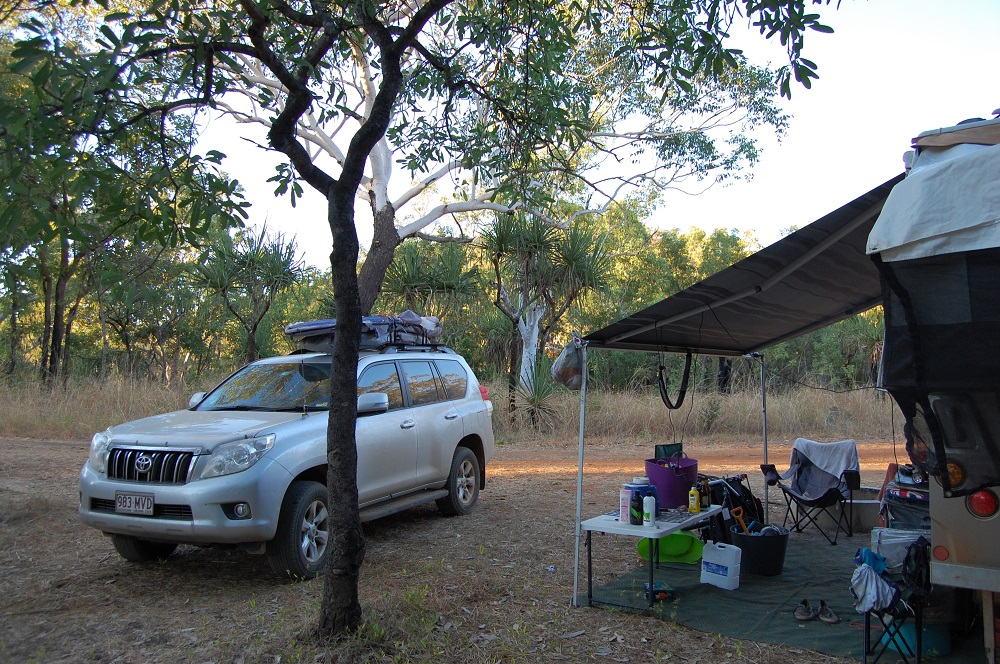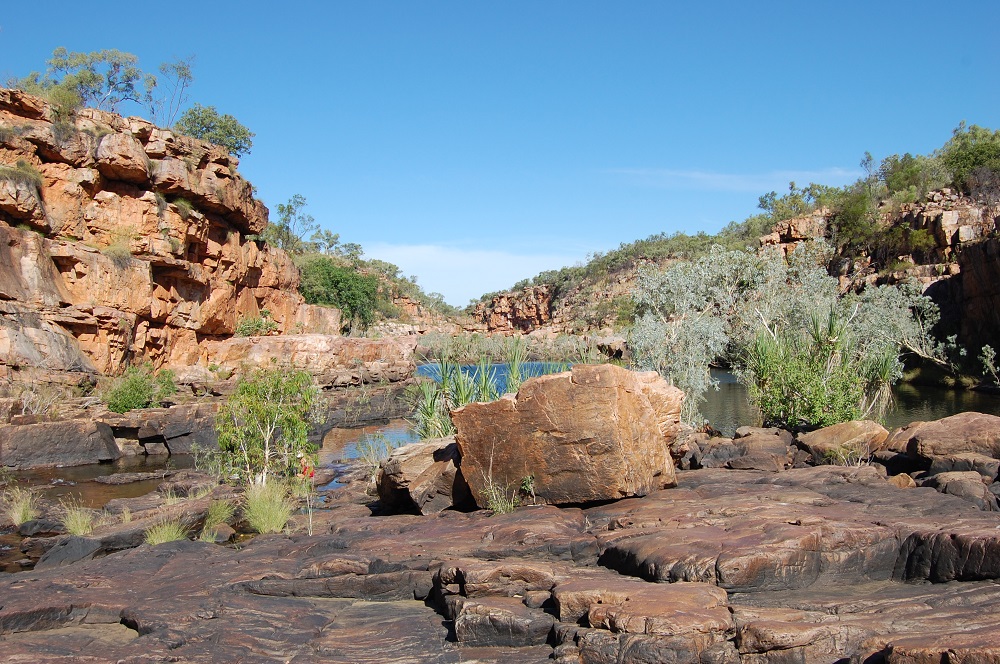 It is a medium sized campground with plenty of trees for shade, drop toilets, some little walks, firepits and plenty of flat areas to set up.
Cost was about $13 dollars a night for an adult, $3 for a child between 6-15 years and free if children are under 6. Park entry is free if you have your annual Western Australia Parks Pass which costs $92 dollars for the year. Get your parks pass here.
Visiting Bell Gorge
The Gorge itself is about 10km back towards where you came from. Follow the signs down to the carpark near the gorge.
It is then about a 15 minute medium difficulty walk to Bell Gorge, we had 3 kids with us and I found it very pleasant and interesting. The last section of the walk is probably the hardest and most dangerous part, you need to cross the creek over slippery rocks! Watch out kids!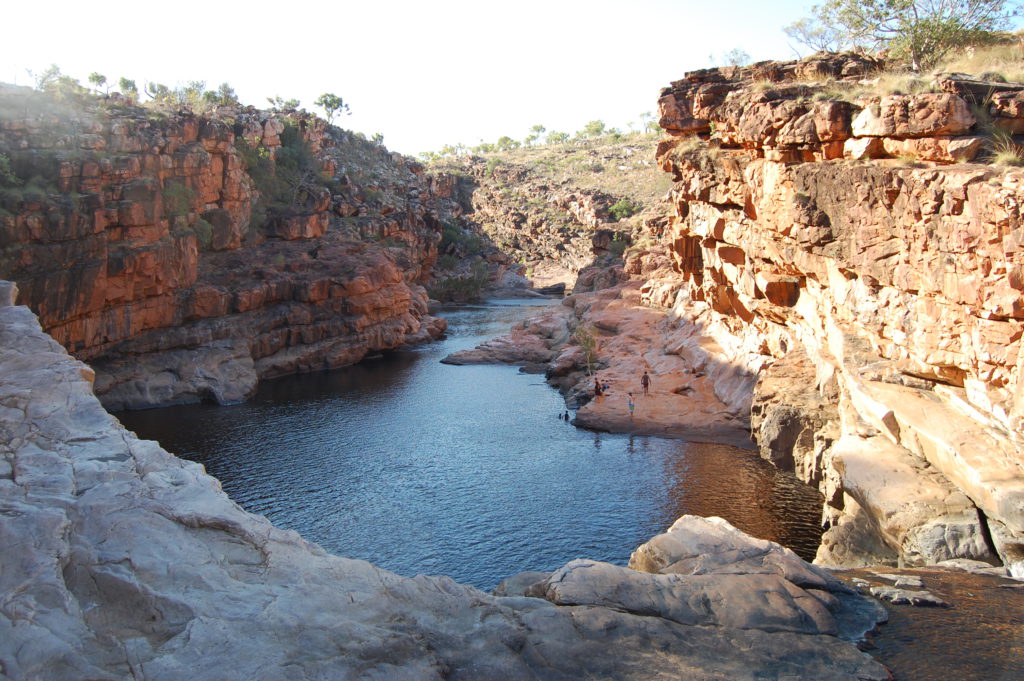 Once there you will see what I mean by beautiful! We managed to get here for the late afternoon so the colours were amazing, red rocks, dark freshwater pools and surrounded by natural bushland giving it those shades of endless green.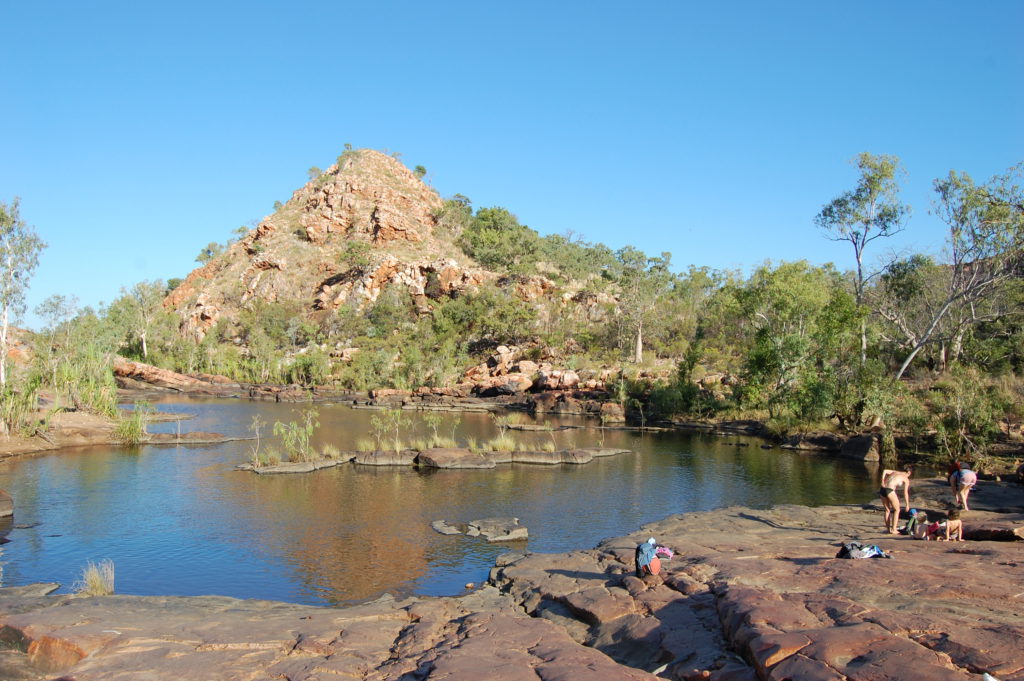 Your Kids Will Love it!
Our kids loved the natural infinity pool at the top of the waterfall, you can just wade around and take in the beauty. Below the falls is another great swimming hole surrounded by cliffs, I found it to be much colder than the top pool. Getting to the lower waterhole was a little challenging especially with my 4-year-old, but we made it without a scratch.
You can also explore upstream and find many other secluded water holes away from any people and just relax, and be one with nature.
Bell Gorge is so picturesque, and I can see why it is popular. Try and visit when the majority of people have left. (Hot tip: Visit early morning or really late in the afternoon, and avoid school holiday times around 5th July to 22nd July)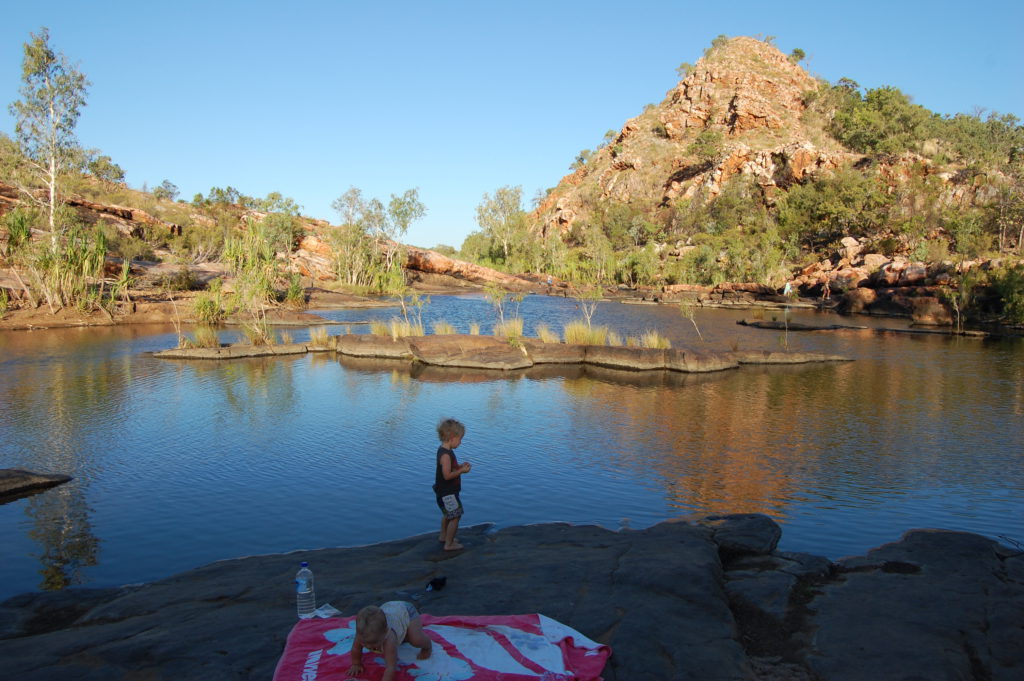 Is Visiting Bell Gorge Worth it?
Yes! Definitely, it is a must see destination in the Kimberly region and well worth the effort if you want to experience a natural wonder that many people will never see. We give it a 9 out of 10 Gstar rating!
[table id=12 /]
For in depth information on the other amazing gorges along the Gibb click on the links below:
Want to know more?
Please leave a comment below!