A Gibb River Road Experience
The name say's it all! Home Valley Station, we made it home! Well not quite. Home Valley Station comes as a very pleasant relief to get this far on your journey, it means you have made it past the worst of the Gibb River Road and you get to experience a bit of civilisation and creature comforts.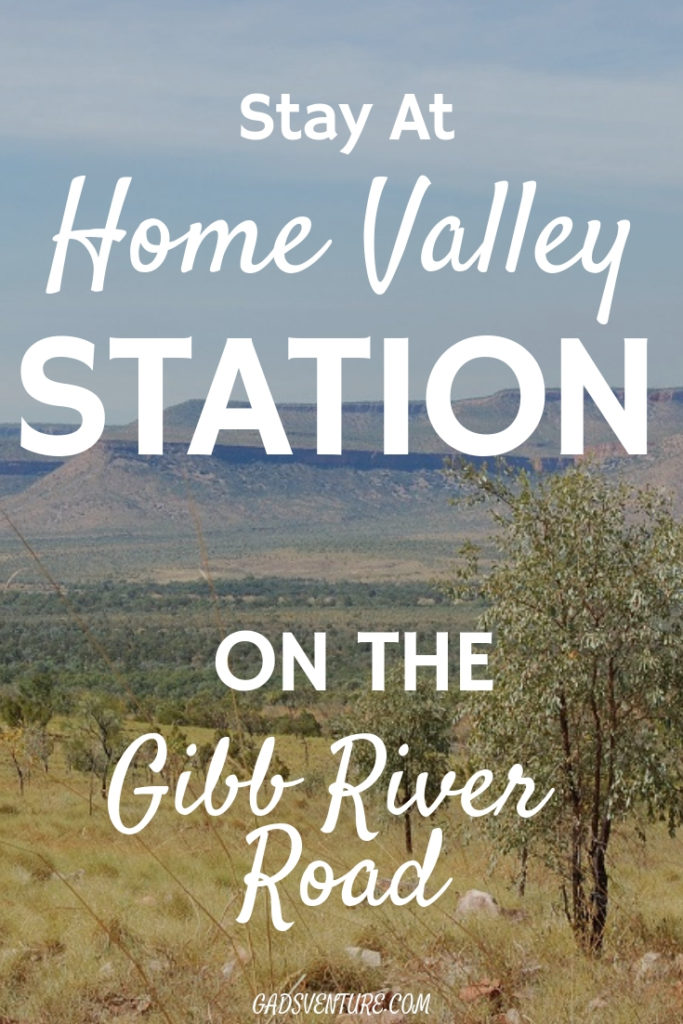 Comforts like hot showers, washing machines, swimming pools and maybe even a restaurant meal if you're lucky.
Another main attraction you will notice as you come over the hill and head to Home Valley station is the lookout. Not only is the view spectacular but this is one of the only spots on the Gibb you can get service for your phone! Ding, ding, ding, check those text messages.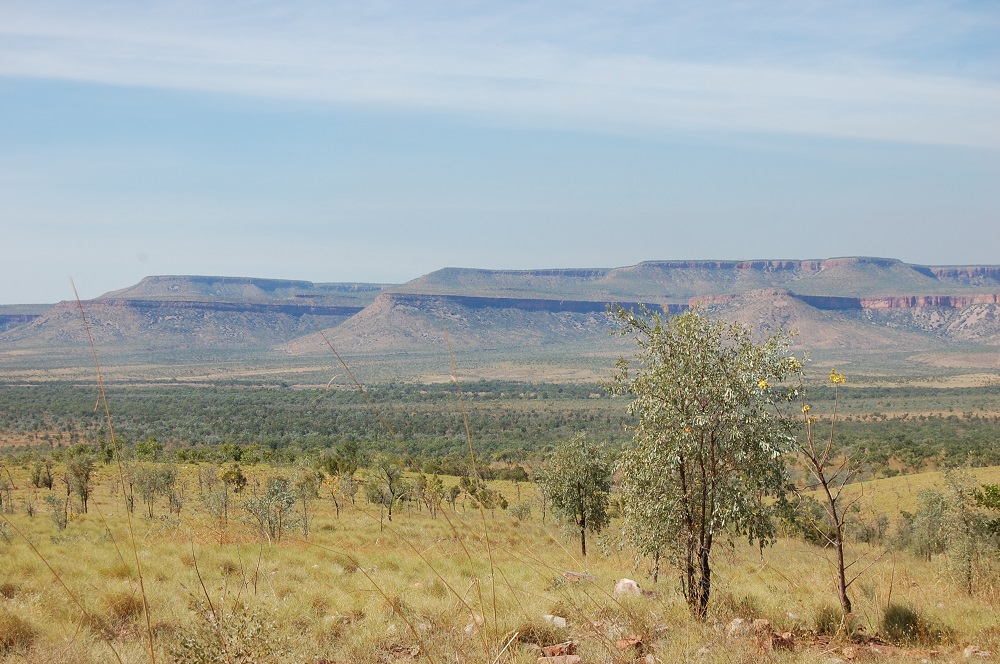 Most people spend a few days here relaxing and dining out in the bar and restaurant area. It has amazing decor, a very country, and western feel.
There are so many things to do at Home Valley Station if you are up for some adventure, so let's get to it, read on!
Where is Home Valley Station?
Home Valley Station or (HV8) as their website suggests is easily accessible from Kununurra and is 120km along the Gibb River Road.
The station is situated on the mighty Pentecost River and at the foothills of the beautiful and ancient Cockburn Ranges.
Getting Here
If you made it all the way through to here without a major incident from Derby, congratulations! But if you are traveling from Kununurra, you have only just begun.
Home Valley Station is accessible by 4×4 car or can be reached here by air! Yes they have their own airstrip and plane that meets all the CASA regulations.
Getting here by car is probably the easiest and cheapest option, either bring your own, or you can hire 4×4 vehicles from the town of Kununurra, cheaper than buying one!
The Gibb River Road is sealed about halfway towards Home Valley from Kununurra end which then turns to a gravel road. There is one major river crossing you have to cross to access the station, that is the Pentecost crossing. It is probably the widest crossing, you have probably seen it onfront of caravanning magazines, it is pretty special to cross, and the views! Amazing! Just watch out for crocs, and make sure you walk the crossing first to look for holes.
Once over the river it is a short drive to the station entrance and enter into the Australian Outback experience.
Home Valley Station Facilities
This station is one of the biggest properties in the Kimberleys and is well equipped for all your tourist needs. It is situated on a massive 1,400,000 hectares of land and borders with El Questro and the Pentecost River.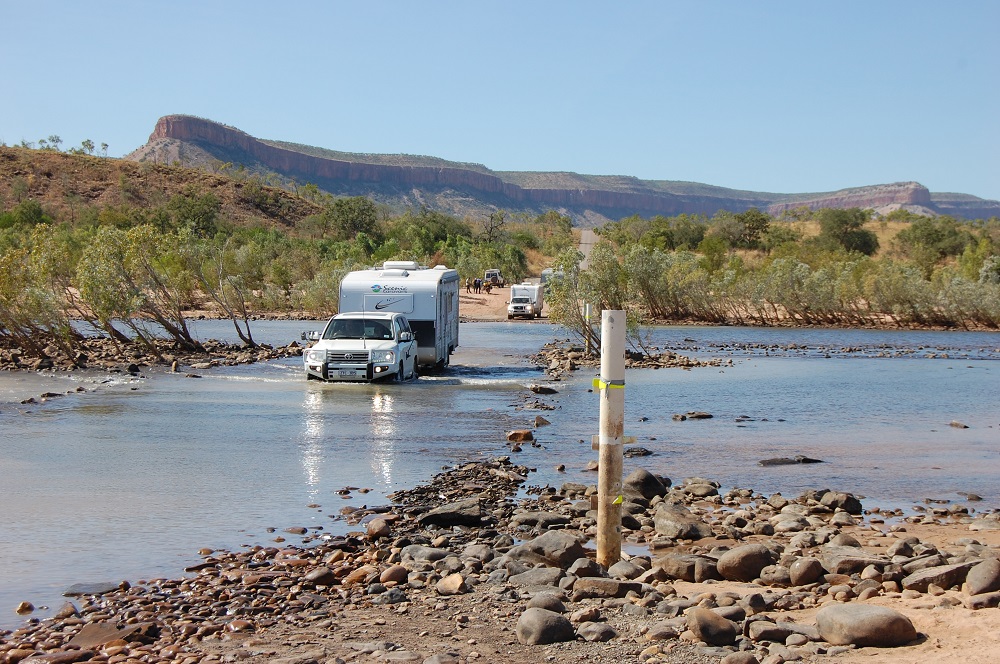 Facilities and Services they provide at the station:
Toilets that flush and Steaming hot Showers
Coin operated washing machines and dryers
Fully licensed bar and restaurant, (Food and Drinks)
Free Entertainment on Stage
Picnic areas
Powered and unpowered sites
Fully fenced lagoon style swimming pool (Kids love this and so will you!)
Undercover kids playground (The best in the Kimberley's)
Outdoor camping kitchen
Bushwalking tracks / Gorges and waterfalls
Barramundi Fishing / Tours
Helicopter tours
Sunset tours
Home Valley Station Camping & Accommodation
Home Valley Station has a wide variety of accommodation options. Depending on how you like to travel they have you covered.
Home Valley Station prides itself in giving you the true outback experience, this is why they have these options below for you to enjoy.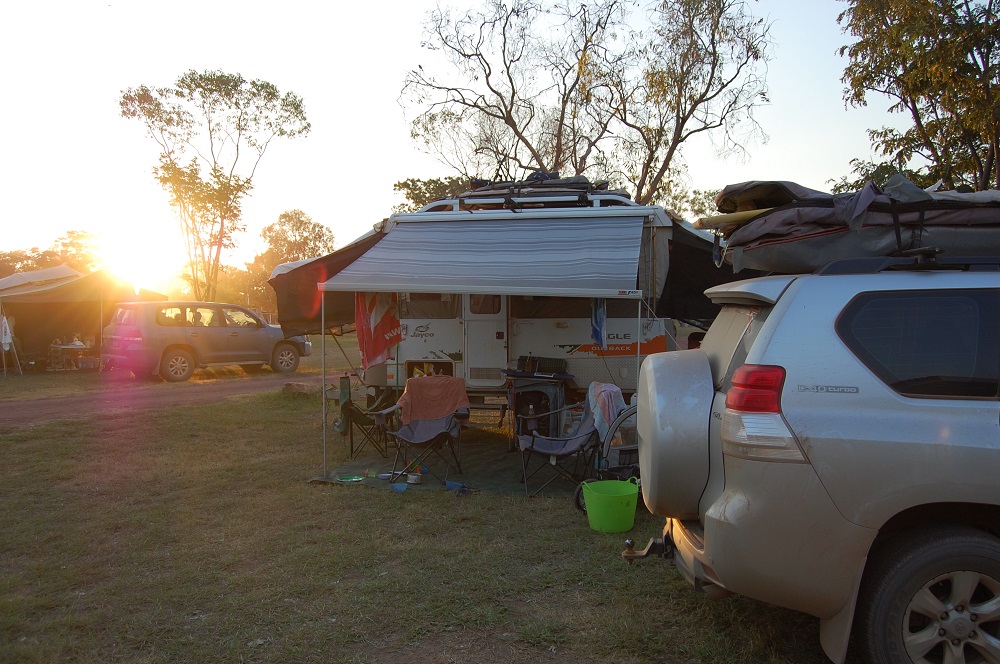 Camping Areas
There are two main camping areas at Home Valley, either choose to stay close to the entertainment and homestead which is situated close to Dusty's bar, the station store, pool area, and the children's playground.
Or
Camp down by the Mighty Pentecost River Bushcamp for the ultimate outback experience overlooking the Cockburn Ranges. This is also a great spot to catch the famous Barramundi. This campground is situated about 4km away from the main homestead.
Both areas provide you with complete bathroom facilities and shelters.
Choose between Powered or unpowered sites depending on your needs, we decided to camp close to the action, near the main homestead. This was mainly because of the great undercover playground they provide and the fact we felt like a little bit of civilisation after all the days on the Gibb River Road.
The sites near the homestead were terrific, they had open fire pits you could use, washing machines, hot showers, a great pool, the kids spent most of their time at the playground meeting new friends and we could eat delicious meals at the restaurant while sipping on a cold beer!
Eco Tents
Home Valley has several Eco Tents available to guests, these are set amongst a natural bushland setting for that intimate experience on the station.
Each luxury safari tent includes;
1 King size bed
Fresh soft linen
Power
1 Bedside table with lamp
Pedestal Fan
Large canvas windows
5m x 6m spacious Safari tent with a high roof
Rollaway bed for children
Private timber deck
Shared bathroom facilities
Rooms serviced daily
Grass Castles
The Luxurious accommodation option at Home Valley for those who want a little more comfort while touring the Kimberley outback.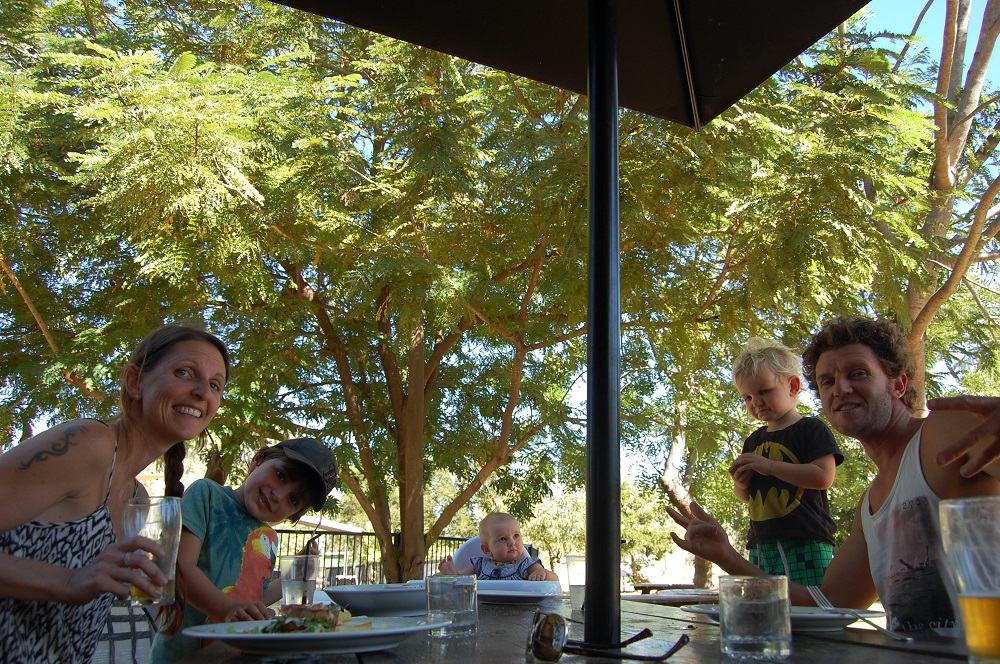 Cabins are situated on the banks of the Bindoola Creek overlooking the water and set amoungst the shaded trees, these cabins include;
Air conditioning
Floor to Ceiling Glass sliding doors
Direct water views over the creek
Large homestead design 6m x 9m
1 King sized bed with luxury linen
Spacious internal bathroom with shower
Polished timber floors
Beauty & Grooming products
Bathroom Robes – Dress Area
Day bed and bar area
Complimentary bottles water – Tea & Coffee facilities
Flat screen Television – with free to air
Telephone
Ceiling fans – Ironing board & hairdryer
All rooms are serviced daily and prices include an Australian breakfast. Maximum of 4 guests, 2 Adults and 2 children since there is a fold away matress in each room also.
Home Valley Station Guesthouse Rooms
Your final option at the station is the rustic stock man cabins, with their corrugated walls and cool concrete floors conveniently located near the Dusty bar-grill entertainment area and resort style pool. Each cabin includes;
1 King sized bed with linen
Private Bathroom
Soft towels
Beauty & Grooming products
Air conditioning
Power & lighting
Furniture
Coffee & Tea Making area
Porter service available
Rooms serviced daily
These rooms are great for if you want to be close to all the action and want to learn a little about the cattle station history.
For further information and bookings please email or ring the station on
+61 2 8296 8010 or email reservations@voyages.com.au Web: Home Valley Station
Dusty's Bar & Grill
Home Valley station has its own on-site restaurant that provides a super unique outback dining experience for all ages. The Bar & Grill offers authentic hearty and local fresh Australian cuisine that is sure to satisfy your taste buds no matter who you are!
The atmosphere of Dusty's is that of the true outback, plenty of old country memorabilia, old saddles, horse bridles, ancient farm tools and much more decorating the huge undercover entertainment area.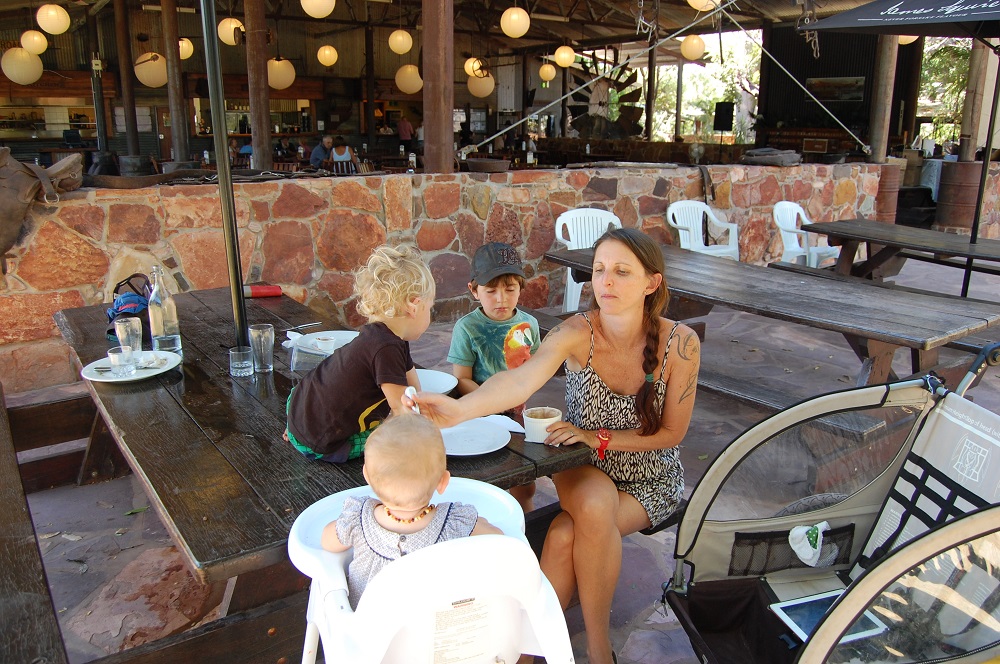 Our kids loved it and so did we, it was a great change from eating at our little camper.
Night time is when the Bar and Grill really come alive, with awesome live entertainment and a nearby campfire to share your travel stories.
Our Home Valley Station Experience
We arrived at the station on a beautiful afternoon as are all the afternoons in the Kimberley with the sun slowly setting on the Cockburn Ranges.
It was a pleasent change to stay somewhere with modern fascilities after being on the Gibb River Road for the past week and basically only having the bare minimum services. We all could have a hot shower and wash some of our dusty, dirty clothes, especially the kids stuff!
Stayed Near the Action
We setup our Jayco camper in the nonpowered area not far away from the playground that is situated in the camping area, the kids loved it! They meet heaps of friends.
The sites were covered in green grass which was a rather pleasant surprise and the amenities blocks were nicly situated with washing machine! This was a luxury for us.
While here we meet some really friendly people that we would have drinks with and share our traveling stories with around the campfire pits, what a great atmosphere.
Beautiful Food
We ate at Dusty's Bar & Grill on one night with our 3 little kids and had a real rustic outback experience, the meals were outback hearty, just like we love it being Australian ourselves. The kids as usually loved their hearty chips which like all of Western Australia come with the magic Auoli. (like Mayonaise but only way better!)
So Much to Do for all!
One afternoon we swam in the resort style pool, I noticed it was beautifully decorated to feel like an outback gorge and was a perfect size for several guests to enjoy at once.
I took it upon myself to go explore the bushwalking trails that lead off into the wilderness, what a beautiful area this is. I never got lost but felt one with my country while trekking through the well maintained trails.
We also explored down by the Pentecost River, this would be a great place to stay if you wanted to feel like you were the only people out here and loved your Barramundi fishing. We chose not to stay here due to having 3 little kids and being so close to the river we could picture a crocidile taking our baby! The views back to the Cockburn Ranges were amazing and you really have to visit here to experience the full feel of the area, pictures just don't do it justice as usual.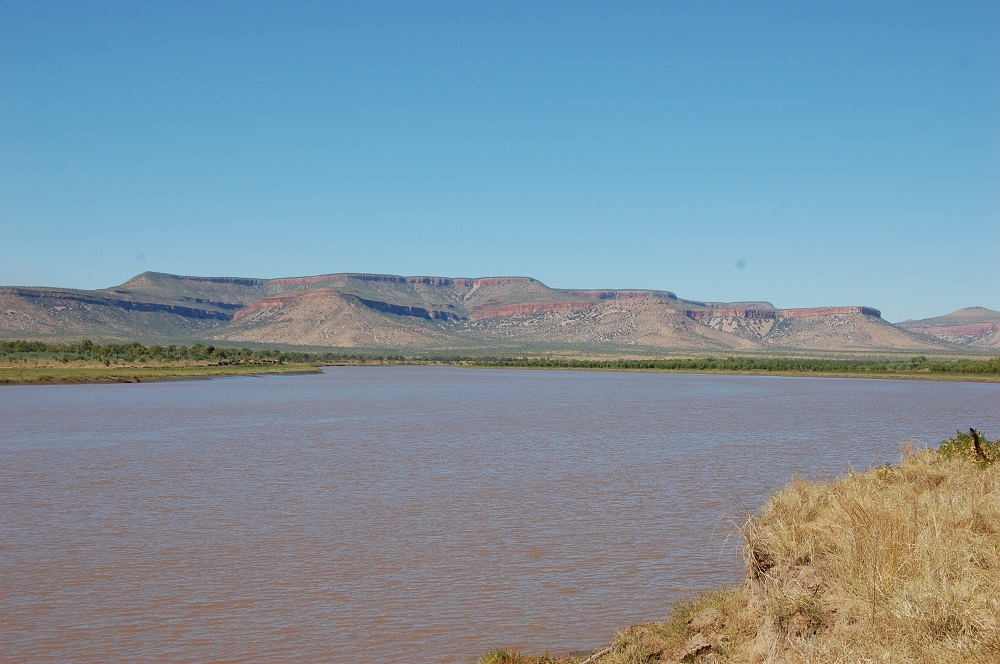 Everything we expereinced at Home Valley was amazing, the whole Kimberley region is amazing, and a definite to do item for anyone traveling to Australia or living in Australia for that matter.
We Ran out of Power!
Our only regret for here was that I didn't get a powered site and my van ran out of power, but the difference in powered to unpowered was quite expensive, just a heads up!
The Playground was Amazing!
Our kids were a little sad as we left, for they had made some good friends on the huge playground, but that is the traveling life.
We will definitely be coming back to Home Valley Station again.
Conclusion
Home Valley Station is a must see and must do destination while touring the Gibb River Road track, we recommend staying close to the action near Dusty's bar and grill especially if you have kids. The playground is amazing, the restaurant is fully equipped for all your needs, and there is so much to do if you are here for a couple of days
We give the Home Valley Station a 8 out of 10 Gstar rating!
[table id=7 /]
Click on the links below to find out more about our other favourite Stations and Gorges on the Gibb River Road!
Please drop a comment in the comment box below if you have a any further questions regarding the HomeValley Station experience!
And don't forget to subscribe for more great content!