A Gibb River Road Experience
Do you want to visit a Gorge that really blows your mind? Well I have one for you and her name is Emma Gorge on the El Questro Station.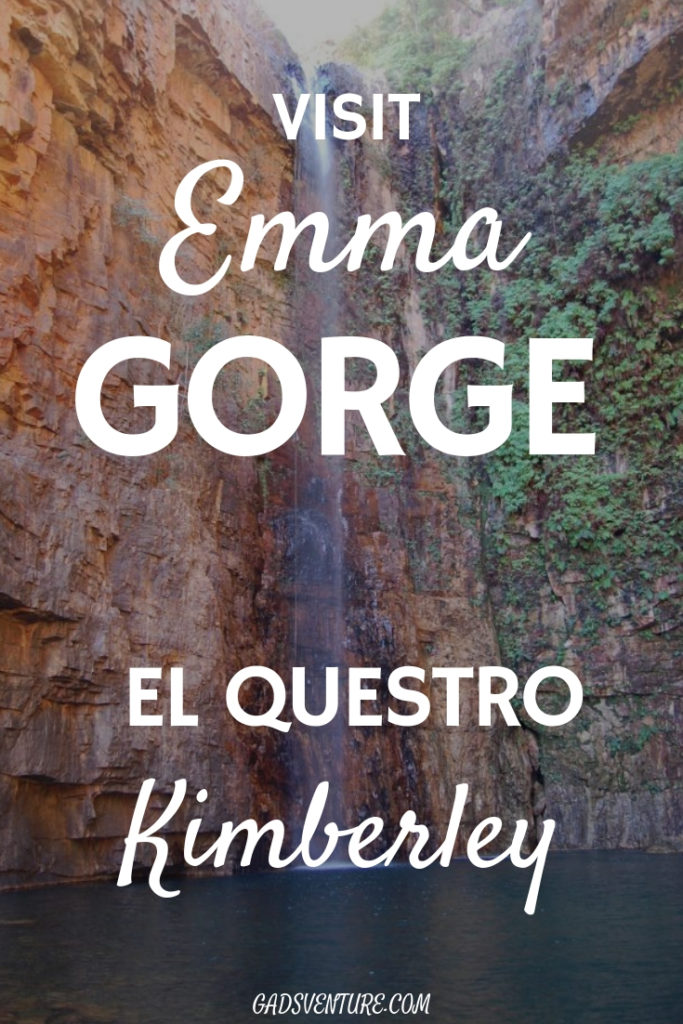 Emma Gorge really surprised us with it's beauty. When we visited the weather was hot – sitting around 39 degrees. It was going to be a hard walk in was followed by a well deserved and refreshing dip.
We didn't really know much about Emma Gorge. We only knew one thing for sure, it was a one hour walk one way. But we were carrying a baby and guiding our 2 young boys into an unknown adventure.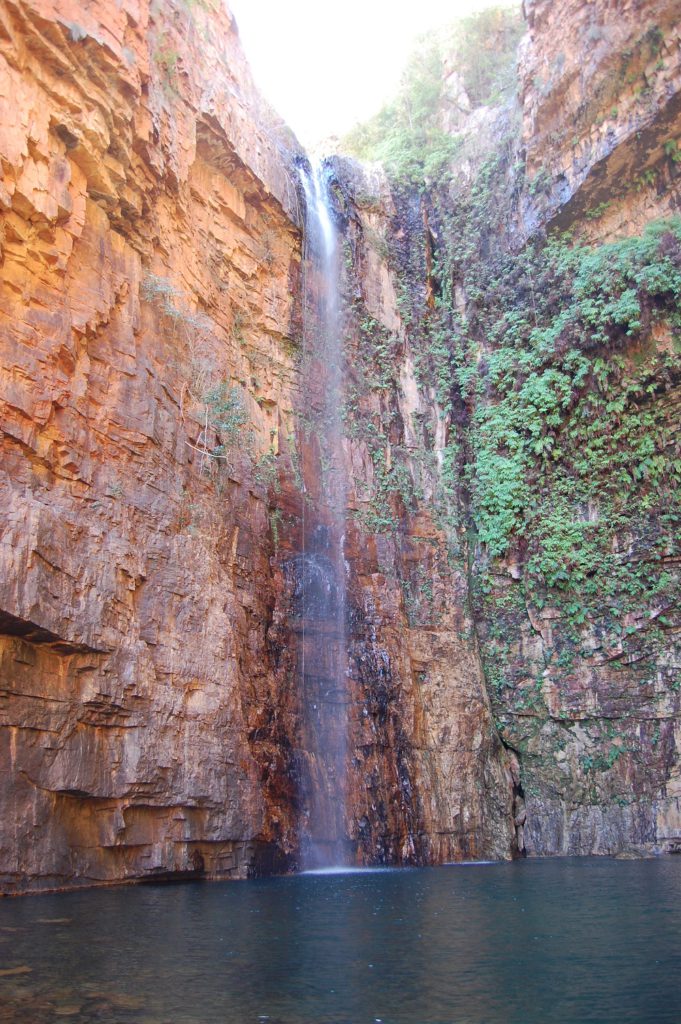 It wasn't the most difficult trek in the Kimberly region by far, but with the heat and rocky outcrops, our kids had a little trouble in spots.
For a healthy couple, you will not have a problem apart from a few difficult areas to traverse.
Where is Emma Gorge?
Emma Gorge is situated on the famous El Questro Station property.
Emma Gorge is 83km from Kununnara Township is now totally bitumen. This makes it the easiest Gorge to get to in the Kimberley's.
Emma Gorge is 27km from El Questro Station, making it an easy day trip if you are staying at the station.
Getting Here
There are 3 exciting options to get to El Questro Station depending on your budget and adventure levels.
Option 1 – Self-drive to Emma Gorge. This is the most common method of transport but relies on you having your own vehicle or hiring a car. (you don't need a 4×4 to access Emma Gorge).
Option 2 – Organise a scheduled transfer from either Kununurra Airport or from your accommodation in town direct to the Gorge Visitor center.
Option 3 – This is my favourite – If you have a little extra cash why not fly out to the El Questro Station or Emma Gorge airstrip in style.
A helicopter or small plane transfers can be arranged via contacting the station.
Since they sealed the entire road out here from Kununarra it is a pleasant relaxing drive.
Emma Gorge Accommodation Options
Don't want to just spend the day at the Gorge?
Then organise to stay for a couple of nights in the luxury accommodation at the Emma Gorge.
Choose between 60 Safari-style tented cabins sprawled out amoung natural surrounds of Emma Gorge Resort.
Each Tent has it's own un-suite and includes some creature comforts from home. Prices start from $324 AU per night.
To make a reservation visit this link!
Safari – Tent Inclusions
Each individual Tent includes;
Toiletries, Quality linen & Towels
Electricity
Pedestal Fans
In room Tea & Coffee
Big Open Verandah
Use of the resort style swimming pool
No fridge (due to power surges)
Shared coin Laundry fascilities
Emma Gorge Activities & Other Facilities
Emma Gorge accommodation is right at the doorstep of the Gorge walk entrance. See website for more information.
Other activities include dining at the onsite resturant which serves hearty Australian tucker and has WIFI.
There is no phone reception here which is pretty typical for most parts of the Kimberley region.
You can organise tours of the region from the activities desk.
And book tours such as helicopter rides from $250 dollars that take in the Gorge and surrounding Cockburn Ranges.
The biggest and best attraction is the Emma Gorge walk a self paced trek up to the majestic falls.
The Emma Gorge Walk
For us this was our last stop on our Gibb River Road adventure and our last hike in the Kimberley region.
The weather was hot!
We had to visit the well known Emma Gorge.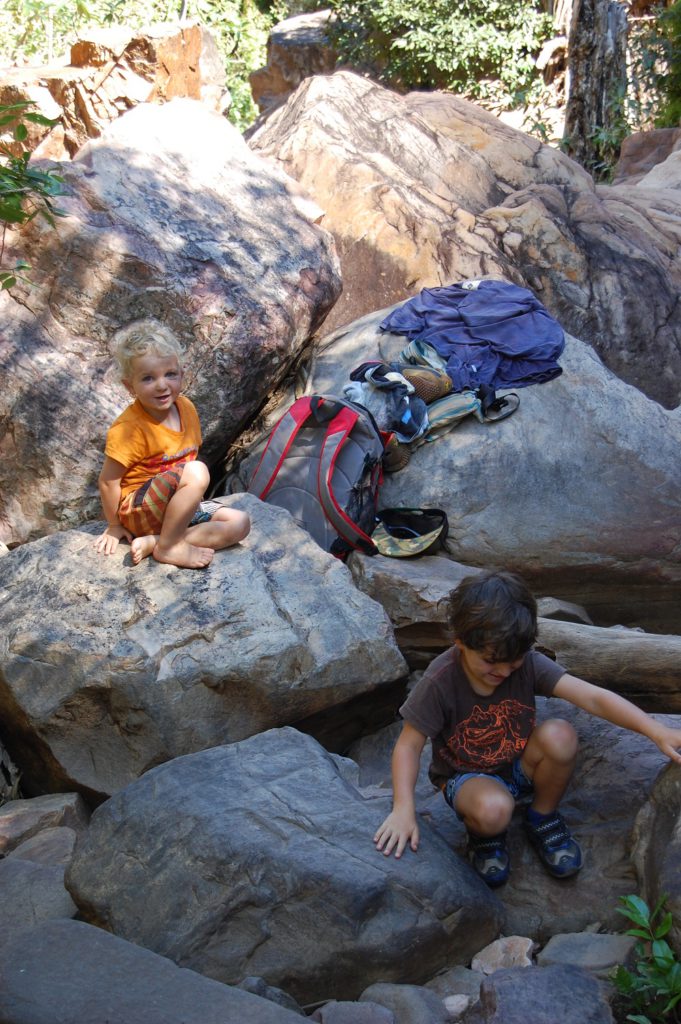 It is easily accessable by foot for most able bodied people.
How long is the Emma Gorge walk?
The Emma Gorge walk is 3.2 kilometers return and takes around 1 to 2 hours. (Unless you have 3 little kids, it's 40 degrees and you love swimming in fresh water.)
The gorge walk is quite rocky under foot and you need to take care you don't sprain an ankle.
The walk is a moderate challenge, rock hopping in places, and a few water crossings to tackle.
There are some beautiful lagoons to swim in as you get near to the main swimming hole. So inviting especially when it's around 40 degrees and you are sweating.
Once you reach the end of the walk you will be amazed by the shear beauty of this Gorge, and you will be looking forward to a swim!
Emma Gorge Waterfall Area
The Swimming hole and waterfall are very spectacular and well worth a swim.
But with one warning!
The water is cold, and after walking in 35 – 40 degrees heat it is definetly a shock to the system.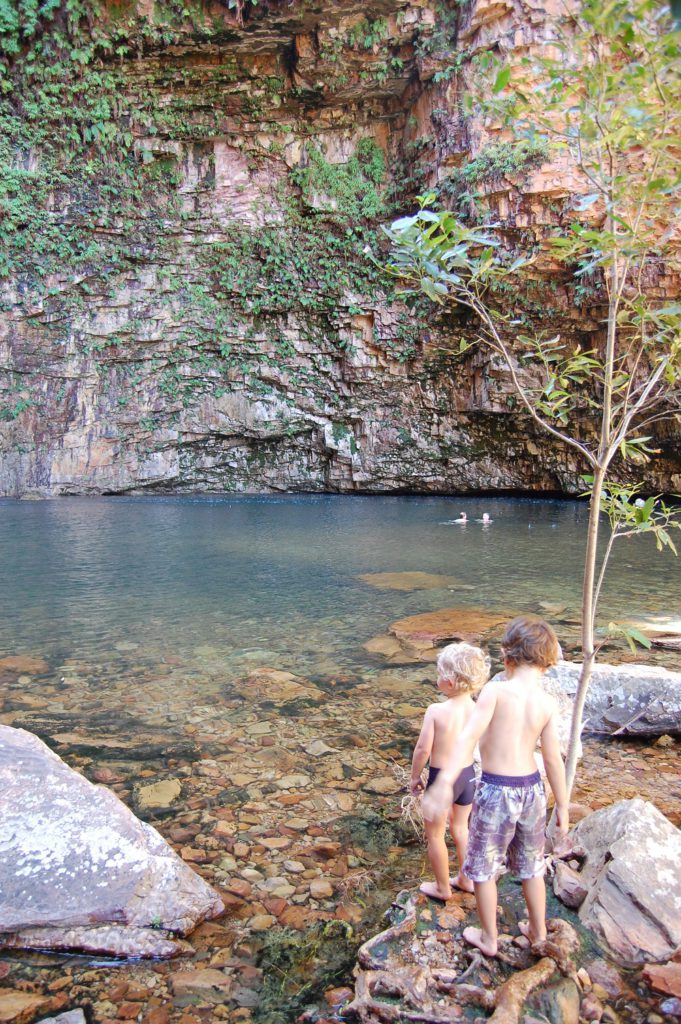 The swim will literly take your breath away!
Is it worth it?
Hell yes, but you may feel like your body is struggling at first, but if you can just hold out for 5 minutes you will adjust.
Then you can really enjoy the Emma Gorge Waterhole.
A beautiful experience is to swim to the middle of the waterhole lay on your back and just gaze up at the falls and surrounding red cliffs.
You will feel at one with the land and probably a spiritual connection with Australia.
If the temperature of the water is just to much for your soul don't worry, there are hot springs!
Emma Gorges Hot Springs
Yes, that's right Emma Gorge has a warm thermal spring. Just look to the right-hand side of the waterhole, you can't miss it!
You can find yourself a relaxing spot amoungst the rocks and re-heat your body temperature back to normal.
Trust me! this is awesome.
You no doubtly will spend a good solid hour or so here. So enjoy the scenery and soak up the wonder before trekking back to base.
Trekking Back to Base
The hike back is a lot easier than the hike to the waterhole at Emma Gorge. Because now you are probably refreshed, rejuvinated and on a high from such a magical experience.
So take your time on the journey home and try to stay cool.
That is the only problem with hikes to waterfalls and waterholes.
You always have to trek back in the heat!
When you get back you need another swim.
Conclusion on Emma Gorge
Emma Gorge was definetly a major highlight of our trip on the Gibb River Road and we give it a 9 out of 10 Gstar rating.
[table id=11 /]
The walk was exciting, challenging and most of all lots of fun for me and my family.
If you get a chance in life to visit an amazing place that will take your breath away it will be Emma Gorge on the beautiful El Questro Station.
To visit a place where you can swim in cold water, then jump straight into super warm thermal water is amazing. An experience not to be missed by anyone young or old.
Get out there Travellers!
Click on the links below to find out more about our Best Stations and Gorges on the Gibb River Road!
Please drop a comment in the comment box below if you have any further questions regarding your Emma Gorge Trek or Accommodation experience!