Our bags are packed and we're ready to go! This unique family edition of our must-have travel packing checklist has had a lot of revisions, as our pool table full of piles of 'must-haves' has constantly changed and been reduced down to bare minimum stock.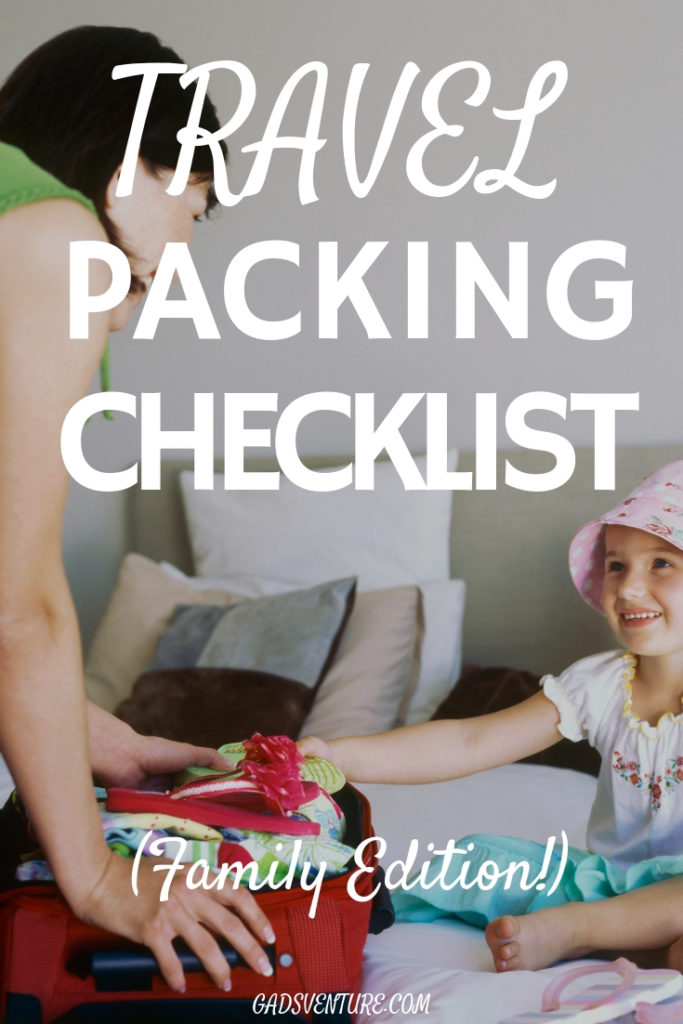 From the moment you book a trip, you are planning everything in your head. Who you go with, where you are staying, what to do when you first arrive at the airport are all things you do your research on. But when it comes down to a travel packing checklist, you don't want to just throw caution to the wind. You want to have a bit of a plan, and try not to leave things until the last minute to organise.
We are going to spend 6 months in South East Asia with a family of 2 adults and 4 children. This list is what we are taking:
Check- in Bags
Big Wheeled Duffel Bag from Kathmandu
At 120L, this beauty is going to be our only check-in bag and fits all our clothes within.
Packing cubes are an essential part of any packing list. With a multi-membered family, I absolutely love getting 6 different colour combinations of cube sets so we know which is who's. We got ours from Amazon, but each set has 6 pieces and to be perfectly honest, I only used half of this. One big one holds 5 x outfits each, and the smaller one contains swimmers, underwear, and socks. Then the pencil case sized bag holds a spare change of clothes for each individual's carry on.
Clothes
We know that in Asia, getting your laundry done is quick, simple and cheap as chips. With that in mind we are taking the bare minimum of clothing. Remember, anything you need you can always buy where you are going. Buying clothing from your destination country makes sense too, as it is always climate appropriate. Keep your clothing to a minimum so you can easily fit all the other essentials in. We have 5 outfits each, and a few pairs of undies (extra for the girls). I find underwear ALWAYS goes missing, so it is always better to have more just in case, and you can always wash them by hand in the sink.
For the boys in our family:
5 t-shirts
1 warm long sleeved shirt
1 collared shirt
4 board shorts
2 dress shorts
1 pyjamas
3 undies
1 swim rash vest
For the girls:
5 dresses
7 pairs of undies
1 skirt/shorts
1 t-shirt
Cardigan
1 swim rash vest
2 togs
1 nightie
For Everyone
1 pair rubber thongs
A pair of sneakers (wear these on travel days to save space)
1 pair reef walkers (these are hiding inside the surfboard bag!)
3 pairs of socks
1 pair long light pants (we call them 'sandfly pants' because their main purpose is to prevent mosquito bites!)
1 hat
goggles or snorkel mask
Carry-on Bags
Mountain Buggy Bag Rider is a total game changer for travelling with a baby or toddler. Read our in-depth review here (coming soon).
The boys each have a Smiggle backpack, Miss 5 carries a Kmart backpack which is nothing special and the grown ups each have a Denali Eclipse 28L Daypack.
Kid's Carry On
In the kid's carry on we have:
1 microfibre compact travel towel (coming soon: see our comparison here to find the best travel towel on the market) This will double as a blanket in case it gets cold on the plane. Our pick for the best compact quick-dry towel is Dock and Bay.
Journal
Reading book
Tablet (we have either Lenovo or Samsung)
1 box of Lego (I made their Lego boxes after I was inspired by these great Lego travel kits in the Toystore.) Or you can get these ones on Amazon.
1 scratch pad or colouring book
The boys are aged 7 and 9 and both have their own Sony Playstation Portable hand held device with games. Our daughter has our old mini iPod from the olden days. These are our old gadgets, they are not things we would normally buy for our kids, but we are bringing them along just because we have them already.
Headphones
1 ball, 1 matchbox car each, lip gloss, hair clips etc
1 small bag with a change of clothes each
3 nappies and wipes for Miss almost 2 and nappy bags too. (It's only a 6 hour flight)
1 small bottle of antibacterial hand gel each
Bottle of water and snacks
Travel Pillow
Mum's Day Pack
An awesome passport holder which contains all of our 6 passports, printed travel itineraries, spare passport photos for visas, a pen, a variety of credit cards, cash for our destination (I like to arrive in a country with around $500AUD worth of the local currency. Perfect for if you need to catch a taxi, or grab a drink or snack at the airport, or pay a porter. I also travel with a few hundred dollars worth of US Dollars which always come in handy, wherever you are going.) Check out this post for details on what to do about money in Bali.
LifeStraw water bottle – this is a brilliant new addition to our travel kit, and it means you can drink water out of the tap wherever you are! Because we are travelling for so long, our plastic impact on the earth will be lessened if we can use fewer single use plastic water bottles. The same is true for our next item….
Bamboo cutlery sets including knife, fork, spoon and bamboo straw. Say no to plastic cutlery!
Kindle – I have the Paperwhite. The best invention ever! No need to cart around a pile of heavy books any more. There is even an entire part of my library dedicated to the kids. From learn-to-read books to Diary of a Wimpy Kids, Kindle has my family covered. Have a read of this article for more: Kindle For Kids
Snacks – for the kids mainly, and some gum and lollies for the aeroplane ascent and descent – good for equalising little ears.
Medicine – a small medical kit containing paracetamol and ibuprofen (tablets and liquid), some bandaids and paw-paw cream (the best cure-all)
Phone – I have the new Oppo. Such a great phone and comparable to a Samsung. I used to have an iPhone 6s until it was dropped a few too many times and since buying an Oppo outright for less than a quarter of the price of the Apple, I haven't looked back. For a full review, Read This (coming soon). A local sim card will be the first thing I buy in the next country I land in.
Lip Gloss (essential for dry lips on the plane)
Travel Pillow
My laptop – I use a MacBook Air 13″ laptop. Seriously the best laptop I have ever owned. It is nearly 5 years old and still like brand new!
Change of clothes in case somebody pukes on me!
Sunglasses and spectacles
A lighter (not a smoker, just might come in handy)
Dad's Daypack
Dad carries the tech bag. He is the camera man and the all round tech guru guy, while I am the keeper of the passports and money.

LifeStraw Water Bottle
Travel Pillow
Charging cables
Spare batteries
Change of clothes in case the baby pukes on him!
Sunglasses
Extras
We are carrying a surfboard (of course) and surfboard wax. Inside the board bag we will add a couple of life jackets for our small children.
Power adaptor for your continent of travel. I find that a universal one will solve all your problems!
An electronic portable luggage scale – definitely comes in handy!
A leatherman multipurpose tool
Antibacterial wipes
Small packet of laundry powder
A few pegs
Laundry bag, zip lock bags, dry bag
Travel clothesline – if you don't have one of these, you can actually make a clothesline out of dental floss!
Bungee cord
Tula Toddler Carrier (review coming soon!) These are awesome and fit all sizes from newborn to toddler!
A compact self-inflating hiking mattress
Koo-di pop-up baby travel cot (review coming soon)
Raincoats and an umbrella
Tube of Vegemite
Small jar of Nutella
Teabags
Toiletries
Deodorant x 2 (roll on, not aerosol)
Bamboo toothbrushes x 6
Toothpaste x 2 (1 adult and 1 kids)
Fake tan and application mitt
Massage oil (my husband happens to be a Remedial Massage Therapist!)
Sunscreen and zinc
Insect repellant containing DEET
Hair brush and hair ties
Small makeup kit
Medical Kit
Being a nurse, my medical kit is fairly full. Remember that countries around the world have pharmacies and you can get most anything over the counter. Nappies, sunscreen and bug spray can be quite expensive however. I always get the kid's version of liquid medicine where I can too.
It is highly recommended to see your travel health practitioner about 3 months prior to travel as you may need vaccinations. Have a look at this post on International Travel Vaccinations, and this one specific for travel to Bali. Make sure your kids are up to date with their childhood immunisations and you have had all your boosters too. Even though diseases such as Polio have been all but eradicated in Australia, they are still unfortunately found worldwide.
Please adjust the medical kit list to your own personal needs.
Paracetamol (for treatment of fevers)
Ibuprofen (anti-inflammatory)
Anti-nausea such as Ondansetron
Anti-histamine (Phenergan)
Anxiolytic (Diazepam relaxes smooth muscle and reduces anxiety)
Multivitamins
Decongestant
Salbutamol
Anti-diarrhoeal (Immodium)
Pruvit Keto-Os Sachets – These are a supplement containing pure therapeutic Ketones. Ketosis is my secret weapon for maintaining my size 6 figure, and keeping up the energy levels needed for 4 kids on an international gap year while building an online business. For more details on how you can give it a go too, see here: Pruvit Now
Broad spectrum antibiotic such as Augmentin Duo for the kids (unreconstituted) and Norfloxacin for the adults (see your doctor for individual advice)
Antibiotic ointment (Bactroban)
Antiseptic cream (for reef cuts you can always use lime juice)
Bandage and bandaids
Steri-strips
Normal saline (cooled boiled water with salt or a dash of vinegar works just as well)
Instant Ice Pack
Single use latex gloves
Nail clippers
Needle and thread
Hydralyte ice-blocks and Hydralyte effervescent tabs for rehydration (if in doubt, to prevent severe dehydration, don't just use water. Add salt and sugar to your water instead, or drink coconut water and don't delay in seeking medical attention.)
Probiotics – Chocolate flavoured chewable tablets that don't need refregerating for the kids (make sure you take a probiotic for a month leading up to your SE Asia trip to strengthen your gut flora before you go)
Any prescription medication including the box with your name on it
Contraception (I got the Implanon before I left, no surprise holiday babies for me!)
A letter from your GP listing any prescription medication
School Stuff
We are homeschooling/worldschooling our 3 older children while on the road so will need a few extras…
Maths text book
Literacy text book
Learn-to-read book
Learn-to-write book
Sight word flash cards
Blank scrap book
Lined handwriting book
3 pencil cases containing felt pens, crayons, pencils, sharpeners, erasers, sticky tape, glue, scissors (make sure your scissors are not in your carry on)
Written down passwords to paid online subscriptions such as Maths Online, Study Ladder, Minecraft Homeschool (yes! it is a thing) and ABC Reading Eggs.
Merit sticker book
That's All!
So that is it. That is everything we are taking for a 2 year trip around the world. You may take more, you may take less. We are endeavouring to squeeze it all into one checked bag, one carry on small hard case, and 5 small backpacks. When I look at that list, I don't know how it is possible! But is is.
The one thing that I can cull if needed is the clothes. And the toys? Well, I think the kids still need a little bit of home stuff to bring to keep them happy. We once went on a 2 week trip to Bali with no toys, and the kids couldn't cope! I went to buy some and ended up paying for the nose for some rubbish.
Be Flexible
I intend our equipment to be fluid as we travel as well. For every new item of clothing we buy, we have to throw one out. And we can always send stuff home if we need to. It will seem strange going to Siem Reap with a surfboard, but if Sri Lanka ends up being a stop on our trip, then it will be worth it.
I hope this travel packing checklist has helped you out if you were stumped about what to pack for your family. I will pop back soon and do a revised version, because after 2 months on the road, we have made a few changes.
Check out our Bali Content!
Did you see what we got up to in Bali?  We had a blast during our month there. It was great going White Water Rafting, visiting Finn's Rec Club, and finding some new favourites in Sidemen and Amed. As well as our old faves Uluwatu, Canggu and all the best surf spots (we even found some brand new breaks!)
This month sees us travelling through southern Thailand. Make sure to follow us on Instagram to keep up with the latest on our epic trip!