Before you plan a trip to anywhere, you've got to know "when" to go! Being in a tropical, warm and monsoonal climate, Bali weather and conditions are subject to change from month to month. It is definitely important to check the conditions for before you book your next holiday.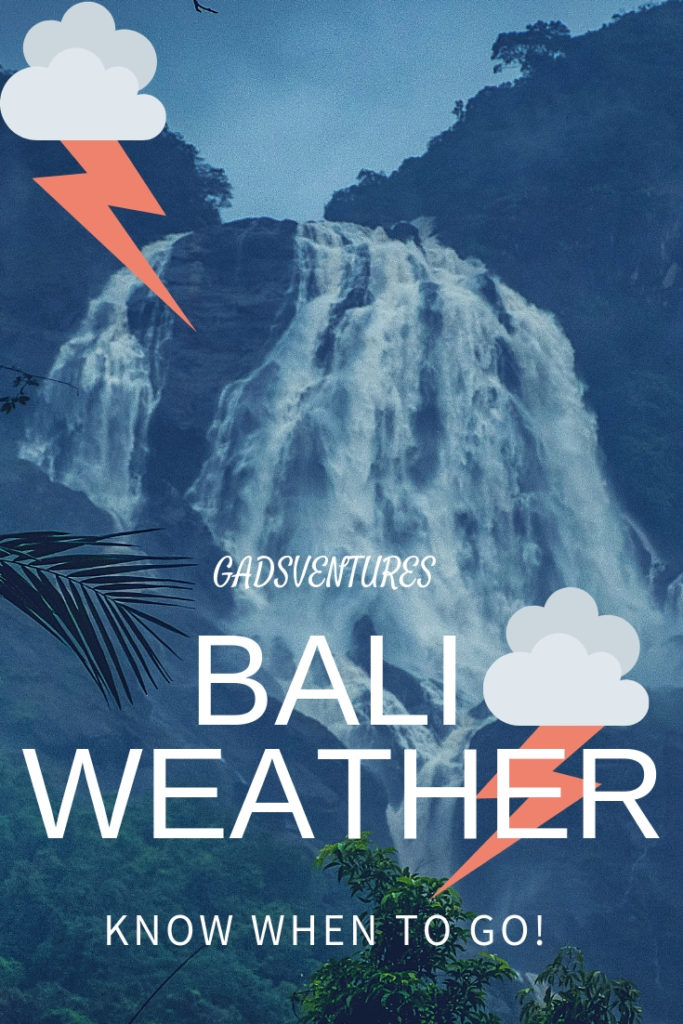 Below is a breakdown of Bali weather, with a focus on the main touristy areas of Kuta, Seminyak and the Bukit Peninsula. Ubud exists in a different climate bubble thanks to its elevated and forested location so it's weather is generally a few degrees cooler.
Scroll down or use the navigation on the contents box to link to each month's specific information.
Tropical Paradise
Bali weather is incredibly warm and tropical thanks to its geographical location. It sits at a latitude of 8ºS which puts it adjacent to the equator. These beautiful weather conditions are part of what makes Bali such a huge drawcard for tourists who visit from all around the world.
The ocean temperature is pleasant and totally swimmable all year round ranging from 27ºC (81ºF) over the winter months to 29ºC (84ºF) over summer! The ocean is completely free of things like crocodiles and venomous jellyfish that are prevalent in Northern Australia. The only hazard you may find is plastic pollution. Unfortunately the beaches can get a bit dirty depending on which way the trade winds are blowing, and the time of year.
A typical monsoon season affects coastal Bali between November and March. A visit during these months will be generally wet and sweaty with high levels of humidity and rain.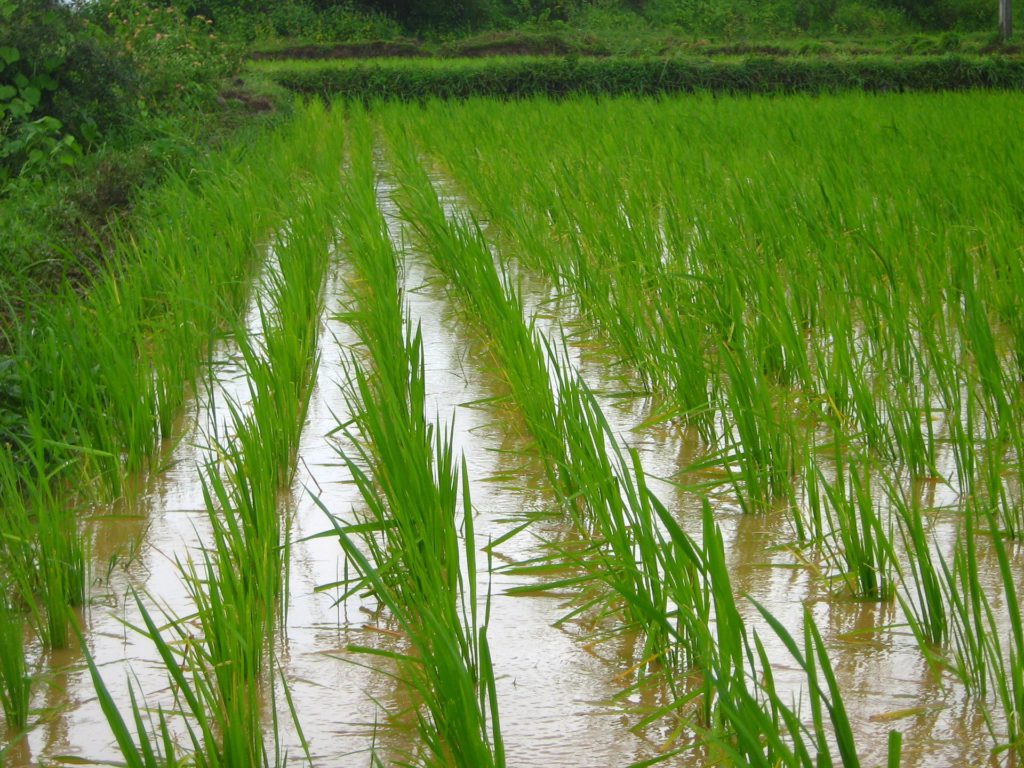 Interestingly, Bali's peak tourist season coincides with the peak monsoon season in December/January as this is when Australians have their long summer holidays. Visitors to Bali in summer will experience heavy rain and big grey clouds. But usually you get a sunny hot morning first, and the showers can tend to pass quickly. Getting caught in a downpour does not mean you get cold and miserable though, thanks to the warm tropical temperatures otherwise. Although December and January is technically known as the rainy monsoon season, visitors to Bali during this time do not seem to mind! They still flock to its' shores over the festive period to enjoy all that Bali has to offer.
The Best Time to Visit Bali
In general, for all round mildness and beauty, the best time for Bali weather would have to be any time between May to September. This is when milder temperatures and hardly any rain will allow you to enjoy every day on your holiday.
The skies are clear blue and cloudless, the sun is absolutely heavenly and the days are pleasantly warm without being too hot. Bali's peak periods are Dec/Jan, over Easter in April and between June and August coinciding with the American and European big summer breaks.
I prefer to visit between March and May when the numbers of tourists are down, the temperatures are bearable, and the rainy season draws to a close. This is a typical 'shoulder' season and is my favourite time of year in Bali.
Surfing
If you are a surfer, you can find waves all year round. The best most accessible waves are available on the main touristy beaches between May and August.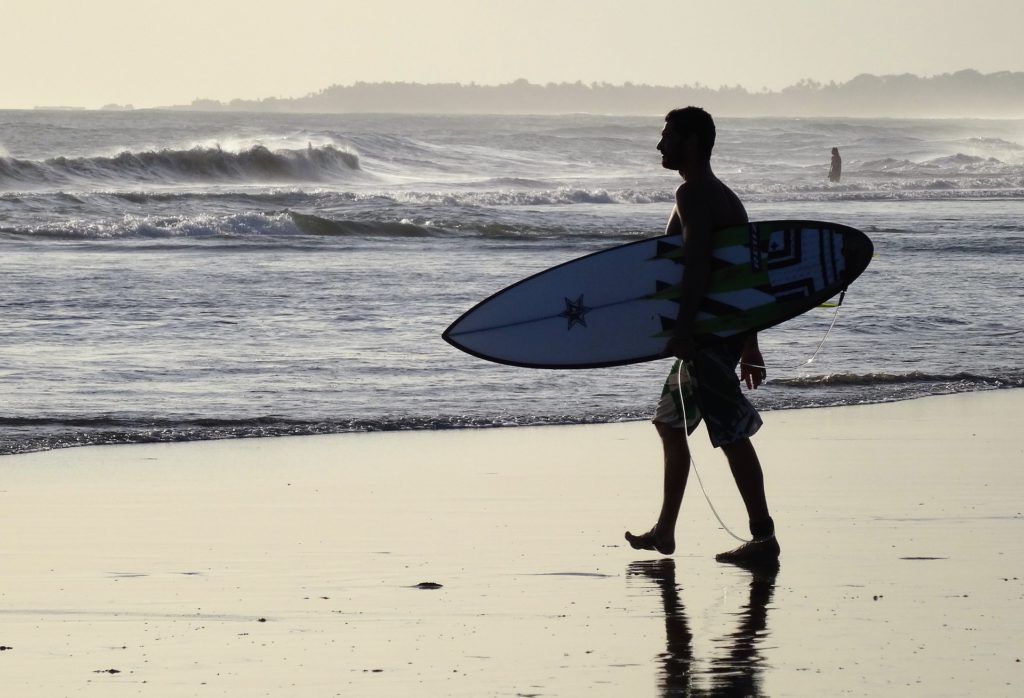 June is probably the best month for surf before it gets crowded in the peak months of July/August/September.
Ubud Weather
If you are staying in Ubud, night time temperatures drop to just over 20ºC which provides a pleasant atmospheric mountain experience. It is just cool enough to snuggle up. The days will still be warm though and will hover around a humid 23ºC to 29ºC.
Which Month?
Bali Weather in January
After around the 6th of January, most of the peak tourist numbers start to dwindle so some great deals can be found towards the end of the month. Though you will definitely expect to be subjected to a few tropical showers in January, the days are also a little cooler tending to an average of 26ºC. The wind can affect the southern and western coastlines, which makes beach days and snorkelling less pleasant. Visit in January for temples and market shopping.
If you visit the volcanic interior of the island during January you could experience temperatures as low as 10ºC.
Bali Weather in February
February is a charming month in Bali and Balinese people are preparing for Nyepi Festival to be held in early March. You will still experience rain on almost every day of the month, but there is a very peaceful atmosphere.
Spend your time in Ubud to appreciate 'real' Bali in February and care less about rainy beach time. Average temperature: 26ºC.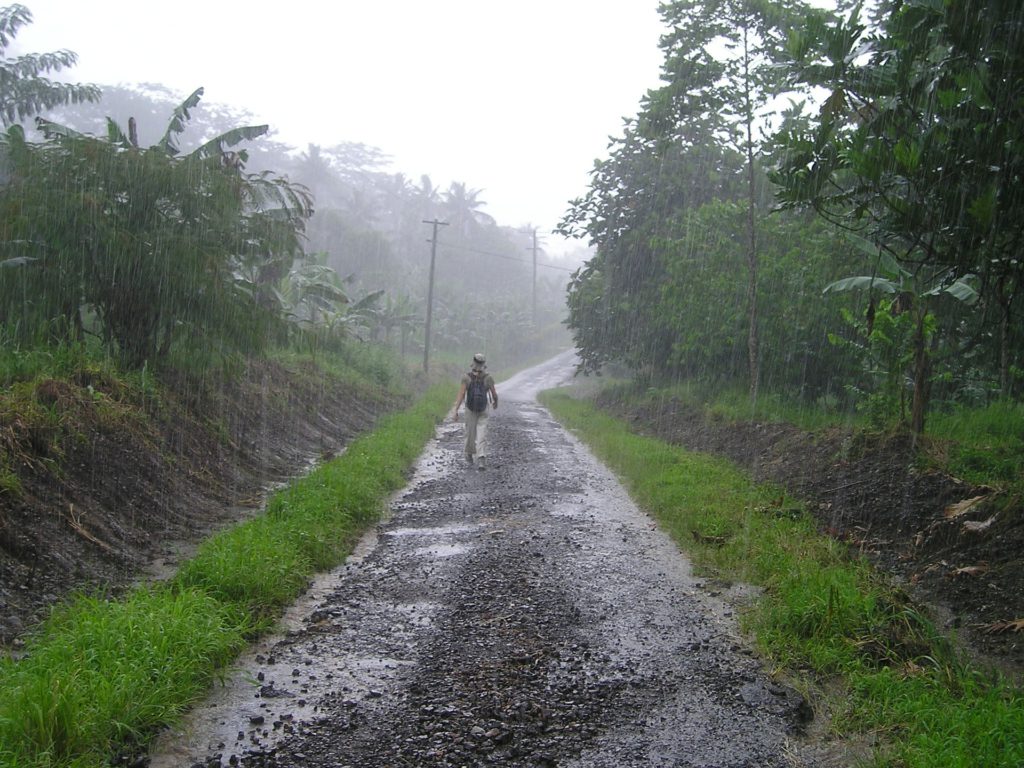 Bali Weather in March
In March you finally feel like the rainy season is coming to an end. If you plan your trip for late March, you may even avoid the rain altogether.
The beaches start to clear up, there is less wind and a bit more surf, and the tourists begin to trickle back. March is a pleasant time to be in Bali thanks to Nyepi Day which in 2019 goes from March 7th to 8th.
Average temperature warms up slightly to 26.5ºC and there is a feeling of optimism and changing seasons after a long monsoon passes.
Bali Weather in April
April marks the official start of the Dry Season in Bali, however like all tropical destinations, it CAN still rain in the dry season! Monsoons can run late or early though April does tend to be the first mostly dry month of the year so far.
The peak holiday time of Easter occurs in April which makes accommodation prices increase and popular places even more busy. In 2019 Good Friday is on April 17th.
There are usually more sunny days than rainy, the beaches clear up nicely and the blue skies abound. Average temps are around 27ºC.
Bali Weather in May
May is my favourite time to be in Bali with average daily temps of 28ºC, hardly any rainfall, off-peak prices and not many tourists.
The weather and the atmosphere in May is perfect.
Check prices for May here:
Bali Weather in June
The weather is great in June! High season perks such as great visibility, awesome surf and clear days with hardly any rain, and low season prices. The hordes of tourists have not yet arrived so you can actually get a table at popular places such as Finn's Beach Club (follow the link to book a table – you still have to book!)
Average temp in June is an enjoyable 26.5ºC.
Bali Weather in July
Dry season, peak season, holiday season! Everybody hits the awesome beach clubs and top DJs fly in from all over the world to play. The number of international tourists peaks and as such accommodation prices climb as well. The average temp sits around 26ºC.
To get a table at the Rock Bar, Uluwatu, in July, book here about a year in advance!
Bali Weather in August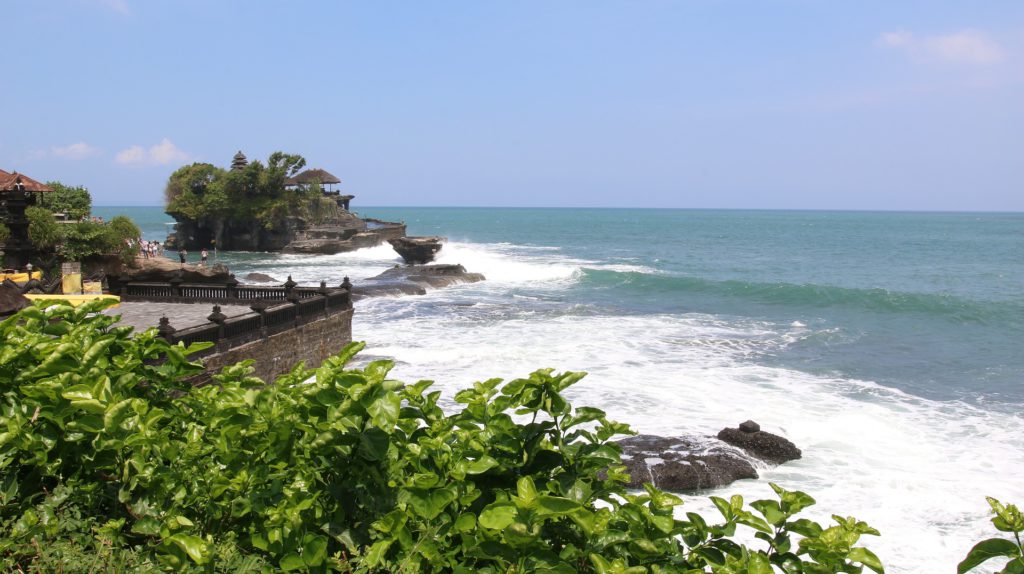 Busy, sunny, high season, expect to pay more for accommodation in the second half of June, July and August. Hardly any rain and pleasant temps make this a busy but fun and eventful time of year to visit.
Average temp in August is a wonderfully mild 26.5ºC.
Bali Weather in September
In September the rain slowly starts up again. It is almost a relief though as after a dry few months the island is looking less lush and the rivers are almost running dry.
The prices for accommodation come back down to normal and the massive numbers of tourists dwindle away. A very nice chill time to visit Bali with temps of 26ºC.
Bali Weather in October
In general, Bali weather in October is a bit of both worlds with it often raining on half of October's 31 days. The prices are affordable because it is low season and the temps sit around 27ºC.
Bali Weather in November
November is when prices hit rock bottom and there are hardly any tourists around. There are heaps of great deals to be found on villas especially,
If you visit Bali in November be prepared for a fair amount of rain, and a very quiet holiday with temps around 27ºC. But hey, at least you will get a table!
Bali Weather in December
You will get a lot of rainy days in December. This can mean anything from short sharp showers, to heavy raining for days and days on end! But it is still a great month to visit! Christmas and NYE parties draw big crowds and famous musicians and DJs abound.
Windy conditions blow plenty of rubbish on the shores between Kuta and Canggu and rough seas make boat trips nice and hairy with low visibility for snorkelling and diving.
But despite this, with its mild 26ºC temperature average and exciting party atmosphere, December is a very popular month to visit.
The Verdict
The weather can play a huge role in your decision on when to take a family holiday, and it definitely is something you need to be aware of. It depends on what you are looking to gain from your Bali trip.
If you are hoping to lay poolside and work on your tan (while being sun smart of course) then visit in May to September. This will mean you are part of the busy/expensive/touristy vibe that will come with the peak period from July onwards.
Christmas and New Years is fun if that party scene is what you are looking for, and the rain will not dampen your spirit!
For our family, March/April/May are our favourite low season times to visit. You may get a little rain, but the lower number of tourists make your days perfectly pleasant.
Stay abreast of all the new Bali content coming up by subscribing to our newsletter and following us on Facebook.
When are you going to Bali?
Leave a comment below!