When visiting Bali's Bukit Peninsula, Uluwatu, or Jimbaran area Padang Padang Beach Bali is one of those 'must-see' spots along the way.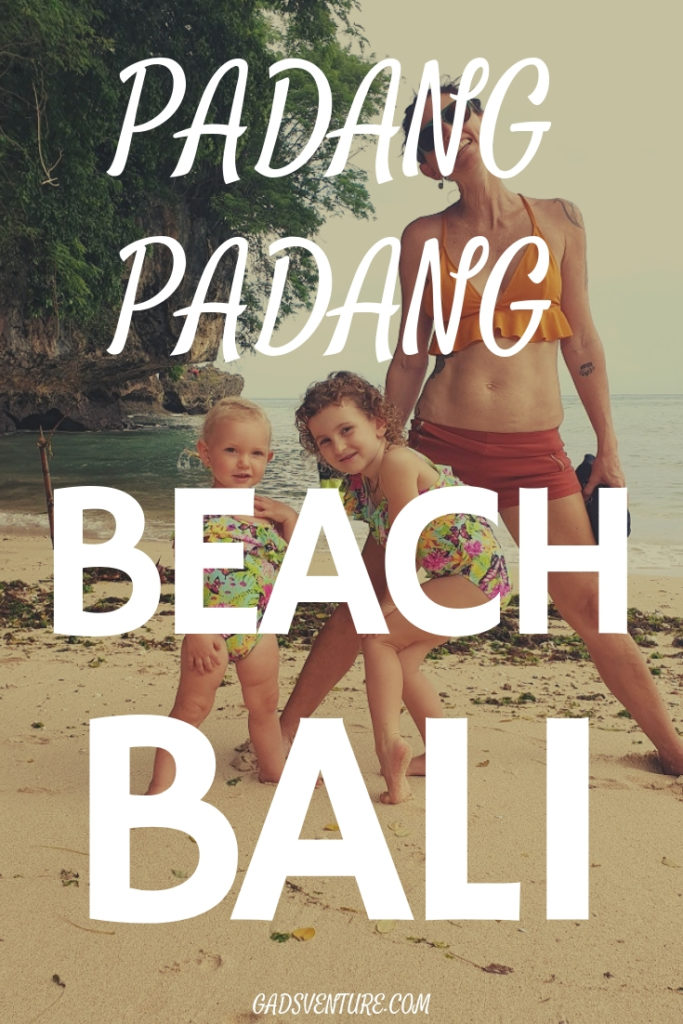 We were lucky enough to find a guest house on Airbnb which was only a 700m easy walk to this special beach so it was our daily right of passage, down the road to the glorious scene of Padang Padang Beach Bali.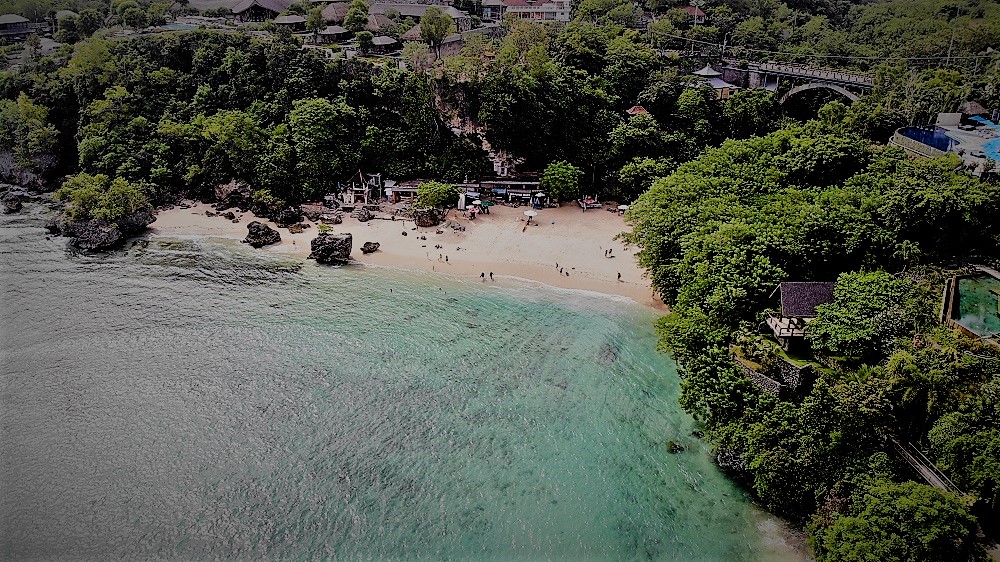 Remember we have 4 little ones, so when we say a walk is easy, for us that says a lot. We are wrangling 3, carrying one, and motivating all of them to carry on. The hill is gentle, and we passed a few cows and monkey along the way too! This definitely helps with the motivation. There are plenty of cafes, convenience stores and restaurants along this road too, so heaps of opportunity for rest and refreshment stops if you need.
Best Food in Padang Padang
Try the Brother's Warung for awesome nasi goreng, or stop in at a fancy clifftop resort like Suarga Padang Padang for amazing views, cold drinks and a swim in the spectacular infinity pool (for a pool fee).
They even supply fluffy and delicious smelling towels for the experience. They do have a separate area for non-house guests to relax and soak up the view.
Our kids were under strict instructions (from us) to have a quiet and relaxing swim, no splashing, no yelling and for once they actually really behaved. We were made to feel very welcome, despite our large family.
It made us realise that we can get away with a fair bit, seeing as its low season and these places are virtually empty.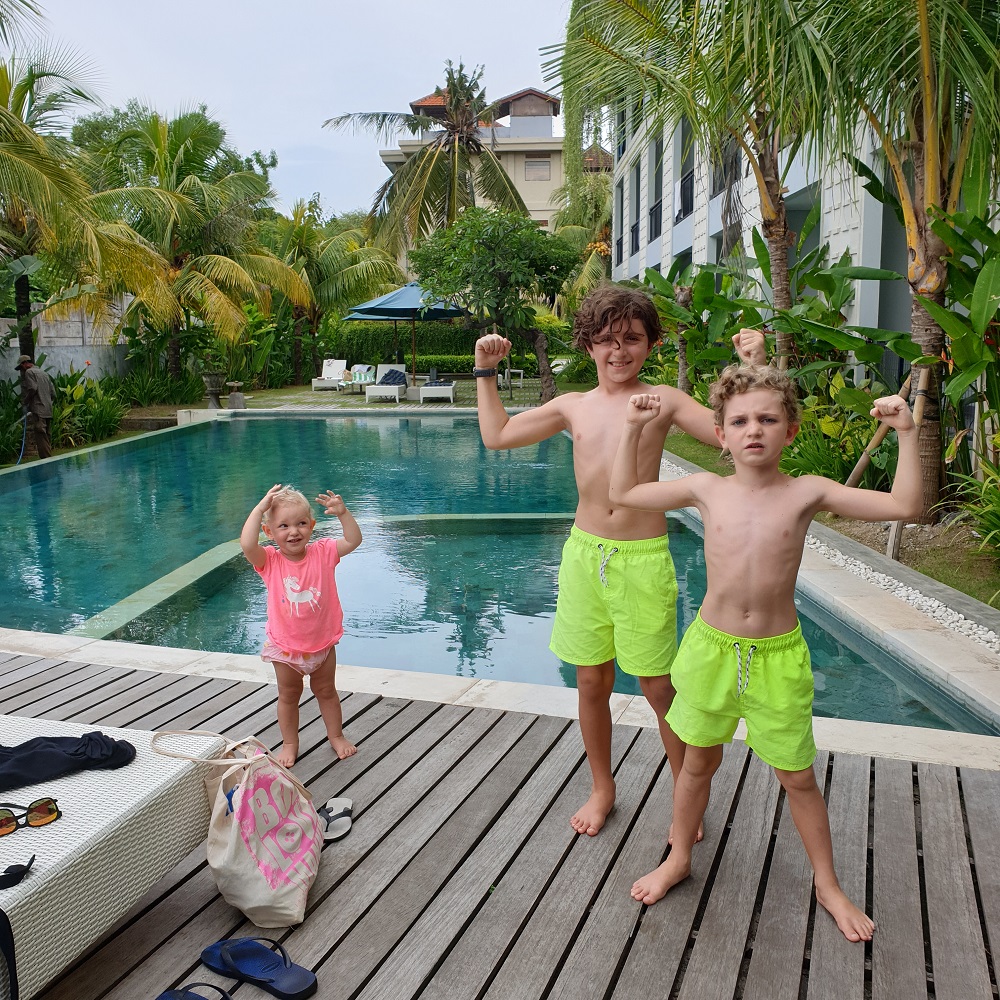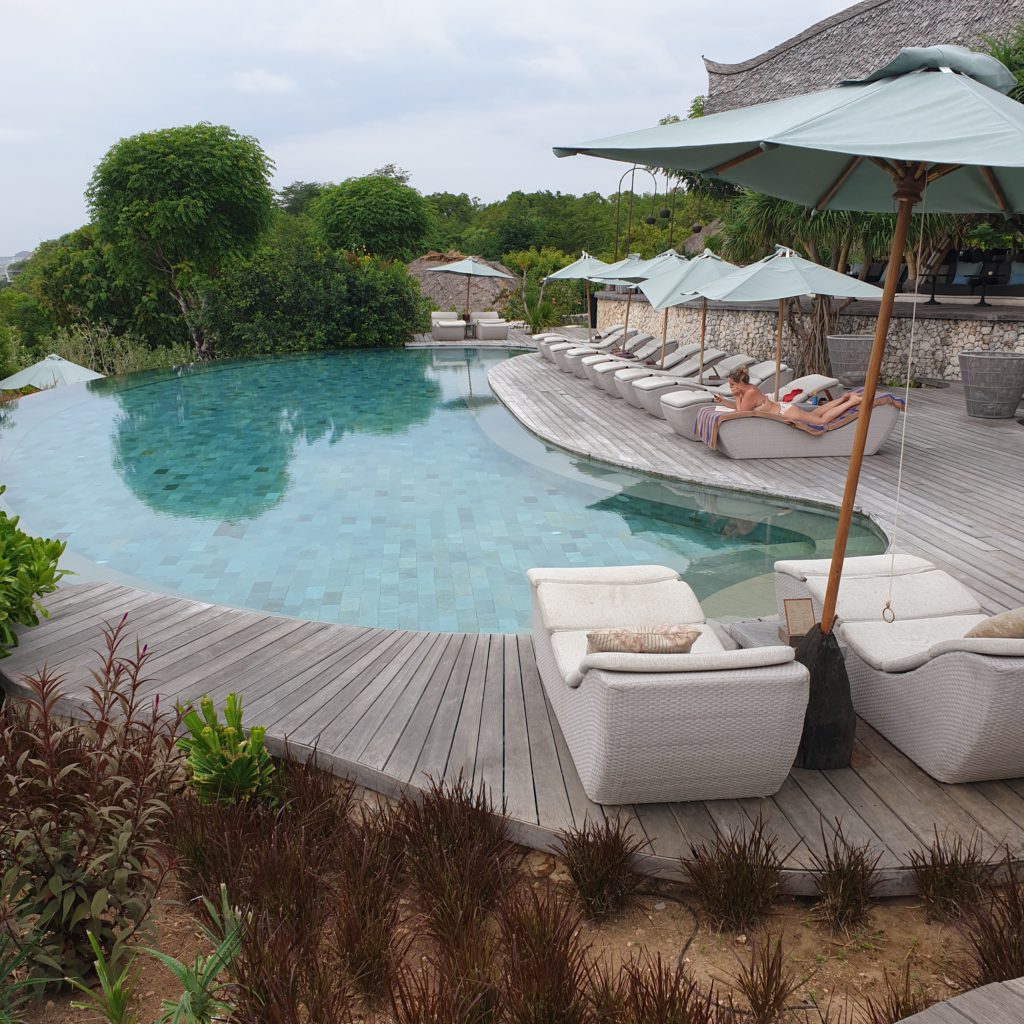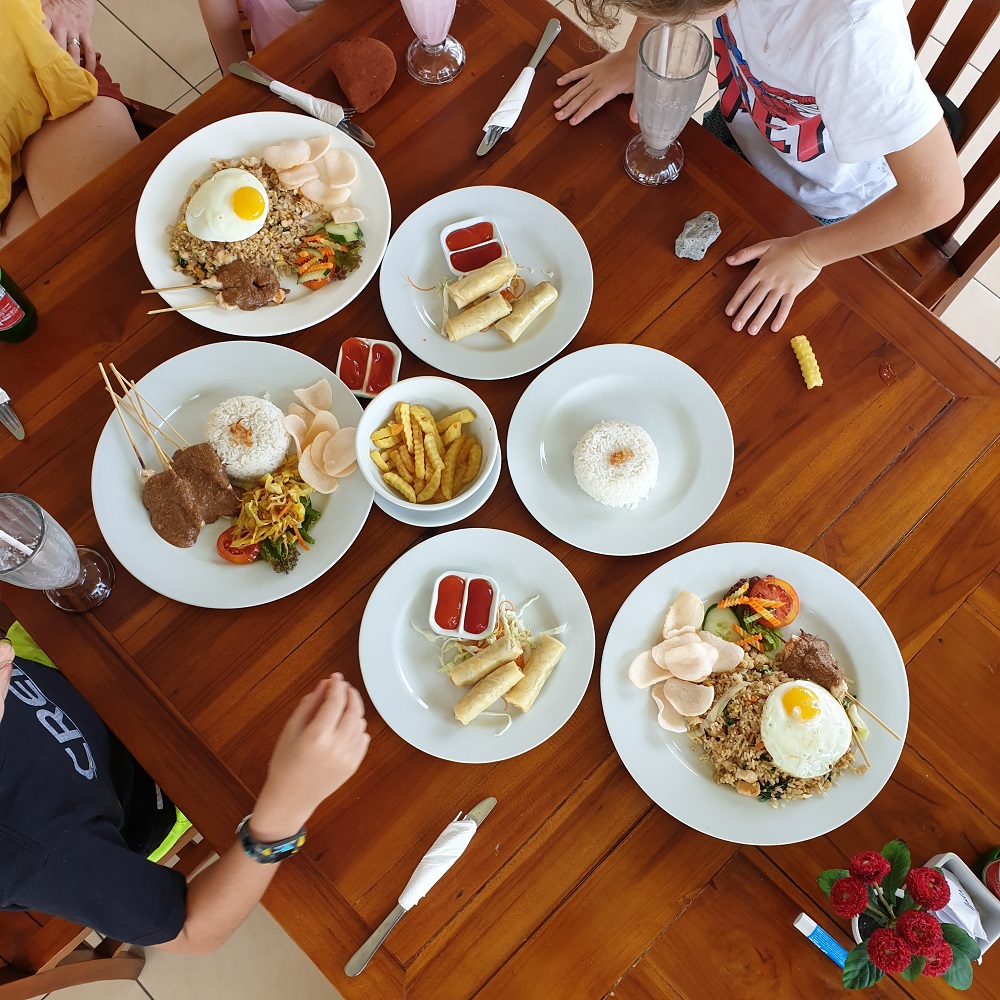 Getting to Padang Padang Bali
Padang Padang is located in between Jimbaran and Uluwatu on the Bukit Peninsula. This peninsula is the funny shaped blob of land which hangs off the bottom of Bali. It is characterised by towering cliffs, windy roads, monkeys, and lots of surf.
Day Trip
This area is definitely worth a day trip if you are staying in other parts of Bali. It takes about an hour from Seminyak by car. A private car with a driver costs around 400,000IDR per day, usually, fuel is extra, and you can get them to take you to all the best beaches down on the Bukit. The advantage with this is you have someone waiting for you at the end. Nothing worse than catching a ride somewhere, and having massive issues finding someone to take you back home.
Bluebird Taxis are a lot rarer down this end of the island, but there are a lot more drivers with private cars who are up for negotiation.
Remember there are some parts of Bali where Grab taxis are not allowed, but Bluebirds are allowed everywhere.
Arriving at Padang Padang Beach
When you arrive at Padang Padang Beach, go through the big gates and pay the man in the booth. At the time of our visit it costs 10,000IDR per adult and 5,000IDR for kids over 3 years old.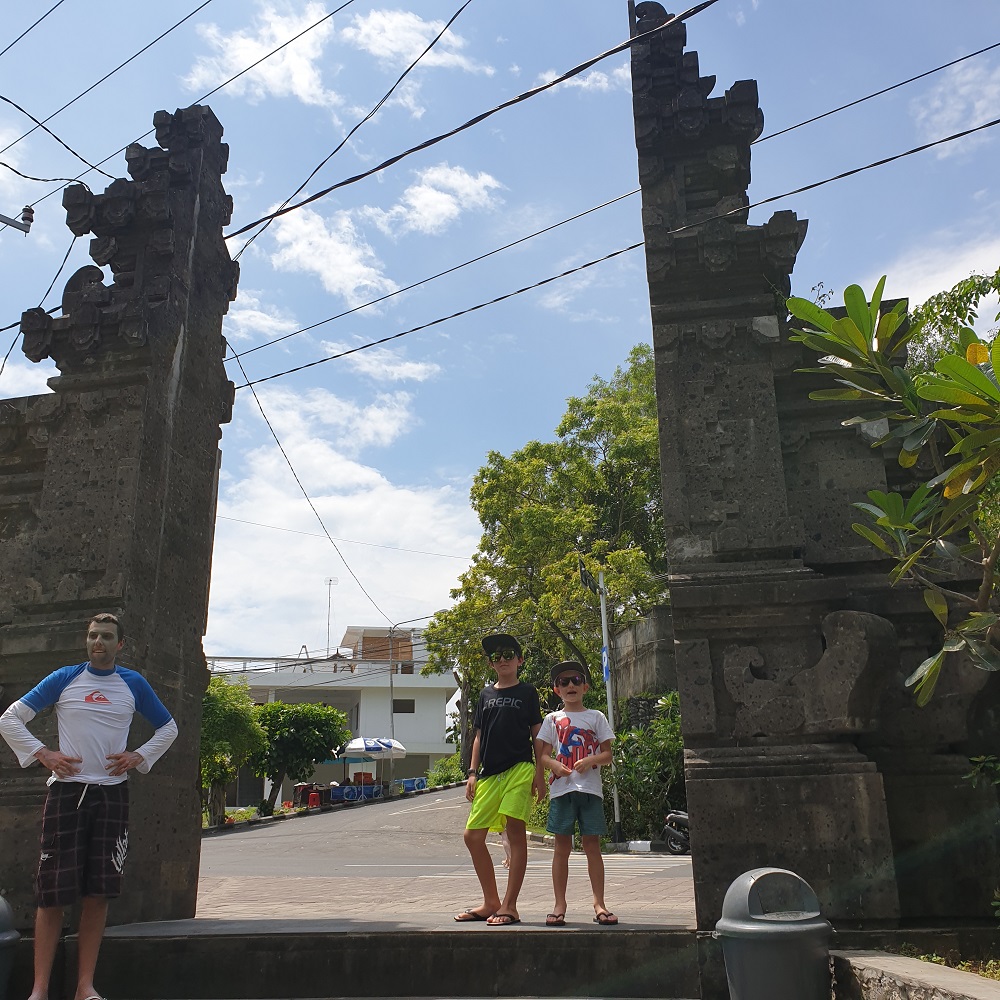 Walking down to the beach is an experience in itself! It is around 100 big steep steps, through a bit of a jungle, (keep your eyes peeled for monkeys!) then the path winds down through a narrow cave and opens out onto the sand.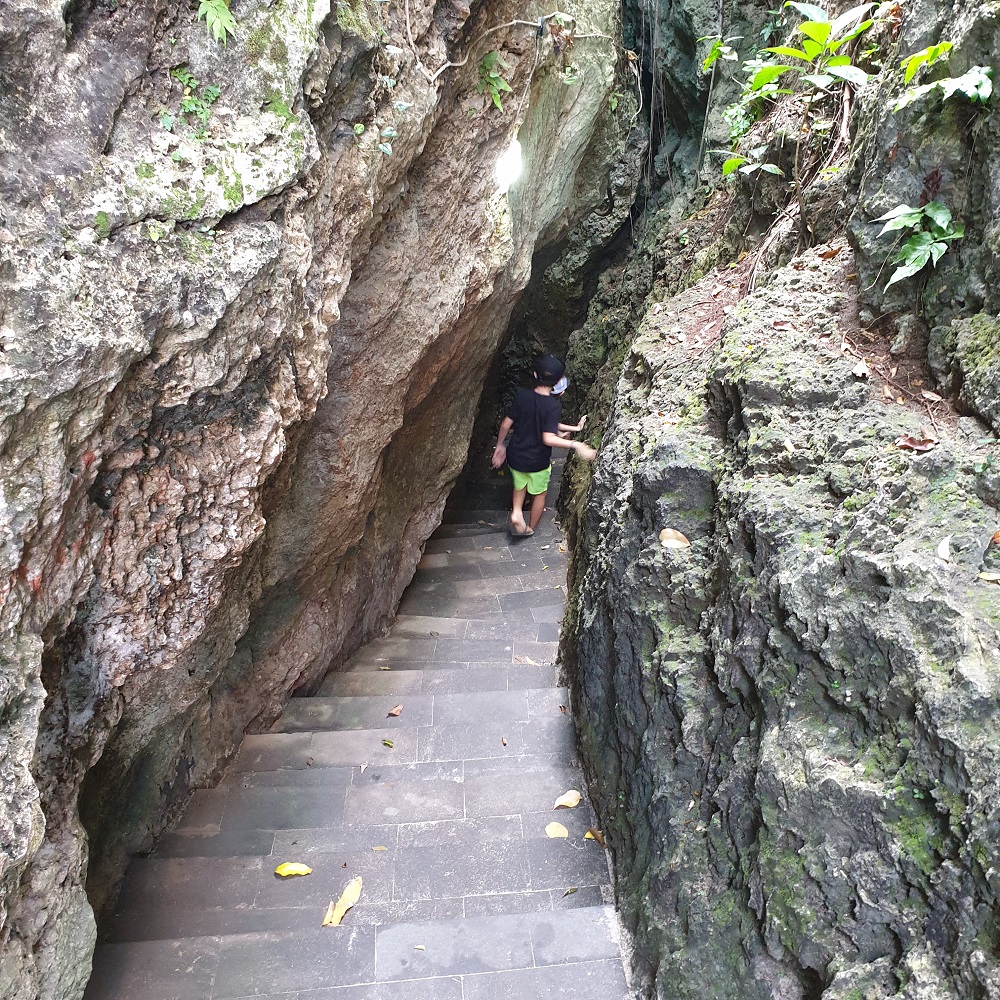 Hot tip: If you get here early, you will just about have the beach all to yourself! After about 10am, tour groups and masses of people begin to arrive. This is the same for most things in Bali. Anytime before 10am is a good time to visit.
The beach curves around the bottom of sharp cliffs, with a few boulders and caves scattered around. The sand is soft and yellowy white. There was a bit of seaweed and rubbish at the high tide mark when we arrived, but they were raking this up and cleaning the beach later on in the morning.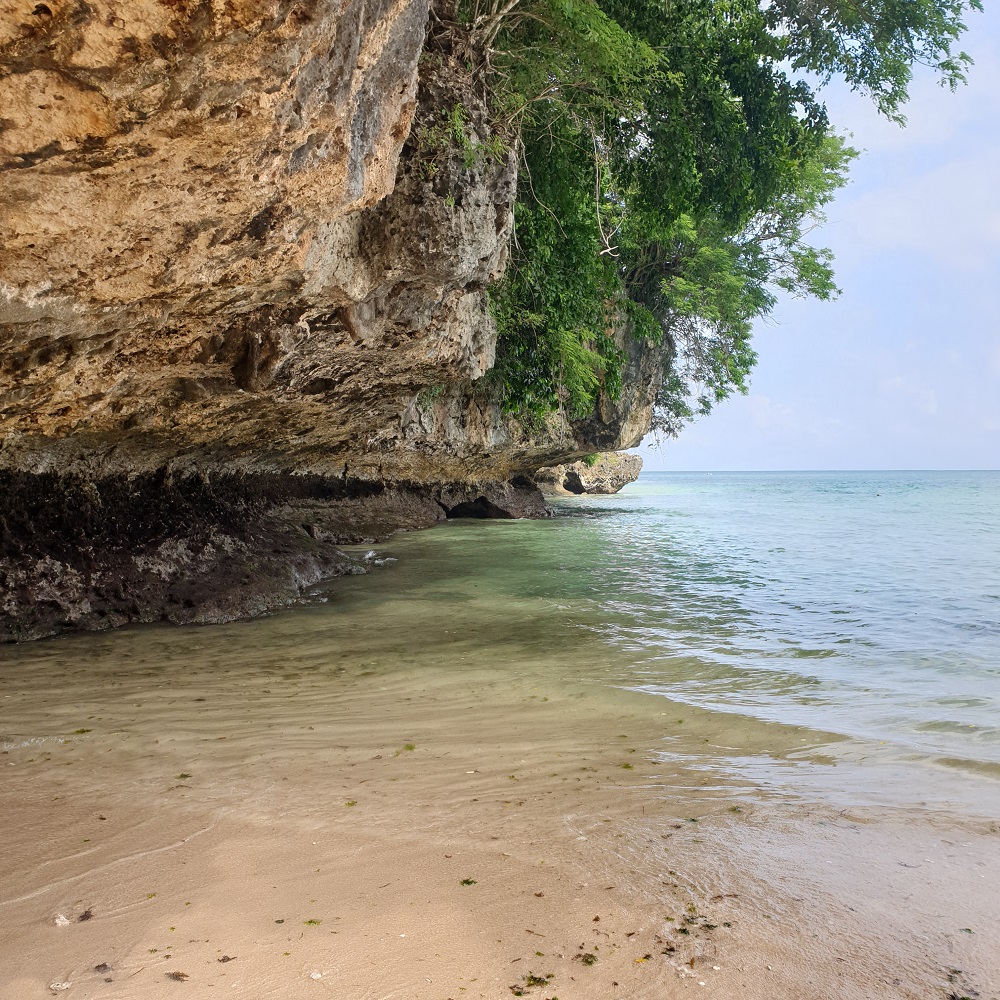 Things to Do at Padang Padang
Padang Padang is a popular spot for swimming, surfing, sunbaking and Instagram worthy shots. You can rent a surfboard for 100,000IDR per hour on the beach, or grab a lesson for 350,000IDR.
Cold drinks, Bintang, pure cold coconut water are all available, and you can pay for an umbrella to relax under too. There is even a small Warung for a spot of simple lunch at the bottom of the stairs.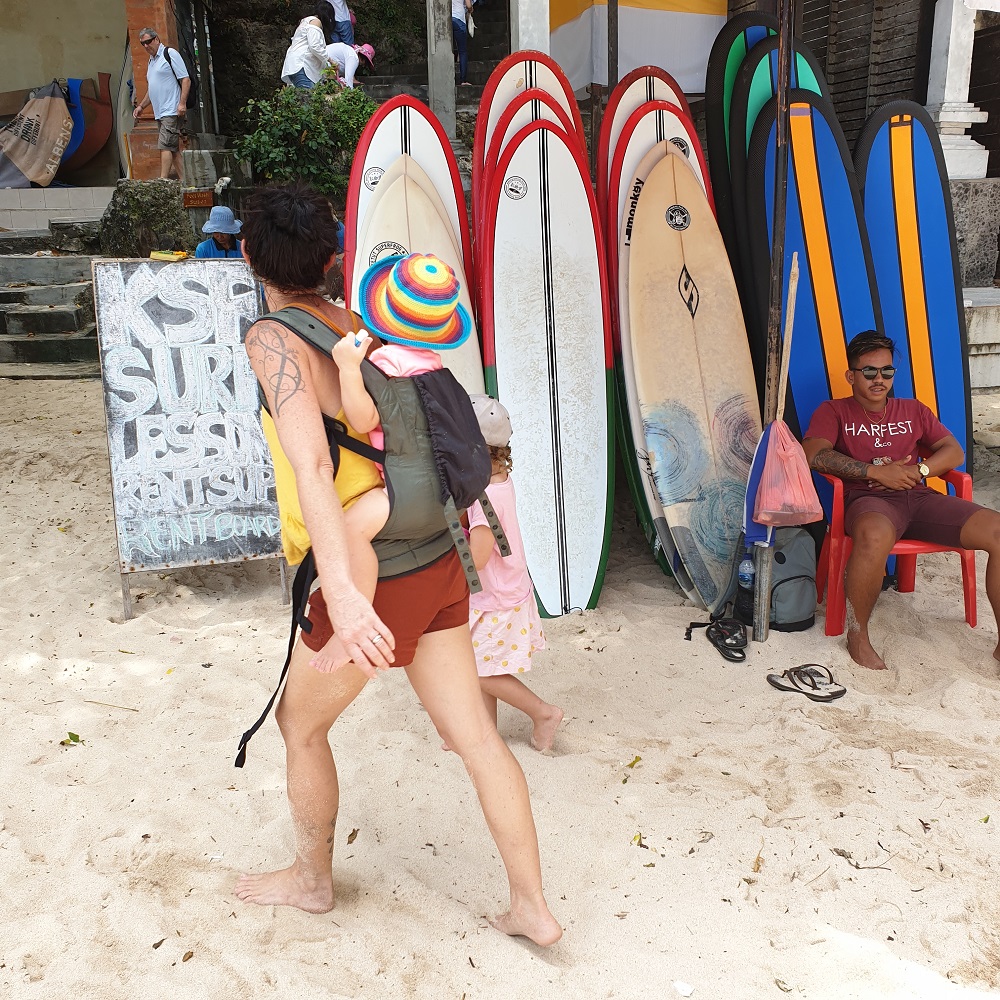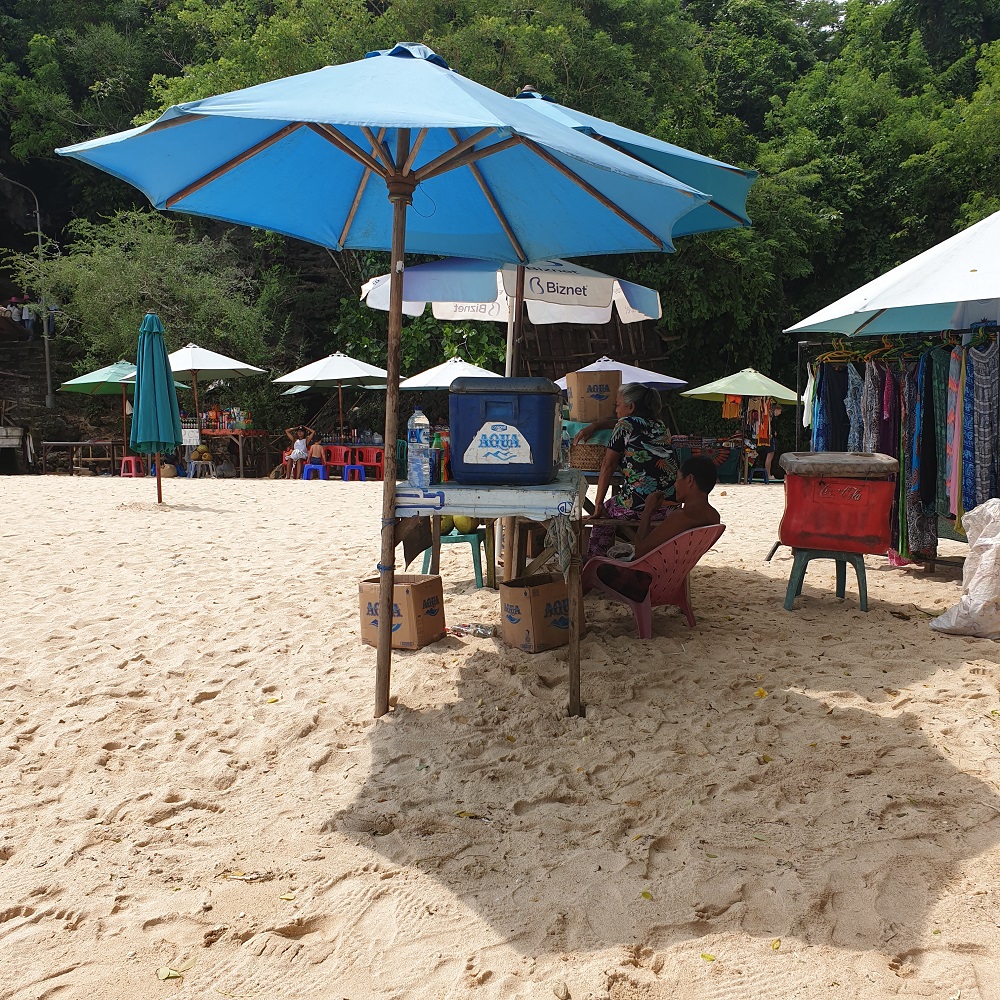 Surfing at Padang Padang Bali
The surf break to the left of the bay is called Padang Padang and is a fast hollow left hander breaking over shallow reef. Definitely for experts only. To the right you will find a much more mellow right hander which is popular with beginners and learn-to-surf schools.
The paddle out is easy thanks to the currents, and it is such scenic spot for a surf. Even further to the right there is a surf break called 'Impossibles' and as we sat and watched people trying to catch a wave here, it was obvious how it got its name.
The Monkeys at Padang Padang
Some days, apart from tourists, monkeys will visit the beach so this is something you have to watch out for. Monkeys can be aggressive, and also love to steal your stuff! Today I watched a troupe of monkeys clear the beach as they browsed everybody's towels for scraps of food, before the lifeguard shooed them off with a stick.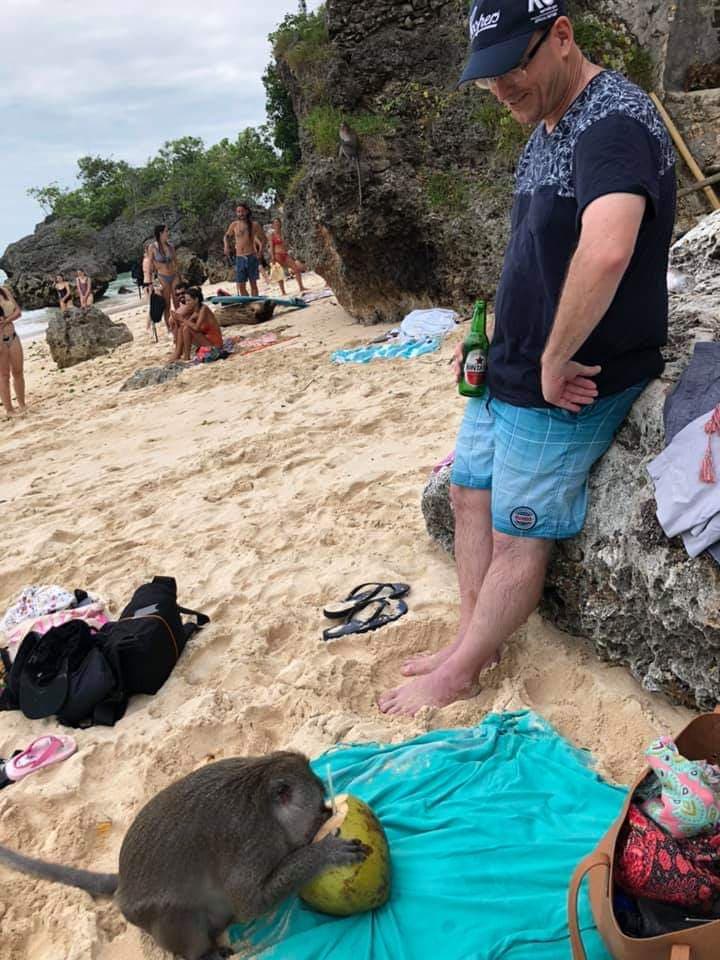 Swimming at Padang Padang
Swimming at Padang Padang Beach is not without its annoyances. It is safe enough for my 5, 7, and 9-year-olds to swim without help, but they are very good swimmers. There is a visible rip and quite an undertow which drags you towards the cliff on the left. Depending on the tide, you may also see a couple of big coral covered rocks just under the surface.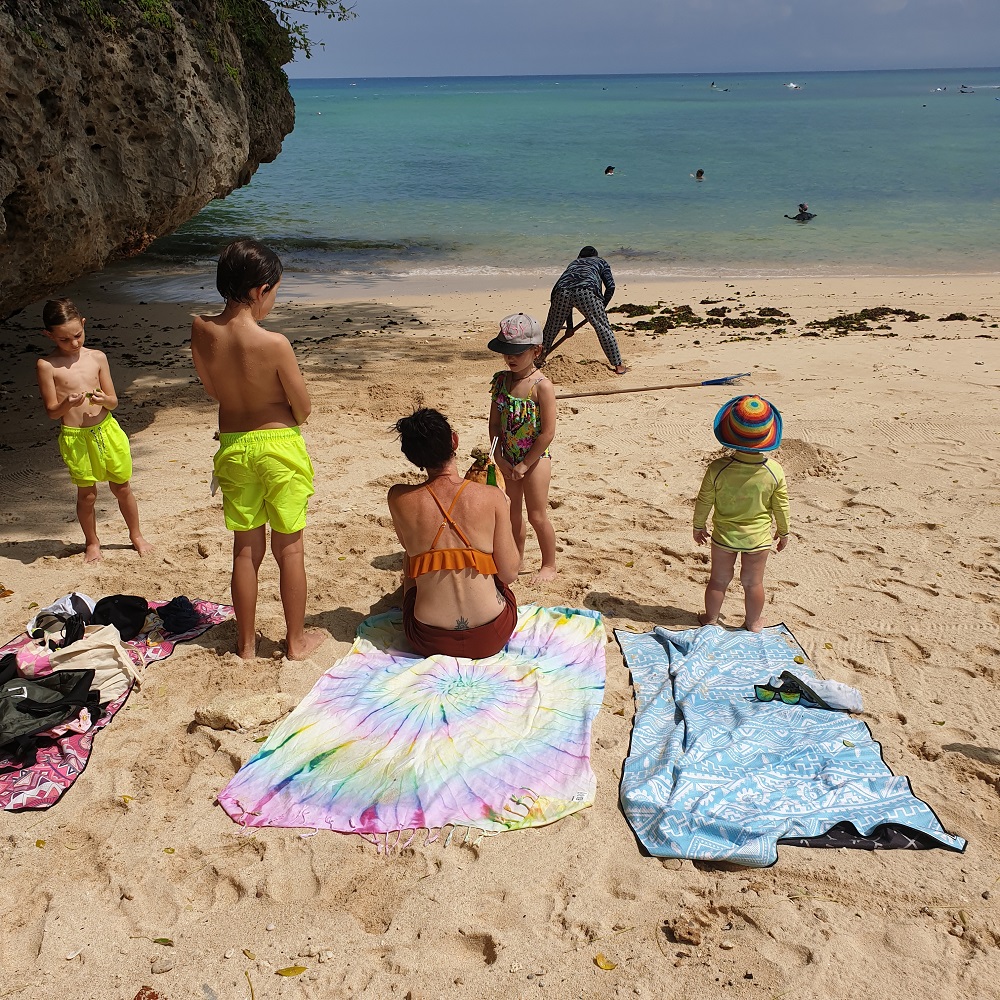 Rubbish on Beach
There is plastic rubbish, and I have seen glass as well. But my children are well trained and continually bring me rubbish they have collected on the beach or out to sea. There are ladies that rake the rubbish and seaweed away at the high tide mark, but they arrive a bit later in the day.
If you find any rubbish, please take it to the drink sellers on the beach and they will dispose of it. If everybody picked up 10 pieces of rubbish every time they went to the beach, surely it would make a difference!
Want to go White Water Rafting in Bali? Read this first!
Where to Stay at Padang Padang Bali
We loved staying near to Padang Padang beach although on Airbnb our location is actually listed as Kuta Seletan. Wayan's Family Guest house was perfectly located for our needs, within walking distance to shops, cafes, the beach, and swimming pools.
Getting Around Padang Padang Bali
We rented scooters which made getting around super easy, but for some this won't be an option. A family of 6 on 2 little scooters putting around the beaches made for awesome adventures! Check out our post on getting to Balangan Beach! Your hotel or guesthouse will be able to arrange transport in the form of a private car and your own driver to get around.
Airbnb
For families follow this link to Airbnb to join for free and get a discount off your first stay. Search around Padang Padang using the map feature. It is halfway between Uluwatu and Jimbaran. Wayans Family guesthouse was $50AUD per night. We had 2 pleasant air-conditioned rooms within a rustic and authentic compound with a lovely family. The beds were super comfy! For more tips on how to book your Bali Villa using Airbnb read this.
Budget
Looking for a decent budget stay? Try Padang Padang Surf Villa
Luxury
For an upmarket taste of luxury directly overlooking Padang Padang Beach, you have to stay at Suarga. This place is built from fully recycled materials, is completely solar powered and plastic free and has views that make you weak at the knees. Check prices for Suarga here.
Padang Padang Beach Bali is epic! it is one of those must-see beaches in Bali and is definitely one of our favourites.  We also enjoy visiting Uluwatu, Bingin Beach, Balangan Beach, Canggu and Amed.  Inland, it's all about Ubud and Sidemen.
For more information on travelling in Bali click on the links below:
Have you been?