I just got a Sak Yant tattoo in Thailand! In Chiang Mai to be exact. In the middle of my upper back to be even more precise. Here I will show you the absolute best way to get your own Sak Yant tattoo in Thailand, from Bangkok to Chiang Mai, and beyond.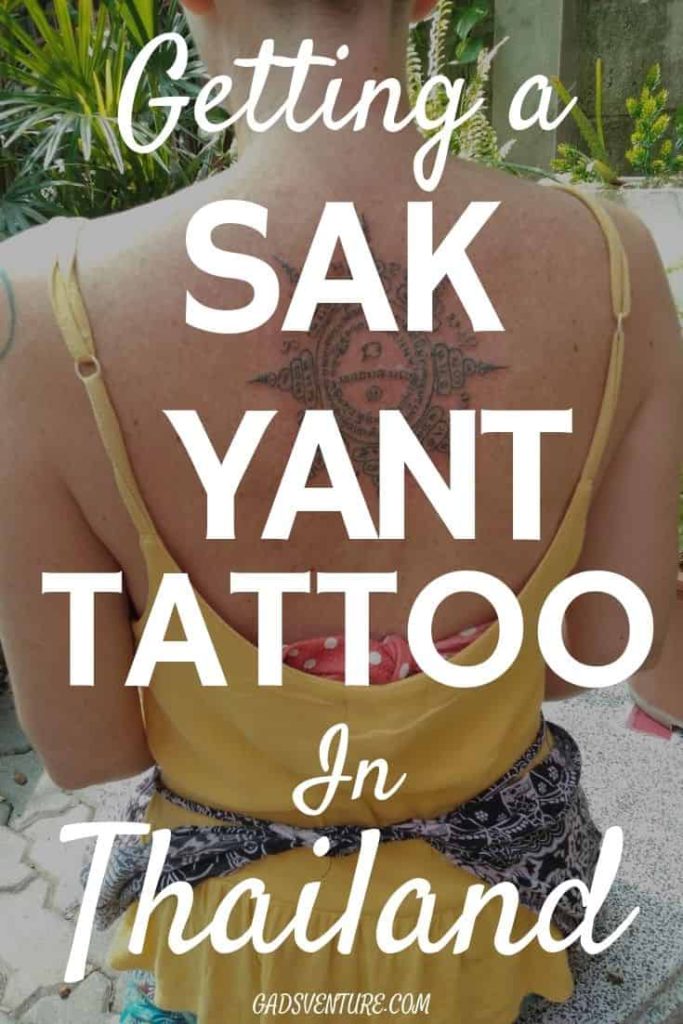 Make sure you have your travel vaccinations up to date for Thailand! See here for the details of what you need.
What is a Sak Yant Tattoo?
Firstly, let me explain exactly what is a Sak Yant Tattoo. Many blog posts are outdated, or simply wrong on this subject. I have just had this experience, myself, this very morning so I am able to pass on the information to you with super accuracy.
Getting a Sak Yant is a highly respected Thai magical and spiritual experience. It is not to be taken lightly. Real monks and Ajarns tattoo spells and incantations in an incredibly holy ceremony, either in a temple or in a blessed place.
The designs vary in their ability to protect the recipient from evil, to provide success in business, to convey great love and compassion. More will be explained about the three most common Sak Yant designs below.
The tattoo is done using a long metal rod with hygienic western standards. This is not your typical tattoo. Bamboo was used in the old days, however, this was less hygienic.
Make sure your choice of tattooist uses the highest standards and new needles for each client.
Mostly, Sak Yant designs have a predetermined part of the body that they are to be located. This is generally on the upper back, nape of the neck or shoulder. In almost all cases, Sak Yants are placed above the waist.
Need a visa for Thailand? Find out here.
Can Women Get a Sak Yant Tattoo?
The short answer is yes. There is a long answer too however. Women are not allowed to be tattooed inside a temple. Monks are technically allowed to touch a woman, as long as it doesn't create lust. I was actually tattooed by a high-level monk today, however, this took place inside a blessed room inside a studio.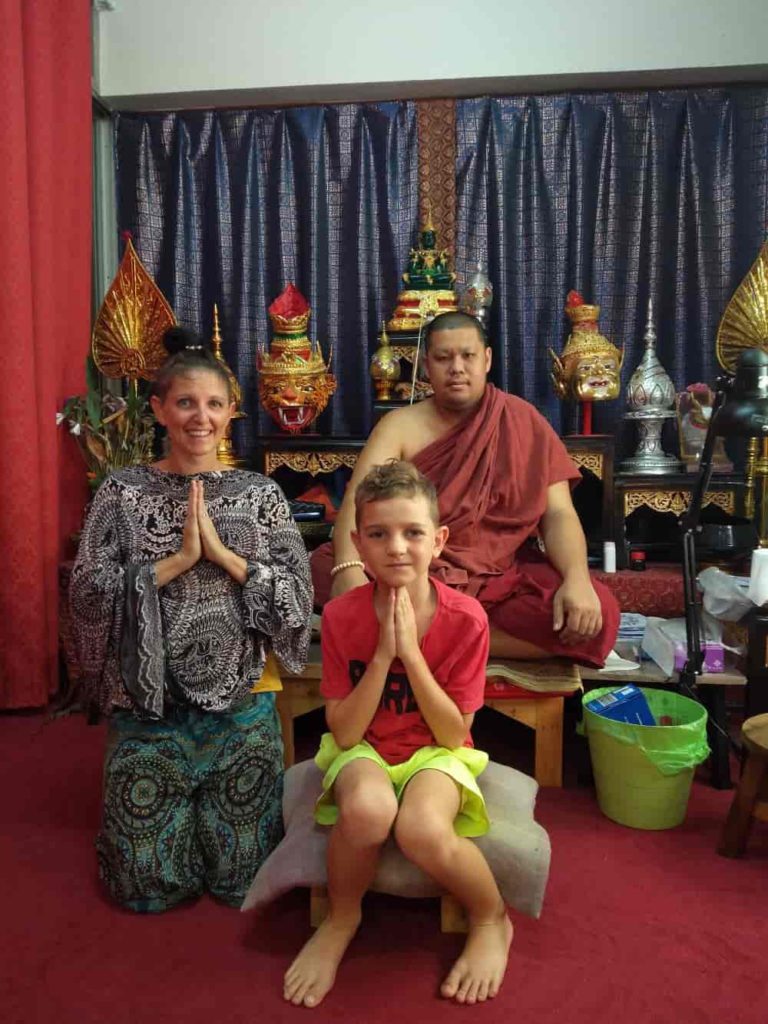 I was not allowed to photograph the tattoo taking place, so the touch was not recorded I guess. And they have to wear gloves anyway for tattooing, so this is an added layer of protection (from lust, or from girl germs?)
Monk or Ajarn?
Ajarn's or Ajahns are highly respected monks or former monks who have passed the level of ten vassa. These guys are the cream of the monk crop and are highly revered. A tattoo given by an Ajarn carries more weight in the magical sense, and if you wish your spells to have specific powers that are not otherwise covered, then you get an Ajarn to do it.
Buddhist monks can also be masters of the Sak Yant and their tattoos carry plenty of magical power too.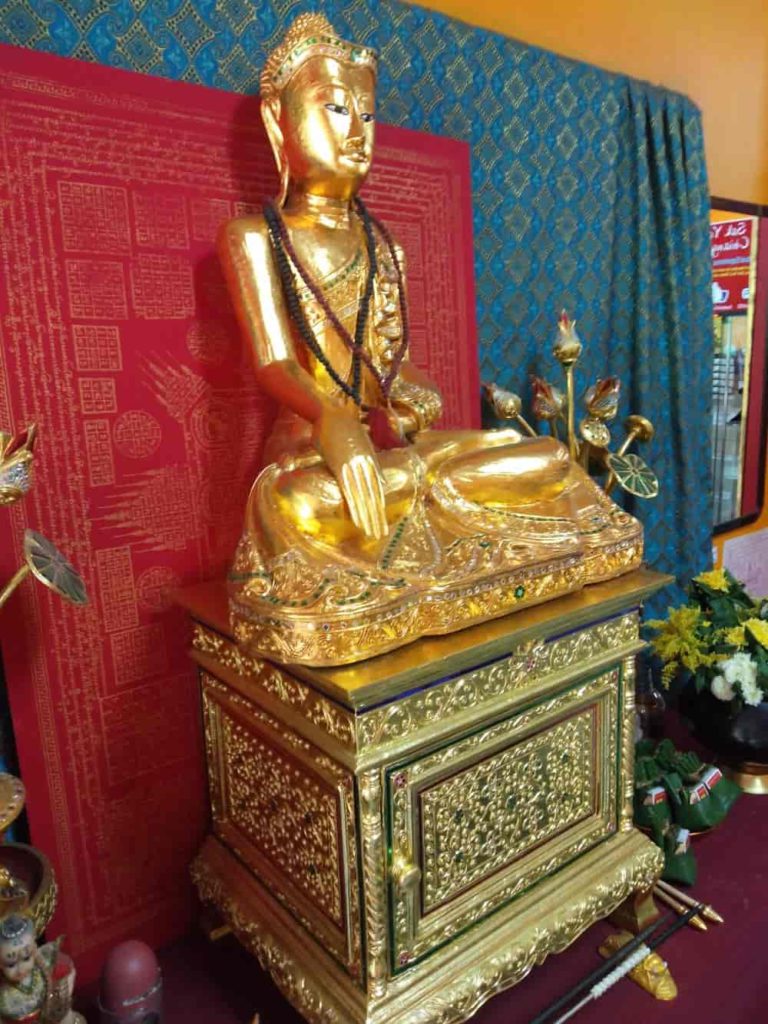 Thai Sak Yant Tattoo Designs
You can get a Sak Yant at any tattoo studio sure. But, the script is written in an ancient Khmer language. So without a monk's expertise and blessing, how are you to now they got the language, right? Apparently, the majority of copied designs found in tattoo parlours around Thailand are incorrect.
There are many powerful Thai Sak Yant tattoo designs. Most travellers to Thailand will get a variation of the first 3 common ones.
It has been stated that the Monk or Ajarn will choose your design for you after reading your aura. But this is not true. In temples where 100 people are tattooed every day, the monk chooses your design for the sake of efficiency! But they will consult with you if you have specific plans or requests for the purpose of your Sak Yant.
You can look at the most popular Sak Yant designs and decide which one suits you best. The top 3 are also on the bottom tier for price and time took.
Discover the BEST times for visiting Thailand, month by month.
1 Hah Taew (5 lines)
This is the original Sak Yant tattoo Angelina Jolie famously received from master Ajarn Noo Kanpai. A tattoo from him will these days cost you thousands of dollars!
The 5 lines of script represent 5 magical spells:
The 1st row protects your home and removes unwanted spirits. It will lean towards your favour when the path is unsure and will prevent unjust punishment.
The 2nd row protects against bad fortune, reversing negative horoscope constellations.
The 3rd row offers protection from the evil eye and black magic.
The 4th row wishes you energy for success, fortune and good luck.
The 5th row boosts the 4th row and gives you increased attraction for the opposite sex.
2 The Gao Yord Sak Yant Tattoo (9 peaks)
This is a most sacred Buddhist tattoo and its powers are wide and varied. The 9 peaks represent the holy Mount Meru which is the mythical mountain of the gods.
The Gao Yord grants the wearer the following powers:
Improved popularity
Protection from injury
Able to defeat the enemy
Authority over people
The desire to fight for what is good
Invincibility
Smooth business enterprise
Increased attractiveness and charm
Good luck and good fortune
Improve your destiny
Protection from accidents and acts of violence
Improvement of work circumstances
3 The Paed Tidt Sak Yant Tattoo (8 Directions)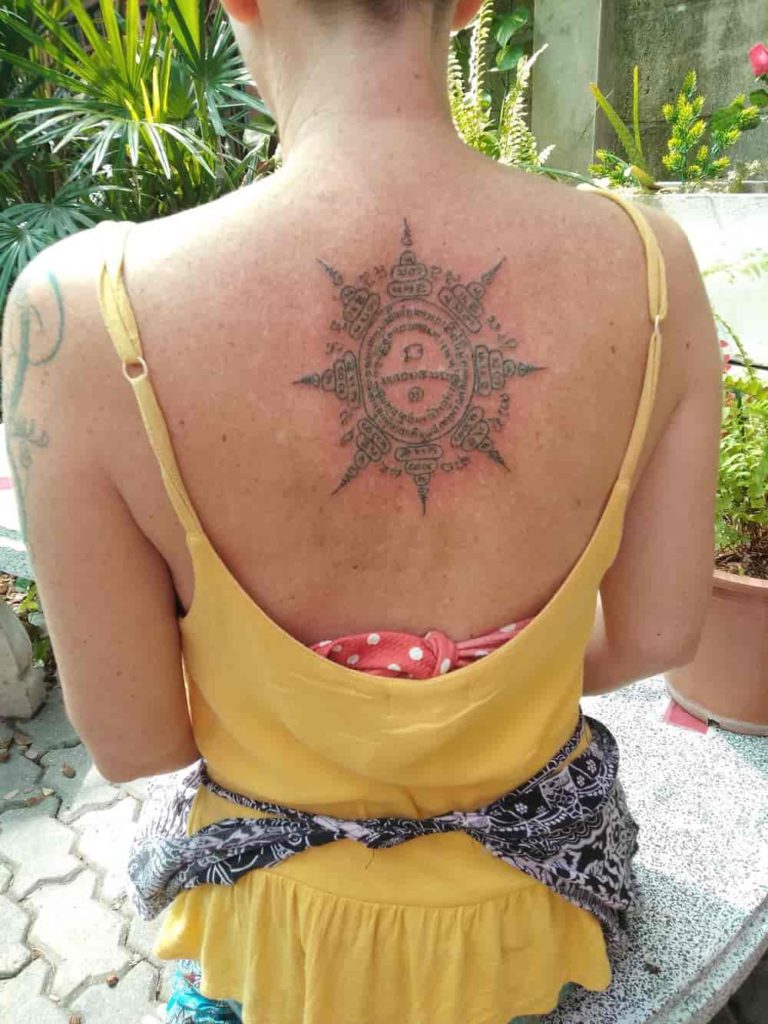 (This is the one I got!)
This tattoo shows 8 mantras of an ancient Khmer script called Khom. The spells are in concentric circles representing each of the 8 forms of Buddha. Buddhists have an image for Buddha for each day of the week, including 2 images on Wednesdays.
The Paed Tidt Mantras give you protection no matter which direction you are travelling.
4 Hanuman Sak Yant Tattoo (The Monkey God)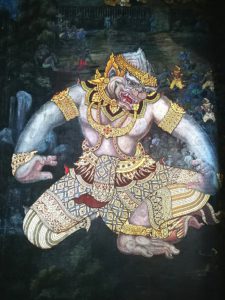 If you get a Hanuman Sak Yant, you will be bestowed the ability to be fearless, and self-confident, influential, focussed and determined.
5 Tiger Sak Yant Tattoo
These images are often used in people with dangerous professions such as Muay Thai Fighters. They provide the bearer with strength, power, and protection, as well as the ability to triumph over your subordinates.
Roadtrip Thailand – Chiang Mai to Chiang Rai
Getting a Sak Yant Tattoo in Chiang Mai
I decided to get my Sak Yant tattoo in Chiang Mai through the company Sak Yant Chiang Mai. They have 2 options for getting your Sak Yant Tattoo in Thailand.
In house tattoo with a visiting Monk or Ajarn
Temple tour and tattoo
As previously mentioned, temple tattoos are not appropriate for women, so I opted for the in-house option.
The offices are conveniently located here, just within Chiang Mai's old city.
I booked the tattoo one week in advance, and luckily I did. Slots fill up fast.
The basic cost of the in-house Sak Yant is 2000 THB. 1000 THB is paid as a deposit when booking, and the balance is given as a donation. The cash is passed directly to the tattooist with an offering. This is a traditional way to 'pay' for a Sak Yant tattoo in Thailand.
For larger designs or more detail, you can expect to pay more. My tattoo ended up costing a total of 2800 THB.
My Experience
I arrived 20 minutes early for my 9 am appointment so I would have time to discuss my design. They have books of the common Sak Yant tattoos in Thailand to choose from and will offer you a drink while you make your selection. It is a good idea to have some idea what you are wanting before going in otherwise you may be overwhelmed by your choice.
I covered my shoulders, knees and elbows for modesty. Then shown to where master Monk Eak was waiting. You had to kneel, and then make the offering of tobacco, flowers and cash, then bow your head to the ground 3 times – once for Buddha, once for Buddhism and once for Monk Eak. It was a very peaceful moment.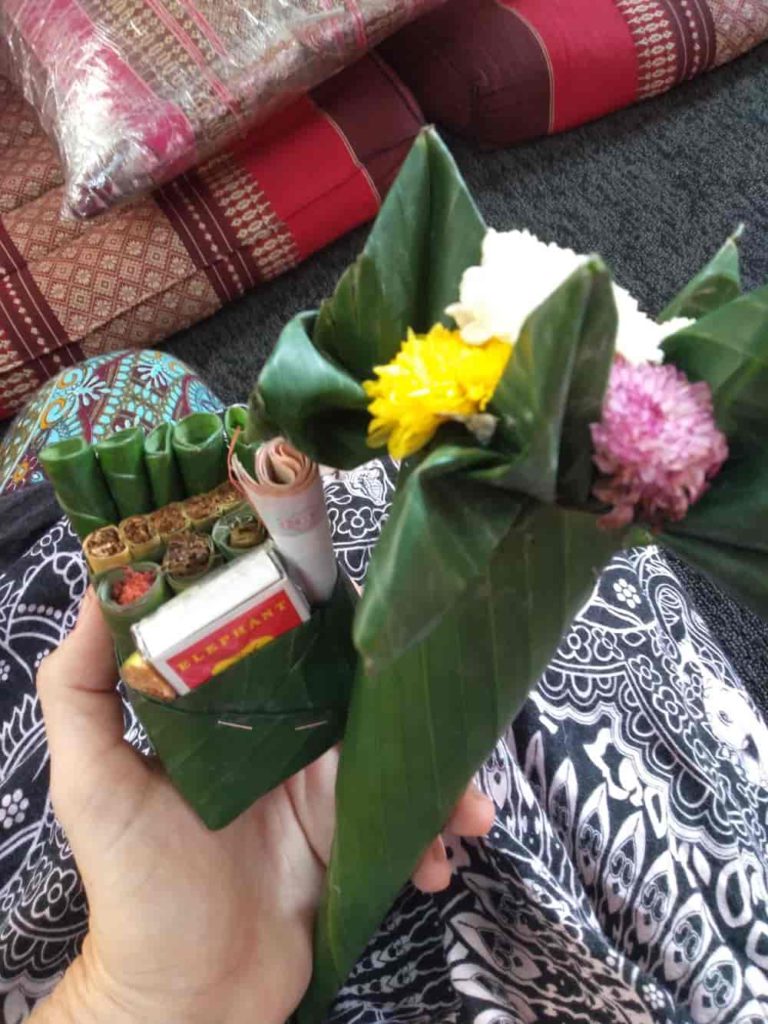 Then I was made comfortable, leaning over onto a pillow and the area of my upper back was prepared for my chosen tattoo. The lighting was dim inside the air-conditioned room, and there was relaxing music playing.
There was a lady with me at all times, and she was there to translate and support. She regularly checked if I was doing ok.
Did it Hurt?
This is not my first tattoo, I have had several, including bamboo tattoos in the past. The pain with this one was fairly high, but I think that was mainly due to the mid spine position, as bony areas always hurt more. The staff offered me painkillers prior to the tattoo for 30 THB, but I declined.
It was over very quickly, such an incredibly detailed tattoo in Australia would have taken way longer. But this was over in as little as 40 minutes.
After the Tattoo was Done
The blessing came after the tattoo itself was done. Monk Eak chanted, and blew on and blessed my new tattoo and me.
I thanked the Monk, and bowed 3 times, before exiting, a little more inked and a lot more blessed. Then we had some cold water and pineapple cookies in the peaceful garden to recover.
It was a very peaceful and wonderful experience. I felt safe and spiritual. Even now, walking down the street, I feel different somehow. The pain is forgotten and I am planning which Sak Yant to get next!
They gave me some care instructions, and some incense to light at the temple before sending me on my way.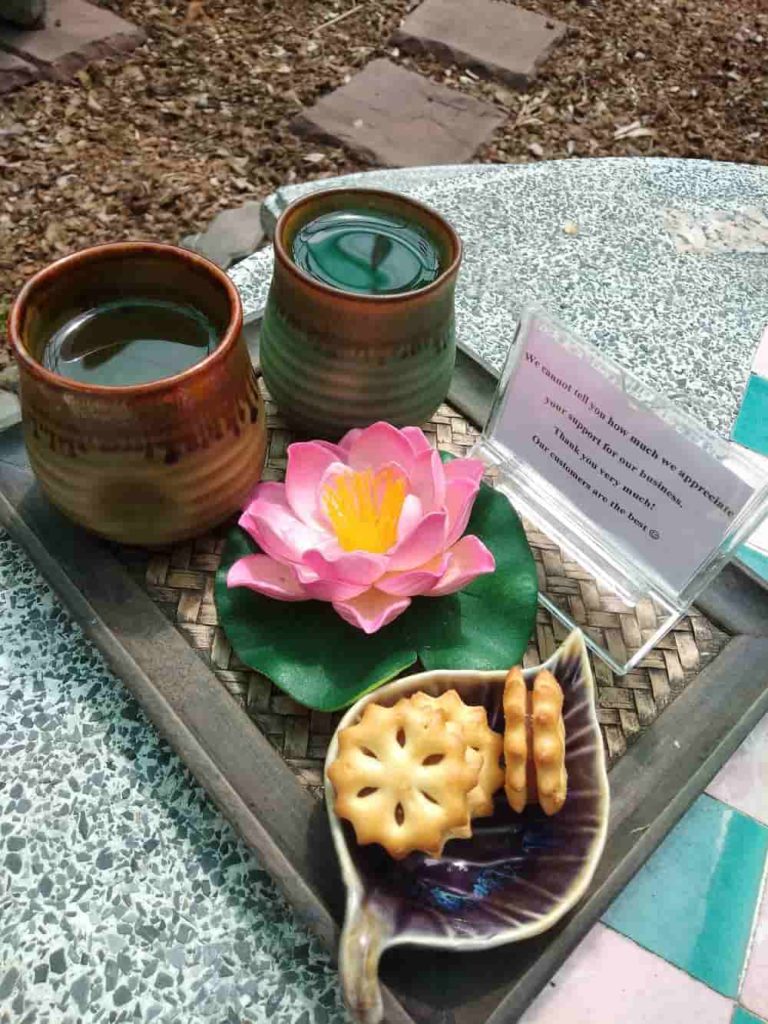 Where to Get Your Sak Yant Tattoo in Chiang Mai
Book a Sak Yant online directly with Sak Yant Chiang Mai. Prices start from 2000 THB and increase with larger and more intricate Sak Yant designs. This was a great and professional company to deal with and I won't hesitate to recommend the Sak Yant experience with these guys.
For a different experience, you can book a Sak Yant tattoo in Thailand with Master Ajarn Rung in his spiritual retreat outside of Chiang Mai. This is for men or women. A private guide will collect you from your Chiang Mai hotel, and take you to Master Rung's studio for a consultation and Sak Yant tattoo and blessing. Book your Sak Yant Tattoo in Chiang Mai with Ajarn Rung here.
Where to Get Your Sak Yant Tattoo in Bangkok
Ajarn Neng is a grandmaster in Bangkok having studied the art under many other famous and powerful Ajarns. He has tattooed celebrities such as Steven Seagal and Brooke Shields, and is also available to share his art with you in Bangkok. A morning with Ajarn Neng includes pick up and drop off, a private guide, tattoo ceremony and lunch. Prices start at $250 USD. Book your Sak Yant tattoo in Bangkok with Ajarn Neng here.
Wat Bang Phra is the most famous Buddhist temple in Bangkok offering the unique Sak Yant tattoos by monks. You can book online for a door to door service which includes transport to the temple which is 50 km outside of the city, and the tattoo service by an experienced high-level monk. The price of this tour is $100 US per person. Book your Sak Yant tattoo in Bangkok here
Click here for a Sak Yant tattoo experience in Chiang Rai
Click here for a Spiritual Sak Yant tattoo in Ayutthaya