Kidzania in Bangkok is one of those rare places where the kids rule. The parents kind of walk around not knowing if they are needed or not, while the kids have the absolute time of their lives in a perfectly safe and happy fun environment.
You want to take your kids there today! Trust me!
Where is Kidzania?
Kidzania is an International chain of family-friendly 'edutainment' venues with 24 locations worldwide. We went to Kidzania in Bangkok with our 4 kids, but there are also Kidzania's found throughout Asia, the Middle East, United States, South Africa and Europe.
The Bangkok version is located at the Siam Paragon 5th Floor (North Zone), 991 Rama1 Road, Pathumwan, Bangkok 10330.  Click for map view.
How to Get to Kidzania in Bangkok
The easiest way is to take a taxi or a tuk-tuk to Siam Square and walk the rest of the way. You need to go through Siam Square which is a traffic-free zone, heading north until you can enter Siam Paragon Shopping Centre.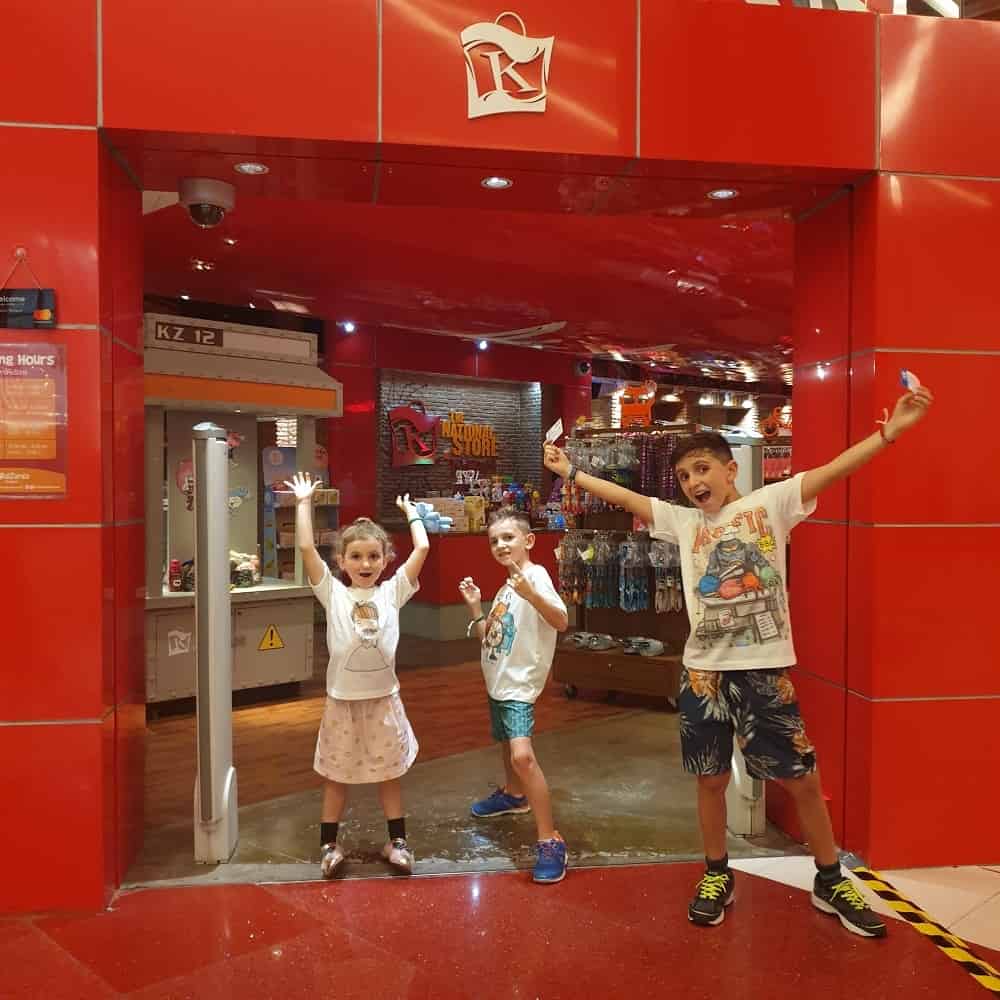 Once you are inside the centre, take the elevators or the escalators on the northernmost side all the way to the 5th floor. If you reach the movie theatre, you are in the wrong place and you have to go down a level, move north, then go up a level again.
Don't be afraid to ask for directions. There are information booths on every level of Siam Paragon.
If you are travelling by BTS, exit at Siam Station, exit 3.
What Exactly is Kidzania?
Kidzania in Bangkok is a child-sized replica of a real city. The kids rule here. On admission, each child gets 50 kidZos cash. This is the currency that runs the city of Kidzania. You can either open a bank account and deposit it, (great for frequent Kidzania visitors) or keep it as cash (this is what we did).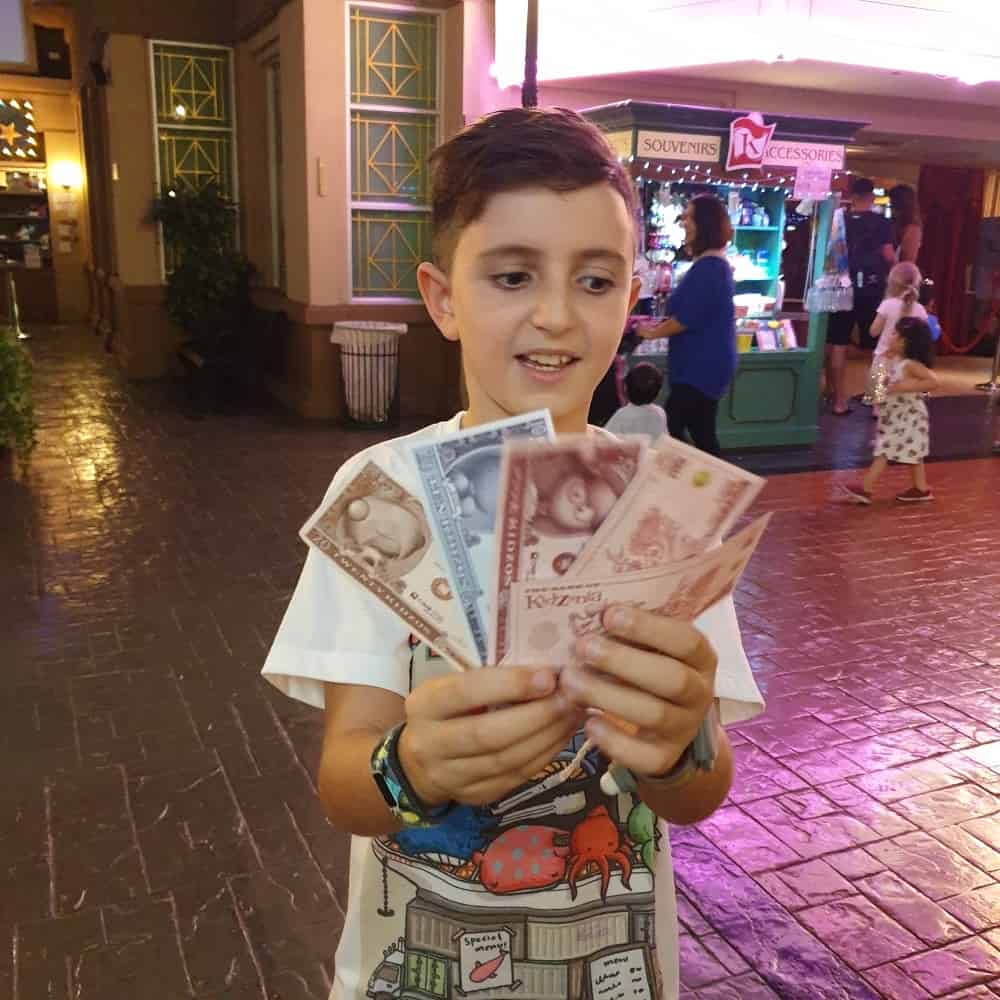 Kids can gain employment in a various range of jobs and earn real kidZo income per role. The cash can then be spent on other (fun) activities or at the Kidzania gift shop.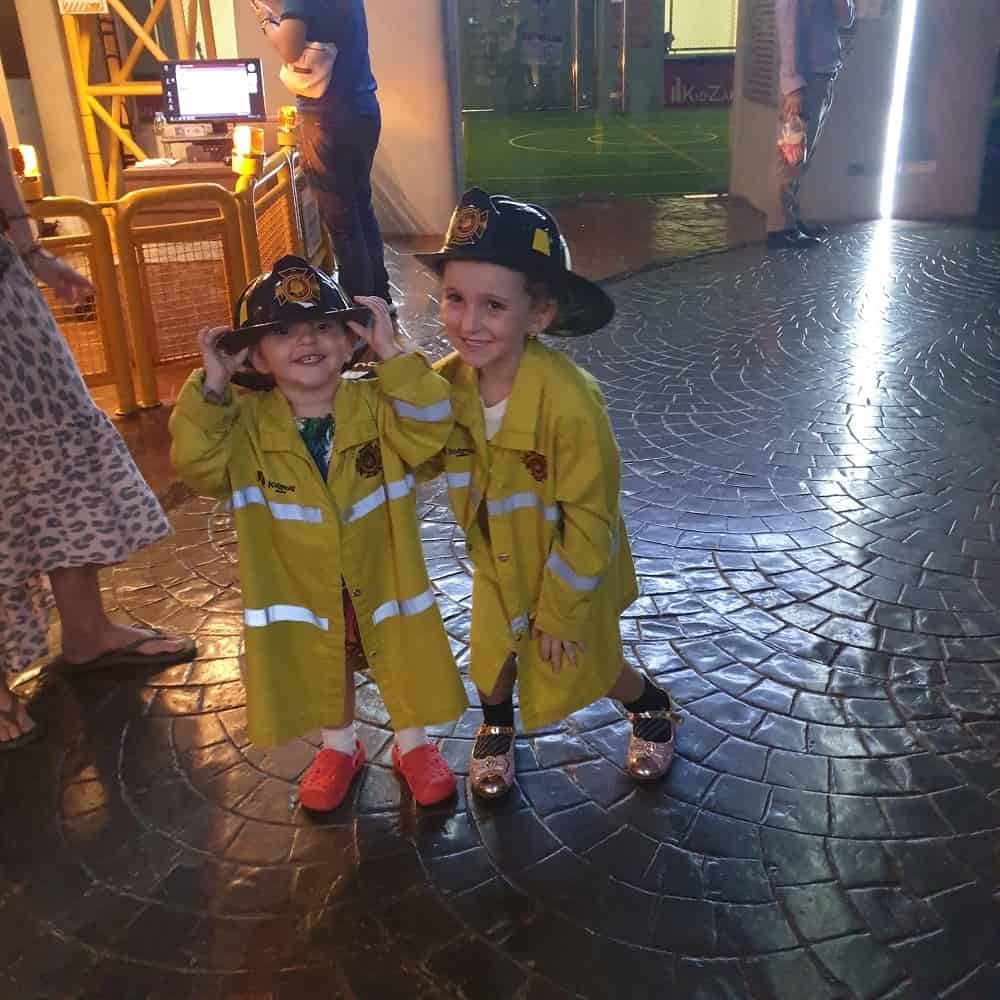 The Jobs for Kids at Kidzania Bangkok
Kidzania is just like a real town. As such, your kids can 'work' as anything from a police officer to a doctor. Everybody's favourite was the fire fighters which sees you donning helmet and jacket and riding the truck to put out a 'real' fire in a hotel with water pistols!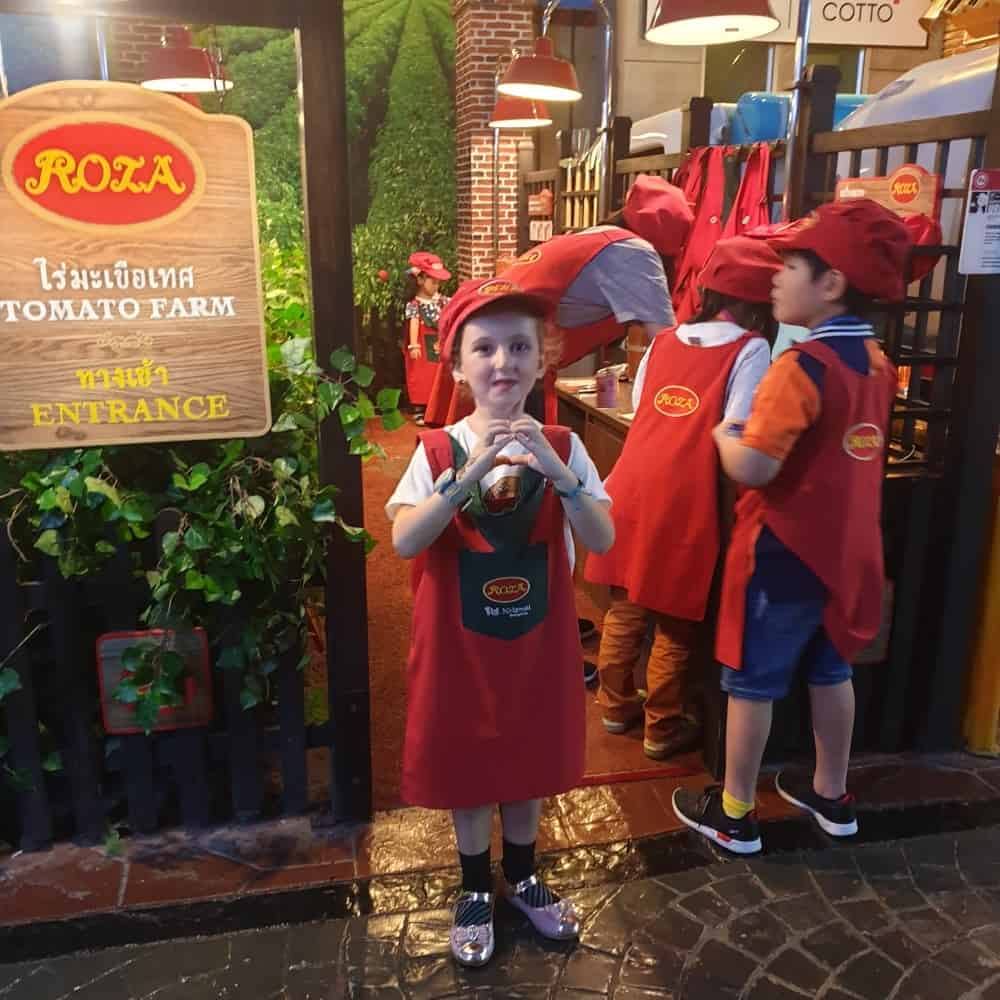 A job at the police force gets the kids walking around town asking shopkeepers if they have seen the 'suspect' and working at the hospital gives them an opportunity to be a surgeon, a baby nurse or a paramedic.
You can even work in a bottling plant, as a pilot or as a flight attendant for Air Asia! The employment opportunities are unlimited with your entrance fee.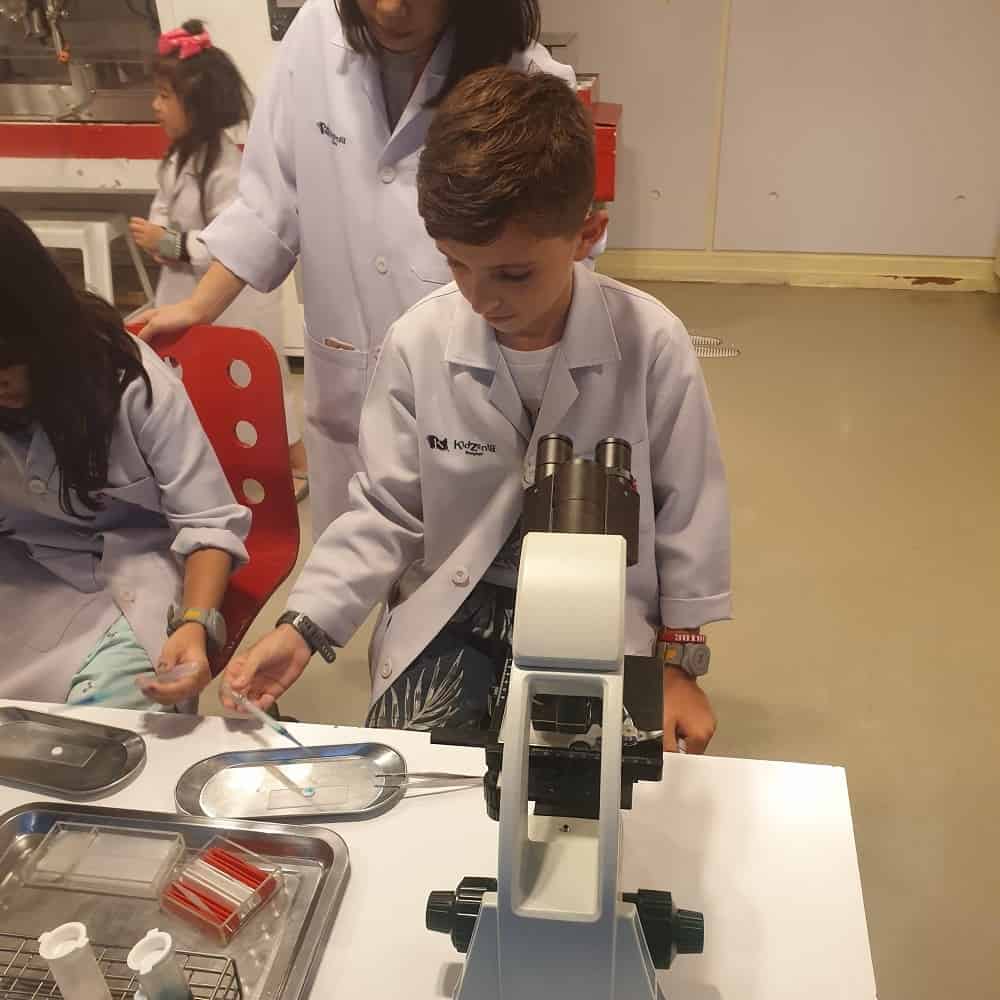 The brands are specific to the country you are located in. So, in Bangkok, the kids loved the experience of being a cashier in 7-Eleven, a Meiji milk factory bottler or a Roza tomato farmer. If you visit Kidzania in the Middle East, you might be a pilot for Emirates rather than Air Asia for example.
Paid Experiences at Kidzania
Once they earn a stack of kidZo currency, the kids can then opt to spend their cash on experiences and food.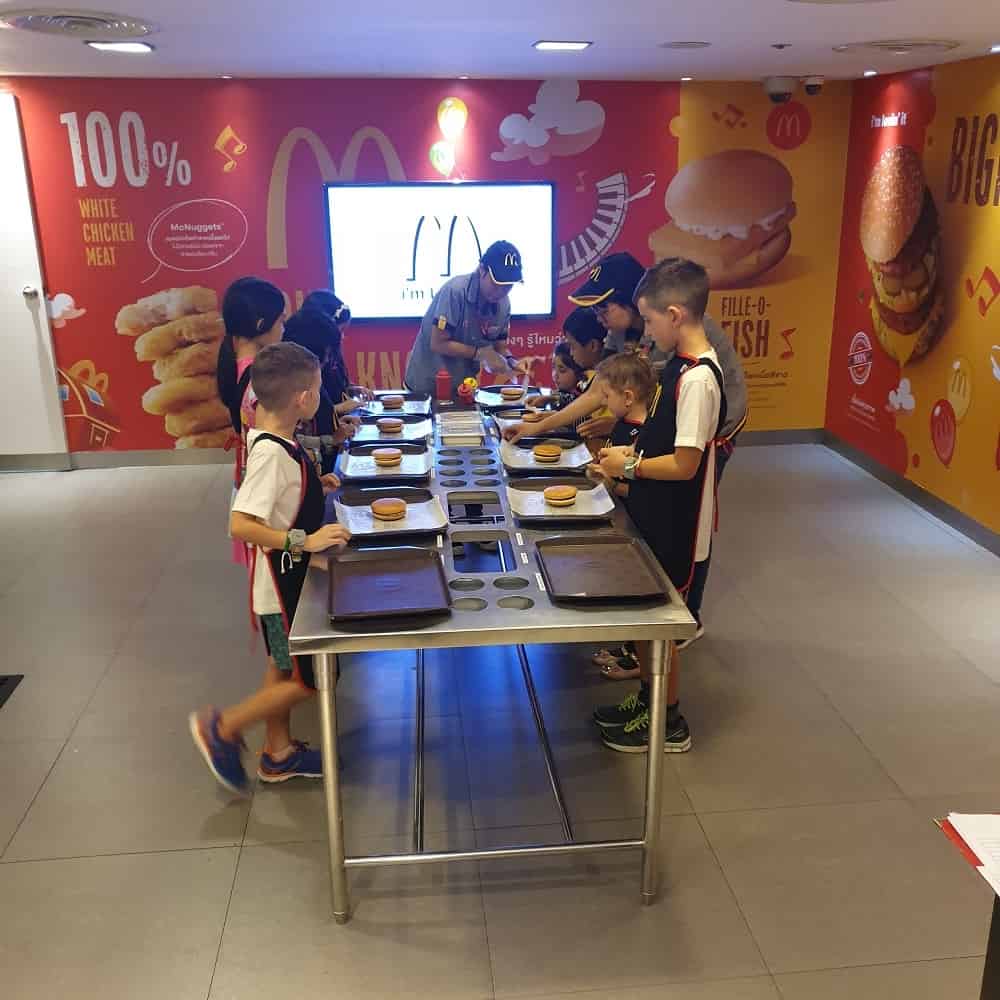 Our kids loved being able to fork out 15 hard earned kidZos in order to make their very own hamburgers at McDonalds!
Another favourite for them was abseiling a city wall, and navigating the Spy room with laser lights and smoke machines. The girls could also pay for treatments at the beauty spa.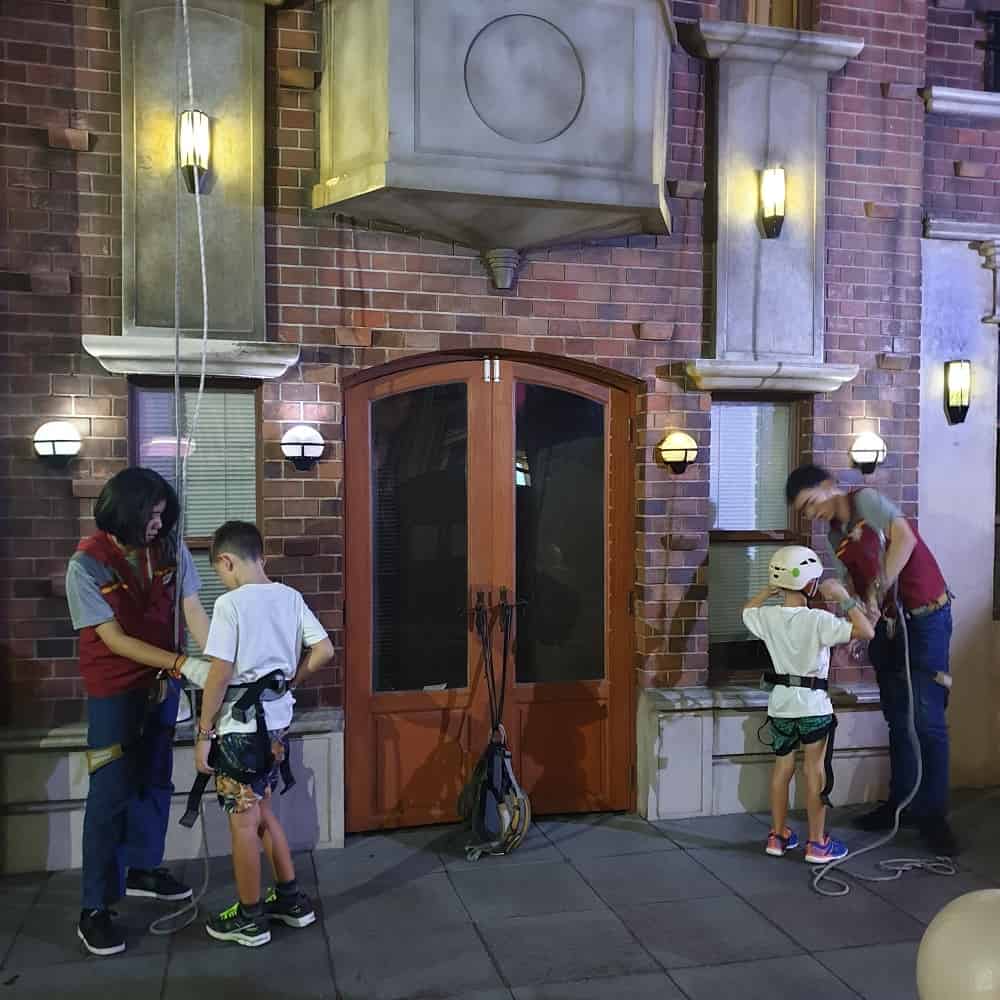 Kid Favourites at Kidzania Bangkok
Our Master 9 loved working as a TV producer while our other 2 were perfect anchormen. Miss 5 adored visiting the beauty salon (and spending her hard-earned cash), and our Master 7 loved being a vet. They also enjoyed the practical jobs such as courier.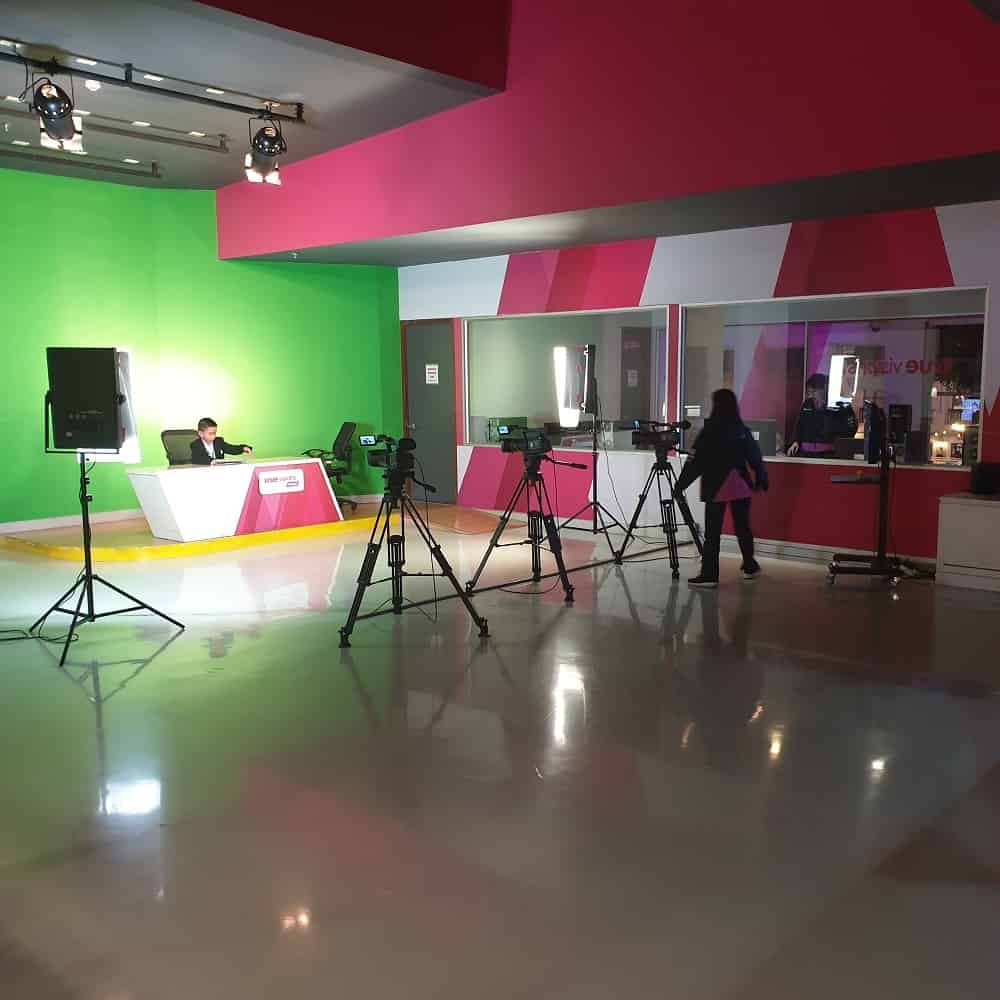 If you have older kids, they will enjoy getting their driver's licence, and even gaining a university degree which then doubles the income you can earn on certain jobs.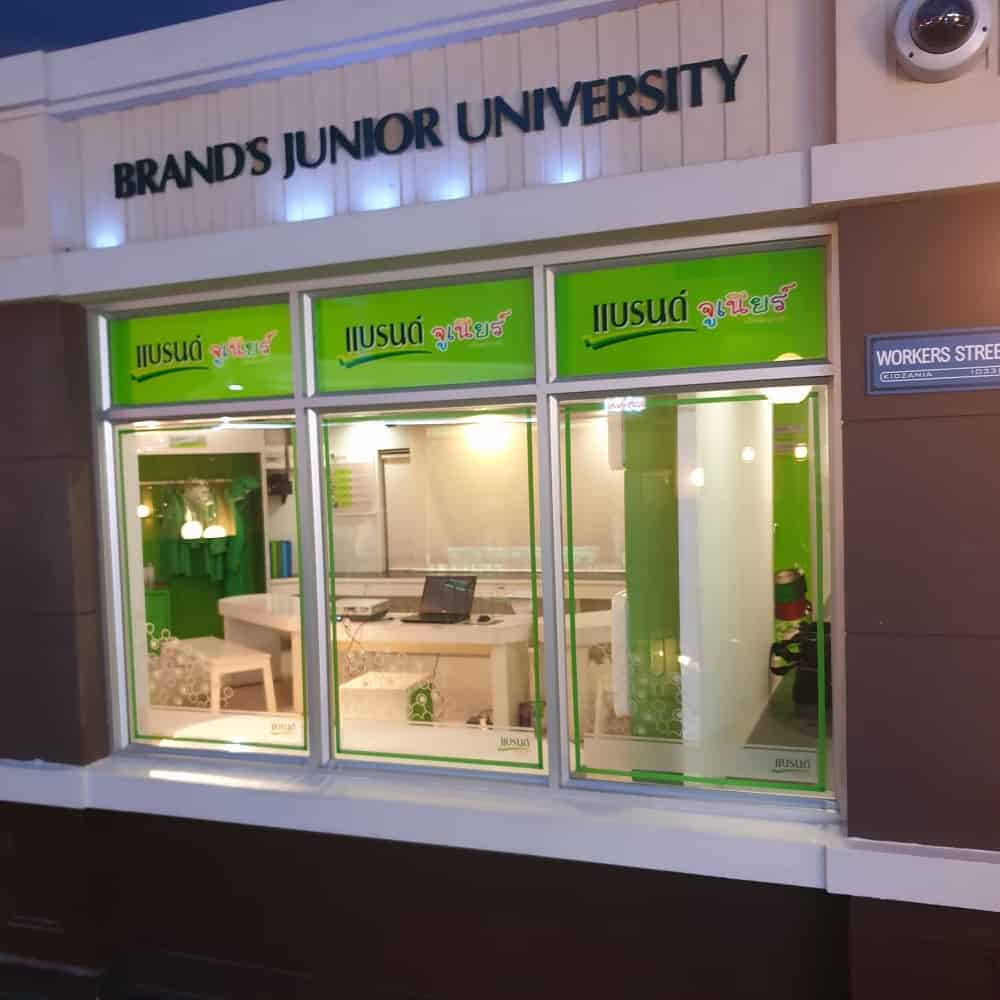 Each 'job' goes for about 20 minutes. When you first wander in, completely overwhelmed by what the heck you are supposed to do, it is all a bit confusing at first. Just check the time on the door, and line up at a job that is ready for intake.
Once your kid has finished their task, they get paid, usually between 5 – 10 kidZos. Then they run out and excitedly tell you how much money they earnt!
Things to Know About Kidzania in Bangkok
There are no pass-outs available and every adult must have a child with them to be able to enter Kidzania.
Parents are allowed in the city of Kidzania but aren't allowed into each place of employment. There is a parent's lounge upstairs so you could just let your older kids run free, but for us, we liked to guide our kids a bit between activities, and always know where they were.
Every child has an electronic bracelet on, and it is somewhat impossible to lose your child. If they try to escape, an alarm will sound. The adults wear one too.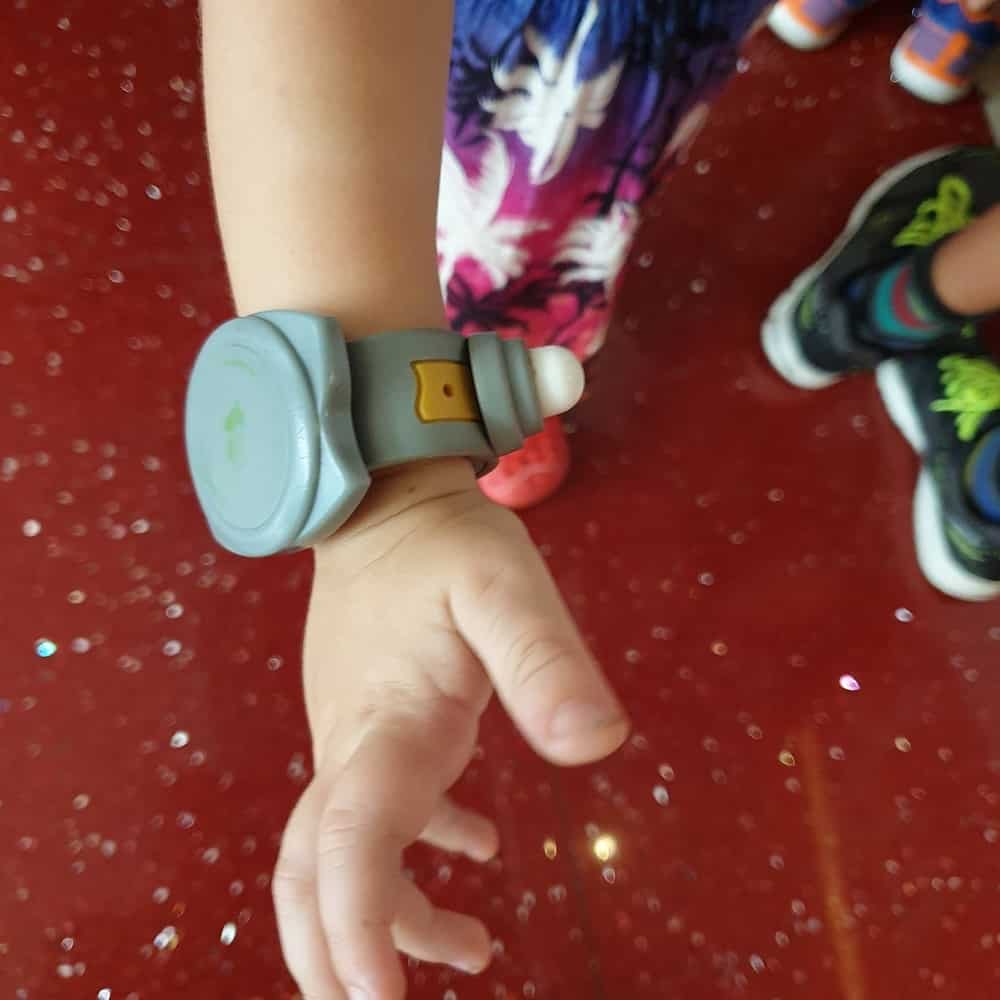 There are professional photographers around the place who take pictures of your children within their professions and then scan their bracelet. At the end of your Kidzania in Bangkok experience, you have the opportunity to view and purchase these photos.
Your kids are better off spending their cash on experiences rather than at the Department Store giftshop at the end of their day here. For example, a treatment at the Beauty Centre only costs 5 kidZos, abseiling cost 10, and it was 15 to make-your-own-and-eat-it McDonald's hamburger. However, for a tiny (ugly) plush teddy it took our 3 kids to pool all of their funds and added up to 180 kidZos. This seemed a little bit off kilter to me.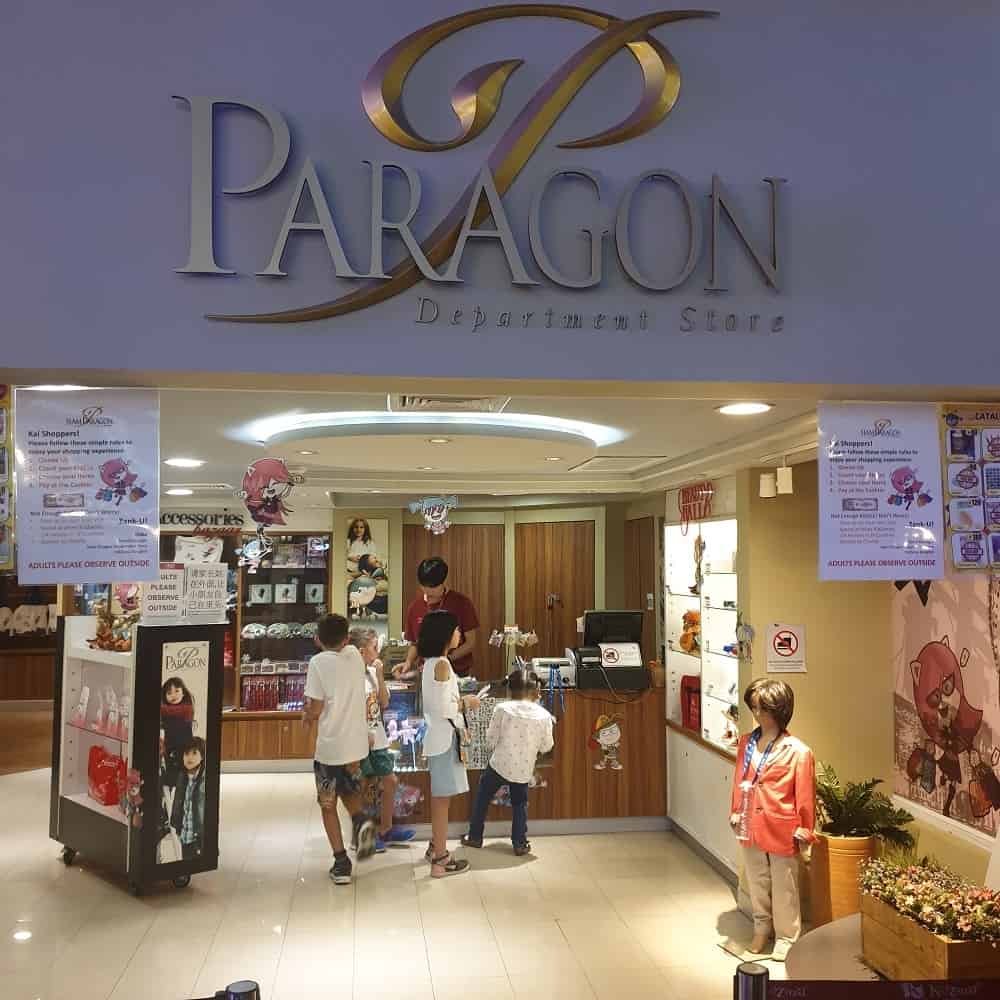 What to Bring to Kidzania in Bangkok
You are not allowed to bring your own food, but water is allowed. We made sure the kids were wearing enclosed footwear, though this was not a requirement. Wear a watch so you know when the next job intake is ready.
Eating and Drinking
There are a few food options at Kidzania in Bangkok. A cafe serves a variety of both Western food and Asian, with a McDonalds and a few snack stalls.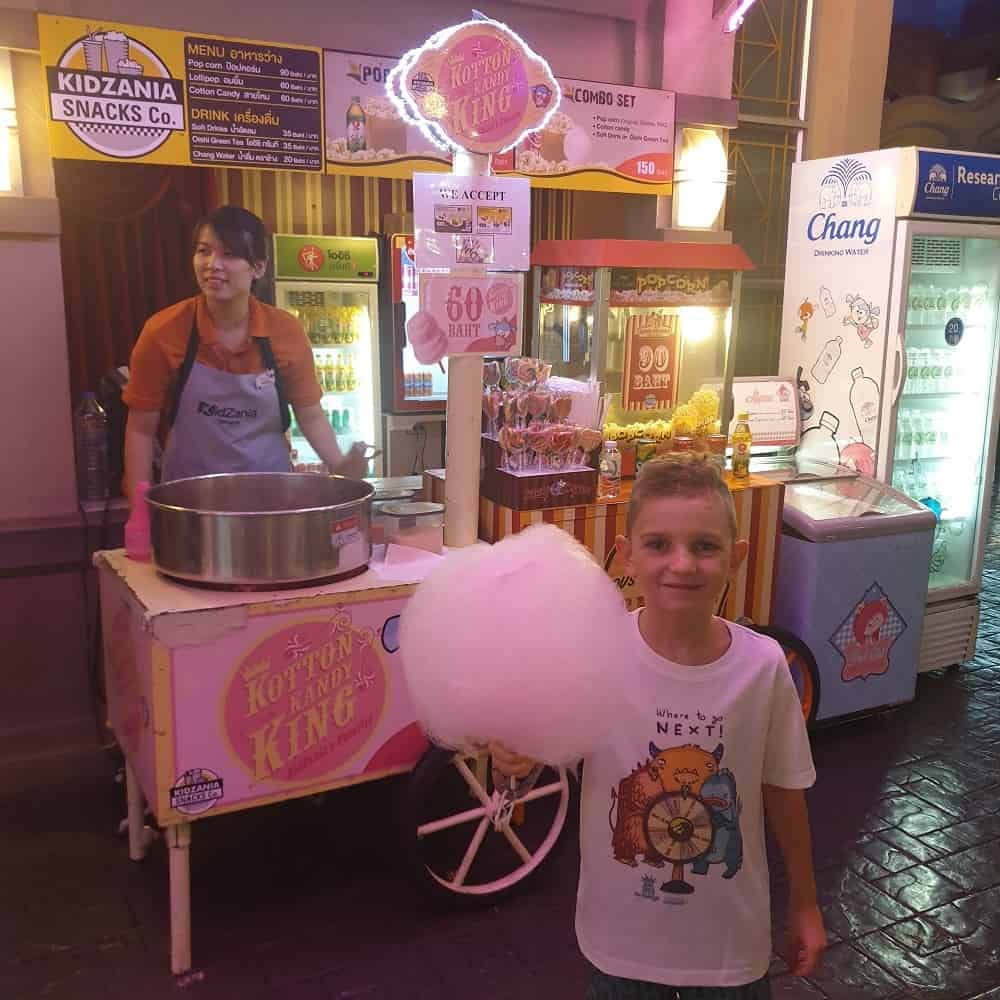 Who is Kidzania good for?
Kidzania is perfectly suited for ages 4-14 according to their website. And most of the occupations require a 4 year minimum age. We had a 2-year-old, and she was frustrated that she wasn't allowed on everything her siblings were doing. But she still got to participate in the construction site, disco, the beauty spa, as a florist, and a firefighter!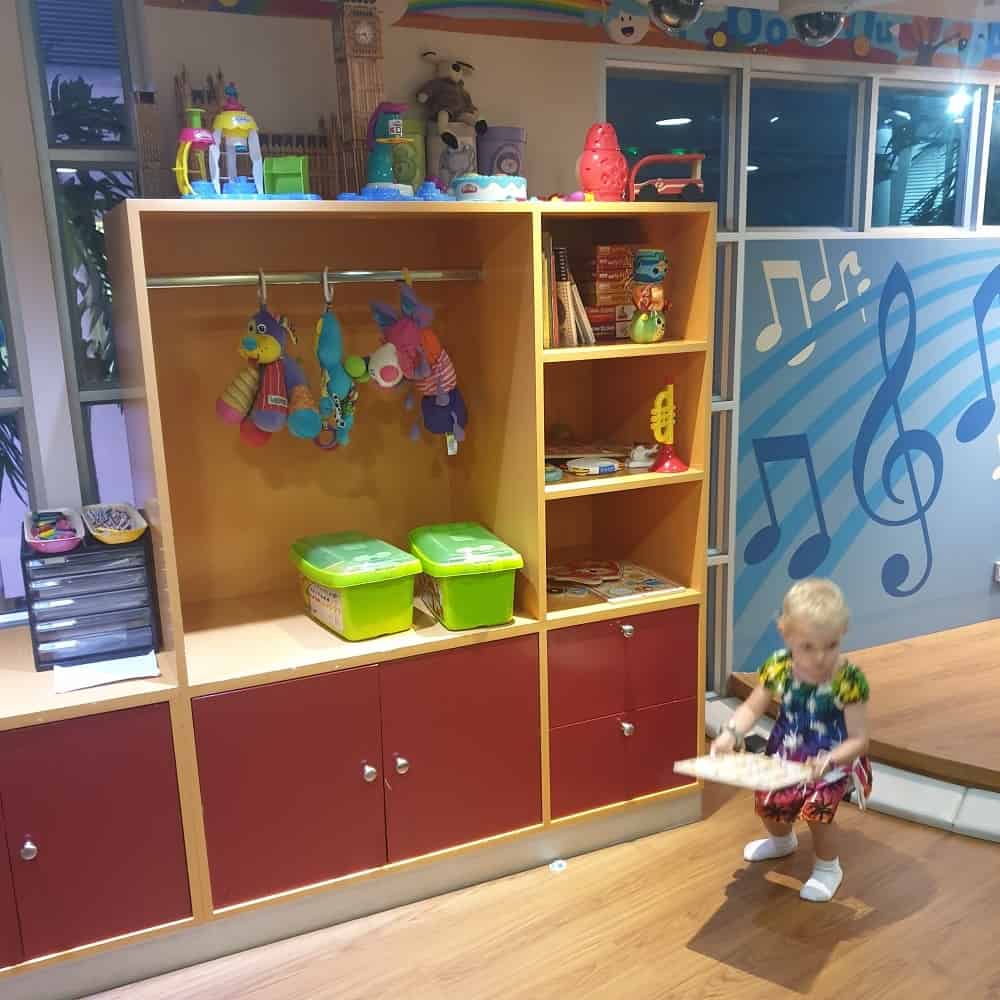 There is also a dedicated under 4s kids play area upstairs with a ball pit, sand pit and kitchen to play in.
I think 5 to 10-year-olds are the perfect ages for Kidzania.
Cost of Kidzania in Bangkok
Kids under 2 are free of charge.
Buying tickets at the gate, prices vary between weekends and weekdays:
WEEKDAYS
Kids 2 – 4 700 THB
Kids 4 – 14 1100 THB
Adults 640 THB
WEEKENDS and PUBLIC HOLIDAYS
Kids 2 – 4 875 THB
Kids 4 – 14 1350 THB
Adults 800 THB
We booked our tickets online with Klook which was actually a WAY cheaper way to do it.
Klook prices are:
Kids 2 – 4 600 THB
Kids 4 – 14 900 THB
Adults 550 THB
Get Discount Kidzania Tickets Here
WEEKENDS with Klook at Kidzania in Bangkok are all the same price as weekdays with Klook so you save even more!
Why book with Klook? It is just a booking agent which allows you to search, browse and check prices for local activities online. I love having the convenience of booking online and paying securely by credit card.
Opening Hours for Kidzania Bangkok
10 am to 5 pm Monday to Friday
10.30 am to 8.30 pm Saturday and Sunday
Why Go to Kidzania in Bangkok?
Quite simply, your kids will love you for it. We spent over 9 hours at the place, our children never wanted to leave. It was our favourite day in Bangkok, and an experience which will stay with them forever. Kidzania in Bangkok is definitely worth visiting with your kids! What is better than a kid-sized town, run by kids!!?
Going to Thailand soon? Find out the best time to visit, month by month.
You might need a visa. Click here for all the details.
Check out my recent post all about getting a sacred Sak Yant Tattoo in Thailand.
Are you heading to the beaches off Thailand's south coast? Check out our recent articles all about Phuket, Koh Phi Phi, Ao Nang, Krabi, and Koh Lanta to help plan your escape.