The driver who picked us up from the airport in Chiang Mai told us there are 3 things you have to do while you are here: Doi Suthep Temple, have a Khao Soi Curry, and spend a morning with the elephants. He then said there are over 70 elephant sanctuaries here! So how do you find the best elephant sanctuary in Chiang Mai? Here is our experience.
Elephant Sanctuaries in Thailand
The popularity of elephant sanctuaries has exploded over recent years with a huge influx of Chinese tourists into Thailand. With any fast and assumedly unregulated growth of an industry, it causes some concern that everything is being done right. Elephants are classed as livestock in Thailand. This means there are no laws for their treatment or protection.
Concurrently, there is a growth in ethical tourism in Thailand. This has seen elephant sanctuaries apply 'ethical' stickers to their promo signs. But whether or not they practice what they preach, is anybody's guess.
All of the elephant sanctuaries in Thailand that we looked at on our quest for the best elephant sanctuary in Chiang Mai advertised:
No Riding
Hooks Not Used
No Chains
Elephants are not made for carrying heavy uncomfortable steel framed chairs on their backs. Believe it or not, their spine is not strong enough for this. And overzealous use of bullhooks by mahouts (elephant handlers) has caused animal injury in the past.
Cost of an Elephant Experience in Chiang Mai
This varied from place to place. We have a family of 6 and could get our toddler a free pass luckily. For 2 adults and 3 kids, we could have paid anywhere from $87 to $750 AUD!
We found a wonderful middle ground and paid $200 for our family's elephant experience in Chiang Mai. Read on to find out who we booked with.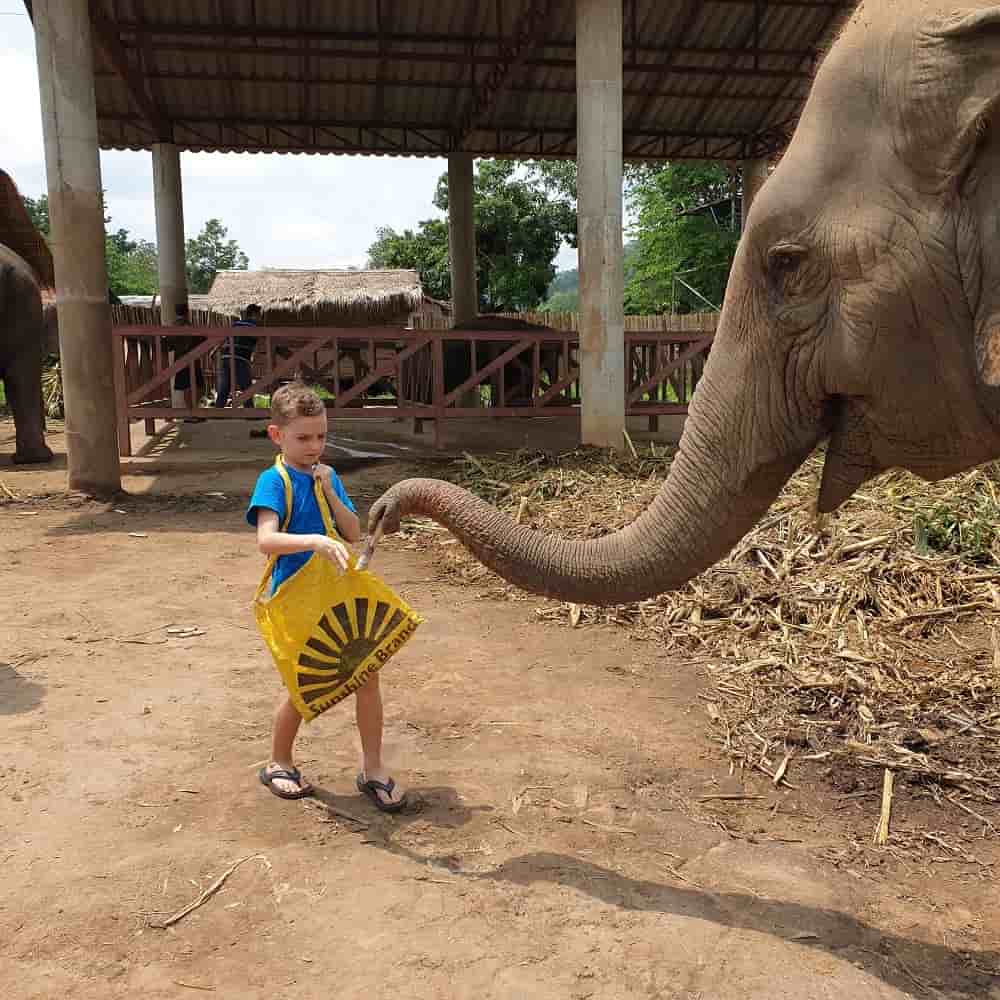 How to Choose An Elephant Sanctuary
The cost was very important to us. And most tours offer either a half or full-day option. We only wanted to go for the morning, because we knew the kids would have had enough after that.
So, we narrowed it down to a half-day tour. Now, from the outset, they all looked the same. The tours all included:
Hotel pick up and drop off
Elephant feeding
Mud bath
Wash elephants and swim in the river
Lunch
Reading the tour reviews was a very helpful way to rule out some of the tours in order to find the best elephant sanctuary in Chiang Mai.
…this tour is only in Chinese. There were about 100 people on this tour and I was the only non-chinese person there. 

That ruled out the Mae Wang Elephant Camp
Tour includes a ride on an elephant for 2 pax and an elephant show.

Not my kind of elephants, so we crossed Maesa Elephant Camp off the list
We also did some independent online research, looking up the names of popular sanctuaries that were advertised, and comparing cost, and conditions.
The Elephant Retirement Park gets stellar reviews and is all about rehoming and caring for former worker elephants. These majestic animals may have been abused and neglected in their former lives, but here they are loved and nurtured in a beautiful caring environment. Check prices for Elephant Retirement Park Here.
Elephant Jungle Sanctuary sells themselves as an ethical, eco-friendly and sustainable tourism experience. They have beautiful and renowned sanctuaries located in Chiang Mai, Phuket, Pattaya and a newly opened one in Koh Samui.
The Best Elephant Sanctuary in Chiang Mai in Our Opinion
To be the best, you need to tick all of our boxes. These are our boxes:
Ethical treatment of animals, no hooks, chains or cruelty
Family run, and of benefit to the local community or village
Small-group tour
All-inclusive
Best price
Chiang Mai Mountain Sanctuary was our best elephant sanctuary in Chiang Mai. Here is why.
We got picked up from our gorgeous little Airbnb just outside the old town. (PM me to find out the address). And travelled through the city, collecting 6 others along the way. The Mountain Sanctuary is then a 1-hour drive north of Chiang Mai.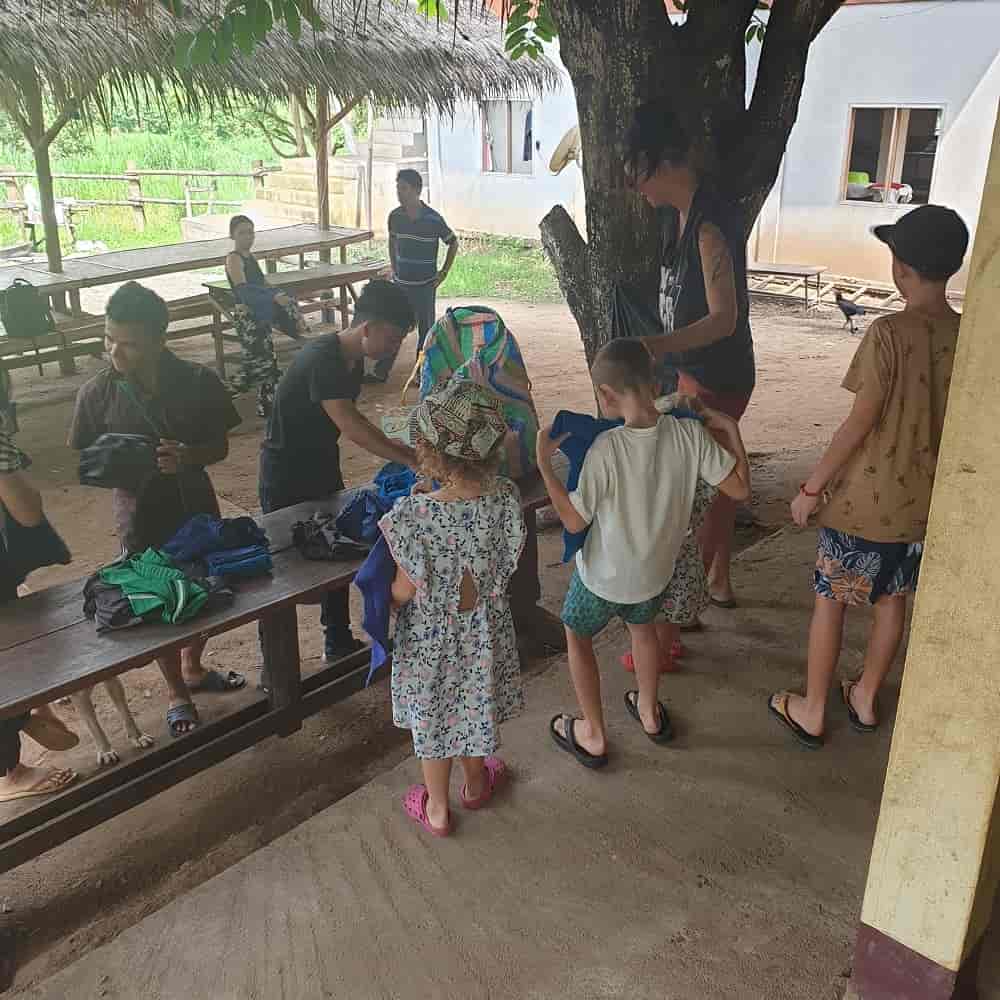 On arrival, we had a quick coffee, and then met the family who runs the small park. There was a multi-generational family with kids, dogs and chickens as well as some tribespeople who came and went from some adjacent huts. It was a very warm and local welcoming.
The guides then provided lovely stylish clothing (not) for us to get changed into, much to the bemusement of everyone. But if you check out the mud puddle later on, you will understand why.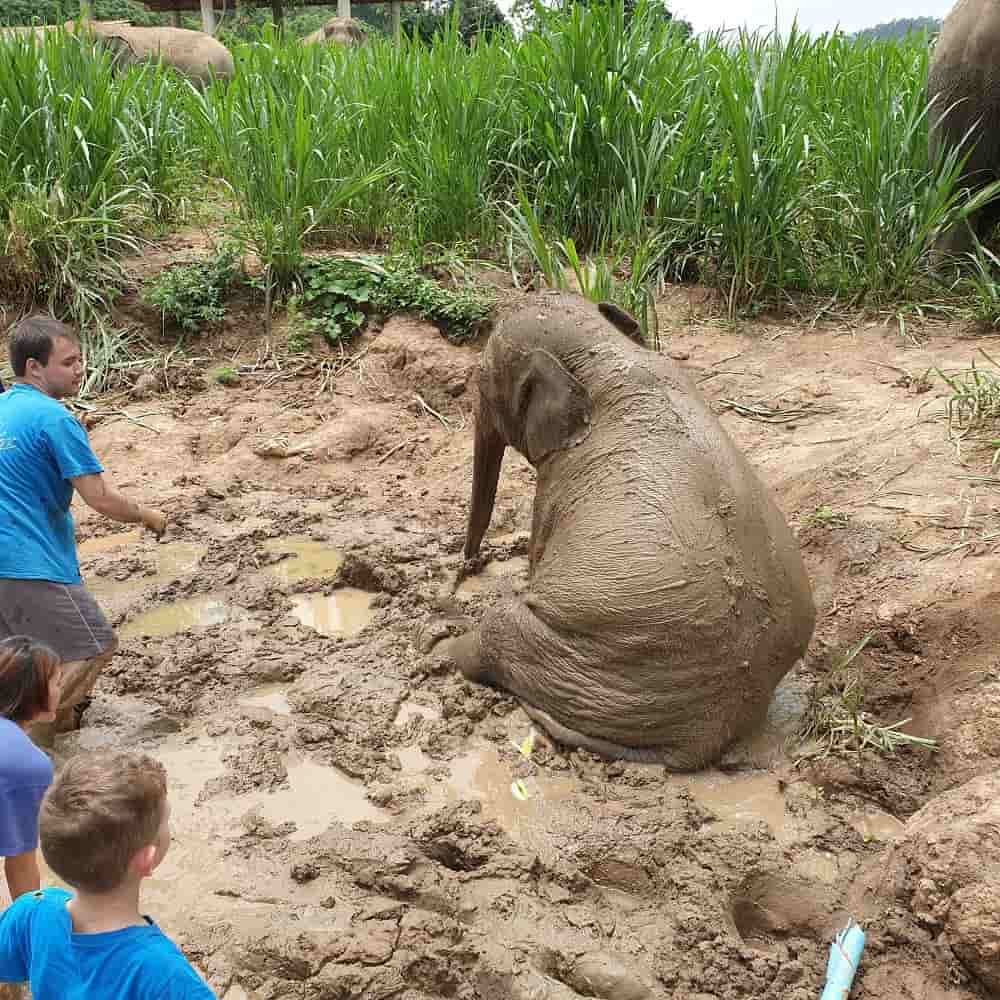 As we wandered over to the elephants, our guide – 'call me Michael Jackson' told us all about the elephants. He advised us to talk to the animals so they recognise our voices throughout the day, and gave us the commands to make them open their mouth so you could pop a banana or some sugar cane right in there! One elderly elephant, at 63 years had no teeth and so could only eat the bananas. And they had a 5-year-old 'baby' elephant that the kids just adored.
Elephant Feeding
These animals were obviously well-loved and cared for. They just seemed happy. Flapping their ears and tails is a good sign for this. And there were a group of young mahouts standing around, keeping an eye on things, but their only tool was a bamboo stick. No cruelty in sight.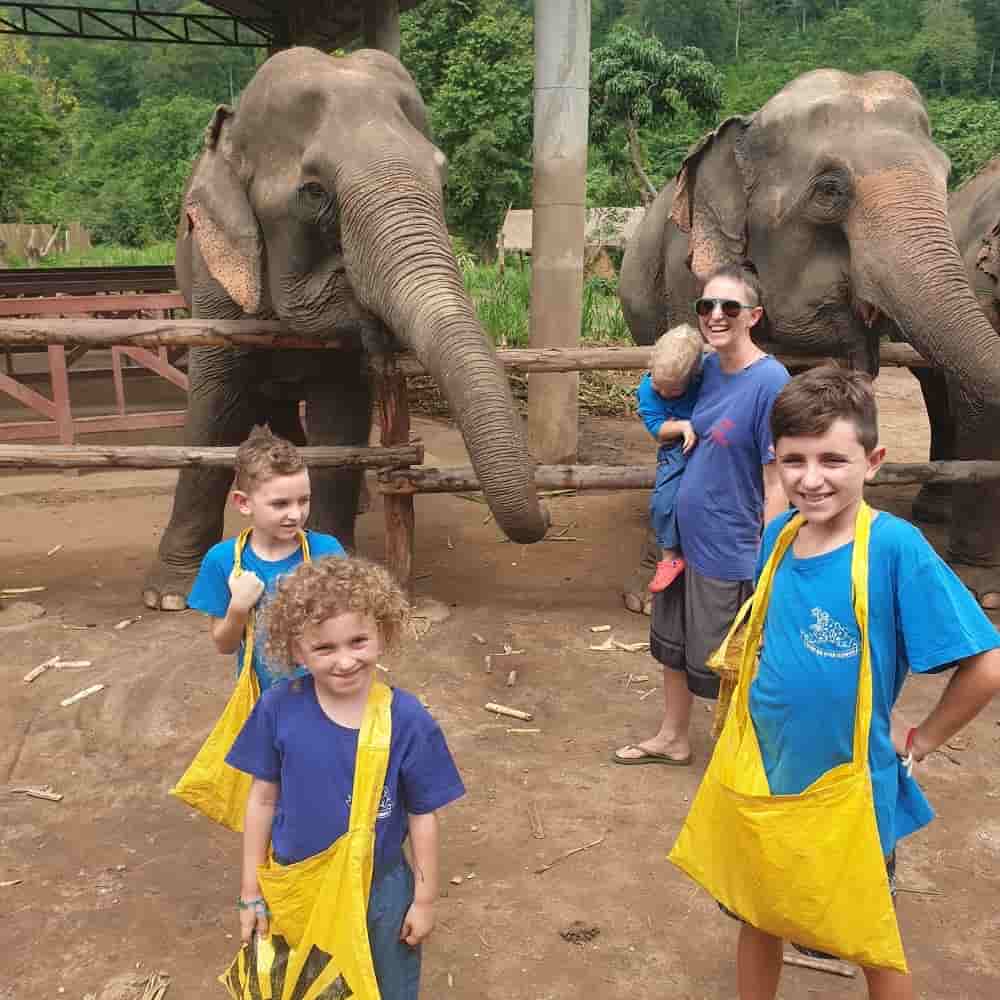 After we had a grand time feeding and interacting with the incredible group of 4 adult females and the baby, we then chopped up some more sugar cane so we could encourage the animals to follow us to the next part of the tour. They say an elephant never forgets though, so I am sure they already knew the schedule pretty well, twice a day every day….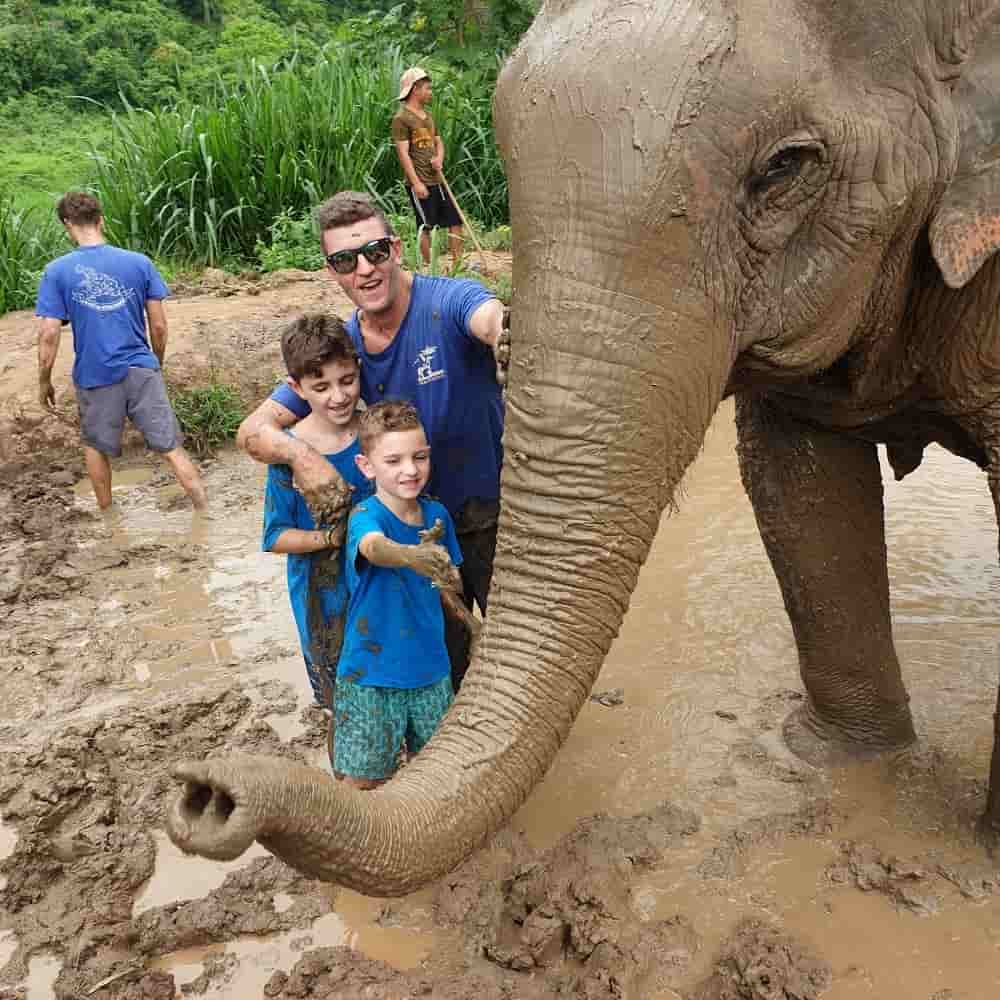 Elephant Mud Spa
We led them down to a muddy pit, and the elephants took turns standing in the mud so we could lather them up and paint them with it. The pond was pretty gross, but sharing it with the elephants was awesome. Our little girls refused to partake in this part, but the boys loved it!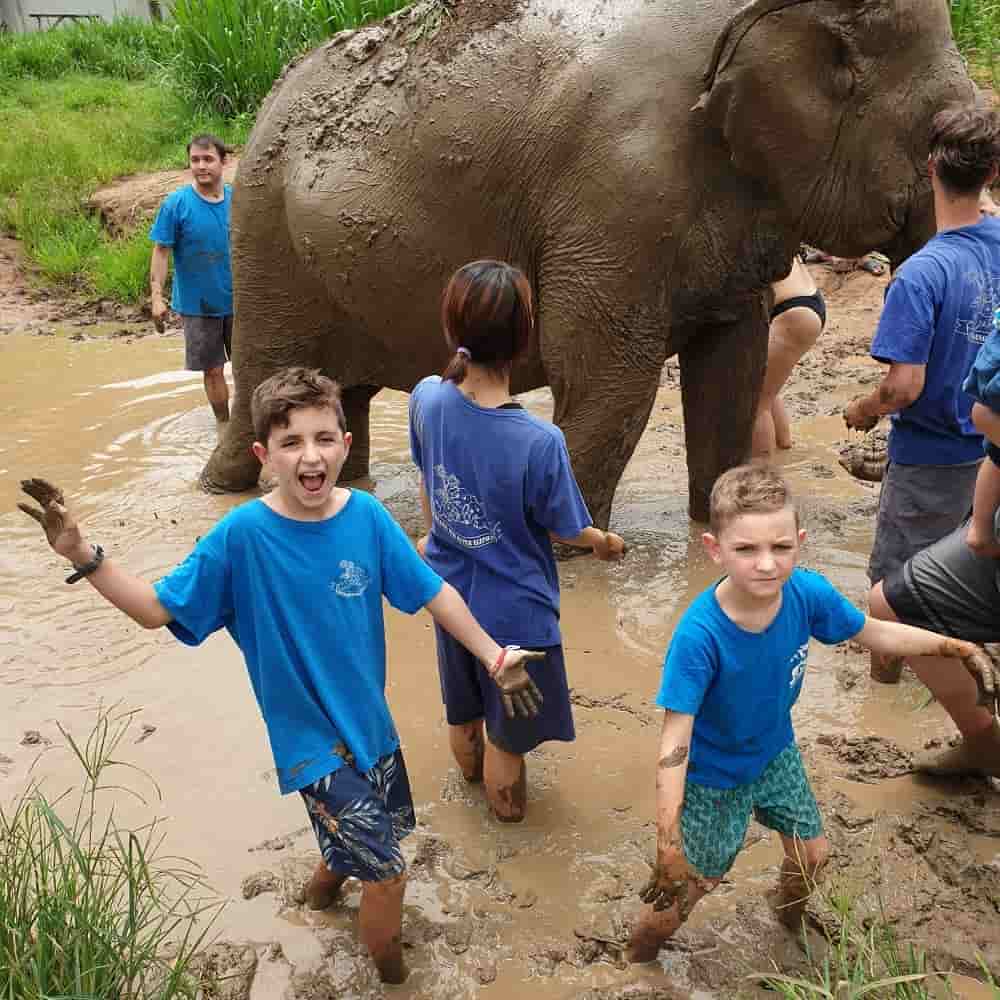 Elephant Bathing
After all the elephants were covered in mud, we followed them across a fast-flowing river and along a grassy bank until they came to a glorious river beach. Here the elephants bathed, and we were able to swim and play with them. It was so cool seeing them behave so naturally, squirting water into the air and just loving it!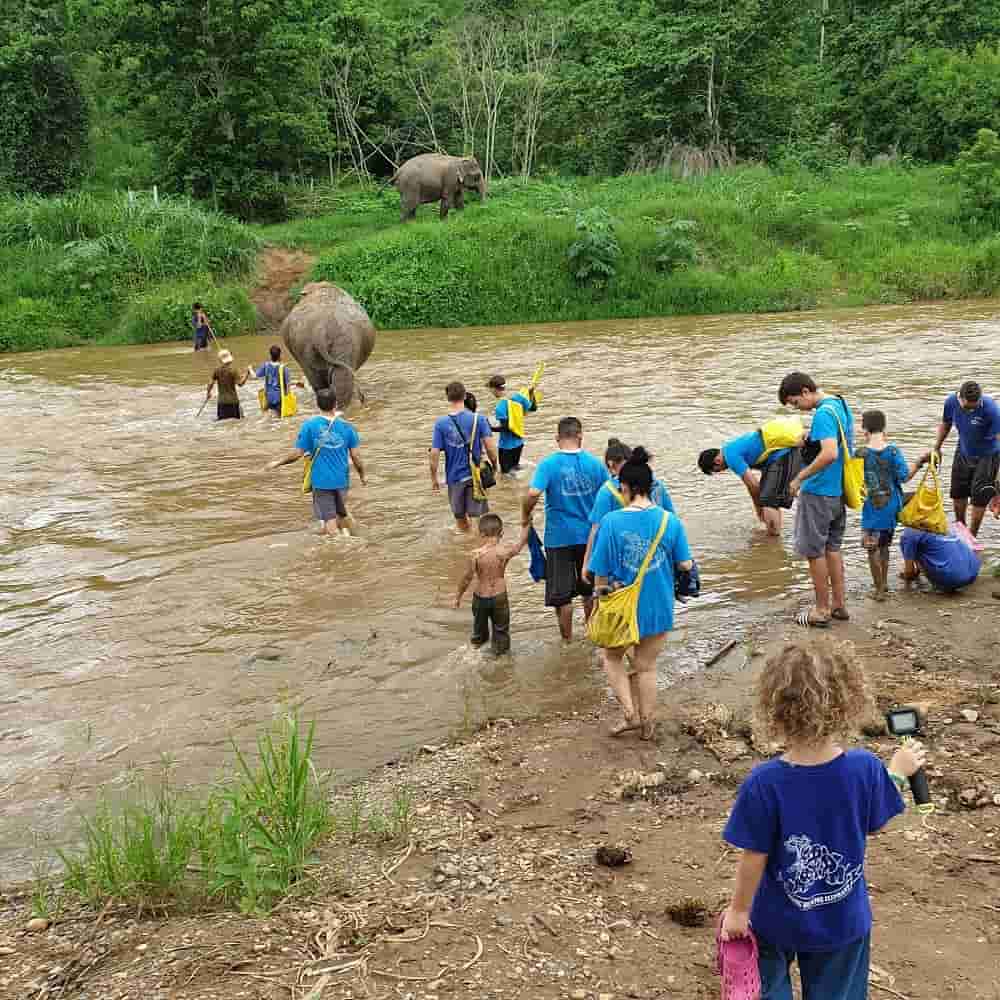 Great Included Lunch
Then it was back to the farmhouse for lunch and an elephant farewell. Lunch was a delicious Pad Thai, with fresh salad, fruit and eggs. There was water for free and other drinks available for purchase.
With full tummies and fuller hearts, we piled back into our comfortable air-conditioned van, and all dozed off on the hour-long trip back home.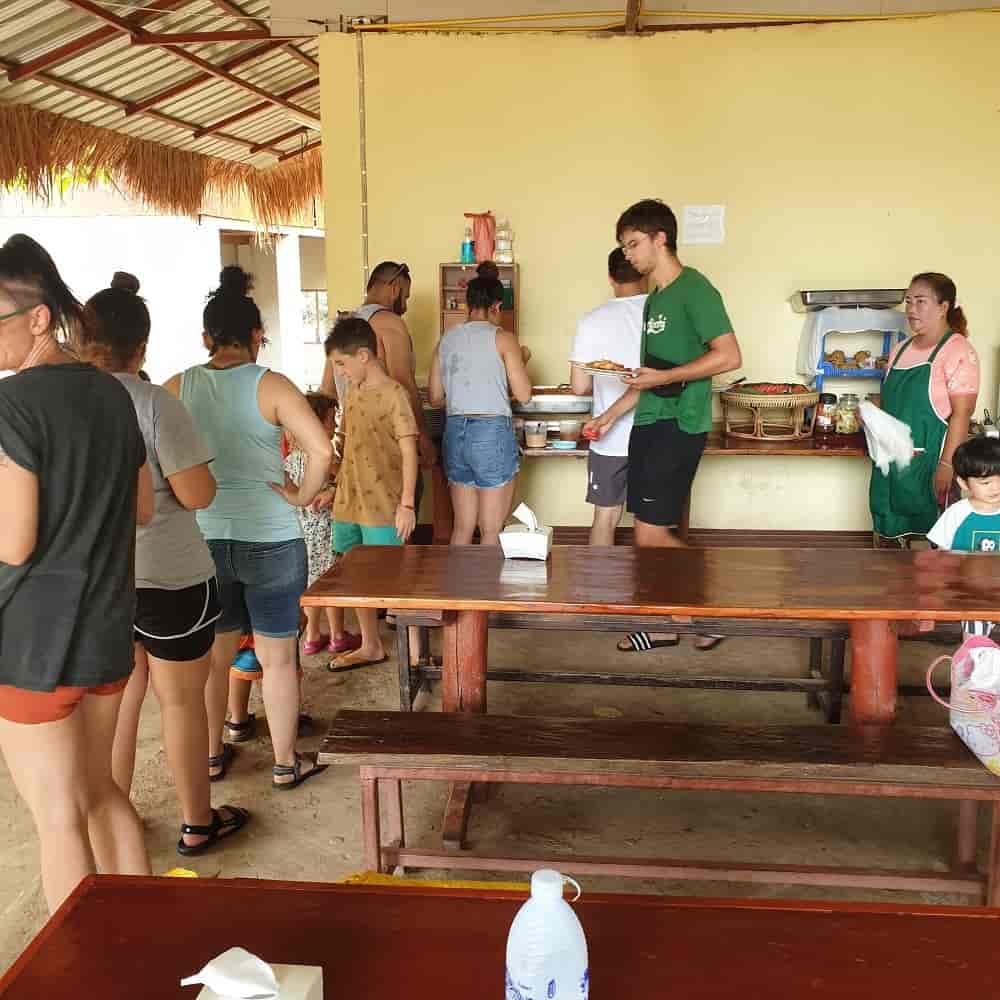 How to Book Chiang Mai Mountain Sanctuary
We found a great deal with Klook which cost us only $200 AUD for the whole family. And it was well worth the price. You can check prices and compare elephant sanctuaries online with Klook Here:
Check Prices for Elephant Day Care at Chiang Mai Mountain Sanctuary
A Beautiful Experience
We looked forward to coming to this part of Thailand so we could find the best Elephant sanctuary in Chiang Mai. I would love to be able to test out all 70 parks in the area and rate them one by one, no doubt I would want to shut a few down along the way.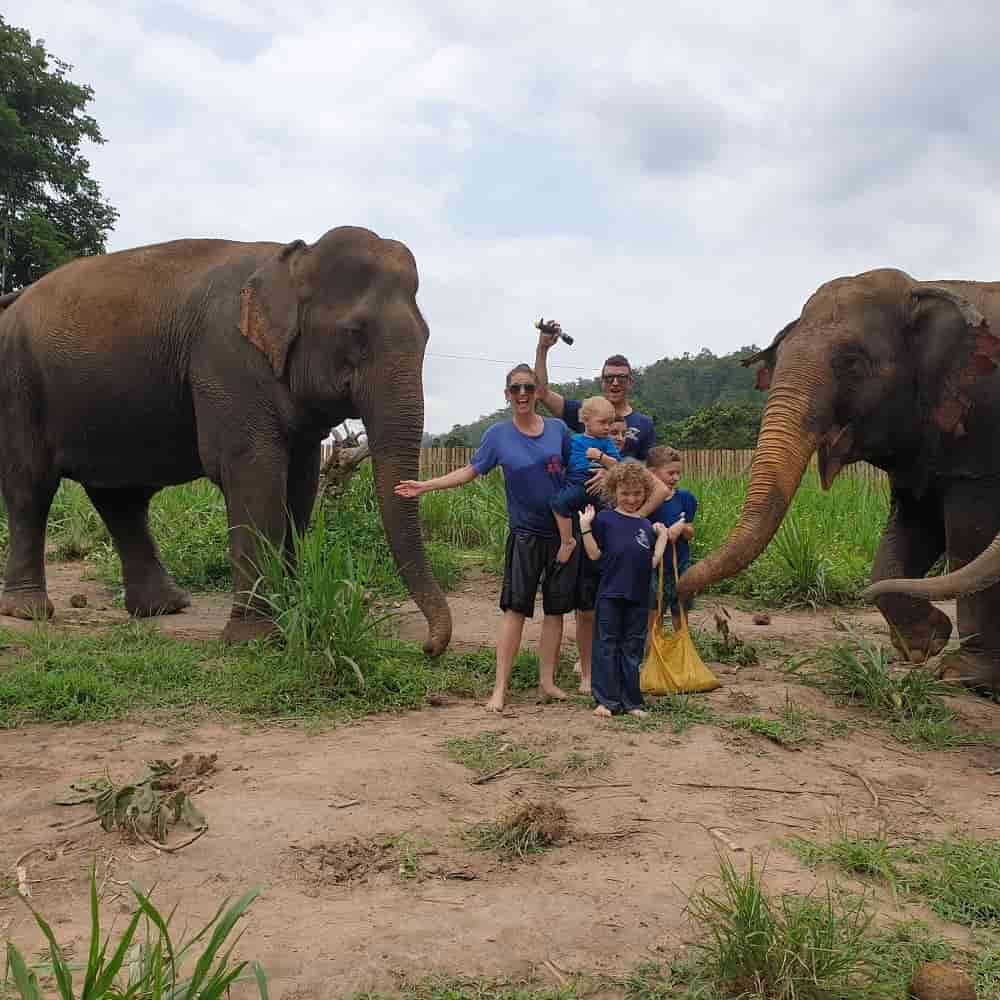 Because elephant tourism isn't regulated, it is up to us as tourists to promote and protect the best sanctuaries, so they can continue to provide ethical experiences, and protect the animals themselves.
Elephants are amazing! If you are heading to Thailand soon, make sure to line up your best elephant sanctuary in Chiang Mai.
For more great Thailand Content, make sure you check out our related posts: