In the beautiful city of Chiang Mai, there is just so much to see and do. We found a great way to explore the city and surrounds with Chiang Mai tours one day which explored Wat Doi Suthep, the Hmong Village of Doi Pui and the local temples too.
Watch Our Doi Suthep Video Below!
How to Get to Chiang Mai
Do you need a visa for Thailand? Find out here.
Usually, you will arrive in Thailand via one of the 2 international airports in Bangkok. This will be either into Don Mueang International Airport or Suvarnabhumi Airport. From here it is a short flight up to Chiang Mai, an overnight train ride or a long bus trip.
We opted for the flight after spending a fun-filled week in Bangkok first. We booked our flight on Skyscanner with Air Asia, and it only took an hour to get to the capital of northern Thailand.
If you are going to Bangkok with your kids, make sure to take them to Kidzania! It is amazing!
Compare flights from wherever you are to Chiang Mai:
Other ways to get to Chiang Mai:
An overnight train trip from Bangkok to Chiang Mai costs 1200 THB per adult and takes around 13 hours
A private minivan transfer is 12,000 THB for up to 9 people – 9 hours
The public bus costs between 560 and 900 THB and can take up to 12 hours depending on the service.
The cheapest flights we found were with Air Asia or Nok Air. Our Air Asia flight only took just over an hour and cost us $27 USD each
Check out Your Options for Getting From Bangkok to Chiang Mai

Chiang Mai Tours One Day
Our airport transfer was booked through Klook, and took us directly to our Airbnb accommodation. The driver advised us that there were only 3 important things to do while we were in Chiang Mai. These were:
Wat Doi Suthep – the amazing hilltop temple just outside town
Try a Khao Soi – the delicious northern specialty cuisine of chicken curry with wet and fried noodles
and spend a morning with elephants at one of the many local elephant sanctuaries (read about the BEST elephant sanctuary in Chiang Mai here)
We added another one to our list, and that is to make sure you include a trip up to Chiang Rai and see the incredible temples up there.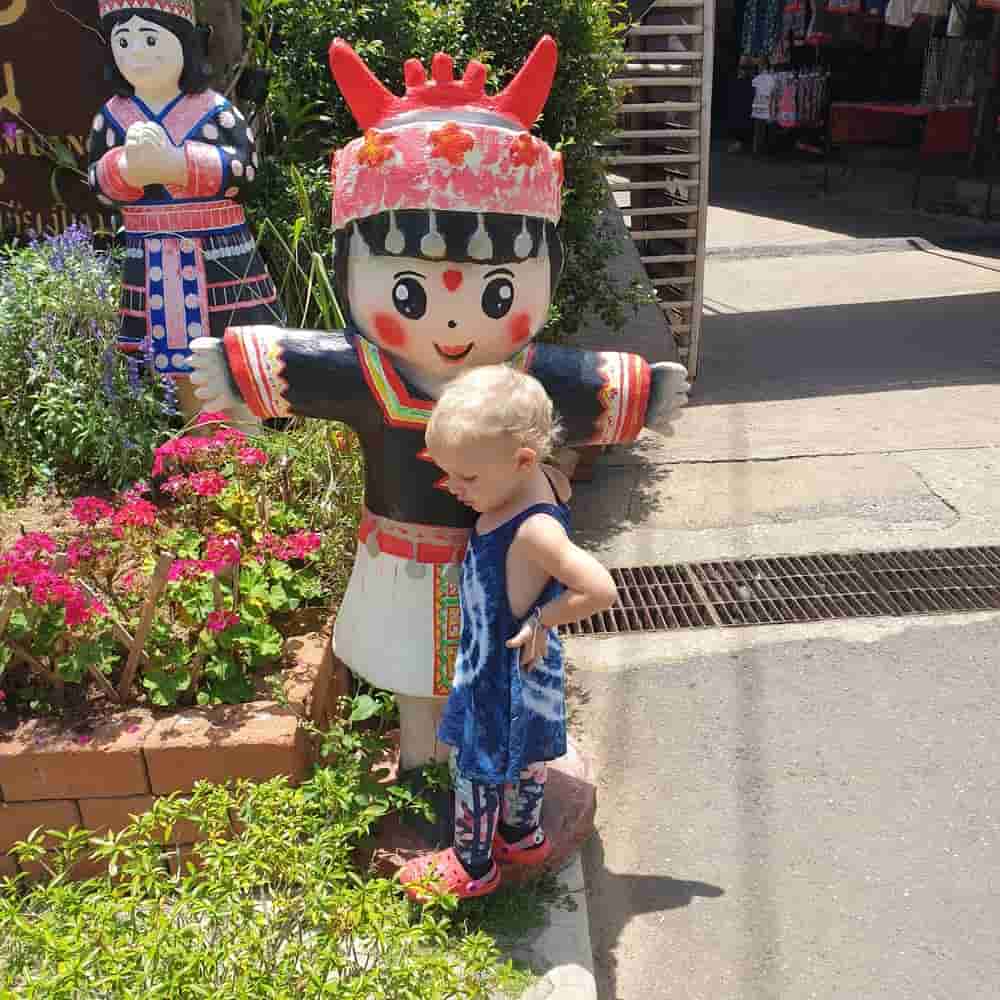 Check out the details of our self-drive tour Chiang Mai to Chaing Rai here.
The best way to find your own Chiang Mai tours, one day in duration is to book a driver for the day. This way you get to tailor make your own tour and include your most important sights along the way.
We booked ours online with GetYourGuide and had a private 9 seater van with an English speaking guide/driver for our family of 6.
Cost of Chiang Mai Tours
The total cost of our tour was $146 AUD.
This included a comfortable air-conditioned 9 seater van with a guide for 8 hours, snacks and cold water. The guide, Pon, spoke perfect English, and he was so helpful in assisting us to decide on where to go.
Our Chiang Mai Tours One Day Itinerary
We started the day being picked up from our beautiful little Airbnb just outside the city walls at 8.30 am. Then we discussed our plans with the driver. We stopped for a takeaway coffee on the way up to Doi Suthep Temple which is the most famous of Chiang Mai's 1000+ temples.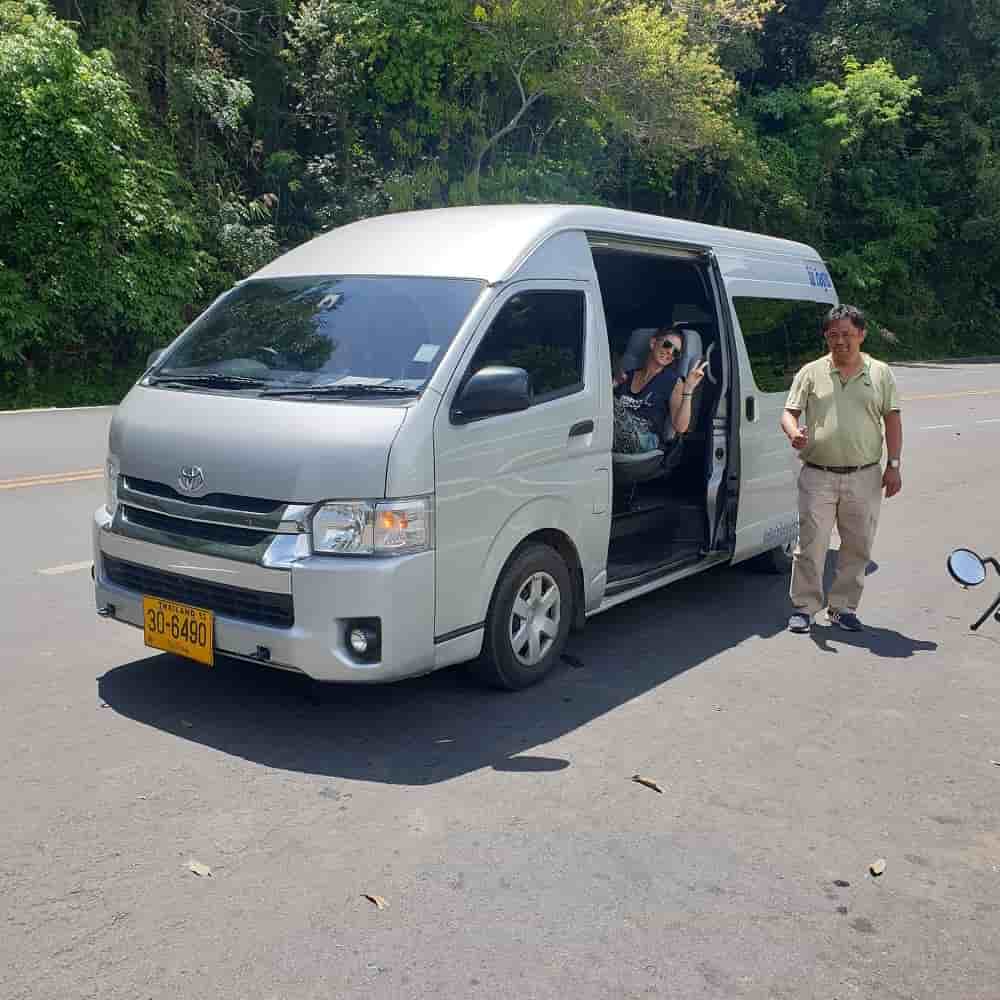 Wat Doi Suthep
The road out of Chiang Mai winds up the nearby mountainside through beautiful scenery. Our guide pointed out many points of interest along the way.
We arrived at Wat Doi Suthep and set a time for our driver to pick us up at the end. Allow at least 2 hours here. There are 300 steps to climb to the top of the temple or you do have the option to catch an elevator for a small fee.
The stairs were balustraded by a beautiful intricate dragon on either side, and the climb up was pleasant. Upon reaching the summit, there is a fee to pay of 50 THB per adult. Kids are free.
Then you can meander around the temple grounds around the major stupa, and enjoy the views over Chiang Mai. Heading into the huge golden pagoda, take off your shoes before entering. Women have to make sure their knees and shoulders are covered too. I always carry a sarong in Thailand for this purpose.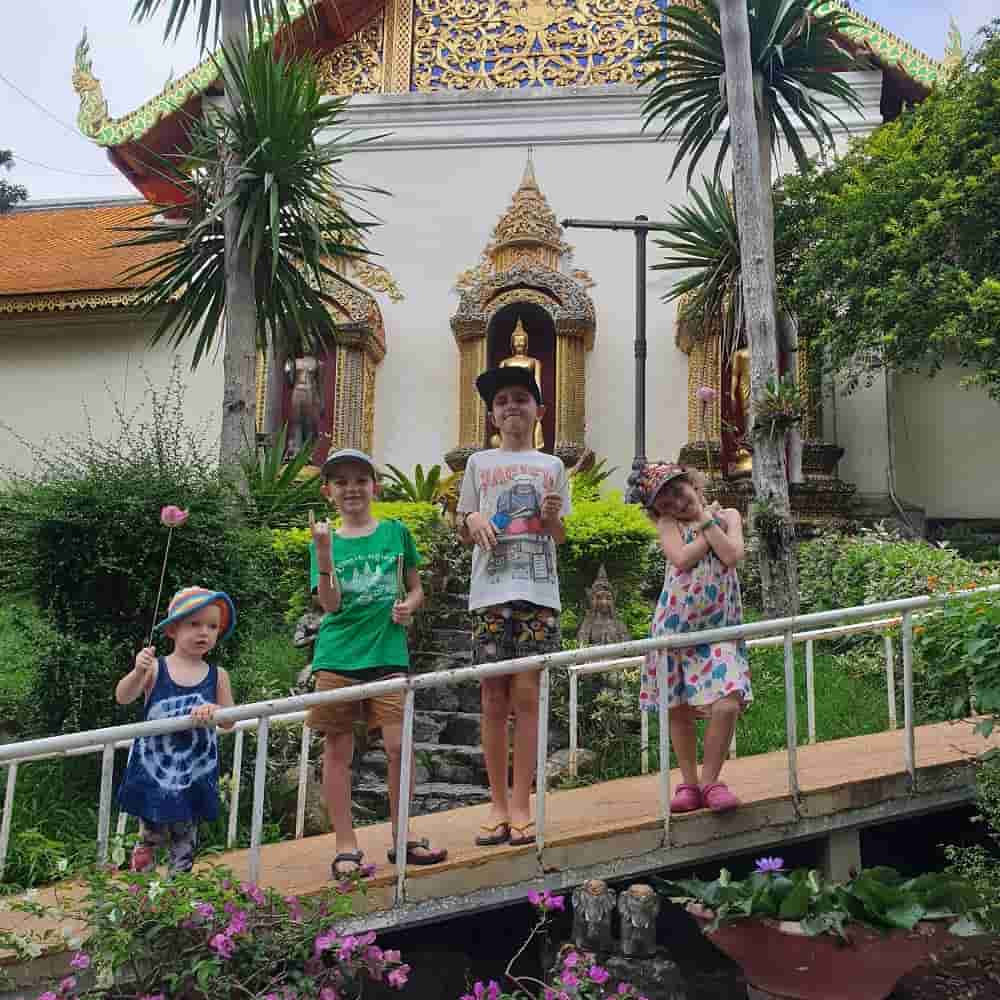 We bought some lotus flowers and incense from a lady at the bottom of the stairs and couldn't wait to lay these at this holiest Buddhist temple.
History of Wat Doi Suthep
The Wat Doi Suthep was built after one of the first kings of Lanna bought his elephants to the region to build a new temple. The elephant stopped still, then did 3 circles on the very spot where the temple now stands. Hence, the king knew that this was going to be the spot!
The temple itself is absolutely beautiful. Decorated in rich gold and jewels, and a testament to the wealth of the Buddhist faith. There were many worshippers and tourists alike at the temple. You could feel the wonderfully peaceful and prayerful vibes abound with every step.
After the 300 steps back down to the bottom, we needed a snack. Thankfully, there are many stores, restaurants and really good coffee shops around. The delicious fried rice here will only cost 50 THB and they even have waffles! The coffee is grown and roasted locally and is absolutely to die for.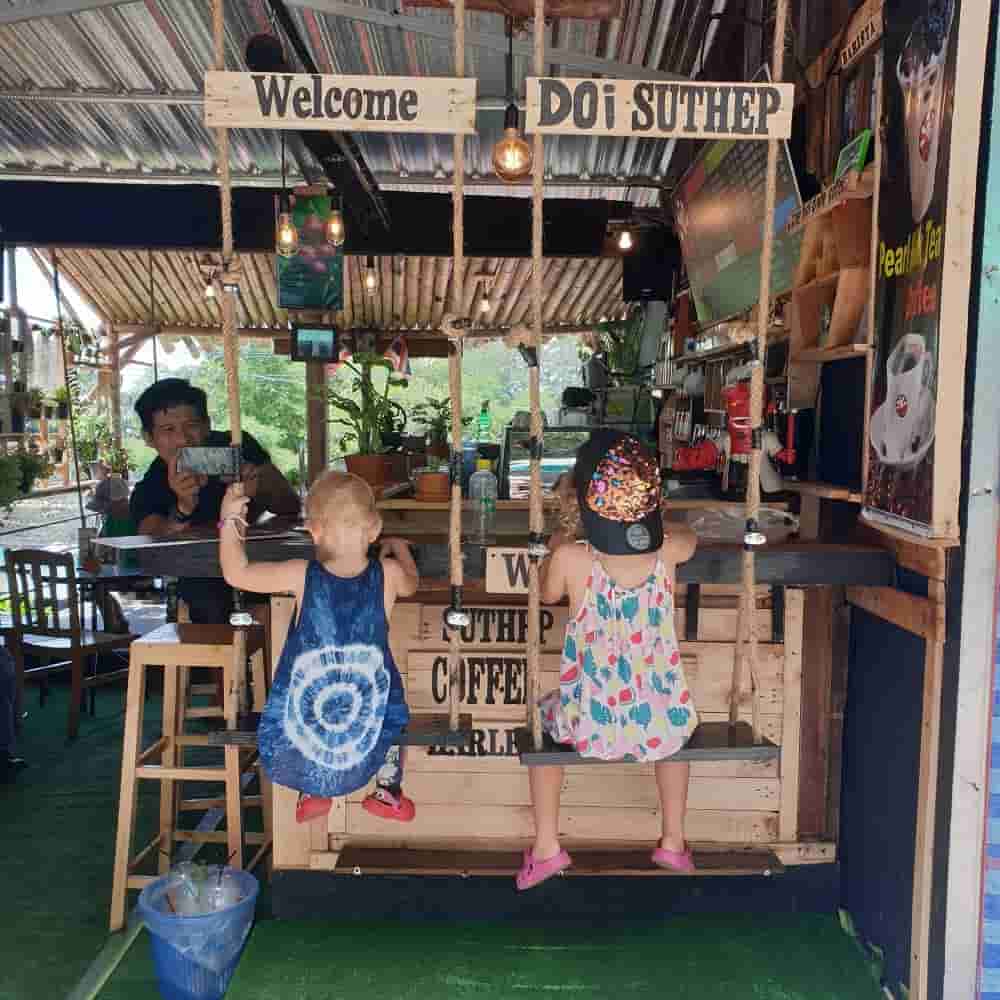 Doi Pui Hmong Village
Initially, our driver was reluctant to take us to Doi Pui as he was worried about the road conditions. However, the road has recently been upgraded and is all tarmac, the entire 20-minute windy drive to the village. The road is narrow though, and meeting another car along the way can be hairy!
The Doi Pui Village is set on a spectacular hillside surrounded by thick lush jungle deep in the Golden Triangle. Wandering through the village is like a weekend market, but the narrow path goes steadily upward. Each side is lined with local handicraft and clothing stores, somewhat different to what you see elsewhere in Chiang Mai, in most cases.
Out through the other side, you come to a wonderful terraced garden with a waterfall and huge bamboo grove which is neat to explore.
The people here are so lovely, and the food is great. This was a perfect place for a spot of lunch before heading back to Chiang Mai.
There is a seasonal strawberry farm up here too, and a waterfall. These may be visited as part of your Chiang Mai tours one day at the right time of year.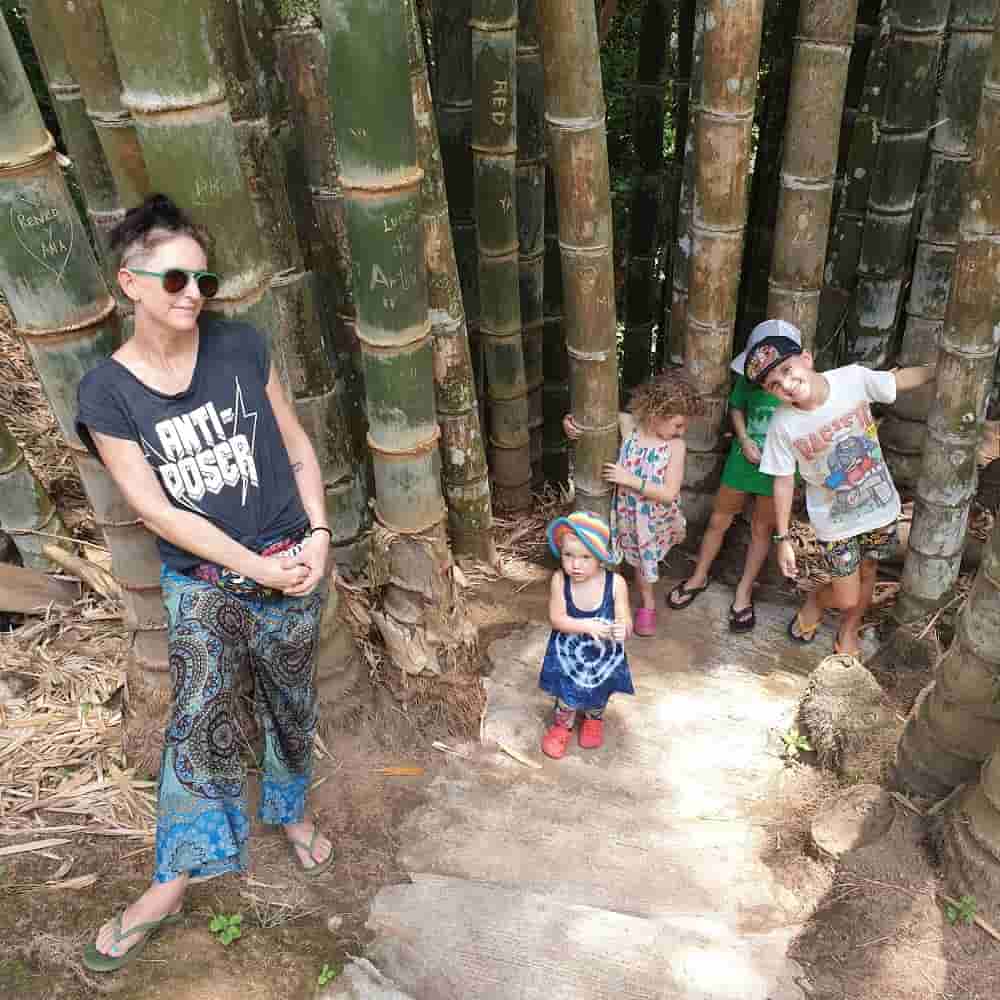 The Temples of Chiang Mai
Heading back to town, we were pretty weary after a delicious lunch. We stopped at Huay Kaew Arboretum to give the kids a bit of a run-around and rejuvenation. This nice green space had some basic play equipment, and a public toilet too but overall, it was just a lovely place to spend half an hour or so outside of the van.
The flexibility of the tour was such that we could do anything we wanted at this point. So we asked our driver what he thought were the best temples to visit in Chiang Mai.
You could include any of the following temples on your tour. With kids, we checked out the first 3, and then saw the others at other times during our Chiang Mai stay.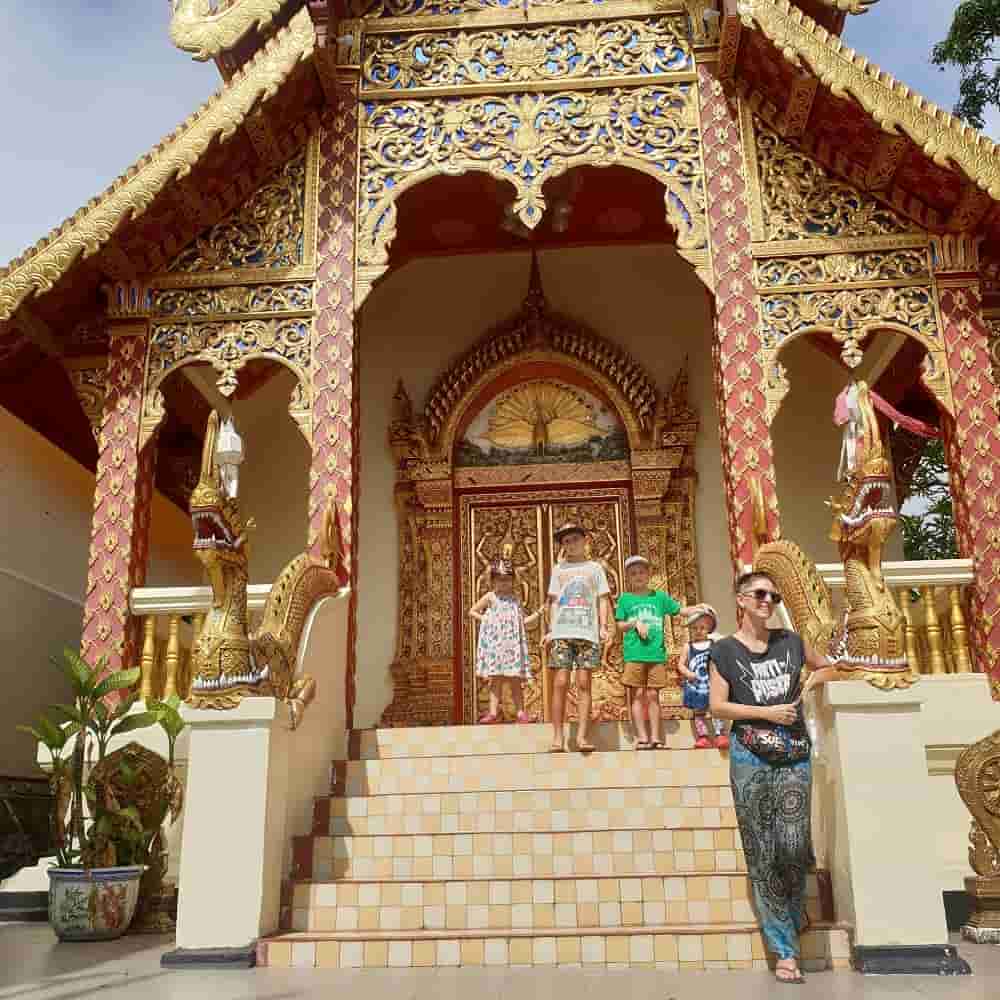 Wat Phra Singh
With a stunningly huge golden stupa, this is an impressive temple for sure. The main pagoda has amazing paintings on the interior walls and even some lifelike wax figurines of meditating monks which tricked us. This is easily the most famous (after Doi Suthep) and the most visited temple in Chiang Mai's Old City. Wat Phra Singh houses the Lion Buddha which is a super important relic dating back to 1345 and you can see this in the chapel at the rear of the complex.
Wat Chiang Man
This is known as the elephant temple and is the oldest temple in Chiang Mai dating all the way back to the founding of the city in 1297. The impressively gorgeous chedi is surrounded by 15 elephants which makes it cool to check out.
Wat Inthakin
The black temple is a striking example located right next to a busy road. It stands alone, and is a unique sort of a quiet and low key temple, despite its impressive exterior. This is actually one of my favourite temples in Chiang Mai, as it is low key, and very peaceful but so pretty!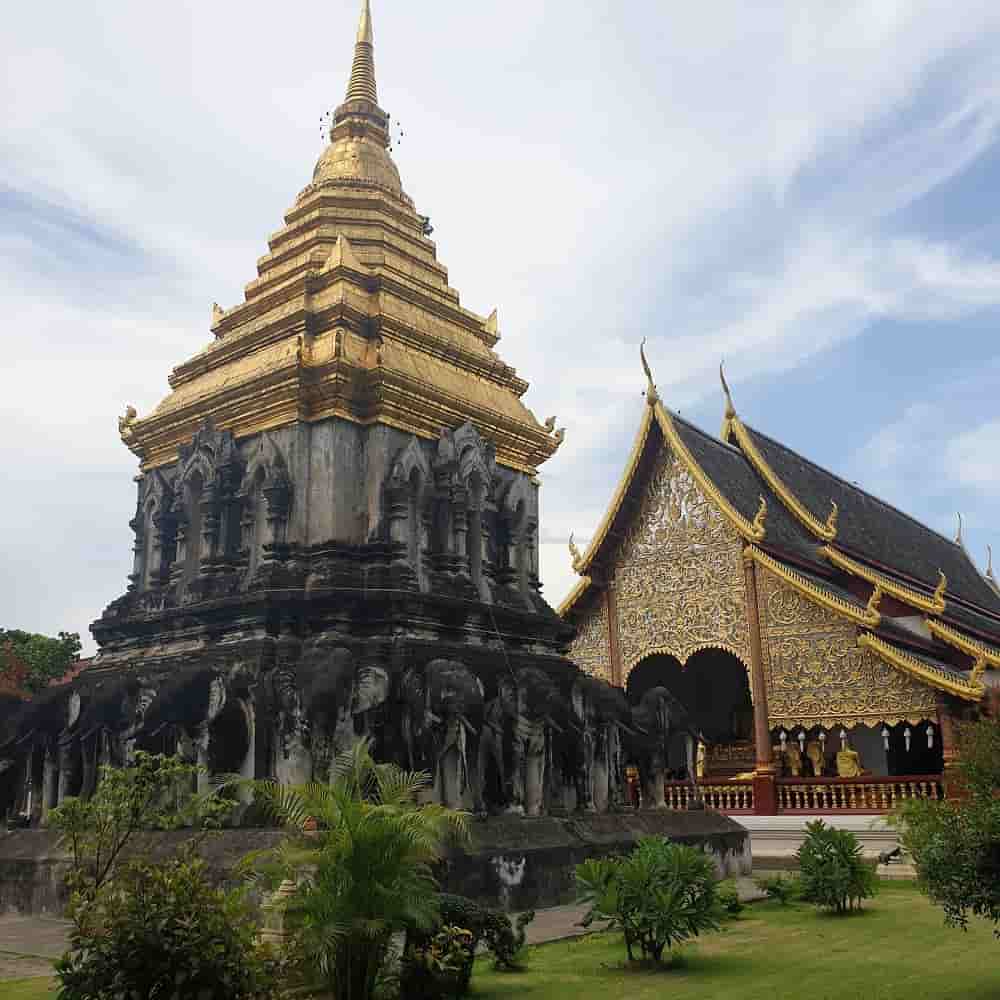 Wat Sri Suphan
This is commonly known as the silver temple as it stands in an are where silversmiths are famed for their work. The entire exterior is covered in silver metalwork. Women are not allowed to enter the hall here.
Have you ever wanted a Sak Yant Tattoo? Find out the details in this article, including the best place to get yours in Chiang Mai or Bangkok.
The Day Tour of Chiang Mai – The Verdict
I fully recommend getting yourself a private van for a Chiang Mai tours one day. You can see so much in 8 hours, and have the utmost flexibility in doing so. Tailor make your own tour, and your driver/guide will make it happen. For a family, paying per person for a group tour rarely makes sense. This is definitely the way to go.
And booking and paying securely online with GetYourGuide makes the process incredibly easy and streamlined too!
We love GetYourGuide because you feel safe knowing exactly what you are paying for. I love the fact that you can pay with a credit card or PayPal so you don't have to fork out massive amounts of cash. And the photos and reviews make it a breeze to select the tour that is right for you. As an added bonus, GetYourGuide is often cheaper than the same tour booked with a street tout.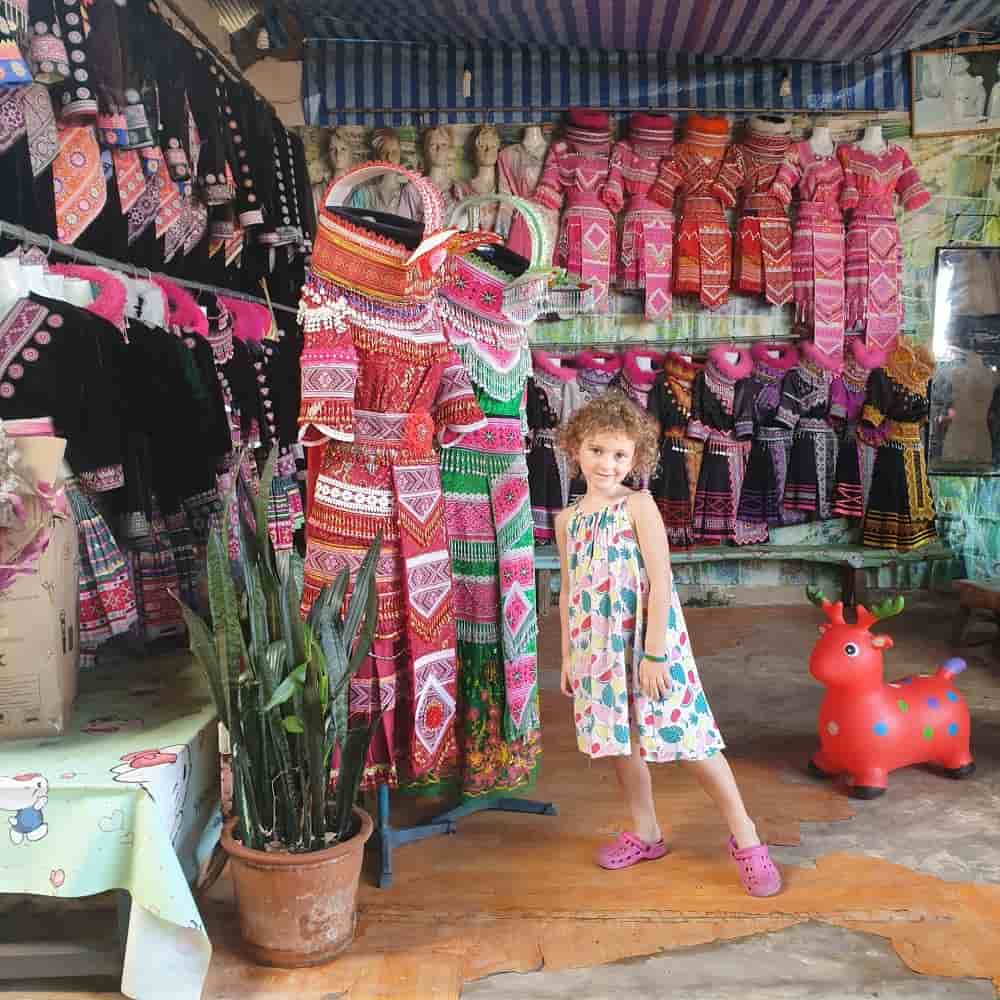 Check prices for hiring your own personal driver for the day around Chiang Mai and tailor make your Chiang Mai day tour here.
Why We Love GetYourGuide
Booking a tour or transport with GetYourGuide allows you the freedom of browsing and paying online securely with credit card. You know you are working with an internationally renowned agency who only handpick the best tour operators in the world. Read the reviews before booking, and know exactly what is included in your tour. Everything is easy with GetYourGuide.
Where to Stay in Chiang Mai
Best Airbnb in Chiang Mai
We found some great rooms for families in Chiang Mai. Our favourite was a stunning little Airbnb in a stylish local neighbourhood just outside the city walls. If you haven't already signed up to Airbnb, use this link and you can get a real $55 off your first stay!
Then simply put this in your search bar: "14 Rakang House Near Walking Street, Night Bazaar" and enter your dates to check prices. The room slept 6 of us in 4 big beds and included 2 big red pushbikes that got us around town easily. The host is brilliant, and there is a kitchen and a lovely terrace too. In the area, you can find great coffee shops and workspaces, delicious restaurants, a local market for fresh produce, and convenience stores too. And it's just a few minutes via Grab to get to the Old City.
Our Favourite Family Hotel in Chiang Mai
We went back to Chiang Mai a second time and found a cool little hotel called Little Bear's Home. All the rooms were decorated with real stuffed teddy bears. The kids loved it. Our room here was super cheap and included a King Bed, Queen Bed, and a chaise lounge which accommodated us nicely.
Nearby to here, you can find excellent food on the corner, and a super cool walking street market on Sunday nights. This is close to Doi Inthakhin which is a beautiful black lacquered Chiang Mai temple to visit. Also nearby are Wat Chedi Luang and Wat Phan Tao which are a few of Chiang Mai's most famous temples. Check room prices at Little Bear's Home on Booking.com.
Otherwise, hotels and guesthouses close to the middle of the eastern wall of the Old City are right in the thick of the Chiang Mai action. Check out your options and prices below:
See you in Chiang Mai!