A visit to the famous White Temple Chiang Rai is a definite must-see if you are in the north of Thailand. With its fantastically decorated lace white exterior and the intricate paintings on the inside, this temple has to be seen to be believed.
Save this for later and Pin for your friends!
---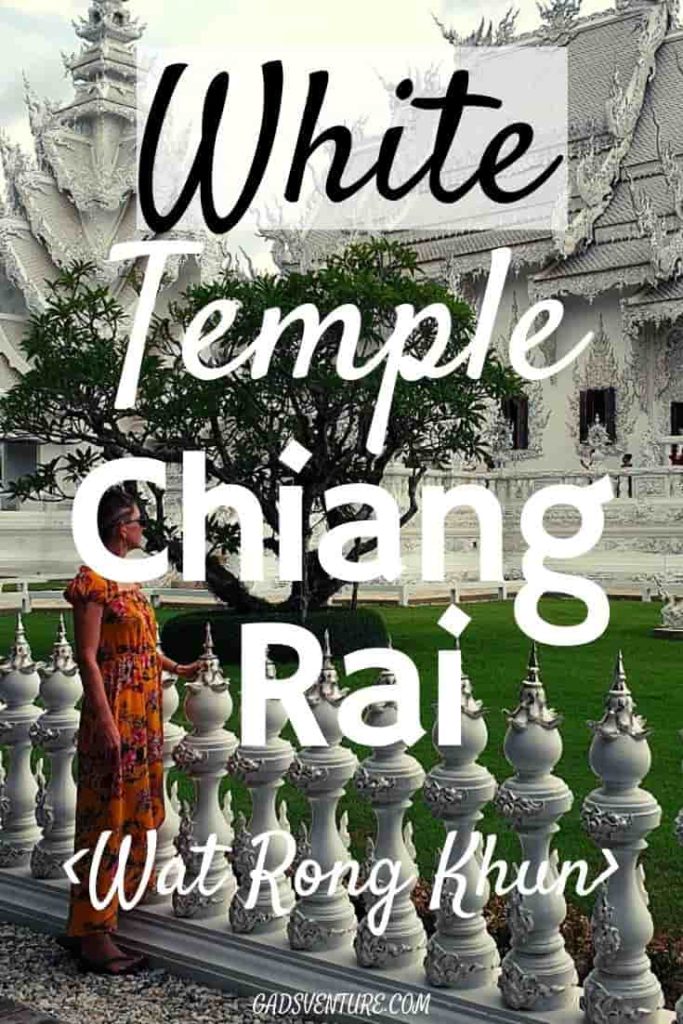 You can visit the White Temple on either a day tour from Chiang Mai, or why not stay a few days in the beautiful city of Chiang Rai and really soak up what the area has to offer.
Surrounding the Chiang Rai you can find not only famous and decadent temples such as White Temple, Blue Temple and Black House. But also spectacular natural waterfalls, intriguing hot springs, and a very cool city centre nightlife.
Where is the White Temple Chiang Rai?
If you are driving to Chiang Rai yourself, you will drive right by the White Temple just before arriving into Chiang Rai. It is on the left side of the highway and is visible from the road. Parking is at the rear.
There are many awesome restaurants and cafes surrounding the White Temple.
Cost of the White Temple Chiang Rai
You can actually wander around the entire temple for free. There are a lot of art installations, including some surprising Marvel superhero heads hanging from trees, and a Predator statue emerging from the ground.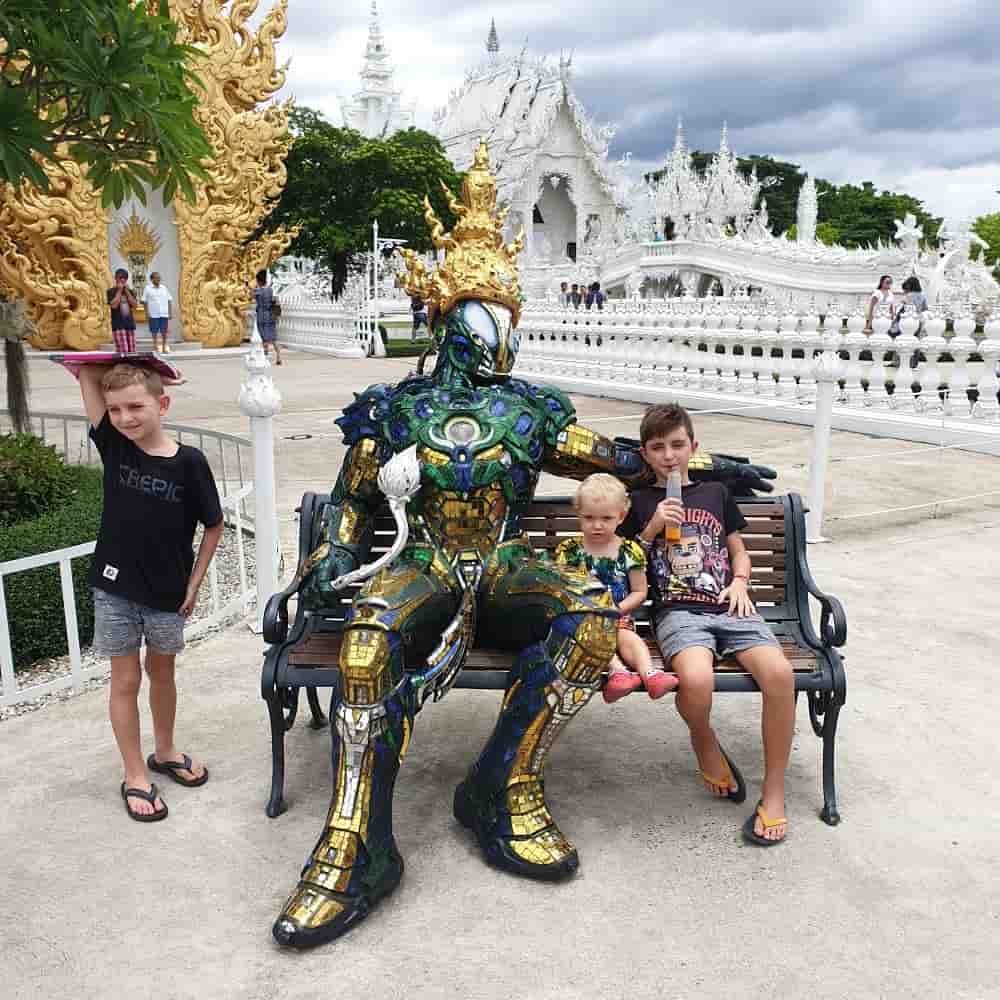 If you wish to cross the bridge and go inside the White Temple itself, you will have to pay a fee at the gate of 50 THB per adult.
How to Get to the White Temple Chiang Rai
There are many options for getting to the White Temple in Chiang Rai.
Option 1 – Arrange a Tuk-tuk in Chiang Rai to Visit the Temples
This will take some negotiating, but you can usually arrange a day tour of all the White, Blue and Black Temples in one. Drivers are waiting to be hired on the main street of town.
Option 2 – Book a Private Day Tour of Chiang Rai and the Temples through an Online Agent
We found these popular private full or half day tours departing from Chiang Rai that incorporates the famous temples as well as the surrounding countryside.
Option 3 – Day Tour of Chiang Rai and The Golden Triangle from Chiang Mai
If you are staying in Chiang Mai, you will see signs everywhere advertising a day trip up to Chiang Rai.
These tours will generally pick up from your Chiang Mai accommodation at 7am, drive the 3.5 hours up to Chiang Rai and then take in the sights before returning to Chiang Mai in the evening.
You can compare prices online with Klook or with GetYour Guide. These are both excellent online tour agencies who offer only the best local tours.
Compare prices of tours by clicking the links.
Option 3 – Self Drive Tour of White Temple Chiang Rai and Surrounds
Driving in Thailand is actually very easy and achievable. And the trip from Chiang Mai to Chiang Rai after hiring your own car is a fantastic way to explore the countryside. Thais drive on the left.
Read the full details of our experience driving in Thailand here.
To hire a car in Thailand, you need an International Driver's Permit, your home country Driver's Licence, a credit card, and a passport. We hired our car through Europcar and booked online to get a great deal. The whole car only cost us $25 AUD per day to rent.
Then we got a Grab taxi to the airport to collect it.
If you haven't already got the Grab app, make sure you download it. You will need a Thailand Sim card to create an account. It is basically Asia's version of Uber and takes the hassle right out of negotiating taxi fares. Grab really makes life easy.
You can even use Grab to get food delivered right to your door.
Option 4 – Other Transport from Chiang Mai to Chiang Rai
A quick search on 12GoAsia gives a few other options to reach Chiang Rai:
1-way taxi fare 3900 THB for a 5 seater
8000 THB for a private minivan
public bus 220 THB per person
Chiang Rai also has an International Airport. All major domestic airlines in Thailand operate flights to and from Chiang Rai, including Thai Airways (Thai Smile), Bangkok Airways, AirAsia, Nok Air, Thai Lion Air and Thai Vietjet Air. International arrivals are from Hong Kong, Macau and mainland China.

What Else is There to See in Chiang Rai?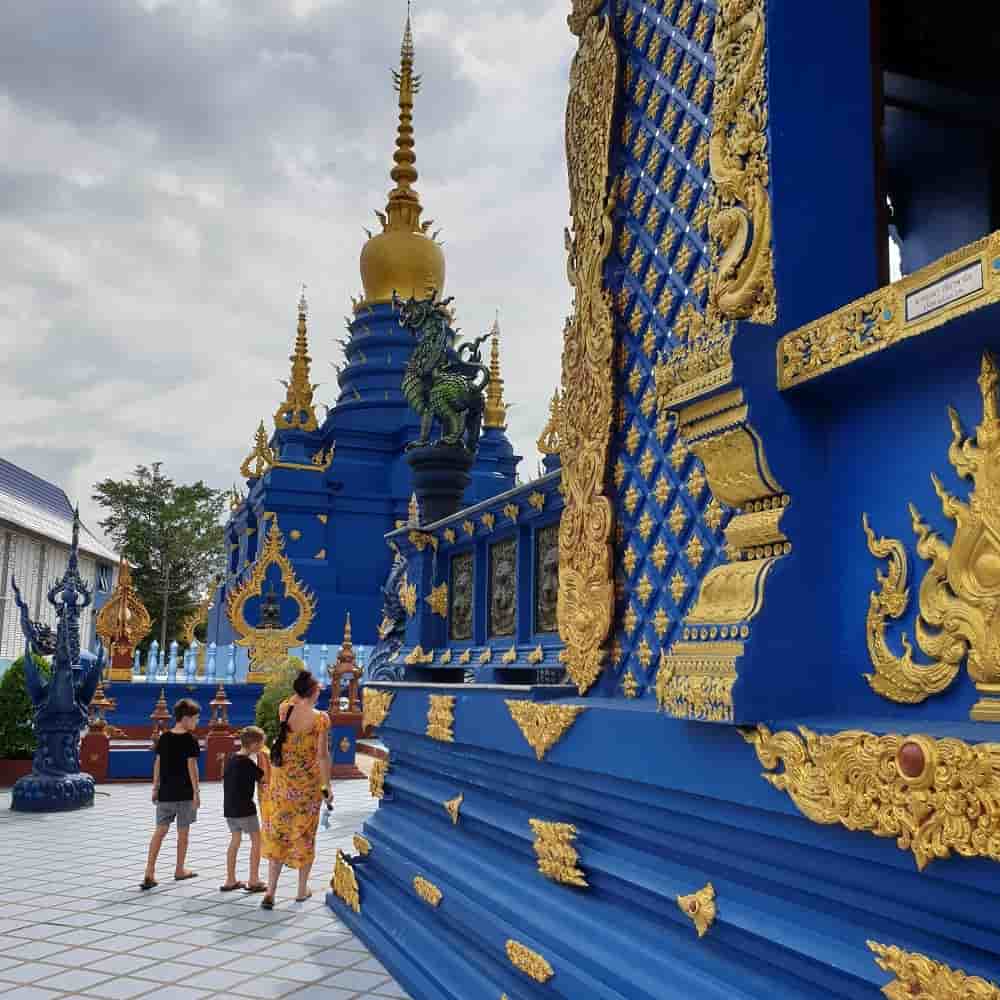 Temples
There is more to do in Chiang Rai than just the incredible White Temple. Make sure you see the Blue Temple (Wat Rong Suea Ten) too. This fabulous and awe-inspiring richly decorated temple is a must see. Entry is free.
The Black Temple is actually the Baandam Museum. Baandam means 'black house'. This place is a living breathing art gallery housing epic ethereal artworks by the master Thai artist Thawan Duchanee. Entry is 80 THB per adult.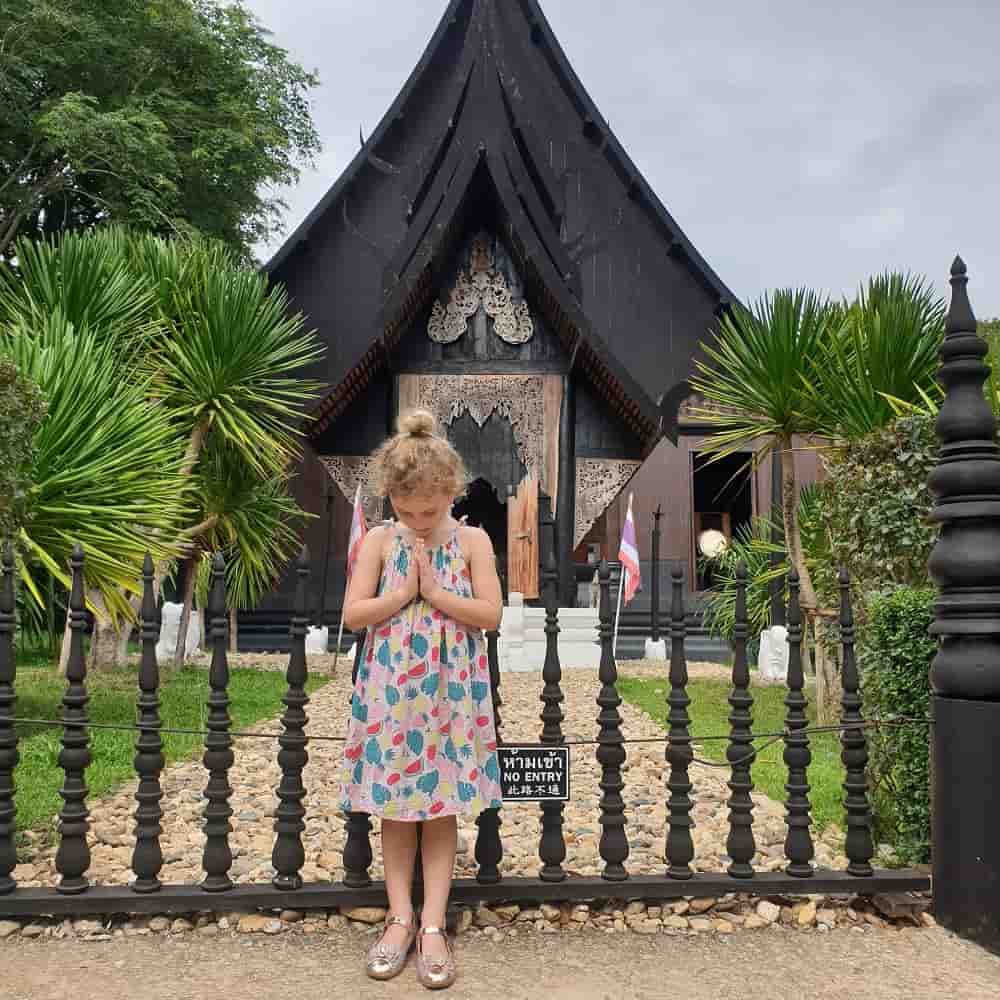 The Big Buddha is a huge 28 storey high statue of a seated Buddha. You can pay 40 THB per adult, kids are free, and catch the elevator right to the top of Buddha's head! Peer through his eyes for spectacular views of the surrounding countryside.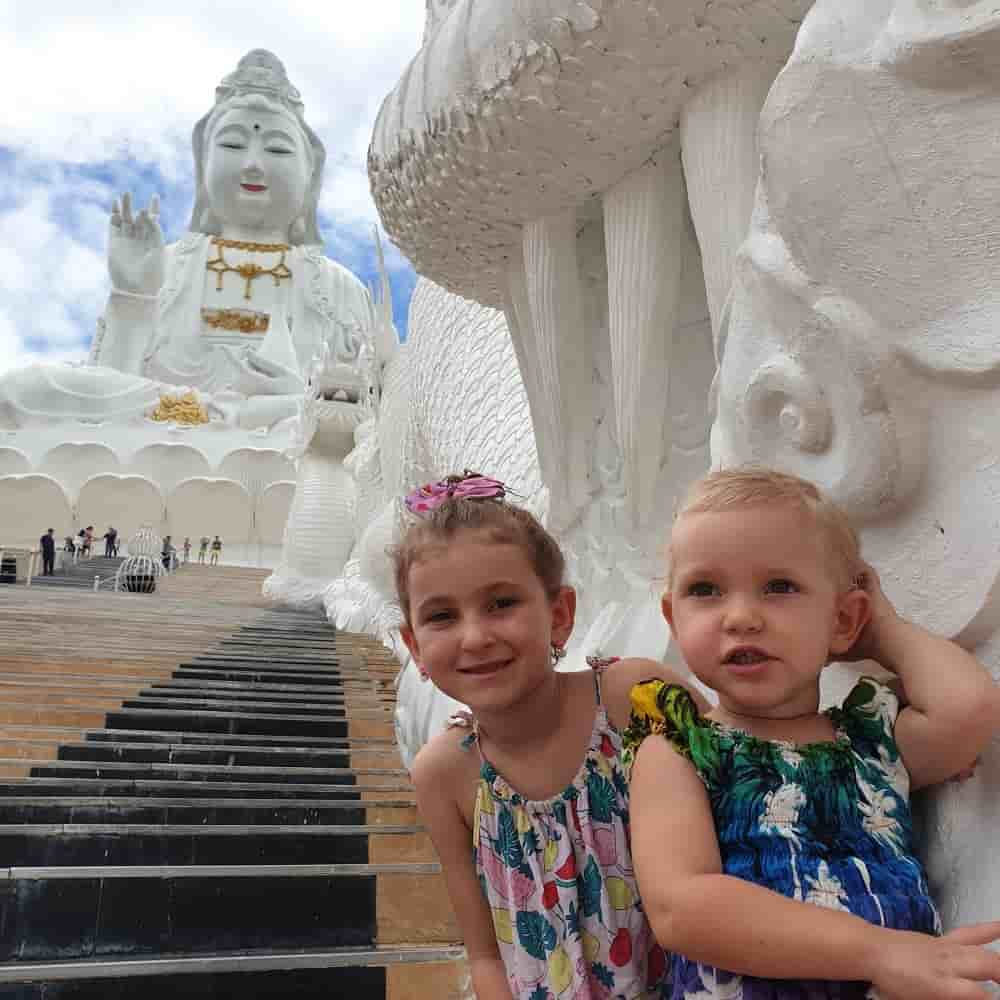 There is a place called Buddha Images Cave that you might see advertised and signposted just outside town. However, we visited and did not enjoy walking barefoot around a cave which had bats in the rafters.
Waterfalls and Hot Springs
Up the valley, you can find scenic tea plantations, the natural spectacle of some stunning waterfalls. Don't miss:
Khun Korn Waterfall
Huay Mae Sai Waterfall
Huay Kaew Waterfall
Pu Kaeng Waterfall
Pong Phrabat Waterfall
There are some hot springs up here too. However, it was so hot when we visited, that we couldn't quite bring ourselves to enjoy these.
Chiang Rai City
In the city itself there is the Clock Tower, a night bazaar, and a Saturday Night Walking Street market. If this all gets too much, relax in the air-conditioned Central Plaza with a fantastic basement food court and small kids playground area.
Cafe Culture in Chiang Rai
This was surprising to us. The Golden Triangle was once fertile ground covered in poppies for opium production. However, thanks to a joint effort from the Thai government and the Royal Family, the poppies have been gradually replaced by coffee. Now Chiang Rai is home to some fantastic cafes, all showcasing local beans and roasters.
Where to Stay in Chiang Rai
For unexpectedly awesome nightlife and endless food options, staying in or around the Wangcome Hotel is a great area to be in. Don't laugh at the name.
Best Accommodation in Chiang Rai for Families
There are some great rooms in Chiang Rai for families. It is so much easier to navigate the town here if you have your own transport too.
Budget:
Star Bright Court sleeps 6 for only $70 AUD per night
Mid-range:
A 2 bedroom suite sleeping 4 at Hi Chiangrai Hotel is only $168 per night.
The beautiful Baan Klang Suan Holiday Home is 4.3 km outside of the centre but gives you an entire house at your disposal. Sleeping 12, across 6 bedrooms, this house would be perfect for a large group of family or friends, and only costs $136 per night. You will need your own transport though.
Luxury:
For a super luxury and special stay 18 km outside of Chiang Rai, check out the 4 bedroom villas at A-Star Phulare Valley. They have a glorious pool and breakfast is included. Check prices on Booking.com
Other Activities Around Chiang Mai
We loved staying in both Chiang Mai and Chiang Rai. I recommend if you have enough time, to spend a decent few days in each if you can.
In Chiang Mai, you must do a one day tour taking in Wat Doi Suthep – the beautiful hilltop temple, and visiting the nearby Doi Pui Hmong Village. The tour we did was a private car and driver for a total of 8 hours around Chiang Mai so we could tailor make the tour to suit us. We also visited a number of Chiang Mai's most famous city temples too.
For the full itinerary of our Chiang Mai one day tour, including how to save money on your booking, read this.
The other must-see activity to do in Chiang Mai is spending a morning at an elephant sanctuary.
We found the best elephant sanctuary in Chiang Mai. The price was affordable, and the family-run sanctuary was ethical and sustainable too with no riding and no bullhooks or chains.
See all the details and how to book here.
I also got myself a traditional Sak Yant Tattoo in Chiang Mai. Do you want to know more about this wonderful art?
Read this: Sak Yant in Chiang Mai
Other amazing Temples you have to visit are;
Blue Temple
Black Temple
Big Buddha