Covering over 35 acres. With over 8000 market stalls. Chatuchak Weekend Market, Bangkok's favourite market is THE place to visit this Saturday and Sunday!
If you find yourself in Bangkok over a weekend, this is one of the top things to do in the city. Chatuchak weekend market was once only a habitat for wholesalers. However, as more and more people starting discovering just how amazing it is, the market's quality and reputation has risen to almost cult market status, if there is such a thing.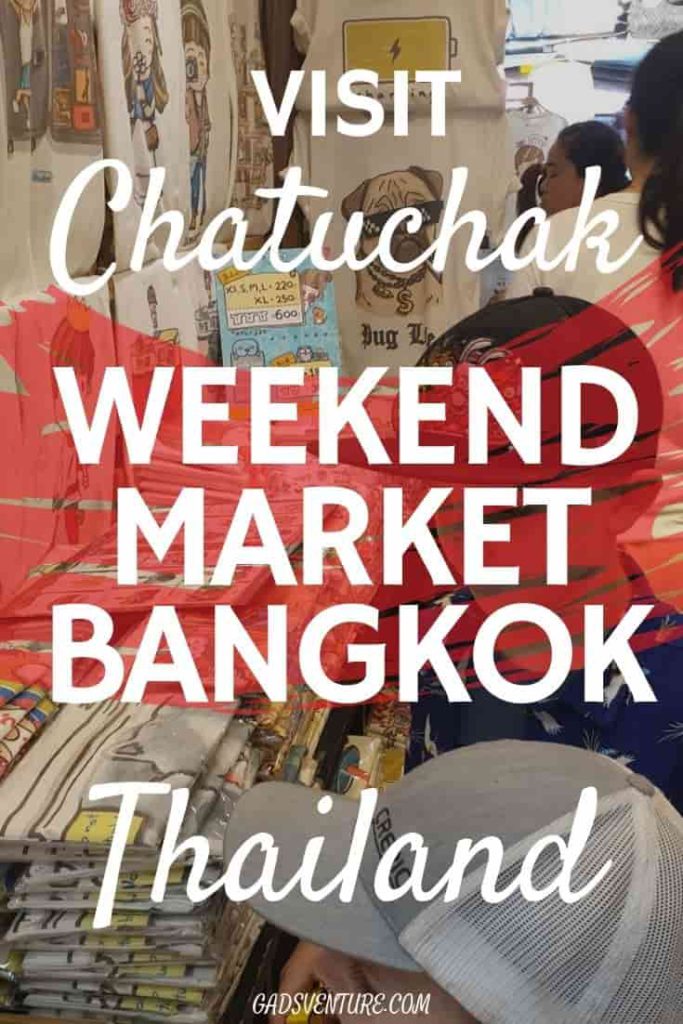 Where is Chatuchak Weekend Market Bangkok and How to Get There:
Chatuchak is located approximately 10km from Khaosan Road which will take you around 40 minutes by taxi.
Getting To Chatuchak Weekend Market via Taxi
You can catch a tuk-tuk, or Taxi and the price will vary depending on your negotiating skills. We paid one way in a tuk-tuk 200 THB.
If you can get a taxi to turn the meter on, it might cost as little as 100 THB.
A Grab is usually the most cost effective taxi. This is like Asian Uber. You need a local sim card to create an account and you can even pay by credit card online rather than cash if you want. They have options for a Grab motorbike, or Grab car.
Getting to Chatuchak Weekend Market Bangkok via Skytrain or Subway
Chatuchak is literally 1 minute walk away from Mo Chit Station (exit 1) on the BTS or Chatuchak Park Station (exit 1) on MRT. In both cases, you simply exit the station and then follow the crowd until you reach the market entrance.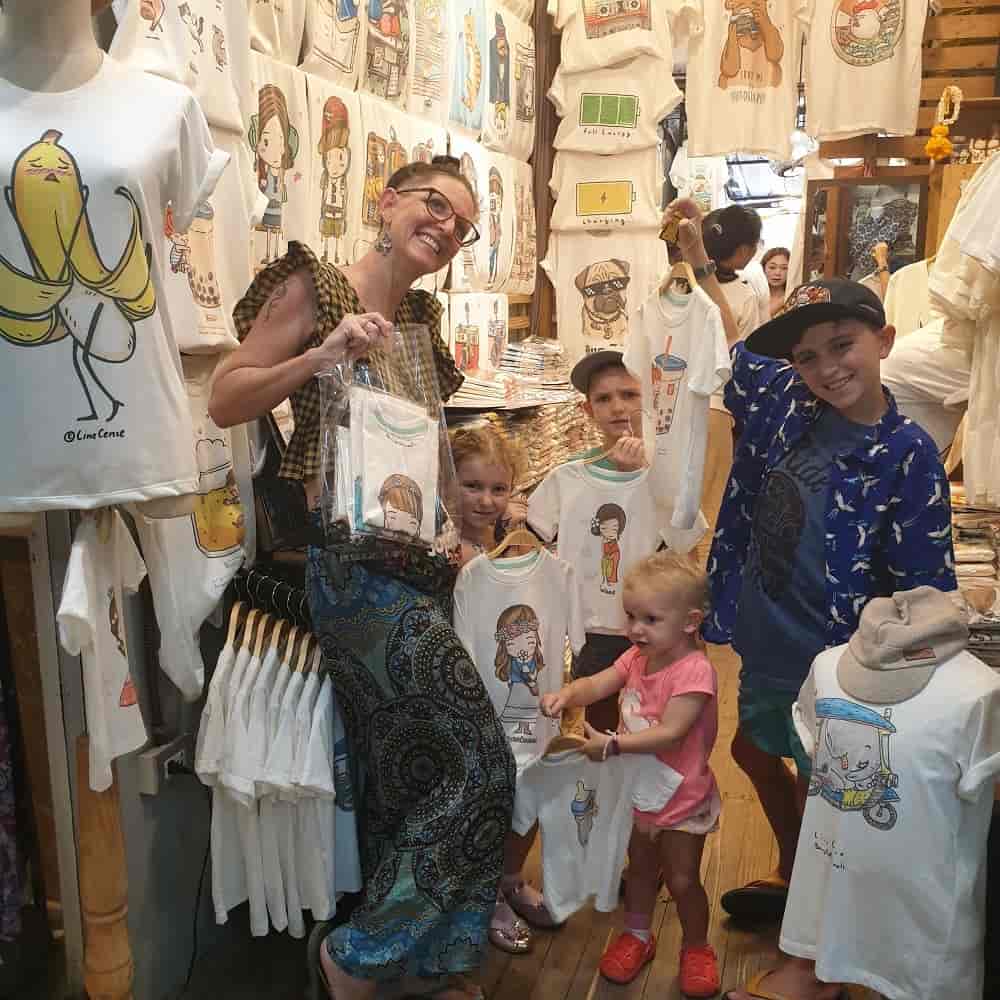 Chatuchak Weekend Market Opening Hours
The Markets are open Saturday and Sunday 9 am to 6 pm and on Friday nights from 6 pm to midnight.
The plant sections only are also open Wednesdays and Thursdays from 7 am to 6 pm.
Finding your Way Around the Chatuchak Weekend Market Bangkok
As you enter the tiny laneways chockablock with market stalls, it all seems rather overwhelming. But the stalls are actually organised into vague sections. At the main entrances, you can find information booths with free maps, and there is a big main map up on a board too.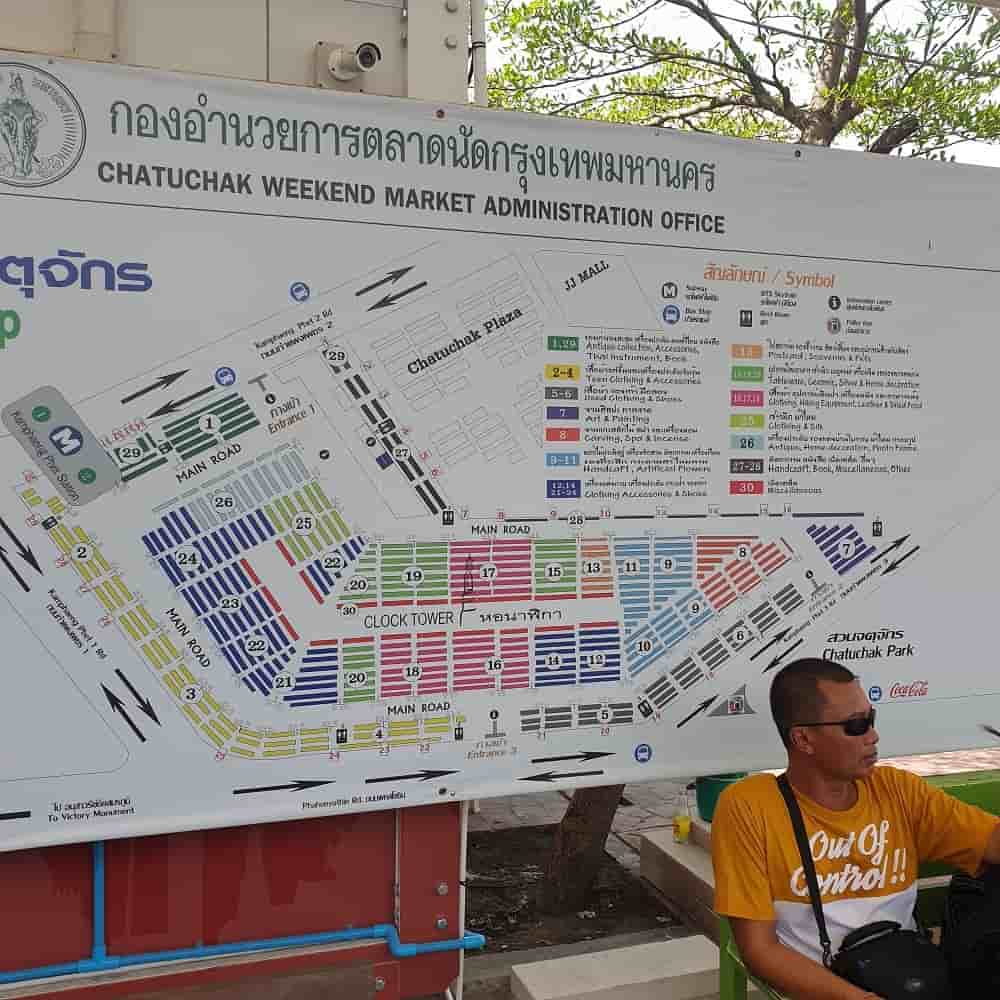 You can find virtually anything here. Vintage or designer label clothing, jewellery, handicrafts, antiques, art, food and beverages, plants, animals, toys, furniture, books and ceramics to name a few.
The best way to navigate is just to jump right in. Go with the flow, and let your instinct guide you! We sort of implemented a forward a block, then right, then forward, then left kind of pattern, but there was no way we could see everything.
Prices of Goods at Chatuchak
The cost of goods here from what we could ascertain was not too bad. The thing we liked about it was the fixed price stores. Sometimes you just get a little tired of haggling for everything!
If you do need to do some negotiating, be prepared to walk away if your price is not met, this may often result in the shopkeeper running after you. Remember that a smile and happy attitude are your best allies when bargaining.
What to Bring to Chatuchak Weekend Market Bangkok
Bring a tote bag, or buy one there to reduce the number of plastic bags you will accumulate with your purchases.
Bring cash. There are ATMs located within the markets for when you have spent all of your cash and need more.
A water bottle, for although the markets are mostly undercover, and many stalls are air-conditioned, it can get rather sweaty in there, especially if it is a busy time of day.
Food is sold within the markets. And in true Thailand style, amazing street food and fruit shakes are the order of the day.
Things to Remember When Visiting Chatuchak Weekend Market Bangkok
Keep hydrated – it can get pretty warm inside the narrow laneways between stalls
If you are carrying a backpack, it is recommended to wear it on the front rather than the back
Be wary of pickpockets
Don't flash around your piles of cash
Visit in the morning rather than the much busier afternoon
Wear light and cool clothing
Wear comfortable shoes
If you need a rest, the best way to do this will be a 30-minute foot and leg massage, and then head on your way again! Sounds great!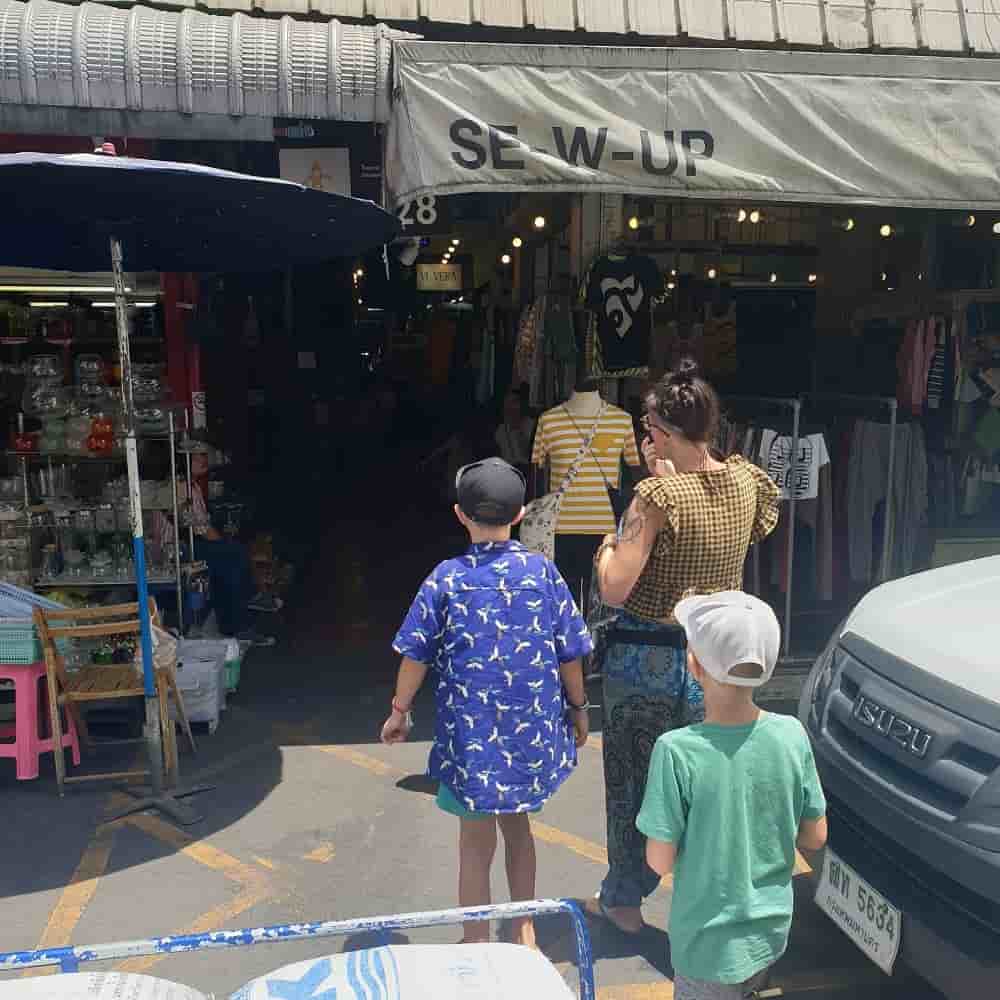 Our Experience at Chatuchak Weekend Market Bangkok
We have 4 kids. So our morning at the markets was understandably a little more hectic than what yours will be! It is like herding eels trying to keep our family together.
We caught a tuk-tuk from Khaosan Road where we were staying in a family room at D&D Inn. (If you stay at D&D, don't get a room on the Street Wing.) The ride cost 200 THB.
We got there early, around 9.30 am so the traffic was minimal on a Sunday, and the ride only took around 30 mins.
We entered at the main gate and didn't know anything about grabbing a map. But this allowed us to just cruise along, turning here, going straight, letting the stalls guide us, whatever looked good, that's where we headed. The clothing stalls are beyond exciting! It was so great to see 'normal' stylish clothing, rather than all the touristy stuff we were so used to on Khaosan.
The prices were definitely varied with a lot of fixed price stalls. Buying more than one thing from the one stall helps with your negotiation of course, but we mostly stuck to the things that had price tags.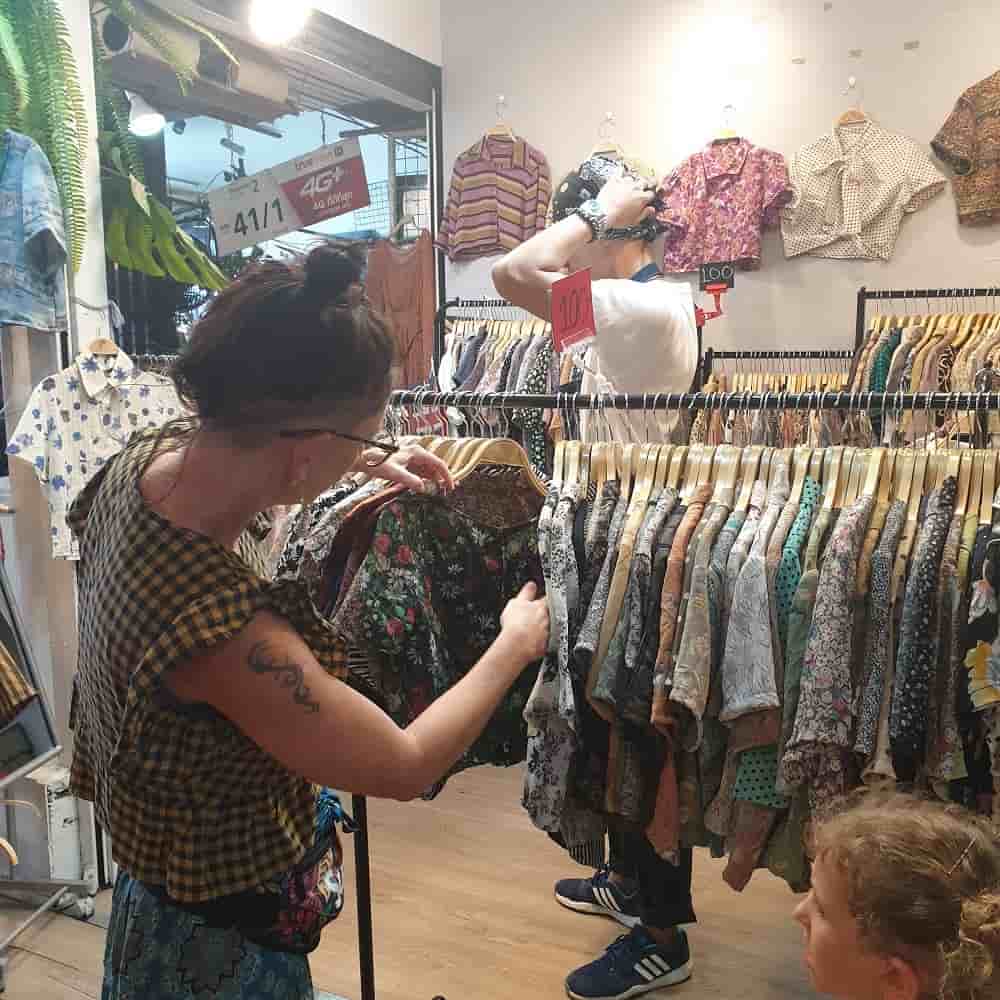 After a fun couple of hours pounding the pavement, we found some delicious street food to munch on, and some refreshing fruit shakes.
We took the kids across the road to the free Children's Discovery Museum for a run-around. They have a big adventure playground, dinosaur bone digging and a lot of hands-on art and building activities for the kids to enjoy.
You need to show a passport, or a photo of your passport to enter the Children's Discovery Museum. Then we headed back for one more pass through the market.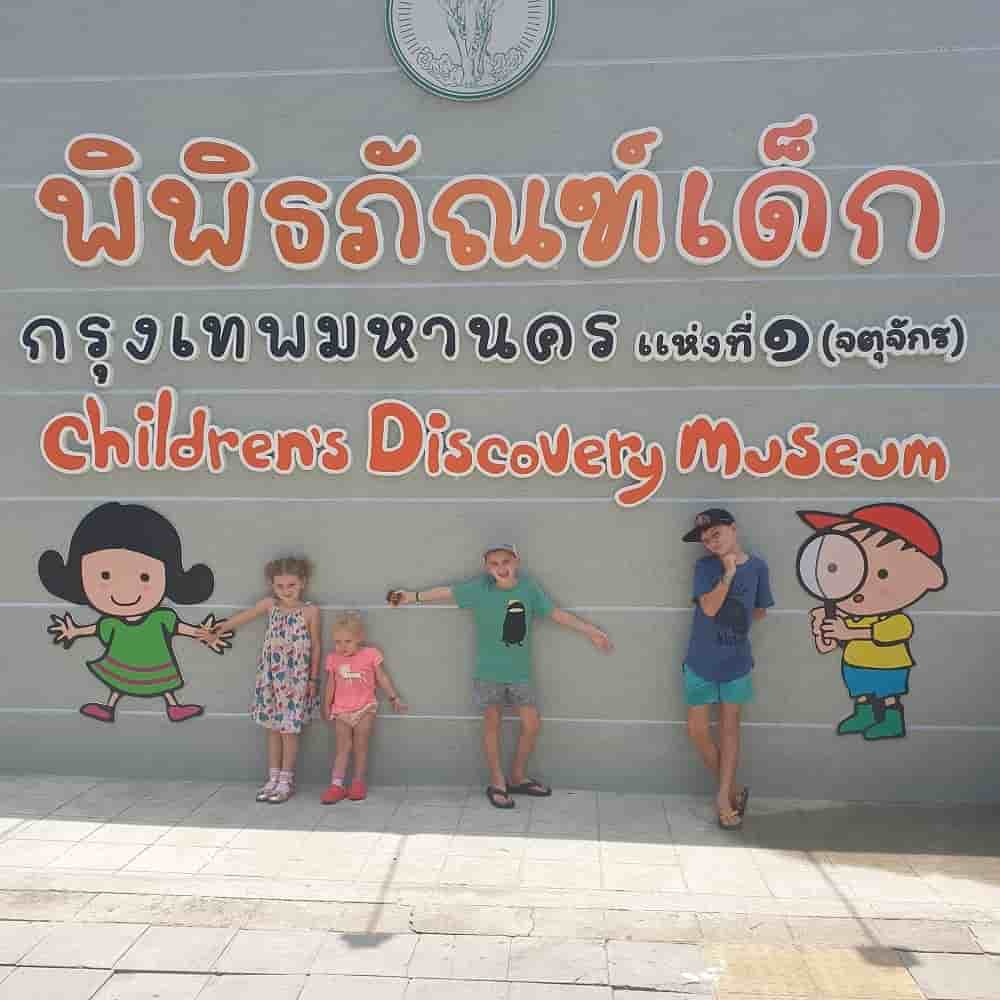 The markets seemed to get busier after around 2 pm, so this is about when we headed home. It was easy to hail a taxi at the exit, and it cost 100 THB with the meter on, but we paid an extra 50 THB on top of this to go on the much faster toll road which was totally worth it!
Why Go to the Chatuchak Weekend Market Bangkok
This market is one of the most exciting shopping experiences of my life. It is the epitome of 'shop-til-you-drop', then have a massage and shop some more. You could spend days in here!
The quality of the goods was great and it was cool seeing unique and boutique talent, especially in the clothing sections. I think a lot of the 'tourist' crap you find in the popular parts of Bangkok are imported from China these days, so it was great to support local designers and craftsmen.
If you are in Bangkok and it is the weekend, definitely take yourself to the Chatuchak Weekend Market.
Bangkok for Kids
Our kids loved Bangkok. Our hotel had a rooftop pool (just don't get a room on the street wing) which they loved because it had a view of the Grand Palace! And we were right in the thick of party town on Khaosan Road. Don't worry, we had them off the street before 8.30 when things got really crazy!
Some other fun things to do in Bangkok with the kids are:
Kidzania – this place is the best! Located in Siam Paragon. A whole kid-sized, kid-themed, kid run town where they can practice 'working' in all different roles. See our post for all the details, including where to get the cheapest tickets.
The Children's Discovery Museum across the road from Chatuchak Weekend Market is free to enter. They have a section which is similar to Kidzania where kids can roleplay as soldiers, shopkeepers, or TV newsreaders. There is also a great playground, and various educational art and building workshops. You need your passport or photo of your passport to enter.
MBK Mall – Another awesome place to shop til you drop – this place is huge! There is a fun amusement arcade and cinema complex on the top floor.
Pantip Plaza – If you are looking to buy any electronics while you are in Bangkok, this is the place, but they seem to have cleaned up a lot of the piracy these days. So gone are the pirate DVDs, software or hardware. Instead, you just get really good deals on genuine articles. We bought the kids a great laptop for only 9000 THB.