If you are traveling around Australia right now then the amazing Reb Bluff Western Australia is for you!
We toured around for 12 months with 3 kids and a pop-top caravan and it was the best adventure of our lives and we are Australian. 
We followed the coast around because I am a surfer, windsurfer, and stand-up paddleboarder. I wanted to check out all the surf spots Australia has to offer. One particular place that completely blew my mind is Red Bluff Western Australia.
Red Bluff Western Australia
Chances are if you haven't done the big lap yet. Or maybe you are underway. If you are not into surfing or dirt roads you probably haven't heard of Red Bluff Western Australia! I hadn't heard of it and I love the surf.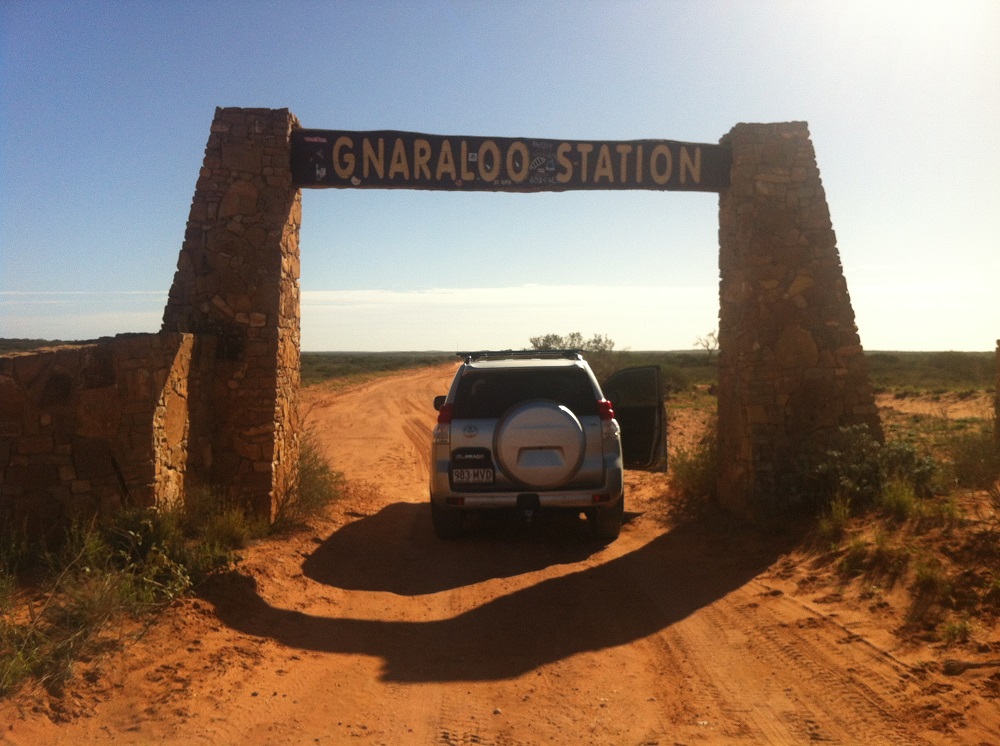 It is adjacent to Gnaraloo Station and part of Quobba which might ring a few bells for big wave buffs.
What is Red Bluff?
Let me tell you more about this hidden remote spot of Red Bluff Western Australia.  Red Bluff gets its name from its geographical feature. It is a red rocky bluff headland protruding out into the great Indian Ocean.  It is incredibly beautiful, especially when it turns red thanks to the sun hitting it early morning and late afternoon.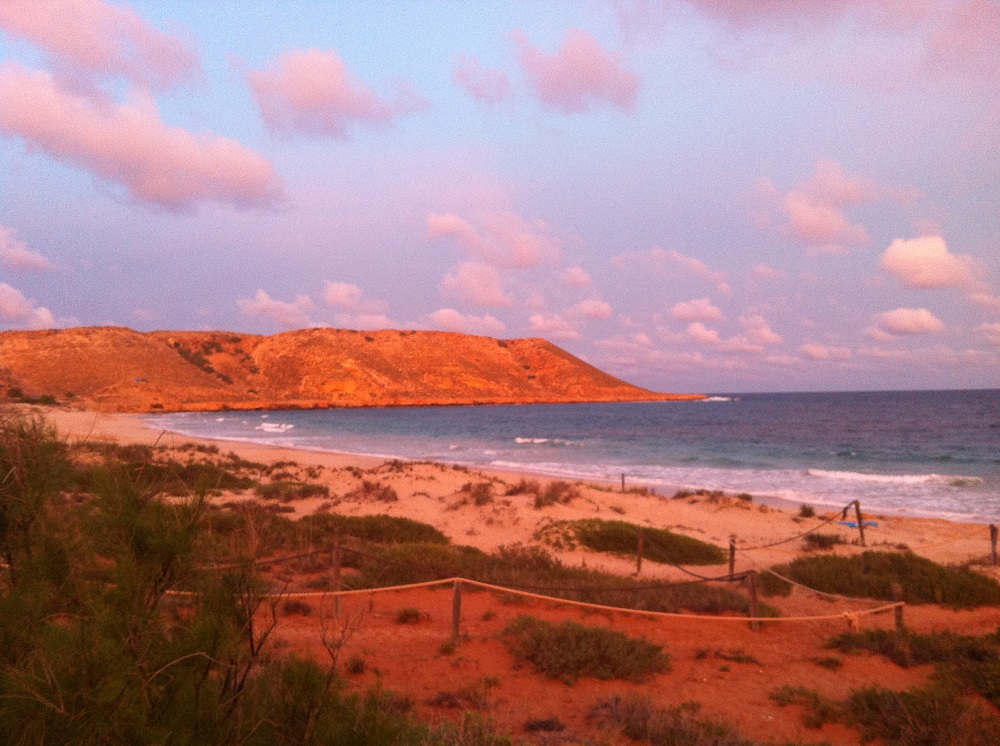 You should definitely visit this spectacular area of Australia to get a sense of being one with our ancient country.   Not only is this part of the country beautiful and relatively untouched. It actually has a lot to do for cool travellers.  Once you arrive at the Red Bluff camping area you can camp along the beach just off the sand. You will have majestic views of the headland and endless ocean.
Where is Red Bluff Western Australia?
Red Bluff is situated 135km north of Carnarvon township. It is actually part of a working sheep and cattle station called Quobba.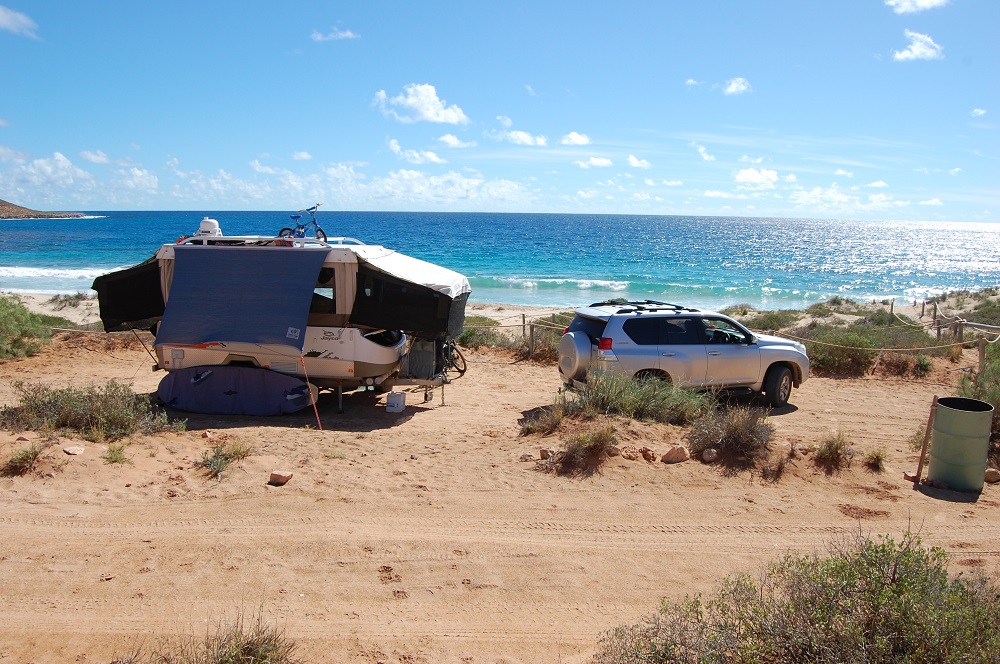 To get here from Carnarvon, follow the North West coastal highway for 30km. Turn left at the Quobba station sign. Keep driving for 48km until you get to a sign that says "King waves kill!" Then turn right and head along the road for another 8km of unsealed dirt. Then you will arrive at the Quobba homestead.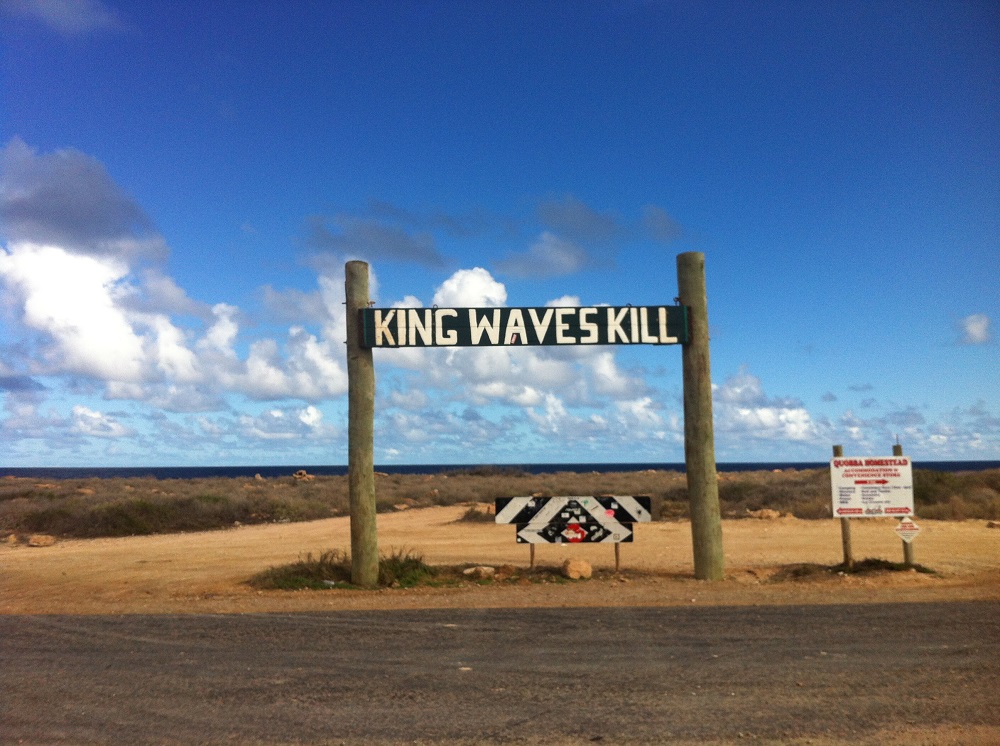 We found the road to be relatively in good condition at the time of travel. Though I did lose a D shackle off my trailer from the corrugations.  A 4WD vehicle is recommended although we did see other non-4WDs in there, it depends on how brave you are!  Make sure you stop to check out the blowhole situated at the "waves can kill" sign. It is mind-blowing if you get the conditions bang on.
Things to do at Red Bluff
You actually don't have to do anything at the Bluff. You could just watch the world go by. Wake up with the rising sun and watch the magic bluff ignite into a red beacon.  Check out the surf conditions from the comfort of your tent or camper. Decide whether or not it is worth the long walk to the famous surf break.  Brew a hot cup of tea or steaming coffee to go with your breakfast and enjoy.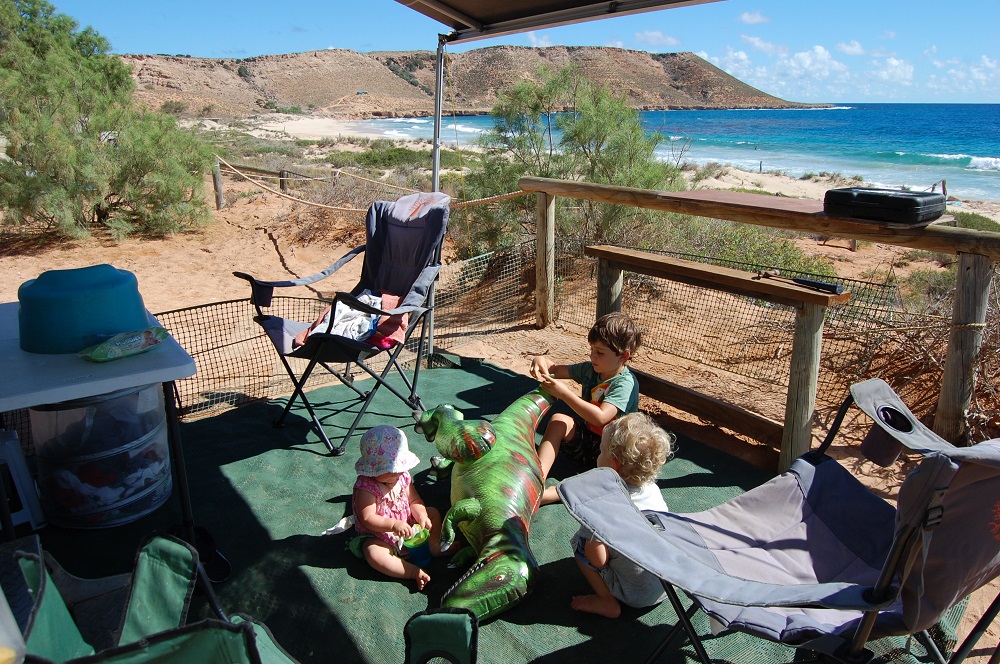 Listen to the shore break at your doorstep while you fire up your engines. Decide to either explore the area, go fishing off the rocks, spearing, surfing, or just read a classic book.
Red Bluff Western Australia Activities
There are plenty of different activities available at Red Bluff Western Australia such as:
Surfing – this is probably the biggest drawcard about this place. The surf here is epic and can be quite challenging, but not really suitable for beginners.  She is a fast left-hand wave that breaks over a rocky reef, this probably gives you an idea!

Fishing – Red Bluff is situated at the south end of Ningaloo Reef. It is abundant with marine life, so the fishing here is worth a shot.  You can fish off the rocks, off the beach or take a boat out. Try your luck in the deep, good luck!
Helicopter tours – Coral Coast Helicopter Services are based in Carnarvon and provide scenic flights around the area.
Diving – Dive or snorkel with manta rays, turtles and dolphins.
Watching the sunset over the Indian Ocean is an experience that can't be missed. 
Dining at the local cafe near the beach. This place is so unique and serves a variety of food and drink. (P.S. Try the smoothies, they are delicious!)

Hanging by the beach and just enjoying quality time with the kids or friends. The beach here is to die for. Long and full of character. Beautiful sand and a tonne of wildlife in and out of the water.
Camping – some of the best campsites around, nice and level areas that all have magic ocean views.
Accommodation at Red Bluff
Quobba Station has you covered depending on your style at Red Bluff. Whether you love to camp or glamp, it's up to you!  Here is a list of the different options available:
Retreats – Hard deck safari tents starting from $220 a night for two, children are an extra $35 a night each.
Bungalows – Safari tents on a hard deck. Starting from $90 a night per person and $35 extra for a child.
Camping – Bring your own tent, caravan or camper. Stay on clean level sites for $15 per adult and $5 extra per child. (Remember these are unpowered sites so be prepared)
Shacks – Palm frond built shacks with a hardwood floor, so unique! Stay here from $30 per adult.
The Weather at Red Bluff
Most types of vehicles can access this campground but a 4WD is recommended.  Be a little wary of the weather. You can get caught in here on a big wet. So make sure you have heaps of supplies for emergencies. Check your weather reports.
Our first night here was pretty crazy, rain and wind wreaked havoc with our poor little Jayco Eagle camper.  I had it tied to the posts and water was coming straight into my door seals.  The one major problem with camping right on the beach, you get the full brunt of the weather.
Also, there aren't many trees around the Red Bluff region. So remember to bring plenty of shade. Cover up during the day, especially with the kids.
Best Blog Read NOW: Gibb River Road with Kids
Unique Facilities at Red Bluff Western Australia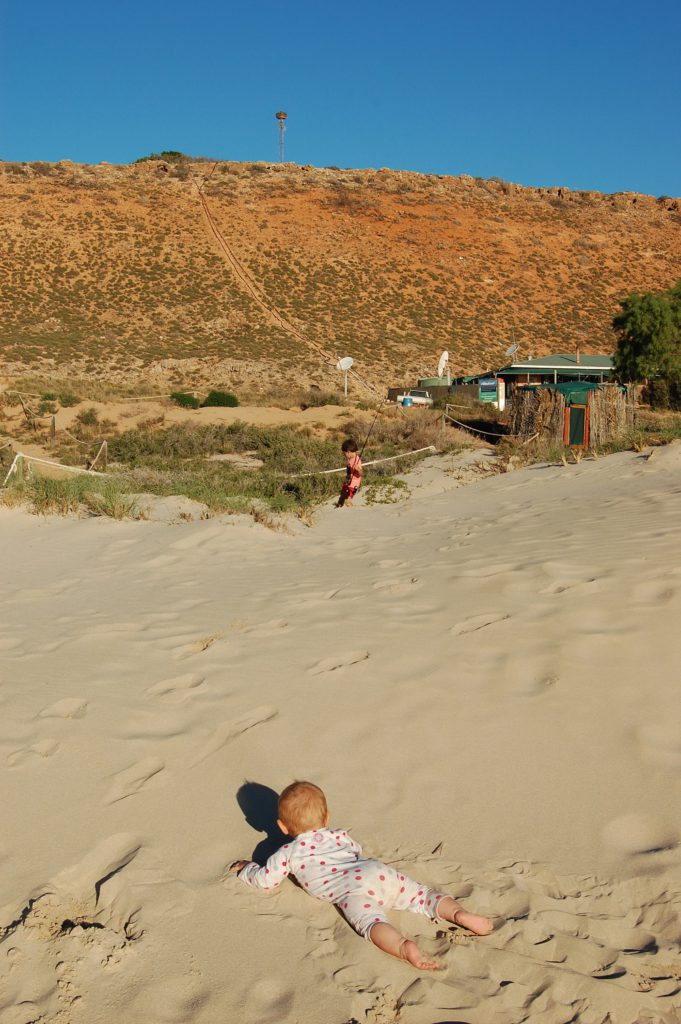 To this day I have never experienced a toilet anything like the ones at Red Bluff! They have these little palm shacks built around the campground with a spring-operated door.
The campground has drop toilets and beside each toilet is a bucket of sawdust with a scoop placed in it. After you have finished your duties, scoop sawdust over your business. This ensures that it decomposes better. 
It was a memorable toilet journey. Sitting there listening to the waves while peaking through the gaps in the thatched walls. Oh, the little pleasures of life.
Having a Dog at Red Bluff
You can bring a dog. But you are only allowed to have it off a leash north of the homestead and certain parts of the beach.
Showers at Red Bluff
There are no showers here at Red Bluff. Make sure you bring a solar shower. Or you can just go surfing every day and wash off in saltwater.
Rubbish Collection
They also have bins for your rubbish that are emptied daily to keep the grounds all clean and tidy.
Red Bluff Western Australia – The Best Experience
For me, Red Bluff Western Australia was a once-in-a-lifetime experience. I would have never thought of it to be a bucket list item, but it totally is.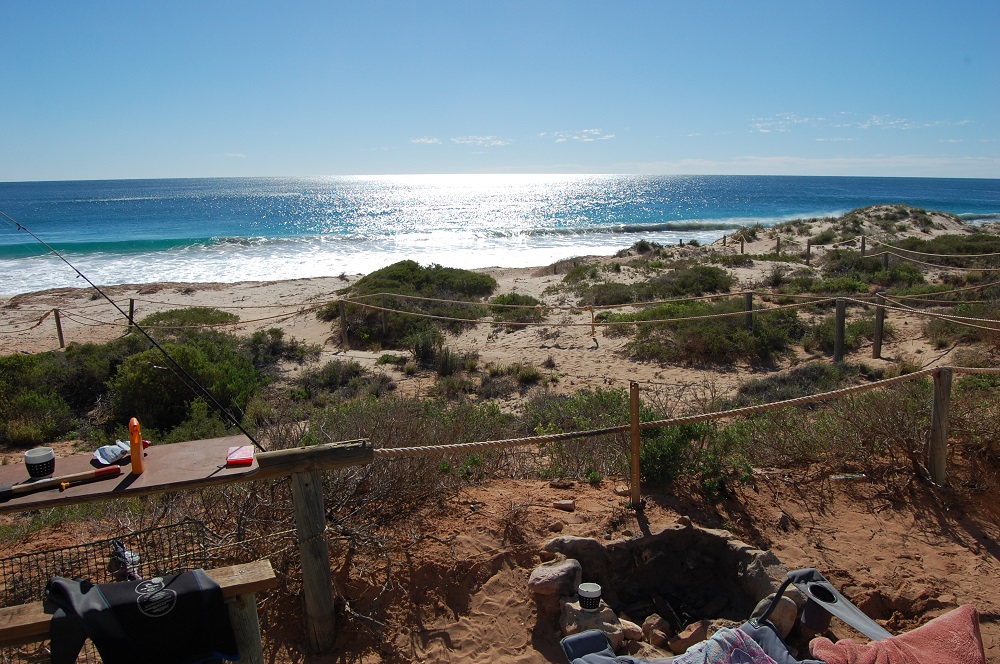 Everything about this place is like entering another land.  If it wasn't for running out of water and food after 13 days I could have easily spent a whole month here. That is how amazing it is here.
Best Memories of Red Bluff Western Australia
We are a family that loves adventure, quirkiness, and unique experiences. These burn into your memories for years to come.
Highlights of Red Bluff
Red Bluff is a great surf break but is prepared for a bit of a hike out to the point.
The surf here can be quite challenging so not suitable for beginners. Red Bluff suites shortboards most of the time and can be really big at times.
Accessing the break can be tricky as well as getting back to shore.  The rocks are jagged and the water rises and falls quite quickly, so your first surf is a little dangerous, to say the least.
Hot Tip for Red Bluff
Hot Tip: Take your leg rope off before coming in so you don't get caught on the reef because the water drains out over the rocks.
The Red Bluff surf is so much fun and challenging. Easy to get out into the lineup due to the point break shape, but can be difficult dropping into the steep left-hand barreling waves.
If you manage to make the drop, you will have one ride of your life!
The reef out here is alive with wildlife, so beware of sharks.
Exploring the rugged cliffs around the station area. So much character and outstanding views of the mighty Indian Ocean rolling in.
The campground and it's isolation to the rest of the world. You really feel like you have left normal life when you come out here.

Playing on the beach and amongst the rocks with the kids.  If you get a good swell happening the shore break is gnarly and a must see.  The sound is destructive and the power is scary especially at night considering you are camped right on the beach.
The restaurant at Red Bluff is a luxury you can't miss out on, even if you just grab a shake and something small it is truly a one of a kind dining experience.
Sunrise and Sunset times are definitely the best times of day, and a West Australian sunset is just to die for.  Watch the world turn while sipping on a cold beer, nothing quite like it!
Red Bluff Western Australia – Just Do It
Next Time You are in Western Australia you have to visit Red Bluff. It is amazing out-of-this-world experience that will blow your mind. Red Bluff Western Australia suits all travellers and we give it a 9 out of 10 ratings.
Just remember to bring plenty of supplies for this camp. We grabbed most of our stock from the main town of Carnarvon. It has supermarkets, bottle shops, and pretty much everything you need to hit this remote paradise.
Have you Been to Red Bluff?
If you have been please leave us a comment below on your experiences!
If you haven't yet, feel free to ask us any questions regarding the all-mighty Red Bluff Camping experience.
Other amazing spots to check out when travelling Australia are: