Have you been to Fraser Island Yet? If not you should really start looking at planning your amazing things to do on Fraser Island! There are so many things to do on Fraser Island that it is hard to fit it all in on one holiday.
I last visited around 30 years ago on a school camp and didn't do half the things I did on this trip we did in 2022. If you are adventurous, love sand, sun, and spending time on a totally sand Island then this is the place for you.
Fraser Island is a time-sensitive destination because I am not sure how long it will be accessible to the public. If I was you I would visit sooner than later.
Read on to find out the best things to do on Fraser Island in 2022 and beyond.
Where is Fraser Island Located?
K'gari (Fraser Island) is a small long island off Australia's beautiful east coast. It is the world's largest sand island, measuring 122 kilometers in length.
Inland from the beach, you'll experience majestic remnants of towering rainforest growing on sand, as well as half of the world's perched freshwater dune lakes that will blow your mind away!
Getting here is only done via a tour, your own 4WD vehicle, or the plane.
There are two ferry terminals to leave from which is Inskip point near Rainbow Beach and Hervey Bay at the mariner.
See Fraser Island Map for directions.
Fraser Island Map of Hotspots to Visit
These are our favorite spots on Fraser Island that are amazing to see. But don't stop at these only because there is so much more to explore that will take your breath away.
See the Fraser Island map for our pick of amazing hotspots.
How Much Does The Ferry Cost To Fraser Island?
Here is the price list for the ferries from both locations stated above.
Option 1 – Inskip Point
$85.00 dollars each way for a regular vehicle
$160.00 dollars each way for a vehicle and camping trailer
For fares visit here!
Option 2 – Hervey Bay / Riverheads Boat Ramp
$132.00 dollars each way for regular vehicle
$200.00 dollars each way for a vehicle and camping trailer
Book here! for Kingfisher Bay Barge
Book here! for Fraser Venture Barge
Permits Required For Fraser Island
All vehicles accessing The Great Sandy National Park on K'gari (Fraser Island) require a vehicle access permit, which can be requested in advance online.
Permits are also available at Front Office, within the resort's Centre Complex, and at Queensland National Parks and Wildlife Service offices in Brisbane, Hervey Bay, Maryborough, Bundaberg, and Rainbow Beach for Kingfisher Bay Resort guests.
Camping permits must be obtained in advance.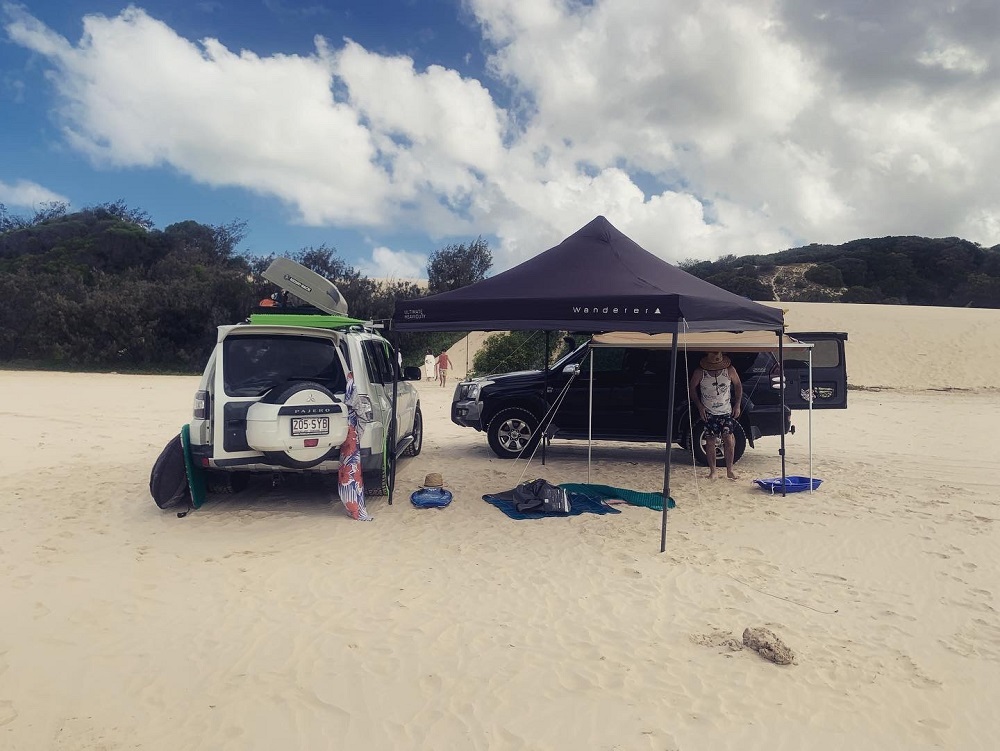 How Much is a Vehicle Permit for Fraser Island?
K'gari (Fraser Island) Recreation Area
1 month or less = $54.55
More than 1 month (up to 1 year) = $274.50
K'gari (Fraser Island) and Cooloola Recreation Area
Visitors may purchase a combined permit for K'gari (Fraser Island) and Cooloola. A 20% discount applies.
1 month or less = $87.60
More than 1 month (up to 1 year) = $439.60
Fraser Island Accommodation (Best Spots to Stay to See The Amazing Things To Do On Fraser Island!)
There are a few great options for accommodation on the great sandy island but this depends all on the level of comfort you and your family require and the location you would like to have as your basecamp.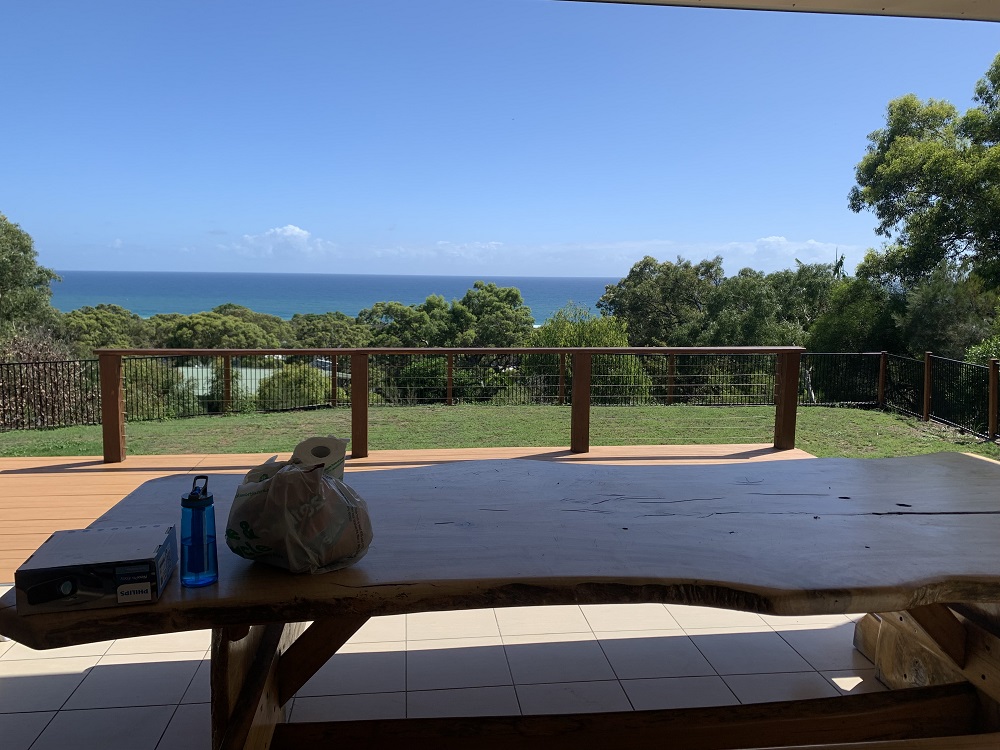 Budget Fraser Island Accommodation
Camping is by far the cheapest option and most adventurous but you do need a heap of camping gear to do it.
K'gari (Fraser Island), Great Sandy National Park Camping areas
There are so many to choose from here. Love Sunsets and calm waters stay on the West coast side, love sunrise and rough ocean beaches, then stay on the east coast.
If you would like to be near the best tourist attractions then maybe smack bang in the middle.
Click on this link to find out your options on the island of sand, see available campsites here!
Just be careful with dingoes, 4WD vehicles, and the wild ocean up here your kid's lives depend on it.
Fraser Island Camping fees
$6.85 per person per night, or $27.40 per family per night
$3.75 per person per night for students and accompanying adults on approved educational excursions
Family rate
A family group is defined as one or two adults and accompanying children under 18, up to a total of eight people. Children under five years of age camp for free.
Example 1
Group: two adults + three to six children
Fees: one family
Total fee = $27.40 per night
Example 2
Group: three adults + five children
Fees: one family ($27.40) + one adult ($6.85)
Total fee = $34.25 per night
Fraser Island Beach House Accommodation
Don't like the sound of roughing it on the beach? Then why not book a house for yourself or a group. Going with some friends can save you a ton of money and is more fun. Who likes getting bogged by yourself? Not me, that is why going with a buddy is the best.
Below is a list of some great beach houses situated around the island that could suit your family.
Best Spots to Stay on Fraser Island
The handest areas to stay on Fraser so that you are close to all the best bits are probably central to the island. Areas such as Eurong village, Happy Valley area, and Orchid beach are the best.
These spots are so close to the amazing things to do on Fraser Island.
Eurong Village is very close to the famous Lake Mckenzie, Kingfisher bay, valley of the giants and not to far to get to from the ferry and just down the beach from Eli creek.
Orchid beach is a great base for the beautiful Waddy Point, Indian head, Wathumba Creek, Champaigne Pools, Ocean Lake and Sandy point. (About 2 hours drive to Lake Mckenzie and 1 hour to Eli creek)
Kingfisher Bay is close to all attractions on the West coast, Lake Mckenzie, ferry and Kingfisher bay resort.
What Is The Best Time Of Year To Go To Fraser Island?
The best time to visit Fraser Island is in the spring or autumn when temperatures are mild, but September to November sees temperatures rise to the mid-twenties.
More outdoor activities in the sun are available from December through February but expect temperatures of 27 – 35 degrees.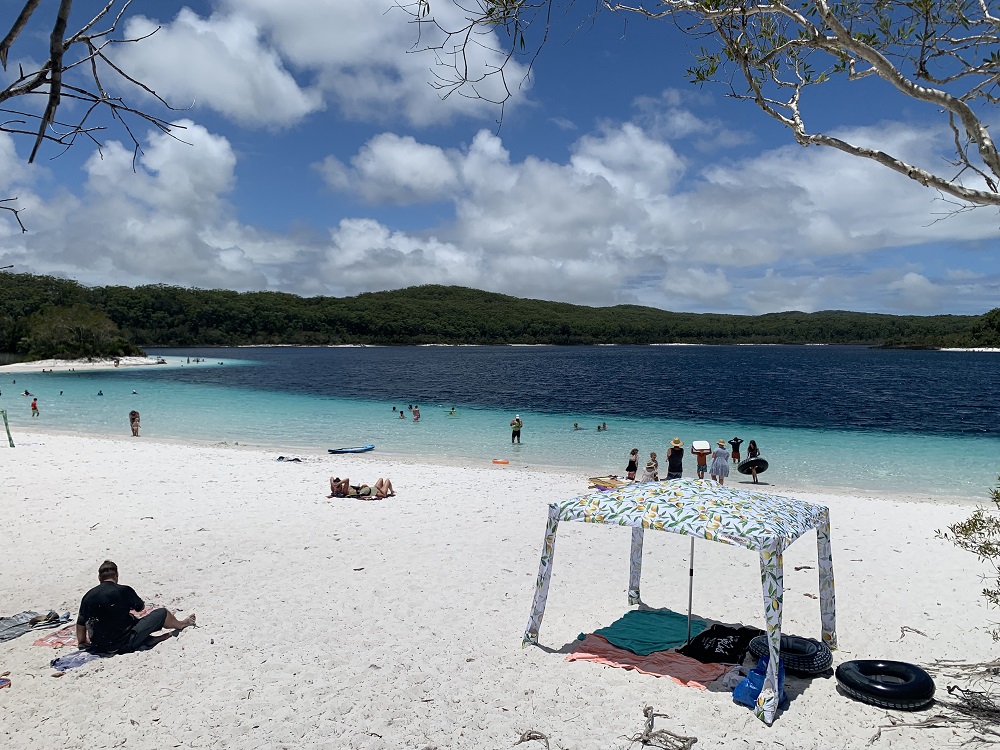 4WD Fraser Island (An Amazing Thing To Do On Fraser Island)
A 4WD vehicle is a must on the island because every track on the island is sand.
Don't even attempt without one unless you want to spend a fortune getting towed off the island. (If you need to get towed call this number – Eurong: 0428 353 164 )
All-wheel-drives and four-wheel-drives are not interchangeable. AWDs are ideal for road use since they automatically deliver power to the wheel(s) that want it the most; nevertheless, the same feature makes them unsuited for low-traction circumstances.
A 4WD on the other hand is built for off-road use and distributes power evenly across all four wheels to provide the traction needed to keep the vehicle from being stuck.
Low-range gears and greater height clearance are usually advantages of 4WD. Only 4WDs are allowed on Fraser Island, so if you plan on driving your own vehicle, make sure it satisfies the standards.
We have a Pajero 4WD and it works well, but my clearance is a little undesirable due to low-profile tyres.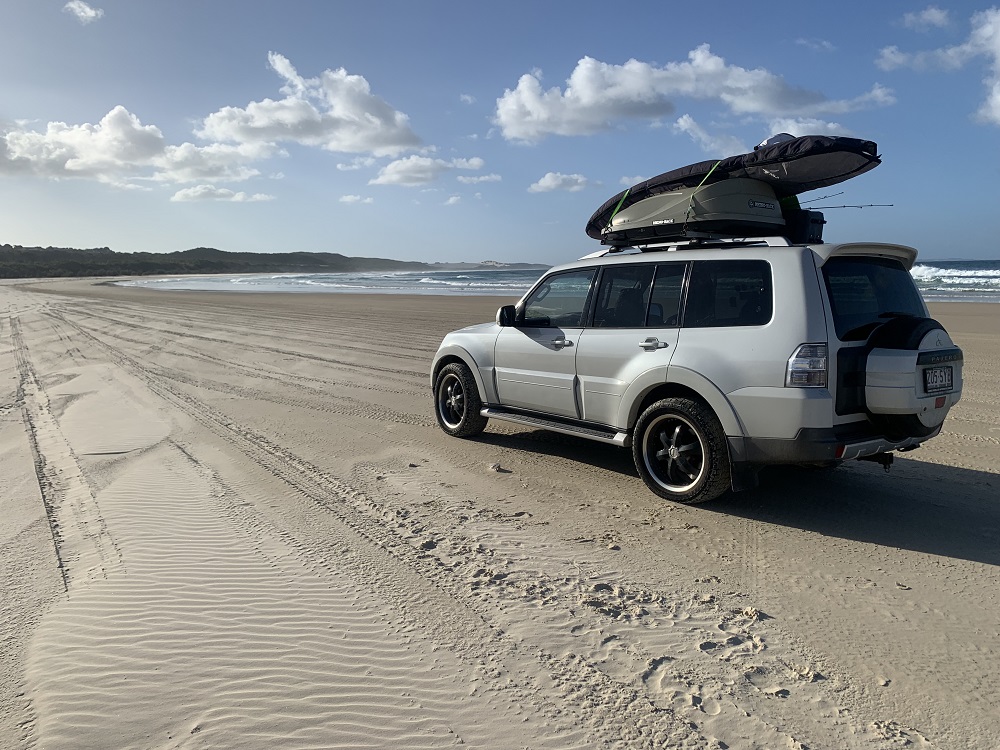 Hot tips for driving on Fraser Island include:
Lower that tyre pressure – The first step before driving on sand is to deflate your tyres (to between 18 and 20 psi). The footprint of a tyre is broadened outwards and longwards, giving tyres a greater track and footprint. Before returning to the bitumen, remember to re-inflate to the required road pressure. (Try getting your hands on a tyre pressure gauge and have a air compressor onboard.) If you are still having trouble go lower, try 15 then 10 etc. Don't be affraid to go really low because this is everybodies main problem.
Have recovery equipment – You will almost certainly become stranded at some point. Accept it, that's all part of the fun of four-wheel driving. While help is never far away on Fraser, bring a snatch strap, a shovel, and wheel-tracks in case you get yourself into difficulty. (Note: only link your snatch strap to undercar tow points, not your tow bar/ball.)
Watch the tides – At high tide, avoid driving on the beach (particularly near headlands). Plan your trip to arrive as near to low tide as possible, keep away from exposed locations two hours before and two hours after a high tide as a general rule. Stop and wait for the tide to recede if the tide is still high and there is no way around it. Avoid driving through swells in the water. It's unsafe and bad for your car's long-term condition (electrics, brakes, exposed metal etc.)
Take your time – Although the speed restriction on 75 Mile Beach is 80 kilometres per hour, you are not required to travel at that speed. Relax and take in the scenery. Also, keep in mind that police patrol the 40-kilometer-per-hour zones, so drive slowly if you value your licence and no drink driving. (Normal road rules apply)
Keep a constant speed and momentum – dont go too slow or too fast and avoid stopping and starting because this can cause a bogged vehicle. Pick a good gear and keep the pace nice and steady.
Important Contact Numbers To Use On Fraser Island
All emergencies: phone Triple Zero (000).
Non-urgent calls
Police (Eurong): (07) 4127 9288
Ambulance: 13 12 33
The ambulance station at Happy Valley is manned 7 days a week from 7am to 5pm.
Outside of these hours the officers are on call (24hrs a day).
If the ambulance station is closed (due to a call out or emergency), contact can be made via the telephone on the side of the station building.
Mechanical Assistance While On Fraser
Tow Truck Services For Fraser
Taxi Service On Fraser
Eurong: (07) 4127 9188 and 0429 379 188
Fraser Island Barges
Inskip to K'gari south: No bookings required
Enquiries to 'Manta Ray' barge company: (07) 5486 3935 or 0418 872 599
River Heads to K'gari west: Bookings essential.
Enquiries to 'Fraser Island Barges' company: 1800 227 437
Air Services On Fraser
Air Fraser (Hervey Bay) 1300 172 706
Marine strandings On Fraser
What to Bring to Fraser Island
Here is a list of important items to bring on your Fraser Island getaway:
Suncream is a must because you are always in the sun and on a beach
Water – as much as you can bring
Food – as much as you can because it is a little expensive on the island
Towels, Inflatable toys, fishing rods, kids buckets and spades
Shade shelter such as umbrella, Cabana etc
First aid kit
Beer and wine (Beer is a little over priced! $75 for regular beer and $85 for exotic premium beers)
Esky
As much fuel as you can carry(Fuel prices are around $2.65 for diesel and $2.75 for unleaded)
Camera – phone etc (There is internet and phone reception in and around Eurong, Orchid Beach and Kingfisher Bay)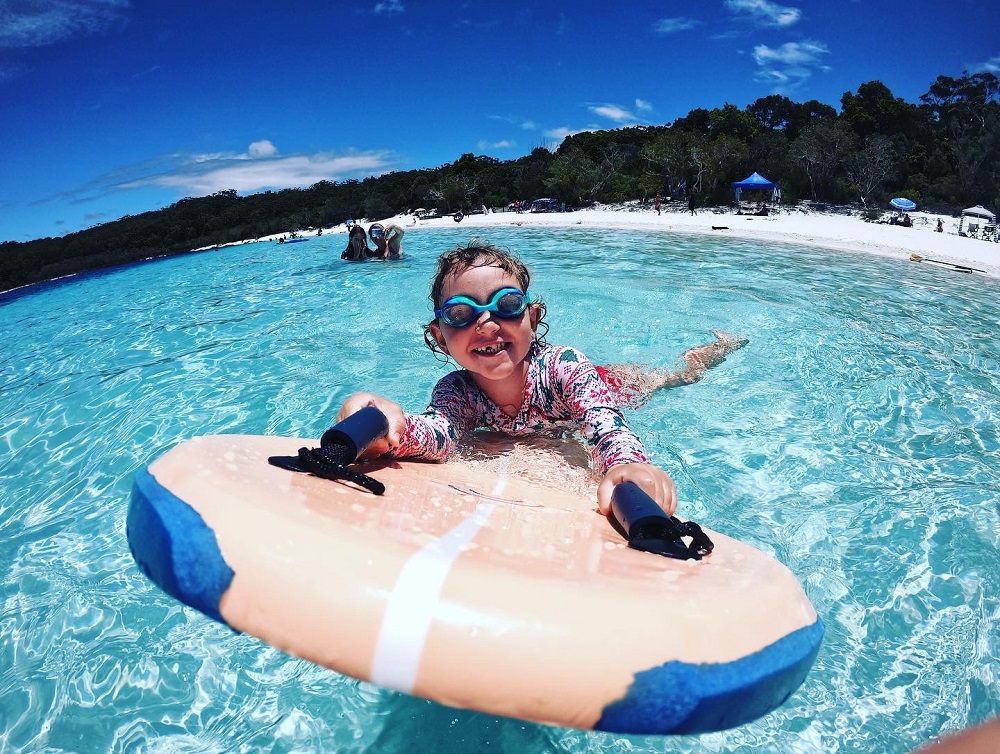 Amazing Things To Do On Fraser Island
There is literally so much to do on Fraser it's not funny! But here we will go through the awesome things we did on our last trip and some activities and destinations we missed out on and will try to do next time.
Here is the to-do list:
Drive the Entire East Coastline
If you do nothing else but drive, then the road trip from the Inskip Ferry up to Orchid Beach (Waddy Point) is amazing and a real adventure. The scenery along here changes so much such as the waves, dunes, cliffs, rocks, and water quality. It is an epic journey of anticipation.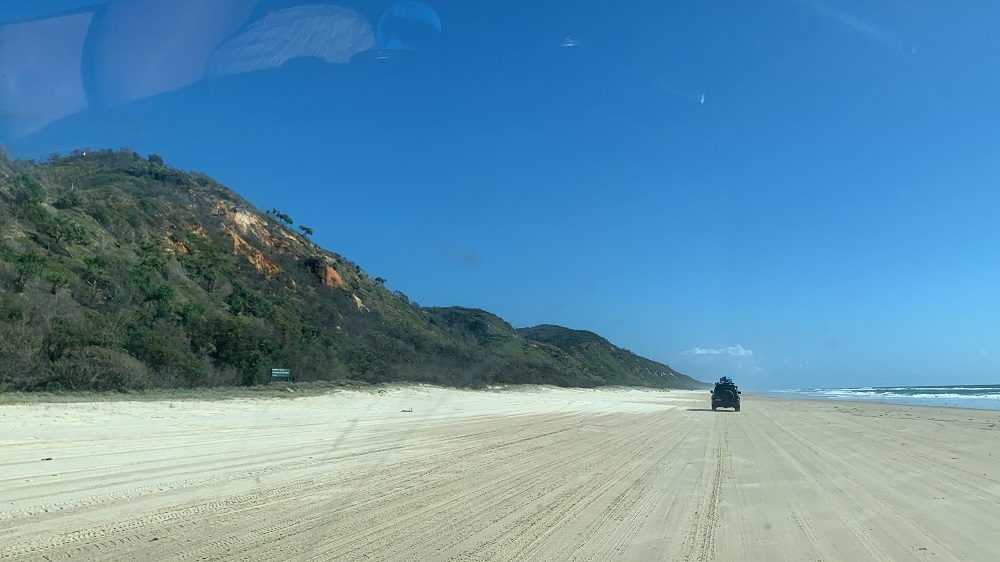 Explore The Inland Tracks In From Eurong
Driving on the tracks that surround Lake Mckenzie and the central station is breathtakingly beautiful. It goes from open forest to lush green ancient rainforest to pine forest and more while driving on a fun sandy windy one-way track. This was by far the most scenic 4WD drive ever.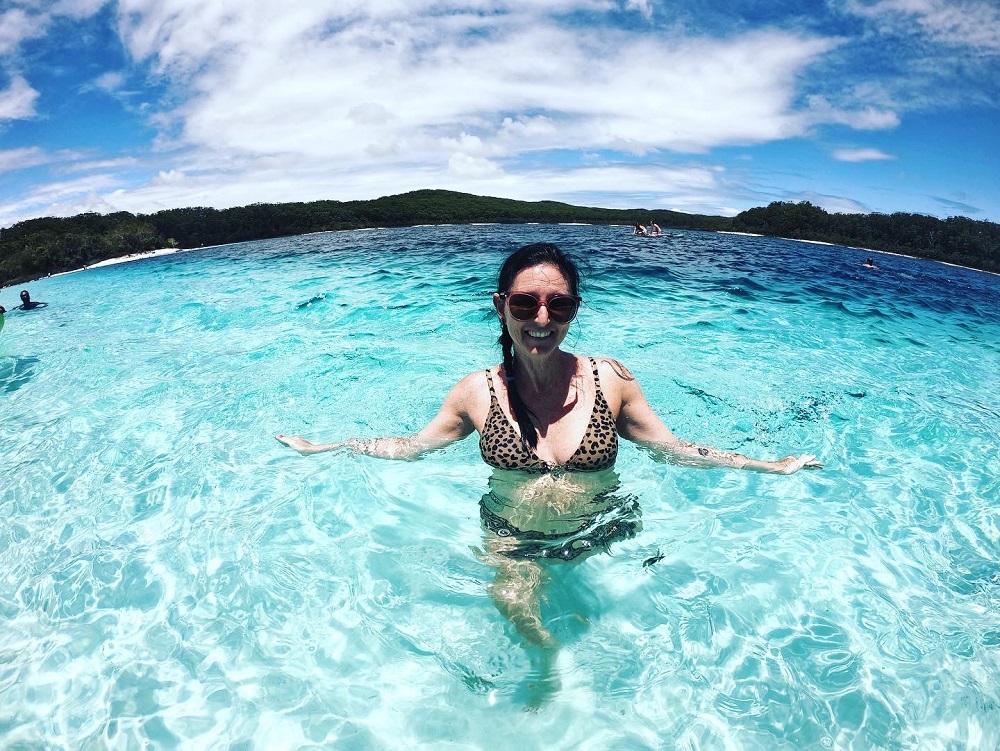 Visit Lake Mckenzie
Probably the most amazing lake in the world! This has to be on your bucket list of places to visit. It can get really busy and finding a park can be hard.
But luckily the crowds keep moving often. I think this is due to no food and drink allowed on the beach or near the lake which deters tourists spending the whole day here.
The water has to be seen to be believed and the sand is white as white can be. There are toilets here and a gated picnic area to prevent the feeding of dingoes. The drive here is amazing also so plan on a good day trip to see the lake and surrounds.
This is definitely some amazing things to do on Fraser Island.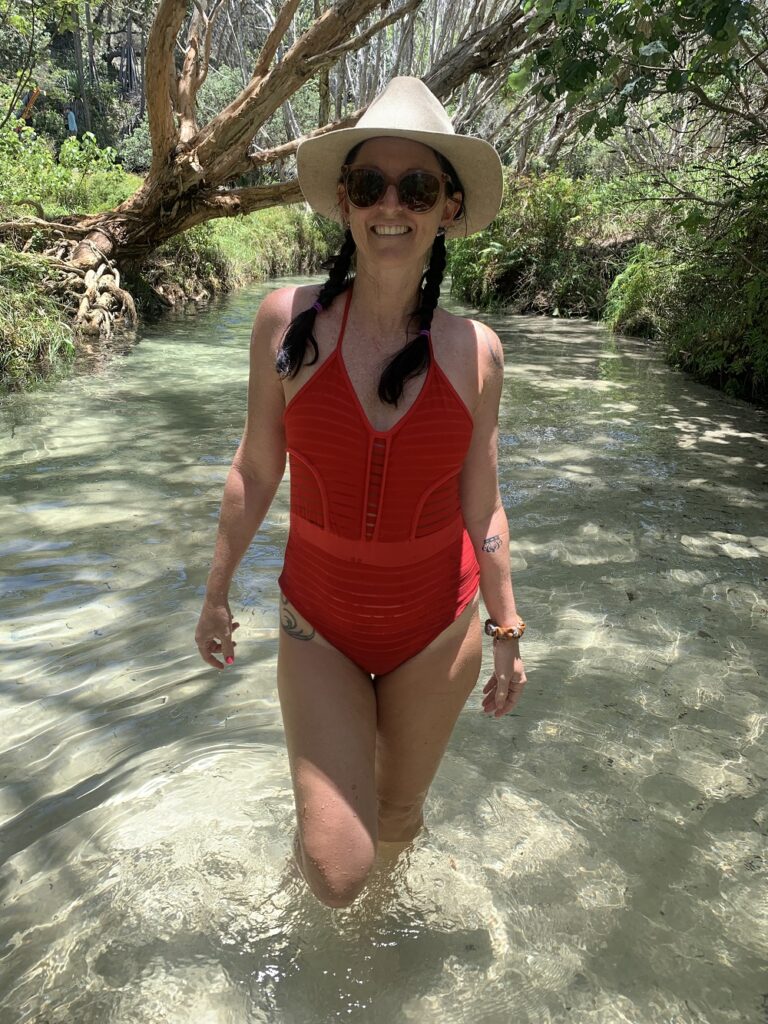 Swim At Eli Creek
Hot summer's day perfect escape paradise spot. This place is magical and the water comes directly from the gods of purity.
Most people park along the creek on the beach where you can set up your shade and let the kids play in the shallow cool waters that flow out into the Pacific Ocean.
Make sure you bring inflatable toys to drift slowly down Eli Creek. It is only shallow and completely covered in shade. The national parks have built a timber boardwalk along the creek with steps that lead into a certain section of the creek.
It can get really busy here but still is an amazing fun spot that needs a couple of hours to experience properly.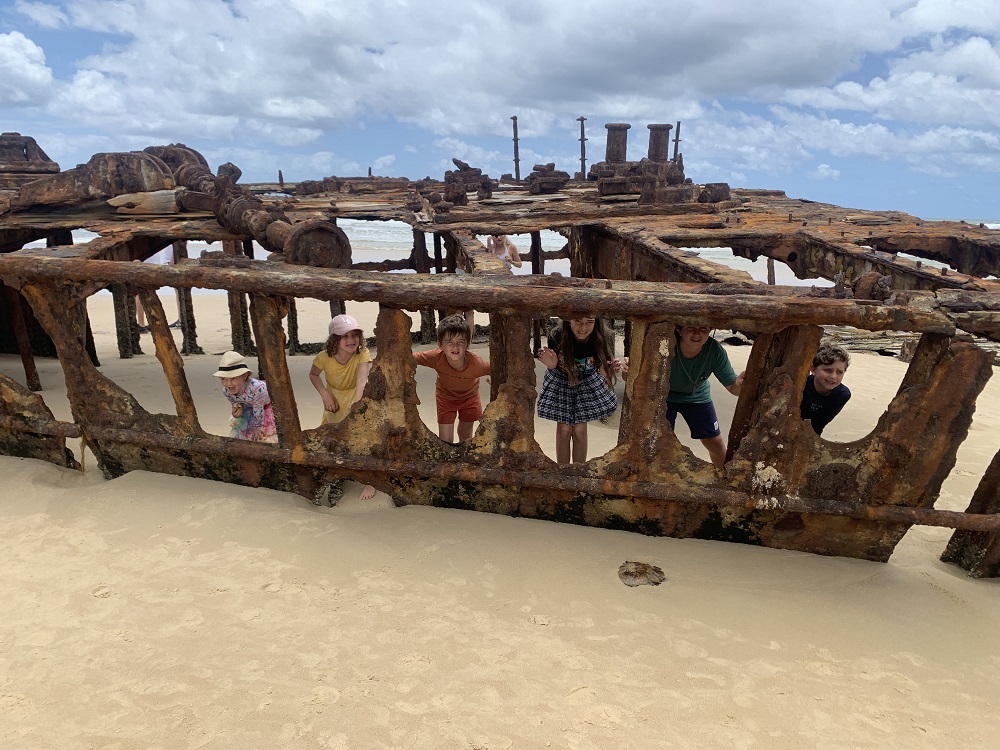 Explore the S.S Maheno Wreck
Just north of Eli Creek is the S.S Mehono rusty wreck that washed up here in 1935 after a cyclone forced it onto Fraser Island. The wreck looks pretty dangerous so mind your step.
Mind your speed around here because the police love to catch drivers speeding through the 40Km/h zone.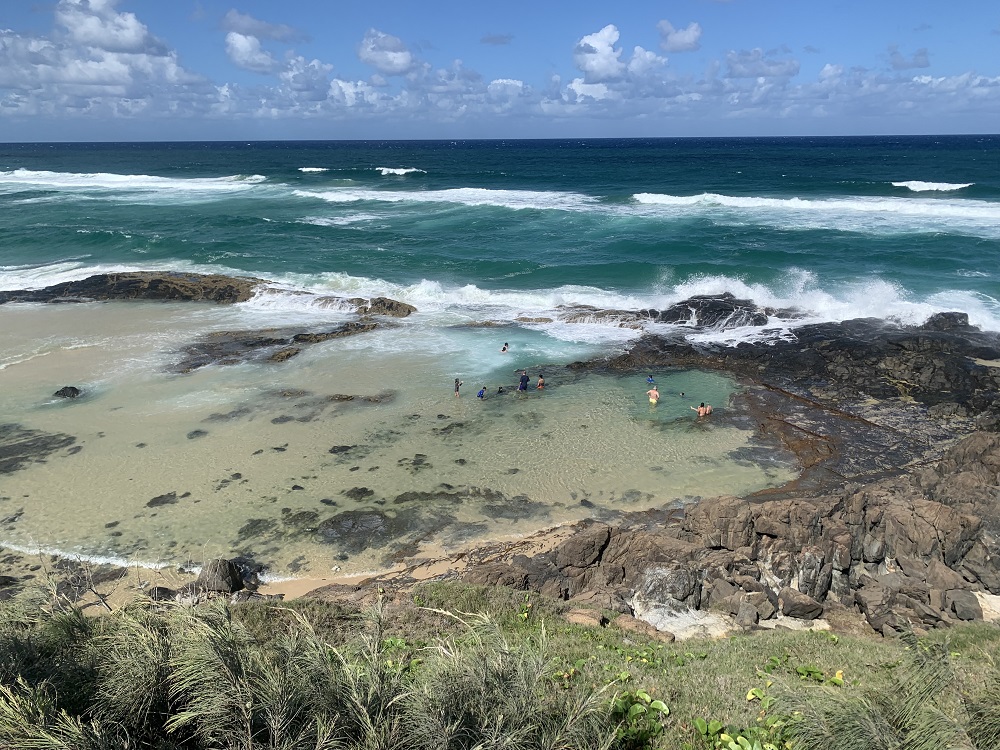 Jump Into Champagne Pools
This natural rock pool formation is quite unique and fun. On the right swell and tide, water gushes into the pool areas causing bubbles. It feels like you are swimming in champagne and it is safer than it looks.
The best time to visit here is from mid to high tides. Champagne pools has a large carpark area with toilets and a timber boardwalk that takes you down to the green pools.
So much fun at this place, but only needs a good 1-2 hours to experience.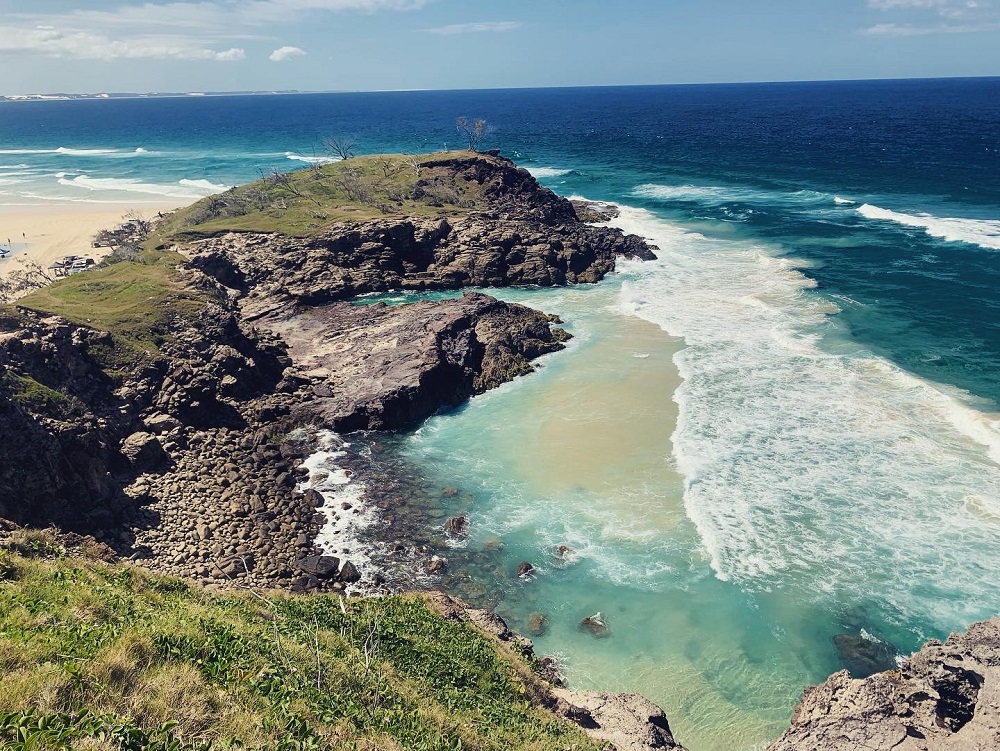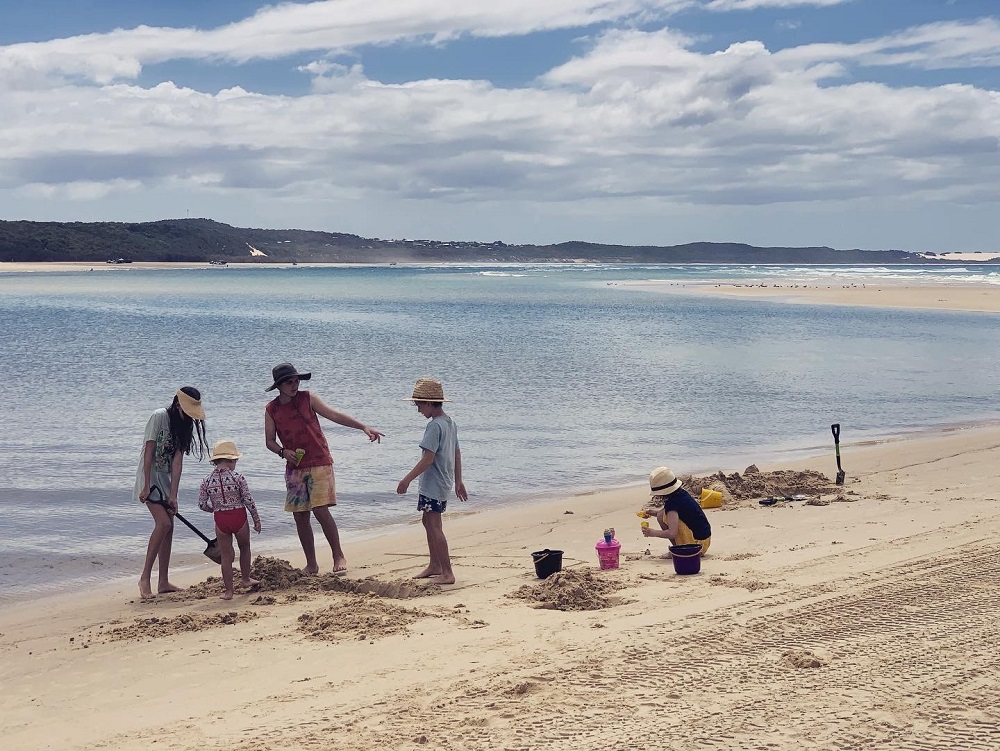 Hang Out At Waddy Point
Waddy Point is probably my favorite spot because of the landscape and overall setup. This is the only real surf spot that has a right-hand wave breaking over sand and feels safe. You can park right up tucked into the headland and let the kids swim safely in the calm shallow waters.
This is a good spot to launch fishing boats also. A small sand blow is situated in the bay that is great fun for sandboarding.
Keep a close eye on your kids here because dingoes visit frequently and sharks are a common occurrence along the beach.
This is the perfect destination for a whole day trip of fishing, swimming, sandboarding, jetski, BBQ, and beers.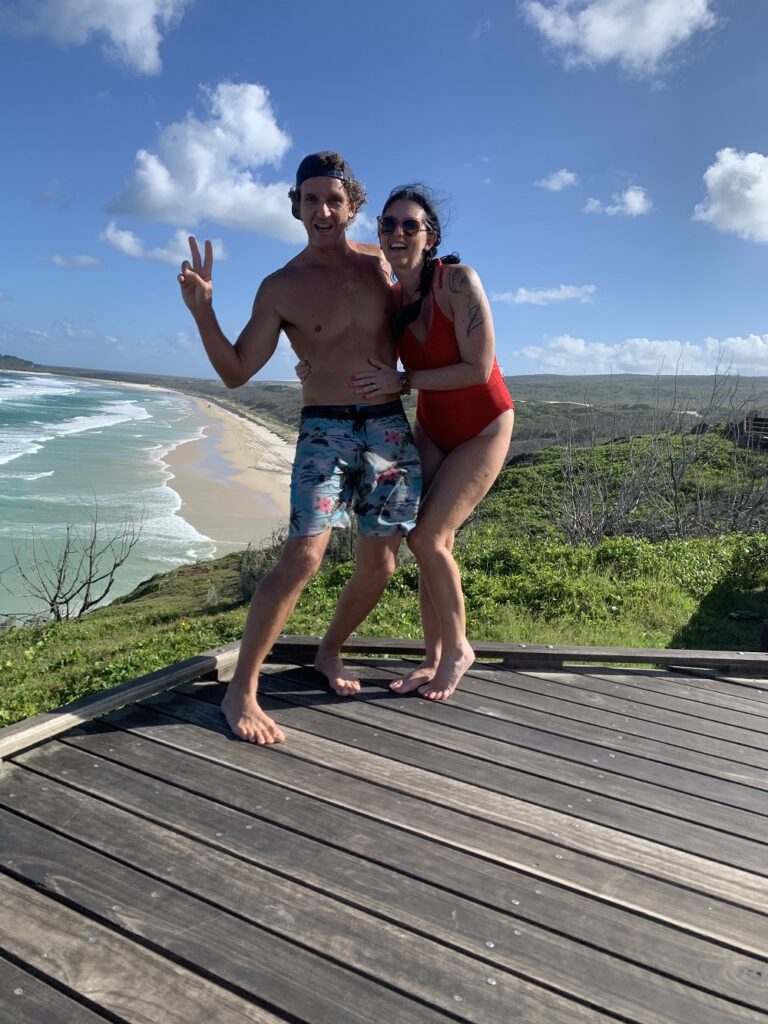 Try Fishing At Indian Head
Beautiful location just south of Champagne pools that is perfect for a day of fishing and spearfishing. Watch out for sharks and giant waves and rips.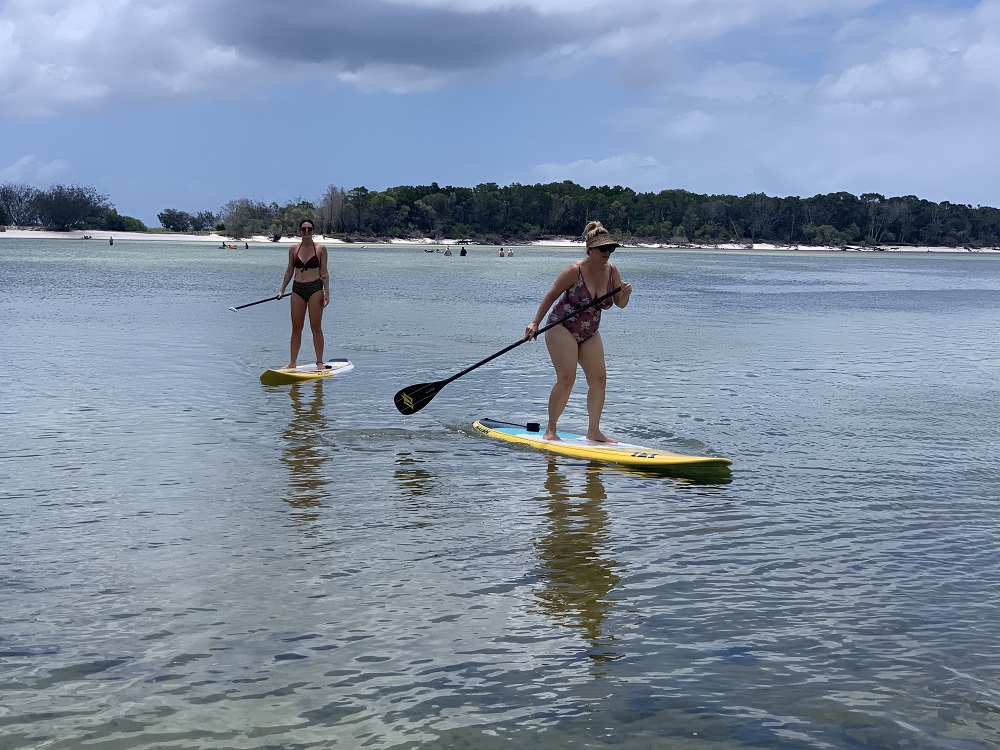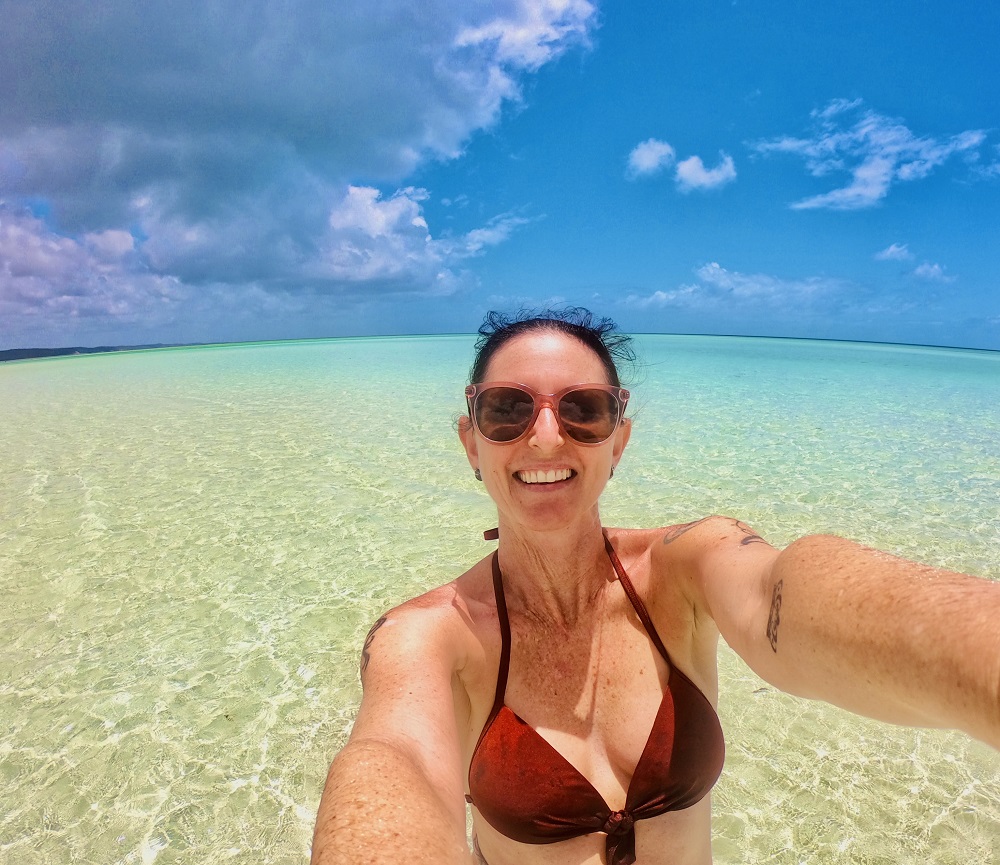 Go Relax & Explore Wathumba Creek On West Coast
This secret spot on Fraser is just magical and is situated on the west coast at the mouth of Wathumba Creek. On high tide, the entire area has crystal clear blue waters. Great area for families and kids to swim safely in the shallow calm waters.
Make sure you have a canoe or stand-up paddleboard on hand and you can get over the other side of the creek.
Go for a stroll in absolute isolation along the beach in paradise! It has to be seen to be believed.
Try Your Luck Over South Ngkala rocks & Head To Sandy Cape
If you are a hardcore 4WD enthusiast then attacking the South Ngkala rock track is for you! The sand here can be soft and so many people get bogged trying to climb the gently soft sandy slope to the other side.
Warning, it gets busy and once someone is bogged it can take ages to get moving again. You can only pass here at low tides and after 6 am to 6 pm.
Once past here you can access the great sandy point and lighthouse area.
Visit The Sandy Cape Lighthouse
Sandy Cape Light is an operating heritage-listed lighthouse on Sandy Cape, Queensland, Australia's most northern point. It's about 6 kilometers (3.7 miles) southwest of the island's northeastern tip.
It is Queensland's tallest lighthouse. It was built in 1870, and it is Queensland's second significant lighthouse after its creation in 1859.
Find A Turtle Along Waddy Beach
The Great Sandy Sea Park is home to six of the world's seven marine turtle species, which visit or live there.
Sandy Cape, on the northern tip of K'gari (Fraser Island), is an important turtle courtship and breeding site, with a limited number of loggerhead and green turtles nesting each year.
After around 7 pm take a drive along the beach and try to find a nesting turtle to watch do its thing.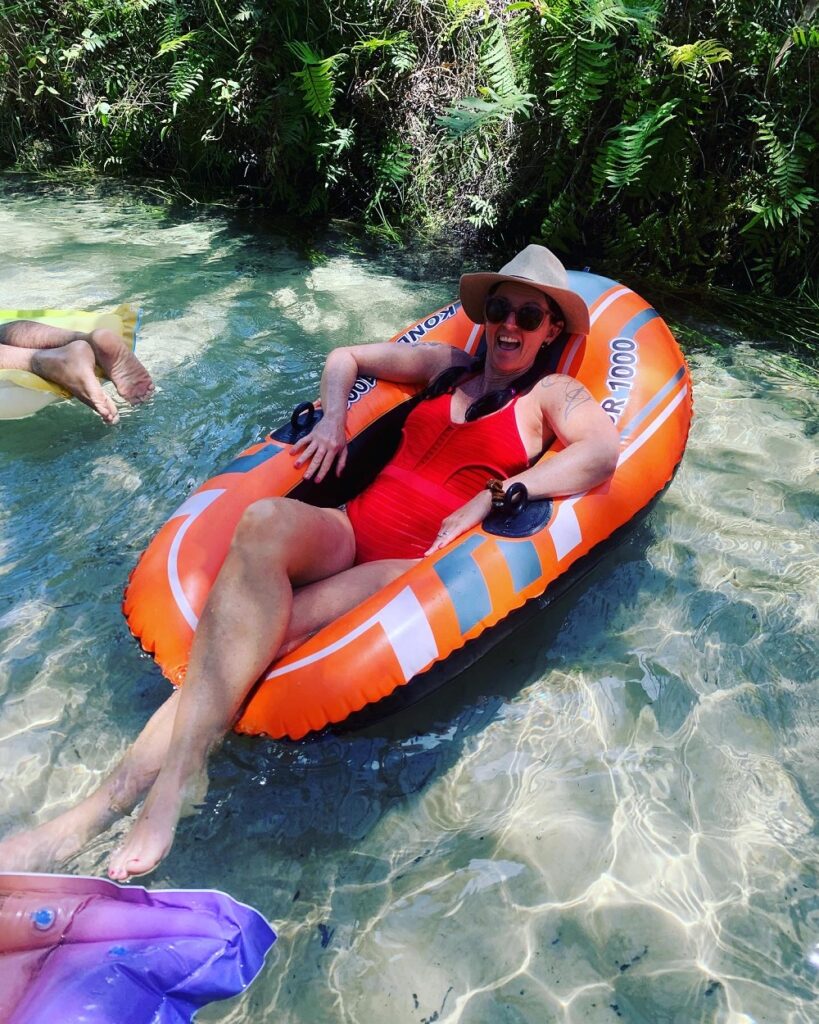 Swim At Ocean Lake & Get Fresh
Ocean lake near Orchid Beach is great easy and relaxing spot to have a dip. There is a rope swing here and is total shade all day. Has toilets and picnic tables.
It is a relaxing spot that is a good change from the beach, our kids loved it!
Hang Out At Kingfisher Bay Resort For The Day
Spend the day hanging out at the resort by the pool or down by the beach. This could be something different to do during your stay.
Relax & Unwind Time
If all this gets too much, the driving, exploring, swimming, etc maybe you should just relax around your accommodation or campsite and stop rushing around for a while. Fraser Island is perfect for getting away from the everyday rat race and just spending quality time with nature.
Just watch the sunrise, the wind blow, listen to the ocean roar, and then the sunset for the day. Life is meant to be easy so start living it that way for a change and feel the power.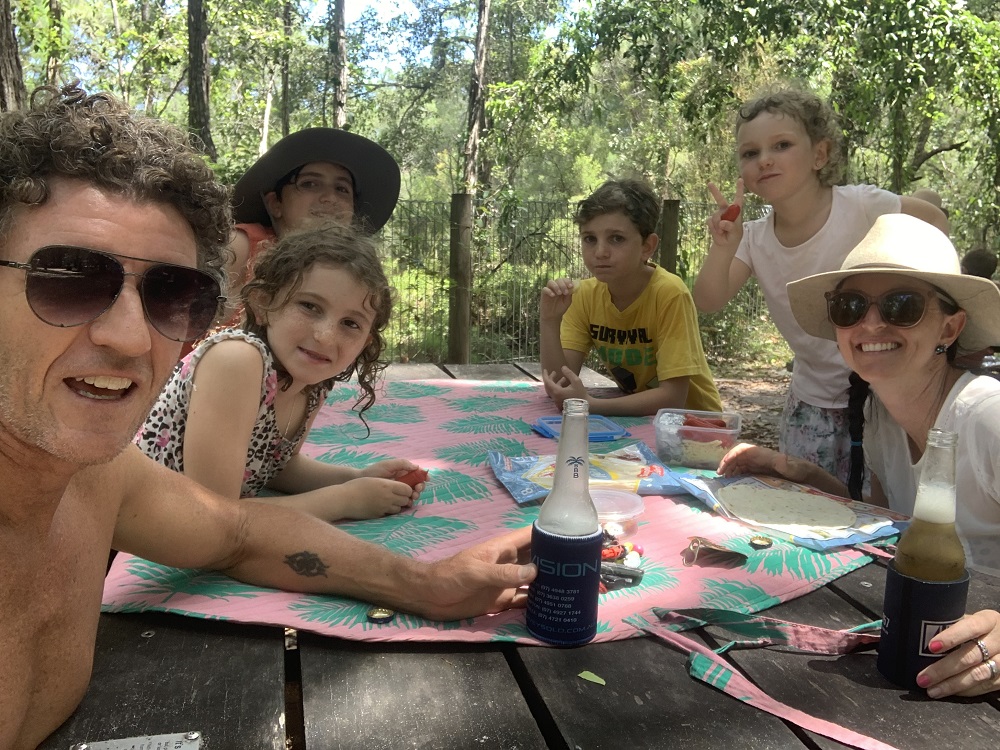 Overall Fraser Island Experience & Amazing Things To Do On Fraser Island Verdict
Our overall experience on Fraser was exceptional this trip. Our accommodation at Orchid beach was nice, we saw everything that we aimed for and had great weather.
I can see why it is on so many people's bucket lists because there is so much to do and it feels like you went overseas to another world.
You can pretty much get everything you need on the island for an inflated price but what do you expect from an island.
It is pretty safe for kids but the dingoes do show up unexpectedly without warning so stay close at all times. I surf and went out on the paddleboard a few times and did see a shark or two so beware!
The driving tracks are soft if it is hot weather but nice if a little rain has fallen and can be a little bumpy. The attractions get busy but arriving at different times can vary your experience a lot.
Camp spots look pretty good, the best ones I think are near Happy Valley, Orchid Beach, and past the Eli Creek stretch. I would love to try camping on the West coast for the sunsets.
Everything is tide-based so beware and try to time everything to the tides is best.
We spent 7 days up at Fraser and it was plenty of time to see most of the island and all its attractions.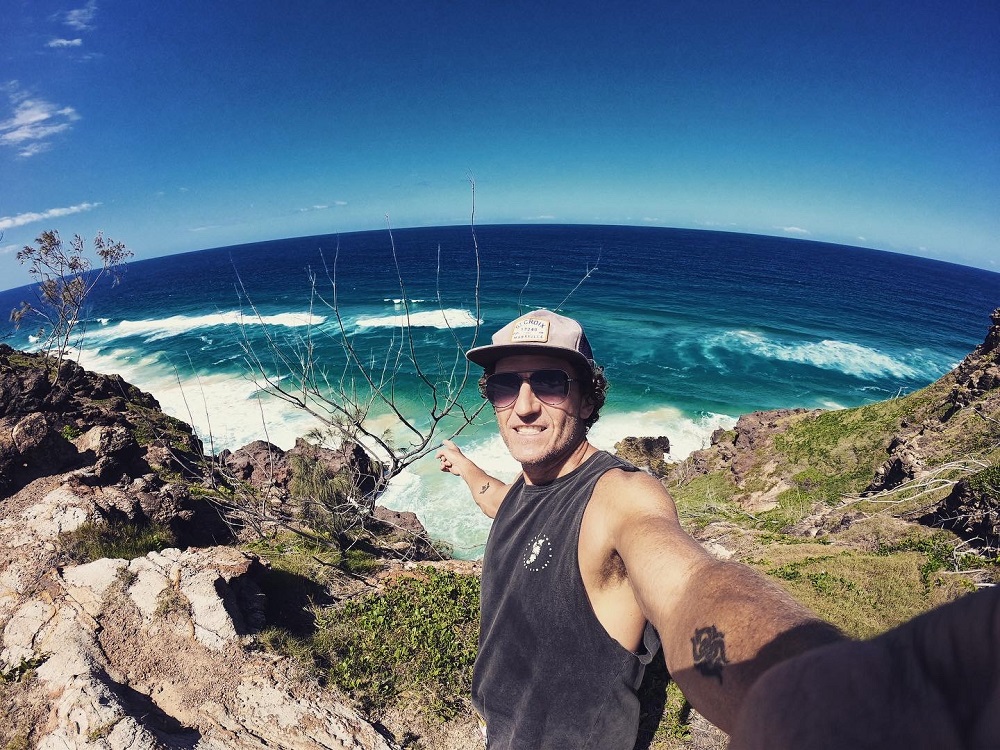 Some Common Questions People Ask About Fraser Island
Can You Swim In Fraser Island?
The risks associated with water activities are minimal, with only a few precautions to be aware of like rips, sharks, and jellyfish may be present on the wrong wind.
The beaches on Fraser Island are not supervised by lifeguards, and deadly riptides can frequently be seen along the shoreline, particularly on the island's eastern side.
Many big lakes dot the island, with mesmerizingly quiet waters and lush wildlife surrounding them.
Swimming is not an issue in most places on Fraser Island as long as you are aware of all the risks.
Are There Sharks At Fraser Island?
Sharks frequent the area so beware, while marine stingers such as Irukandji Jellyfish and Blue Bottle may be present throughout the summer months.
Can You Take A Dog To Fraser Island?
No! Only special circumstances are allowed such as guide dogs and you need to obtain a permit.
Are There Koalas On Fraser Island?
Despite the number of suitable trees, no koalas can be found on Fraser Island.
Are There Dingoes On Fraser Island?
According to recent studies, Fraser Island now has 25 to 30 dingo packs, each with three to twelve dingoes, for a total population of roughly 200 animals.
Each Dingo pack is led by a breeding male and female who are in charge of the remainder of the group.
Except for a few small sections (equivalent to around 0.2 percent of the island) that have dingo-deterrent fences and grids for the safety of people and dingoes, dingoes can travel freely across Fraser Island.
Be Dingo aware and avoid feeding them or tempting them because they can kill.
Go Find Your Own Amazing Things To Do On Fraser Island
Don't just follow my judgment, make your own adventures. The island is big with so many other lakes, creeks, and beaches to explore, so get out there and live it up.
Love this post? Then check out our other amazing destinations here: