Looking for the best camping experience of a lifetime? If so then the Teewah Beach Camping area is your perfect paradise getaway! (If you can get a spot!)
Our family loves the Teewah Beach Camping area, or as locals like to call it "DI".
There is nowhere in Australia or the world like this natural wonder just north of Noosa. The Teewah Beach Camping area is the perfect base camp for exploring Double Island and its attractions.
Find out everything below and get ready for an adventure of a lifetime that you will never forget.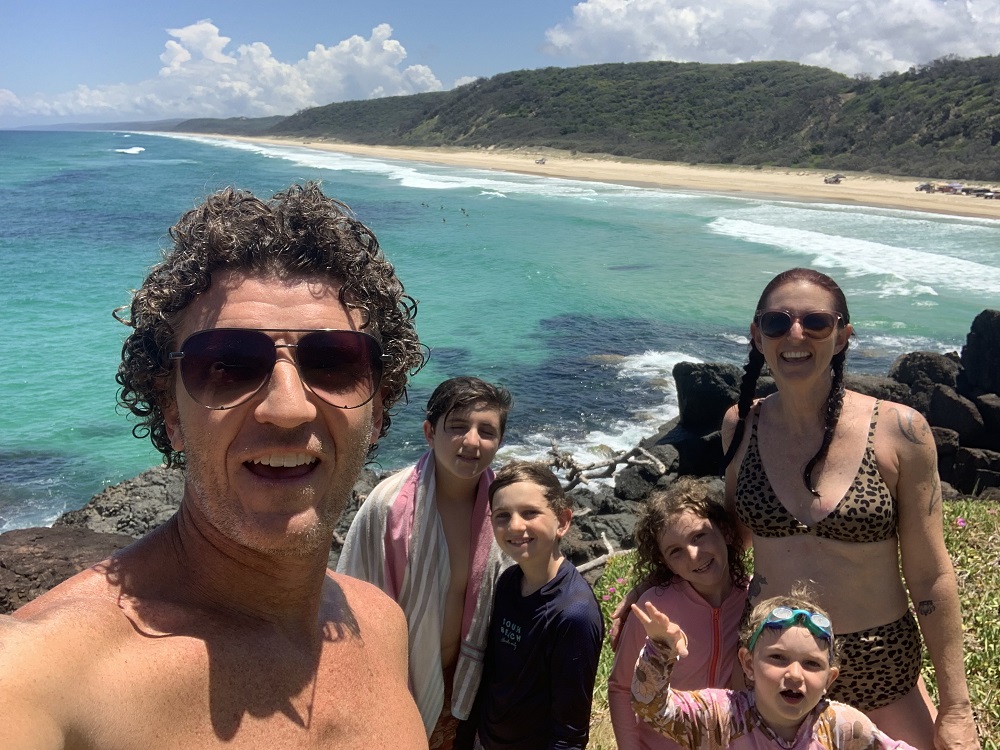 Where is the Teewah Camping Area?
Situated in the wonderful and pristine Great Sandy National Park in the Sunshine Coat Region 50 km north of Noosa Heads. And 19 km south of Rainbow Beach.
Here is the Teewah Beach Camping Map below.
How Do You Get to Teewah Beach Camping Area?
It can be a little confusing on your first go. It depends on where you are coming from also.
Option .1 Access from Noosa
If coming from the south, which most people do you need to find the iconic Ferry that takes you across the Noosa River. (Old cable Ferry that fits around 10 cars onto it!)
Just follow the signs to Noosa North Shore Ferry (Brown signs) You will have to pass through Tewantin.
Once at the Tewantin ferry (make sure you have cash! Or you will have to backtrack. This is embarrassing trust me.
How Much is the Tewantin Ferry?
Hop on, pay your $10 dollars (cash only)for a 2wd or 4wd, sit in the car for approximately 4 minutes then drive off and follow the made road. Here is a table of rates for Tewantin Ferry.
| | |
| --- | --- |
| Standard car & 4wd | $10.00 |
| Standard cars with caravans or trailers | $20.00 |
| Large Coaches | $29.00 |
| Pedestrians and bicycles | $1.00 |
Tewantin Ferry Rates
The last stop for beer and supplies is the North Shore Tavern, pass here and just follow the road to the beach access.
Now all you have to do is let your tire pressure down to around 20 PSI and access the beach.
Teewah Camping area is then approx 30 kilometers straight up the beach. This is quite an easy beach driving mission if you head up at mid to low tide.
The hardest sections are getting on and off the beach, accessing campsites, or driving at high tide.
Drive to the conditions, follow the speed limit of 80km/h in general, and be aware that normal road rules apply.
Option 2 Access From Rainbow Beach
Access from the northern end of the Great Sandy National Park is shorter. From Rainbow Beach, you enter the beach and drive along the beautiful foothills of amazing colourful cliffs.
Warning!! This is where a lot of the tragic car strandings happen because a clump of rocks forces you to drive around and below the high tide mark. Never drive along here on a high tide.
To get over to the Double Island camping area you will need to pass over the cape. A purposely built sandy track cuts through the headland which is easy to drive on.
Drive to the conditions, follow the speed limit, and be aware that normal road rules apply.
Once you are on the beautiful Teewah beach camping side drive south for another 5 km until you reach the designated Teewah Beach camping area.
Access can also be made via the Freshwater Camping Area track. Turn onto this track just before Rainbow Beach township and follow.
See map for directions to Teewah Beach Camping.
Coming From Brisbane?
From bustling Brisbane, drive 135km north on the Bruce Highway or the Sunshine Motorway to Tewantin, or from Gympie drive 58km south and east on the Bruce Highway to Tewantin.
Do You Need a Beach Permit For Teewah Beach Camping?
The Teewah Beach camping ground still has a limit on visitors so get in quick and grab all your permits.
You will need a vehicle permit displayed on your car at all times which you can get for 1 week or 1 year. Also, you need a camping permit displayed on your tent or caravan at all times for when rangers come to check if you have paid.
If you are camping, you need to also pre-book your stay online here.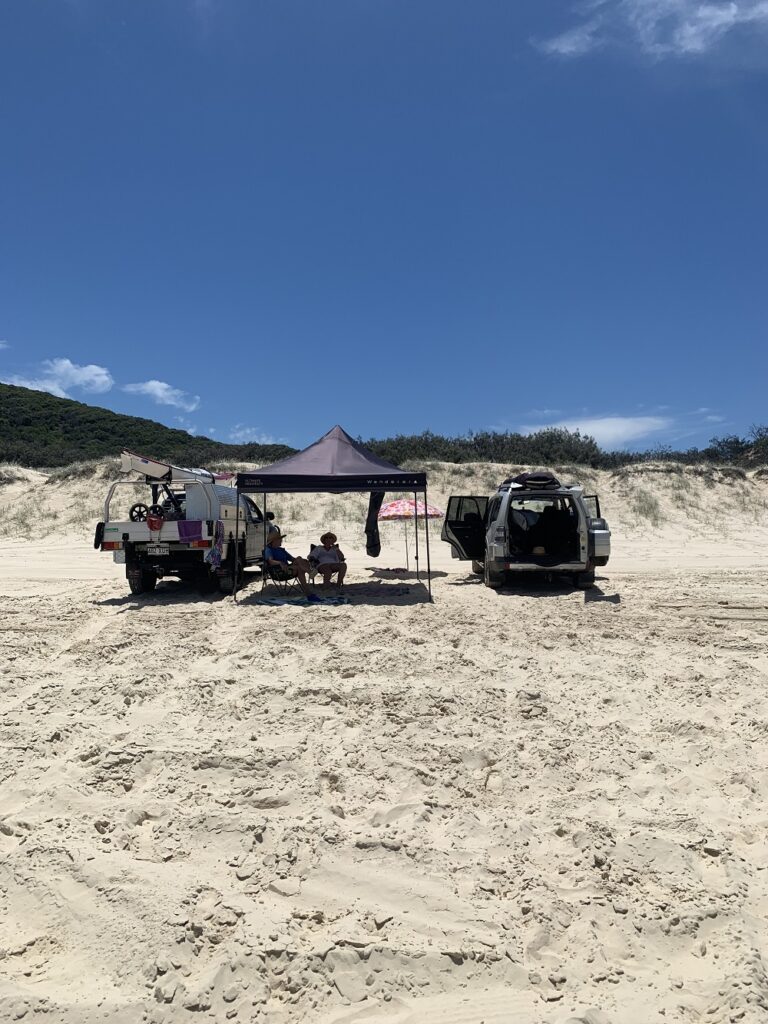 How Much is a 4 Wheel Drive Permit For Teewah Beach (Double Island Point)?
1-week: $50.60
1-year: $158.00
It makes sense to get the annual pass if you are planning on visiting regularly.
Your 4wd beach permit is available here.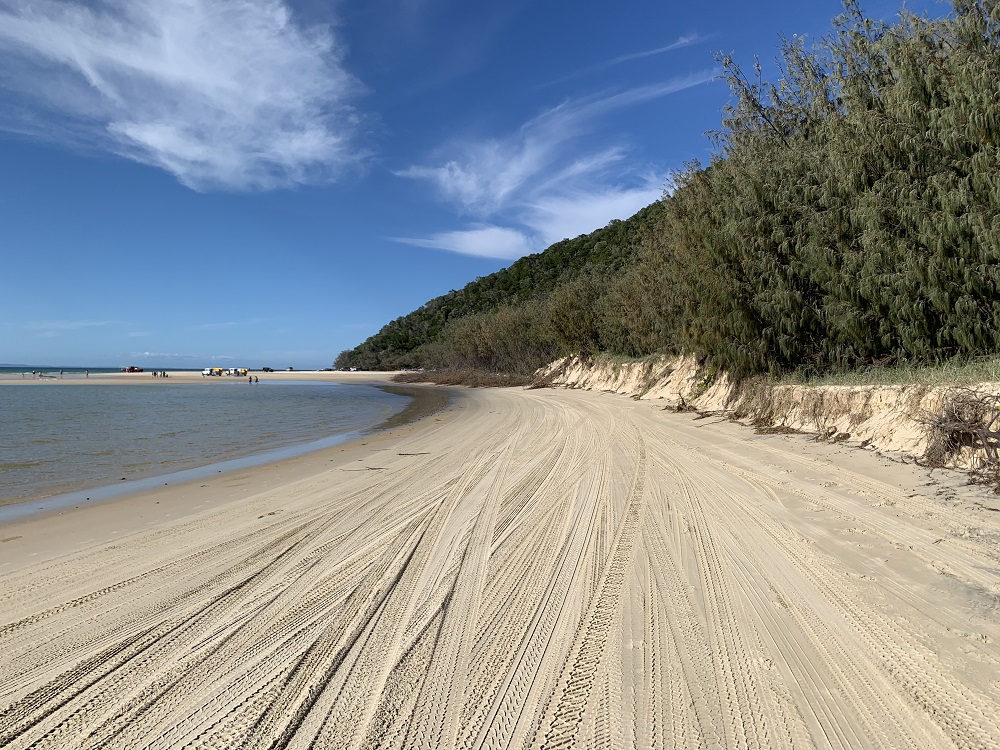 Can You Drive on Teewah Beach at High Tide?
I have driven the Great Sandy National Park stretch at high tide but I recommend waiting for a low tide. It isn't much fun and can be a tough slow slog.
Before booking your camping check the Teewah Beach tides charts here.
Teewah Beach tides
For up-to-date Teewah Beach Tides visit Willy Weather and work out if low tide fits in with your journey time. Check tides here!
Unlike other local beaches, you have plenty of open beaches to drive on. It isn't critical to drive up on low tide but a good tip is to head up at mid-tide as the tide is going out.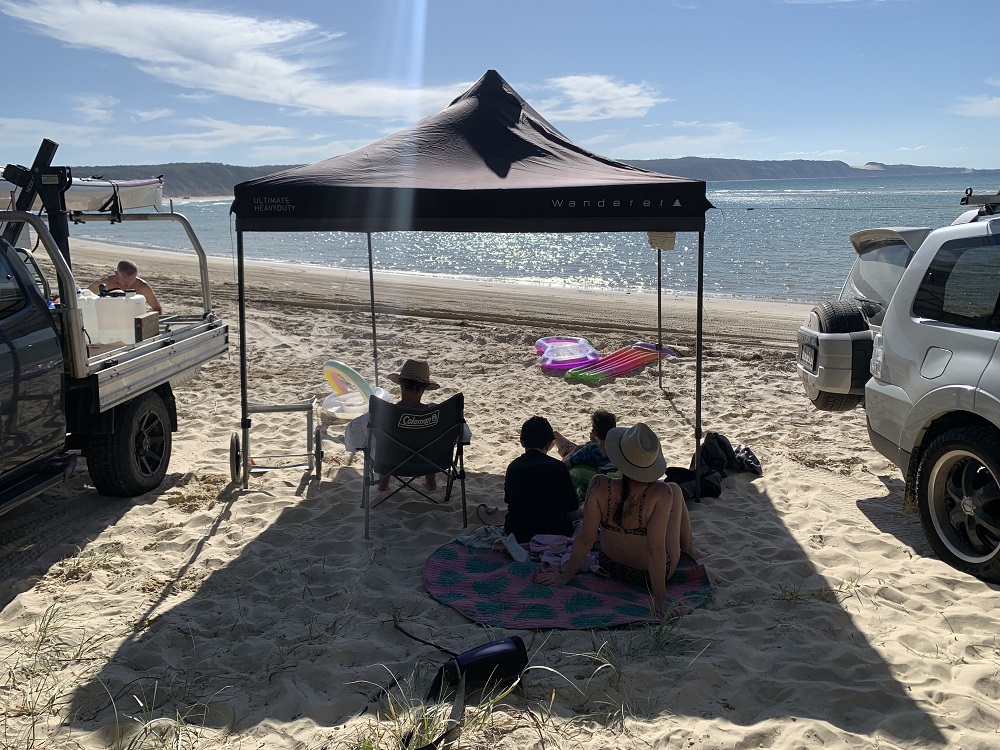 Teewah Beach Camping Permit & How Much Does it Cost?
Normal Queensland National Park Fees apply when camping at Teewah Beach. There are only a limited number of campsites so first in best dressed applies here.
Basically, drive along the Teewah Beach Camping area and find a spot that suits you and grab it. You have a 15km long camping area that extends along Cooloola's eastern beach, so you should find a spot in the dunes.
We personally like the first section of camping because it has a few more trees.
Teewah Beach Camping Permit Booking Rates
Visit the National Parks Website to make your booking here!
Here are the Teewah Beach Camping Prices:
$6.65 per person per night, or $26.60 per family per night;
$3.65 per person per night for students and accompanying adults on approved educational excursions.
Family rate
A family is 1 or 2 adults and accompanying children under 18 years.
The family rate applies to a maximum of 8 people in total.
Free of charge for children under 5 years.
Book your campsite online, in advance at QLD National Parks Booking Service.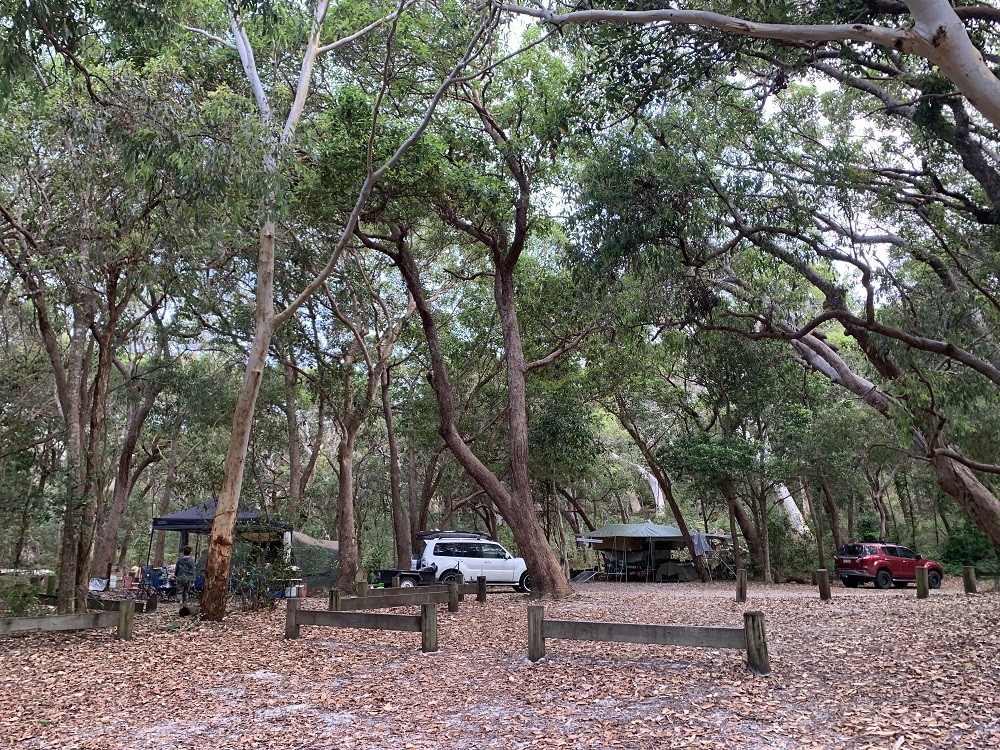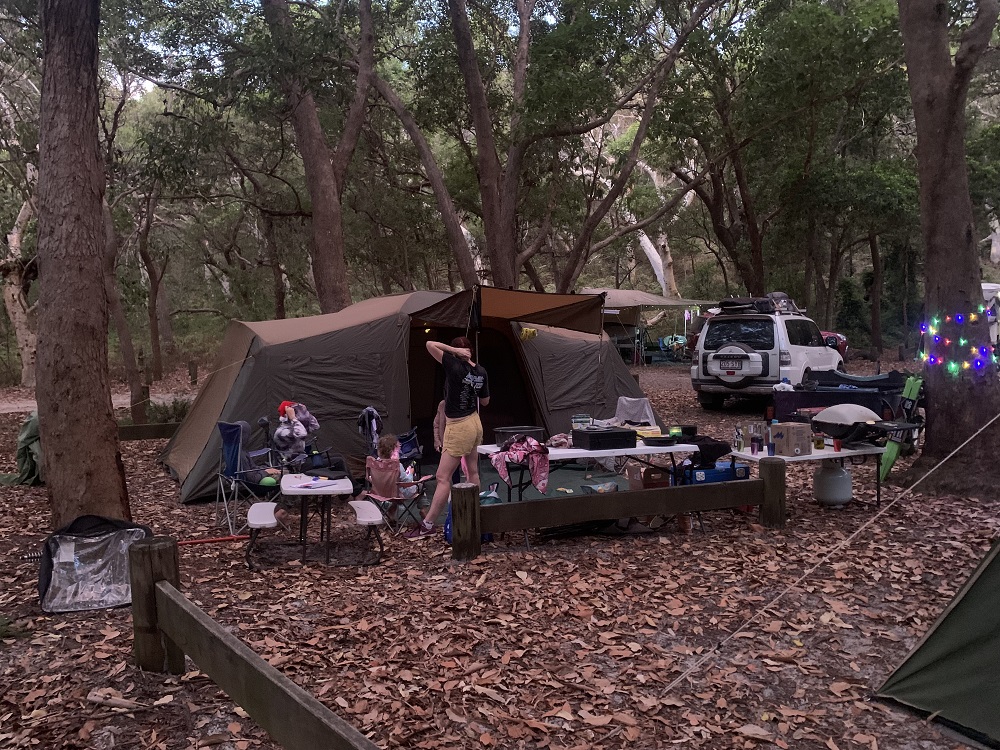 Is Teewah beach Camping Dog Friendly?
Nope. Because it is a National Park, dogs, and other pets are not permitted at Great Sandy National Park.
Is Double Island Point Suitable for Caravans?
Teewah Camping Area is suitable for:
Tent camping beside a vehicle
Walk-in camping
Off-road caravans and
Camper trailers with high clearance
Things to Do on Double Island Point
There is so much to do in this beautiful part of Australia and that is why it is so popular with camping and adventure enthusiasts.
Here are some amazing things to do the next time you head up to Double Island Point:
Double Island Point Surfing
You probably don't realise but Double Island point has some of the best surfing areas on the Sunshine, Cooloolah Coast.
The headland provides shelter from Northerly winds and Southerly winds. This area also captures a ton of good quality swell, so no matter the size it can hold it.
There are also wicked empty little beach breaks that you can carve up all along the stretch of deserted Teewah beach.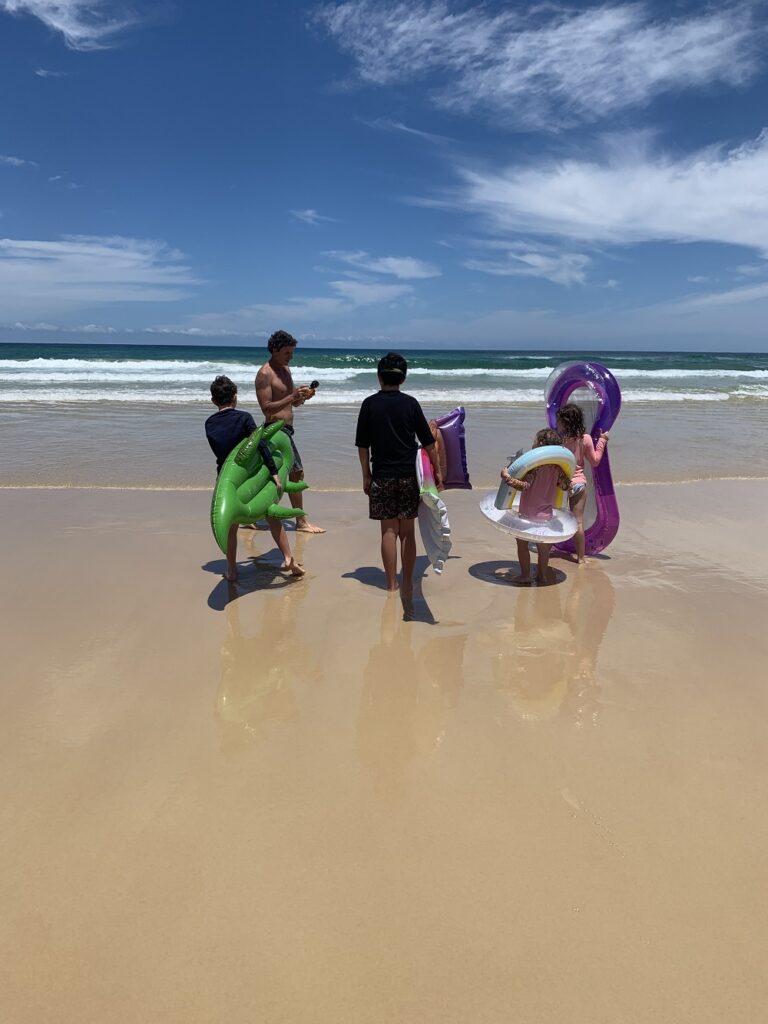 But my favourite spots are:
Southern Side Double Island Point
This sandy bottom mainly left-hander is a fun ride on the right day. Can get crowded during weekends and holidays. (Intermediate and Advanced surfers only)
Northern Side Double Island Point
Another sand right-hand point break that is more suited to beginners and intermediates. This needs a bit of swell to really work well but is awesome for mals, Stand up paddleboards, Foils, and learning.
You can park right on the point and the water is so clear!
Double Island Point Walk
Take a leisurely stroll up the lighthouse which boasts amazing views of the surrounding coastal area. This walk takes you along the cliff tops and around the headland of Double Island Point. (Easy walk)
Double Island Point Fishing
Bream, flathead, whiting, trevally, and more can be found in the fertile waters off Teewah Beach. You will need surf gear to cast past the breakers. Alternatively, you can catch fish on the northern side of Double Island which is more sheltered.
4wd Noosa to Rainbow Beach
Get into your 4wd and explore the beaches and tracks from Noosa North Shore Beach to Rainbow Beach. You can also take the Freshwater track back to the main road going into Rainbow beach for a bit of fun.
Book a Kayaking Tour
Organise a tour with Epic Ocean Adventures which is based in Rainbow beach.
Relax by the Beach
Do nothing! The best thing to do at Teewah Beach is to hang out and just get away from it all.
Play with your kids, play games, go swimming, and eat loads of camp food.
This is what Double Island is all about and probably the best thing to do because it is FREE and pure.
Other nearby activities to do!
You used to be able to explore the famous cherry venture double island point shipwreck but it is now gone due to rust.
Horse Riding
Carlo Sand Patch
Scenic Flights
Fishing Tours
Visit the tourist information center at Rainbow Beach for more details and information for all you restless souls.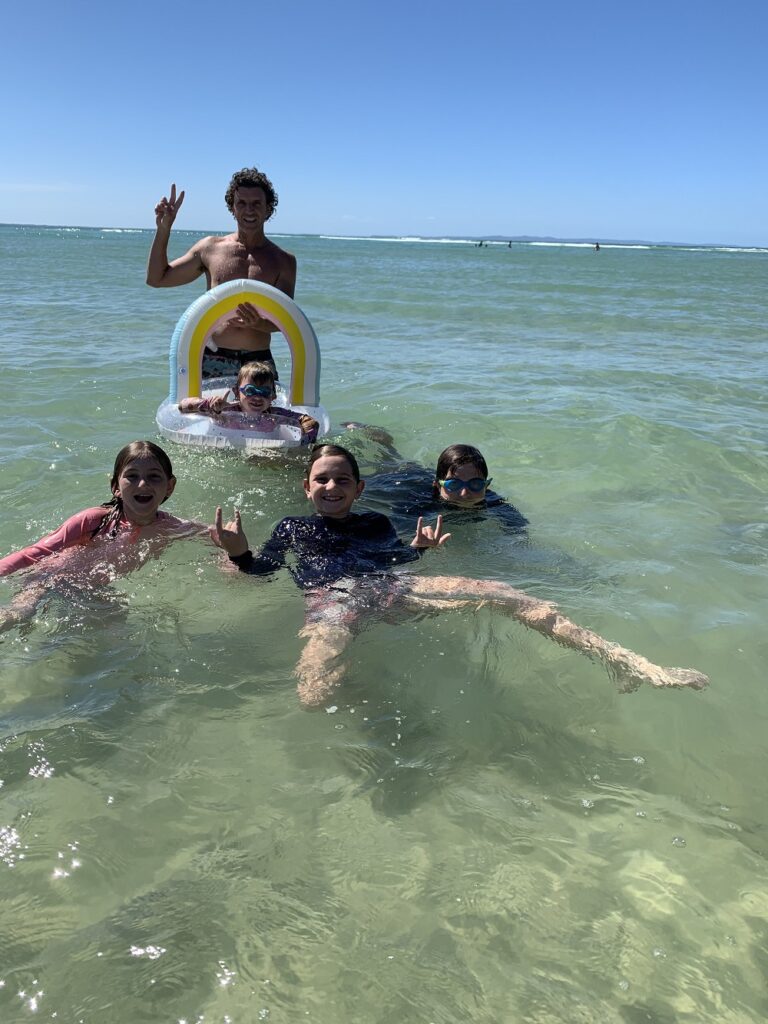 Is The Teewah Beach Camping Area Safe For Kids?
Our kids love it up at Double Island, swimming, fires, marshmallows, fishing, and surfing.
You just have to keep an eye out for 4wd cars as the beach can be a bit of a highway, especially at high tide. Some vehicles are flying and a lot of young people can sometimes be a little reckless.
However, the speed limit is a cruisy 50km/hr near the camping area but some disobey.
Supervise you, children, in the surf and look out for rips and strong currents because there are no flagged areas or lifeguards.
There aren't too many native animal dangers around here. But still be aware of goanna's, snakes, and spiders that can give you a little bite.
So just be aware that you are camping in the bush, and there is wildlife about.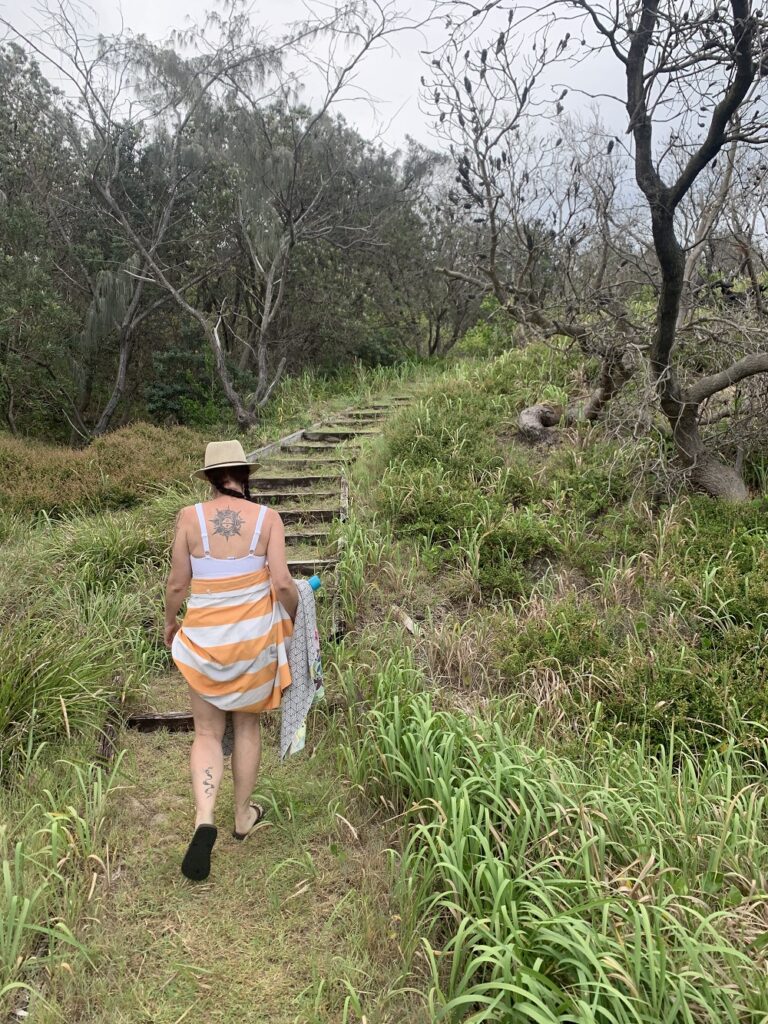 National Park Rules & Regulations
No pets
Campfires permitted
Bring your own firewood – don't collect it from the bush
Rubbish bins are provided, at the start of the camping area, middle, and end
Be considerate to other campers
Only low decibel generators up to 2.0Kva are permitted between 7 am and 9 pm. Consider neighbors especially at night. Please turn the generators off at 9 pm.
Obey road rules when beach driving
Teewah Beach Camping Facilities
Here is a list of the facilities available at Teewah for your convenience:
Bulk rubbish bins
Campers should bring a portable toilet for hygiene reasons
The nearest toilets are located at the Freshwater day-use area (just north of Teewah Beach camping zone)
The freshwater day-use area is a beach camper service facility that offers a portable toilet waste disposal facility, untreated tap water, and cold outdoor showers.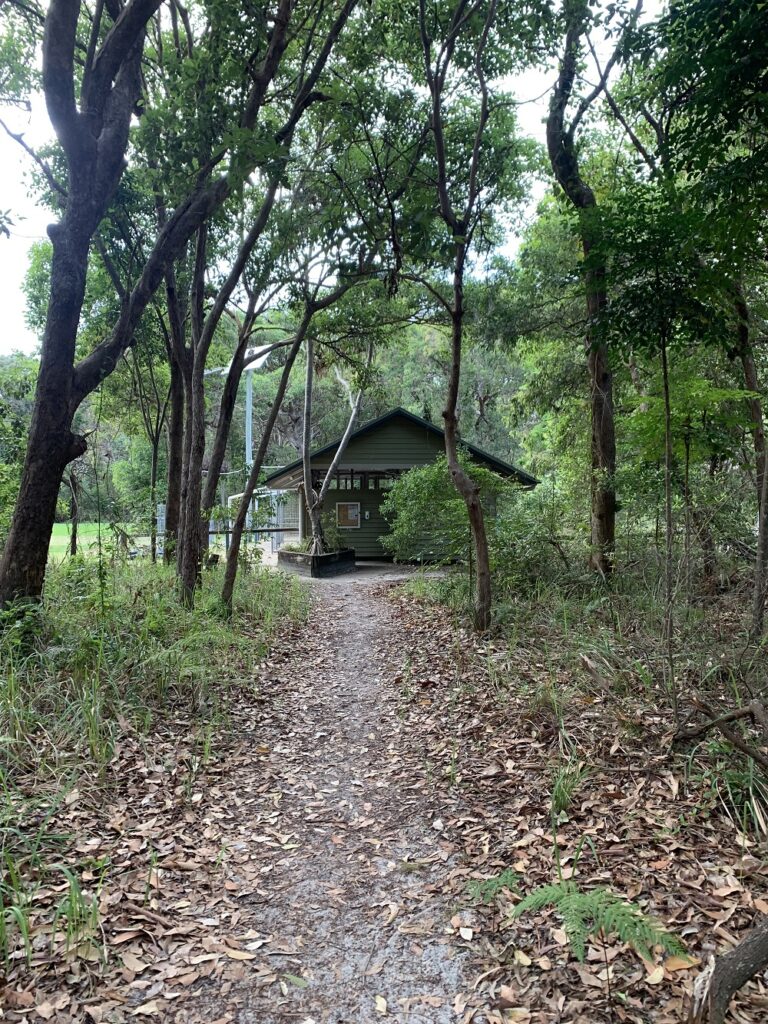 Teewah Beach Camping Essentials to Bring
Make sure you bring these essential items when you visit the Great Sandy National Park wonderland:
drinking water
fuel or gas stove
rubbish bags
first-aid kit
insect repellent
sunscreen
sand pegs and
clean firewood such as untreated mill off-cuts, not bush wood
Teewah Beach Camping Phone Reception
There is no phone reception! There is a payphone at the Freshwater camping area, just north of Teewah Beach camping area.
You can FM radio though up here like Triple J!
Dangers at Teerwah Beach!
Here is a list of the dangers you may encounter while staying and playing at Teewah.
Large waves, rips, and strong currents
4wd vehicles, collisions, losing control, and tides (The beach can become a bit of a highway so watch your little kids!)
Washouts and rocks
Mudlo Rocks, just south of the beach ramp at Rainbow Beach
Exposed sand cliffs can collapse without warning
Bush fires (extinguish campfire when finished)
Dehydration when hiking
Sun Exposure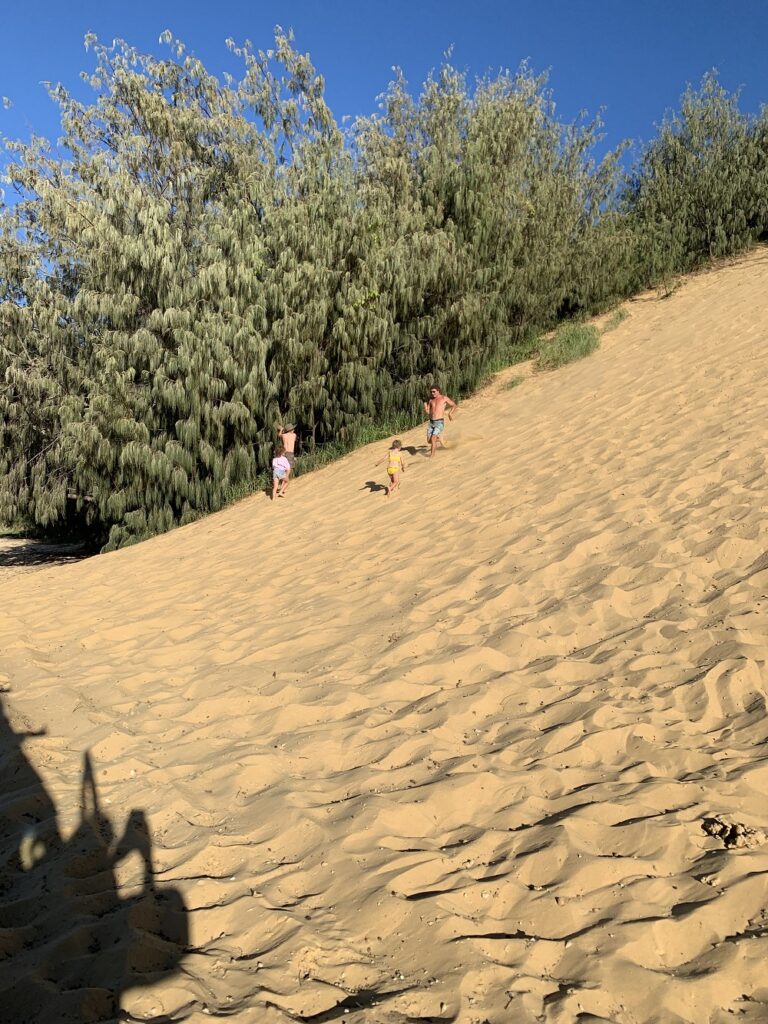 In an Emergency at Teewah
Phone Triple Zero (000) for all life-threatening, critical, or serious emergencies, or for reporting a bushfire or acts of arson.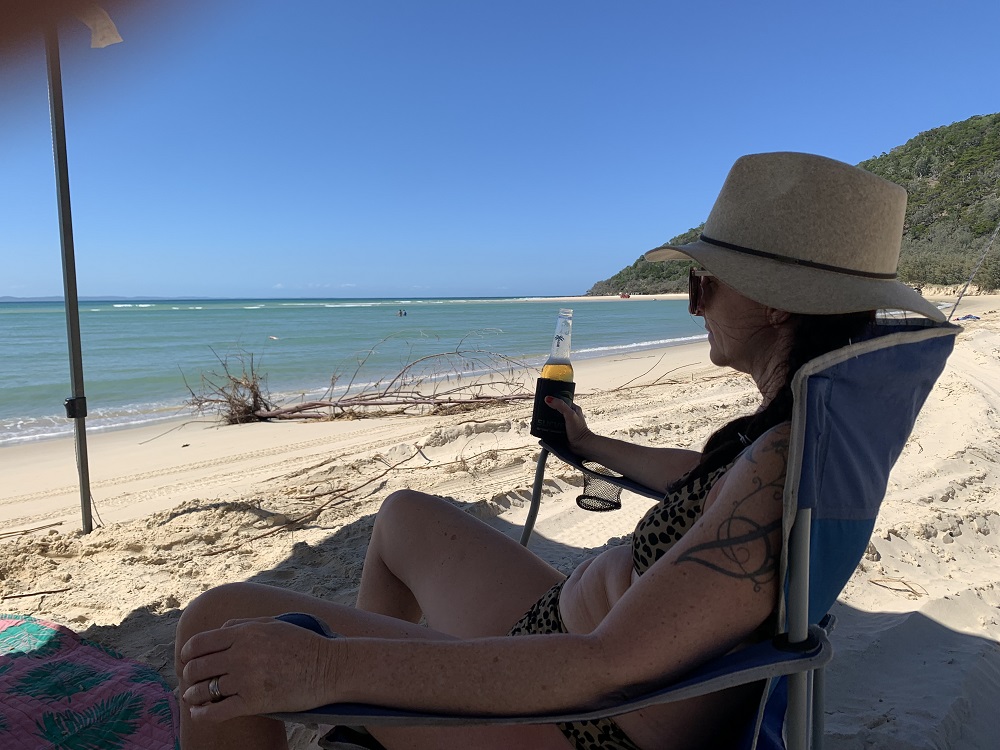 Teewah Beach Camping Experience
This camping area has to be experienced one time in your life if you are into adventure, the beach, and roughing it in the great outdoors.
The beach here is beautiful. White soft sand stretches as far as the eye can see. And the campground is spectacularly nestled in the foothills of the Great Sandy National Park.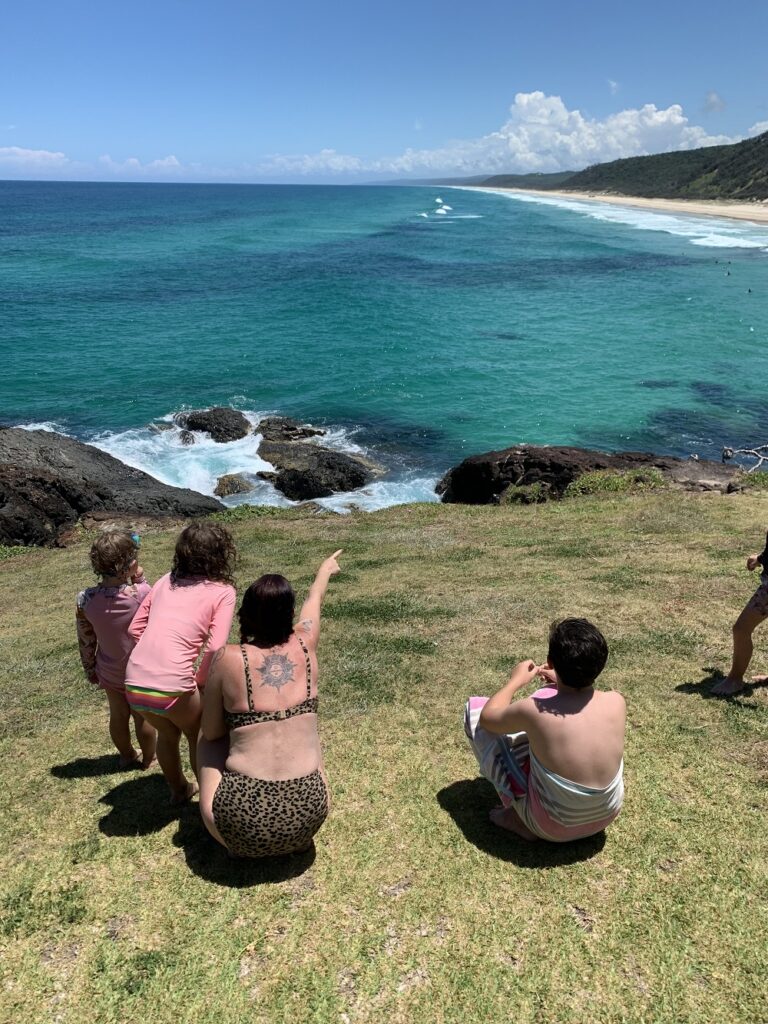 Native bushland covers the National Park offering shady spots to camp and enjoy your day.
Privacy can be a bit of a problem during busy times because most of the campsites are exposed to the beach.
There is also a constant flow of 4wd traffic on the beach right in front of your camp with some drivers going quite fast!
It is recommended to bring your own portaloo but most people don't and just dig a hole in the dunes behind the sites. It is pretty gross with toilet paper everywhere, so watch your step!
There are a few mosquitoes and march flies but it's not too bad.
Slip. Slop. Slap!
The sun can tend to get a little much after a couple of days, so slip, slop, slap, and drink plenty of water, not just beer.
It can be quite hard to find a great camp spot due to the popularity of the place and we tend to take the first good one we see. Once you go past a good one you may think there is something better up further but you end up coming back.
So just find something that suits and jump on it.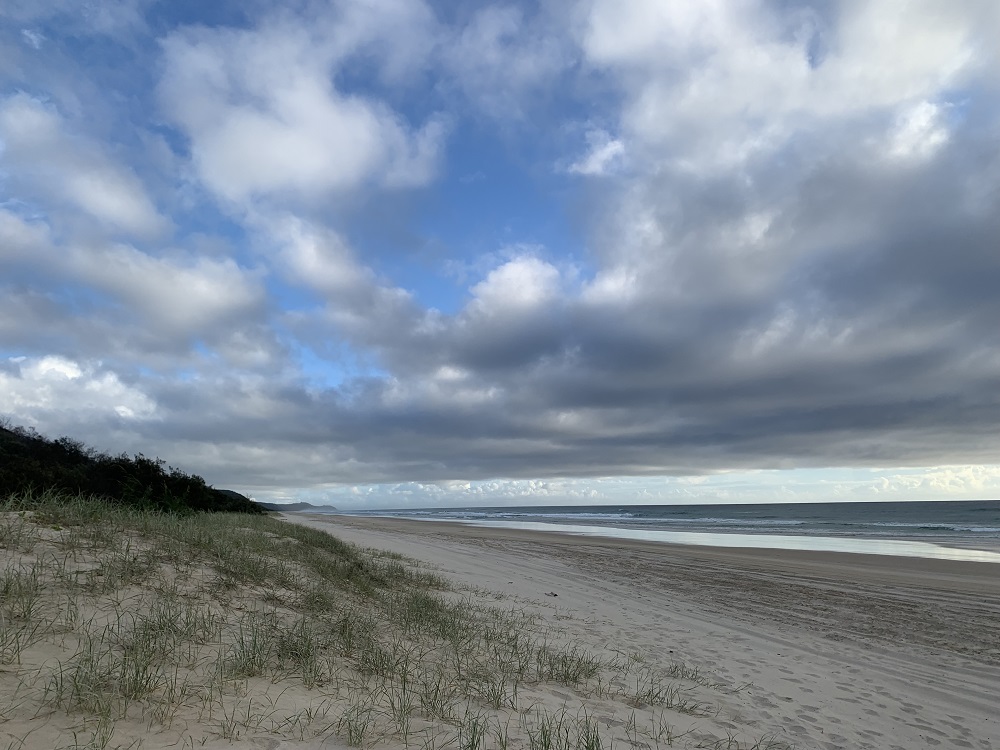 Being a surfer this Teewah spot is perfect with great beginner waves on one side and bigger surf on the other. If you are lucky you could get some nice waves straight out the front of your camp. (Watch out for sharks!!)
The Ice Man Services Double Island
Forgot something and left it at home? No worries, every day the region has the services of the "Ice Man" The Yellow 4wd Ice Trucks carry ice, firewood, bread, milk, ice cream, coffee, bait, snacks, coffee, and newspapers. Visit his Facebook page here!
We always have a wonderful experience at Teewah Beach Camping Area and would recommend a weekend getaway with family and friends anytime.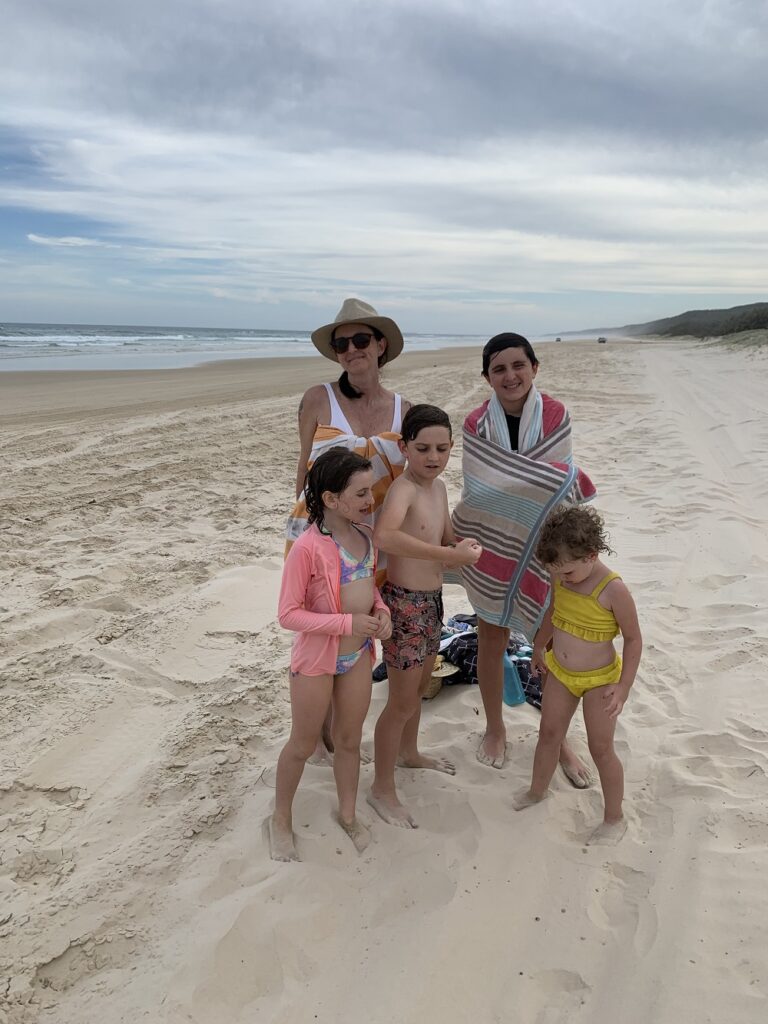 Camping On Teewah Beach the Verdict
The main advantages of Teewah Beach camping are:
Close and easy to get to from Noosa
Fast beach drive – hard sand at low tide
Unmarked campsites – camp where suits
Rubbish bins provided
Ice and firewood truck service
Close to beach
No phone service – getaway
Cheap and basic
The main disadvantages were:
Expensive car driving permit for 4WD unless you go for an entire week
4wd vehicles, traffic
Speeding vehicles a little dangerous for kids on the beach
No Amenities
Hard to pick the right spot
Crowded at certain times
Apart from that, it is the best national park camping area in Queensland and maybe Australia.
The recommended perfect amount of time is 2-3 nights.
Other amazing Australian campsites you may like to check out are: